If you look at your garage as a place to store your car and nothing else, you have to change something about it. We like to consider the garage a hidden gem of our homes. Your garage can be one of the best places inside your home, just if you think wisely about what you can change about it. 
This article is right for you if you are looking for some new ways to improve your precious garage. Rather than using it as a storage unit, please bring it to the next level. Make it a workshop or an office.
A few garage improvement ideas will make your garage stand above others in your neighborhood. We will show the Top 7 Garage Improvement Ideas, so you can start improving your garage today. Let's get started!
Install new doors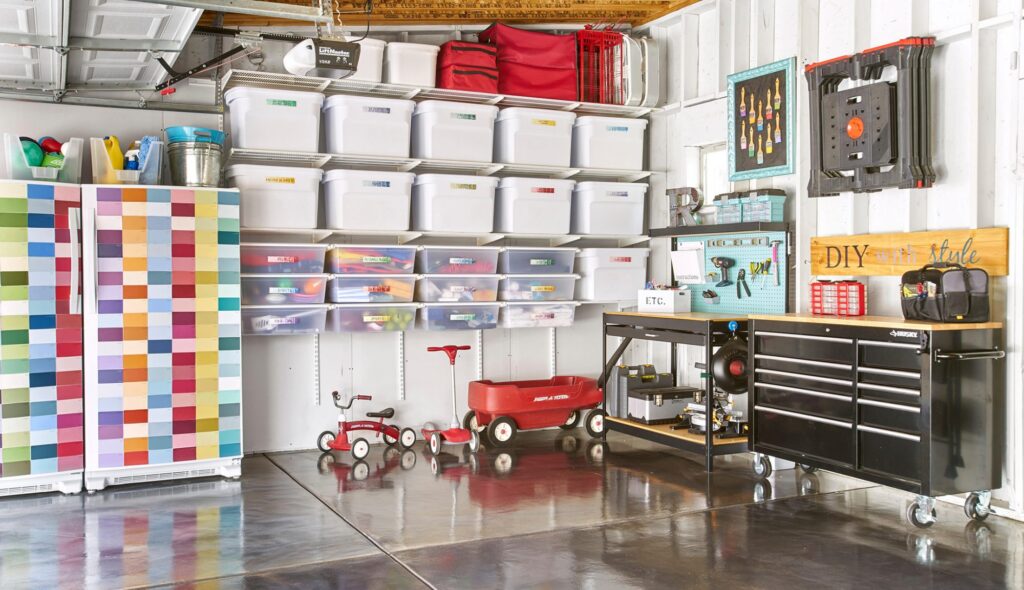 source: static.onecms.io
Getting a new door for your garage is a perfect way to start improving this part of your home. You know that no one loves to see old-fashioned, wooden doors. They do look quite ugly and they are heavy, you really need the strength to open them. For this reason, you should get new modern doors that open automatically. They are functional and look great. They will make the overall look of your home more attractive
Insulate and vent your garage
Insulation your garage and you will be able to spend more time in the garage, even during the coldest months. Garage insulation cost can vary, it depends on what you plan to do. Make sure to do good research about it before you start purchasing things. This way, you will reduce your energy bills as well.
Make sure your garage is properly vented because no one loves the whole carbon monoxide to slip into the home. You can also buy a quiet blower fan which is an excellent plus for every room, especially for the garage. 
Smart garage door opener
source: flowwall.com
Nowadays, technology moved everything to the next level. You are now able to control your devices from your smartphones. We love this feature and the best thing is that you can do it with your garage doors as well. 
This feature allows you to monitor your home 24/7 from any part of the world.
Organize it better
We are sure no one loves to see thrown stuff everywhere regardless of which part of your home we are talking about. There are so many organizers you can choose from and install them. All of them will help you to organize your stuff better and to move them from the floor. Whatever you choose to do and make your garage more organized will create a room to work, walk, play, and most important – park.
Give it a lift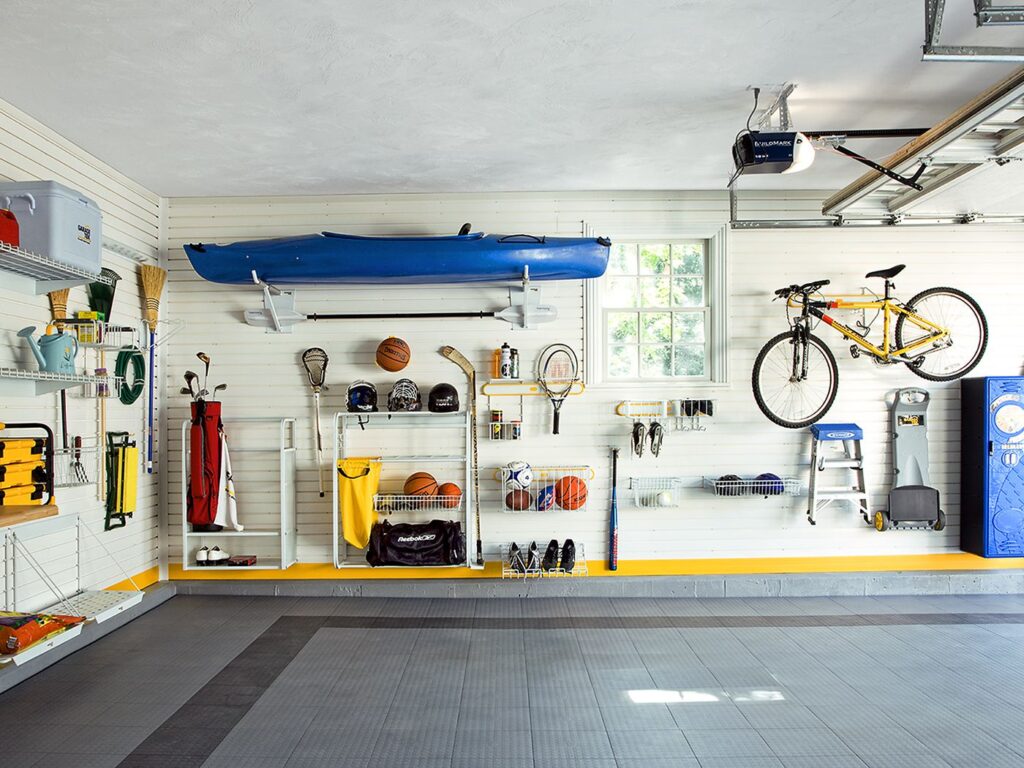 source: pinterest.com
Why not make your garage super modern – like those great garages you are seeing in the movies all the time. This is also a great solution if you have a small garage, but want to make it more functional. And if you have two cars, you can park both of them inside if you install a car lift. Okay, this investment is a bit larger, but you won't have to spend more money on additional costs for storing other things, like boats, snowboards or any other seasonal stuff  you own.
Build a bar in your garage
What do you think about making your garage a place where you meet your friends? Don't spend money on expensive restaurants and bars, instead, build a bar in your own garage. 
If you spend a lot of time in your garage, this improvement will be very efficient. This is, for sure, one of the most exciting garage improvement ideas. Plus, you can add a TV, making it even more comfortable and cool.
Get super easy ceiling storage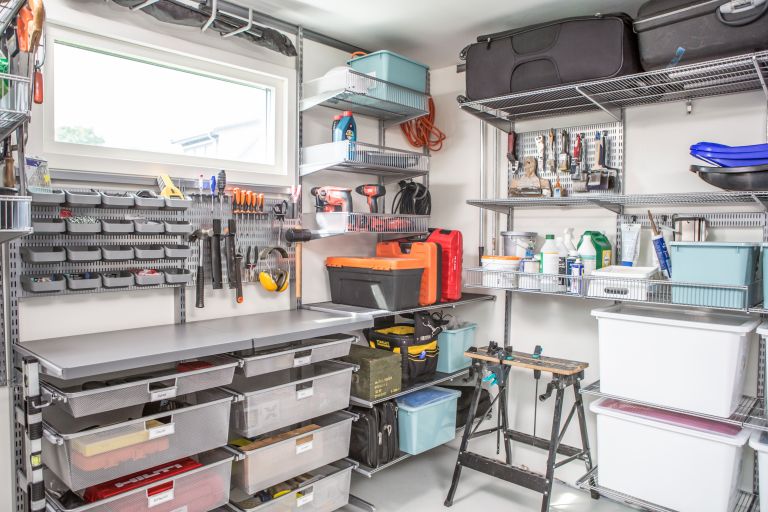 source: pinterest.com
The last on our list is a little DIY project that will help you better organize your things. This way, you will clear up the space while you won't have to give up on all the precious things you want to keep. Take a few plywoods and plastic bins. With ladder, you will be able to access these bins super easily. Simply put bins along with the bins you have constructed. This is a perfect way to store things such as New Year and Christmas decorations, as well as all seasonal stuff you own. 
Conclusion
Garages are usually the biggest places in our homes. Do not let them be the places we use the least. Do not waste them. Take any of our super-useful garage improvements and take the best of this place. Hopefully, we have helped you a bit. Remember that the home of your dreams deserves the garage of your dreams too.