Raised garden beds are a great idea for most gardens. They offer many benefits compared to planting a traditional garden in the ground. Raised garden beds are a great idea for those that have back problems or for keeping out pesky critters. The one disadvantage to a raised garden bed is that you have to actually build one before you can get started with planting.
The most important element to planting in a raised garden bed is soil building, so after you take a look at these fabulous raised garden bed ideas, make sure to read the section on soil building at the bottom of this article.
What Is a Raised Garden Bed?
Before we jump into the ideas, let us first understand what a raised garden bed is and why they are so beneficial.
According to Wikipedia — "Raised-bed gardening is a form of gardening in which the soil is raised above ground level and usually enclosed in some way. Raised bed structures can be made of wood, rock, concrete, or other materials, and can be of any size or shape. The soil is usually enriched with compost."
Benefits of a Raised Garden Bed
Fewer weeds
More useful water retention in areas that have super-sandy soil
More satisfactory drainage in areas with clay soils
Better growing space
No soil compaction from human feet
Warmer soil earlier in the season
Warmer soil for a more extended season
Soil that has essentially a neutral pH unless you add something to change it
Less soil erosion
Corrugated Metal
Corrugated Metal is a popular material to use for raised garden beds. It offers a great contrast between the metal and the wood frame. You can add your own personality and style into this project by painting or staining the wood frame a color that you like or matches your exterior decor.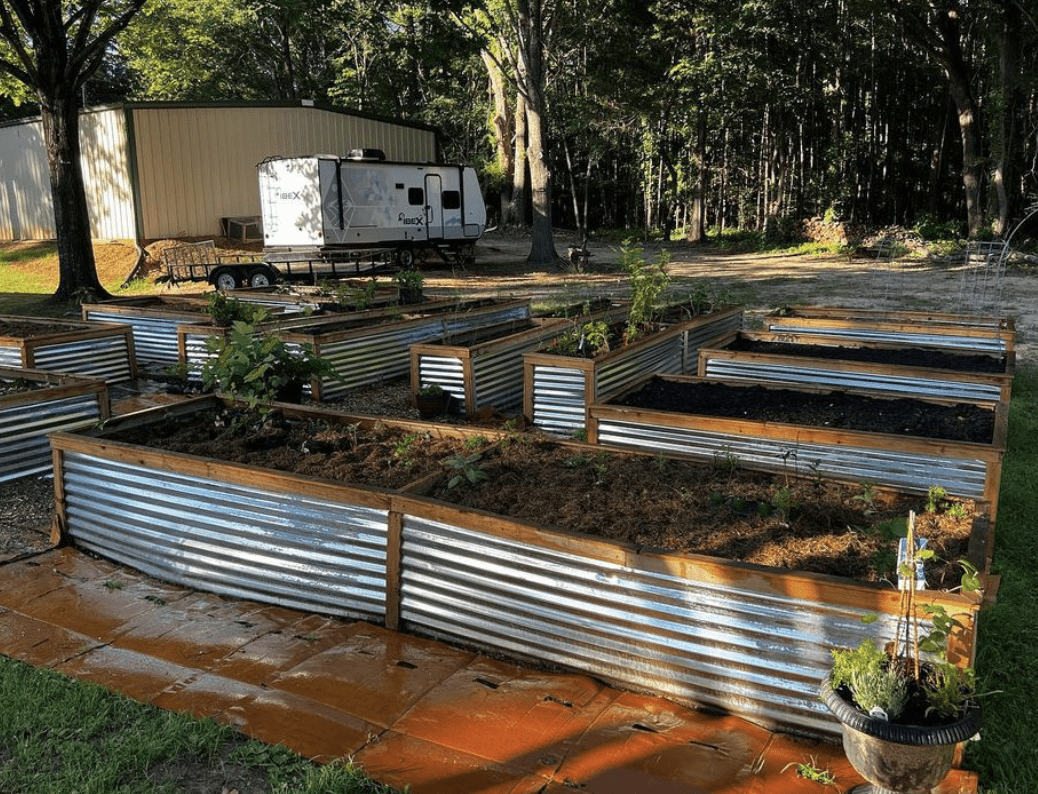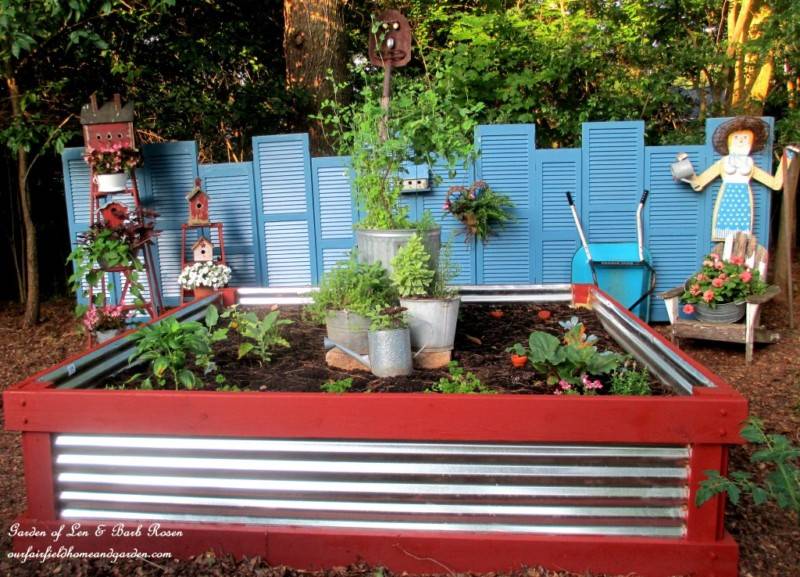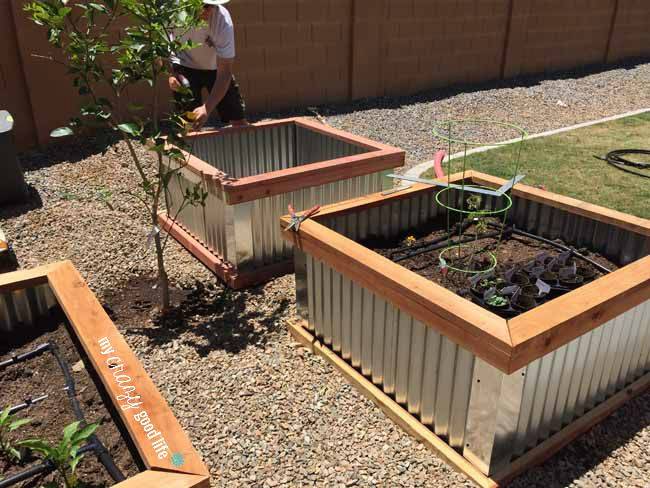 Concrete
Concrete is a great material to work with when building a raised garden bed. It comes in a variety of different shapes you can use or you can also form concrete into whatever shape you like by mixing up your own cement and making a mold.
Cinder blocks are easily attained and can be used to outline a raised garden bed.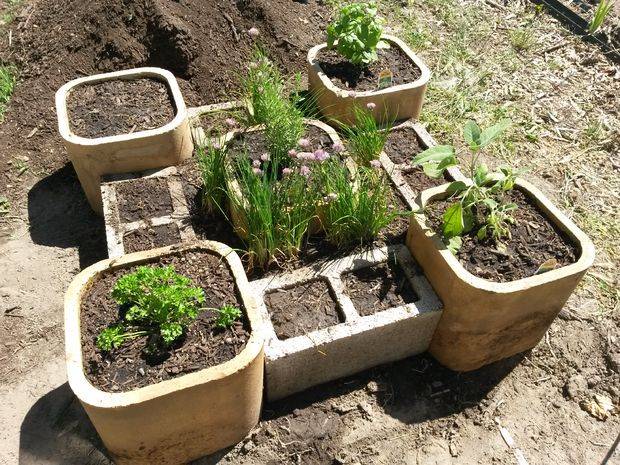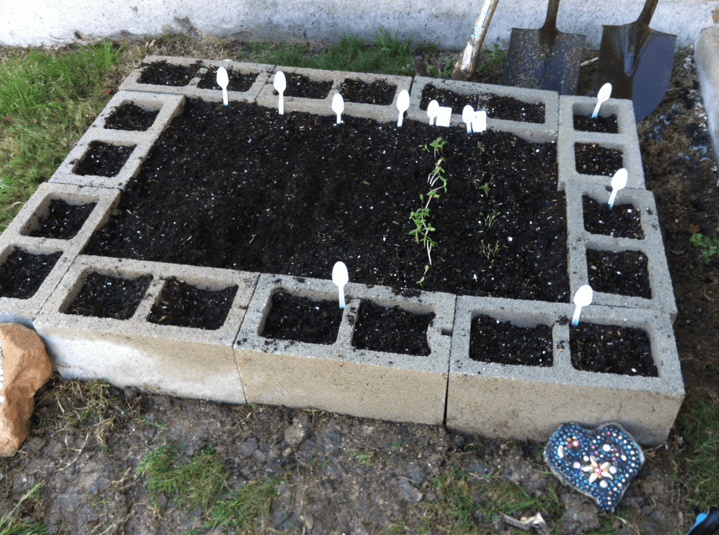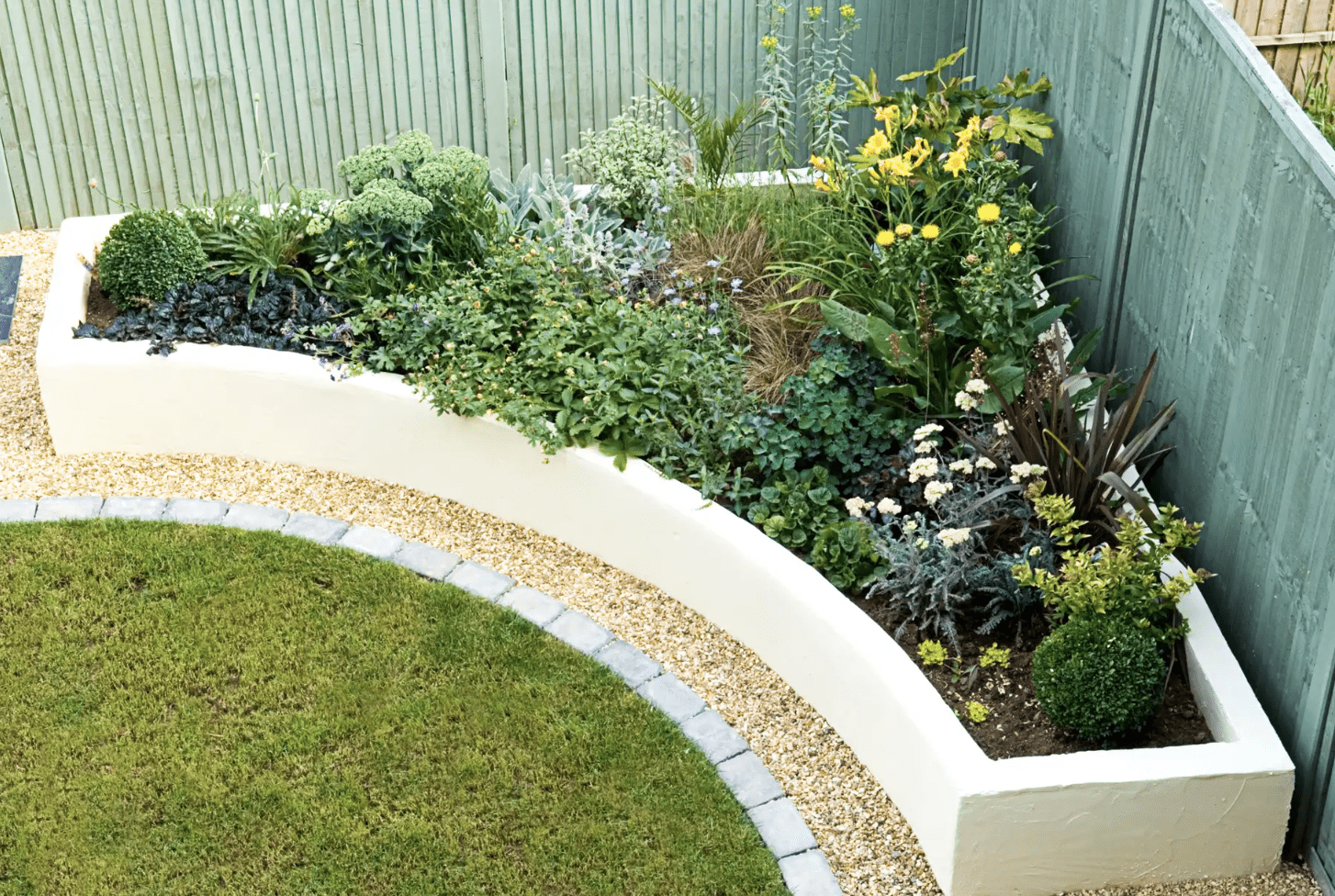 Simple Wood
A simply built wood box may be the most common and easy design idea when it comes to building a raised garden bed. When choosing wood for your project, make sure you select cedar. Cedar is commonly used for garden beds as it is naturally rot-resistant.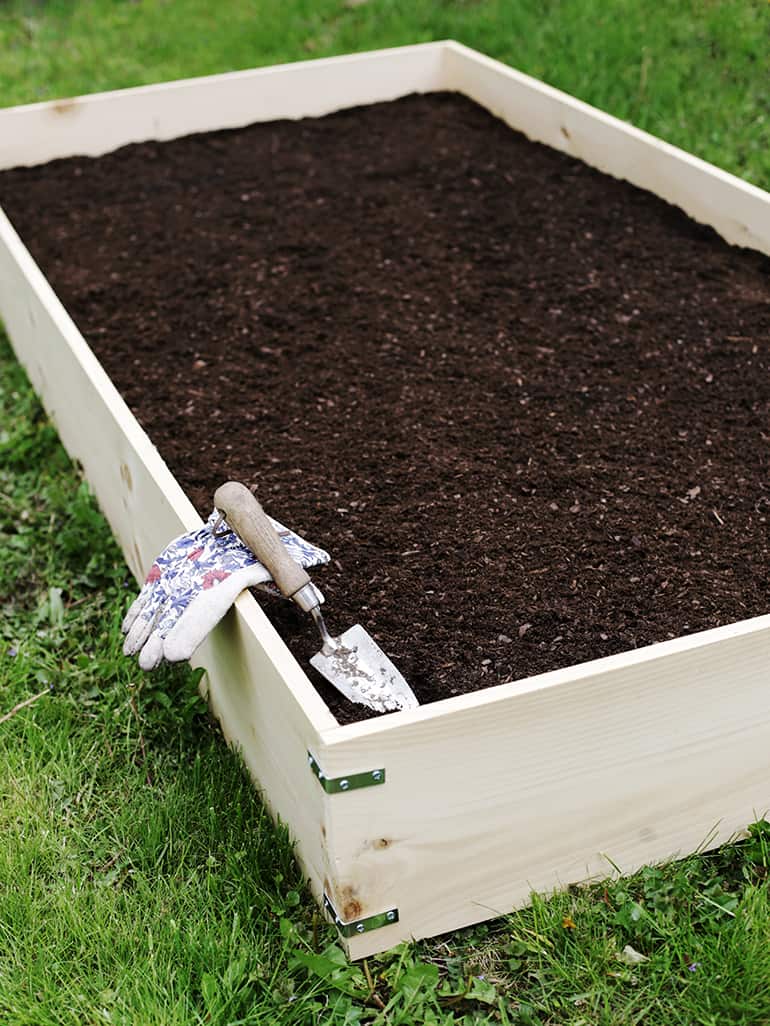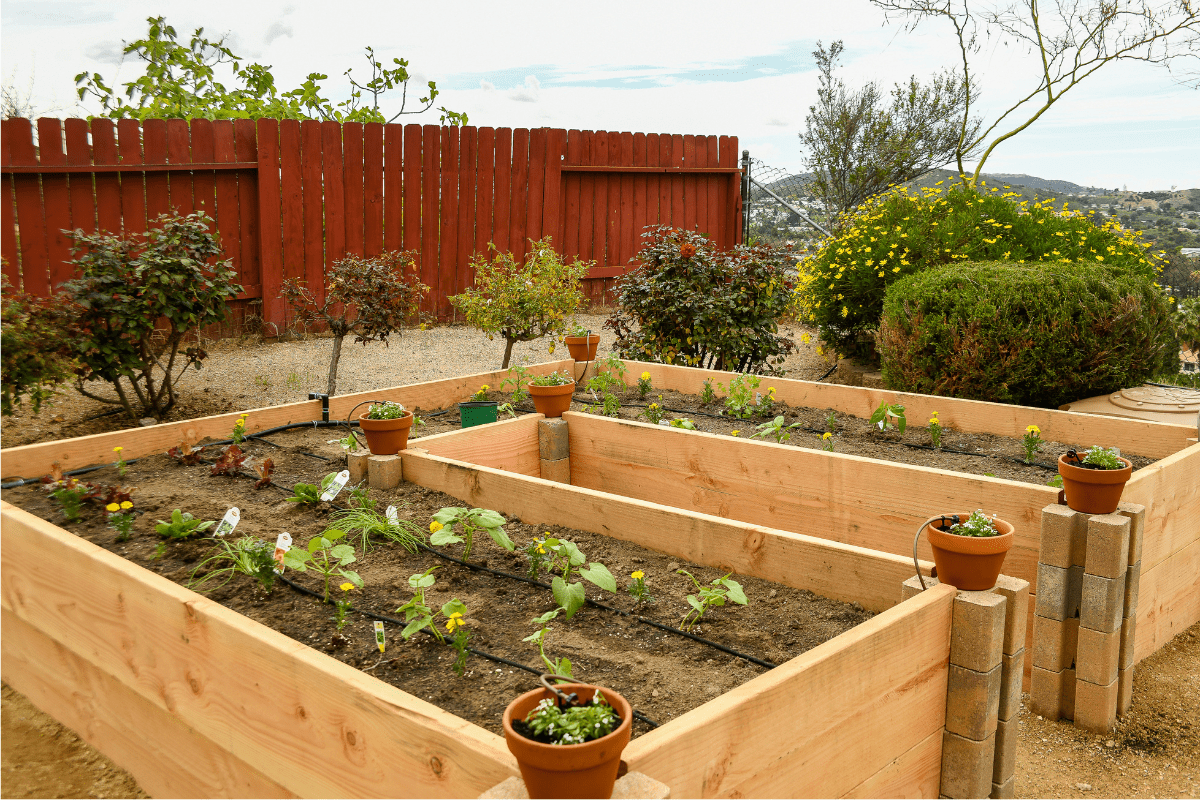 Tiered Raised Garden Beds
Take your raised garden beds to new and decorative heights by stacking them on top of each other. Adding tiers will give your garden and backyard dimension while creating garden beds that are appealing to the eye.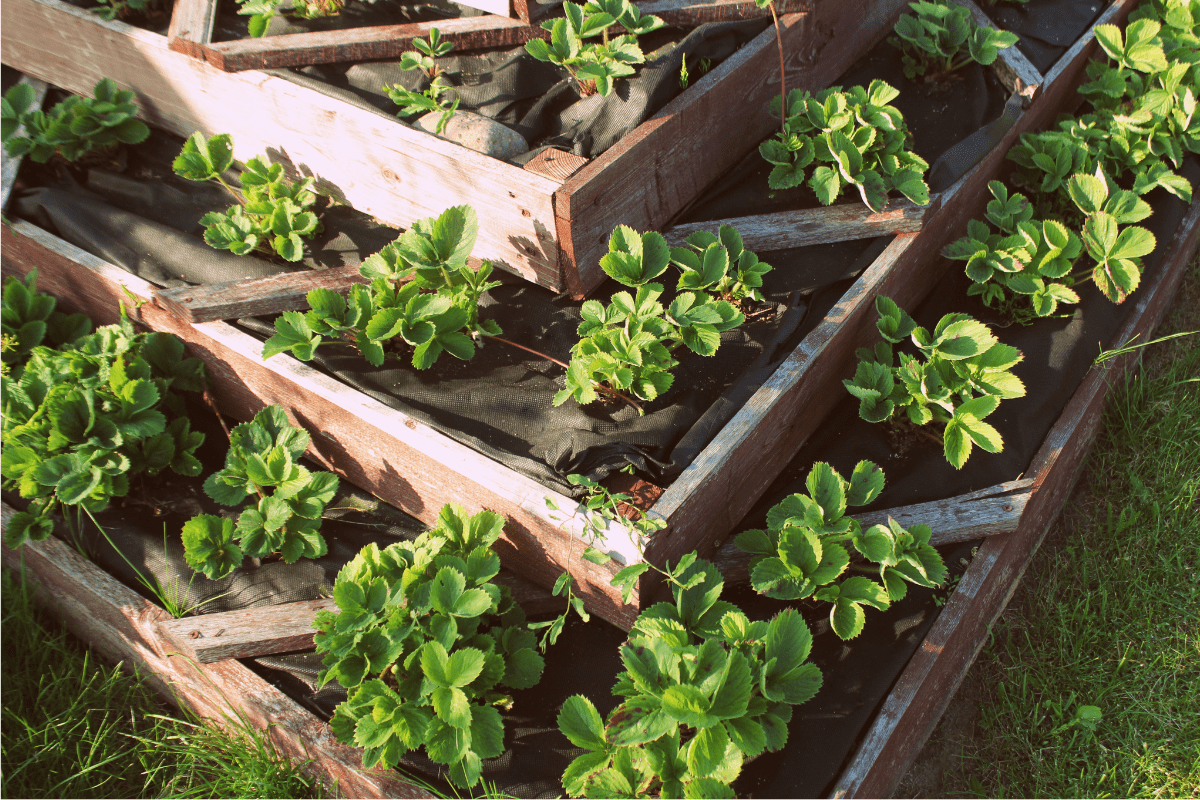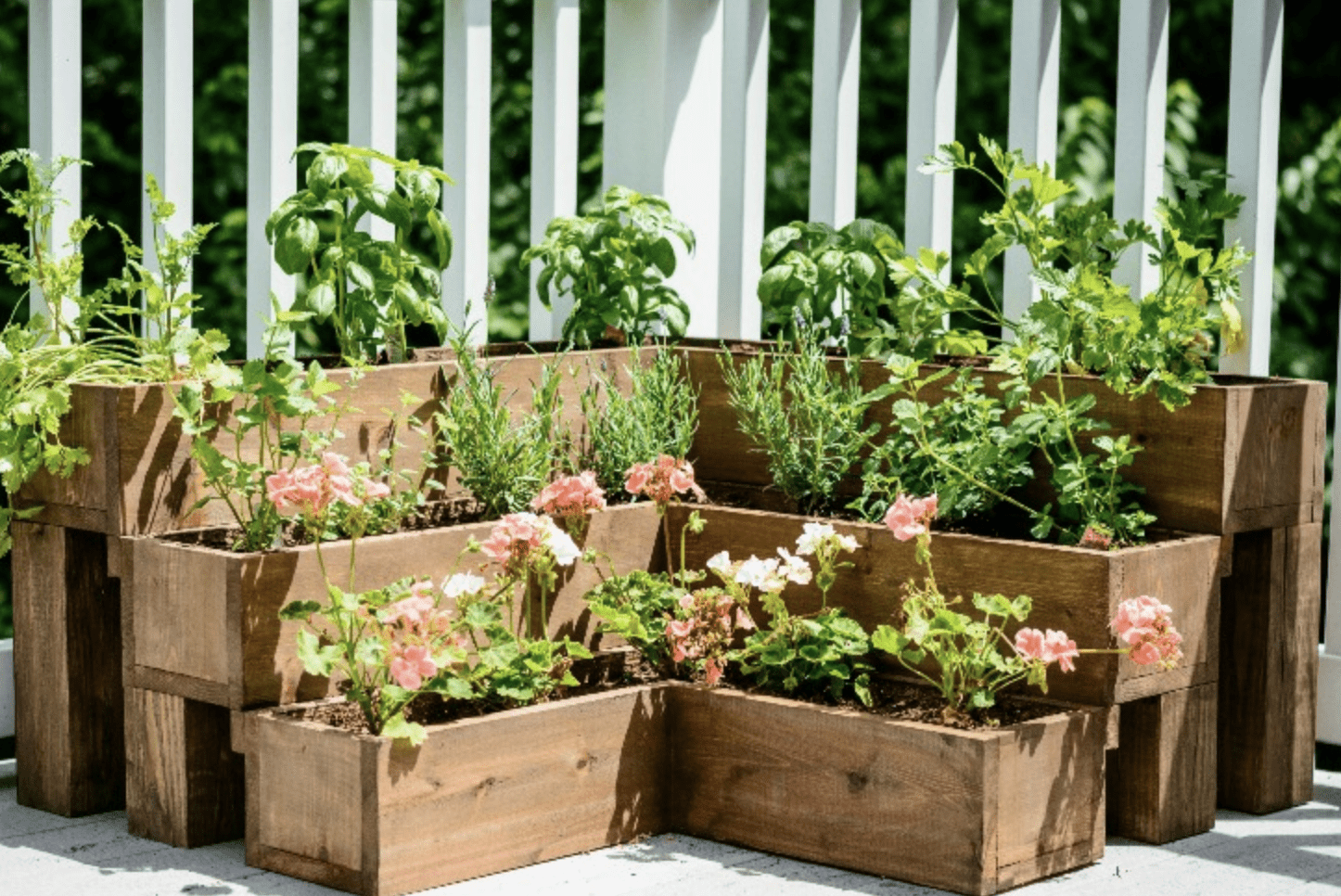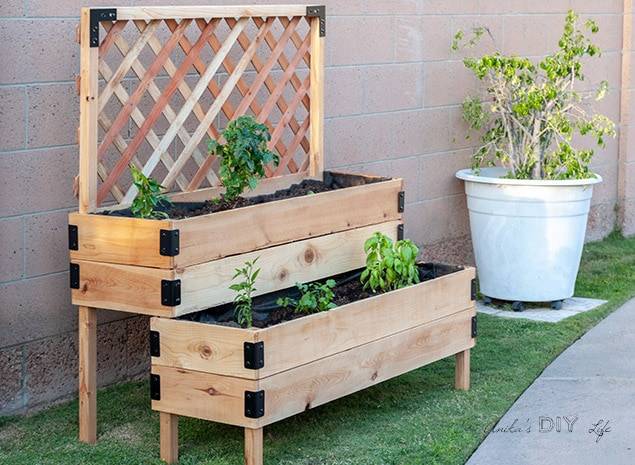 Experiment with different shapes and layouts or choose a pattern that fits within the scope of your backyard.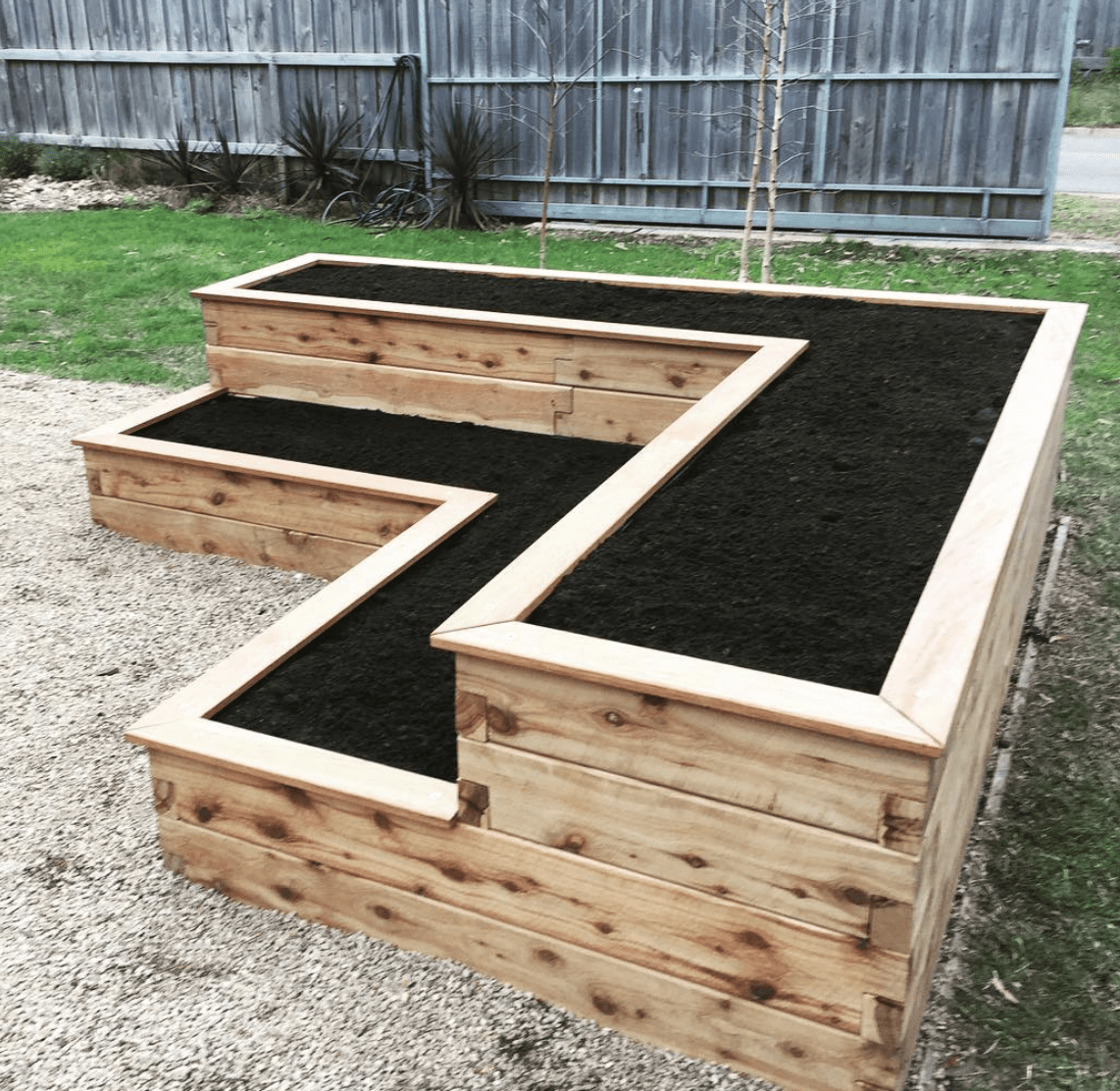 Elevated Table Style Garden Beds
By using repurposing old table legs or even old tables themselves, you can build an elevated table-style garden bed. These garden beds are great for herb gardens or are popular for lettuce.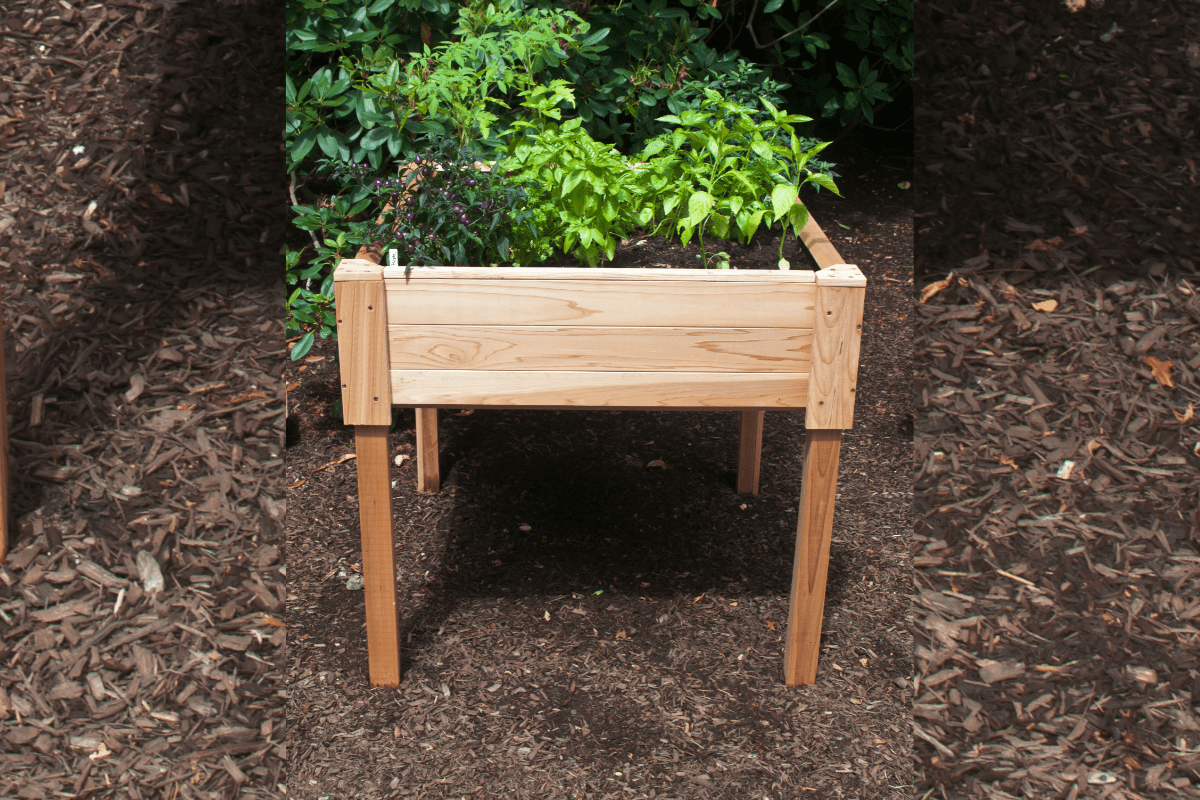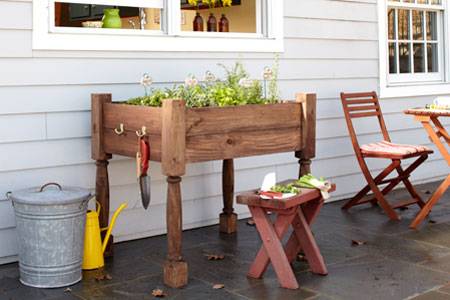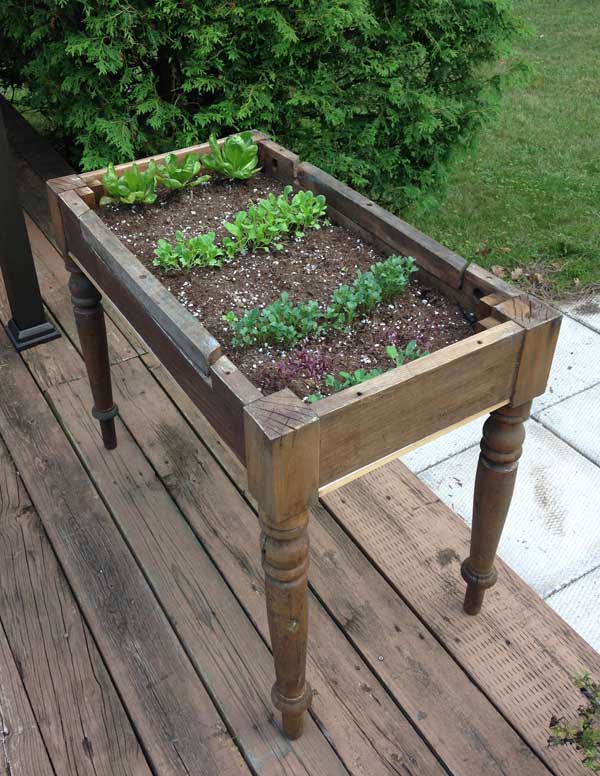 Bricks
Much like the concrete cinder blocks, bricks make excellent materials for a raised garden bed. If you are making a short raised garden bed, you can stack bricks 3-4 bricks high without securing them in place with adhesive. Unsecured bricks brick can be bumped out of place by critters or intense rainfall. For increased stability, build the bed with a thickness of two bricks all the way around. If making a larger garden bed, you will want to secure them and make something a little more stable and fixated in place.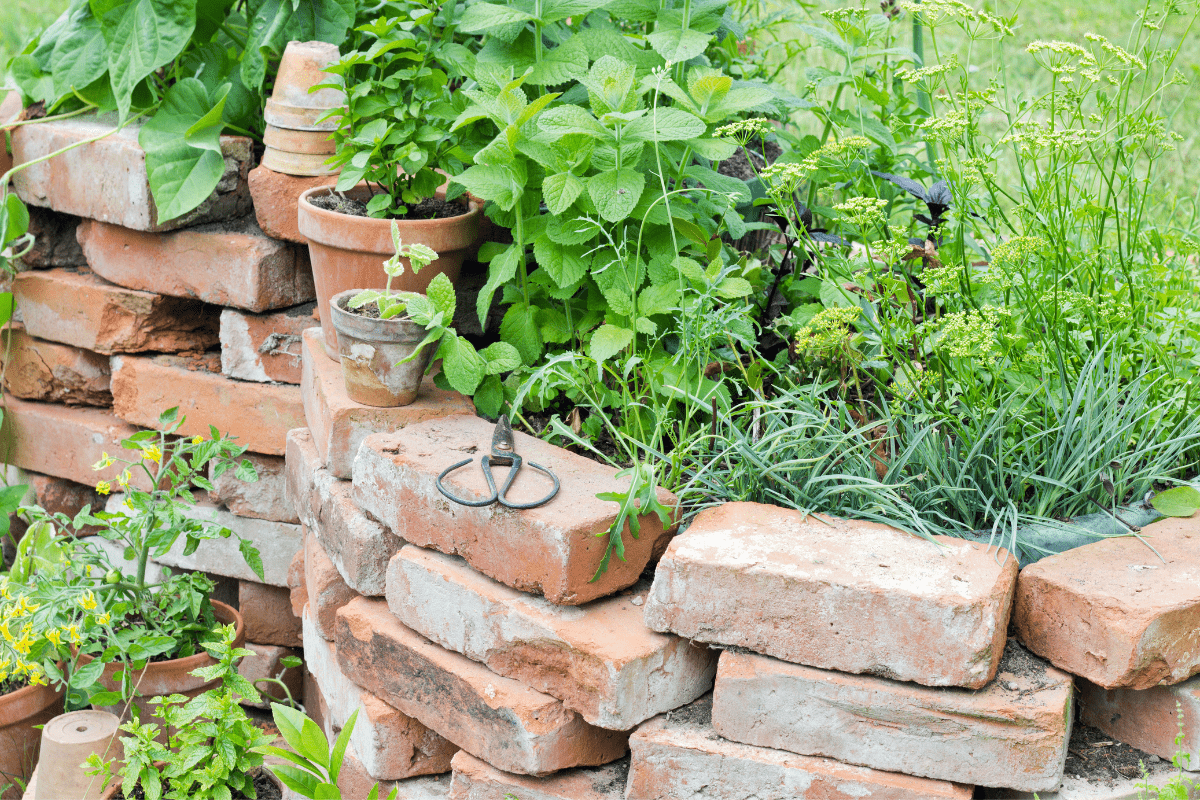 Recycled Pallets
Recycled pallets are a great material to use for making a raised garden bed and the best part about this material — it's free! Companies are always trying to get rid of pallets and many times you will see them stacked up at the side of the road for trash. However, if they are on retail or manufacturing properties, it's always wise to ask first before just helping yourself.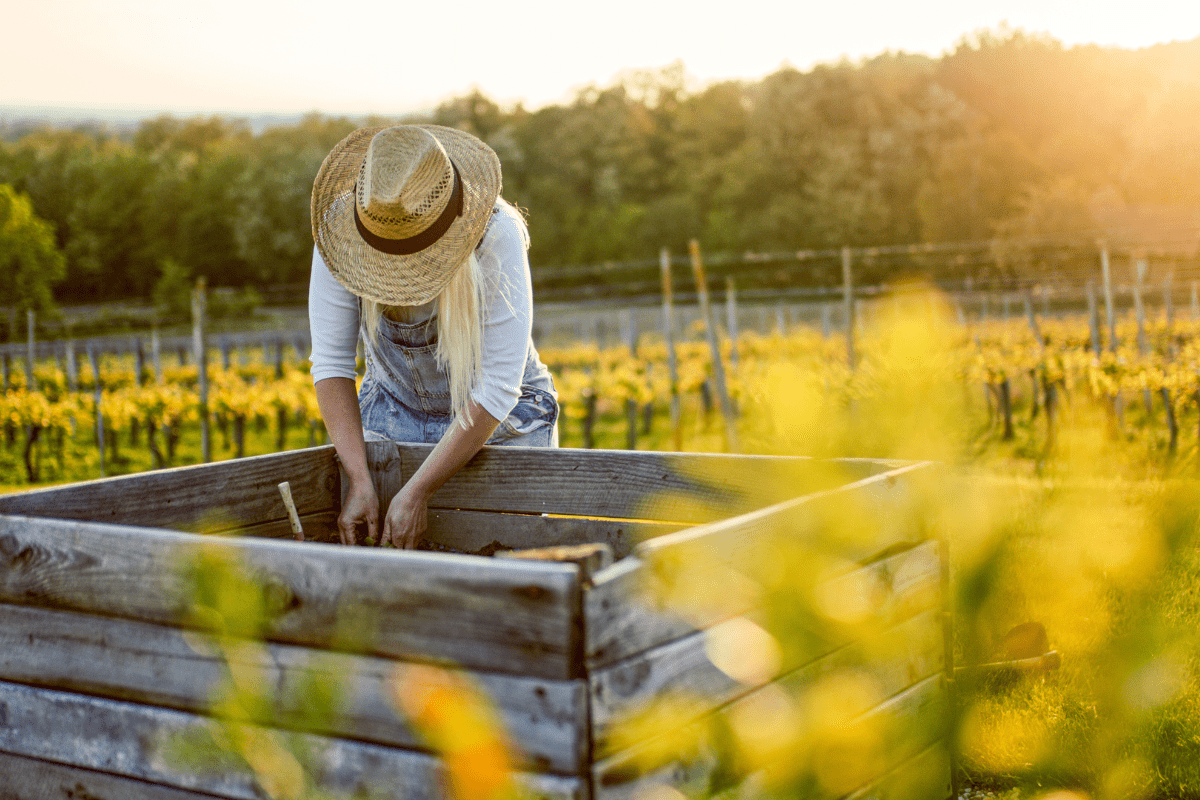 You can dismantle a pallet and be left with perfect size boards to build a raised garden bed. Experiment with different styles and shapes for your raised garden beds.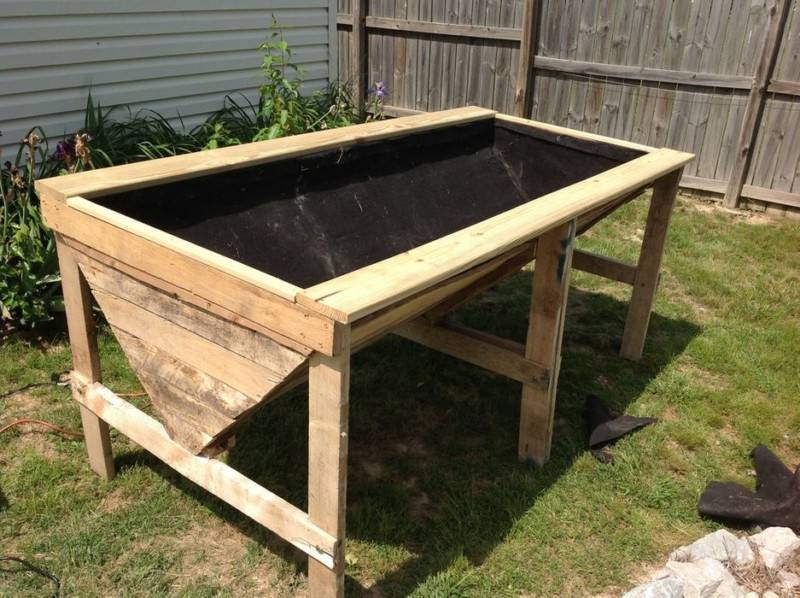 I think these pyramid pallet raised garden beds are such a cool and contemporary design.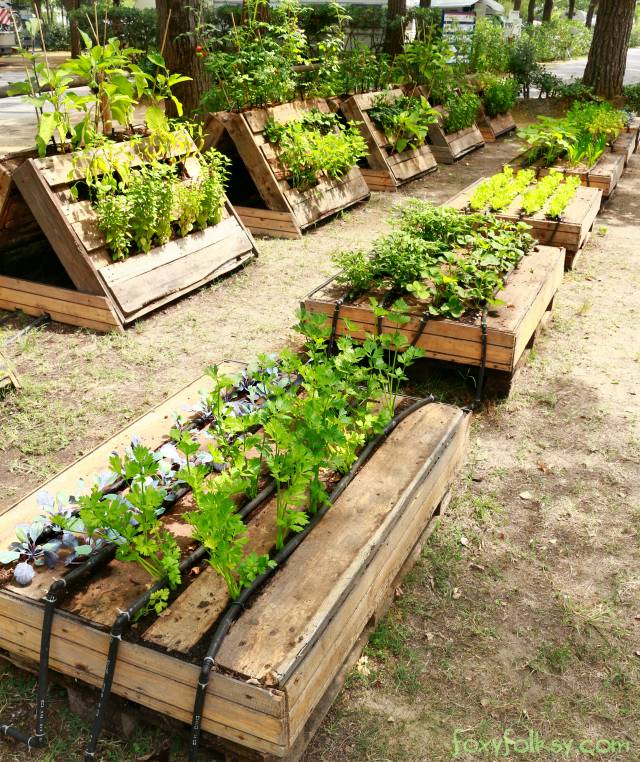 You don't have to dismantle the pallets either – you can use them just as they are! Take a look at this idea: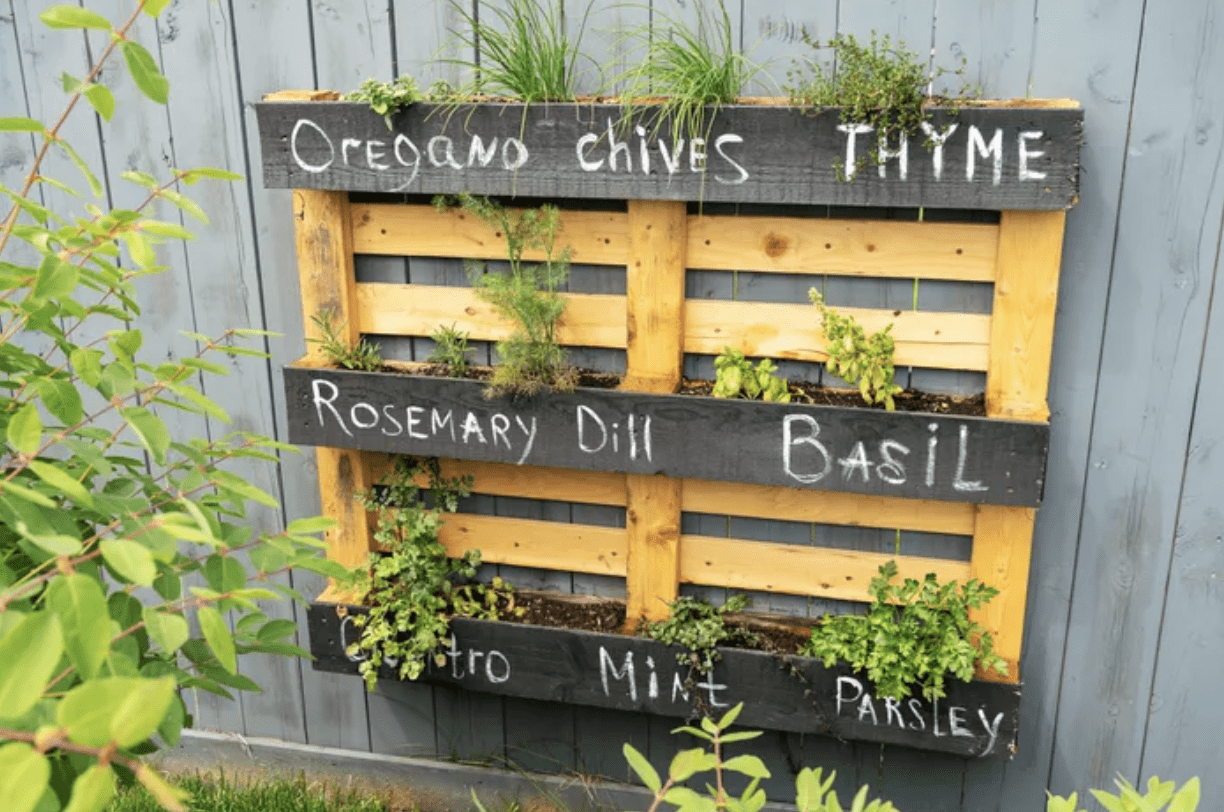 Paint your pallet a bright and fun color and also paint on some chalkboard paint so that you can mark off what you have planted. This is a great idea for a herb garden! No more forgetting where all your favorite herbs are!
Repurpose Something Old
Not everything has to be built brand new. If you have an old dresser that's destined for the dump why not use it in the garden? I love the idea of using the drawers of an old dresser for a succulent garden.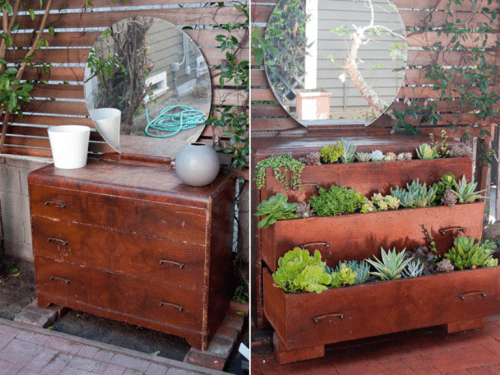 Be careful with this one, though — you want to make sure that your dresser is not in an area where it will get too weather-worn as most interior furniture is not built to withstand the outdoor weather.
Landscaping Timbers
Landscaping timbers are a wonderful material to use for a raised garden bed as they are made to go outside in the garden anyway. Typically used for edging a garden, these timbers can be stacked to form a raised garden bed.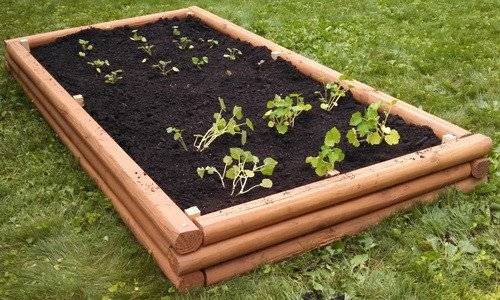 Add-In a Bench
If you're going to make a raised garden bed, you might as well add in a place to sit. A raised garden bed with a built-in bench will provide a place to sit as you are picking weeds and provides a bit of decor to a plain cedar box raised garden bed.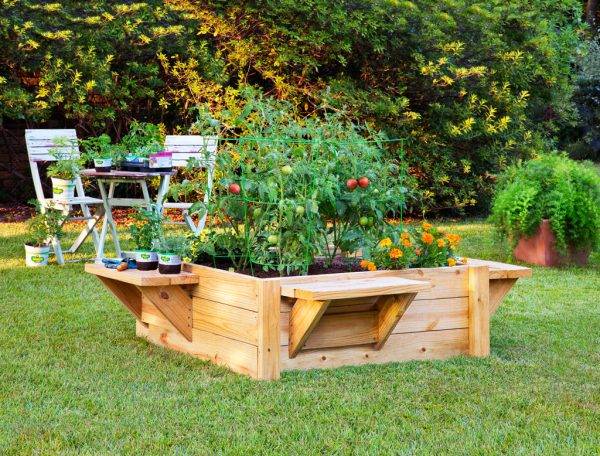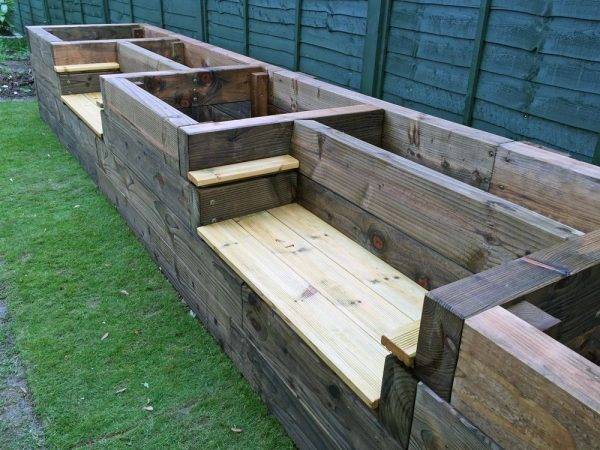 Enclose Your Raised Garden Bed
If animals are particularly pesky in your area, you might consider a raised garden bed that is enclosed. You can build a variety of different frames and enclosures around your garden bed. Starting at very elaborate working all the way down to something as simple as just wrapping the box in plain metal fencing.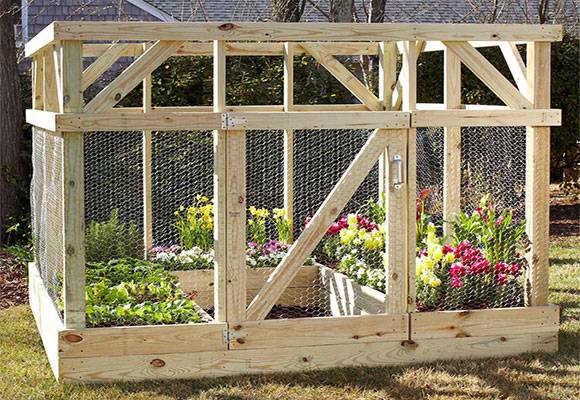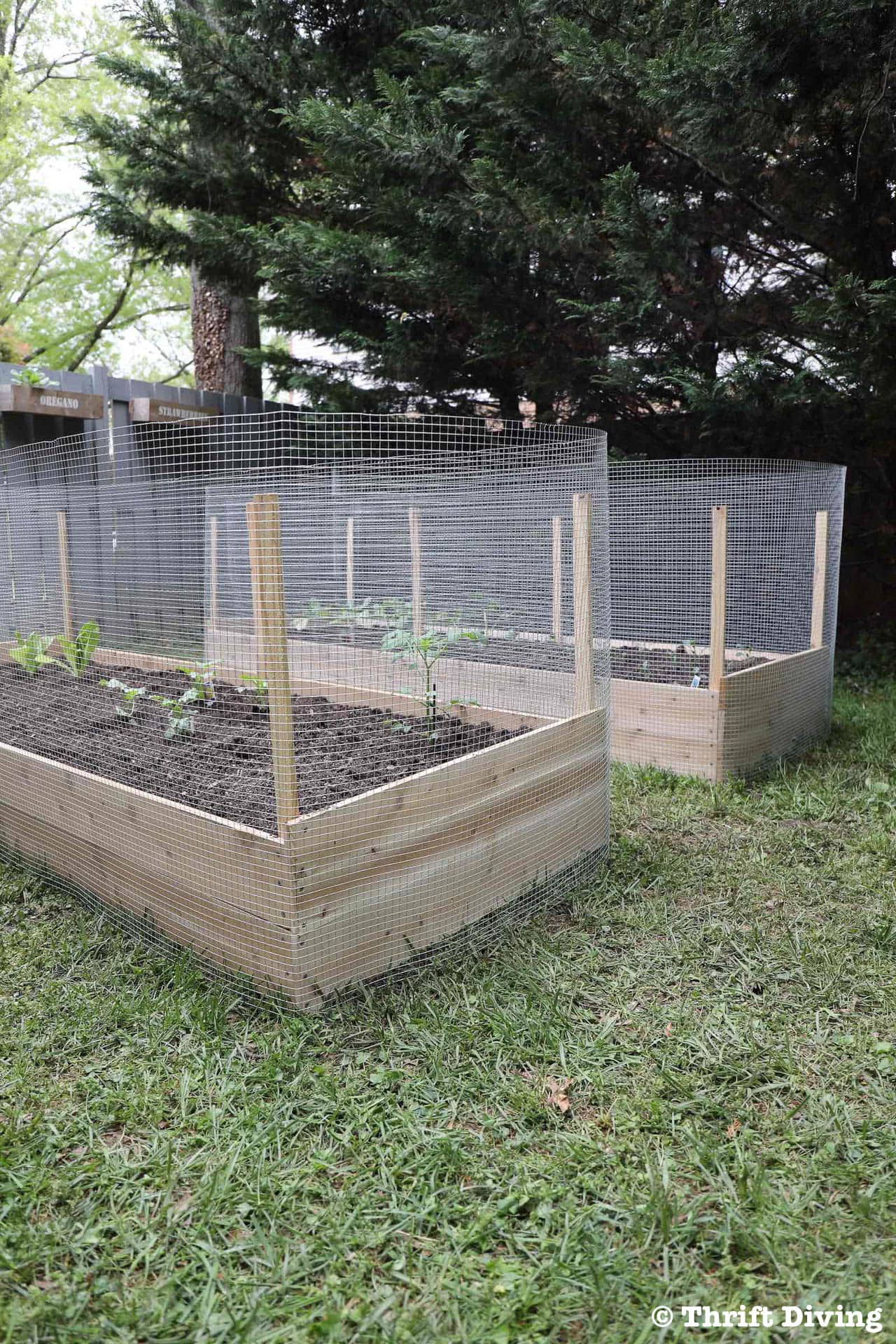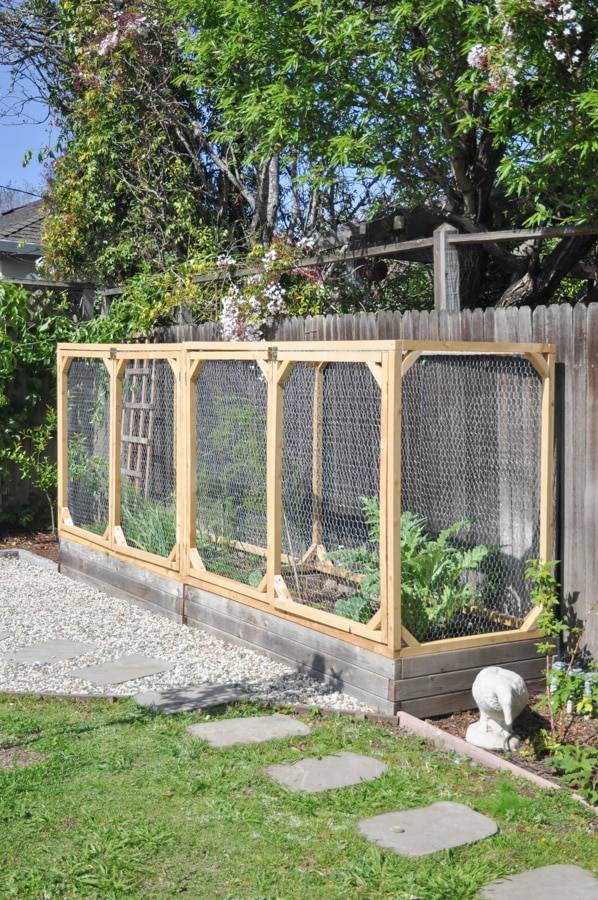 Simple Stand
Raised garden beds aren't always massive. Sometimes a nice little two-tiered plant stand is all you need. Something like this is perfect for a tiny herb garden — great for people who live in apartments or are short on backyard space.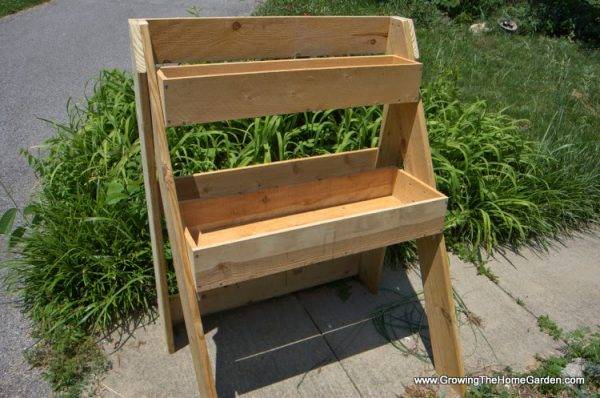 Slick and Trendy
Raised garden beds don't have to be just boring wood. Try adding in a trending design or something simplistic that elevates the style of your backyard. I like this simple black striping on this light wood cedar. It adds just a little style without going overboard.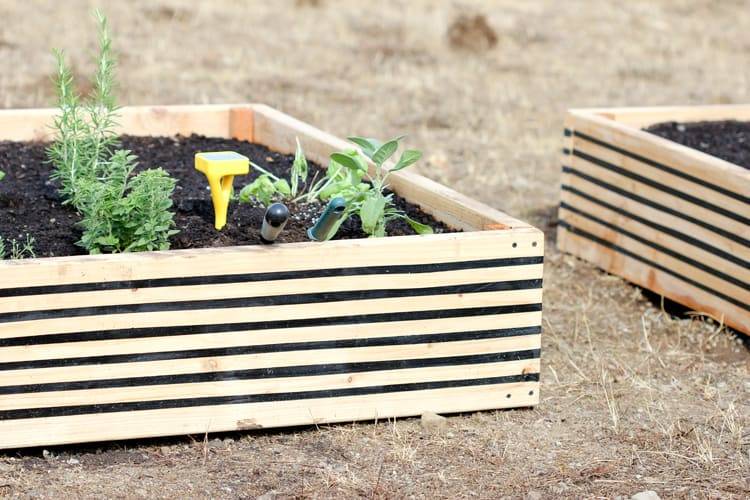 Hoop Garden Bed
A hoop house is a type of garden bed cover that has a "hoop" shape. The supports are bent around the top of the raised garden bed, creating a dome-like space inside. This shape holds up the cover material, be it plastic, netting, or fabric.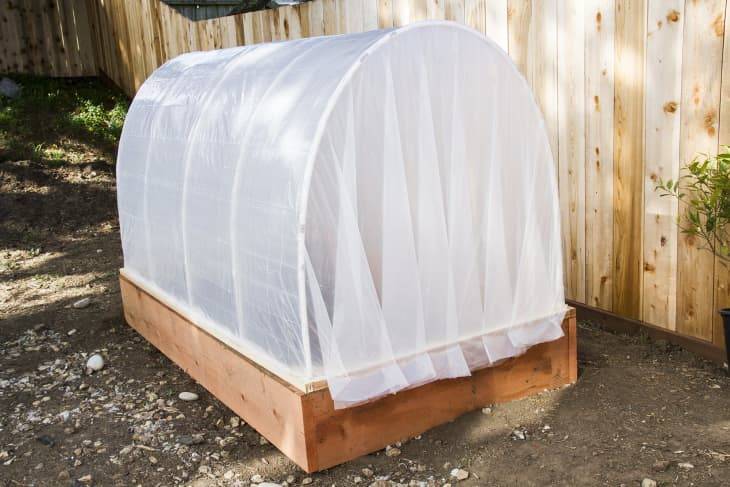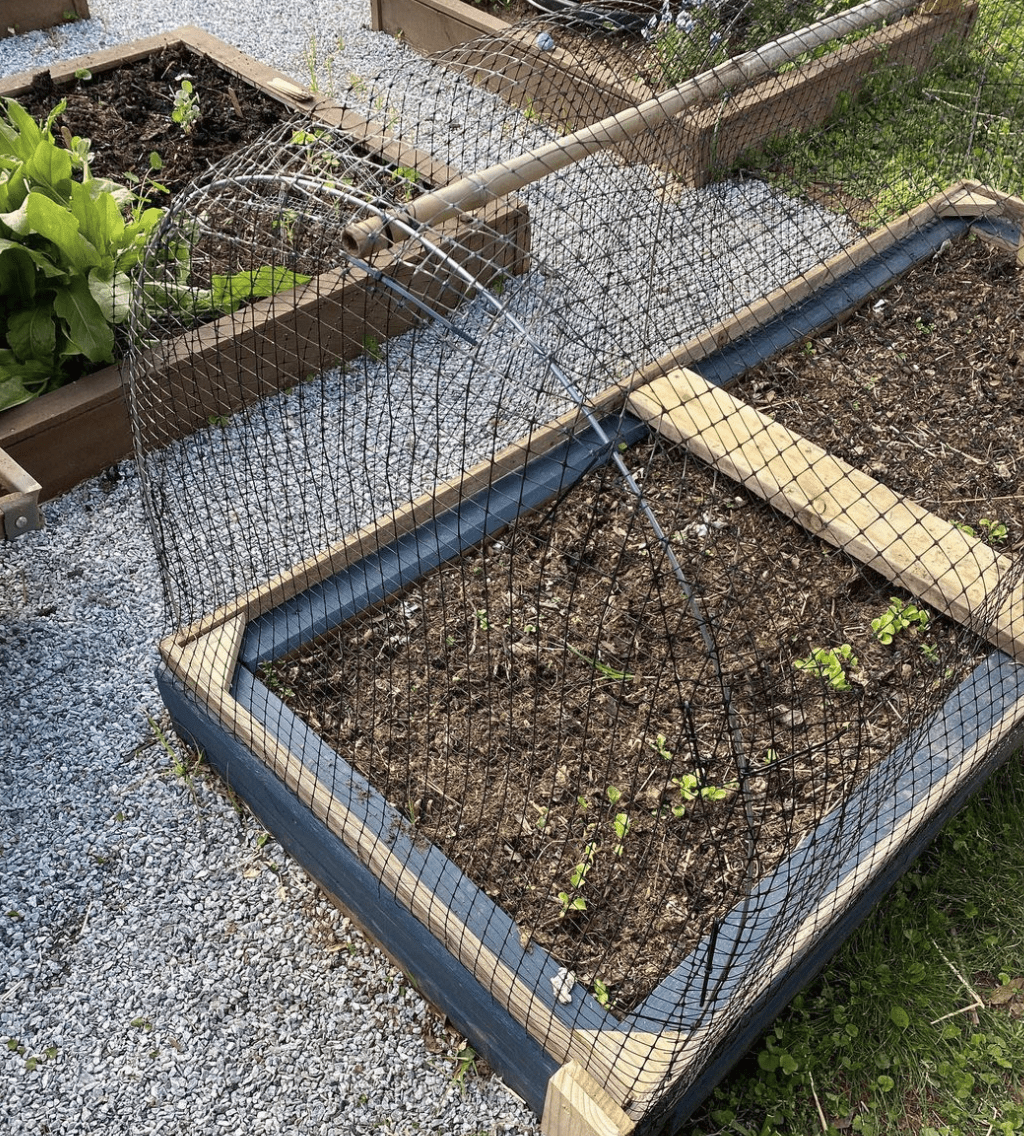 Self-Watering Veggie Table
Great for lettuce, a self-watering veggie table is ideal for those that don't have the space to plant a garden or maybe don't have the right soil. This is a system where you allow water at the bottom of the container to be drawn up to the roots as they need it. There is an overflow hole in the side of the container, near the top of the water reservoir that overflows when the water reaches the top.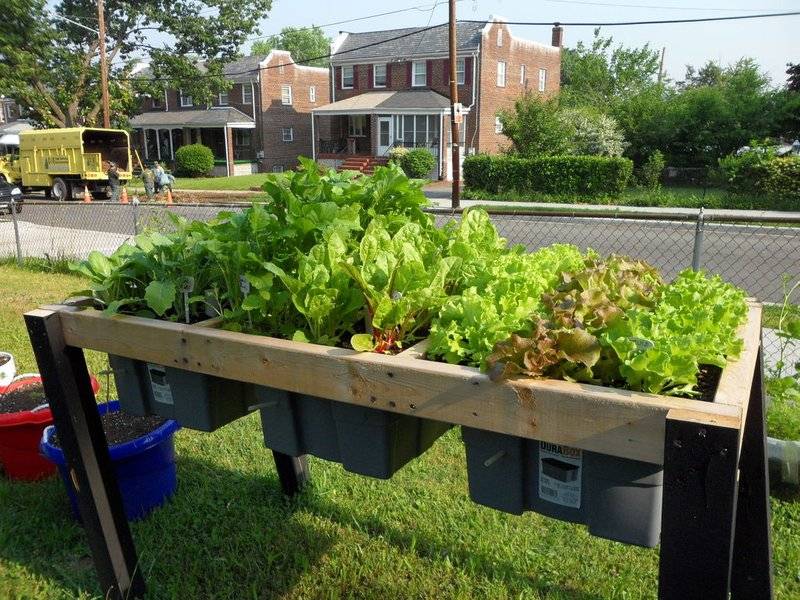 Straw Raised Garden Bed
A straw bale can make a fantastic growing medium, and a straw bale garden is a raised bed in which the potting soil, compost, and plants are all housed inside the straw bale. Straw bale gardening is a great way to grow herbs and vegetables, and can also be used to grow ornamental plants.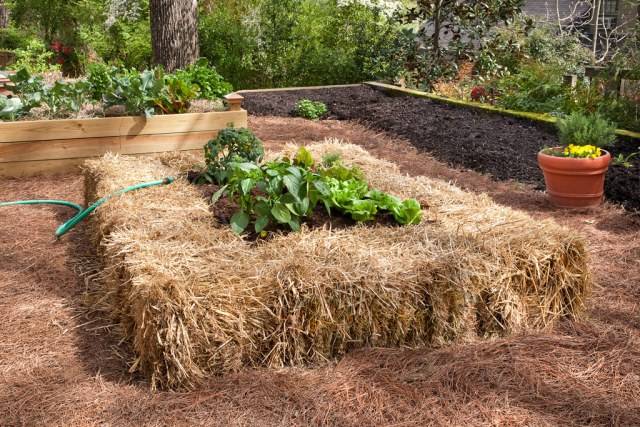 Trellis Raised Garden Bed
If you are planting claiming plants, add a trellis to your raised garden bed. I like this idea of bending cattle panel over to another raised garden box.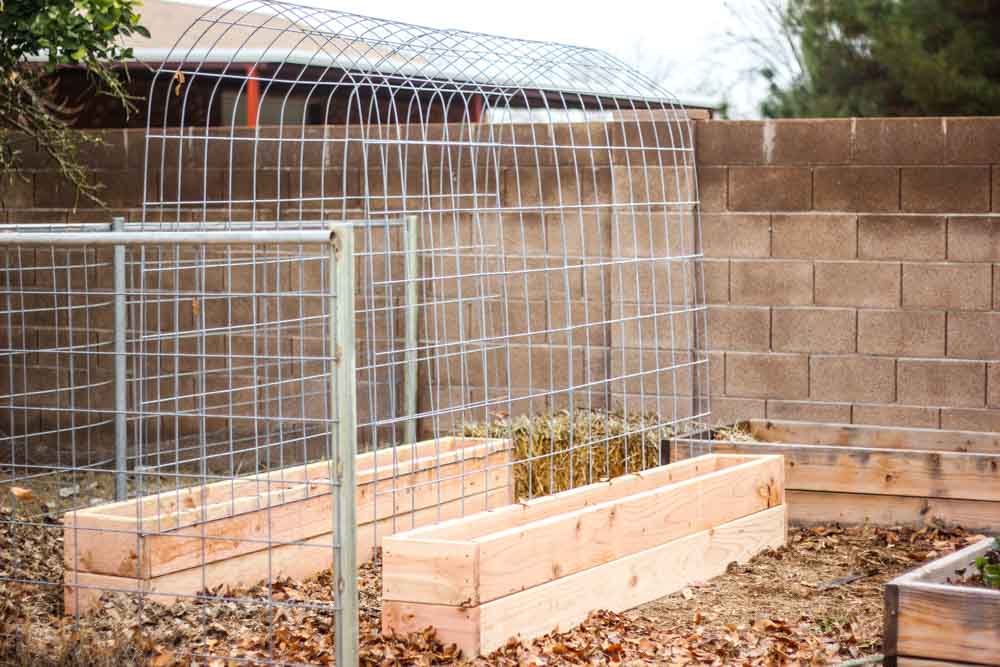 Water Trough
If you can get your hands on an old water trough, they make great raised garden beds. This is great for the homeowner that may not want to build or DIY something. Just place and fill. This is an easy but extremely pretty option!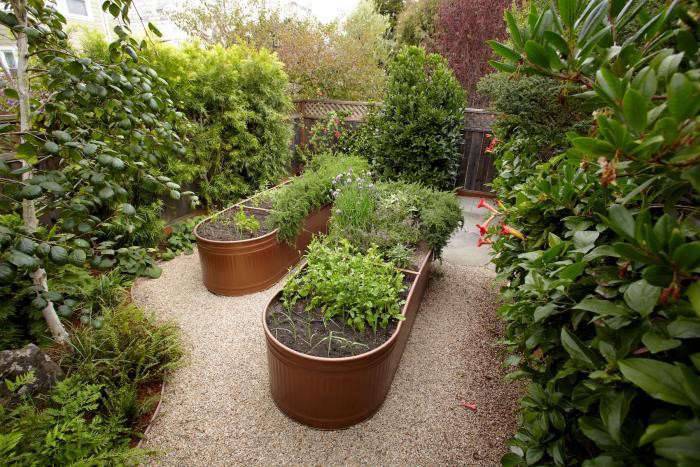 Add in Dividers
For hard-to-manage plants and veggies, add dividers into your raised garden bed. This will help you keep your garden organized.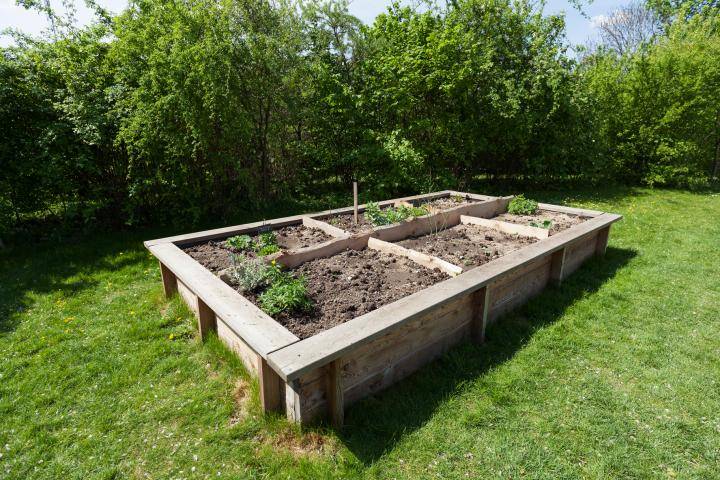 The Space Saver
If you're tight on space, make sure you use the space under a raised garden bed. Here's a neat idea of making a raised garden bed with storage underneath for trash containers. This also provides a pretty space to store items that aren't so pretty.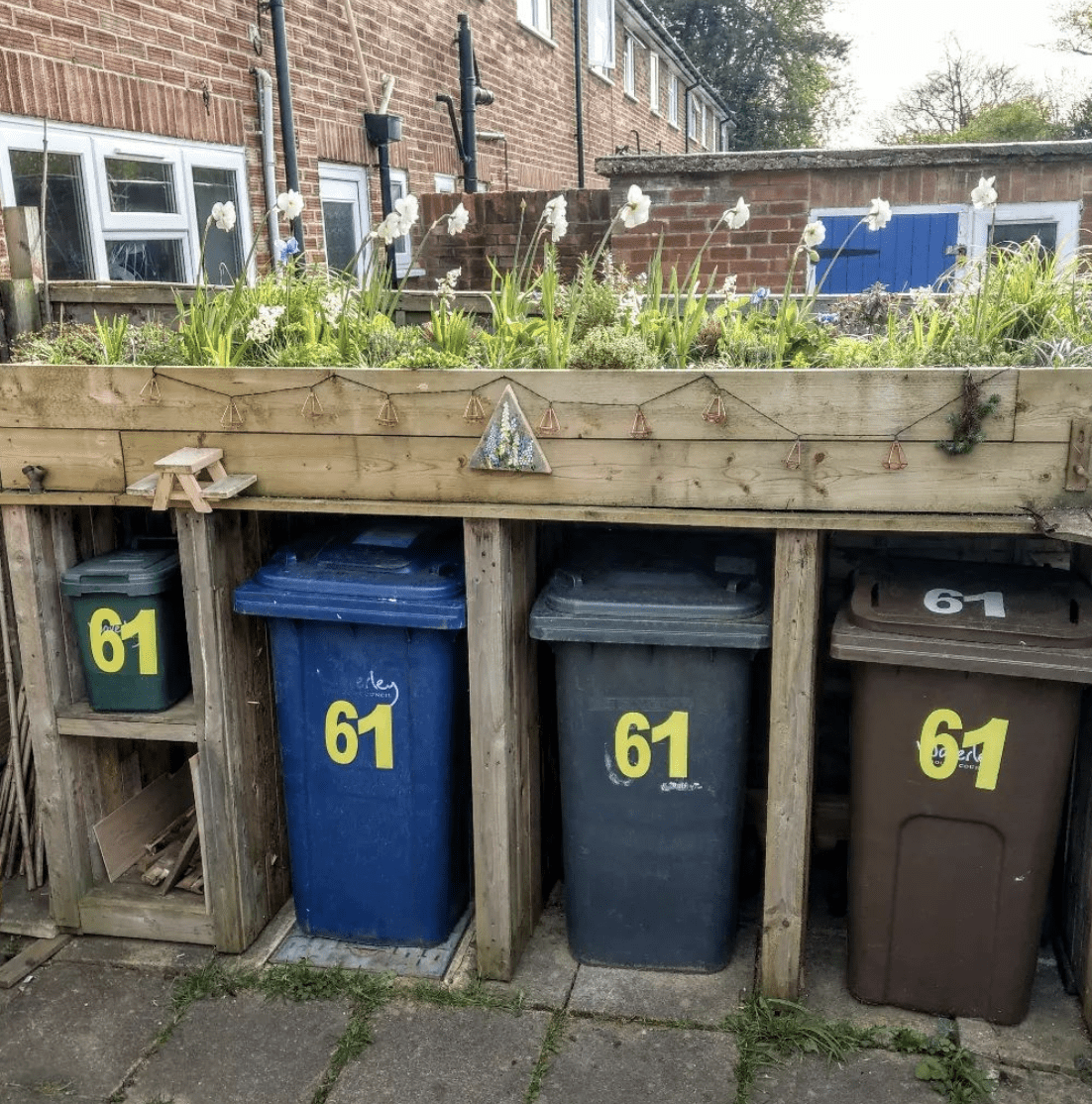 Get Creative with Shapes
Ditch the traditional rectangular shape of a raised garden bed and go for something a little more modern. Try making a raised garden bed in the shape of a hexagon to add a little dimension to your backyard.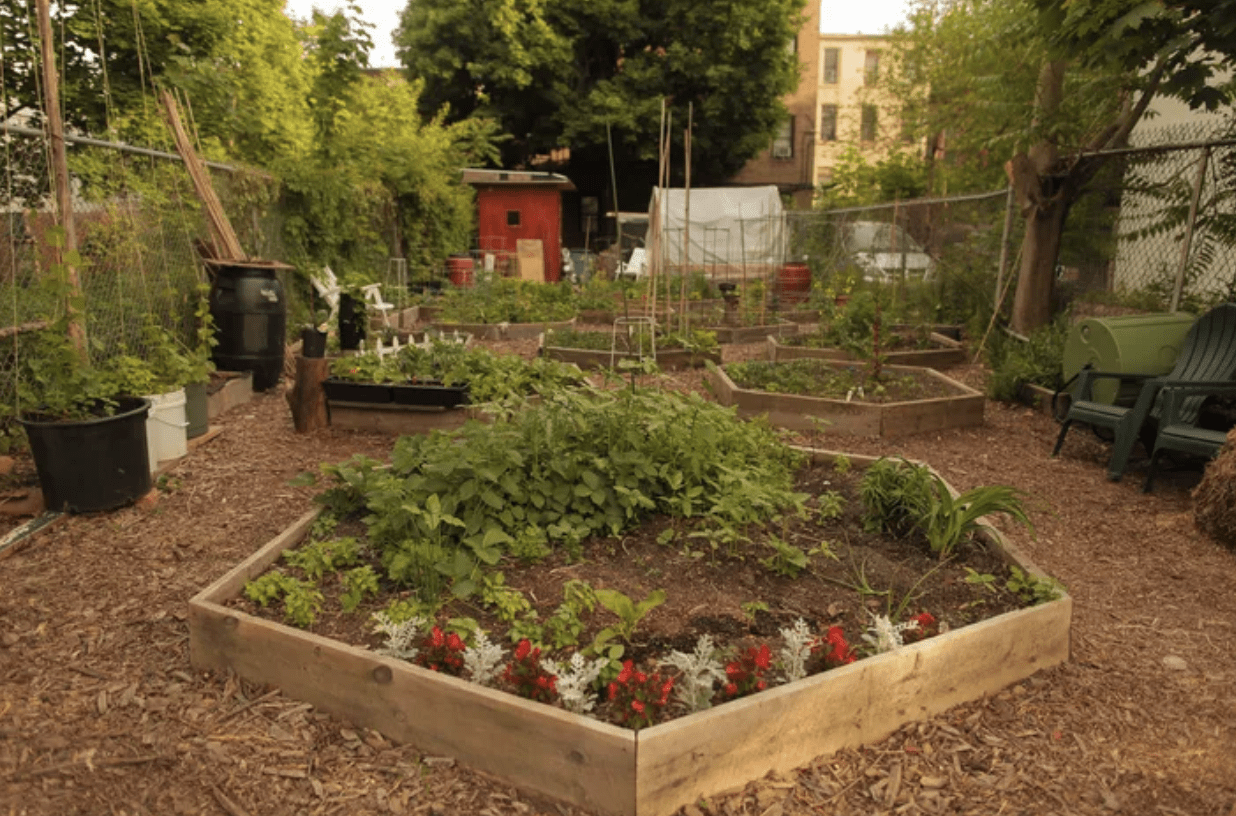 Think Resourceful
Work with what you have. If you want to make a raised garden bed as inexpensive as possible, look around your home and see what you can come up with. Even an old bathtub makes a wonderful raised garden bed!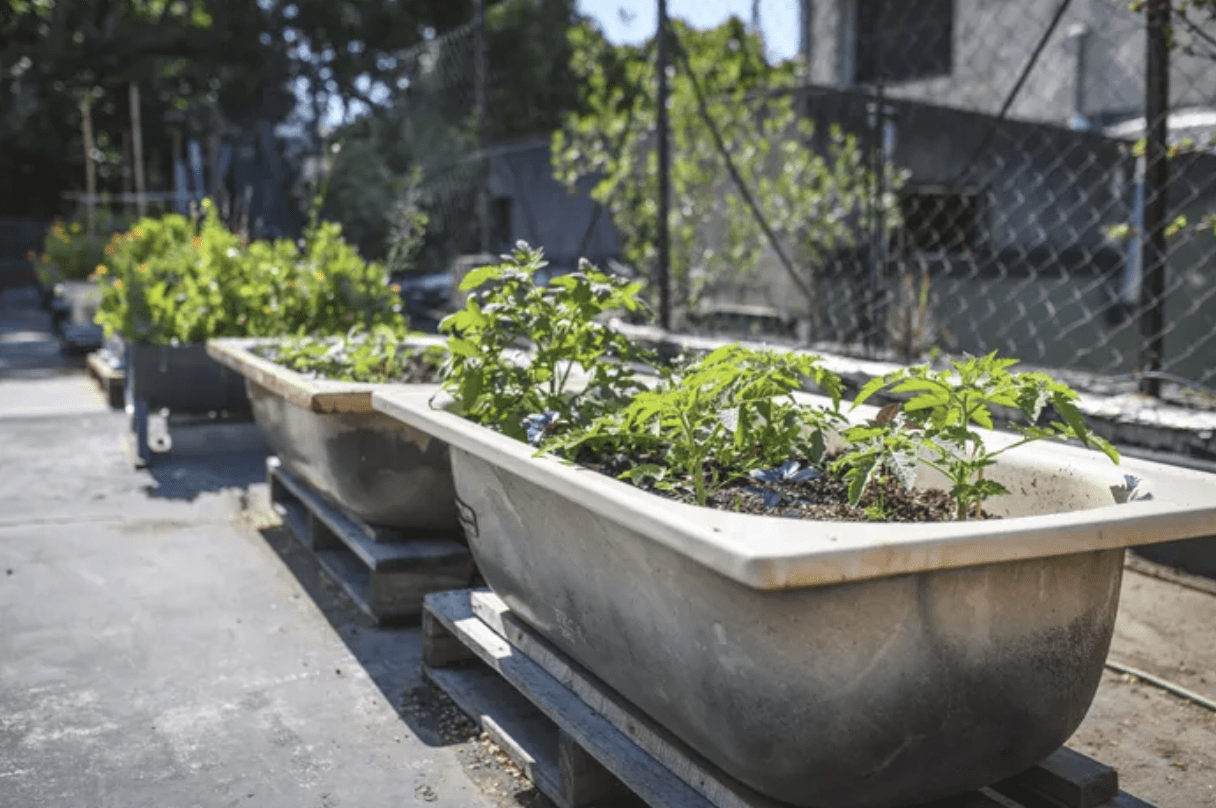 Soil Building
Building a raised garden bed is really the way to go, especially if you live in an area where the soil has clay, rocks, or sand. In building a raised garden bed, you control the soil and its qualities.
The key to having great soil is to build it in layers, because filling a whole garden bed with rich soil can be quite costly. Typically raised garden beds are 18" – 24" deep, but the key is to layer different materials into your raised beds, conserving the top 12" for your more expensive, high-quality soil.
Important: All of your layering materials need to be organic and toxin/petroleum-free.
Bottom Layer: Wood, newspaper, or manure. The bottom layer or base layer will decompose over time, but it's important to remember how deep your layers are so you do not disturb this layer when digging in the soil. For this bottom layer, you can lay a thin layer of small twigs, branches, or bark at the bottom of your raised bed.
Less expensive soil: Add in a less expensive soil like old potting soil. Make sure that this old soil doesn't have any weeds in it. Also, be careful not to use old potting soil that is moldy or has a pest infestation. You can also add in some leaf mold, compost from your pile, and grass clippings.
High-quality soil: Save the best for last! Most raised bed plants need 6-12" of good quality soil, so aim for that depth when adding in the good stuff.  Fill your bed to within an inch under the top edge of the bed. Remember that soil will settle in more as you water.
Best Tips for Building a Raised Garden Bed
Before you start building, there are four tips to consider:
Plan where you want to place your raised garden beds. Typically, you want an area with the most sun — unless, of course, you're going to plant plants that require shade.
Plan how many raised garden beds you'll need. If cost is an issue, one big bed is more cost-effective than several smaller beds. Depending on what you're going to plant, undersized beds might be a better idea, though. Group similar plants and companion plants in the same bed.
Plan the size of your raised garden bed. Beds built larger than three feet wide are harder to manage, but raised garden beds can be as long as you want them to be.
Plan the material you're using. Wood is a common choice; it's inexpensive, durable, and light. If cost is a big issue, you can even recycle wood from pallets. If you need a more permanent solution, concrete is always a good choice.
Frequently Asked Questions (FAQs)
What do I put on the bottom of a raised garden bed?
Organic materials such as straw, grass clippings, wood chips, and leaves are great for filling a raised garden bed.  You may also want to place cardboard or any other suitable weed barrier material over this organic layer and weigh it down with a few bricks or pegs.
How deep should a raised bed garden be?
A raised bed does not have to be very deep to be effective. Eight to 12 inches is usually sufficient. If drainage is a concern, or if the plants you are growing favor drier soil, the bed could be more elevated and filled with a porous growing medium. Vegetable beds should be 12 to 18 inches deep.
What is the cheapest way to make raised beds?
Work with what you got! Be creative and resourceful and take a look around your home to see if you have anything readily available to make a raised garden bed. If you don't have anything, using recycled pallets is also an option. If you do have to buy building materials, see if there are any discount building supply places in your area, like a Habitat for Humanity Restore.
In most cases, cedar is the best wood to use for garden beds because cedar is naturally rot-resistant. Western red cedar is commonly used, but white cedar, yellow cedar, and juniper are also high-quality choices for outdoor construction projects.
Should I line my raised garden bed with plastic?
Plastic prevents drainage and could drown your plants' roots so it should be avoided. If you have a weed or pest situation, consider installing a combination of metal mesh and fabric or hardware cloth and cardboard to get both benefits at once.
Do you need drainage holes in a raised garden bed?
Having raised beds with good drainage is crucial. Not only will it prevent overwatering or underwatering your plants, but it can also decrease the risk of various diseases associated with water issues, like root rot.
Can I use cinder blocks for a raised garden bed?
If you want something affordable that's not going to go anywhere, you can't do better than cinder blocks. There are a lot of options when it comes to building a raised garden bed, and although wood is the most common choice, cinder blocks follow closely behind.
New pressure-treated wood is considered safe but it is not recommended to use pressure-treated wood where the preservatives may become an element of food. If you do decide to use pressure-treated wood, it is recommended to use an impervious liner between the wood and the soil.
Is wood or metal better for raised garden beds?
Wood will insulate your soil far better than galvanized steel, which makes wood ideal for building raised beds with cold frames for winter gardening.
Here are some more articles related to the backyard you may enjoy: