Traditional board room tables have often prioritised function over form due to sizing requirements and corporate office restraints. However, thanks to his design ingenuity and innovation, Stefan Diez is showcasing how style does not need to be compromised with his new Boa Table collection for Danish design house HAY.
Taking inspiration from the traditional skillsets of Japanese bamboo artistry, the design of the Boa Table is centred around a tubular frame which can be flat-packed and easily constructed in-situ thanks to a unique aluminium folding technique which takes place when the profiles are bent into place during assembly. Not only does this increase longevity by allowing ease of transportation as businesses grow and offices change, but its lightweight material choice is also a conscious decision made by the German designer to reduce its carbon footprint. Crafted from CIRCAL low carbon aluminium (containing a minimum of 75% recycled, post-consumer scrap and extruded using hydropower) supplied by Norwegian manufacturer Hydro, the table base is designed with circularity in mind.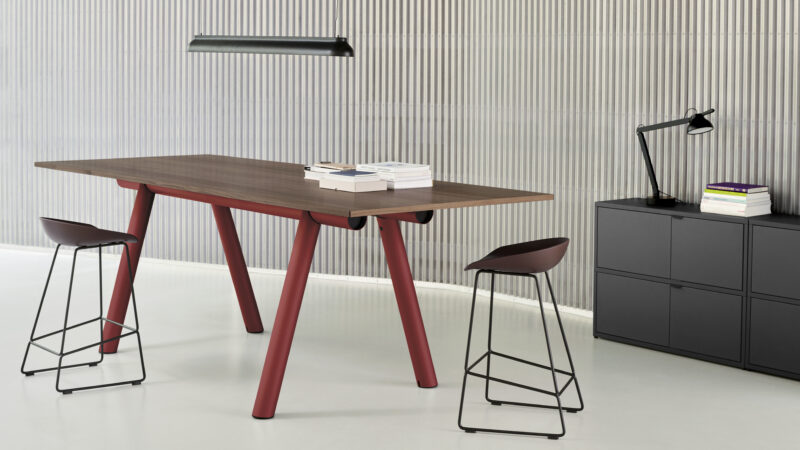 While the base is a work of art in its own right, the added benefit of a customisable tabletop option makes it even more unique and entirely personal to your space. Linoleum, laminate and wooden surfaces are available, but users are encouraged to source a locally made tabletop, further enhancing the table's sustainable advantages. "It really revolutionises the conference-table typology," states Creative Director of HAY Furniture, Rolf Hay. "It's one of the most important products we have ever made because, to put it simply, it fulfils every single one of our design values: it is original, relevant, responsible, simple and beautiful."
So, if an office upgrade is needed, this striking, design-led option is a welcome refresh on the cumbersome creations which have loomed in corporate meeting rooms for decades, often left behind as businesses move on to new pastures. Gone are the days of dark woods or metals being the only aesthetic choices too, as its powder-coated frame is available in a wide variety of colours. And, for those working from home, this makes the perfect multipurpose dining and workspace setting which bridges the gap between function and aesthetic alongside the option to tailor it to any interior style or colour scheme. Designed for workspaces at home or in the office, while remaining compact and portable, it's versatility at its finest.
Starting from £1278, the Boa Table base can be provided with cable storage and power supply accessories. Available to purchase here.
Images courtesy of HAY.