A home remodel can be done at very little cost, but perhaps you want to completely overhaul your home and bring it into the modern age.
Changing your property's appearance can be tough, so we have compiled a guide to help you give your home a more modern, contemporary feel.
1) Opt for Open Space
source: hpdarch.com
Traditional styles depended on separate rooms with separate functions. Modern homes make use of open plan living, such as a layout that places the living room, kitchen, and dining room all in one space.
This may require having to knock down some walls, but opening up space in your home will be well worth it. A complete home renovation like this goes beyond easy DIY ideas, and you will have to request the help of a builder or contractor to help construct your dream space.
Open rooms also allow for darker furniture or hardwood floors as the room is already light and airy.
2) Install new windows
Installing new windows will give your home a fresh, new look on the inside and the outside, without requiring planning permission. You can change up the window shape – larger windows are more contemporary – or create new window openings to let in more light.
New windows will make a huge difference to curb appeal, especially if they have sleek lines and are made from modern materials.
3) Upgrade your inner walls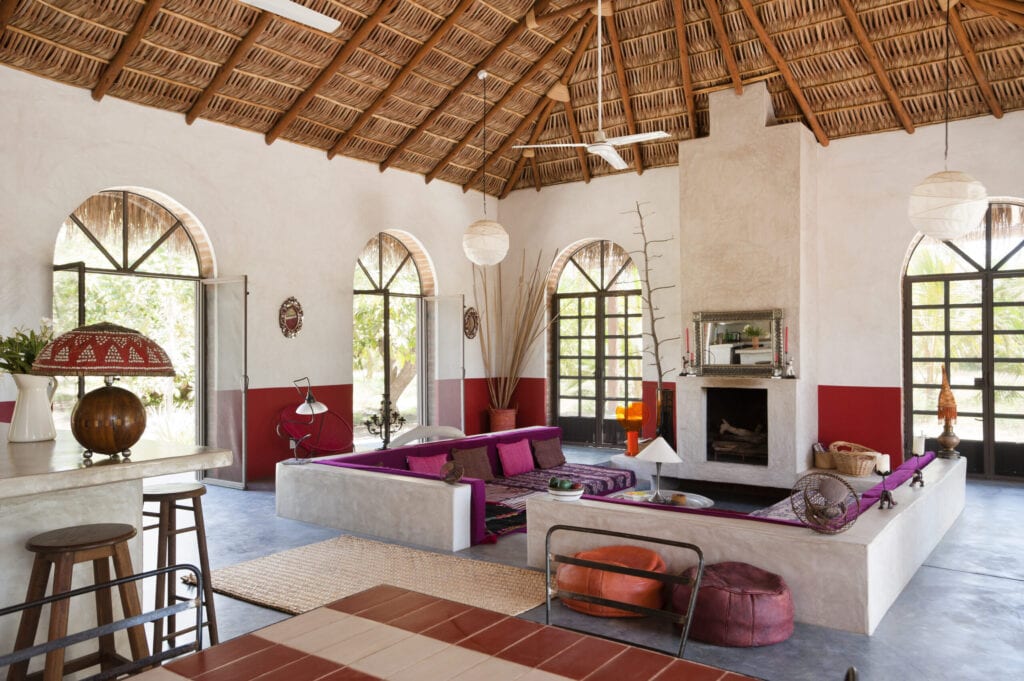 source: mymove.com
Redoing the interior colour of the walls will breathe new life into an older house. Bold colours on the walls are an easy, quick way to instantly modernise your home. The entire family can get involved to apply a fresh coat of paint in the common living areas.
A bright wallpaper applied to a feature wall will also instantly upgrade your home. If you opt for a daring wallpaper, it is recommended that you leave the other walls neutral, such as using white paint, to not make the room too distracting.
4) Upgrade your outer walls
If you find your house to be fairly boring or traditional from the outside, you can completely transform it by changing the cladding or colour on the outside.
Timber cladding is one way to instantly elevate your home if you have a face brick building. You can also repaint the exterior – a new fresh colour will instantly make your home more contemporary.
Just make sure your outer walls do not clash with your existing front door, or you may want to replace your front door to match your new outdoor style.
5) Change up your bathroom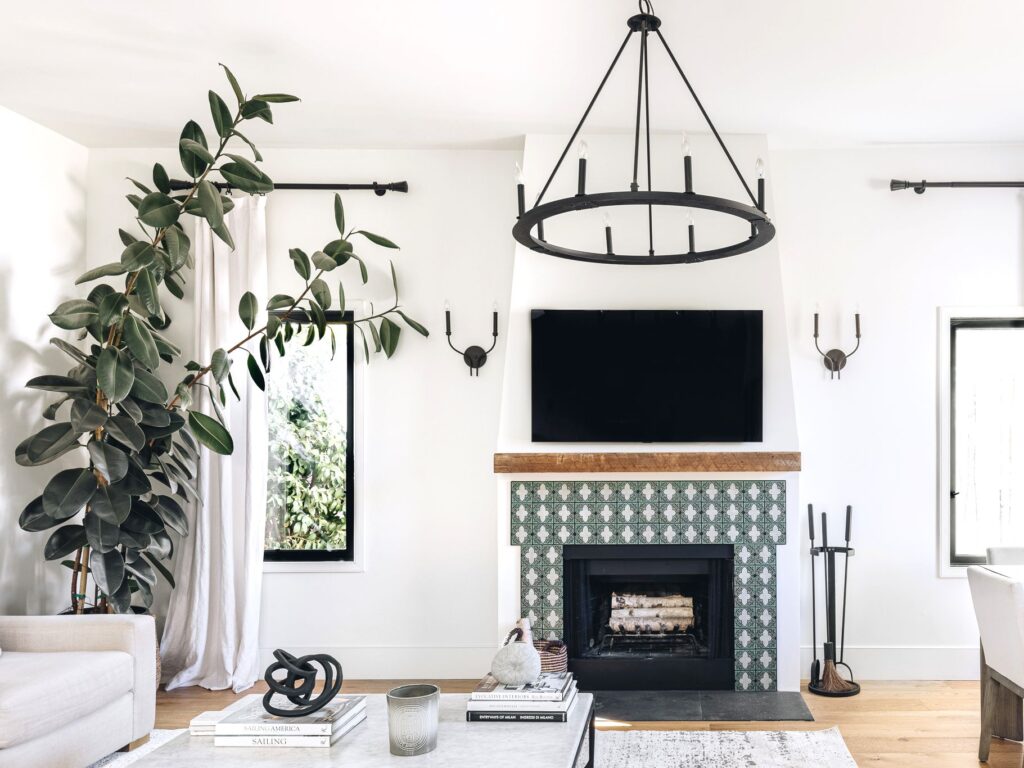 source: thespruce.com
Bathrooms are often overlooked, yet they are so easy to modernise. New fixtures, a new wall colour, or even new shower curtains will instantly modernise a tired bathroom.
If you declutter your bathroom and clean the sanitary ware, your bathroom will also instantly feel more modern.
Decorate it with greenery and contemporary artwork to break away from the traditional style.
6) Play with lights
If you are entering into a new lease, you may not be able to make major renovations. One easy thing to do to make your house more contemporary is to introduce new lighting fixtures.
Small rooms are instantly enlarged when different lights are added. To get the maximum impact, combine wall or ceiling lights with a table or floor lamps.
7) Upgrade your cabinets
source: pinterest.com
Whether n the bathroom or kitchen, cabinets have a big impact on the feel of the room. In an old house, the cabinets are often dated and made from cheap material.
If you cannot afford to replace all your cabinetry, consider simply updating the knobs on the cabinets.
Choices like chrome, copper, stainless steel, or bronze will all modernise your cabinets and the room they are in.
8) Declutter your home
Decluttering goes hand in hand with a deep clean. Go through your home – especially the common living spaces – and try to get rid of unnecessary items that are simply taking up space without adding value to the room.
You do not necessarily have to throw out your treasured belonging. You can invest in smart storage solutions to hide away your clutter.
Once you have decluttered, thoroughly clean the room and shelves. A clean room instantly looks more contemporary than a cluttered, dirty room.
9) Give your kitchen a modern look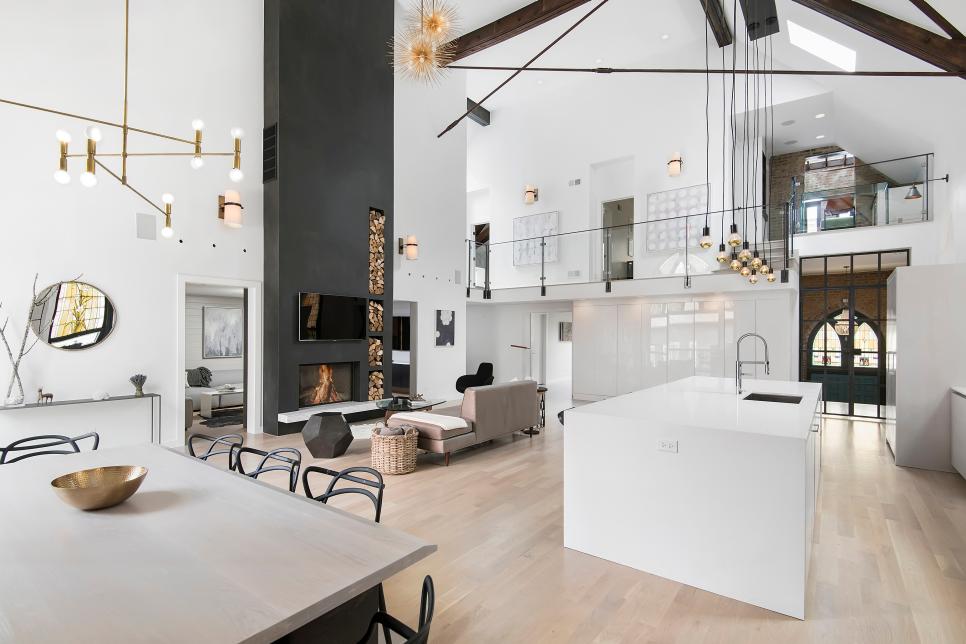 source: hgtv.com
Families spend a lot of time in the kitchen, and updating the kitchen will modernise your entire home.
A total kitchen overhaul can be very expensive, but there are small things you can do to make your kitchen feel more contemporary.
Consider replacing the countertop of the kitchen island, or update smaller appliances with modern versions (such as the beautiful products from Trade Radiators)
10) Utilise your outdoor space
If you have an outdoor area, you can use this area smartly to give your house a modern, contemporary feel.
Sleek outdoor furniture, a wooden porch, and a tidy backyard will all contribute to making your house feel more modern.
Final Thoughts
If you find yourself living in an old home with a traditional feel, you can easily make some changes on a tight budget that will make your home feel more contemporary.
If you are uncertain, you can find a leading digital publisher that will connect interior design experts with home buyers to help you find and construct your perfect contemporary home.