Simple imagination and basic essentials may make plain surroundings exciting. Dorm rooms can be transformed into peaceful areas for studying, socializing with friends, or simply unwinding by oneself. Make all of your own décor choices in your dorm room, from how many pillows are appropriate for your bed to innovative ways to arrange all of your belongings. This will help you to embrace small-space living and enjoy adulthood.
Keeping a space clean and organized is the first step in creating a comfortable atmosphere. When your place is tidy and organized, you can start incorporating personal touches to make it seem more like home. There is a list of some essential things that every dorm room must-have. Let's see dorm room essentials and how to incorporate them into your decor.
Dorm Room Essentials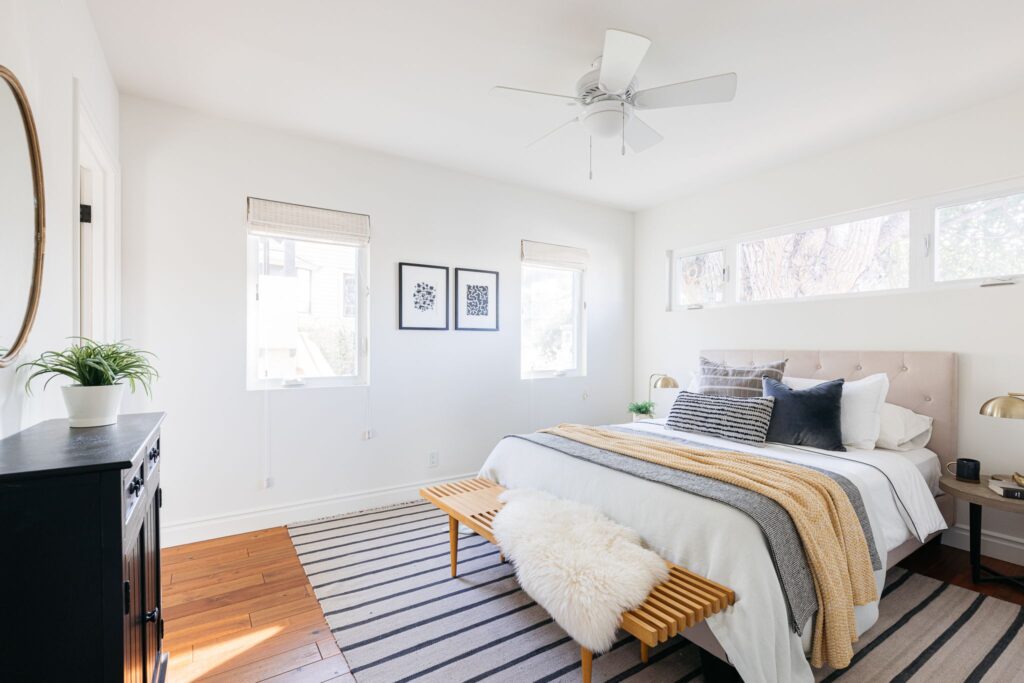 source: thespruce.com
The essentials may differ from dorm room to dorm room. However, there are a few essentials that you will almost certainly require regardless of where you are. To begin, you'll most likely require bedding, including sheets, pillows, pillowcases, a comforter, and a mattress cover. You'll also need basic washing essentials, such as a hamper and detergent. 
You'll also need some basic cleaning supplies, such as a broom and dustpan, a vacuum, and a surface cleanser. Here we have a list of dorm room essentials that you must have in your decor.
Quality Fabrics
An otherwise dull dorm room becomes warm and welcoming thanks to a beautiful carpet, decent curtains, and attractive pillows. These additions will give your room a more permanent atmosphere as well, equating a dormitory room to an apartment. Any dorm room has a stylish appearance if its color scheme is neutral and predominantly white.
Additionally, it's a good idea to match the color of the furniture that comes with your dorm. By doing this, your room will look more coherent and less like you are battling with the furnishings your residence hall has provided.
Glassware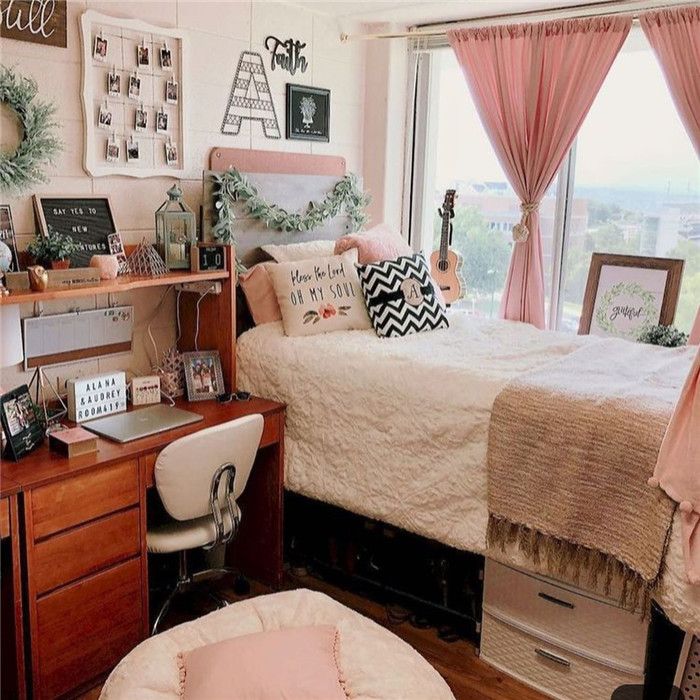 source: pinterest.com
The use of glassware, such as mugs, plates, bowls, and metal flatware, makes your all-in-one area feel more like a comfortable home. It makes sense to have a few food storage containers on hand whether you are a die-hard meal prepper or a huge fan of leftovers. Your dorm room will look good with a glass container set added. To ensure that they won't be too difficult to maintain, choose glassware that is freezer, microwave, and dishwasher safe.
Fresh Flowers Or Plants
Purchasing a fresh bouquet of flowers every week or so may help give your room a bit more life. Additionally, even though you live in a little space, this exercise makes you feel like you are taking care of that space. You can try some indoor plants as well. 
In a dorm room, many different kinds of plants can flourish. Succulents, herbs like rosemary and basil, blooming plants like violets, and even cactus are a few examples of good plants. Because they don't need a lot of light or attention to flourish, these plants are suitable for dorm rooms.
Lights Or Lamps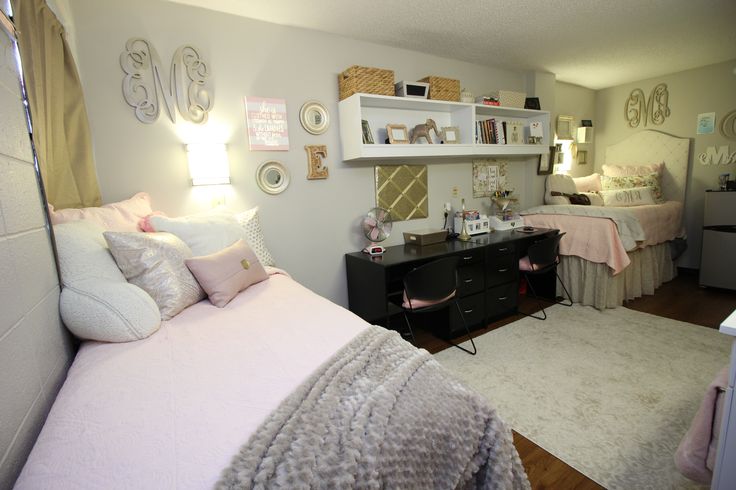 source: pinterest.com
Keep the blinds open during the day for natural sunshine and use multiple lights throughout the room to fill the area with a truly relaxing light. However, leaving space in your dorm room for stylish lamps is worthwhile because lighting frequently has countless design options, can add depth, and can instantly establish the tone. If you get yourself a statement light, you can easily transform your dorm room into a Pinterest-worthy hideaway. Choose lighting that will add dimension to your environment.
Another good idea to illuminate your dormitory room is to opt for flameless candles. It is completely safe from fire. Flameless candles are smokeless, dripless, and odor free. Don't worry about trimming wicks or relighting dim candles because it needs minimal upkeep.
Invest In Pieces That Will Last For a Long Time
Start making purchases for more "permanent" furniture as your dorm room essentials. You can add more modest yet long-lasting components, such as a coffee table, nightstands, side tables, a bookcase, or even a comfortable desk chair. A college-going student must have some worthy items on the dorm essentials list. You can take inspiration from Penn state dorms or Stanford dorms for purchasing items for your dormitory room in college.
Pottery Barn Dorm Room Essentials
A Bean Bag Chair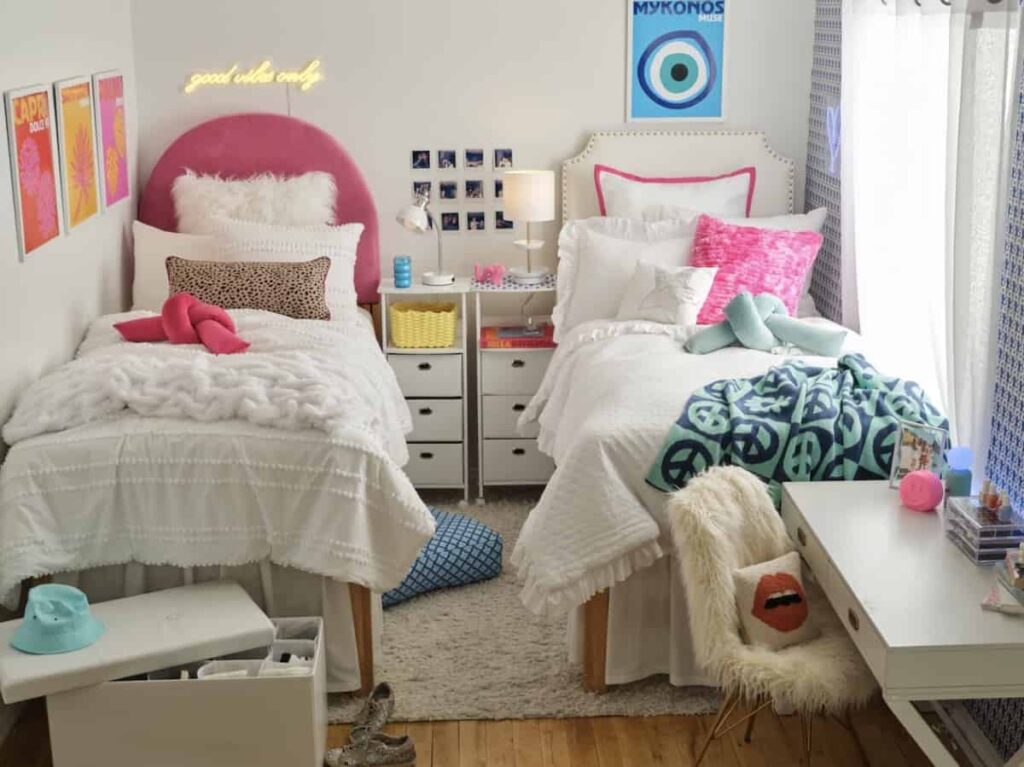 source: grownandflown.com
If a student wants to add seating to their bedroom or dorm, a bean bag chair is a great choice. A bean bag chair makes a comfortable space where they can complete their homework or watch Netflix. It is a necessary thing in the list of dorm essentials. Additionally, the cover is easily washable and removable.
Bohemian Fringe Plush Pillow
Throw pillows can help students spruce up their dorm rooms. These throw pillows are a fashionable and lovely accent to any bedding set. Throw cushions to brighten up the space and make it more appealing.
Plaid Comforter And Sham
Plaid bedding is fashionable among college boys right now. This blanket is made of 100% cotton percale and stuffed with 100% polyester. It's ideal for a guy who wants more than simply a simple bedspread but doesn't want a crazy pattern. Pottery Barn Dorms has three plaid colors to choose from blue, grey, and black.
Ombre Tassel Perfomance Rug
This rug is available in two adorable pastel colors and is both responsibly sourced and manufactured. Rugs actually make a place feel cozier and cozier. This rug would look fantastic next to the bed.
Recycled Classic Shower Caddy
source: hgtv.com
If you share a bathroom, you should have a shower caddy. There are numerous pockets in this pottery barn dorm shower caddy to store products including body wash, shampoo, conditioner, and conditioner. As part of Pottery Barn's commitment to sustainability and the environment, this shower caddy is manufactured entirely of recycled polyester. It comes in six colors and is manufactured from more than six recycled plastic water bottles.
Stanford Dorms – Shopping Checklist
Cleaning products (other than maybe tissues, a thing of Clorox wipes, and some laundry pods)
Tupperware for storing cutlery, forks, and other items
Anything more than two sets of sheets (the box sets are excellent; you only need a comforter, pillow cover, and bottom sheet)
table lamp (probably)
plastic bags
umbrella
shoe cupboard (for most guys)
mirror
excess of storage containers (just get those stacking plastic drawers)
flashlight
toolbox
safe or lockbox
wastebasket
Iron might be worthwhile. However, there will be one in your dorm.
towel holder
Final Thoughts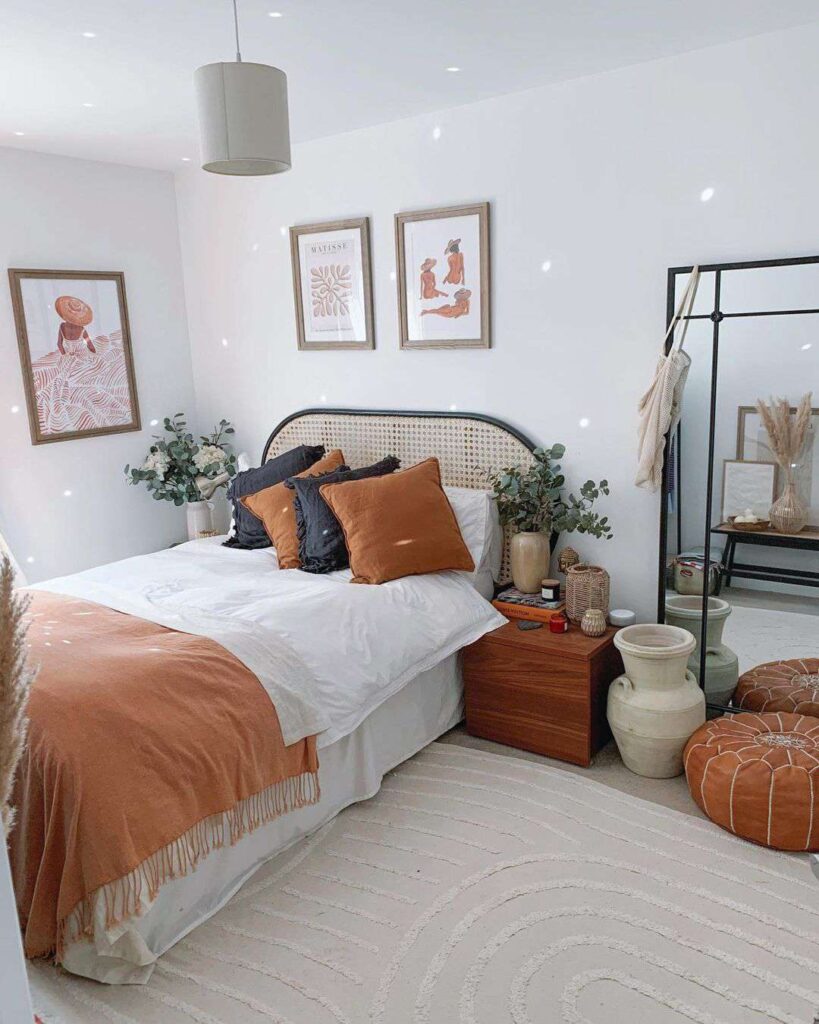 source: thespruce.com
Overall, the most important thing to remember while attempting to make your dorm room feel livable is to establish a setting in which you feel comfortable and serene. You require a place where you can slow down, relax, and actually rest. Consider it this way: an investment in your living space is an investment in yourself. In an often overwhelming season of life, having a tranquil dorm room will help ground and center you as you push through your academics and launch into the rest of your life.
It can be challenging to remember to bring everything you need because dorm rooms frequently lack storage space. Before investing in a storage setup, decide what you need to arrange and store. This will help you maintain your area organized.