There's one in every home: a blank wall that needs a little something something. You know, something to fill the blank space and add a bit of personality to your home. Creating a wall collage of pictures is an effortless and delightful way to take up that empty space on a large wall, making any room feel fully occupied. You can use your collage to display your interests, people you care about, or just images you enjoy.
From setting a room's aesthetic to showcasing your own unique preference, a photo wall collage offers a way to integrate yourself into your home decor. Check out these impressive wall collage ideas below and tips and tricks on tackling this easy DIY project.
The first rule every homeowner needs to select the perfect wall art is this: select what you like. This is your chance to go wall-to-wall with the things you love. Spotlight family and friends, your hobbies or fascinations, or merely images that speak to you. Below, you can find information on picking your custom wall art, along with wall collage concepts for mixing and matching different sizes, textures, and materials.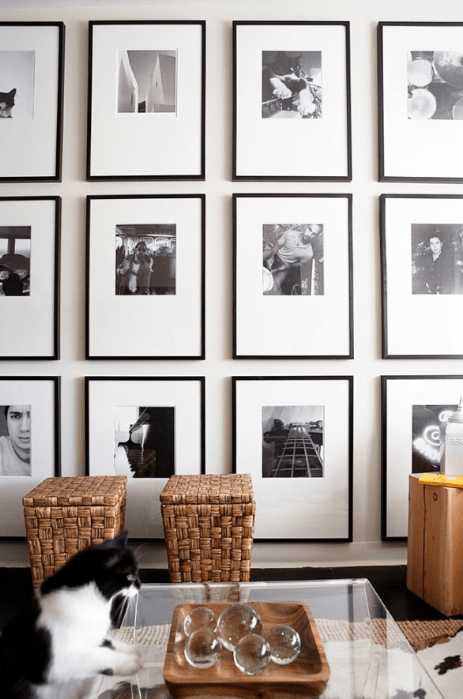 Find Your Starting Point
Do you have a painting, print, or photograph that you absolutely adore? If you have some cherished pieces in hand, you're already off to a great start. If not, find something that speaks to you, something that captures how you want the rest of the room to feel, or even something that brings a smile to your face. Whatever you choose, this piece can be the anchor point that you can use as the basis for your new wall collage.
There are many different types of wall collages, and they can be categorized into the following:
Photos-only wall collages
Sayings, objects, and random "stuff"
A mix of the above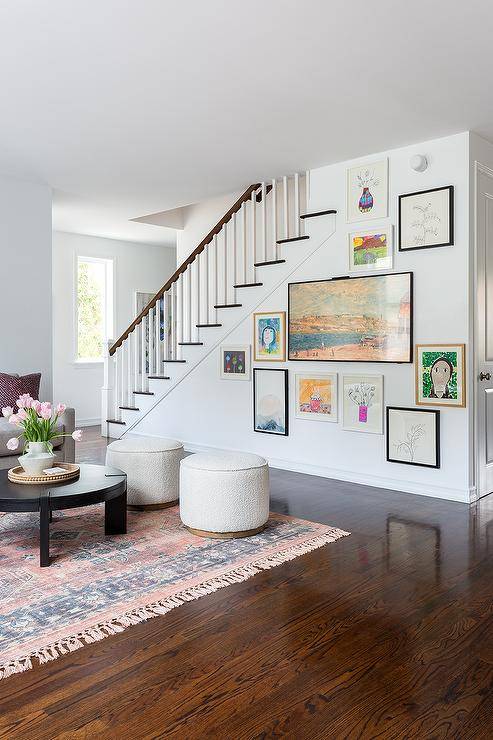 A Samsung Frame TV fits perfectly in a wall collage of photos and blends seamlessly. One wouldn't even know that there is a television here.
Regardless of what type you wish to do, they can go just about anywhere in a home. Some favorite spots are over a bed, on a large open wall, or on a TV- Wall. It is especially nice to put a wall collage on a mounted television wall because it makes it visually appealing and a focal point, especially when the television is off.
Select Wall Art By Size
When choosing wall art for your wall collage, go with a broad idea about the size you are looking for in a room. Many people find starting with the more extensive pieces easier and working their way down. Art prints and posters cover many surface areas and work great as a background for your collage. Look for prints that match the other decorations in your room, so the colors don't conflict with one another. You can fit as many or as few posters or prints as you want for your collage.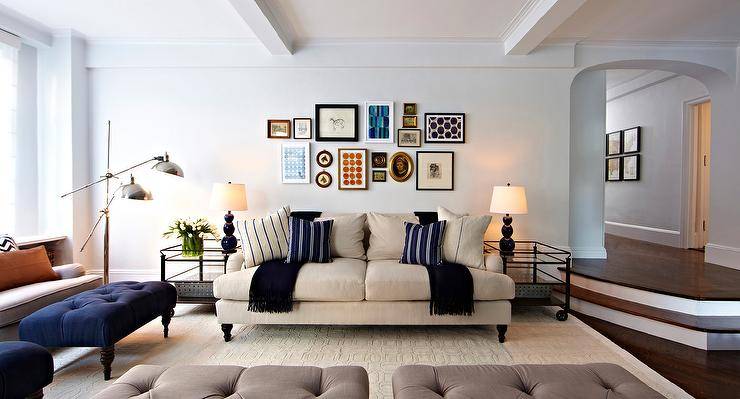 Choose A Medium
The awesome thing about creating your wall collage is that you can mix and match various mediums. You can combine eclectic collections of canvas prints, wooden signs, decorative plates, and maybe even a faux animal bust or two that somehow come together to form a stunning, impressive wall collage. You can go for a wall collage composed of all photo prints for a more cohesive look. The possibilities are practically endless.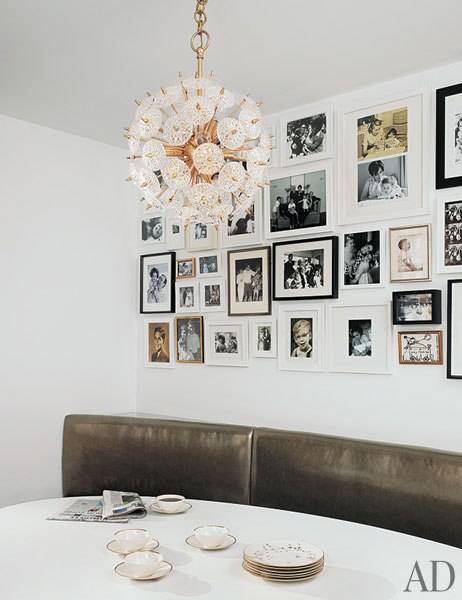 Stick With A Theme
What's the general theme you're going for? How do you want it to feel? Would you like to see neat rows of matching items, or do you want to position eclectic gallery walls that showcase a combination of works? Wall collages that have a main concept always look a bit tighter and more put together than those that don't. Choose a favorite theme — coastal vibes, botanical prints, a neutral color palette, family vacations, or inspirational wall quotes and vary picture frames and sizes for visual interest. With a consistent theme, the wall looks pulled together.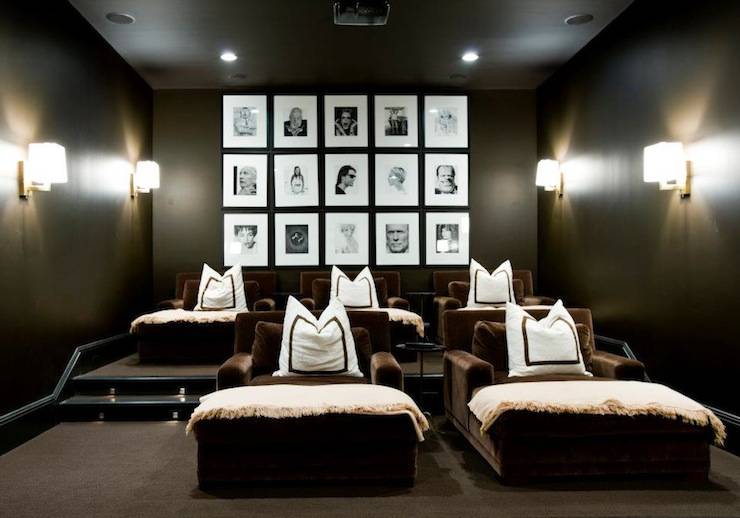 Find Inspiration With An Online Library Collection
An online library collection will feature curated designs that are perfect for creating wall collages. Sites that specialize in creating pre-set wall collages are an easy way to go for those that don't want to think about designing their own wall collage. You can arrange a gallery online that suits your style and have it shipped right to your door.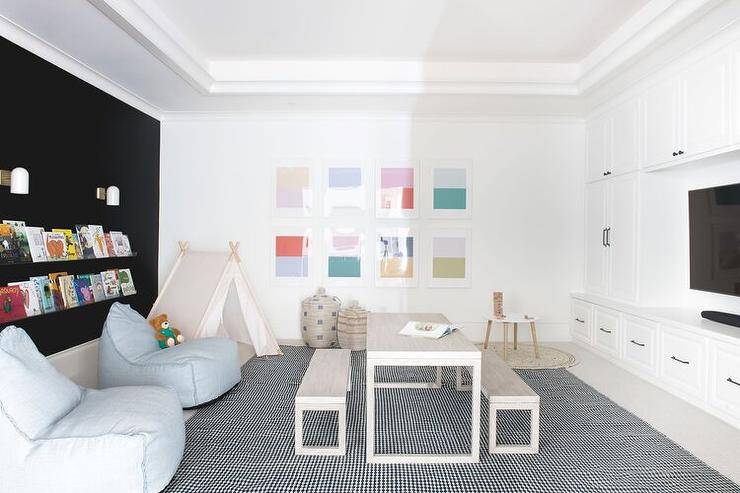 Planning The Wall Collage Layout
Before you affix your first photo print to the wall, arrange your collage on the floor to get an idea of how the photos play off of one another. Keep experimenting with layouts until you're happy, then snap a quick pic on your phone so you don't forget your arrangement, just in case you're interrupted or need to move the photos in the middle of the project.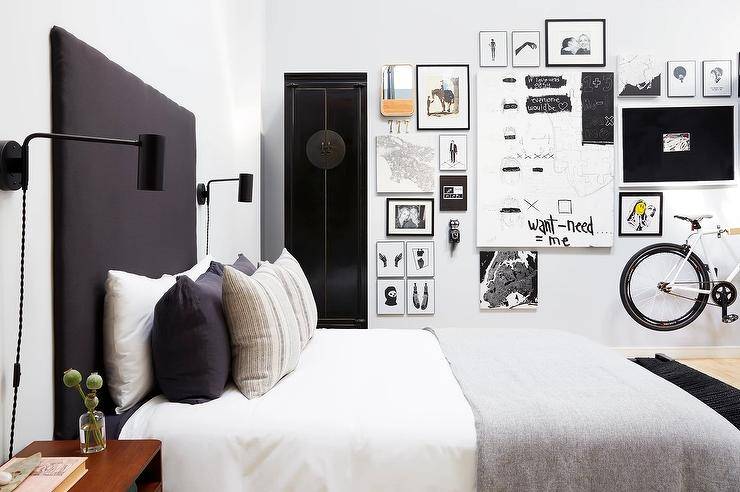 The rule of thumb is to hang pictures at eye level. So, if you have a more undersized collage, you can try to keep the center of it at eye level. If you have a large collage, feel free to experiment with the layout that works best for your space. Here are some wall collage layout ideas to help you begin:
Rectangle Wall Collage: Make a rectangular shape to organize your collage. Line the elements of your collage next to one another to make a rectangular collage.
Diagonal wall collage: If you have enough photos and posters to cover most of a wall, try taping images in a diagonal line. This arrangement will look more vibrant than just papering half the wall horizontally.
Mural Wall Collage: Overlap items in your collage for a more eclectic look. Combine elements of your collage by gluing photos and cutouts together to make interesting overlaps.
Cloud Shape Wall Collage: Form a cloud shape if you want the option to add more to your collage. Don't let the outer edges of your collage form a straight line. You can easily put the new elements around the outside when you want to add more things to your collage.
Where To Put A Photo Wall Collage
Defiant to the popular idea, a wall college does not always have to be hung on the main wall in a living room or a bedroom. You can use them to fill just about any empty space – be it corners, the foyer, as bathroom wall art, surrounding the door frame, on the wall behind the headboard, or on the walls next to the stairs. Another great place to create a wall collage is around a wall-mounted TV. This makes the TV wall more visually appealing and less of an eye-sore, especially when the TV is off.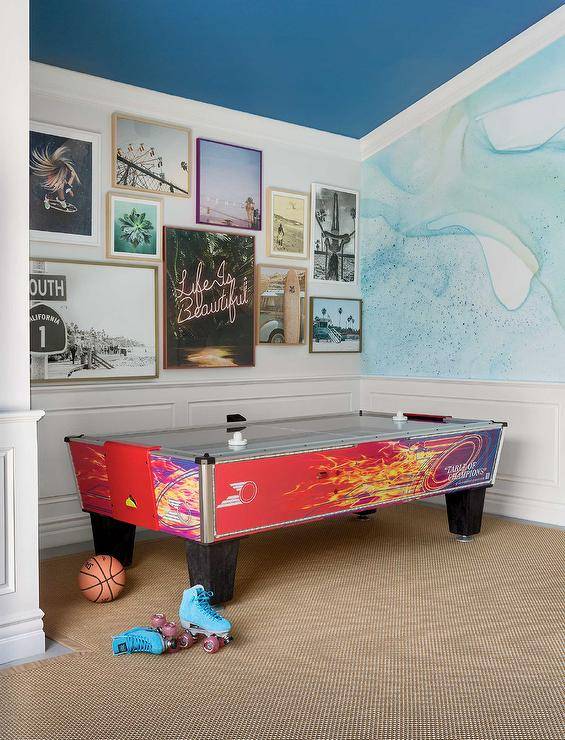 How To Hang A Wall Collage
There are many various ways to go about hanging a wall collage. Find out what's perfect for your wall collage of pictures with our choices below.
Nails Or Hooks
Use nails or picture hooks if you're putting up custom-framed photos or canvas prints. Use a pencil to mark the spot on your wall where you want to hang your pictures. Drive a nail or place a hook on the spot, so it hangs about 1⁄4 in from the wall. Set your wall art on the nail or hook so it isn't crooked. Keep hanging up the rest of your photos.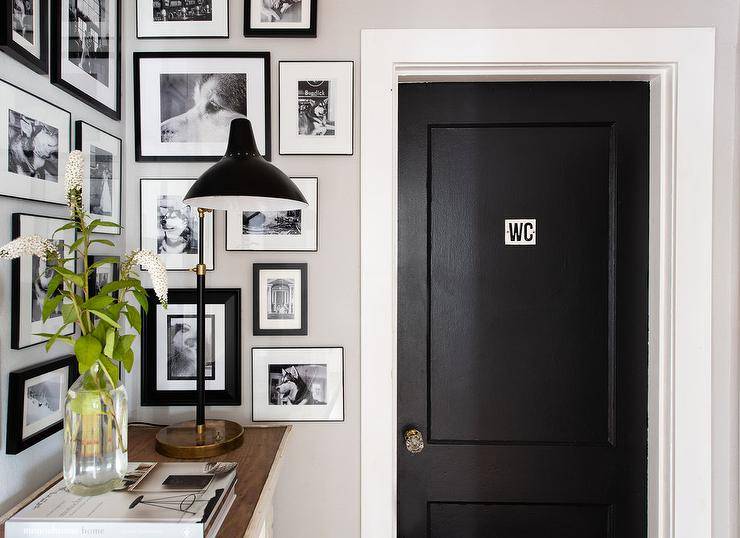 Tape Or Putty
Try double-sided tape for unframed pictures and custom posters. Peel the tape off of the dispenser and stick it in the corners of your photos or posters. Then, press the print onto the wall and rub the corners to ensure the tape gets a good hold. You can use colorful washi tape to attach the photos to the wall for a more decorative look. If you have textured walls, reach for removable and reusable poster putty.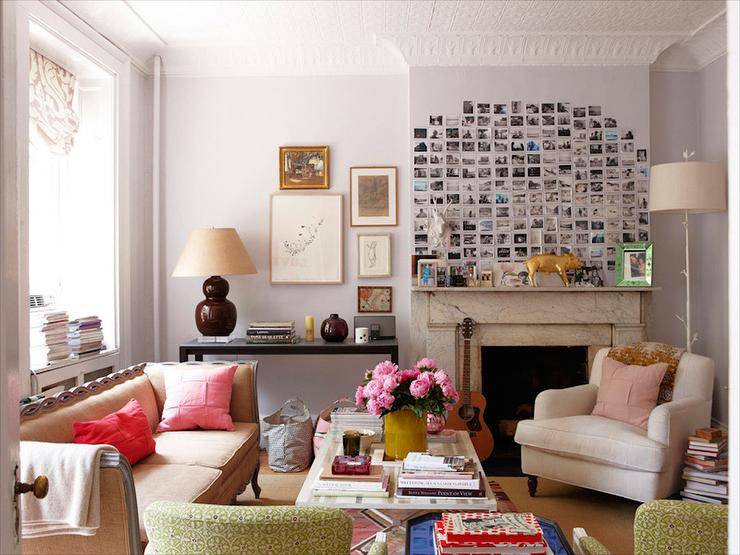 Push Pins
If you don't mind a plethora of tiny holes in your drywall, hang your collage with large, colorful push pins that add dimension and visible interest. Hold the photo print up against your wall and push one of the pins through the top corner. Make sure your print is level if you want a straight edge before putting another pin in the other top corner.
Photo Tiles
Printed photo tiles are lightweight, premium-quality prints that hang on your walls effortlessly. Most companies offer these without the need for any nails, tools, or mess. You can move them around with adhesive strips to transform your wall collage and create endless combinations.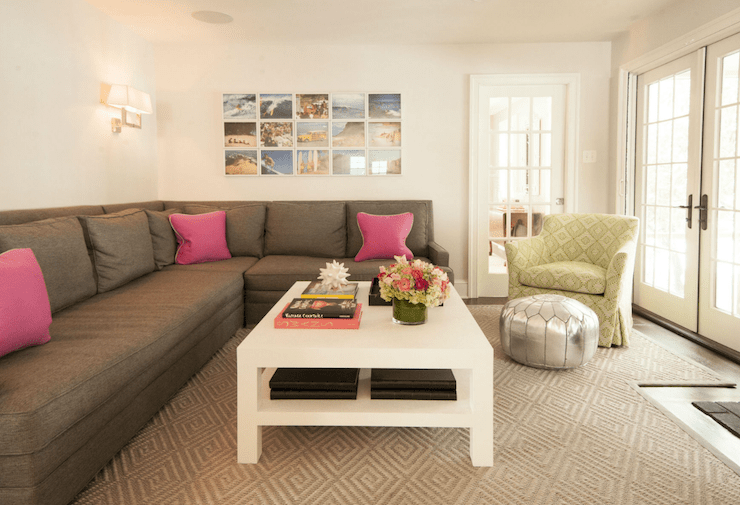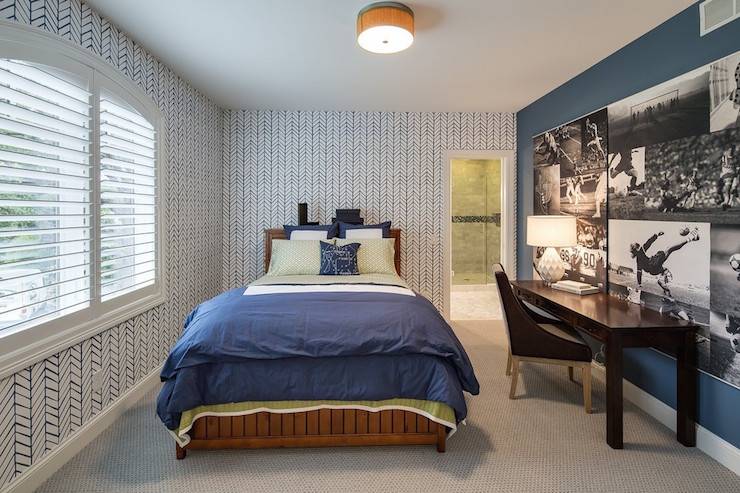 Collage Wall Theme Ideas
You can curate a collection of images around a theme or color palette if you like. Here are some quick ideas for themes and color palettes that are sure to get your creativity started:
neon pink: signs, hot pink, cityscapes, murals
forest: hiking, mountains, trails, nature, greenery
boho: desert, cactus, house plants, travel
beachy: oceans, waves, palm trees, surfboards
peachy: sunflowers, rainbows, fields, wildflowers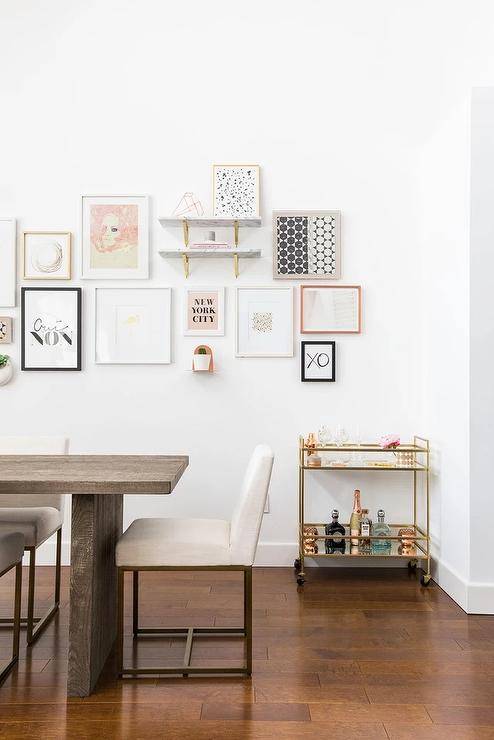 Going the DIY Route
If you want to go the DIY route and put together a wall collage of images and photos, check out sites like Unsplash and Pexels. These sites offer free images that you can print and frame yourself at home.
If you want more professional quality, you can have the images printed at a local print shop or an online print shop that will mail them to you. Stores like Staples will print images for you or most local drug stores like CVS or Walgreens offer photo printing.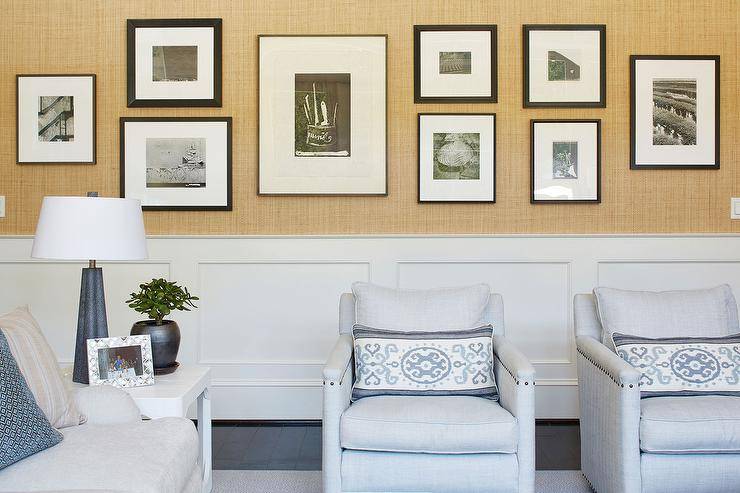 Do's and Don'ts
Do: When shopping, collect items in your cart and then find an open space on the floor in the store. Lay things out on the floor with your tape measure to see what it looks like before purchasing.
Don't: Feel stupid doing the above. You may at first feel stupid laying things on the ground while people are walking by, but people are most likely looking at you and thinking, "wow, how smart!".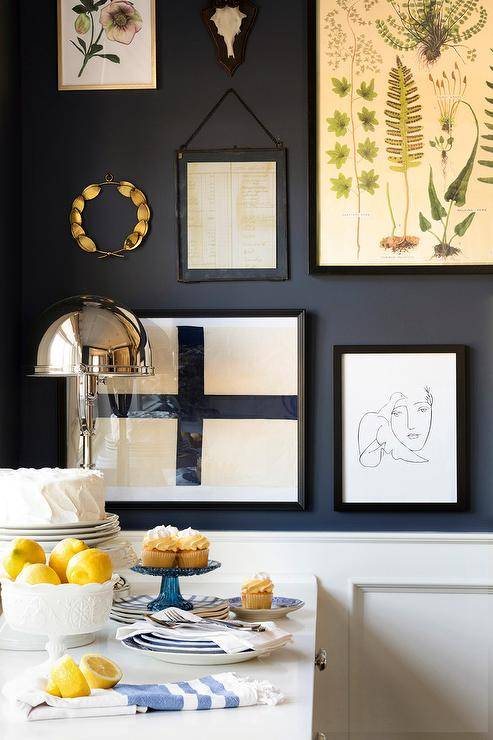 Do: Buy more items than you need. You can always return things, and it's better to have more than you need than to be knee-deep hanging stuff on your wall and thinking, " I should have bought this instead," or " I wonder if this would have looked better." Sometimes things look great on the floor in the store or on the floor in your home, and when you start putting things up, the plan changes.
Don't: Have all sayings or all objects. Or course, this is a matter of personal preference, but having all of one thing, with the exception of a photo-only wall collage, feels unbalanced and can be too overwhelming. Also, if you are using a lot of "words" and "sayings," try to have it balanced so that there are not too many long sayings with one another.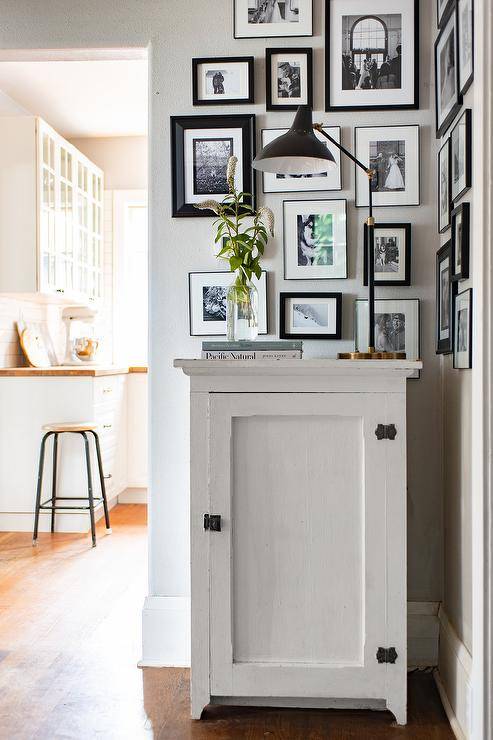 Do: Be open to having at least one interesting eye-appealing object. This creates a focal point and something of great interest to draw the eye.
Don't: Space things too far apart or too close together. There's no true formula to say where your objects need to be, for example, 2 inches apart; it really comes down to eye-balling it and having an eye for it. This is where the tip above spacing things out on your floor before putting screws in your wall really helps.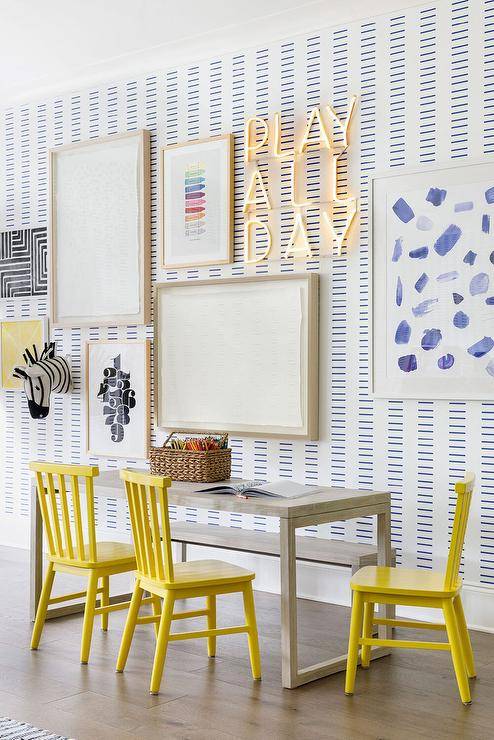 Do: Be consistent with mattes or no mattes. When using photos, if you have a white matte in one photo frame, have a matte in all your photos. If you have a group of photos together and most have white mattes, then there's one large one in a frame with no matte, this can throw off the eye and make the collage look unbalanced.
Don't: Use only small little frames in your wall collage. A variety of different sizes of frames and thicknesses can create dimension and style for your wall collage.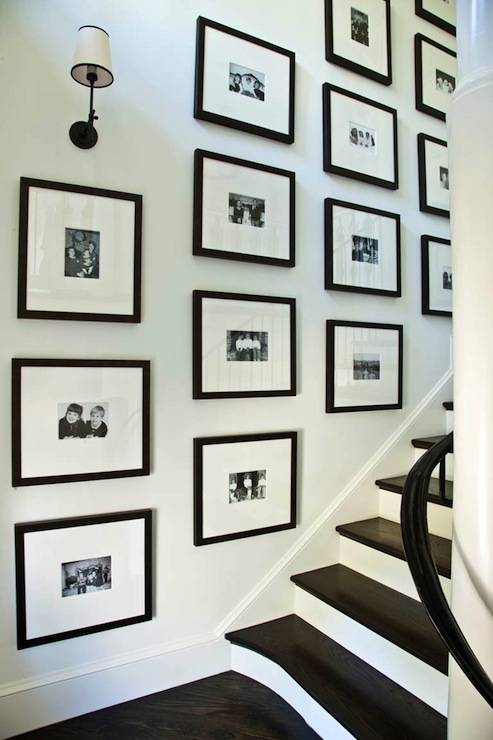 If you need more inspiration, here are some of our favorite examples of wall collages. Each of these is throughout various places in the home and is sure to give you a better idea of where to start with your own wall collage. 
Empty Frames
If photos aren't your thing, you can try a wall collage of various beautiful empty frames painted in all the same colors. How cute does this look in a nursery?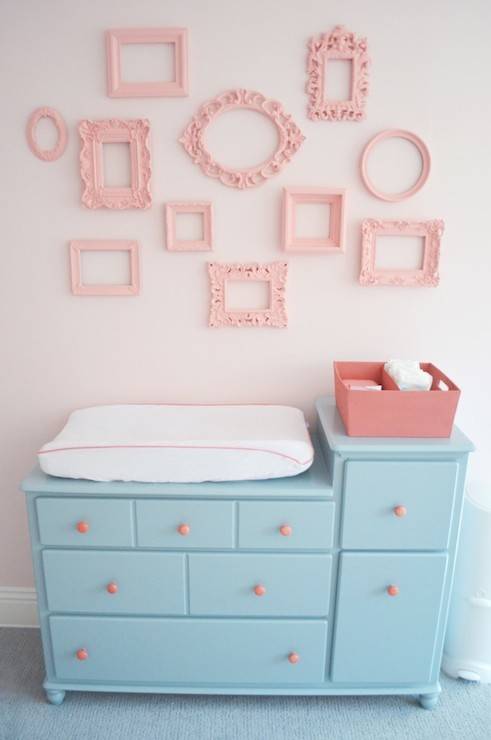 Black and Bold
Amazing foyer design with distressed credenza, glossy white lamps, and a white & black photo wall collage.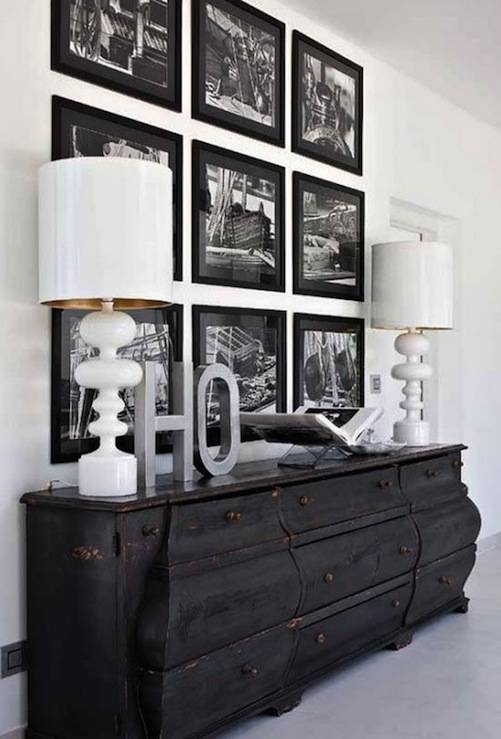 In the Stairway
A stairway is among the most common spot for a wall collage. The walls in stairwells are often higher and provide a great place to carry up visual interest.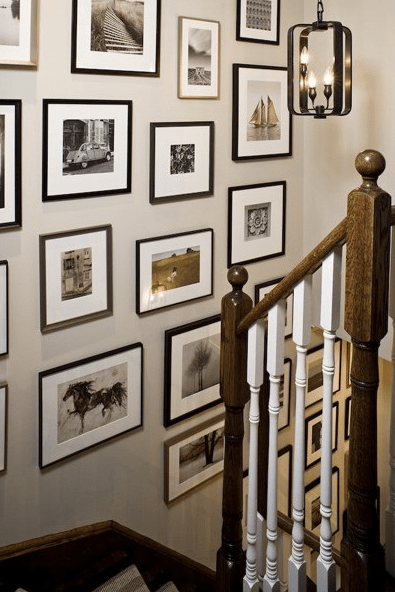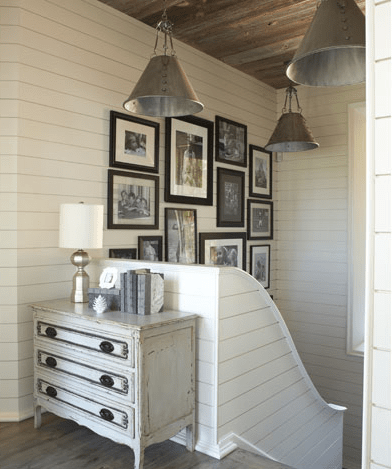 If you have the room, you can also do a great wall collage under the stairs!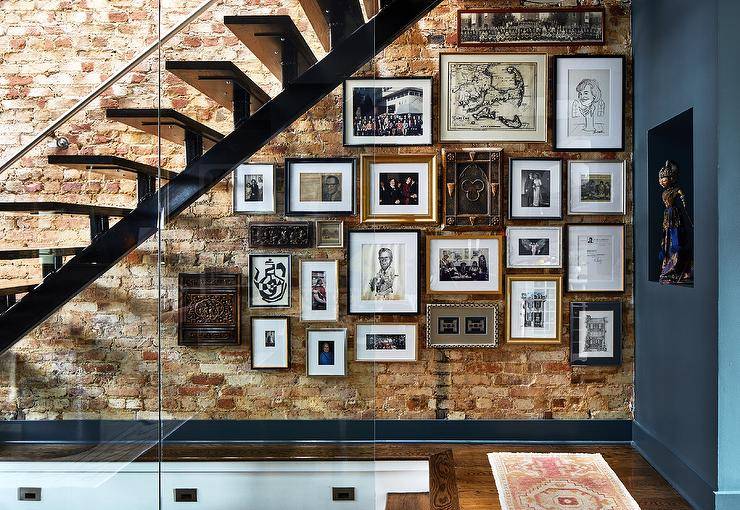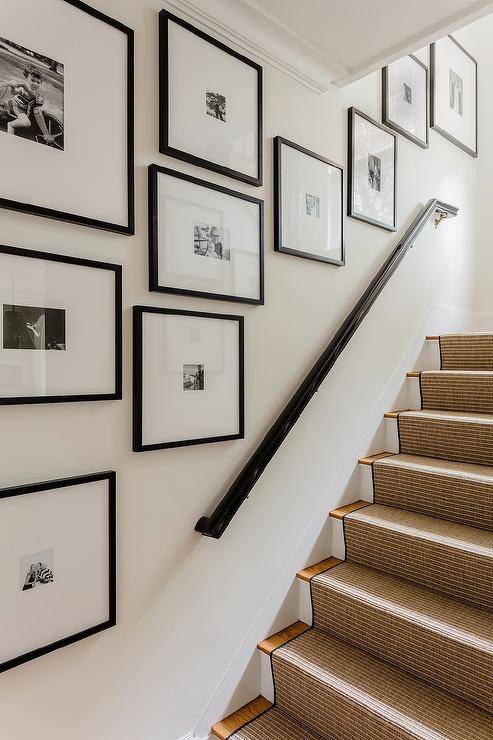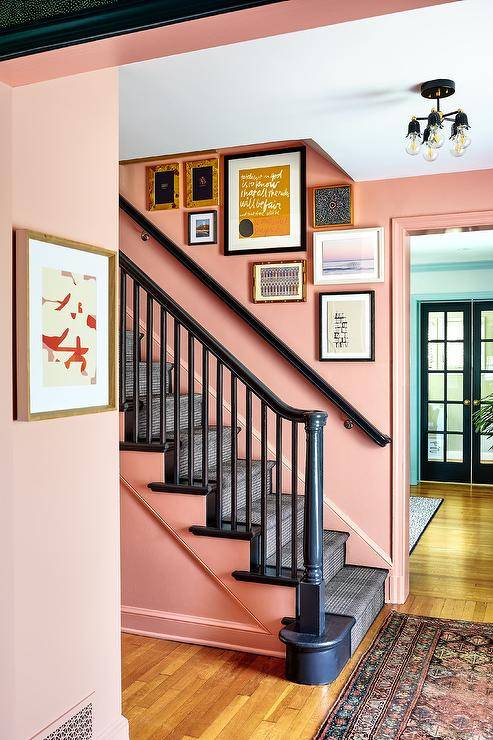 Use Shelves
Incorporate the use of shelving for your wall collage. In using thin wall shelving, you can create a wall collage without having the worry about hanging all your photos straight.
In the Basement
Don't forget about the basement! Basements are great spots for a stunning wall collage of photos and art!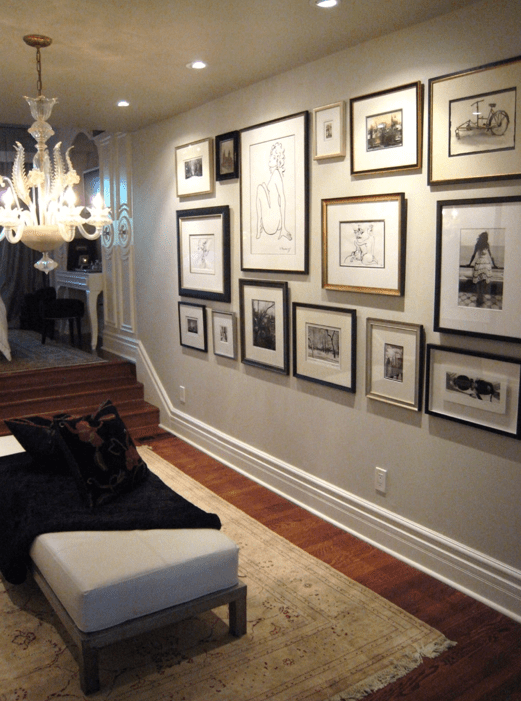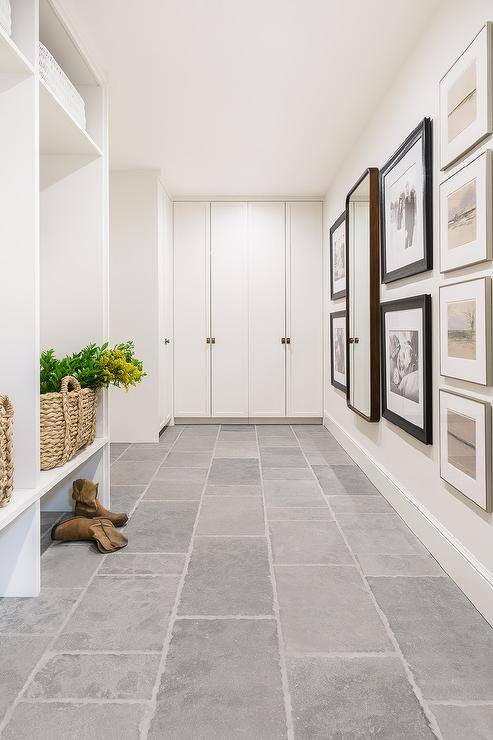 Massive Collages
Go big or go home! Don't be afraid to make your wall collage huge. Cover multiple walls and extend your gallery past just one wall.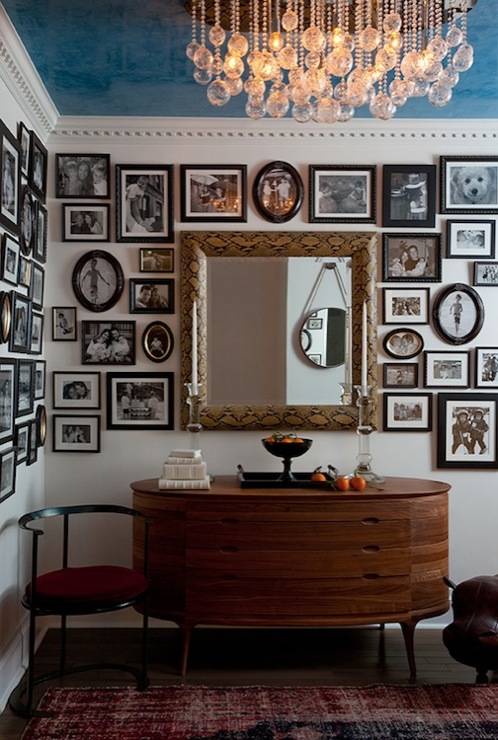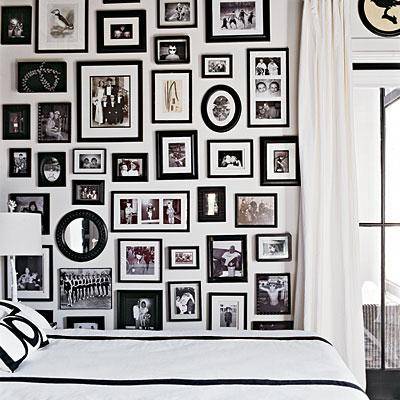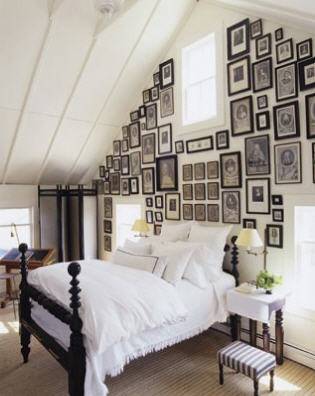 Simple and Natural
Simple, natural, clean, crisp, and white. These natural palettes are where it's at.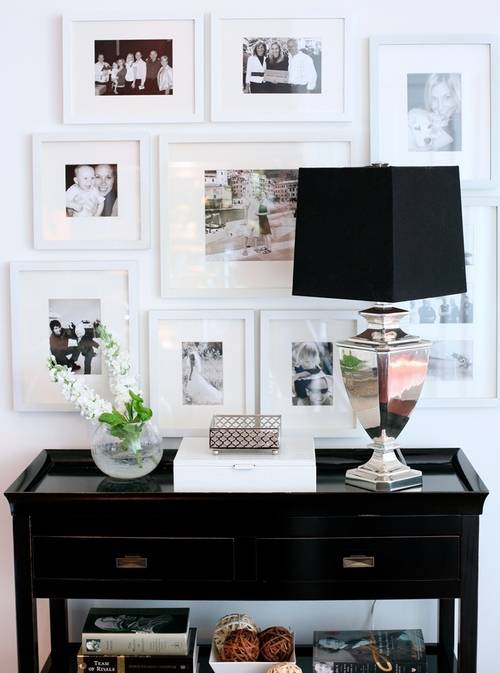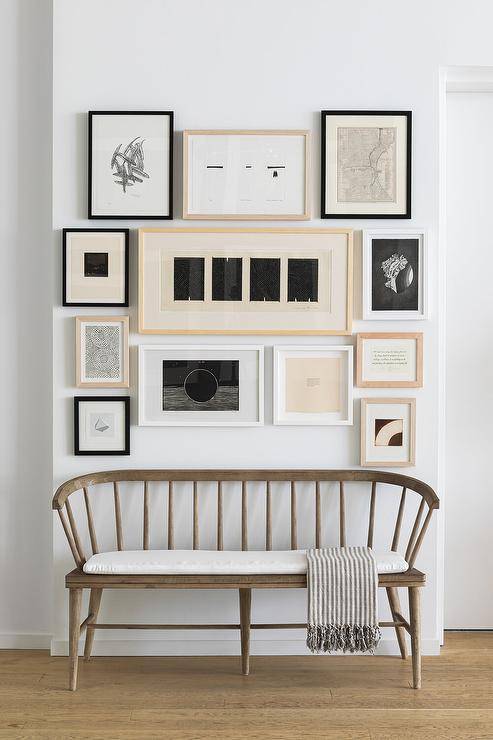 Go for Color
Jazz up a pink wall with some natural and vintage photos for a stunning collage.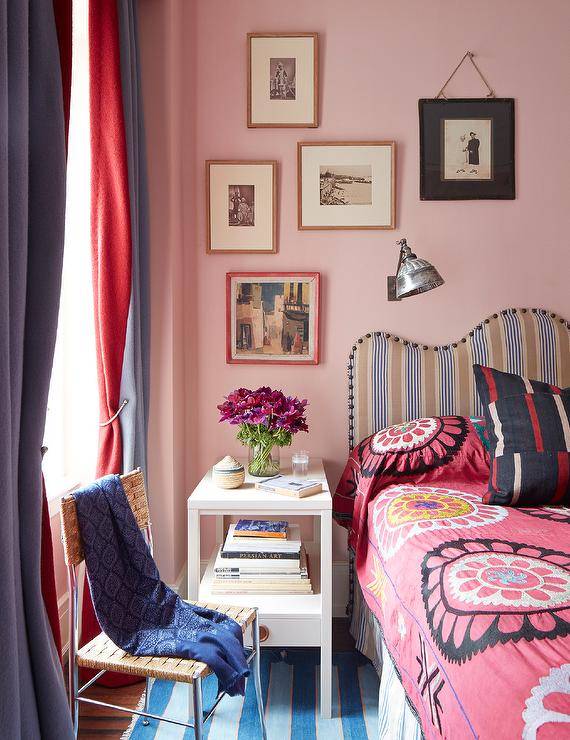 Use Children's Artwork
Frame your children's artwork and create a unique wall collage. These pieces are perfect because at the end of the day they mean so much more to you than any other piece of art.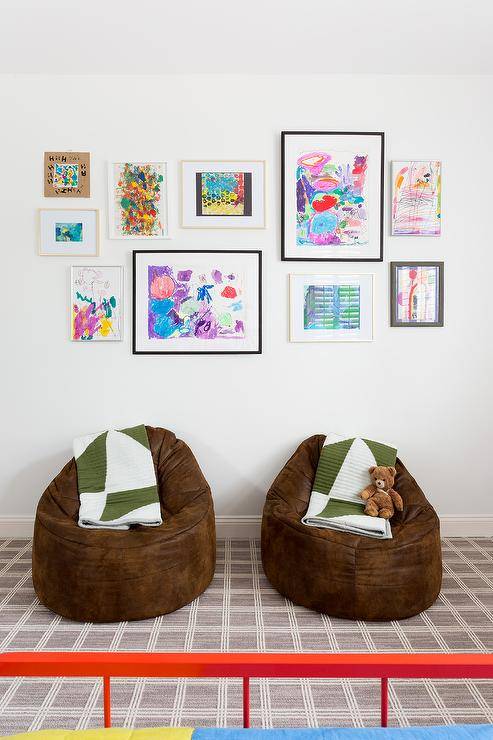 Frequently Asked QuestionsFAQ
How many pictures do you need for a wall collage?
While you can use as few or as many pictures as you want, you want to make sure you have enough to make a substantial display. You'll almost certainly need more than you think. For example, a collage that measures 4 feet across and covers your wall almost from floor-to-8-foot-ceiling is an area of 32 square feet. If you worked with 8 ½ x 11-inch photos, you would need at least 48 images.
How far apart should 2 pictures be hung?
The ideal spacing between multiple artworks is 3 to 6 inches. The 57-inch number is a good average height, but if your eye level is different, be sure to use that measurement when hanging art.
Should you have decor on every wall?
The key to any successful interior design is balance. That means when it comes to hanging pictures, no, you don't need to fill every wall space with pictures. Empty wall space can be used as a crucial design element to enhance your décor.
What is the 57 rule for hanging pictures?
The golden rule of hanging a picture is to have the center of the photo be at 57 inches. This reflects the standard eye-height of the average person, and is used as a standard in most art galleries and museums.
Where should you not hang pictures?
Avoid hanging art in direct sunlight to prevent damage to the artwork. Artwork should be properly lit, but avoid using Earth's most abundant light source—sunlight. Direct sunlight can lead to irreparable damage. The ultraviolet radiation from the sun can cause artwork to fade, crack, or warp.
A wall collage of pictures is an easy DIY project that brings the visual excitement of everything you love into your home. Whether you turn your yearly photographs of the kids into beautifully mounted wall art, or get innovative and make a photo plate for each member of the family, take your love of precious memories and create a lovely wall collage.
If you are still searching for more inspiration, here are some other articles you may enjoy: