Welcome to the world of front door colors, where a small adjustment may significantly improve the curb appeal of your house. More than simply an entrance, your front door is a chance to express your unique style and establish the mood for the whole house.
Your front door color choice speaks volumes. From bold to subtle, the possibilities are endless. Don't underestimate the power of a fresh coat of paint—it can transform your entrance. Furthermore, you have a chance to experiment with colors with the help of the latest technologies.  Augmented reality and other advanced techniques give you an idea in advance about the overall look.
So, what are you waiting for? Deep dive into the world of exciting colors for the front door. However, you may have the basics clear before choosing the right color. We have discussed some of the important points while selecting the best front door color for your home.
Keep reading to get door color ideas at home and you will finally get a clear picture of what is trending and which color will be best suited for the personality of your home.
Exploring Door Color Ideas at Home
Unleashing Creativity with Front Door Colors:
There are countless options available when selecting a color for your front entrance. You have the opportunity to express your talent here. Consider if you want to leave a solid and flamboyant or a subtle and traditional impression. 
Think about how the color you choose will complement the outside of your property and create an impression on everyone who passes by.
Bold and Vibrant Choices: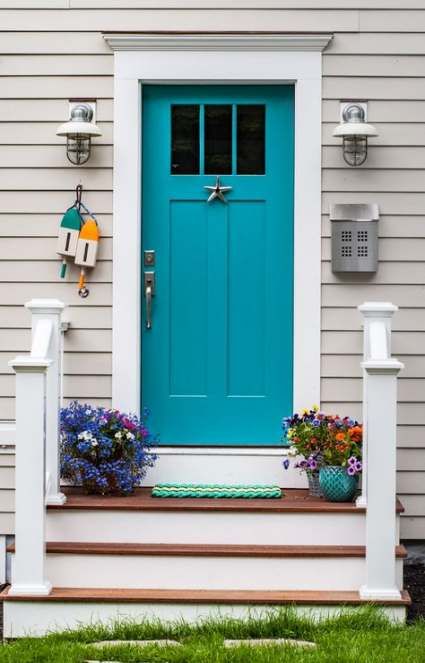 source: pinterest.com
If you're looking to make a striking statement, why not consider vibrant front door colors that demand attention? Picture a fiery red door that exudes energy, an electric blue that adds a playful touch, or a sunny yellow that radiates warmth and joy. These bold choices can turn your front door into a captivating focal point that leaves a lasting impression.
Classic Elegance and Sophistication:
For those who prefer a more timeless and refined look, classic front door colors are always in style. Imagine an elegant black door that adds a touch of sophistication, a deep navy that conveys a sense of calm, or a rich burgundy that exudes warmth and charm. Create an aura of timeless elegance with these colors for the front door.
Front Door Colors As A Part Of Home Decoration 
Considerations for Choosing the Right Color:
Beyond personal choice, when selecting the best from the vast choice of front door colors, it's essential to consider achieving harmony with the environment. Firstly, take into account your home's architectural design. Secondly, assess the current color scheme that exists.
Lastly, consider the overall appeal of your neighborhood. By taking these elements into account, you can ensure that the color of your front door blends seamlessly with the exterior of your property, ultimately enhancing the overall look.
Enhancing Curb Appeal: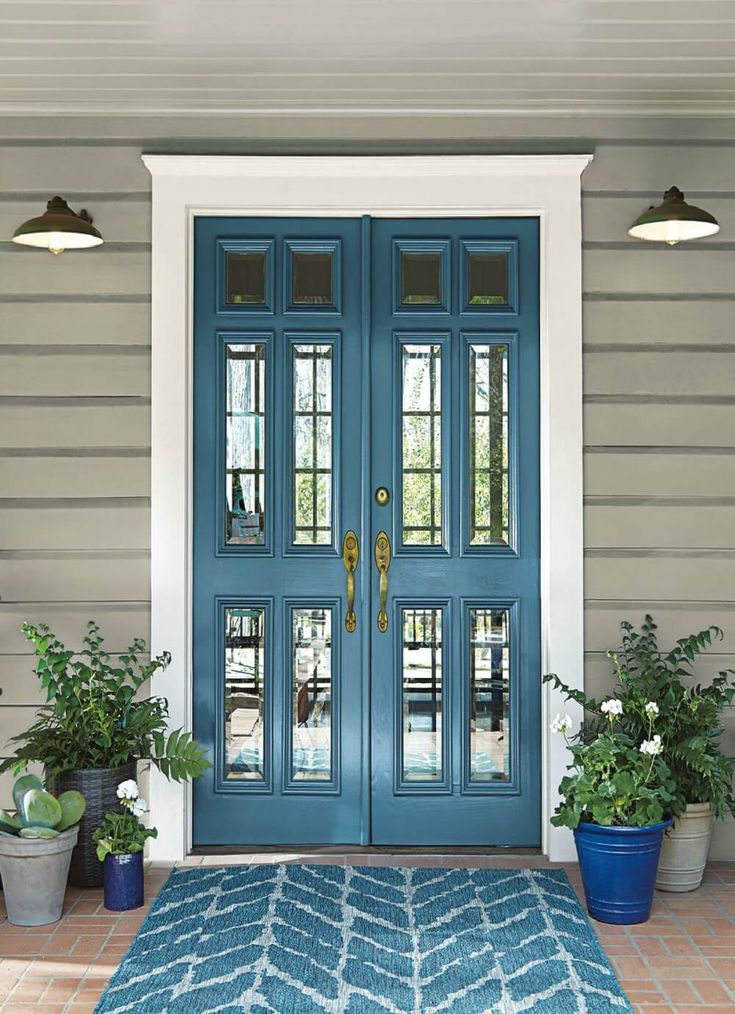 source: pinterest.com
Your front door is crucial to your home's overall curb appeal. Additionally, making the perfect color decision can drastically change how your entire house looks and feels. Moreover, it has the potential to distinguish your house, foster a pleasant atmosphere, and make a lasting impression on both visitors and bystanders. 
Therefore, it is essential to carefully decide on a front door color that not only matches the design of your house but also expresses your individuality.
The Most Popular Front Door Colors
Classic Black: 
Black is a classy color that never goes out of style. It gives the light-colored exteriors a stunning contrast and a bit of drama. Black front doors draw attention and exude an air of classic beauty.
Elegant Grey: 
Grey has become more well-liked due to its adaptability and trendy appeal. This front door color goes well with various architectural types, from delicate light grey to strong, black charcoal. Any property will seem modern and elegant with a grey front door.
Warm Brown: 
source: pinterest.com
When looking for a hospitable entryway for home decoration purposes, brown is a common choice. Brown front doors offer a sense of coziness and unspoiled beauty. They come in various colors, from dark chocolate to lighter earth tones. These old rustic home ideas go nicely with this color.
Inviting Blue
Blue is common in front door colors because of its capacity to generate feelings of peace and tranquility. This color gives the outside of any home a revitalizing burst, from vivid navy to calming sky blue. When placed in contrast to surroundings that are lighter in color, a blue front door is very alluring.
Bright Red: 
Bright red front doors are a popular choice for homeowners looking to make a dramatic statement. A red front door quickly attracts attention and establishes a welcoming focal point, symbolizing energy, passion, and warmth. It may be coupled with neutral or contrasting color schemes and enhances a range of architectural types.
25 Most Trendy Front Door Colors You Can Try
Emerald Green: 
source: pinterest.com
This vibrant hue adds a touch of luxury and vitality, infusing your front entrance with a fresh and captivating look that will make a lasting impression.
Blush Pink: 
Soft and feminine, blush pink creates an inviting and charming entrance, exuding elegance and sophistication while adding a delicate and romantic touch to your home.
Mustard Yellow: 
With its warm and sunny appeal, mustard yellow is a color for the front door that brings energy and cheerfulness to your front door, making a bold statement and instantly brightening up the exterior of your home.
Coral: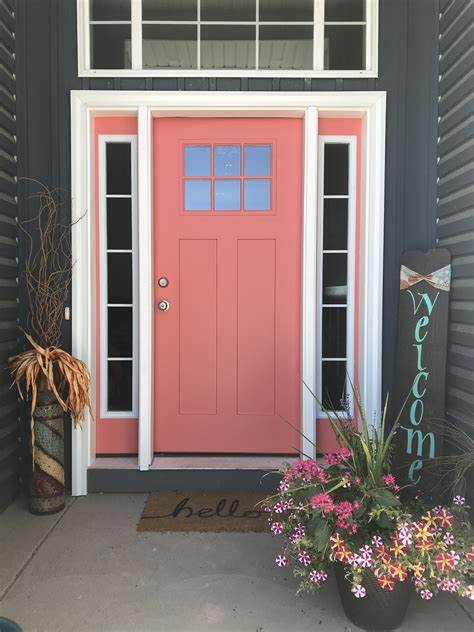 source: pinterest.com
Vibrant and tropical, coral adds a playful and lively touch to your home's exterior, creating a welcoming and joyful entryway that evokes a sense of relaxation and beachside vibes.
Lavender: 
This soothing and enchanting shade of purple brings a sense of tranquility and serenity, giving your front door a dreamy and whimsical look that invites guests into a peaceful haven.
Aqua Blue: 
Reminiscent of clear ocean waters, aqua blue creates a refreshing and coastal-inspired entrance, instantly transporting you to a serene seaside getaway.
Plum Purple: 
Adding a touch of luxury and sophistication, plum purple brings depth and richness to your front door, making a regal statement that commands attention.
Olive Green: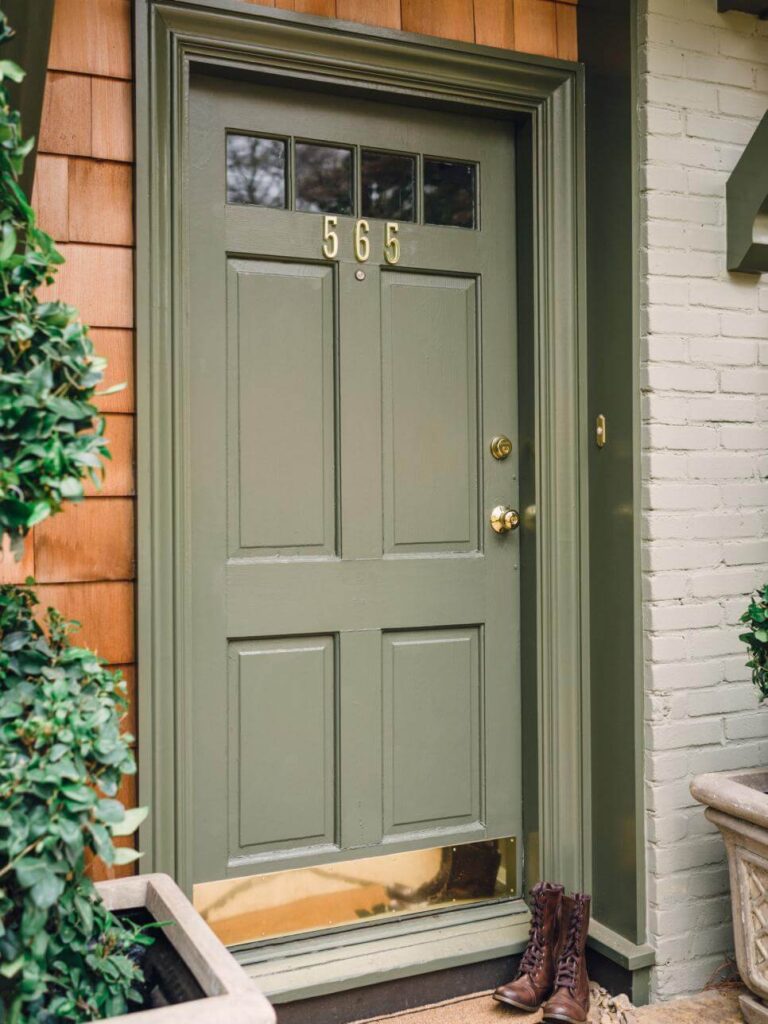 source: pinterest.com
This earthy and versatile shade of green offers a natural and organic look, seamlessly blending with the surrounding landscape and creating a harmonious and welcoming entrance.
Teal: 
A captivating blend of blue and green, teal offers a modern and vibrant look, infusing your front door with a unique and eye-catching color that stands out from the crowd.
Terracotta: 
Inspired by Mediterranean aesthetics, terracotta brings a rustic and earthy charm, evoking a warm and welcoming atmosphere that transports you to sun-soaked terraces.
Sky Blue: 
Symbolizing openness and serenity, sky blue offers a light and airy look. Also, it creates an inviting and peaceful front entrance that welcomes guests with a sense of calm.
Charcoal Gray: 
A darker and more dramatic alternative to traditional gray, charcoal gray adds a contemporary and sophisticated touch to your front door, exuding modern elegance.
Sage Green: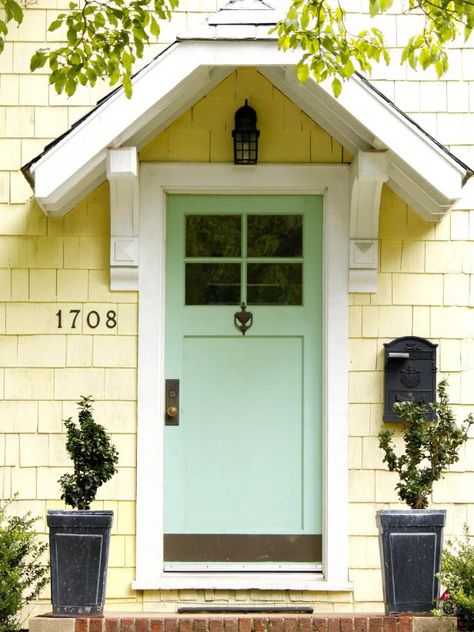 source: pinterest.com
This muted and calming shade of green offers a soft and understated look, creating a tranquil and harmonious entrance that connects with nature's soothing vibes.
Turquoise: 
With its bold and vibrant personality, turquoise creates an energizing and eye-catching front door, infusing your home with a pop of color and a sense of adventure.
Brick Red: 
Combining warmth and richness, brick red offers a classic and timeless look, giving your front door a sense of tradition and character that exudes a welcoming charm.
Butter Yellow: 
If you want soft and sunny yet inviting touch to your front door, this color is best. It radiates warmth and creates a cozy and welcoming atmosphere for all who enter.
Coral Pink: 
Vibrant and energetic, coral pink infuses your front door with a burst of joy and positivity, making a bold and playful statement that reflects your vibrant personality.
Muted Orange: 
This earthy and subdued orange tone brings warmth and coziness to your front entrance, creating an inviting and comforting feel that welcomes guests with a touch of rustic charm.
Lilac: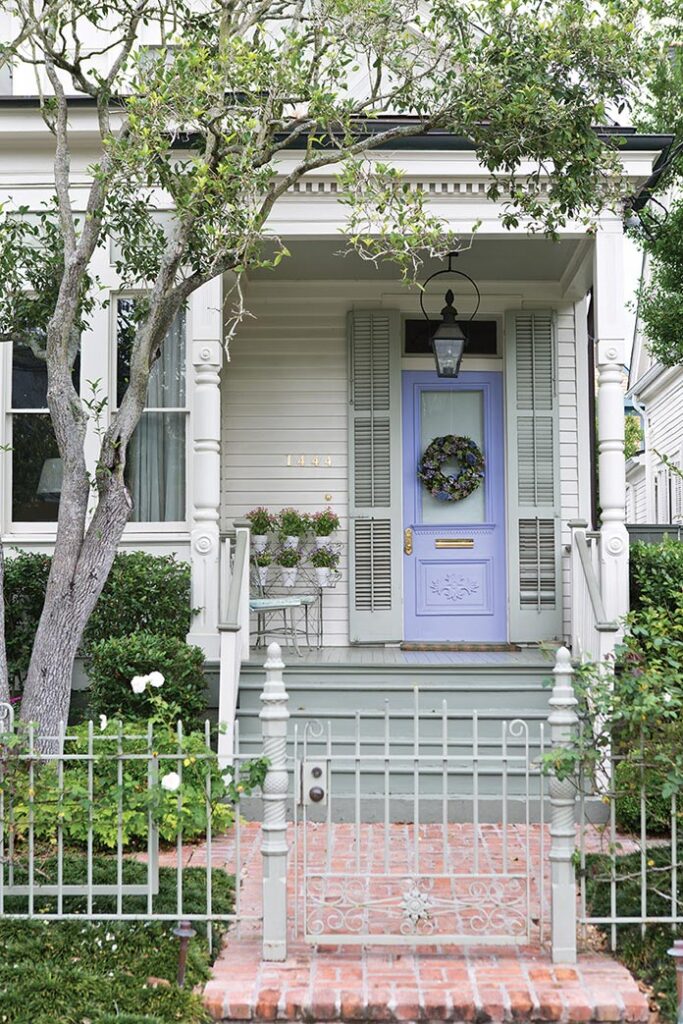 source: pinterest.com
With its delicate and romantic appeal, lilac creates a whimsical and enchanting entrance. It adds magic and tranquility to your home decoration ideas.
Cobalt Blue: 
Bold and captivating, cobalt blue creates a striking and eye-catching front door, commanding attention and making a confident and daring statement.
Coral Reef: 
This vibrant and lively shade of coral adds a tropical and energetic touch. As a result, your front entrance turns into a vibrant oasis that radiates positive energy and fun.
Goldenrod Yellow: 
Offering a warm and radiant glow, goldenrod yellow brings a touch of sunshine and happiness to your front door. Moreover, this color uplifts the overall mood and creates a welcoming atmosphere.
Soft Mint: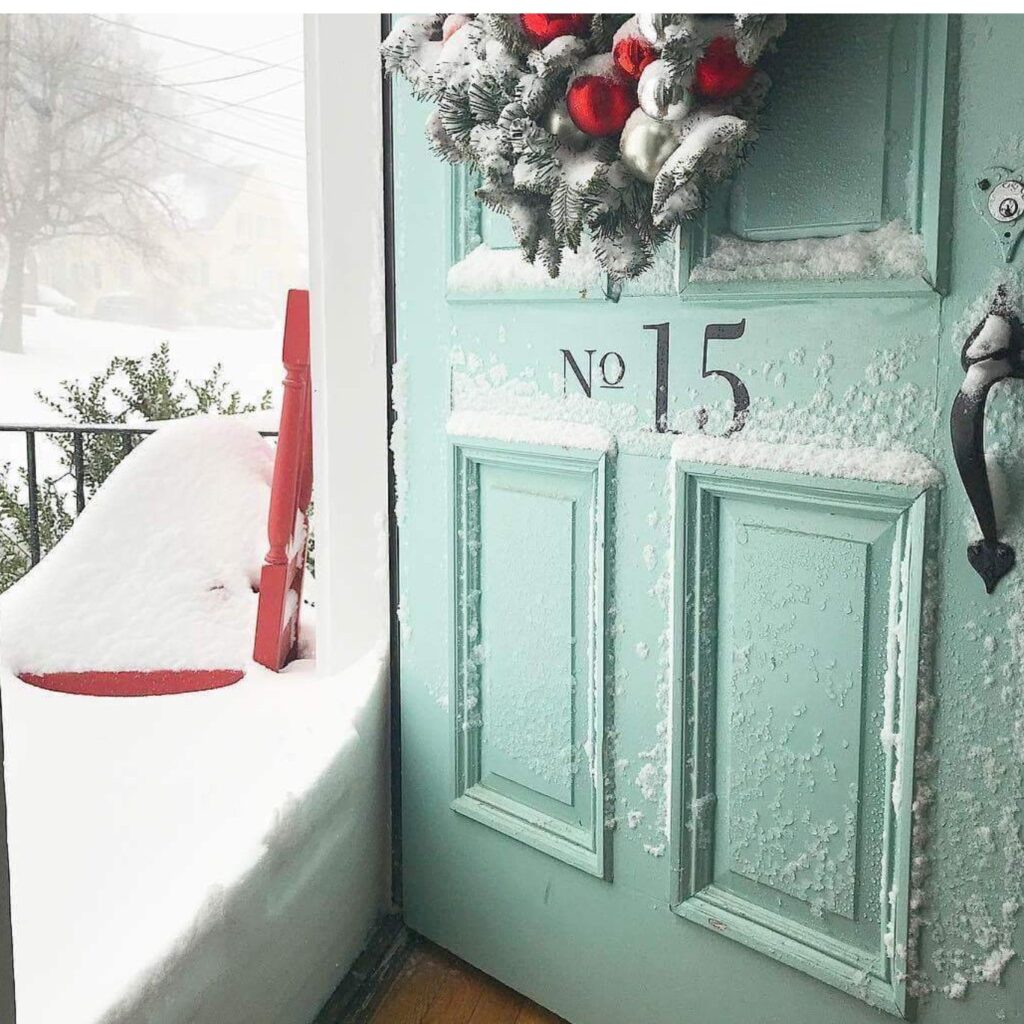 source: pinterest.com
Subtle and refreshing color for the front door, soft mint adds a cool and tranquil look, creating a serene and soothing entrance that exudes a sense of relaxation and harmony.
Pale Pink: 
Delicate and charming, pale pink brings a romantic and whimsical touch. It infuses your front door with a gentle and elegant beauty that enchants visitors.
Steel Blue: 
A sophisticated and modern color for the front door, steel blue offers a sleek and contemporary look. Moreover, it imparts a sense of urban elegance and refinement to your front entrance.
Conclusion:
There are countless options when it comes to front door colors. No matter if you go for a vibrant and invigorating shade or a gentle and serene tone, the right color selection will transform your home's entrance into a warm and inviting sanctuary. Embrace the opportunity to create an atmosphere that embraces you and your guests with open arms. This will ensure a memorable welcome every time you step through the door.
Make a statement with your front entrance that reflects your particular style and establishes the tone for your entire house.