The kitchen is the heart of the home. It doesn't matter if your kitchen is large or small, the fact remains that it is the hub. The central part of the home where meals are prepared and family members gather. Kitchens have evolved over the years from being just a place where mom cooks to stunning displays of style and an expression of one's taste in decor. Depending on lifestyle, living rooms and dining rooms have taken a back seat to the kitchen.
Neutral and white kitchens are a timeless and classic choice when it comes to designing the hub of the home but adding in some color can not only liven up the place where we spend so much time; it also allows a homeowner to get creative and do something totally different!
Pastels
If you just want to dip your toe in the color pool, any pastel color is a wise choice. Pastels are on trend and while they may not give you that bold pop, they are a perfect choice for anyone that wants a little color but is afraid to full-fledge dive into something bright and bold.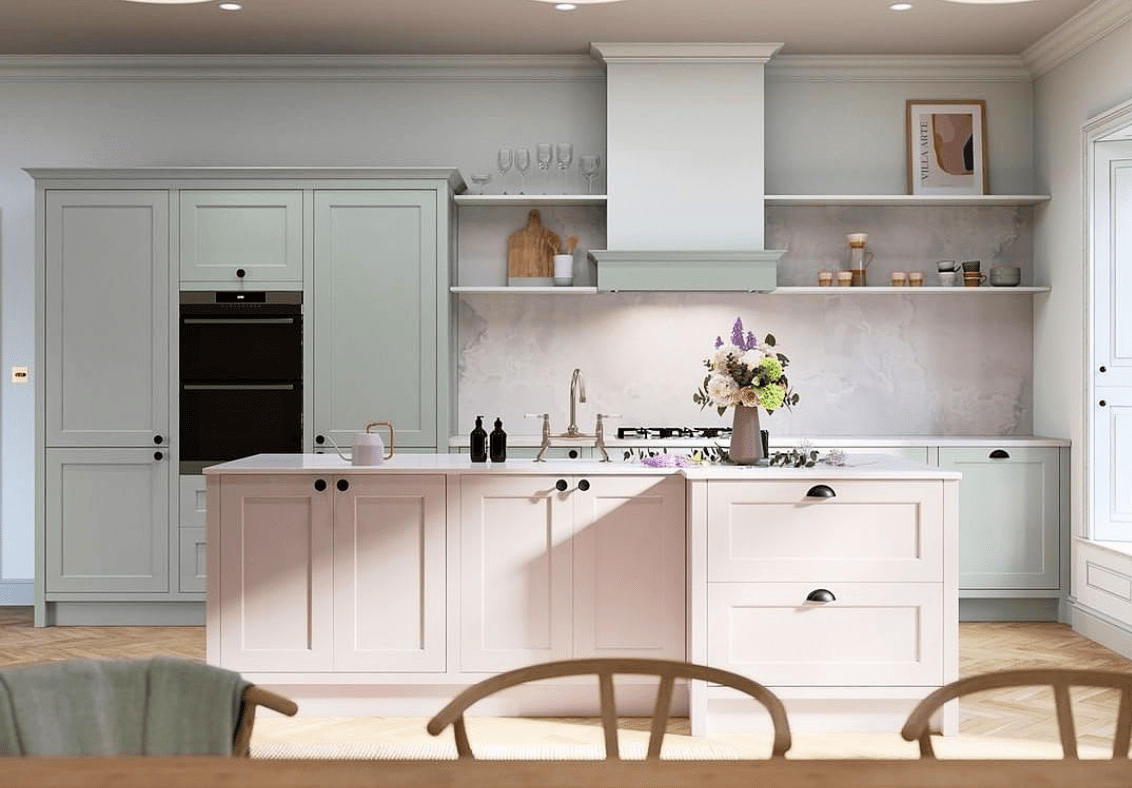 Deep Blue
If you're after a calm space but still want a pop of color, try a deep blue.
It's important to not overwhelm your space, though. If you're going to add in a deep blue, keep your backsplash and counters simplistic to keep the focal point on the color.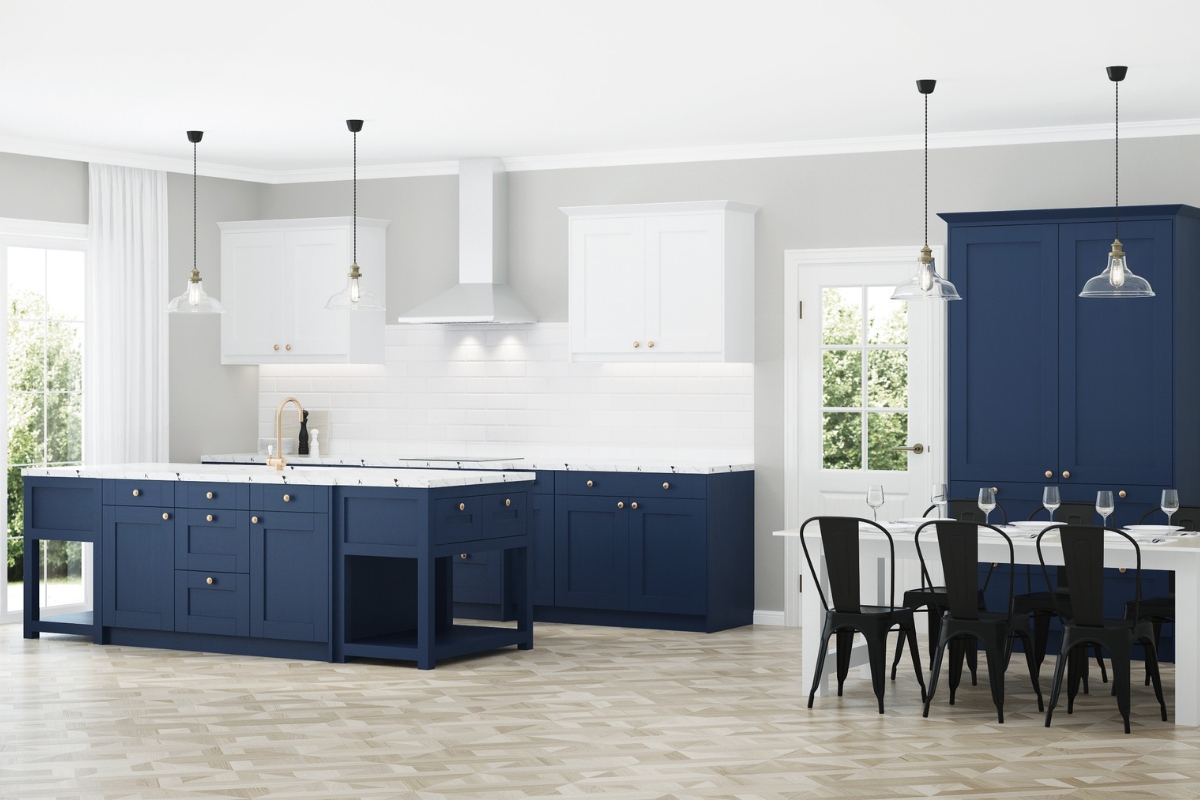 Refreshing Green
Take a page from celebrity Dakota Johnson — her extraordinary green kitchen trended when it was featured by Architectural Digest. The kitchen cabinetry is painted in Benjamin Moore's Alligator Alley.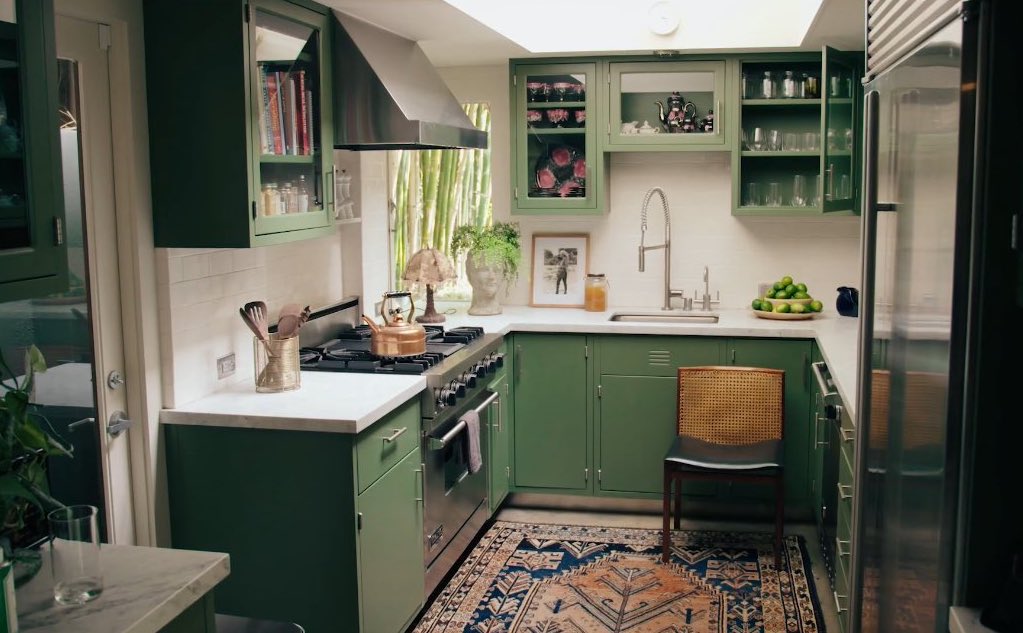 Sunny Yellow
Why not bring the sunshine in? Bright yellow is a bold choice but looks incredible when done correctly and there will be no shortage of joy in a kitchen with this hue.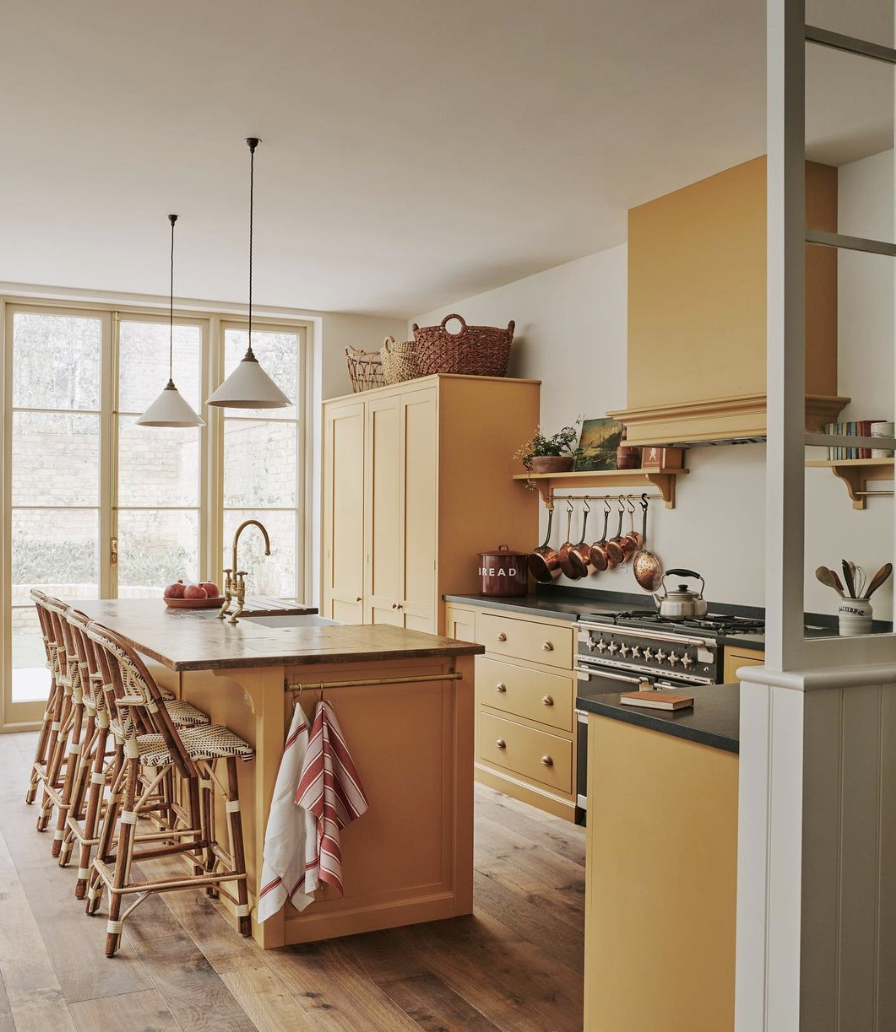 Dark and Moody
Kitchens don't always have to be bright, light, and airy. Dark and moody kitchens have a place in the design world and when executed correctly there is nothing more stunning and classy.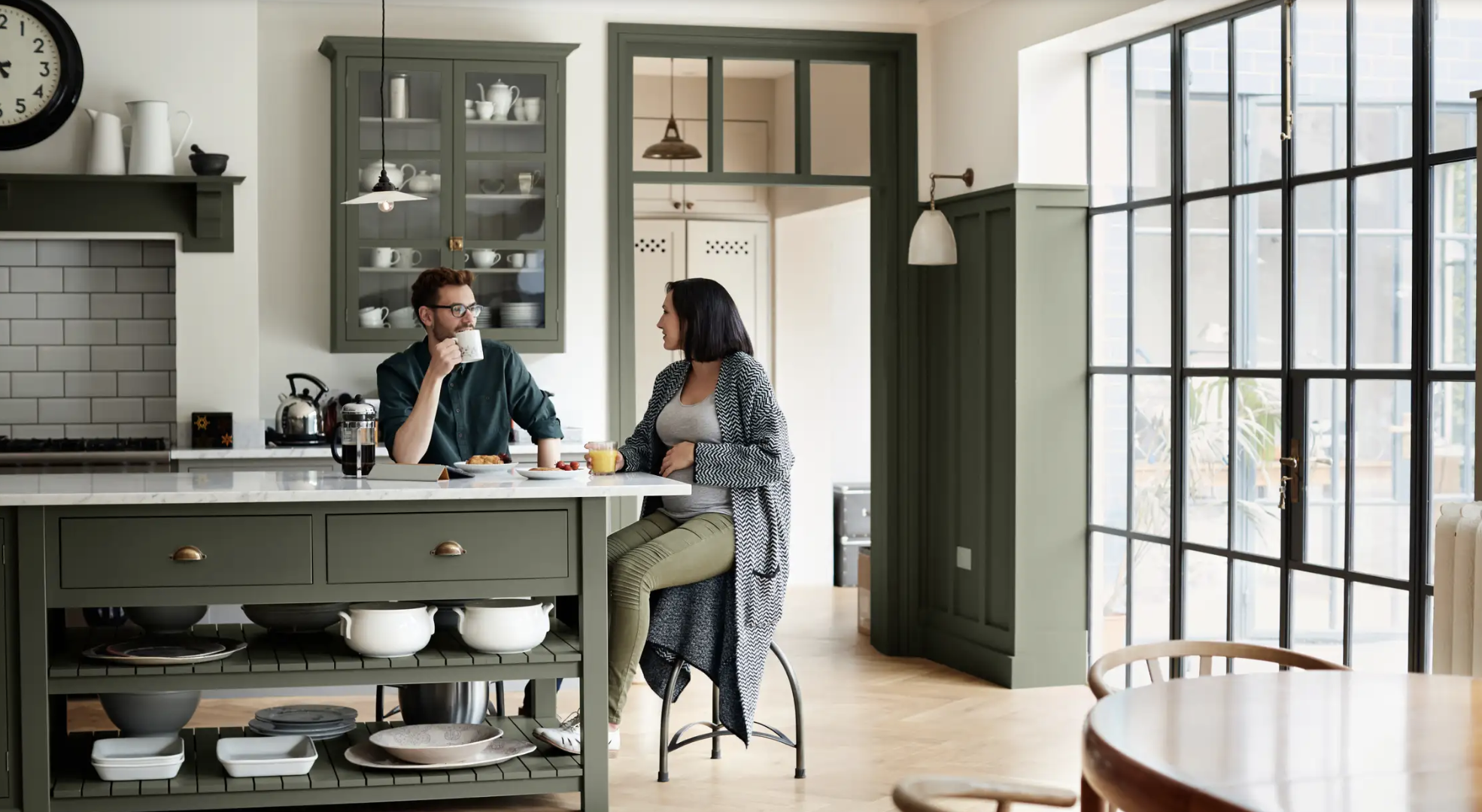 A Few Colors to Avoid
Red
In the kitchen, red can be a very irritating color. Also, if you have plans to list your house, a red kitchen can lower the value of a home by thousands. If you really love red, try adding in a few red accents of decor rather than committing your kitchen to red cabinetry.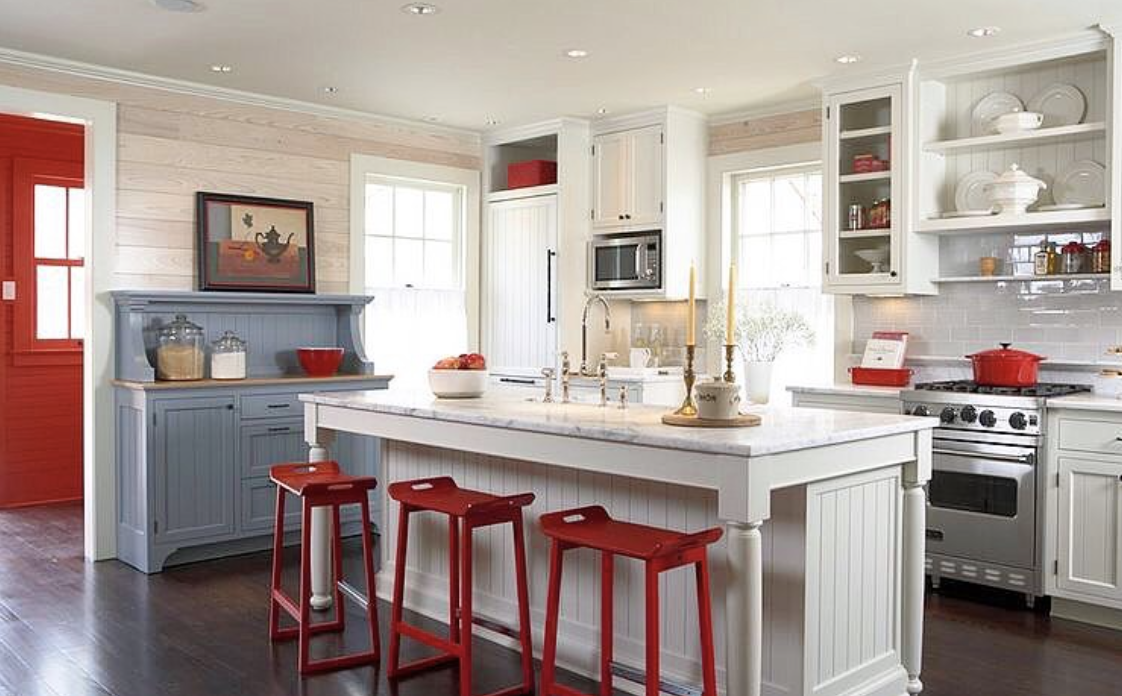 Dark Browns
Dark browns can leave a kitchen feeling cold and unwelcoming. These hues have an uninviting vibe and can make a kitchen look drab. If you like brown tones, try a warm taupe or try light wood cabinetry, which is on-trend. The contrast of light wood paired with a dark color is striking.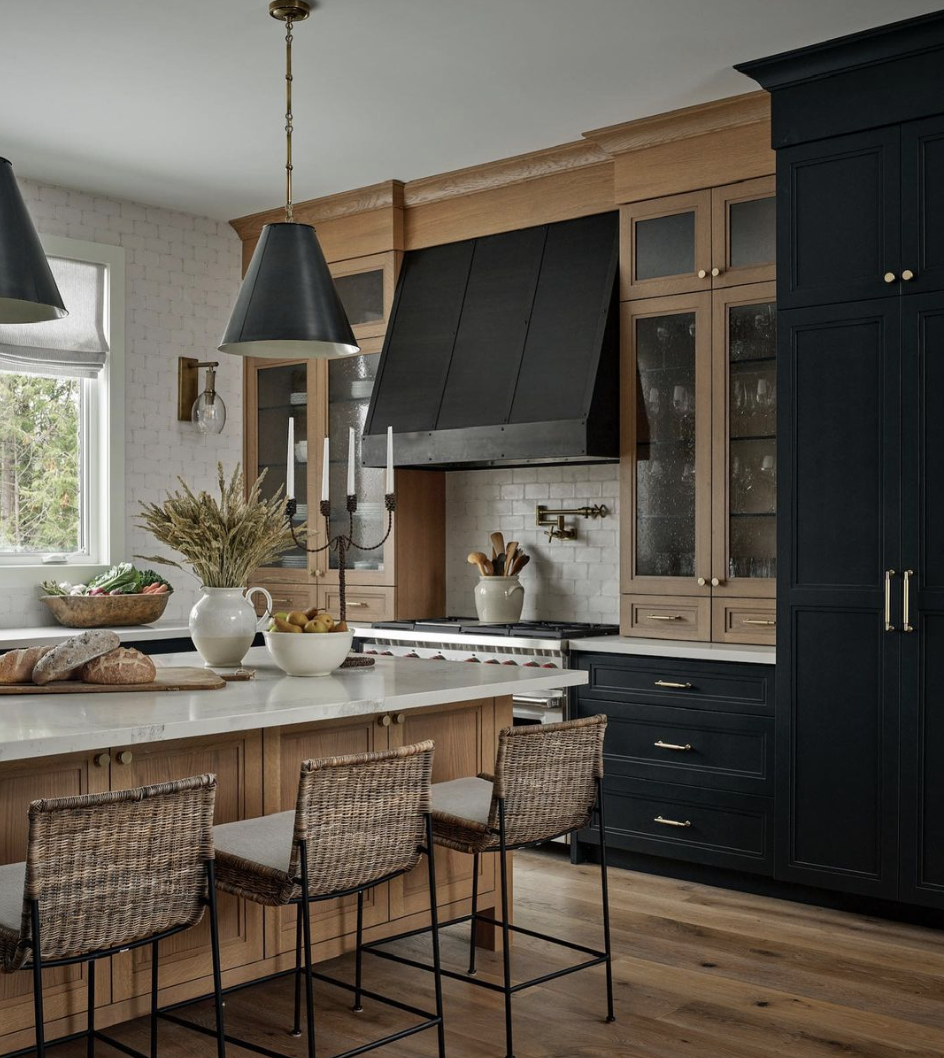 Other Ways to Add Color
Appliances
Maybe updating cabinetry is not in the cards for you. You can add colors in other ways, too. Appliances are not usually something you would think of when adding color to a kitchen, but a little pop of color on a stove or fridge isn't always a bad thing. These aren't your typical 70s-style green appliances.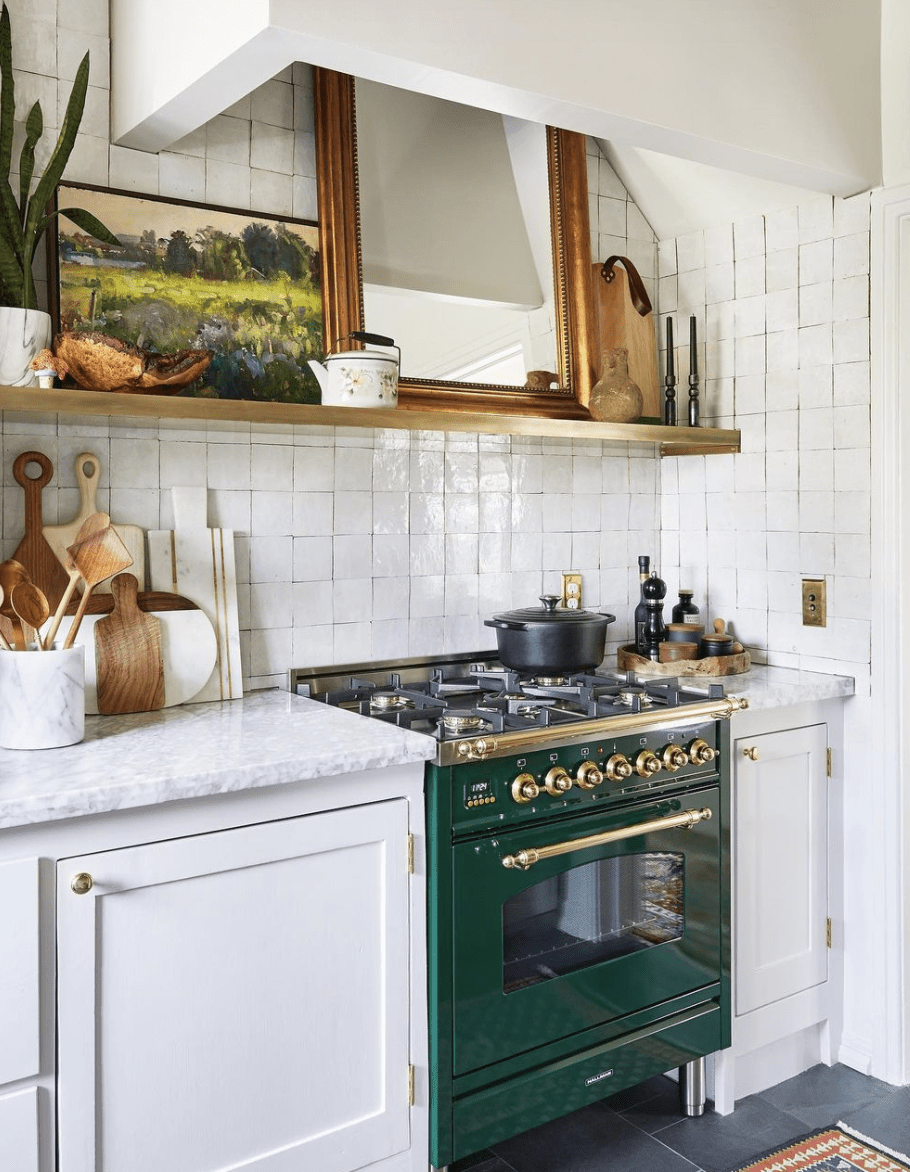 Accent Wall
Just one pop of color on an accent wall can make the world of difference in a kitchen. You don't need to go full commitment to your kitchen. One wall here or there is a statement and not just colored walls, either. Try adding in a little wallpaper. This wallpaper backsplash from Emily Wunder is not only creative and different, it becomes the whole focal point for this kitchen.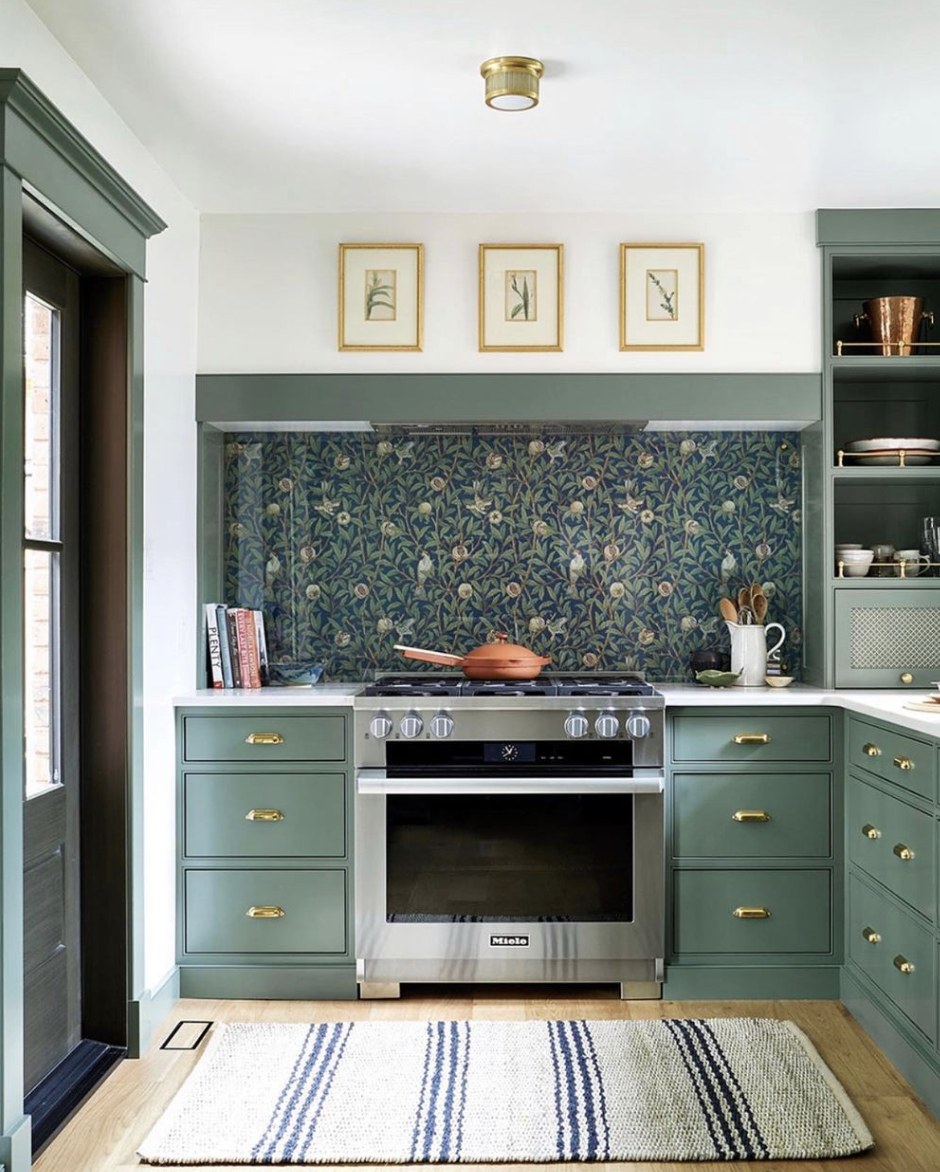 Window coverings
Window coverings are a perfect way to experiment with a little color. If you have neutral cabinets a little pop of color around the windows will provide some much-needed joy and creativity to your kitchen.
Seating
Stools or chairs around an island are always fun to pick out and adding in a little color or texture can really brighten and liven up a kitchen.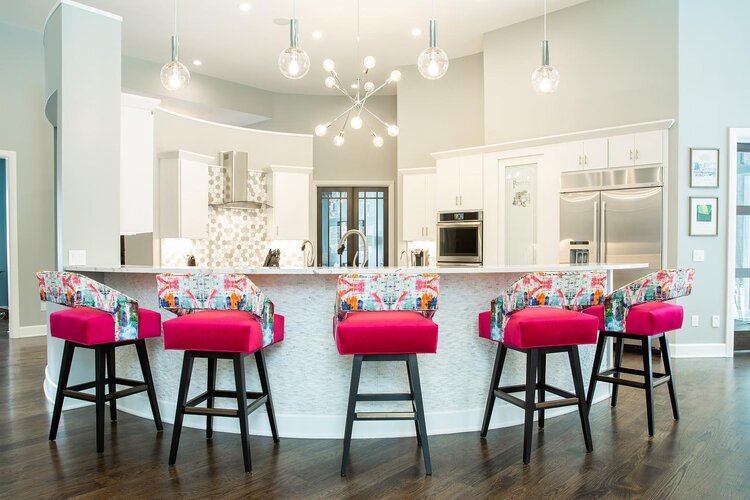 Tiles and backsplash
White subway tile is great and all, and it will always be that classic touch in a kitchen but if you're up for a little fun, go bold with your backsplash and tiles.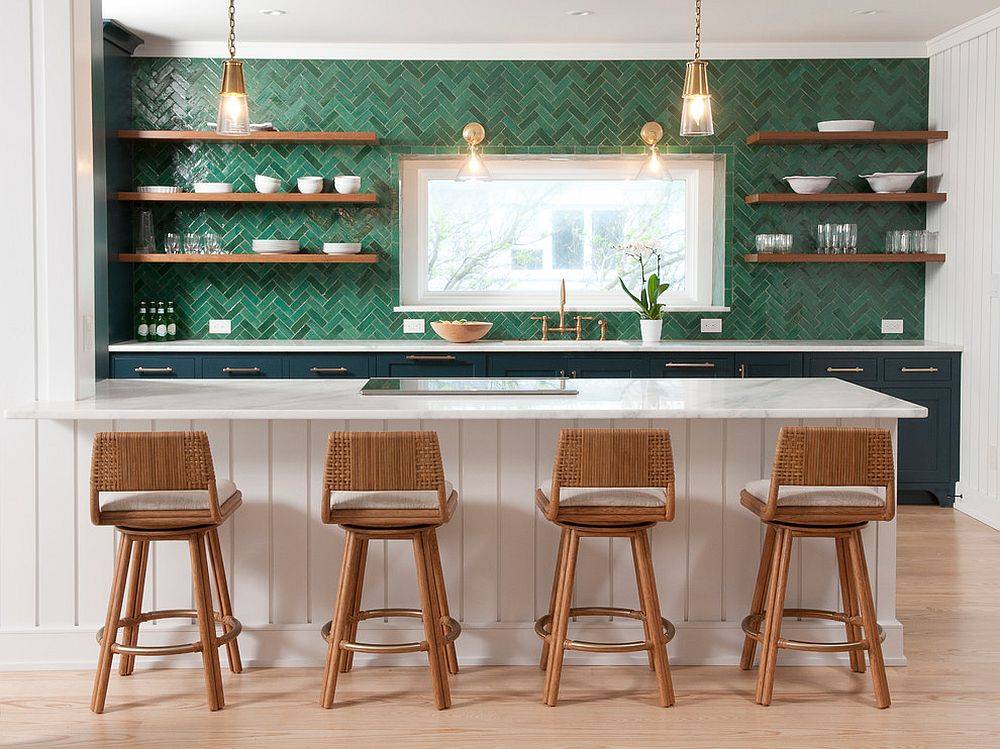 Fixtures
Think outside the norms of gold, black and oil rubbed bronze when it comes to light fixtures in the kitchen. Hanging pendants come in a wide variety of different styles and colors. They are also an easy install and can add just the right pop of color.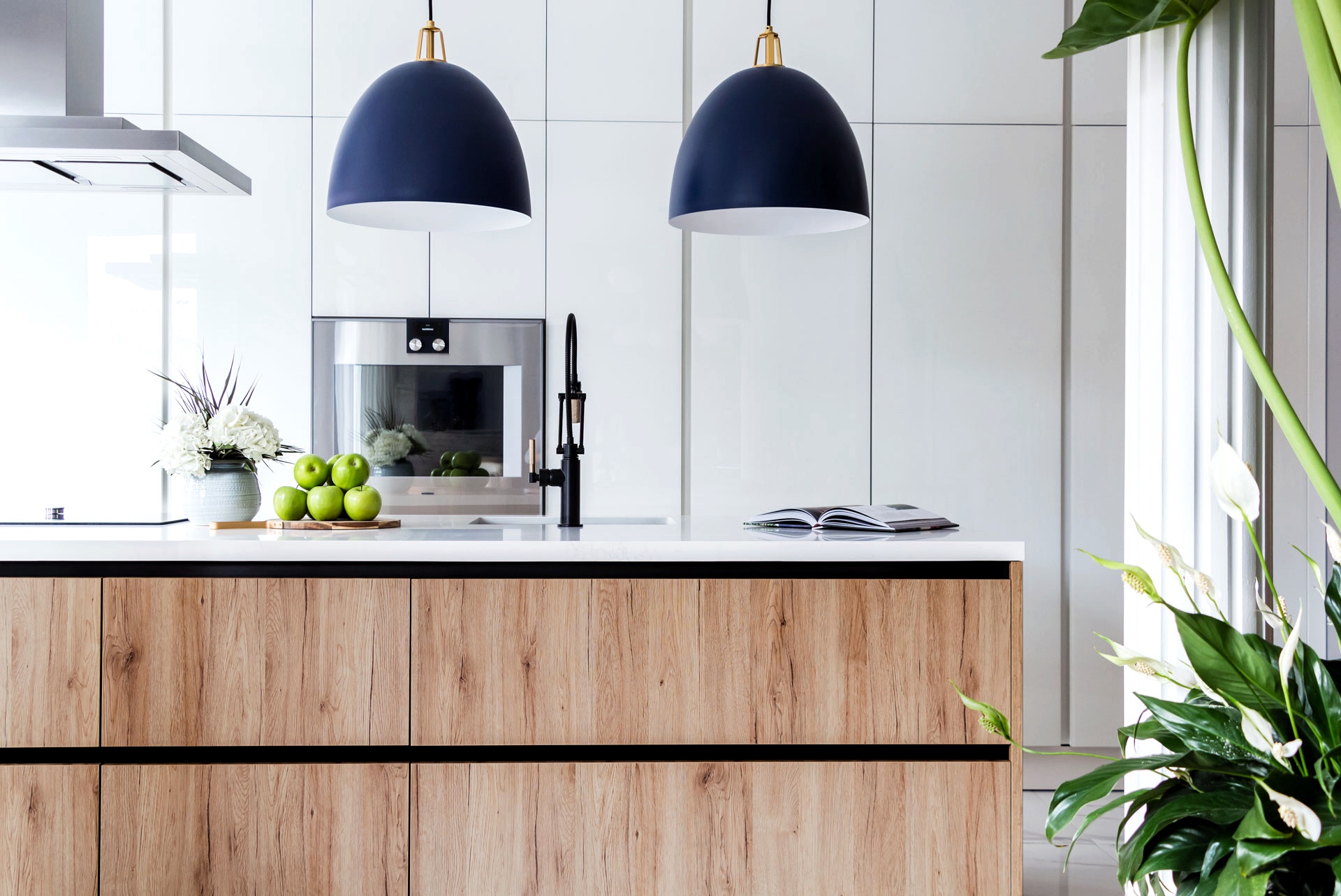 We all know that a white kitchen will never go out of style and when designing a kitchen it can seem like the safer choice but take a little risk with your home and add in that color because when done correctly it can bring joy and brightness to a home like no other.