The way in which you decorate and design your commercial interior space has a huge effect on the way your customers and employees perceive your organization. It's a delicate balancing act of making sure the space is efficient and cost-effective, while also giving off a unique and engaging experience for your employees and clients. And then, to make matters more complicated, there's making sure your office space aligns with the constantly evolving trends of its consumers, visitors, and employees.
Investing your time, energy, and money into ensuring your space ticks these boxes is instrumental to paving the way for your business' long-term success.
Don't Know Where to Start? Here Are a Few Commercial Design Secrets That Can Put You on the Right Path:
1. Choose Quality Materials: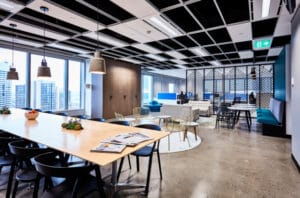 No matter what business you're in, it's important to select high quality materials for the interior construction and design of your workplace. From the furniture you use to the wood or paint covering your walls, your business space should radiate reliability and expertise.
2. Don't Underestimate the Power of Comfort:
We know it may seem trivial, but hear us out. Comfort is crucial for the productivity of your employees. When your employees are happy and comfortable, there's a good chance your clients will be, too. A great way to make this happen is selecting the right pieces of furniture for each area of the office. Whether it's an ergonomic chair, a big bean bag, or a plush sofa with ottomans, the furniture you select will have a big impact on the way your customers and employees will feel throughout the day.
3. Open Space is "In":
Collaboration is the name of the game in the modern workplace–creating open spaces for your employees to interact and work together is the simplest way to foster this.
These are just three of the many things you should consider when renovating your workspace.
How Does Planning Interiors Make the Magic Happen?
After years of experience, Planning Interiors has commercial interior design down to an art. We follow a carefully crafted and experience-based formula to ensure the best results every time. Here's a breakdown of it all:
Step One: Programming & Schematic Plans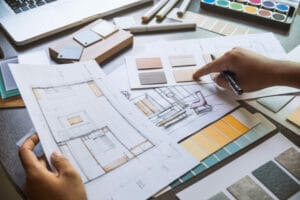 This phase is all about determining the overall requirements and objectives for the client's new space. We solidify a budget and schedule that align with the design quality we're going after–then, after it's all approved, we push forward with designing general layouts of the office area.
Step Two: Detailed Planning
In this stage, we prepare an Interior Design Development Package, which includes everything from finishing and color recommendations to schematic and communications plans.
Step Three: Design Implementation and Construction
Everything comes together in this stage. Several things are drafted up and done within a concise amount of time:
Detailed construction plans
Fully developed elevations and sections
Finalized surface materials and finishes
Construction administration and bidding
Step-by-step quality checks
Sometimes, we are asked to provide limited service to make sure the client's project is built out directly to the construction documents
In the Market to Redesign Your Commercial Space?
With all the moving parts of any commercial design project, it can be difficult to ensure that you are hitting every mark you need to make a real difference in your business space. Why leave it to chance? No detail will be left unchecked with Planning Interiors' seasoned professionals. We will work with you from start to finish to make your commercial design project dreams a reality. Give us a call today and we can get started: 678.732.3946.