When designing a bathroom with both function and aesthetics in mind, the faucet can make a surprisingly big difference. From vintage faucets with tons of personality to sleek features for modern styles, there is something for everyone. Pick a bold and intriguing design that becomes the main point of interest in an otherwise ordinary bathroom design.
Wall mounted faucet
A gorgeous faucet in rubbed bronze adds a retro vibe to your bathroom design. The lever handles and intriguing shape make this faucet a good choice for updating your space.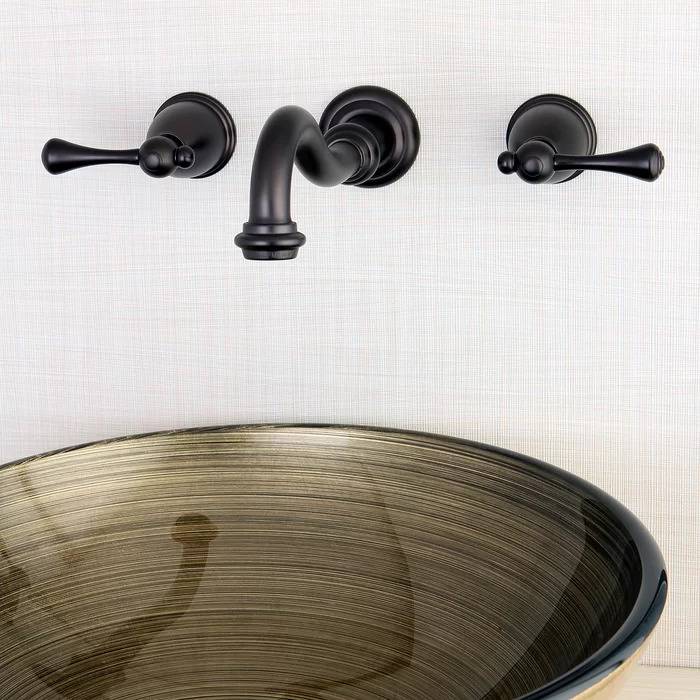 Faucet with spout
If the classic design isn't for you, why not go for a more unique faucet? This remarkable design features a waterfall spout for the wow effect. The matte black finish and richness of detail add a charming touch to your sink.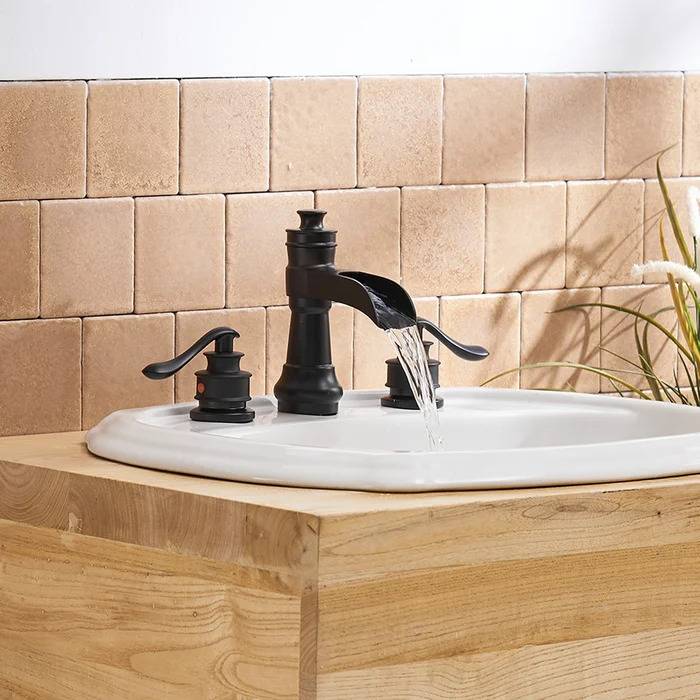 Mixed metal look
When choosing a new faucet to match your bathroom design, you don't necessarily have to pick it according to the hardware. Although it is a common practice to achieve a cohesive design, some people like to go for a mix-and-match approach. 
The secret trick designers use to achieve a balanced look is sticking with one dominant metal. Chrome is the ultimate choice in this example, as noticed on the faucet and towel ring. It goes nicely with the aged brass present in the form of knobs, handles, and lighting.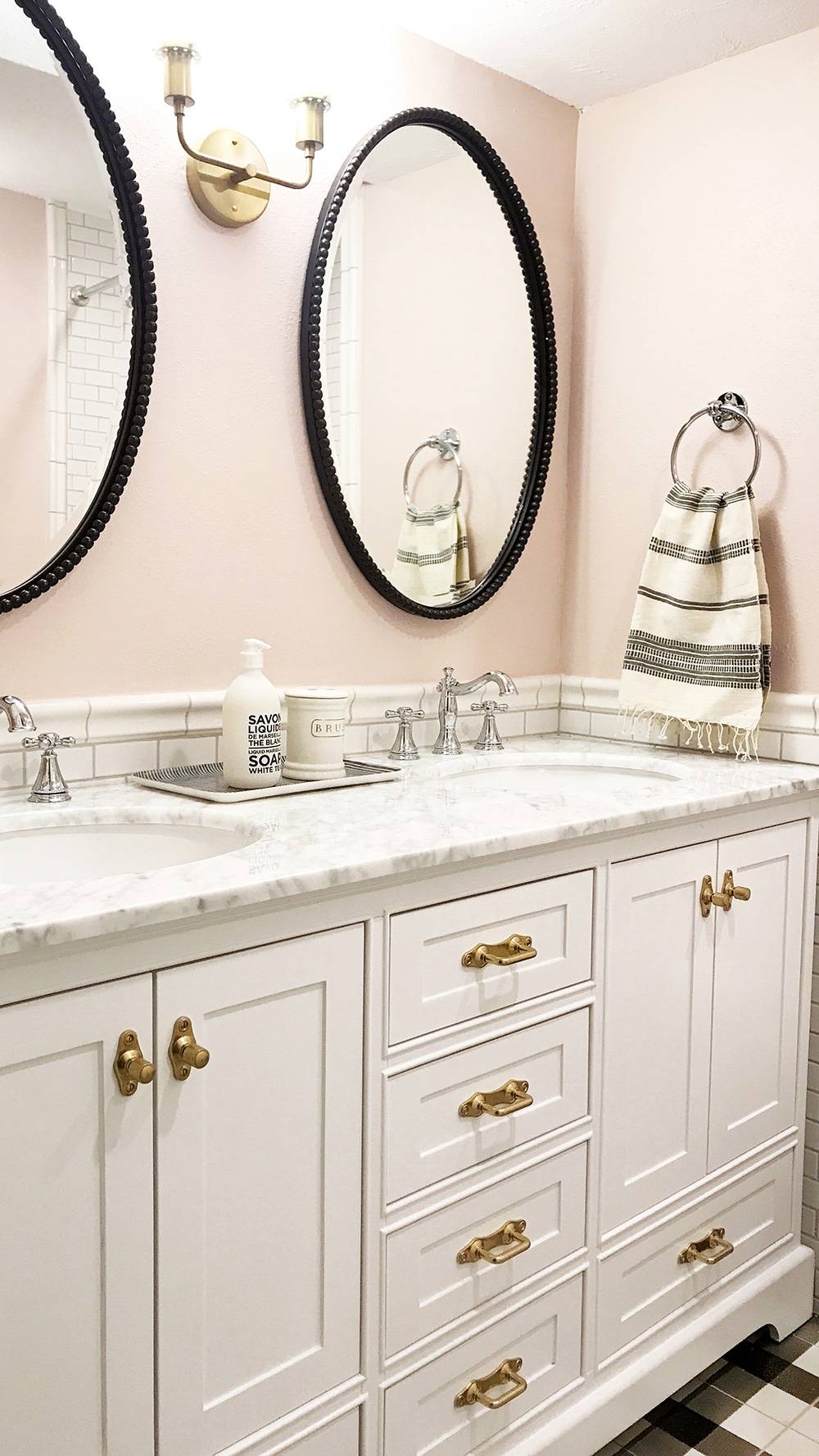 Traditional design
A traditional faucet design with two handles makes a beautiful statement in the bathroom. Complement with a rich floral wallpaper to achieve a vintage vibe, no matter how big or small the space is.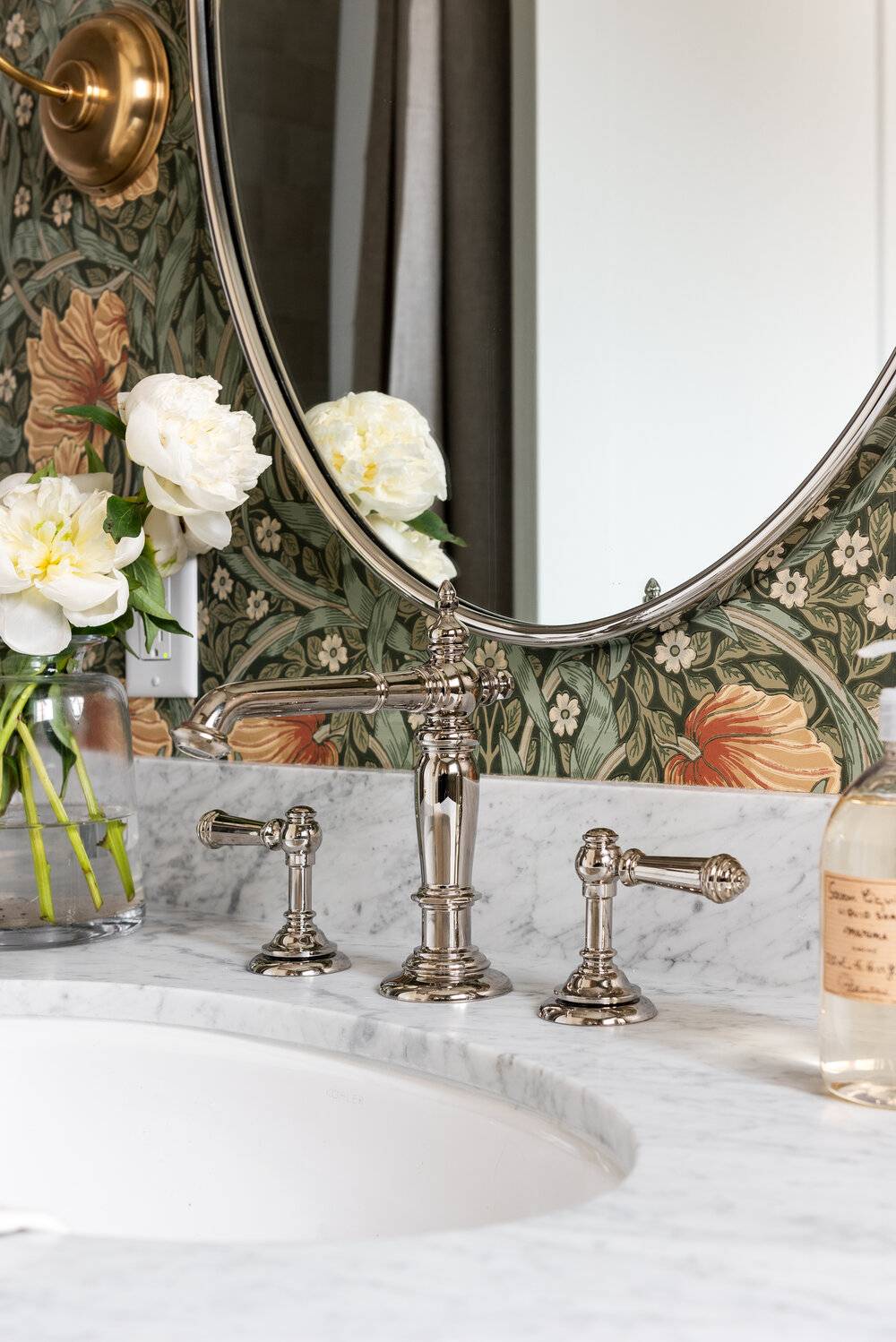 Marble and gold faucet
Marble and gold is a combination that will make your bathroom feel like an upscale spa. The gold accents perfectly match the faucet for a luxurious look, complemented by a sleek marble countertop.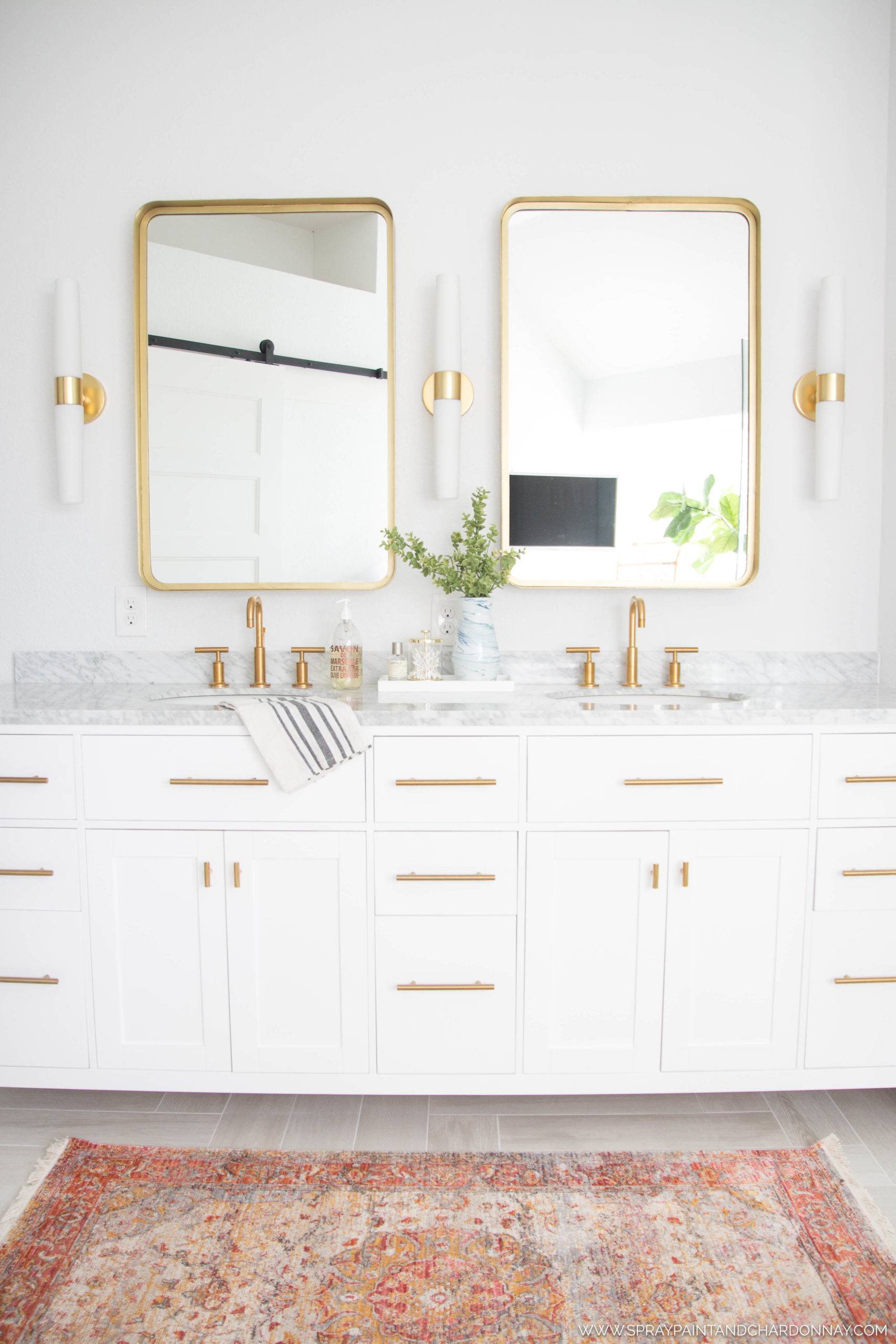 Timeless brass faucet
When you wish to add timeless appeal to your sink, a brass faucet is a right choice. An aged brass finish adds a unique charm to your bathroom design. Let it stand out against light colors, or choose a deep rich hue for the ultimate dramatic touch.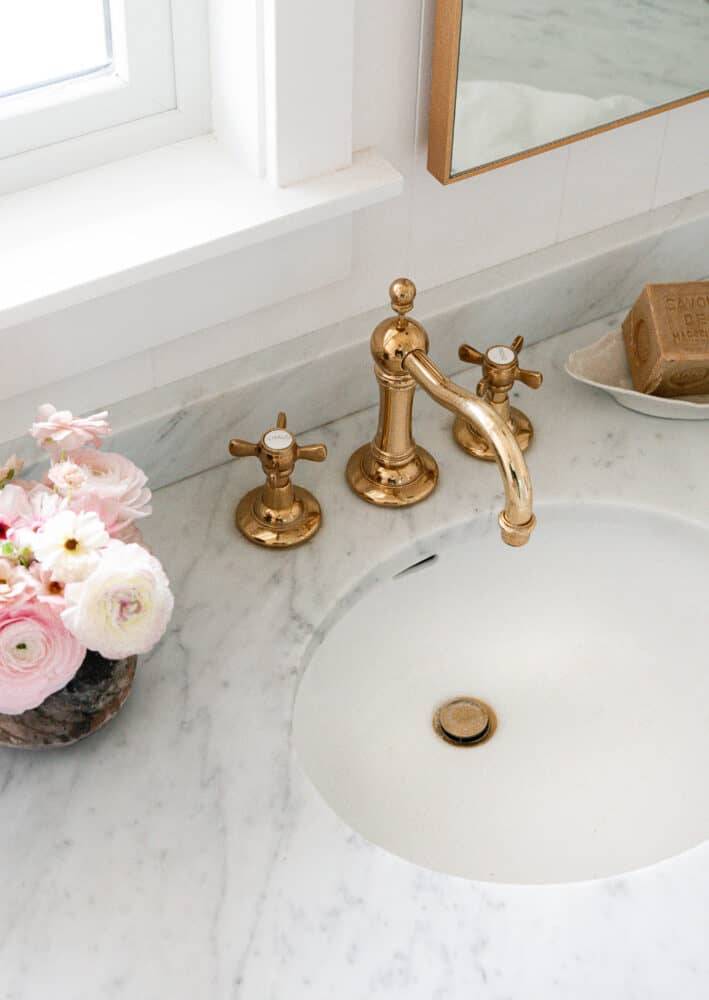 Brass and statement colors
A faucet with a sleek and refined design in a warm brass hue is ideal for contemporary spaces. The combination of navy blue backsplash, wood, and brass conveys a smart modern style.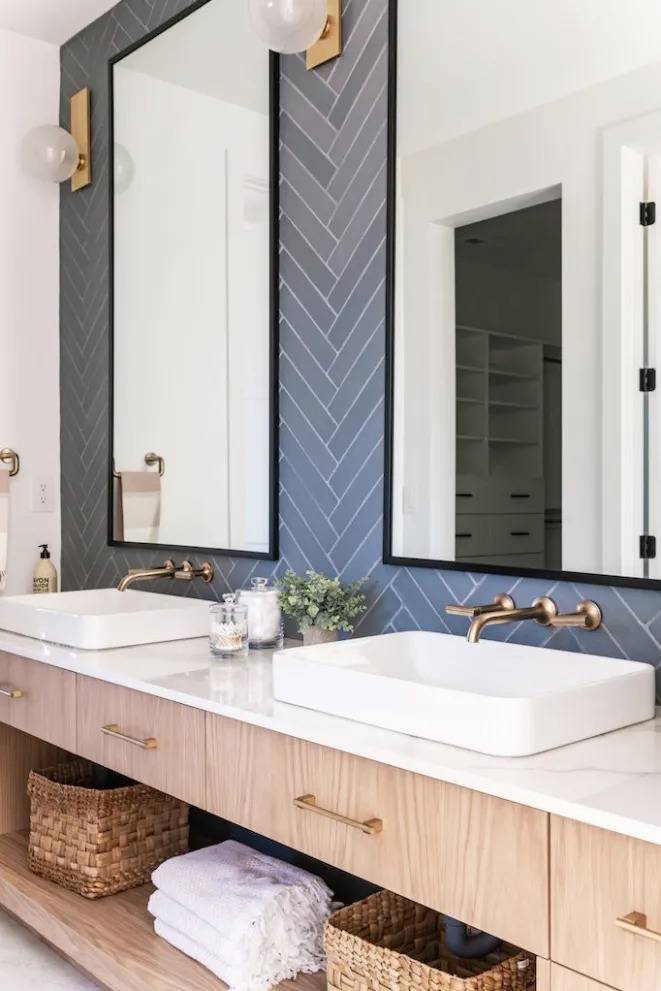 Curvy silhouette
The new trends favor curvy shapes and flowy lines. If you're tired of those harsh lines, replace your old faucet with a curvy design. It brings an organic look and adds softness to a sterile space like a bathroom.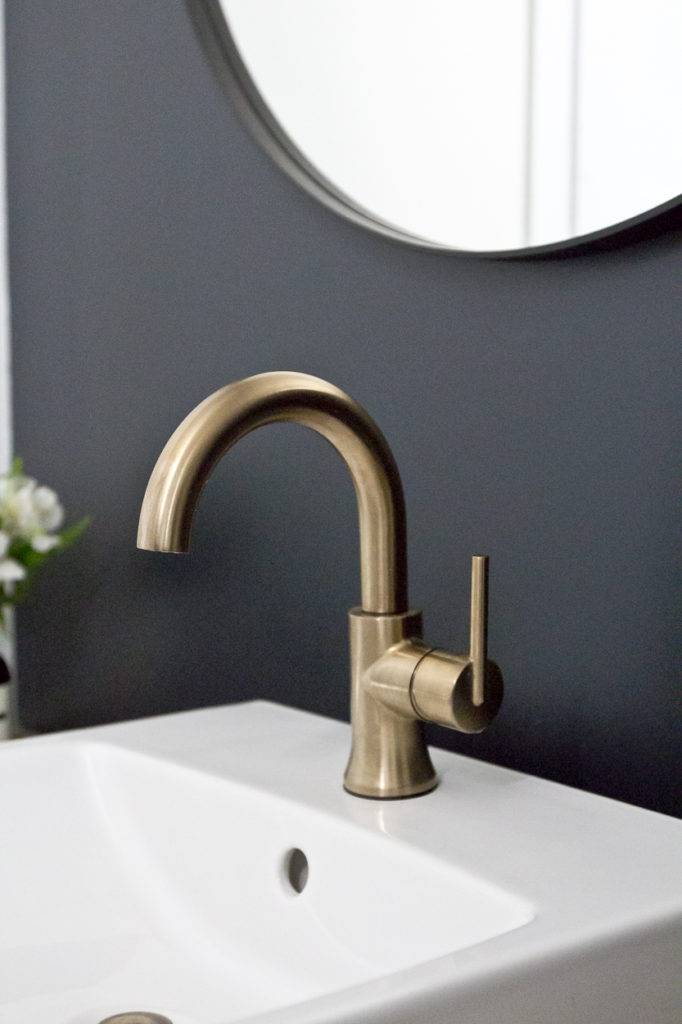 Sleek waterfall faucet
A refined waterfall faucet is perfect for modern bathrooms. Thus faucet's unexpected elements become the main statement. Complement with a sophisticated countertop sink to achieve an ultra-modern look and minimalist vibe.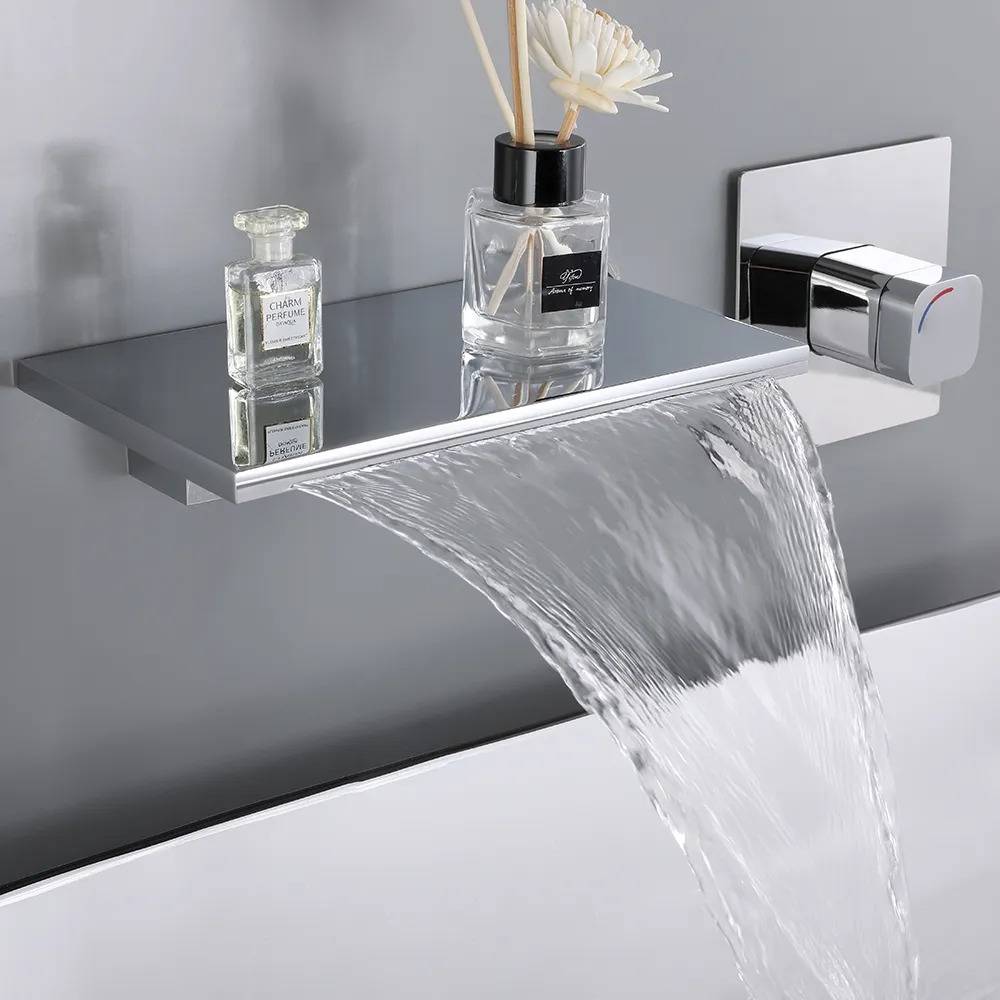 Vintage brass waterfall faucet
This vintage waterfall design in black and rose gold becomes the main focal point in a powder room. The remarkable piece is full of character and is enough to update your bathroom and give it a brand-new look.