The master bathroom or primary bathroom is the most significant bathroom in the home, a functional space that does double duty as a place to escape the business in other areas in the house and offer a spa-like sanctuary. An ensuite master bathroom should work in connection with the master bedroom and possess something unique that the other bathrooms in the home don't have; whether that means a luxurious soaker tub, a makeup vanity, a stunning chandelier, his and her showers, bold patterned tile, or whatever else makes it feel unique, stylish, and elegant to you.
Take a look at these design-worthy master bathrooms created to fit a range of styles and tastes. We hope that these will inspire you with some ideas about how to tackle your own master bathroom refresh or renovation.
Bright White with a Bit of Grey
A gray and white-toned bathroom is a lovely choice when you have hardwood flooring. The all-white sink design emphasizes an excellent gray color with the cabinets. You can take things a degree further with a beautiful mirror that matches the sink, adding more layers of brilliance to the room. The use of white towels within the cabinet shelves aids in this look, along with the white planter on the sink. With that hint of green, the room is given yet another layer that glows.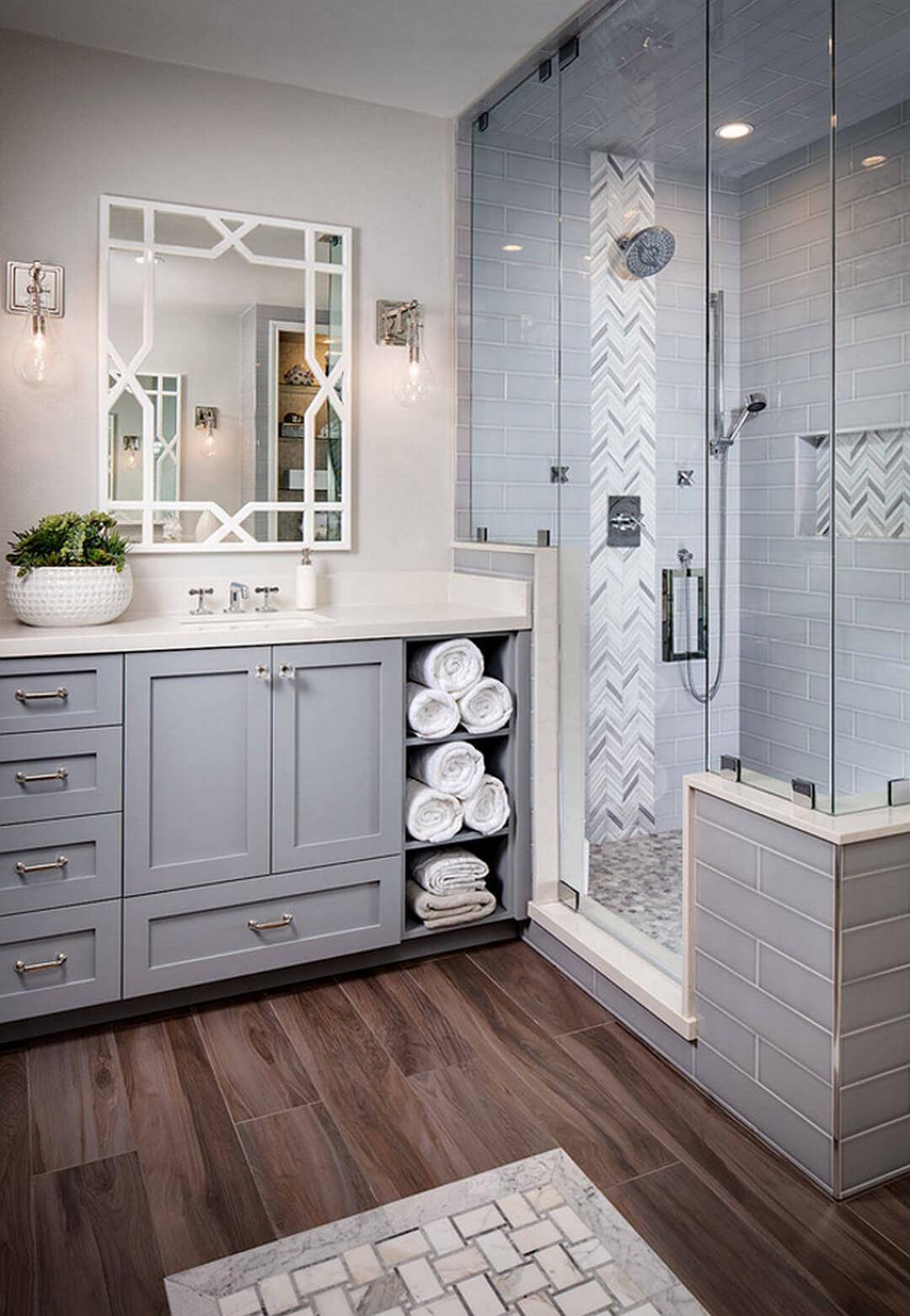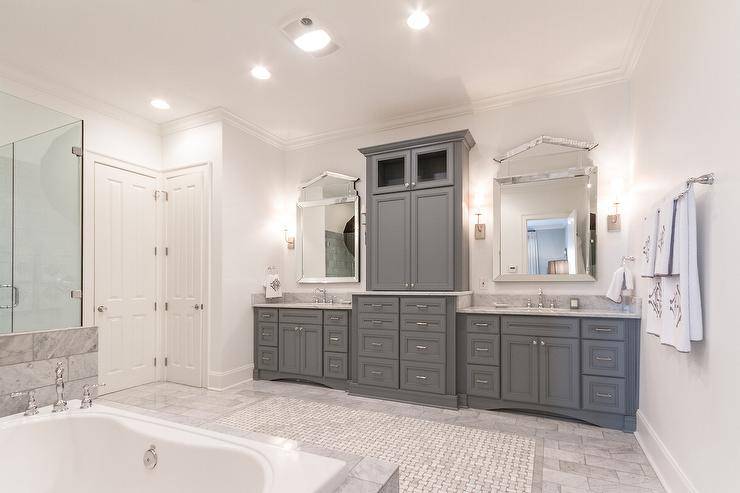 Add the Farmhouse Touch
Give farmhouse style an extraordinary twist with a unique master bathroom design. With the bathtub design, wooden ceiling, and dark floor layout, farmhouse tastes are undoubtedly alive and well here.  However, an industrial edge is also thrown in with the double vanity. Exposed pipes give this master bathroom a more unique vibe that farmhouse doesn't usually have. This is a great way to combine styles, making something with a more distinguished character in the end. Using mirrors as a way to fill up some blank wall space is excellent, too, as the mirrors don't detract from the rest of the décor.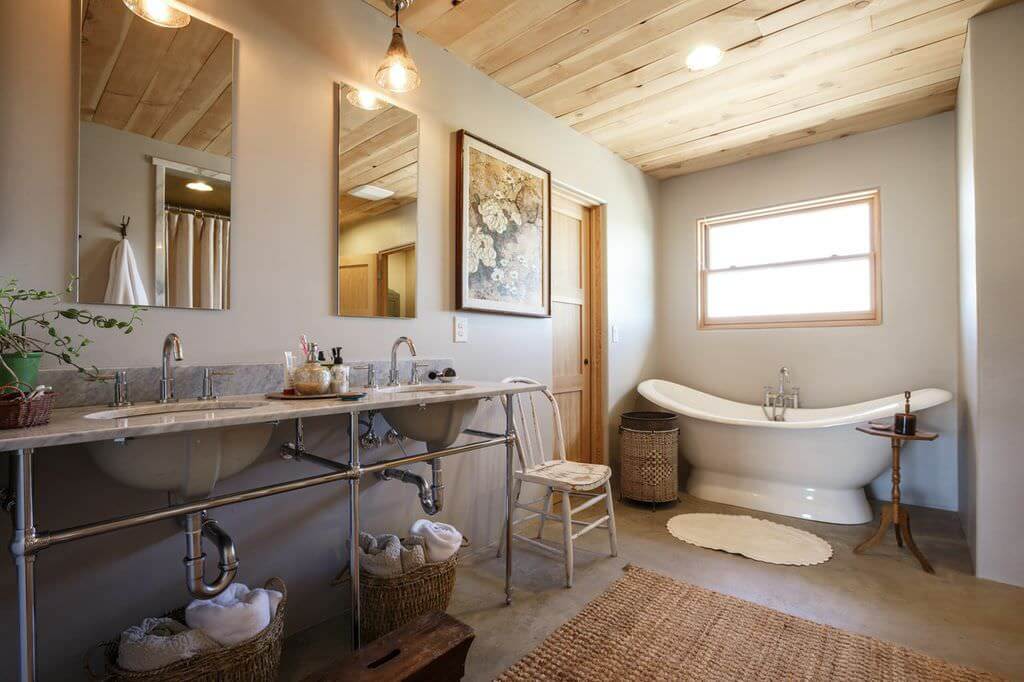 Country Serenity
This pretty setup will bring a freewheeling and traditional country touch to your master bathroom. The bathroom is positively clean and appealing to look at. The use of white throughout is an ideal way to bring the theme together, largely thanks to the windows that add in some enchanting natural lighting. Plus, even the windows welcome the country style. The easy addition of the lone flower adds a nice pop of color to the room without going overboard.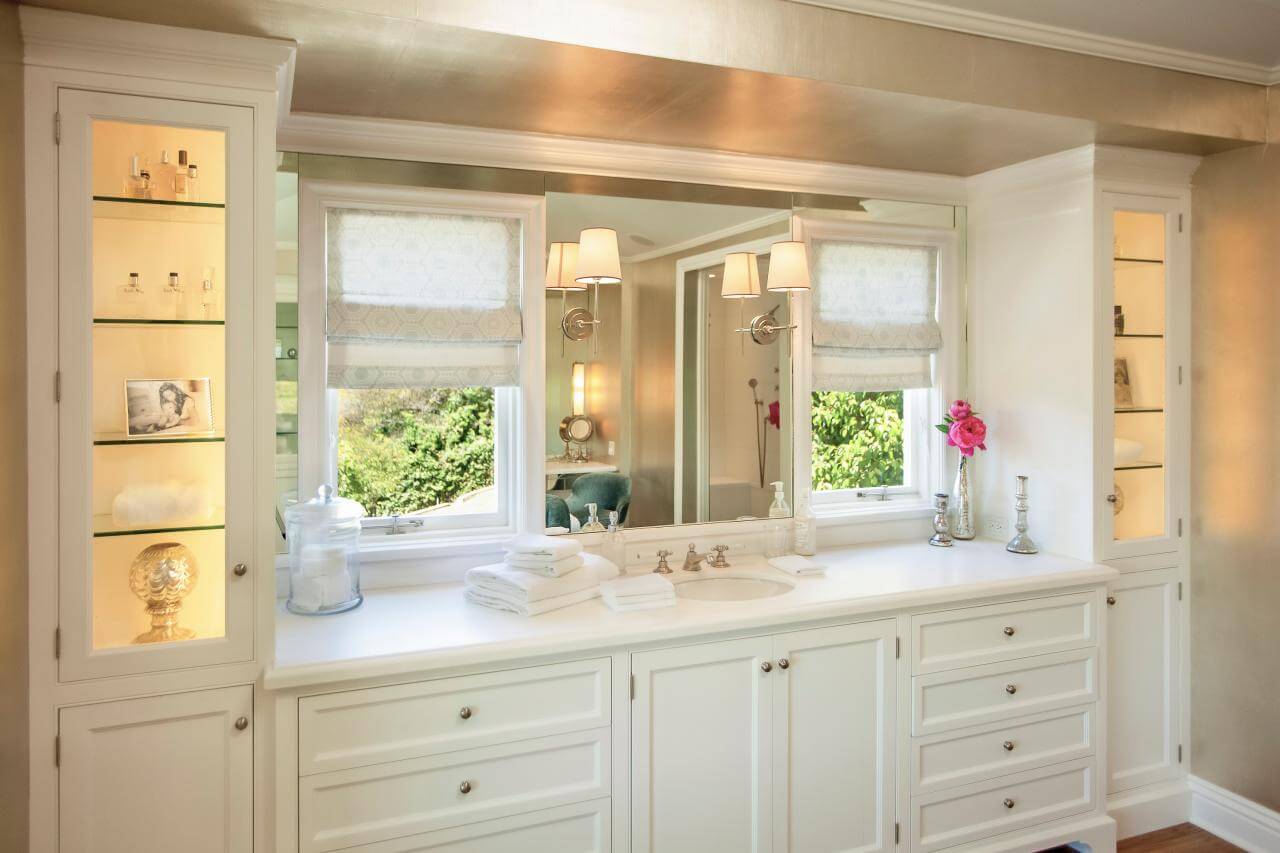 Add a Touch of Masculinity
In this modernly styled master bathroom, civilization speaks volumes. This leans darker in terms of tone in an unexpected fashion, giving the whole room a more masculine vibe. This bathroom has a chicness that will impress anyone with dark blue walls, contrasting wood cabinets, and lighter floors. Meanwhile, the modern light fixtures capture attention, including the contrasting rug and even the little pops of green with the greenery.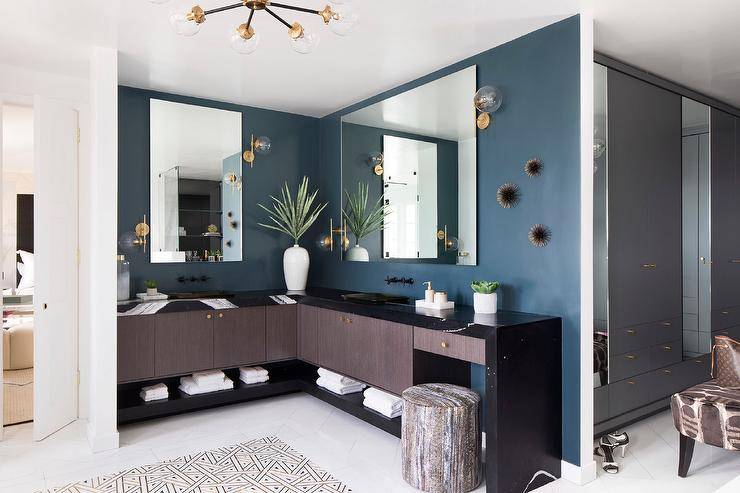 Get Creative with Art
If you love art, create yourself a creatively designed master bathroom. These sinks and countertops are unique with a contemporary touch. Everything looks bright and clean as well, from the light wooden cabinets to the uncomplicated gray-toned countertops. They bounce nicely off the white walls, and all of it is drawn together with a pair of gorgeous paintings hanging on the wall in the center. Nothing else is needed outside the charming little greenery on the sink used as extra décor.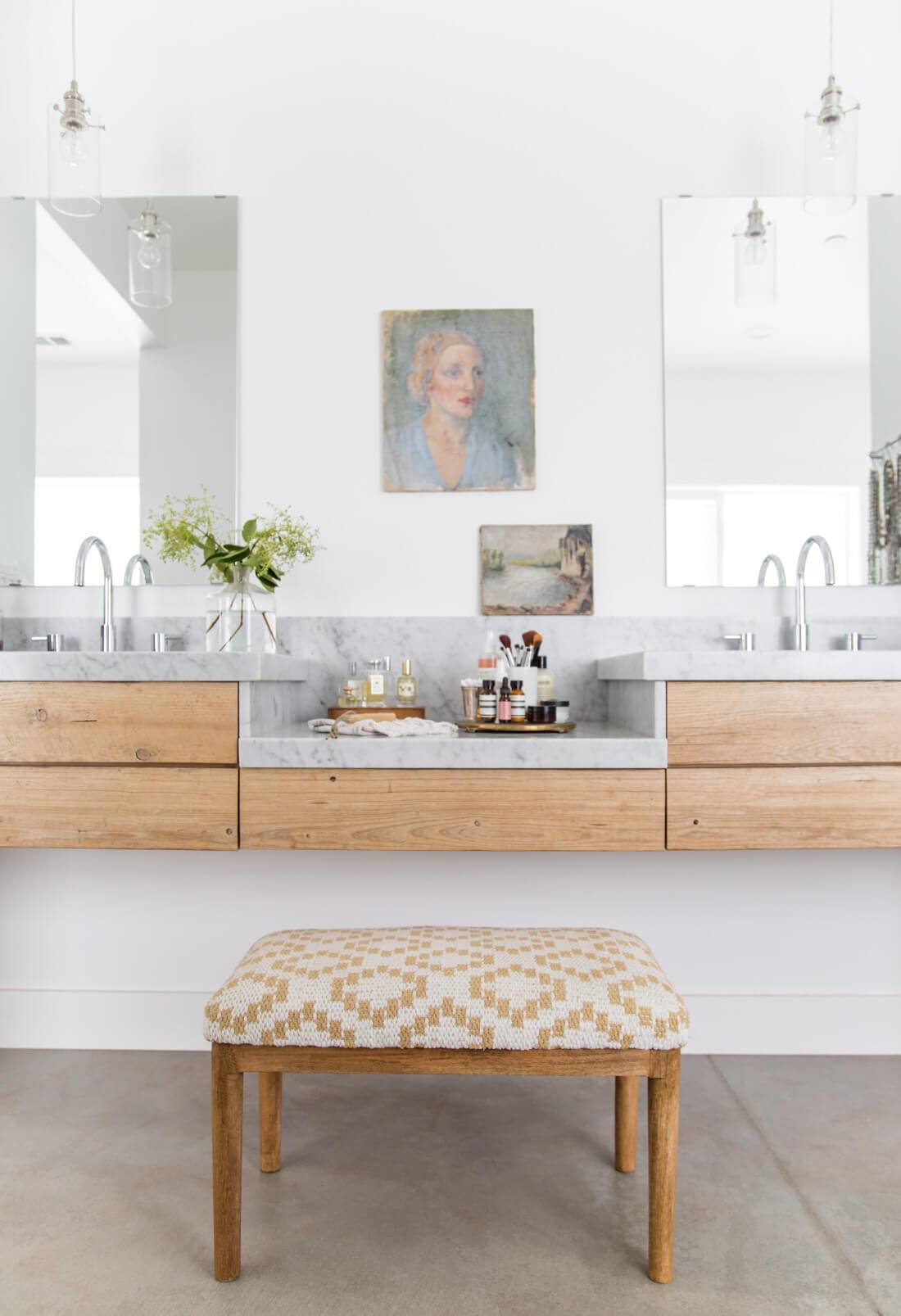 Spa Like Atmosphere
When you walk into a master bathroom, you are going to want that feeling of being transported to a serene spa — a place of ultimate peace and relaxation, so give yourself a space that says and feels just that. Light grays and whites are always a classic choice for a master bath, and you really can't go wrong with a soft natural color scheme.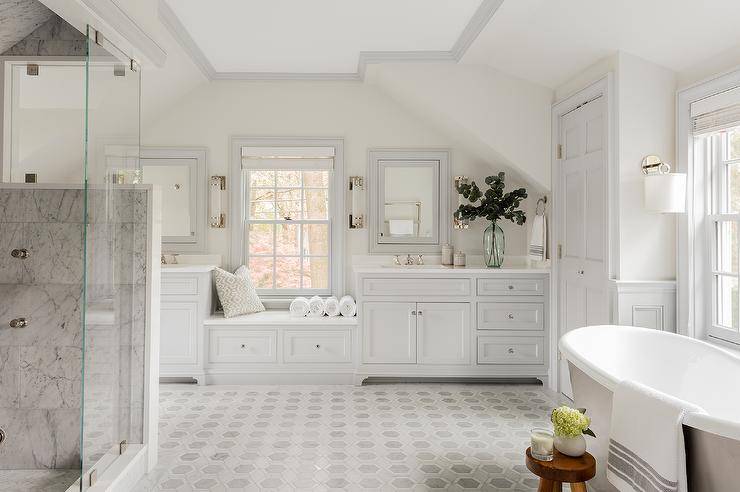 Treat Yourself to a Free Standing Tub
There's nothing like immersing yourself in a relaxing bath at the end of a long day so make sure that your master bathroom is equipped with a comfy yet elegant tub. Free-standing tubs are great additions to master bathrooms. Free-standing tubs are easily placed in the room because you don't need to rely on a wall.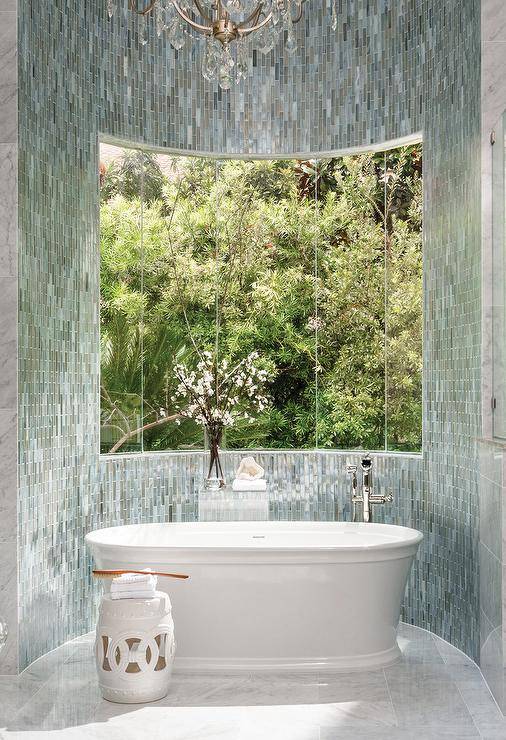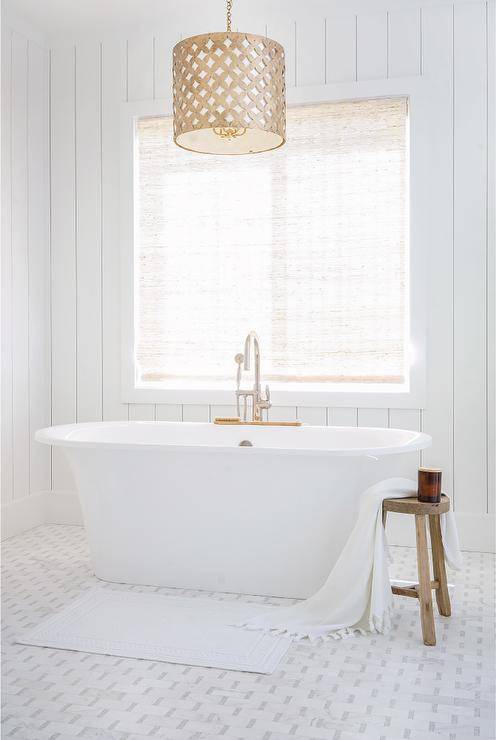 If you have a big window in your master bath, don't be afraid to perch your free-standing tub right in front. You can soak your worries away and let all that natural light pour in.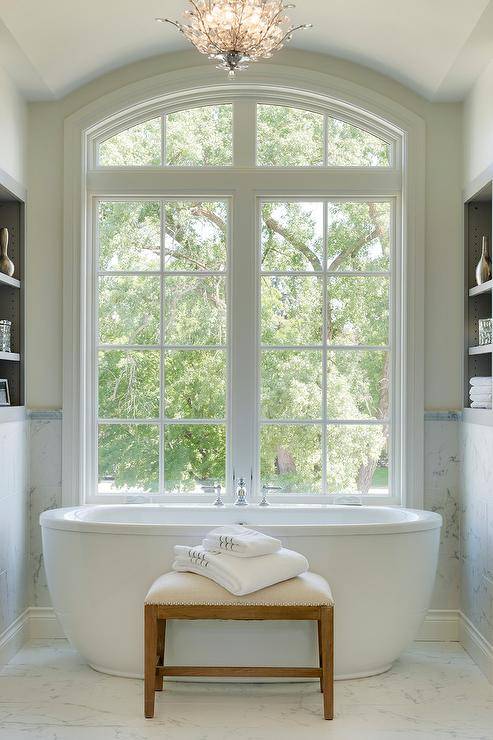 There are a lot of possibilities for free-standing tubs, and you can either choose one to fit your style or one to style your master bathroom renovation around. Traditional clawfoot tubs with a conventional faucet look great in traditional or country-style bathrooms, while contemporary designs can make a modern bathroom look like a million bucks.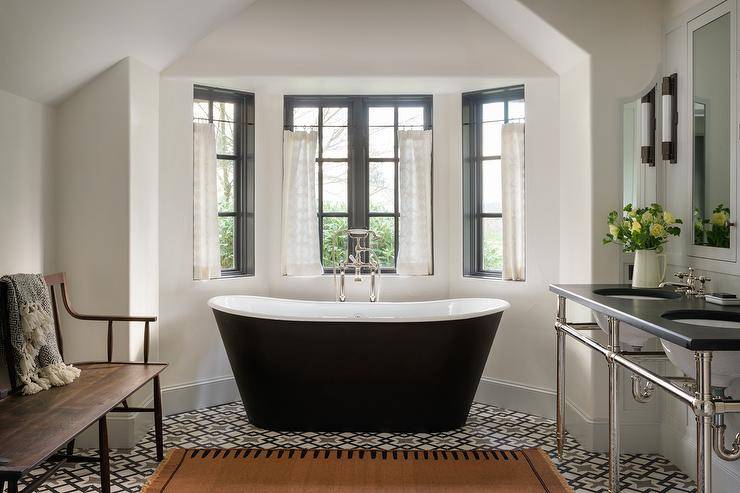 There are a few elements about freestanding tubs you have to be ready to commit to. For starters, they're extremely heavy. Free-standing tubs are much heavier than built-in ones, so keep that in mind during installation, and when you fill it up with water — you may need to reinforce the floor. Also, there are no shelves for storage in a freestanding tub, so you'll either have to find a tub tray or bring your soap with you every time.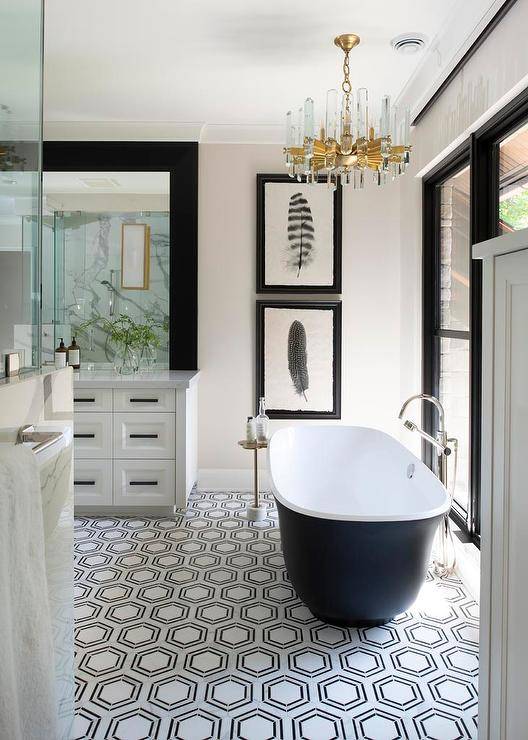 Related: Design For The Romantic: Bathtubs In The Bedroom
Don't Forget About Doors
When decorating and designing, we tend to focus so much on what's inside that we forget about the outside. Don't waste an opportunity to get creative with the master bath and do something really unique and adventurous with your doors. Because the master bathroom is inside your bedroom, you have more freedom to play with different styles and types of doors — doors that you normally wouldn't use on a guest bathroom or main floor bath.
These antique bi-fold doors are a bold and rustic choice, but they totally make this master bath a stunning vintage masterpiece. They complement so nicely with the chandelier.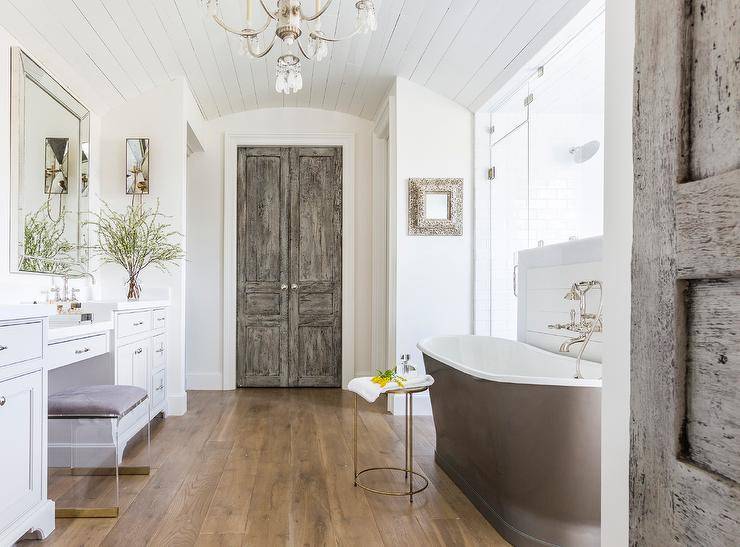 Sliding barn doors are an excellent choice for a master bathroom and add a lovely display of farmhouse character.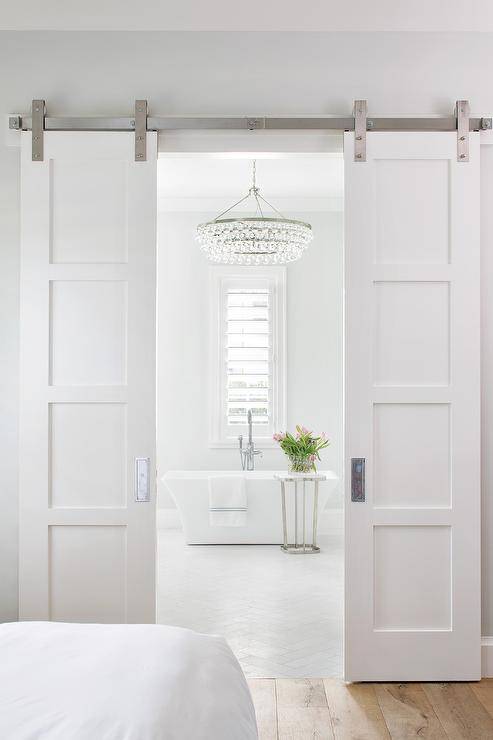 These rustic salvaged wood doors add a lovely natural, earthy contrast to the entrance of this master bathroom from the rest of the bedroom. These might just be my favorite!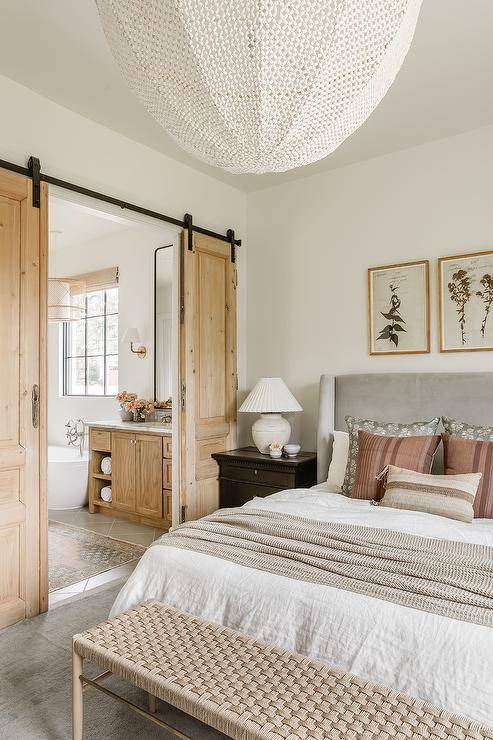 Get Cozy with a Fireplace
I know a fireplace is not something you would typically think of in a bathroom, but it can warm up your bathroom space and bring some serious cozy vibes. Fireplaces are grand for the winter when you want to kick back and relax in the warm glow of a fire, and there's nothing like relaxing in the bathroom after a long day — plus, adding a fireplace to the bathroom brings in a ton of character and charm.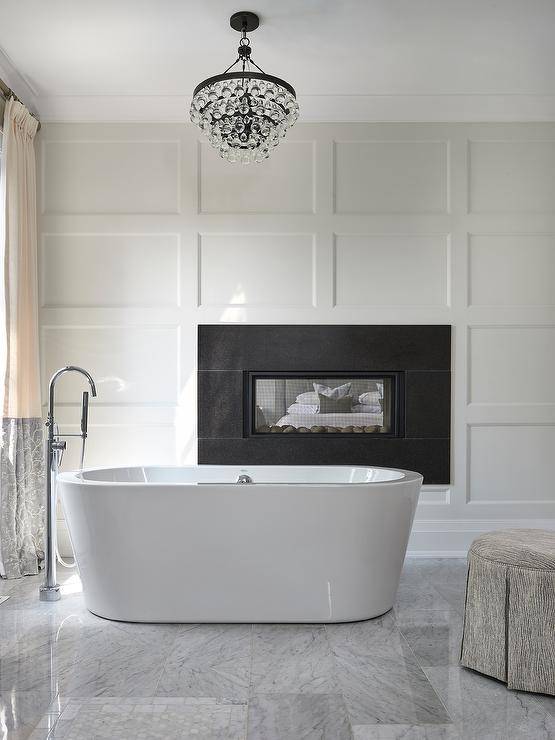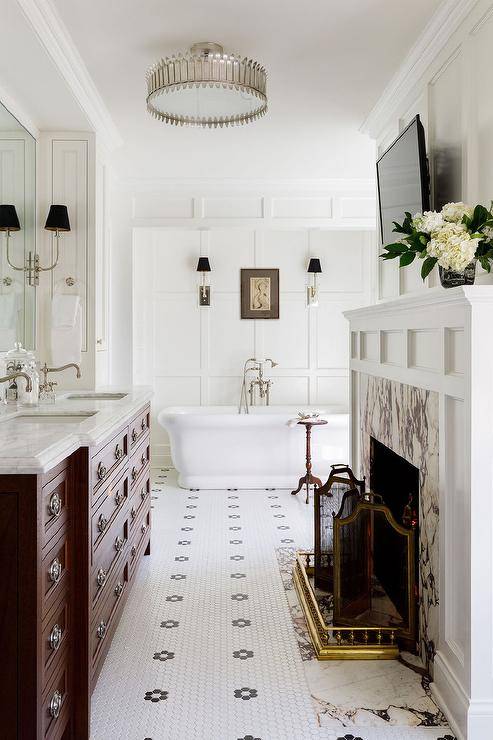 Pop of Color
Don't forget to add a pop of color if you want to add some personality and charm to your master bathroom space. This bright blue totally warms up this space and makes it bright, cheery, and all-around fun while still keeping a classy and elegant look.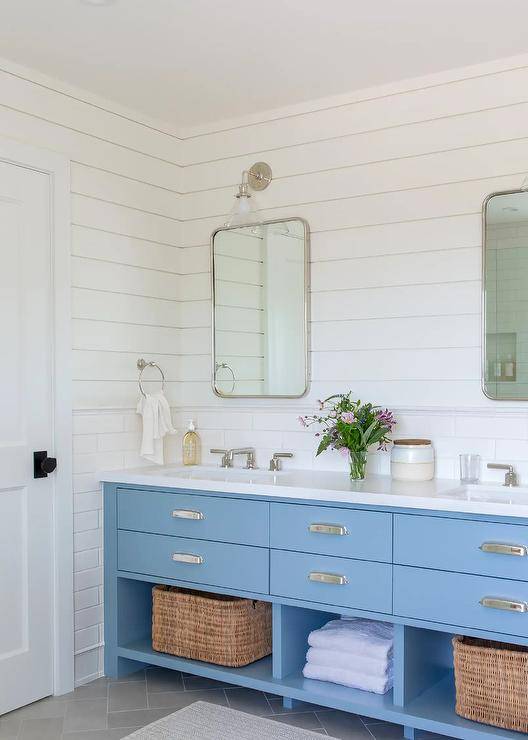 While light bathrooms have been long been the traditional choice for bathrooms, you may want your master to have a little more personality, character, color, or contrast. There are many ways to make this look work and establish on your taste; you could put together a truly remarkable combination.
Use Mirrors to Maximize the Space
If you want your master bathroom to appear larger than life, enlist the help of some mirrors. By adding in large mirrors, you can make any space appear larger than it is, and in this bathroom here, we can see the designer opted for large mirror panels to cover a ton of square footage. The mirrors bounce the light around, which helps with the bathroom's overall feel and creates an optical illusion.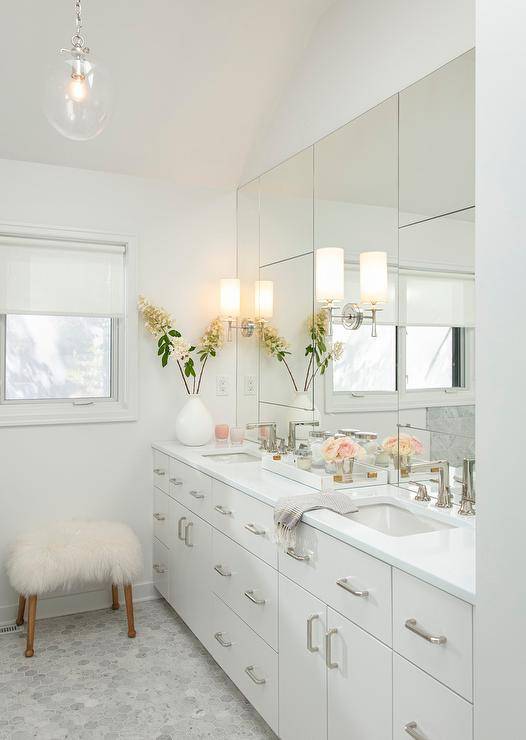 Designated Makeup Spot
The best spot for a place to do makeup is in the master bathroom so if you have room for it, make sure you lay out a spot specifically to apply your makeup. It will be the best decision you'll ever make!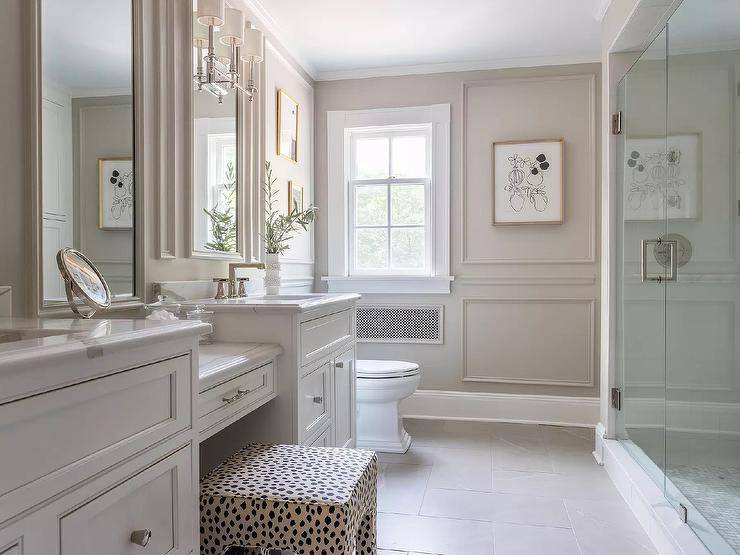 Add the Chic
A uniquely created contemporary master bathroom can benefit from some relaxed chic thrown in. The bathtub is bold and encased with the modern brick style around it. This gives it its own little area while still keeping it centered in the bathroom. It all leads effortlessly into the shower area, further highlighting the relaxed brick style. Utilizing the dark gray tones is practical as well since this provides some good flow along with the darker wooden floors and lighter-colored walls.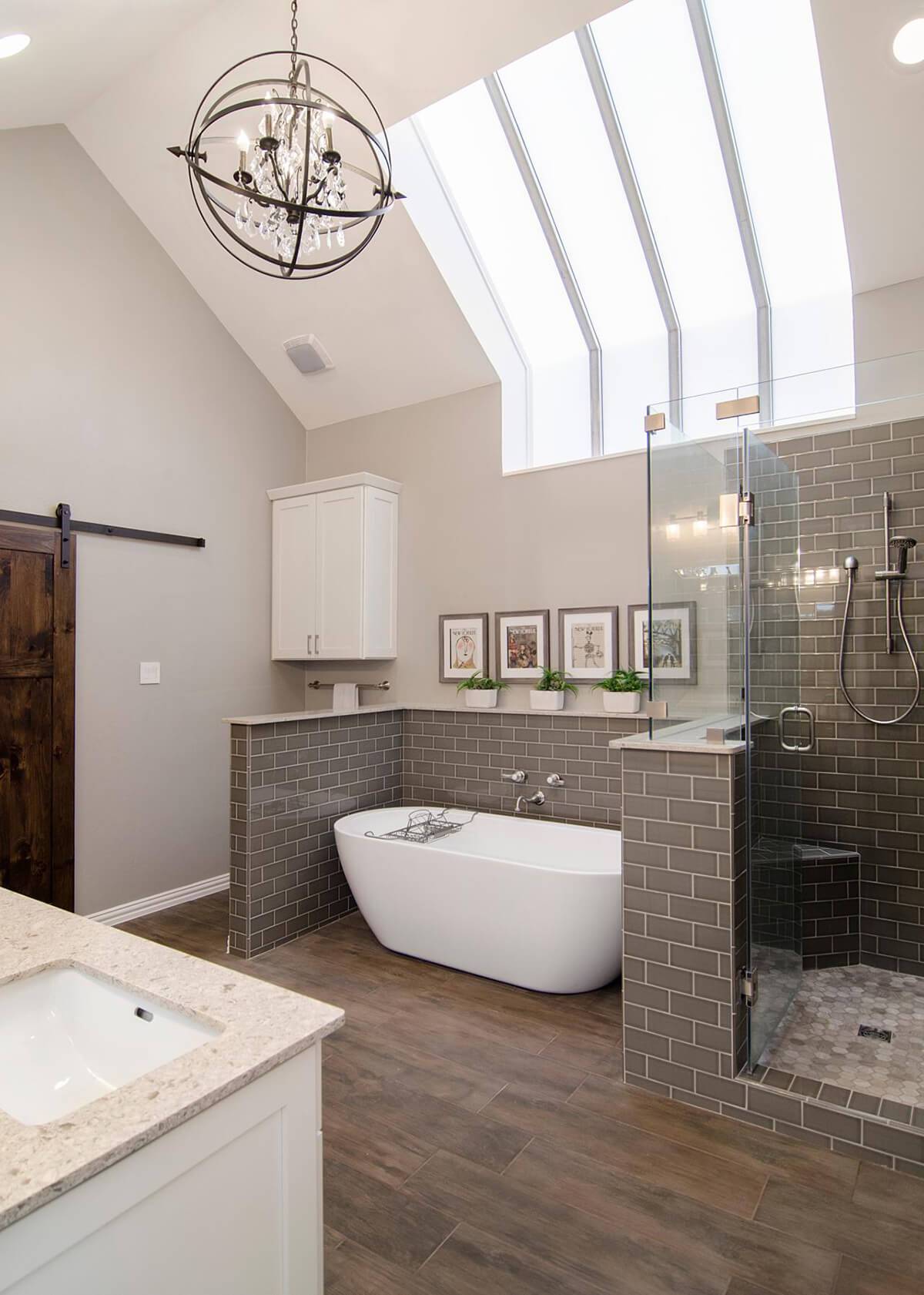 Cottage Chic
When it comes to master bathroom design ideas, the cottage style is always a lovely way to go if you want something that's comfortable and restful. This design is plenty brilliant, thanks to the use of white throughout. The all-white sink, offset slightly with the hardware, proudly stands out. Along with that, the white mirrors have some beautiful weathering applied to them that tips more into the cottage-like theme.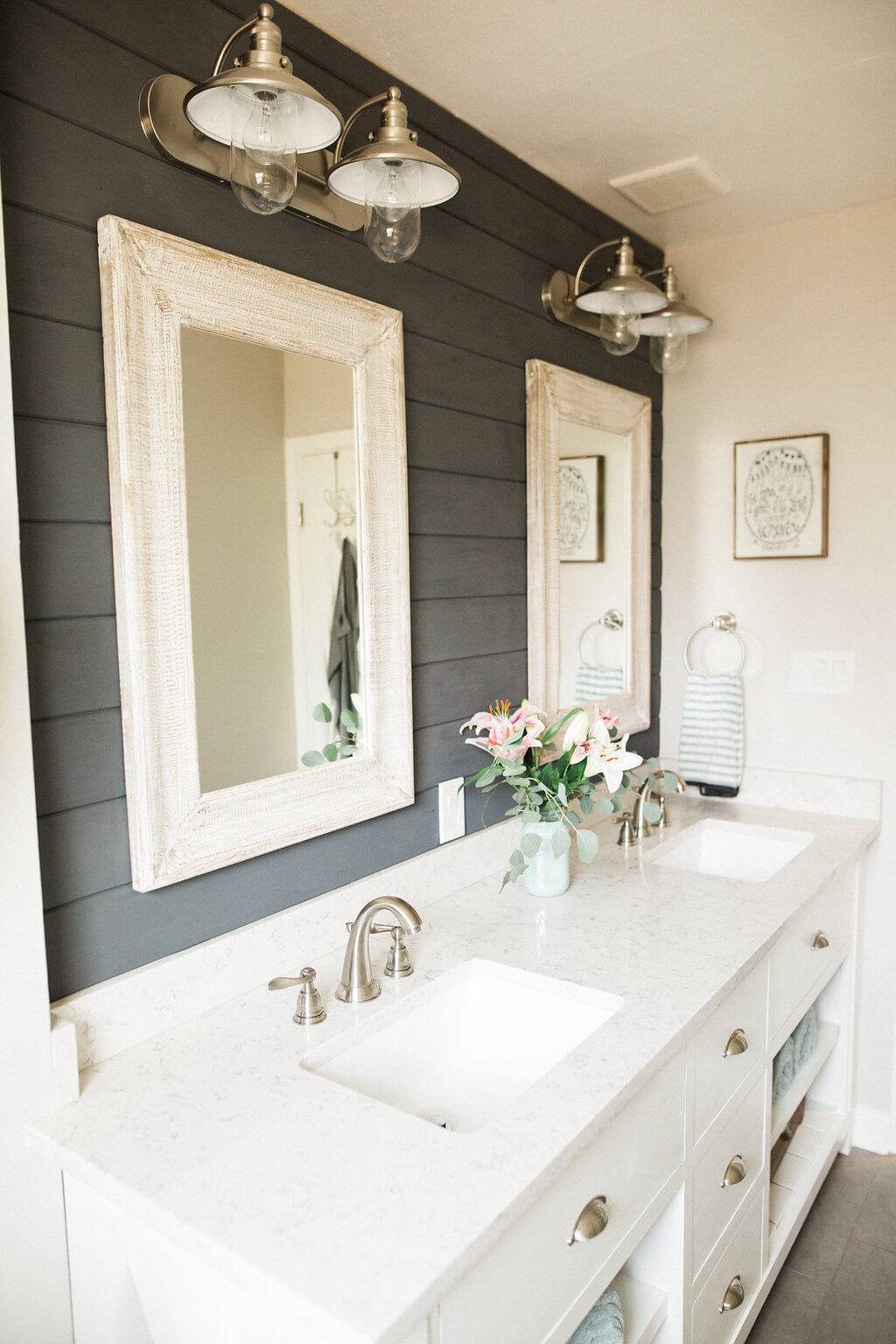 Formal Style
You can't go wrong with the black and white style for a more formal and traditional approach to your master bathroom design. Black mirrors for the vanities provide a more daring look, while the black hardware stands out against the white cabinets. With that said, the marble applied to the countertop effortlessly connects the black and white style. You can follow up with all this by adding in some cute black or white accent pieces on the countertop and placing practical décor that animates the space more.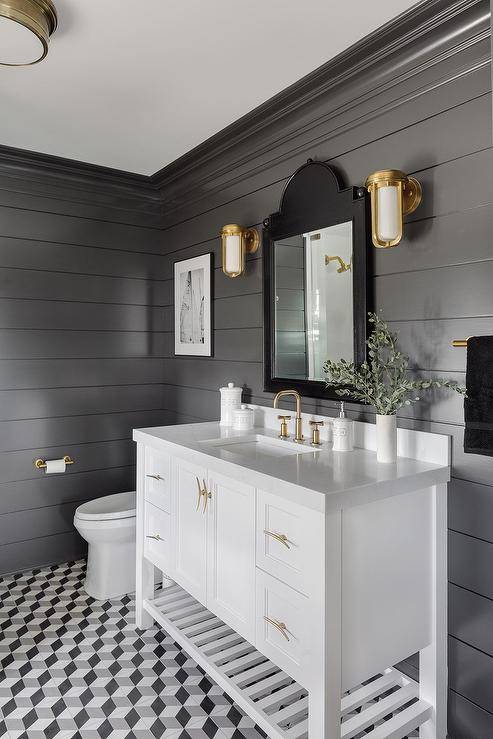 Enhance Light with Glass Shower Doors
There are a number of ways that doors enhance master bathroom designs. The highly reflective nature of a panel can make the feel much brighter. If your master bathroom suffers from being too dark, doors are a great choice to fill the with a bit of extra reflected light. Also, they make the feel like part of the without being cordoned off by a curtain.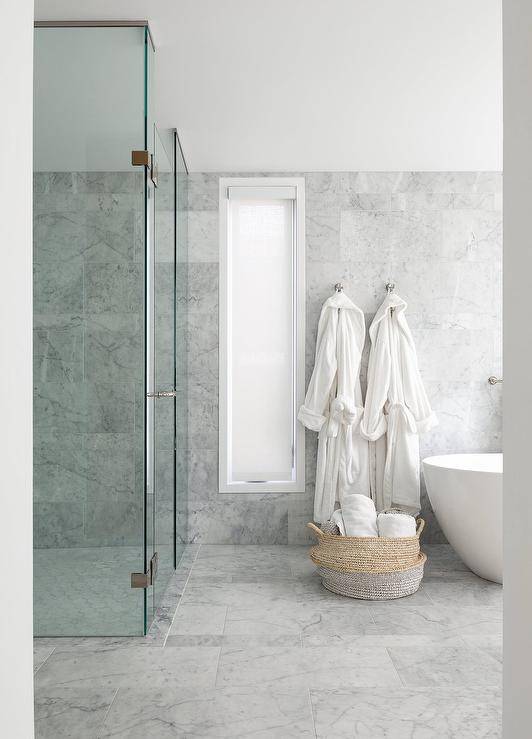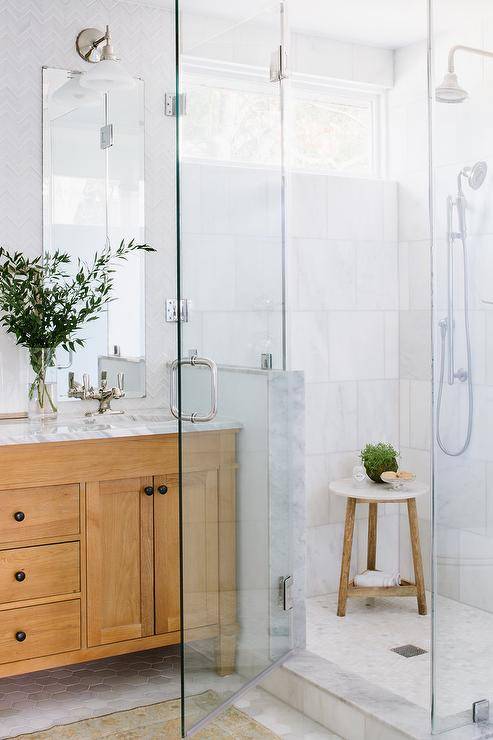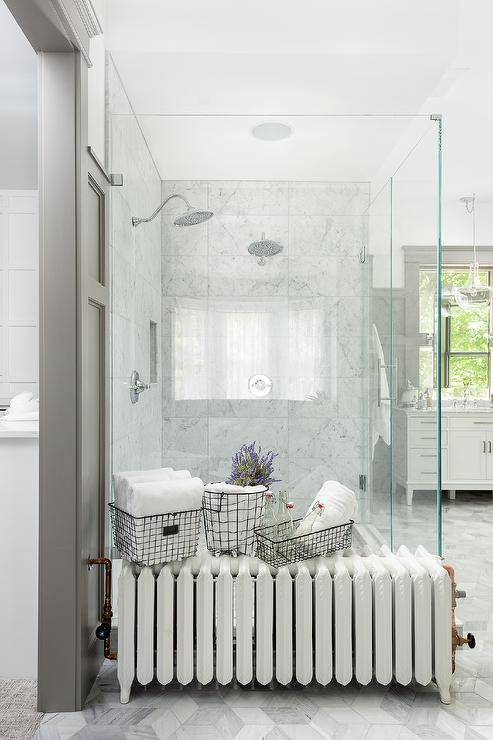 Related: 43 Walk-In Shower Ideas To Upgrade Your Bathroom
Go Big with a Large Master Bath Shower
Along with doors, large master bathroom showers are a fashionable trend that has been around for a few years. Lots of and , multiple showerheads, and built-in benches are favored features of these large showers.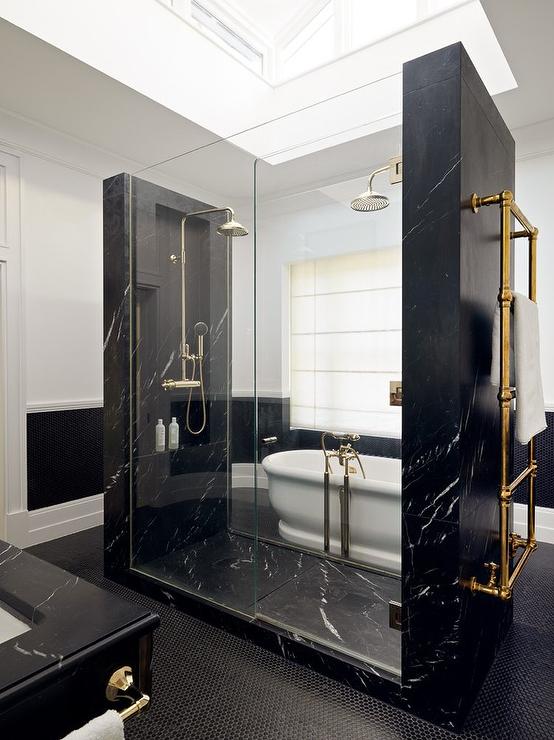 It's essential that your master bathroom  looks like a    not like a football locker   . It's best to avoid plain white  and nickel  . Consider using  inlays, premium  , and a high-end    surround. Channeling a sophisticated look from another country can also improve the look of your master bathroom. This bathroom here has gone with a Morrocan look and feel, giving it distinct character and style.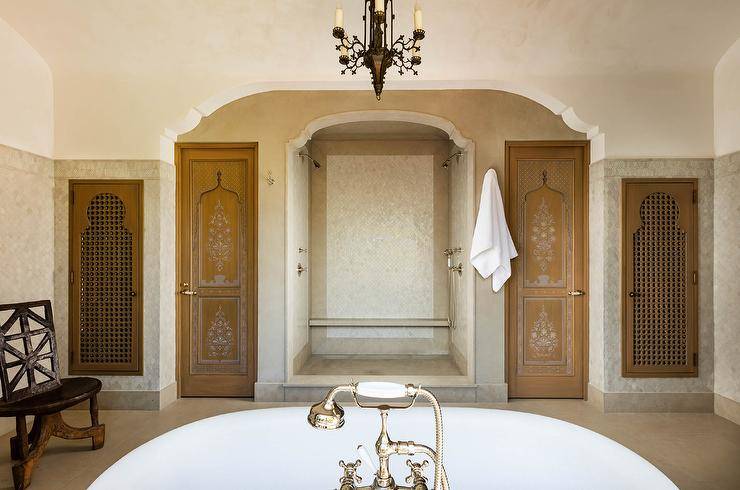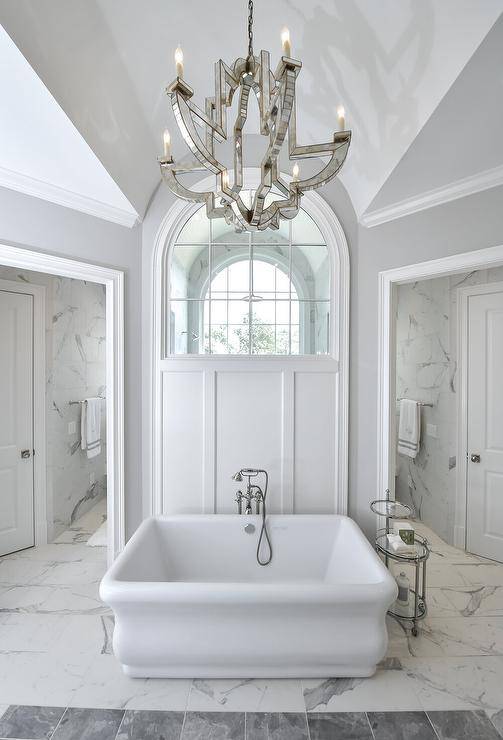 Incorporate Light Marble
Contemporary Designs Create for a Bathroom You'll Love
If you prefer neat, straight lines, matte surfaces, and a minimalist  for your master ,   is your  . These bathrooms are positively functional but straightforward in design. Cabinet doors are generally flat-paneled, surfaces are typically solid in color, and any moldings and trim work are held to a minimum.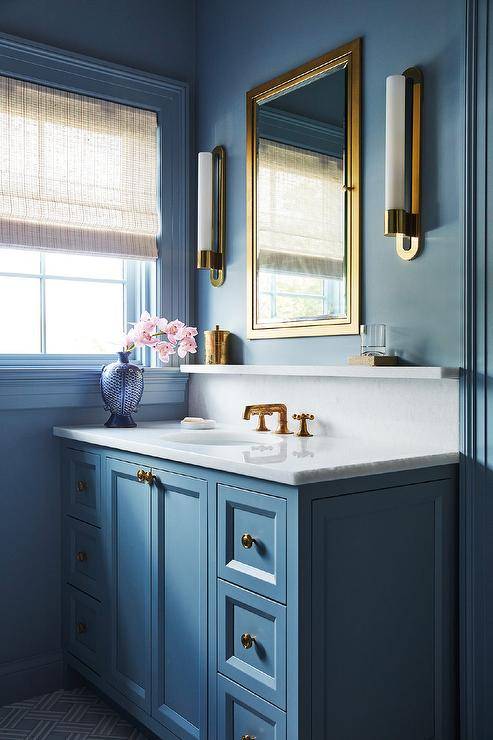 If contemporary is your preferred design, you can figure out how to incorporate the look into your master bathroom by shopping at stores like IKEA for cabinetry, as many of their designs are distinctly  and  . You can use their pieces as is or tailor them with a DIY touch to suit other  touches in your master bathroom.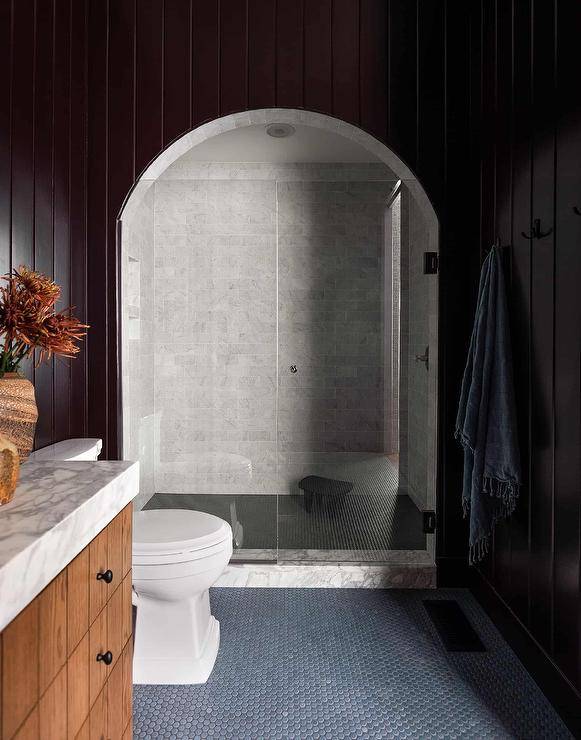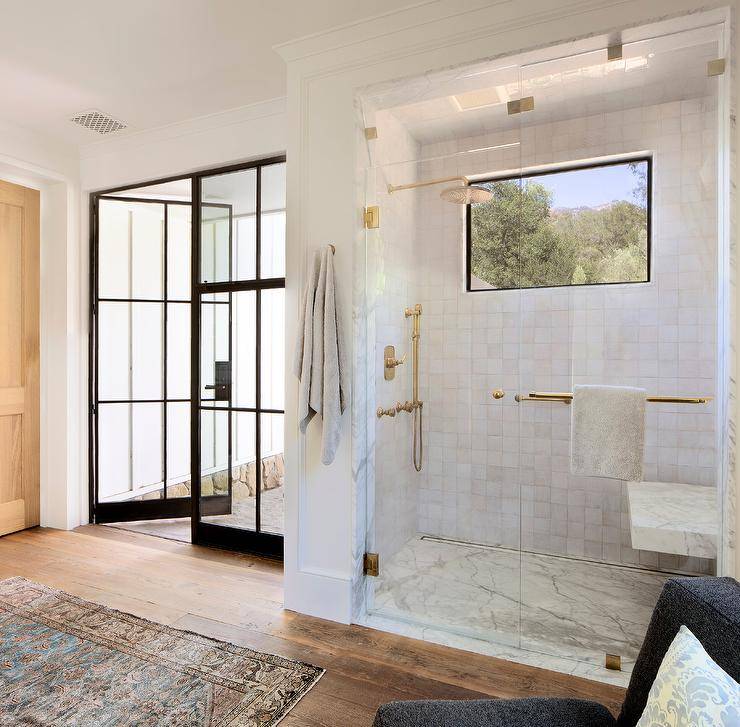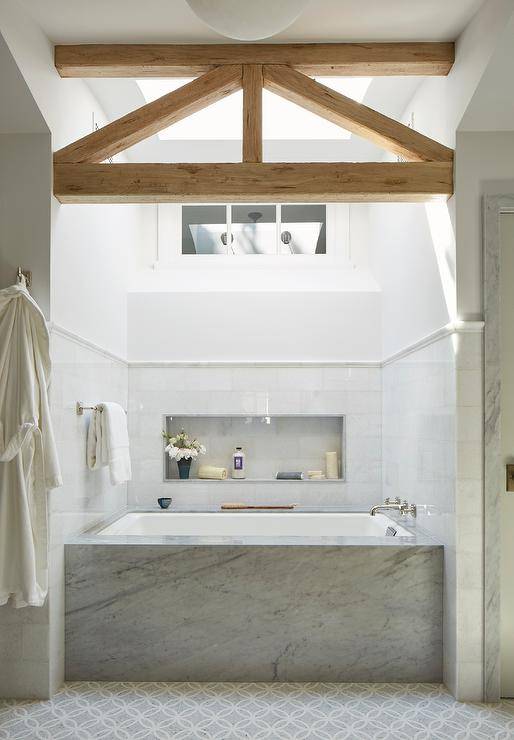 Quick Tips for Adding Luxury
The master bath is a common place to add luxury and elegance. Creating a spa-like environment in the master bath is most homeowners' common goal. Here are some quick tips to help you achieve that goal.
Incorporate soft textiles

Soft textiles such as luxurious towels and linens instantly elevate the room and give off a rich hotel vibe.

Dim the lights

If you can install a dimmer switch so that you can adjust lighting as the mood calls for it.

Make it smell beautiful

When luxury comes to mind, pleasant smells are part of that feeling. You can use oil diffusers, candles, or plug-in scents.

Upgrade your shower head

If your shower head is dated and tired, a new shower head can totally elevate the room and give you a spa-like experience at home.

Add flowers and greenery

Flowers and greenery are great decor fillers and can add some much need luxury.

Gather toiletries on a tray

Rather than just placing toiletries and accessories on the counter, place them on a high-end-looking tray. This will act as decor and give your countertop depth and luxury.

Add seating

Add luxury benches or chairs to your master bath if you have room.

Use a tub tray

A tub tray is an excellent piece of decor that can elevate your space and give off a serene spa-like vibe.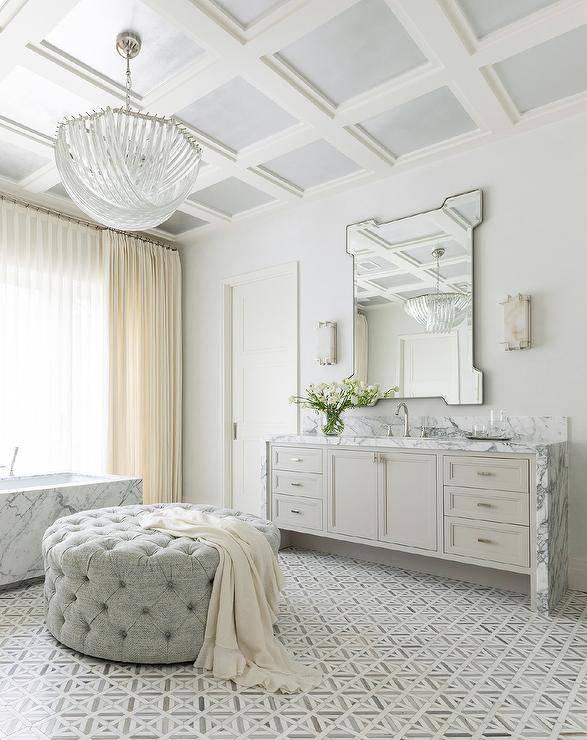 Frequently Asked QuestionsFAQ
What is something that every master bathroom should have?
While there are no hard and fast rules regarding the master bathroom, an ultimate must is obviously hot and cold water — that is practically speaking, of course. Still, when it comes to design and style, elements like a double vanity are not only practical but a beautiful addition to a master bath. A walk-in shower and free-standing tub are also considered outstanding elements to include.
What do I do if I have a small master bath?
If you're working with limited space, it's ideal to have wall-mounted items in your bathroom to free up floor space and not bulk down the room. You can get wall-mounted vanities and even toilets to keep floor space free and make the room feel larger. Avoid painting your bathroom dark or bold colors so as not to confine the space.
What do luxury master bathrooms have?
If it's luxury you're after in the master bath, elements such as marble and granite always lean to the luxurious look and feel. Whether you use these finishes on walls, floors, or countertops, these two materials instantly add a rich touch of elegance and will withstand the test of time.
What is a decent size master bathroom?
A small master bathroom is 5×8 or 40 square feet, whereas the typical average is anywhere between 40 square feet-100 square feet. A large master bathroom can go upwards of 110-200 square feet and beyond.
Does a master bathroom have to have a bathtub?
To sum it up, you do not need a tub in your master bathroom. You can certainly install one if that is your preference, but it's unnecessary. Just keep in mind that if you want to renovate before selling your home, it's recommended that you have at least one bathtub.
If you need more inspiration for the bathroom, check out these related articles: