When it comes to designing a bathroom for kids, there are many factors to consider. From safety and practicality to fun and playfulness, a variety of elements can make a bathroom enjoyable and functional for children. This article will explore some of the best kids' bathroom ideas, diving into color schemes, storage solutions, and playful accessories.
Whether you are designing a bathroom for your children or a shared space, these ideas will help you create a practical and fun space for kids of all ages. So let's dive in and explore some of the top kids' bathroom ideas!
Designing a bathroom specifically for kids is an important consideration for any family with young children. It is not just about aesthetics, but also about safety and functionality. Children have different needs and abilities than adults; a bathroom designed with them in mind can help prevent accidents while making daily routines more enjoyable. A kid-friendly bathroom design may include features such as lower sinks and toilets, non-slip flooring, easy-to-reach storage, and colorful decor. By creating a space that is inviting and accessible to children, parents can help foster independence and confidence in taking care of their personal hygiene.
Safety Measures
When it comes to designing a kid's bathroom, safety should be a top priority. Non-slip flooring is essential to prevent slips and falls, especially for young children who may not be as steady on their feet. Safe water temperature is also important to prevent scalding.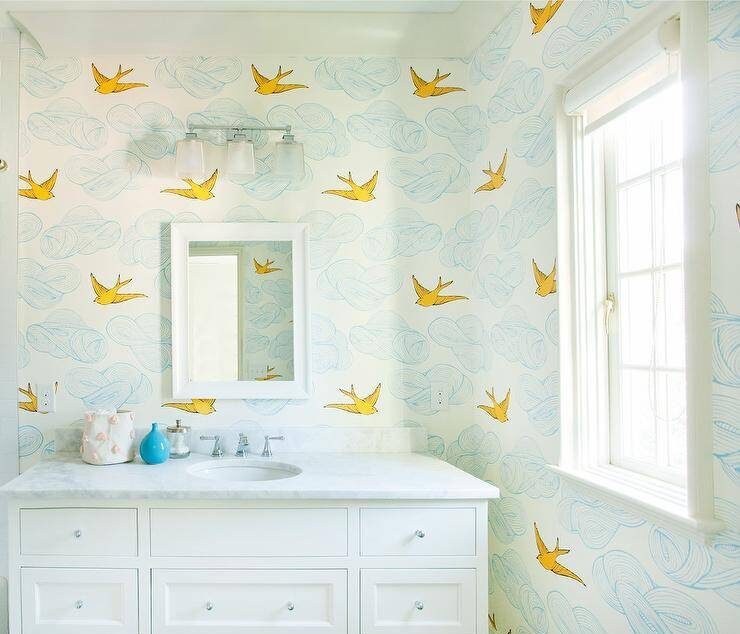 Installing toilet safety features like a child-sized seat and grab bars can make it easier and safer for kids to use the bathroom independently. Childproofing measures such as keeping medications and cleaning products out of reach and securing cabinets and drawers can also help prevent accidents. By taking these safety considerations into account, parents can create a bathroom that is both functional and safe for their children.
Color and Theme Ideas for A Kid's Bathroom
When it comes to designing a kid's bathroom, choosing a gender-neutral color scheme is a great way to appeal to both boys and girls. Soft pastel colors like green, blue, or yellow are excellent choices that create a peaceful and playful atmosphere. You can also try using earth tone colors like beige, brown, and gray that are versatile and blend well with most decor styles.
When it comes to popular themes, you can't go wrong with aquatic, nautical, or jungle themes. These themes are timeless and always popular, and they allow you to incorporate fun and colorful elements like sea creatures, boats, and jungle animals. Another popular theme is space, where you can incorporate planets, rockets, and stars.
One creative way to incorporate favorite characters is by using shower curtains, bath mats, and towels with their favorite characters. For example, if your child loves superheroes, you can use a shower curtain with their favorite superhero on it. You can also use wall decals or stickers to create a fun and playful atmosphere.
Another way to incorporate favorite characters that is less expensive to change out after your child inevitably finds a new movie character to idolize is by adding themed accessories like toothbrush holders, soap dispensers, and wastebaskets. You can find a wide variety of themed accessories online or in stores, and they're an affordable way to add a touch of fun and personality to your kid's bathroom.
Organization and Storage
When it comes to organizing a kid's bathroom, finding the right storage solutions can make a big difference. One strategy is to utilize vertical space, such as installing shelves or hanging baskets on the walls. This not only keeps items off the floor and out of the way, but also adds a decorative touch to the room.
Another consideration is to choose kid-friendly storage options, such as colorful bins or baskets that are easy for little hands to open and close. This can help encourage kids to take responsibility for putting away their own items after use. For organizing bath toys, there are several fun and practical ideas to consider.
One option is to use a mesh bag or suction cup basket that can be hung on the wall or shower door. Another idea is to repurpose a kitchen colander or plastic dish rack as a holder for toys that need to dry out between uses. Overall, by incorporating these storage solutions into a kid's bathroom, parents can create a more organized, functional, and enjoyable space for both kids and adults to use.
Lighting Options
When it comes to lighting options for a kid's bathroom, there are several factors to consider. Firstly, it's important to brighten up the space to ensure that kids can see everything clearly. This can be achieved through the use of overhead lighting, such as a flush mount or semi-flush mount fixture. Additionally, adding sconces on either side of the mirror can help to eliminate shadows and provide more even lighting.
Another important consideration is nighttime lighting for safety. Kids may need to use the bathroom during the night, and it's important to make sure that they can do so safely. Nightlights can be a great option for this, as they provide a soft glow that won't disturb sleep but still provides enough light to navigate the space.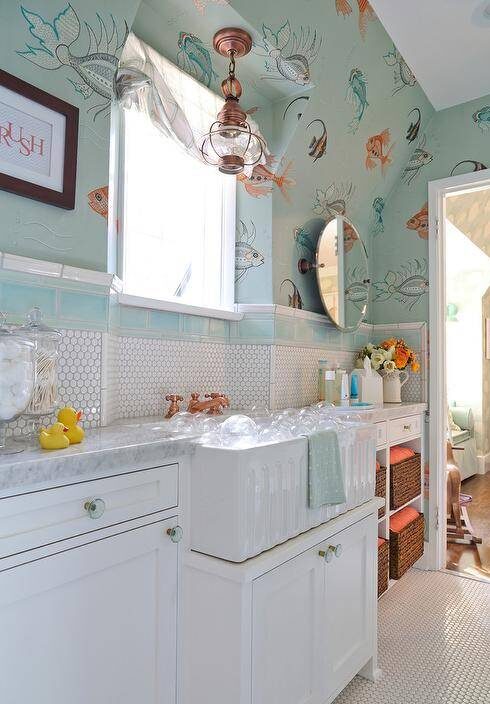 Finally, adding creative lighting solutions can be a fun way to make the bathroom more engaging for kids. This can include things like LED strip lighting under the vanity or around the mirror, or adding colorful pendant lights or a chandelier for a touch of whimsy. Adding a dimmer switch can also be a great way to adjust the lighting depending on the mood or activity.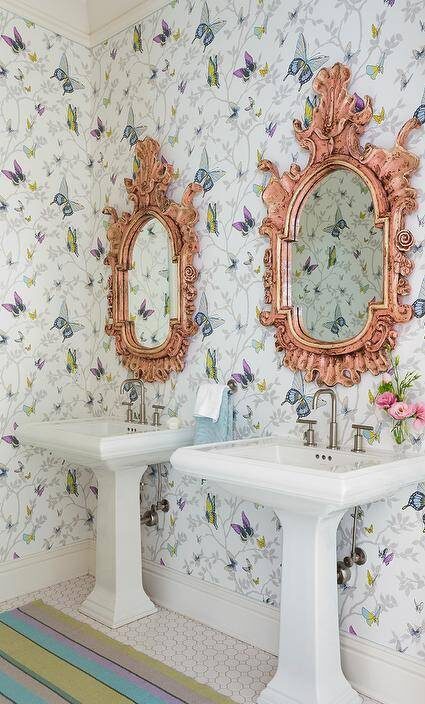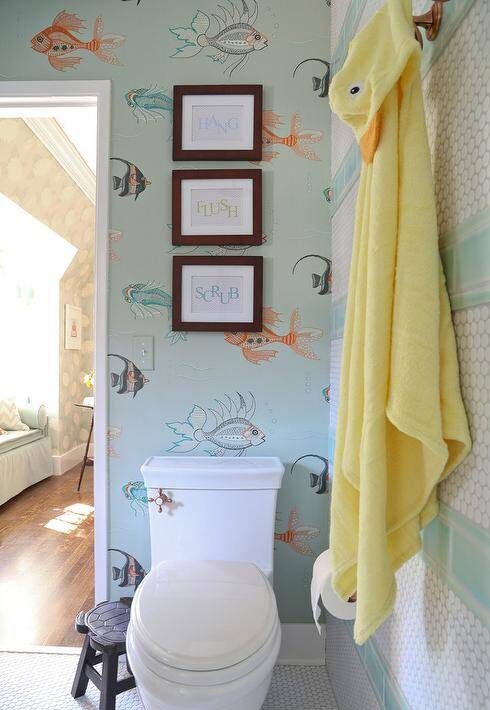 Frequently Asked Questions (FAQs)
What are some basics when considering kids' bathroom ideas?
Kid-friendly designs include adding colorful tiles, installing low sinks and toilets, using non-slip flooring, and incorporating storage for toys and bath supplies.
How can I make my child feel more comfortable in the bathroom?
You can make your child feel more comfortable by using bright and fun colors, adding a step stool for easy reach, installing soft-close toilet seats, and including playful accessories such as a rubber ducky or bath toys.
What type of lighting is best for a kid's bathroom?
Soft and natural lighting is best for a kid's bathroom. Adding dimmer switches can also help create a relaxing atmosphere for bath time.
How can I create a bathroom that grows with my child?
Consider using neutral colors and classic designs that can be easily updated with accessories as your child grows. Also, opt for durable and long-lasting materials that can withstand wear and tear.
What are some storage solutions for a kid's bathroom?
Utilize wall space by adding shelving or hanging baskets for towels and bath supplies. Install a vanity with drawers or cabinets for additional storage. You can also use colorful bins or baskets for toy storage.
What type of flooring is best for a kid's bathroom?
Non-slip flooring is best for a kid's bathroom. Consider using materials like vinyl, cork, or rubber that are easy to clean and can provide a soft landing in case of slips or falls.
How can I make the bathroom more fun for my child?
Add playful touches like shower curtains with colorful designs, fun wall decals, or a themed toothbrush holder. You can also create a sensory experience with scented soaps or bubble baths.