When shopping for the right kind of sheath for your home, sticking to one best-suiting set often feels impossible. The market is just too flooded with all sorts of fabrics, sizes, price tags, and upkeep specifics. If you're feeling overwhelmed and spoilt for choice, you've come to the right place.
You spend a third of your day between the sheets, so why not invest in a set you'll be looking forward to crawling into? Four major criteria should be focused on here: linens' durability, breathability, softness, and comfortability. What exactly is comfortable for you: warm flannel sheets or dreamy satin layers? No matter your taste, this guide is made to do your search for the right sheets and a cakewalk.
So, are you on the prowl for the best bed sheets you've ever laid your head (and the rest of your body) on? Need something specific like the best split king sheet sets for adjustable beds? Perhaps, you just need something slightly above average? Today's your lucky day. We are here to help you pick a decent bed sheet set to cater to your needs. Stay tuned.
Material & Fiber Are Crucial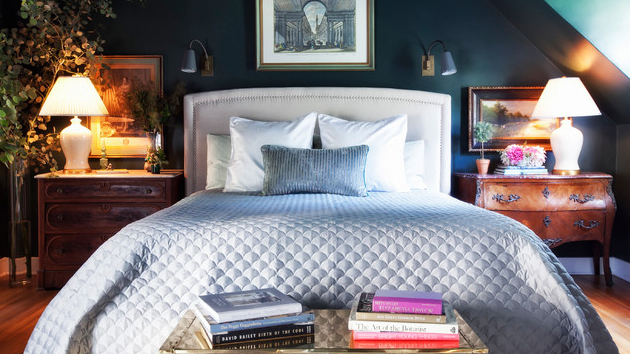 source: homedesignlover.com
The material you'll opt for will determine if you'll sink into truly sleeping bliss or fall into some sort of nighttime restlessness as you prepare yourself for the arms of Morpheus. For example, sticking with scratchy wool is not exactly your best bet, for it will have you dreaming of chickenpox. While opting for silk is sure to guarantee you a truly blissful, restful sleep.
Fabric-wise, the following options are the most comfortable and durable:
percale: softness, durability, and exceptional breathability — it's all about this particular material type which is usually crafted from natural cotton threads seamlessly woven into an even pattern;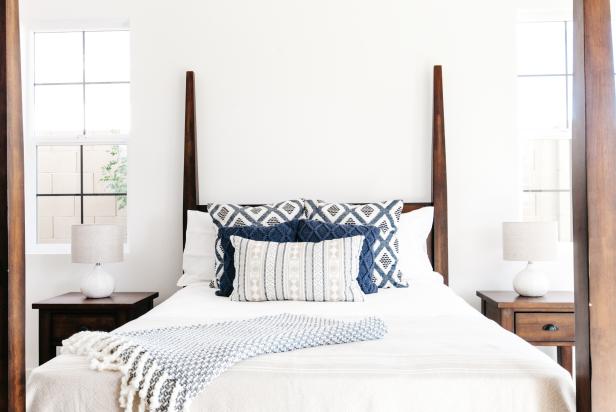 source: hgtv.com
sateen: wrinkle-proof, incredibly soft, and 100% natural, this cotton sheath is also crafted from an array of woven materials;
flannel: despite its lightweight texture, this type is the perfect choice for the chilly season and is all about cozying up in your bed, enjoying warmth and maximum comfort;
pima: known for its impeccable softness, long-lastingness, and gorgeous organic luster, pima cotton is truly one-of-a-kind;
linen: both eye-pleasing and nice-to-touch, linen sheets are your ideal choice if laid-back elegance is your most preferred style.
With all that said, cotton definitely reigns supreme regarding high-end bed sheet material. Wondering which is best: sateen or percale? The answer is neither. It's all determined by your taste and personal preferences. Percale comes with a crisp, cool feel, so if you're prone to overheating during sleep, it's not your best choice. Sateen is heavier yet exceptionally soft, with the smoothest, satiny finish. We recommend you look at the fabric swatches before buying anything.
Tips for Making the Right Choice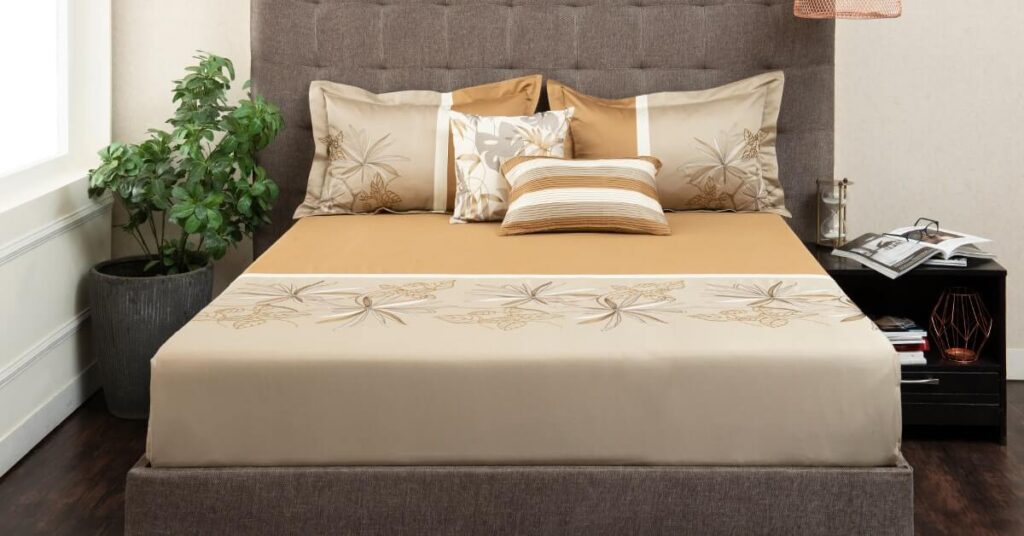 source: darpanfurnishings.com
We've conducted countless hours of research and slept on myriads of various sheets to pinpoint what exactly makes a top-level set stand out from the rest. Below, we've rounded up some of the most useful hacks for those of you who are on a mission to buy the best-suiting bed sheets.
Do pay attention to that fiber content label. If it reads '100% cotton', you're definitely on the right track. Need luxury sheets? Opt for Egyptian or pima cotton. Yes, they are far from cheap, but you'll be amazed by their softness and durability. Cotton/polyester combos are okay and wrinkle-proof, although slightly synthetic to the feel. However, these will be significantly cheaper.
Thread count matters, but it's not everything. In the majority of cases, the number of threads woven into a square inch of fabric is an indicator of how smooth and long-lasting the suckers are. However, these days, you can easily find 200-thread-count sheets that are comfier than 500-threaders. Therefore, this parameter is less important than the cotton type used in the manufacturing process.
Consider the weave. In relation to bedding accessories, weave stands for the sheet texture and can indicate whether what you're about to purchase is wrinkle-proof or not. Combed cotton, percale, and sateen are weave styles that are definitely worth your further in-depth research.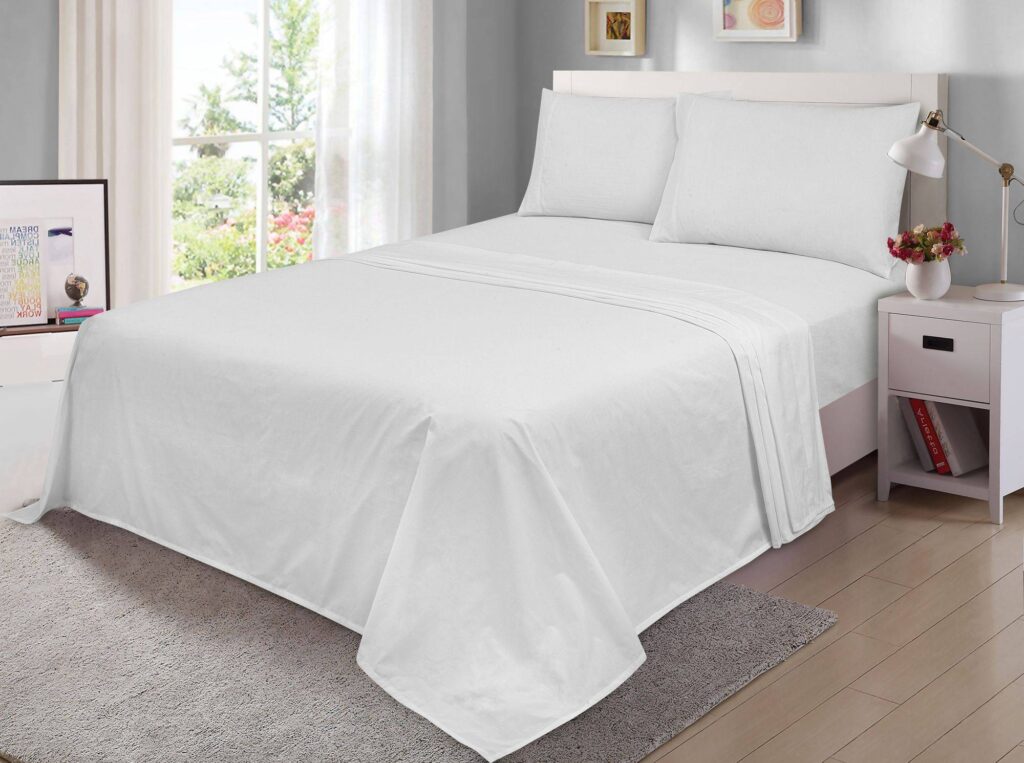 source: pinterest.com
Measure before your buy. Standard sizes go without mentioning the depth of the mattress into account. So, in case yours is tall or if you have a mattress topper, make all the necessary measurements before making a purchase. Don't forget that the sheets may shrink post-laundry. 
Know your sleeping needs. The choice of the best-suiting bed sheets in your case is largely dependent on your sleeping patterns and needs. For example, if you're a hot sleeper and tend to feel sweaty in your sleep, a breathable and refreshing percale is just what the doctor ordered. Are you a cold sleeper? Opt for top-notch flannel to provide sufficient warmth without compromising on breathability either. What are your preferences texture-wise? Do you like 'em smooth and soft? Go with satin. Longing for crisper and cooler softness? Percale is exactly what you need.
Last but not least, keep a laser-like focus on such an aspect as maintenance. Washing methods vary from one set to the other, so always read the washing instructions for your bed linen before taking any action in the upkeep direction. Washing your sheets properly will leave them feeling exceptionally fresh and soft, as well as enhance their overall durability.
Closing Thoughts: Stay With the Best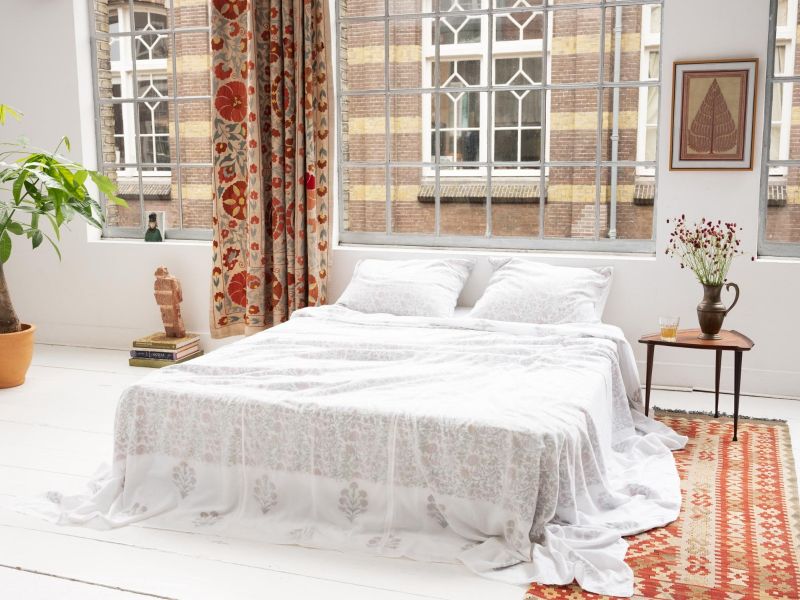 source: tria.sg
Deciding upon the important factors, such as material, thread count, weave, and size can truly skyrocket your bed sheet choice to blissful stardom. So, congrats! Now that you've unveiled one of the secrets to a restful night's sleep, you are more than ready to purchase the best-suiting set for you. 
Now, if you're on a mission to make an upgrading change in terms of your bedding, then go ahead and do it! We are absolutely confident that after giving a luxury set a go, settling for anything less will be out of the question. And don't forget about the designs. The seamless blend of comfort and visual satisfaction is actually as close to perfection as you can get!