Ceiling fans have come a long way since the ones you may remember seeing at your grandmother's house. What used to be an ugly brass contraption with four or five cane inserted wooden blades have now morphed into an architectural work of art; that is at least if you search the high-end name brands.
Modern manufacturing techniques now allow fan manufacturers to reshape blade designs to blend seamlessly into the fan body, creating a designers dream. Many ceiling fans are for indoor only use, but others are rated for outdoor usage to withstand the elements. These models are considered outdoor ceiling fans.
source: azbigmedia.com
Outdoor ceiling fans come in two different exterior ratings; wet or damp. The choice would depend upon where you may be using the fan. If using under a covered patio either will do the trick. If you will be using yours outside under something like a pergola you will most likely need a wet rated ceiling fan. To simply which you may need for outdoors, a damp rated one can withstand humidity and an accessional spray or mist from blowing rain, whereas a wet rated ceiling fan can withstand direct rainfall 24/7.
What many people get wonder about is whether they can use either of these outdoor ceiling fan models indoors. The answer is simple and common sense if you really stop to think about it. If a fan is designed to hold up outdoors, then why would't it hold up indoors as well? Of course it will! You can use any fan rated for outdoor use in any interior room of your home or apartment.
Benefits of Using Outdoor Fans Indoors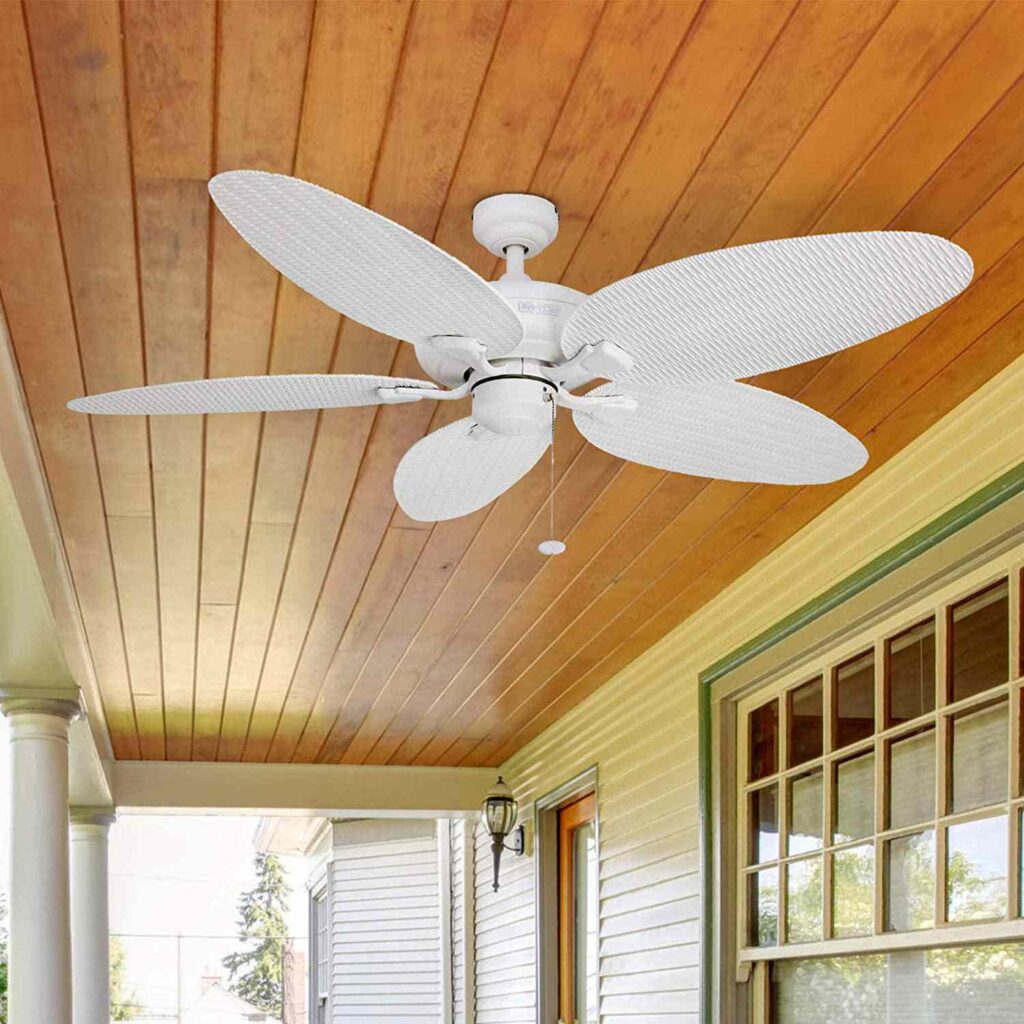 source: thespruce.com
There really could be only one potential downfall of using an outdoor fan indoors, but this downfall only applies to a very few models available. Very rarely you may find one that is not reversible, meaning they don't blow airflow in an upward pattern for winter usage. However, most outdoor rated fans, just like indoor ceiling fans, have both forward and reverse modes. Be sure to look for that feature to avoid the only one possible pitfall. 
Now for the benefits…
Blades
Most use plastic blades. The better brand names will use ABS plastic, which is a high-end plastic that is nearly indestructible. If looking at a high-end outdoor ceiling fan in person, it is nearly impossible to see the difference between ABS plastic fan blades and real wood blades. Some people can feel it's a different material upon touching it, but the same would never know it by sight alone. Unlike wooden fan blades, with ABS you will not need to be too careful about what products you clean them with.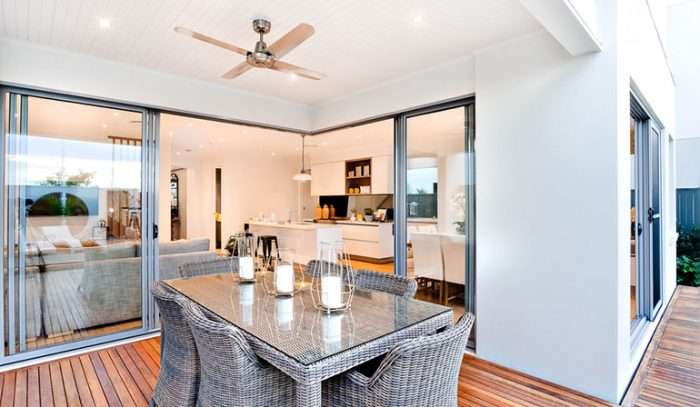 source: hansenwholesale.com
Virtually any cleaning agent will be fine as long as it doesn't leave a visible residue. With wooden blades you can easily damage the finish if using the wrong cleaner. And, if you select an indoor fan with pressboard blades covered with contact paper, the type found on most inexpensive fans, you can pretty much forget about keeping them clean and expecting those type blades to hold up.
Another type of fan blade used on outdoor ceiling fans is made of extruded aluminum. These will not simulate wood at all, nor are they intended too. Extruded aluminum will give a very modern industrial appearance to a fan. This type blade material is found on some of the best ceiling fans made today, such at the 72" and 84" sized TroposAir Titan II and the Fanimation Stellar, inch comes in several sizes up to a 96" blade span.
ABS and extruded aluminum blades have another major advantage over wooden blades. That is that they will not warp… EVER. Well, maybe if you throw them in a fire or take a blow torch to them they will, but if you do that you deserve to have warped blades for the extra effort. 
Motor Housings and Hardware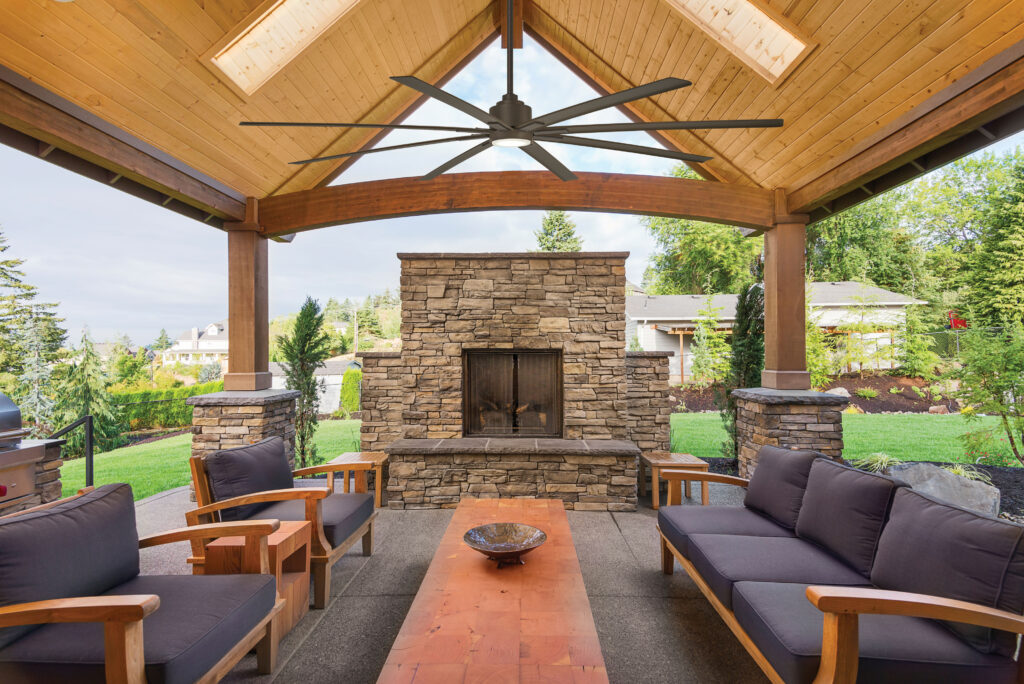 source: rockinghamlightingcenter.com
The better outdoor ceiling fans, like those found at ModernFanOutlet have motor housings made of one of 4 materials…
316 Marine Grade Stainless Steel (should never rust)
ABS Plastic that looks like metal (will never rust)
Aluminum (will not rust)
Galvanized Steel (may eventually develop rust if used near salt water, but otherwise an excellent choice of material)
Because all of the above materials are designed to withstand what mother nature can throw at them, then how much better will either of these materials hold up inside of your home when away from the elements? I think you know the answer. It should go without saying, they will hold up a whole lot better.
The hardware (screws and such that hold things together) on nearly all quality outdoor ceiling fans is stainless steel. Just like the motor housing materials, this will always hold up better than brass and standard steel hardware found on most indoor models.
In Conclusion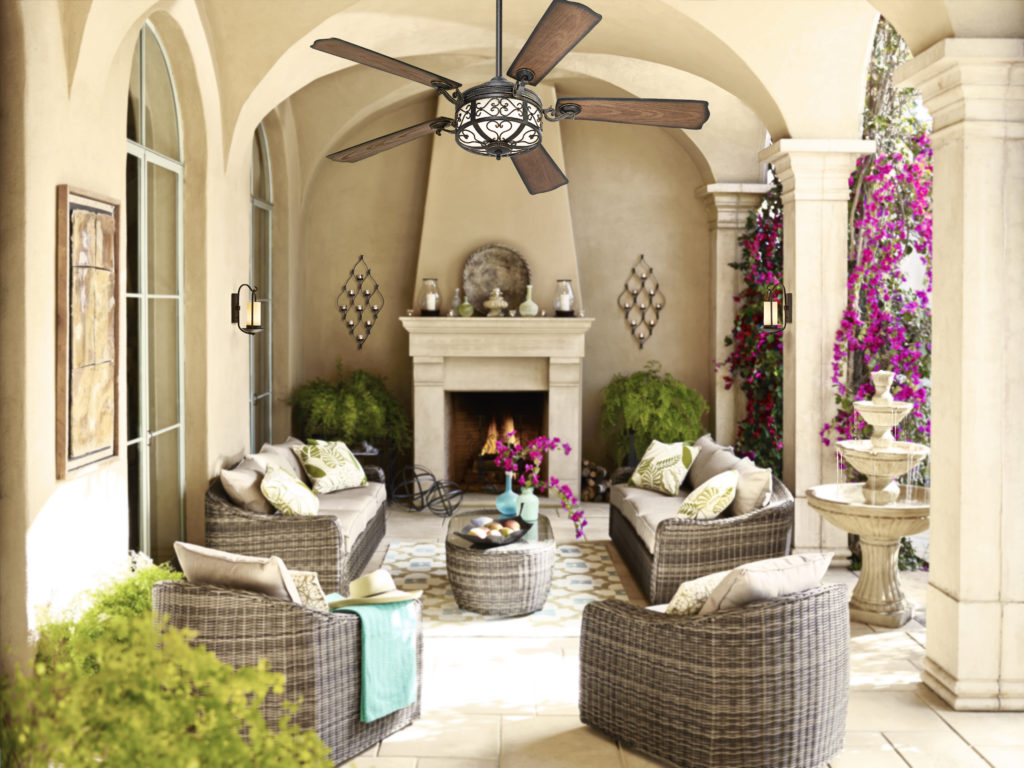 source: lampsplus.com
In all honesty, indoor ceiling fans are fine to use anywhere inside of your home. You should not avoid an indoor fan after reading this article if your intention is to buy a ceiling fan for the interior of your home. This article was written with the intention to educate the ceiling fan shopper that is thinking they should not use an outdoor rated ceiling fan indoors, just because it says outdoor rated in the product description.
There is no reason not to buy an outdoor rated model for indoor use, especially if you find an outdoor ceiling fan that has styling perfect for your interior décor. Doing so will do nothing but add extra benefits to your purchase.
In writing this article I reached out to the guys at Modern Fan Outlet and also at PalmFanStore to gather the facts. Both fan shops were in perfect unison with the facts they supplied to us. Big shout out to both companies! They took the time away from their normal work load to answer all of my questions, and both seemed excited to do so.
I would highly recommend either store equally if you have further questions about a potential outdoor ceiling fan purchase, whether using it inside or out.