Over the last few years, homebuyers have been desperate to acquire their own slice of paradise in beautiful Tennessee. The major cities in the state, Nashville and Memphis for example, have been some of the fastest growing in the country.
Nashville is known as the "Music City" while Memphis is famous for its rich history and being the home of blues and rock n' roll. But which city should you live in?
In this article, we will be pitting Nashville vs Memphis to see which one comes out on top as the better place to live. We will be comparing and contrasting the two cities across a number of important factors including cost of living, job market, quality of life, and cultural offerings.
Tennessee Living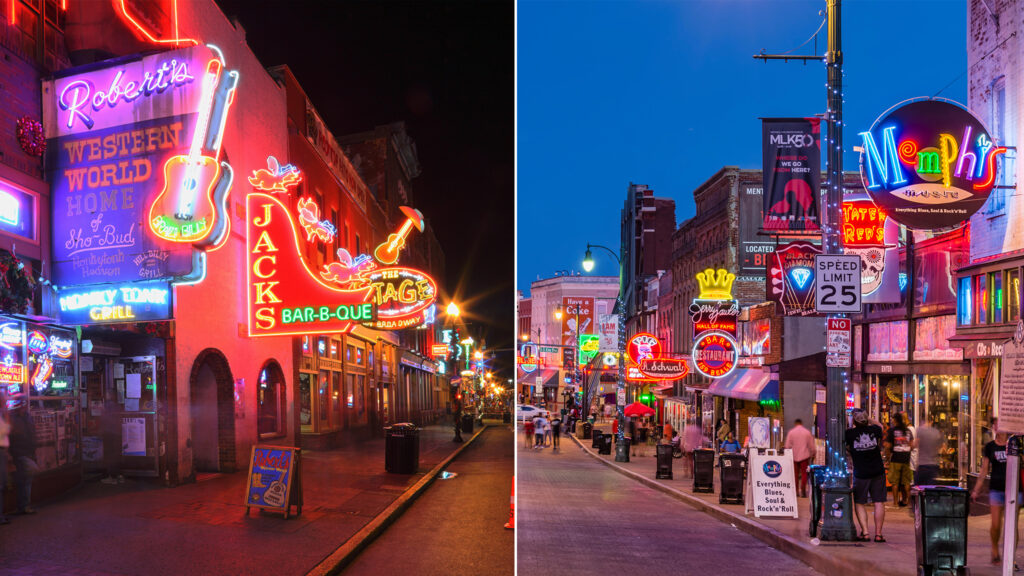 source: pinterest.com
The overall vibe of Tennessee is very relaxed and easy-going. The people are incredibly friendly and welcoming, no matter where you go in the state. There is a strong sense of community, especially in the smaller towns and cities.
You can find everything from cozy apartments in the city to sprawling country homes surrounded by acres of land. In addition, Tennessee has a wide range of amenities that appeal to all kinds of people.
If you're a nature lover, you can enjoy hikes in the Great Smoky Mountains or float down the river on a hot summer day. Or, if you're more into the city life, you can explore the vibrant music scene in Nashville or enjoy the many museums and historical sites in Memphis.
Whatever your interests, you're sure to find something to love about living in Tennessee.
Living in Nashville, TN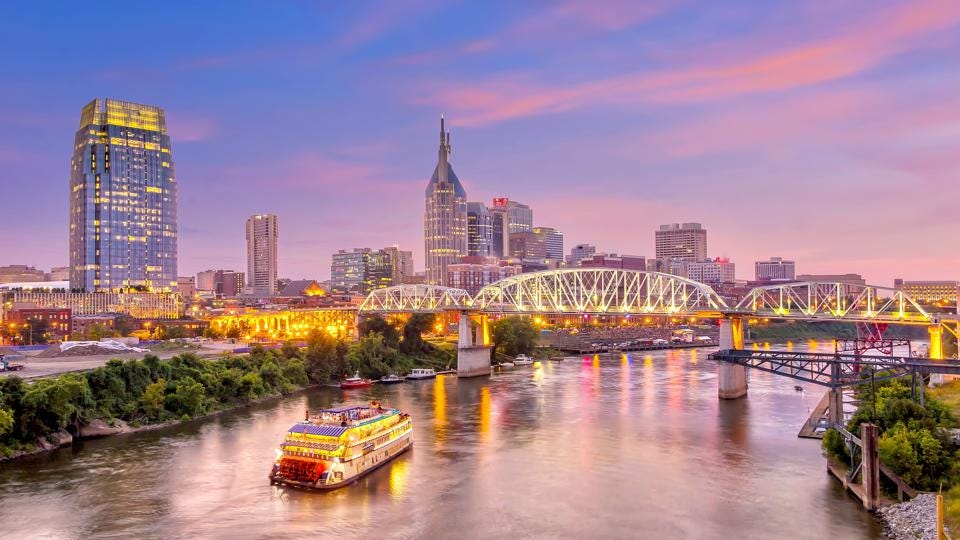 source: pinterest.com
Nashville is a vibrant city with plenty to offer residents and visitors alike. The population of around 710,000 makes it the perfect size, not too big and not too small. The average cost of real estate is just under $450,000, making it affordable for many different types of buyers and the average salary is $62,180 per year, providing a good standard of living for families and individuals.
Nashville is also home to a variety of cultural attractions, including museums, art galleries, and music venues. There are also plenty of green spaces to enjoy, such as parks and public gardens.
The types of real estate you'll find in Nashville come in all shapes and sizes! You'll find detached, single-family homes, multi-family dwellings that are perfect for investors, trendy new condos downtown, and quiet suburbs throughout the city.
Nashville is home to plenty of up-and-coming neighborhoods, receiving facelifts that transform boring industrial areas into modern, urban housing options. Buildings like The Icon in The Gulch prove that Nashville is known for taking a more rundown area of the city and turning it into something beautiful and contemporary!
In short, Nashville has something for everyone, which is why it's one of the most popular cities in the United States.
Living in Memphis, TN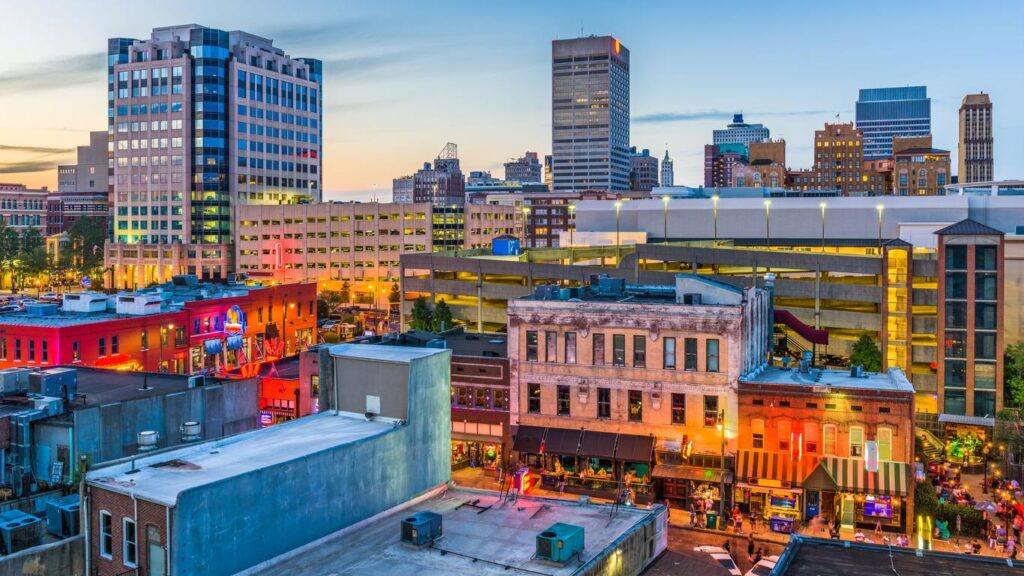 source: hotelscombined.in
Memphis is a city with a rich history and a bright future. Located in the southwestern corner of Tennessee, Memphis is the state's largest city, with a population of around 630,000. The city is best known for its music and food scene, and its friendly southern hospitality.
The economy is strong in Memphis, with an average salary of $61,246 per year and is home to several major corporations, including FedEx, ServiceMaster, and International Paper, offering a diverse job selection to locals and commuters.
With a wide selection of neighborhoods, tranquil parks, top-ranking schools, and safe streets, Memphis is ideal for families looking to put down roots. However, the city also offers plenty for young professionals and empty nesters alike. Downtown Memphis is home to a number of high-rise apartments and condominiums, as well as trendy bars and restaurants.
Although the cost of living is relatively high, the average cost of real estate is more affordable than Nashville at about $221,000. Whether you're looking for a place to retire or raise a family, Memphis is a great choice. With its affordable housing, diverse economy, and vibrant culture, the city has something to offer all.
Nashville or Memphis: Which is Right For You?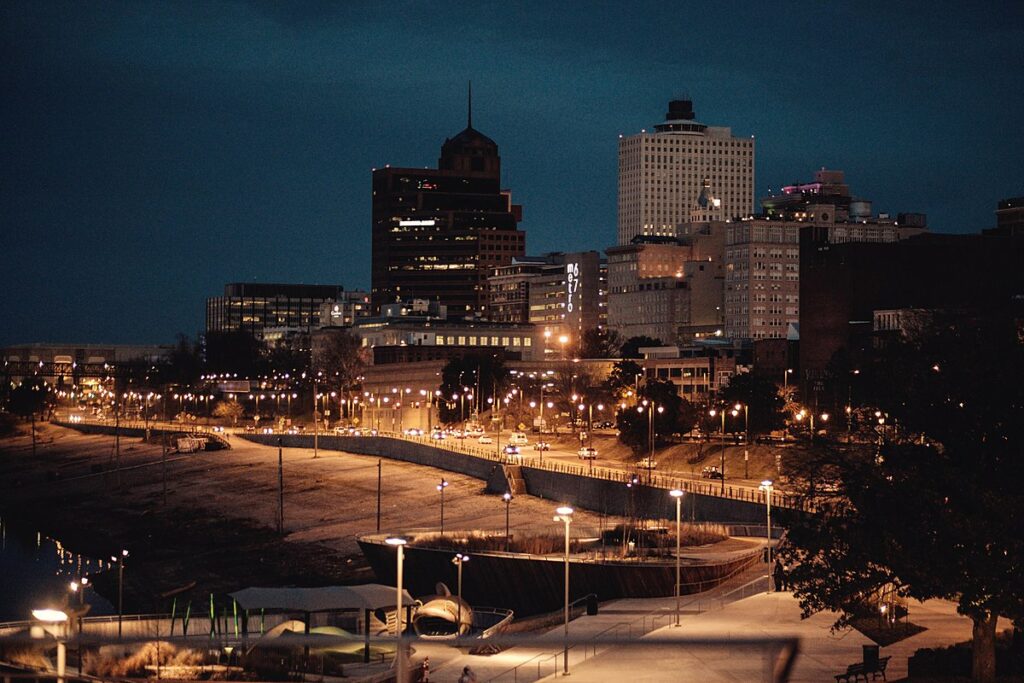 source: pinterest.com
Nashville and Memphis are two great cities to live in Tennessee. Each city has its own unique charm and offers a different type of lifestyle. When choosing between the two, it really comes down to what you're looking for in a city and what your priorities are.
If you're looking for an urban place to live with a strong job market and plenty of cultural attractions, then Nashville is the city for you. However, if you're looking for a city with a more relaxed pace of life and a lower cost of living, then Memphis may be a better fit.
Both cities offer a great quality of life, so it really comes down to what you're looking for in a city. Do some research and visit each one before making your final decision. Whichever city you choose, you're sure to fall in love with living in Tennessee!