When we visit someone's house, what detail impresses us the most? Nothing else in your house will do a better job of dazzling the visitors than a stunning bathroom. If your guests walk into a substandard bathroom after a tour of your entire house, it could be quite embarrassing for you as a host. 
A house can have lavish living rooms and fancy backyard swimming pools. If your bathroom doesn't live up to the grandeur of the rest of your house, you fail to leave a lasting impression on your guests. 
Just picture this, you walk your guests through your beautifully decorated rooms. You have made your best attempts to make your interior decor stand out. But, the moment your guests want to use the restroom, the smile on your face evaporates! 
A good-looking and well-organized bathroom brings an unmatched feel-good factor. That's why homeowners often feel inclined to remodel their bathrooms and go for a new look. What bathroom remodeling challenges are you likely to face? We have created this article to prepare you fully before you embark on your bathroom remodeling journey.  
Crunch The Numbers
source: mymove.com
What is your budget for renovating the bathroom? Is it enough to fulfill your vision? Do proper research and find out the average bathroom remodeling cost in your area. 
It could be surprisingly higher than you had initially thought. Discuss your project with multiple contractors and go for the best offer you get.
On average, people spend more than $10,000 on remodeling a bathroom. High-end projects could set you back in the neighborhood of $30,000. If you settle for the cheapest materials and don't go for a complete overhaul, you can get the job done for $5000 or less.
According to the National Kitchen & Bath Association, almost one-third of the total remodeling cost is attributable to fixtures and plumbing. The rest of the expenditure can be broken down to counter and surfaces, labor, cabinetry and hardware, lighting and ventilation, doors and windows, and design.
If you have a tight budget, make sure you have the basic functionalities covered. Once you have all the essentials, go for luxury features, not the other way around.
Also, keep a contingency budget that will bail you out of emergencies. A burst pipe, for example, or mold underneath the tiles will call for additional expenses. So, stay prepared to go beyond the budget if necessary.
Random Lighting Doesn't Work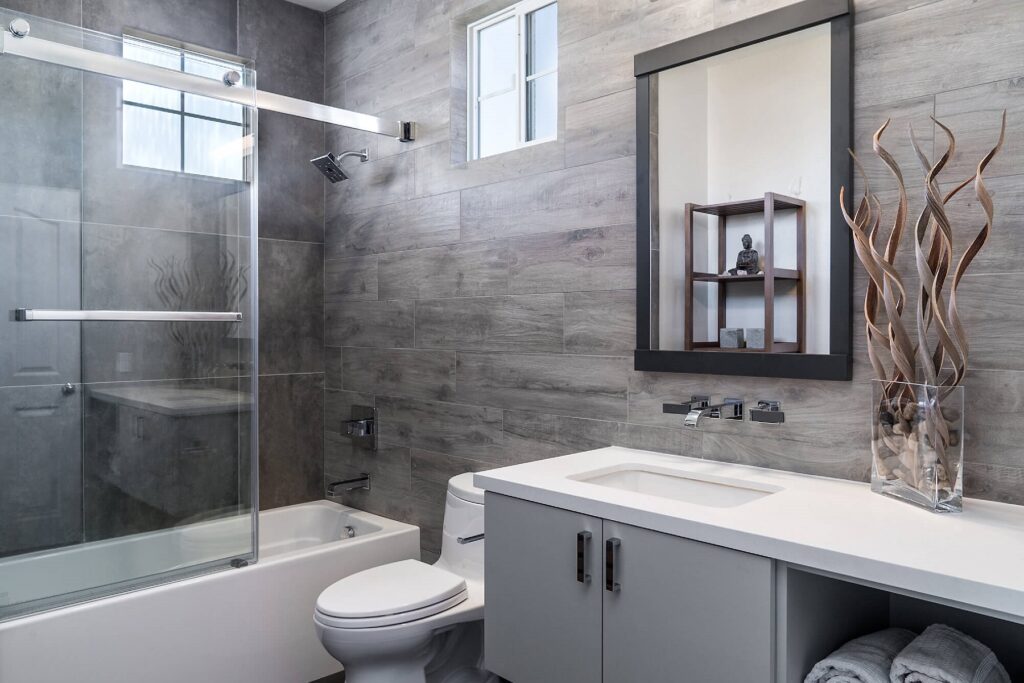 source: megakitchenandbath.com
Installing lighting in a bathroom is more complicated than it appears because of the number of mirrors and other reflective surfaces present, making it difficult for light to bounce evenly. So, random placement of lighting without much pre-thought is less likely to deliver the ambiance you were hoping for.
You can achieve a more natural white light in your bathroom by using color-corrected "daylight" fluorescent, LED, or halogen bulbs. Soft lighting is an easy substitute for natural light in your bathroom. Besides making it easier to do your hair and applying makeup, the soft lighting will add a relaxing tone to the surroundings.
Do you already have a well-lit bathroom? In that case, a pair of wall scones is all you need. Wall scones are one of the hottest bathroom trends right now, but make sure not to place them at eye level to keep your eyes comfortable.
Layering is another effective lighting strategy to transform a bathroom into a more sophisticated space.
Ambient lighting, task lighting, and accent lighting can all be used to provide a well-balanced light distribution in a bathroom to help with everyday grooming tasks like applying make-up and shaving and highlighting the bathroom's architectural features and decor.
Think About Better Accessibility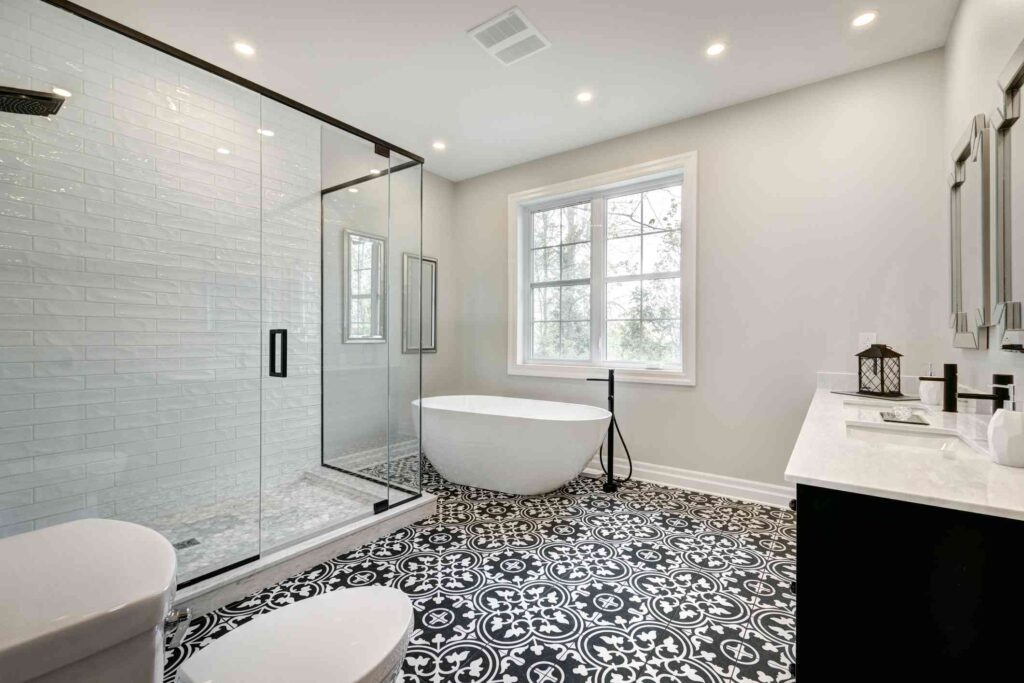 source: thespruce.com
You might not think about handicap-friendly features if you don't have anyone living with you with a physical disability. But, making the bathroom more accessible is a smart move, given we don't know what will happen in the future. If your mobility gets compromised somehow, you will be thanking yourself for your foresight.
A hand shower is the first upgrade you can make to increase the accessibility of the bathroom. A grab bar will also be a thoughtful inclusion, granting easier access to the shower. Widen the doorways, leave more clearance under the sink, and raise the height of the toilet by a couple of inches.
You should also make the bathroom floor more slip-resistant to reduce the risk of accidents. Textured bathroom flooring can minimize the threat of slips and trips substantially, even when the floor is wet. Grip-friendly mosaic tile is not only beautiful, but it also has a lot of design options that work with any style.
Optimize Storage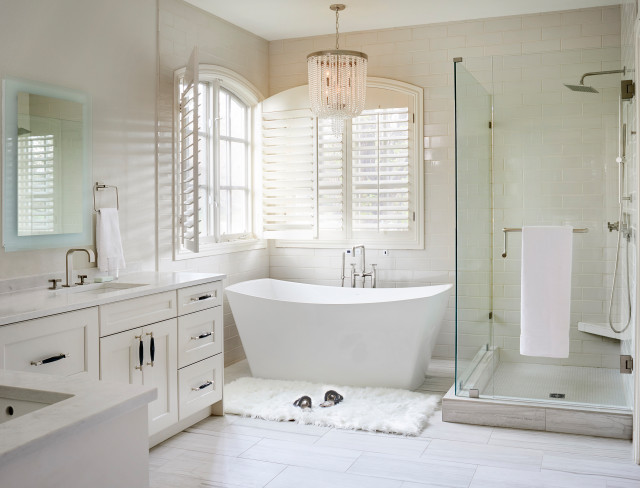 source: houzz.com
 There should be sufficient storage options in the bathroom to keep your bathroom counter tidy. Messy countertops are one of the red flags that should make one contemplate a bathroom redesign.
Moisture and humidity will drastically reduce the lifespan of the cabinetry if you don't use quality materials. So, make sure the contractor uses high-quality materials in the cabinets to withstand the hostile environment of a regularly used bathroom.
An alternative to cabinets is wall niches where you can keep your toiletries and other necessities. If the tile cuts are smooth enough, the niches will look just as fashionable as posh cabinets. And the best part is, it will cost you less!
To Paint Or To Tile? That's The Question!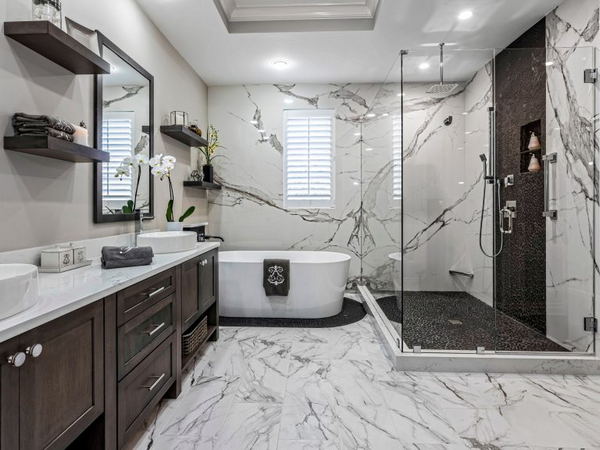 source: pinterest.com
 What do you have in mind to liven up your bathroom walls? A fresh coat of paint or a new set of tiles? What's your preferred option?
Your decision would mostly rely on budget. Tiles would be visually appealing and more resistant to mildew growth. Paint would be the economy solution in this scenario. Add tiles in some sections of the bathroom and cover the rest with high-quality paint that can prevent fungal and bacterial growth.
Of course, you can go with paint instead of tiles, regardless of the budget constraints. Paint over tiles would be an eccentric choice, but if you feel confident, you can go for it. We would recommend satin, semi-gloss, and gloss finishes. Do remember to prime the walls before applying paint to get the best results.
Without proper planning and research, renovations can cost you a fortune, but to no avail. The challenge is even more daunting when it comes to bathroom remodeling as you would have to find a middle ground between aesthetics and utility.
We are confident that the basics we have covered here will help you remodel your bathroom just the way you had envisioned.