Whether it's for your business, home or event, an artificial living wall and hedge installation is a great way to elevate the beauty of the space. However, picking one that fits all your requirements, preferences, and design needs is very challenging if you're not equipped with all the right information and knowledge you need to know before getting an artificial green wall.
As such, an ideal installation should be customized and made to order, and your experienced vendor should be able to accommodate and advise you on the right decisions to make your artificial living wall suit your living space in the best way possible. In this article, we share with you three important tips you should always keep in mind when designing a custom-made living wall and hedge installation. 
Get Your Measurements and Dimensions Right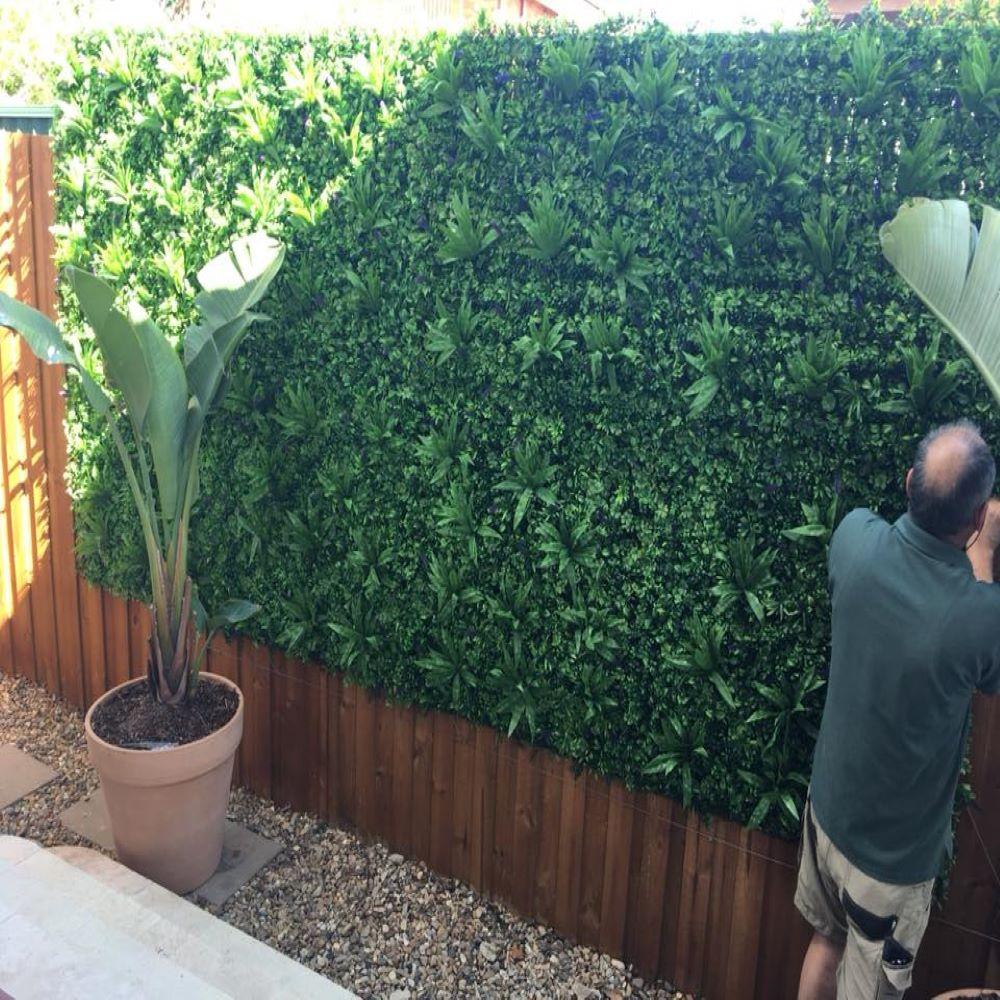 source: shopify.com
The first and foremost important tip we wish to offer you is that you should let your vendor know about the dimensions you need. This is critical as this determines the stability, safety, and feasibility of the design to work in an individual or continuous fashion. Your vendor will need to know this, as they will also take into consideration the environment in which your wall and hedge installation will be placed in. 
However, getting your measurements and dimensions right will be heavily dependable on the type of hedge wall you are looking for. Here are some questions you should consider when finding out the right measurements and dimensions:
Stability: Do you need to move your artificial living hedge and wall often? If so, you will need an installation with a larger depth and base to maintain its stability. Due to gravity, height will also play a huge factor here – basically the taller it is, the more unstable it will be. 
Free-Standing or Continuous: Would you require your artificial hedge to be a standalone fixture, or would you need it to be continuous as part of a larger backdrop? 
Purpose of the Installation: What type of purpose will this artificial living wall serve? Will it function as a partition for privacy, an Instagram-worthy photo backdrop, or as a décor for the space? 
Have a Clear Idea of the Artificial Greenery Design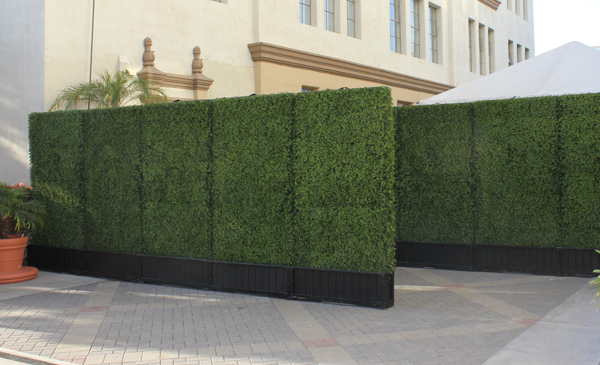 source: pinterest.com
Once you have established the purpose of your artificial living wall and hedge installation, chances are you might already have an idea for its design. While you may not realize it, many artificial greeneries come in all colors and shades, with various nuances in depths. 
This will be heavily dependent on your taste and requirements, which ultimately determines the design. You should communicate closely with your vendor for the full range of hues, "species", and shades available. If your vendor has a wide diversity of choices to offer, you will be likely to find something that catches your eye. 
In addition to being available in a great range of colors, artificial greeneries do not require as much time, money, and manpower to maintain. You can say goodbye to the landscaping, maintaining, and watering you will need to do weekly. More importantly, they don't attract live animals, insects, and pests that could be disruptive and destructive to your environment. Most greeneries are ideally UV rated, weather resistant, and maintenance-free, meaning they will be able to withstand harsher outdoor conditions such as prolonged exposure to sunlight and UV rays. 
Select a Solid and Strong Base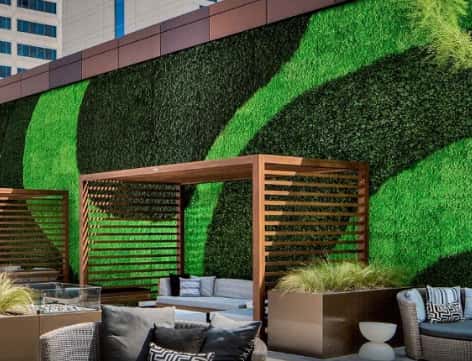 source: commercialsilk.com
Naturally, as with all types of fixtures, you will need a strong, stable, and solid base that can withstand exposure to harsh weather conditions (if you're planning on placing your installation outdoors), support the weight of your artificial greenery, and will prevent your living wall and hedge from toppling over. 
This is also where you will need take careful consideration of its dimensions, as this would determine the stability and durability of your installation. In short, the depth of the hedge and size of the base should always be able to support the overall height of the artificial living wall. 
Last but not least, you will want to consider the type of material you will want to use for your base. Again, your base should provide stability to your structure, and its material should be weighted to prevent it from toppling. Some of the most common base frames are made with Trex Composite, marine grade plastic, powder-coated steel, and IPE wood base. Each of them has their own benefits and advantages, but the best choice will depend on your environment, event, and design. Therefore, you should discuss with your vendor on finding the best material to suit your installation.