Introduction
The design should speak when it comes to interiors and interiors should give the inhabitants the comfort of being in that space. Otherwise, it is of no use. Especially when it comes to office spaces and interiors, the people ought to need the acoustic comfort to work effectively and efficiently. Acoustic comfort refers to the sense of appeasement, gratification and wholesomeness that a space's acoustic environment offers. 
Need of Acoustics in Workplace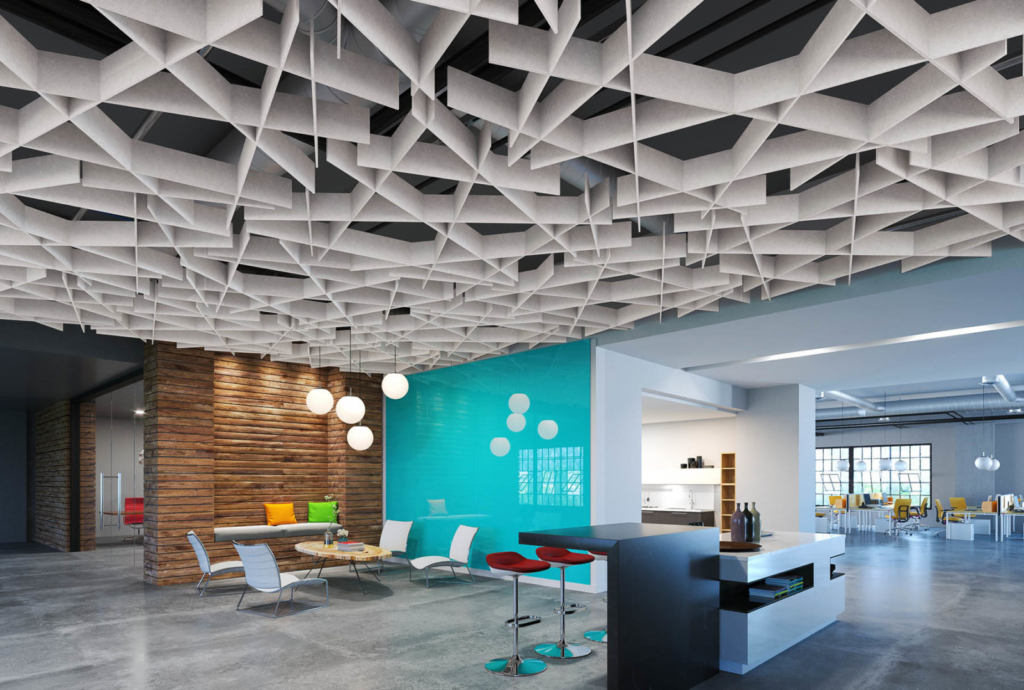 source: pinterest.com
When it comes to the workplace, the employees need peaceful surroundings that should be free from any distractions and background sounds in order to work productively and effectively. Acoustics play a great role in maintaining the sound quality of a space. Both a setting that is too quiet and one that is too loud are unsuitable for working. So, to create and maintain sound quality different kinds of acoustic materials are used which can be used on walls, ceiling, between walls and even on floor. These acoustic panels have the properties of absorption, reflection and dampening of sound, creating the required acoustic comfort a space demands. Because, unwanted sound is always a hindrance and the acoustic panels makes it easier for people in a room or a space to hear and understand what the other person is communicating, enhancing the quality of the conversation. This is not just being used in offices, but also in commercial spaces, shopping malls, multiplexes, conference halls, classrooms, lecture halls, music clubs, night clubs, restaurants, concert halls etc.

The Social Goal to Co-Exist
Sustainability – "The Demand of the Present & Future"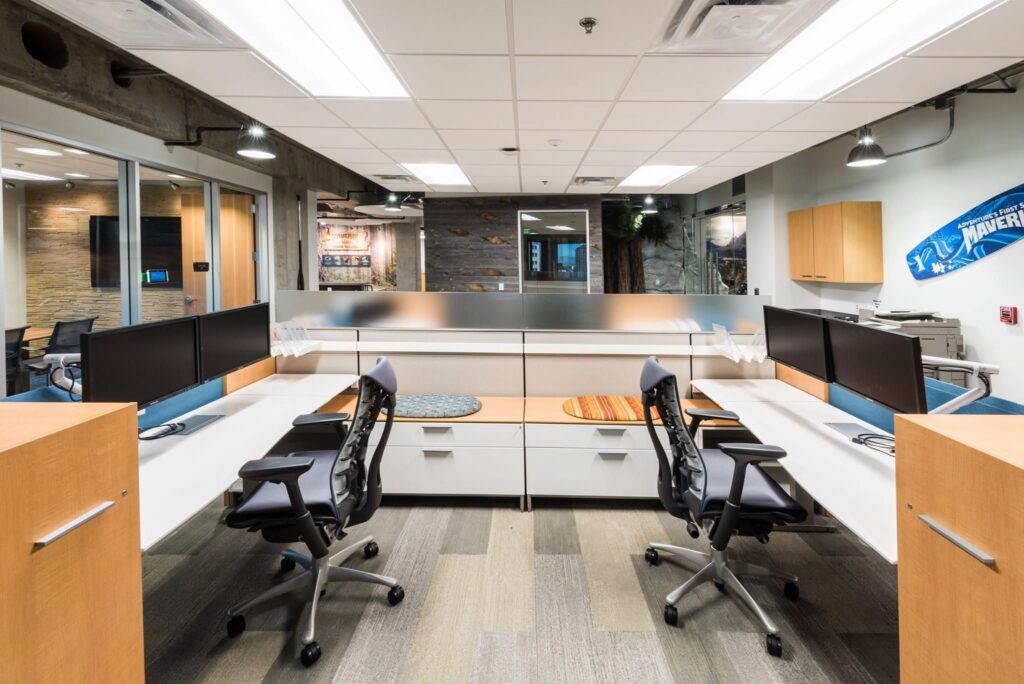 source: pinterest.com
Its high time for each one of us to think and learn about sustainability, sustainable way of living and sustainable architecture. Sustainability was described as "meeting the needs of the present without compromising the ability of future generations to meet their own needs" by the United Nations Brundtland Commission. This clearly states the importance of balance between social and economic growth and environmental balance. Everything that we take from the environment should be given back to it. But the reality is we discover and destroy. It is important for all people to understand how to protect and conserve it for the future.
Biophilic – "Coexist with Nature"
Biophilic architectures are trending and are so common these days. People are favouring the biophilic architectures because these architecture types have a stronger bond with environment. By incorporating lots of natural air and light, this architecture fosters a connection between people and nature so that they live close to nature having fresh air around. The integration of greenery inside and outside of the buildings is another aspect of biophilic design. Since 2021, when people began cultivating and gardening on their roofs to add more greenery to their homes, this has become a regular occurrence. 
The biophilic architecture have many benefits as well. This can even reduce the temperature, improves the air quality, makes the inhabitants more productive, reduces stress and brings in more positivity and liveliness to the space which in turn creates a peace of mind and enhances the well-being. People should move to more of this kind of architecture where they integrate plants to the space. This is because, we are moving more to urbanization and the population is increasing as well, therefore, the qualities biophilic architectures gives are so very important to enhance productivity.
Design Inspirations from Nature
GRADIENCE OF GEOMETRY – OPTICS ILLUSION – "Liven up your space with the enchanting ceilings"
source: pinterest.com
The Gradience of Geometry – Optics Illusion is an innovative baffle ceiling design which can liven up your space. This baffle ceiling is so charming that it can entirely alter the room's appearance and acoustics. It takes its cue from the optically appealing geometric shapes that give the room a captivating atmosphere. The baffles are decorative and can be used in both large, open areas and small rooms. These panels can be made specifically to the customer's specifications and come in a range of colors.
Here, a circle is built out of plain-lined baffles. Multiple baffles are arranged in a single circle in the shape of a spiral to create the sense of depth. These come with tools for Tranquil installations
GRADIENCE OF GEOMETRY- TWISTED OPTICAL ILLUSIONS – "Ceilings that stimulate your imagination"
Gradience of geometry – Twisted Optical Illusions, is influenced by optical illusions and lends the region a captivating aesthetic. A 3D rectangular shape optical illusion design created in Tranquil ECOCORE connects a 3D rectangle repertory pattern. Each repertoire pattern is combined to create a seamless pattern that gives the appearance of a 3D rectangle and provides the required acoustic comfort. Depending on how high the roof is above the floor, size can change. Both big, open areas and little rooms with few walls can use the decorative baffles. These panels come in a variety of hues and can be customized to meet the requirements.
This attractive, innovative baffle ceiling design can significantly improve the acoustics and aesthetics of your room, giving it more life and vitality. 
WAVES WITH ILLUSION – "Transforming Spaces, Transforming You!"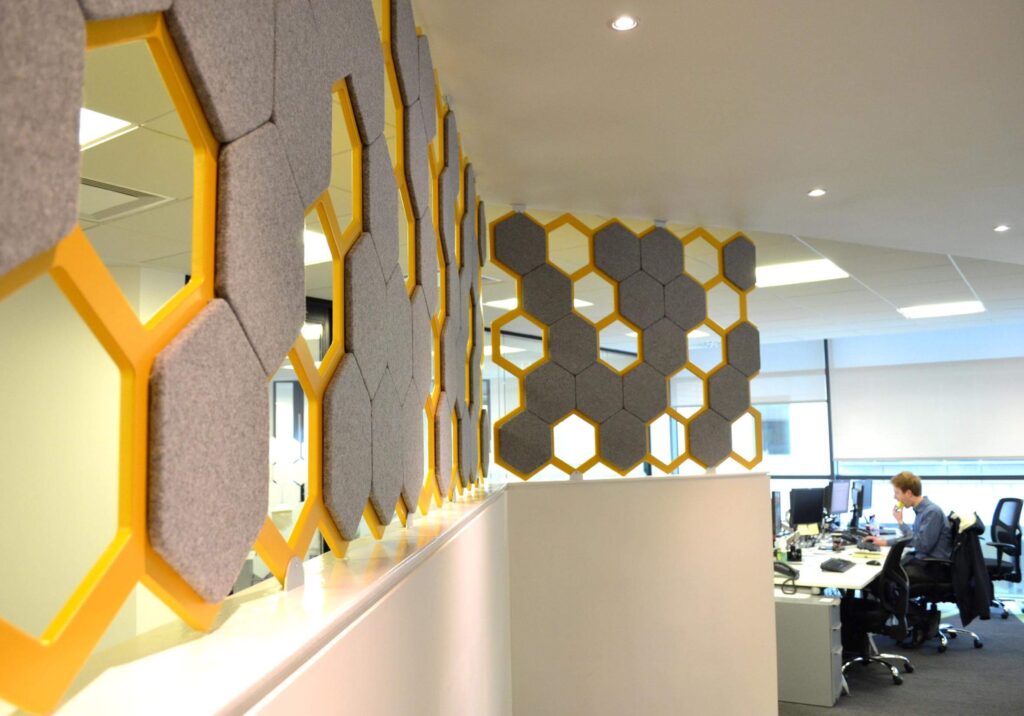 source: pinterest.com
The "Waves with Illusion" design by Tranquil ECOCORE-PET Acoustics was inspired by whirlpools, which circulate aerated water constantly. It has a recurring, smooth design that gives the impression of being three-dimensional and creates the incredibly life like illusion of waves. This can be mounted on walls and ceilings to create the appearance of a fully wavy illusion. 
This ECOCORE baffle acoustic ceiling design is inspired from nature. This sound absorbing wall and ceiling panels can be customized and are available in a wide range of colors. 
THE WAVES – "Revamp your space with Tranquil Waves"
Tranquil ECOCORE Baffles' "THE WAVES" pattern is nature-inspired. Every design in the world is inspired by the variety of shapes and inventiveness found in nature. The "waves" of oceans are our main source of motivation in this case. The ECOCORE Baffle product from Tranquil, which is attached to the ceiling, is where the wave pattern is created and meticulously curated. With an NRC of up to 0.70, this baffle ceiling serves as both an acoustic product and a decoration for the room thanks to its appealing finish.
The new ECOCORE acoustic barriers create a wave in the ceiling. The modules' simple connections let you build waves that can, depending on your requirements, cover a large area or just a small portion of it. Small areas with limited wall space as well as large, open spaces can both use the decorative baffles. These baffles are available in a variety of hues and can be customized to meet specific needs. To draw attention to a specific area and keep the necessary acoustic comfort, Wave Baffles can be applied to the entire ceiling or just a specific area of the ceiling. 
Products Used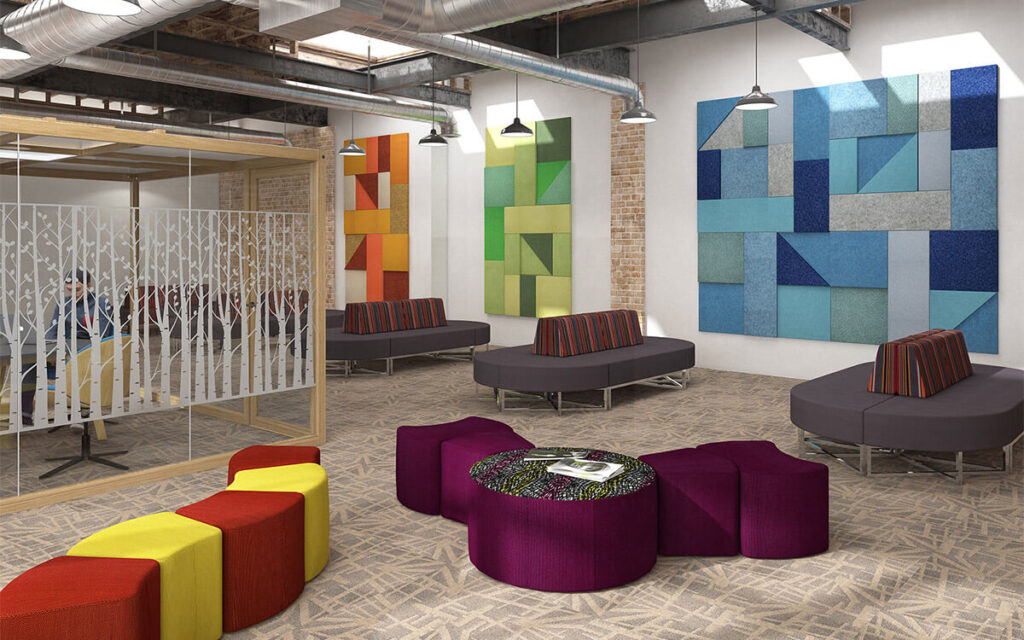 source: pinterest.com
Tranquil Acoustics Design series employs Ecocore Polyester core composed entirely of PET Fiber, a sustainable material. The panels possess an NRC rating of 0.70 and are fire-rated, with a two-year warranty. These can be customized according to the requirements

This design can also be done on Tranquil APS panels which are also sound absorption panels made from compressed fiberglass core. They have excellent noise absorption and reduction qualities and are wrapped with different kind of coverings. The fabrics are available in a wide choice of colors to match the room requirements. APS panels are anti-bacterial, mould and moisture resistant and a fire-retardant product which is a perfect choice for wall and ceilings. They are Class "A" fire rated.