If the first impression is the best, as they say, any entrance to a room must be eye-popping. Finding the right design for your doors is the ultimate way to add some pomp to your room's aesthetics. With a wide variety of materials and designs available in the market, it's likely that you get confused. Find the right vibe of your room and consider what you are using the room for. This will help you choose the right room door design. Here are some types of doors and different room door designs that will help you choose your appealing room door.
Paneled And Framed Doors
Paneled and framed doors are usually made of wood but its shutter panel is timber, hardboard, or plywood-made. You can send in your designs to the one making these types of room door designs.
French doors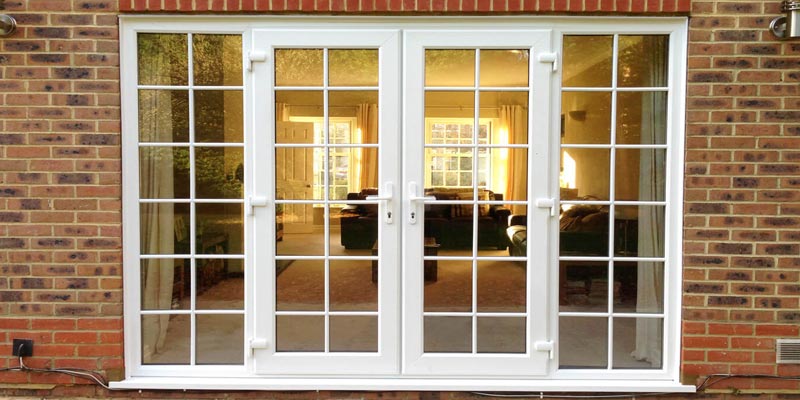 source: pinterest.com
French doors are usually used to demarcate a balcony or terrace from the living room.
These types of room doors have designs with transparent panels frames surrounded by translucent glass or material.
French doors are designed to bring maximum light into the room.
These are two hinge-hung doors that swing towards each other and are ideal for master bedrooms, living rooms, music rooms, etc.
Folding doors
Folding doors can be found in laundry rooms, closets, and such small rooms and compact areas. They can fold in different sides and work perfectly unhindered with an invisible partition between the spaces.
Flush doors
Flush doors are regular doors found in most homes. This type of room door has a flat design with smooth surfaces on both sides. They come in an affordable range too with minimalist style.
Sliding doors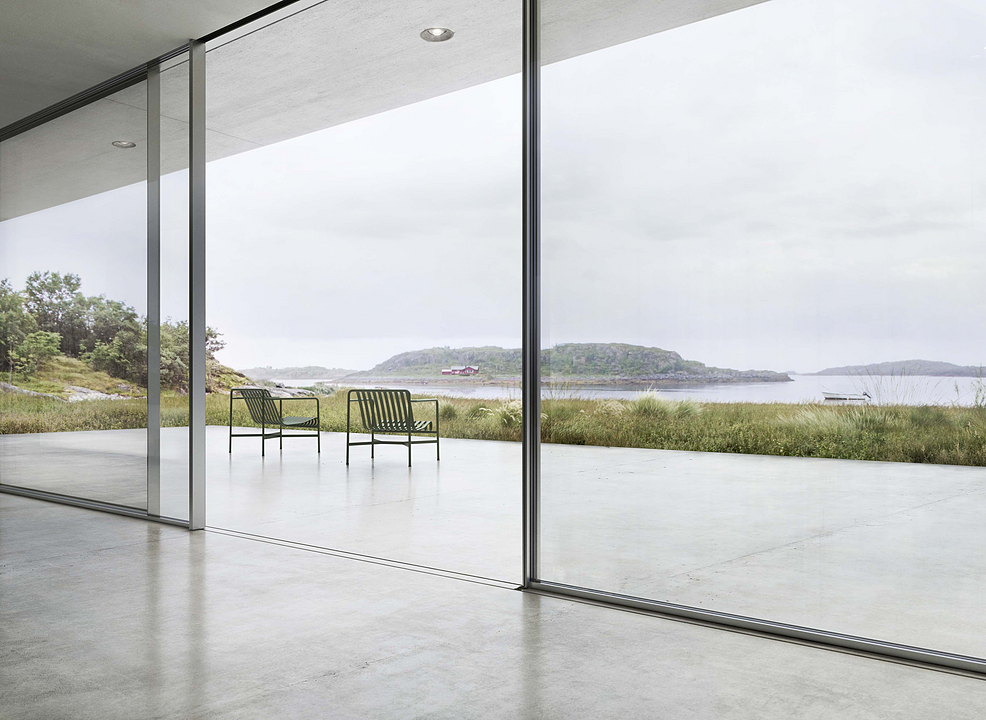 source: pinterest.com
Sliding doors glide on a rail and can be pulled or pushed.
These are very common and save floor space. However, they need space to their left or right to slide into place.
Sliding doors are made of wood or glass and are used as house dividers all the while blending seamlessly with modern decor.
Pocket doors
Pocket doors are types of room door design that is used in rooms with limited space. These can be slid into the room wall itself, unlike sliding doors. This feature saves even more floor space.
Hinged doors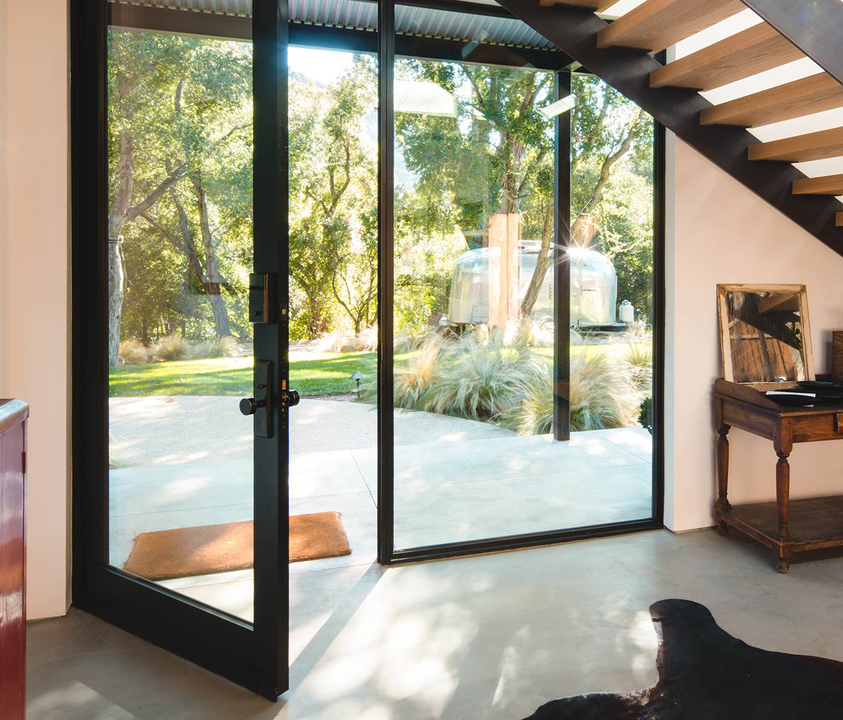 source: archdaily.net
Hinged doors are conventional doors with a frame and a hinge and can be opened both outwards and inwards.
Single leaf doors
Single leaf doors are the most commonly used doors in most households. You do have variations to choose from, however. For walk-in wardrobes or bathrooms where a little privacy is required, you have the option of doors with frosted glass. 
Types of Finishing For The Perfect Room Door Design
The type and quality of finish on doors also can make different room door designs. Here's what you need to know,
Stain finish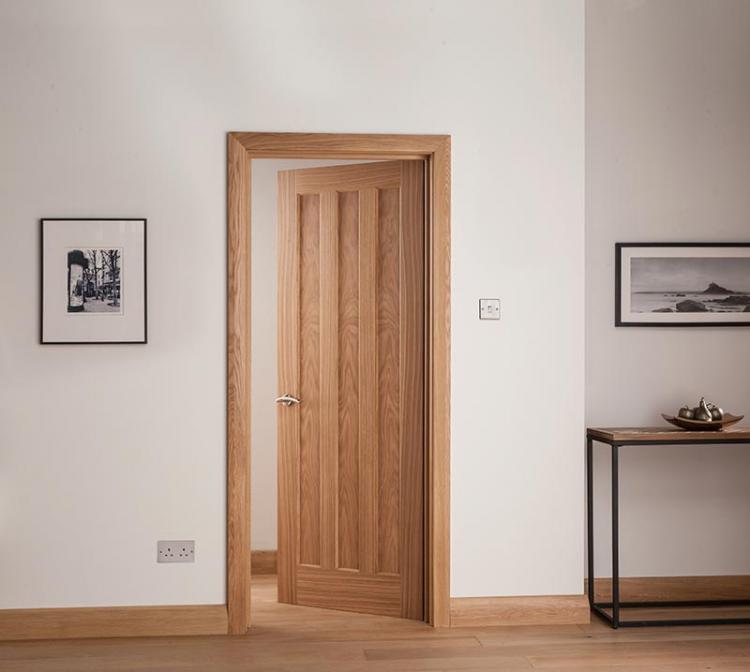 source: pinterest.com
Stain finishes are usually done on solid wood doors that have adequate wood grain. These finishes come in a variety of colors and render a classic yet warm look to the door. Want the charm of villas and bungalows? Go for a stain finish!
Paint finish
Paint finishes will help you blend in the door with the other decor of your room and bring harmony and alignment. Most wooden doors have a white paint base so that you can throw in any color of your liking by considering the overall decor of the room.
Room Door Design Ideas For Puja Room
You may choose a soothing and calm design for your puja room to reflect the room's purpose of meditation and prayer.
Most puja room doors are made of wood with brass embellishments such as the swastika symbol or bells.
According to Vastu Shastra, double doors with a threshold are the ideal design for puja rooms.
Laser-cut doors and stained glass doors are in trend along with motifs like Lord Ganesha, elephants, lotuses, or the symbol of Om.
Room Door Design Ideas For Bathroom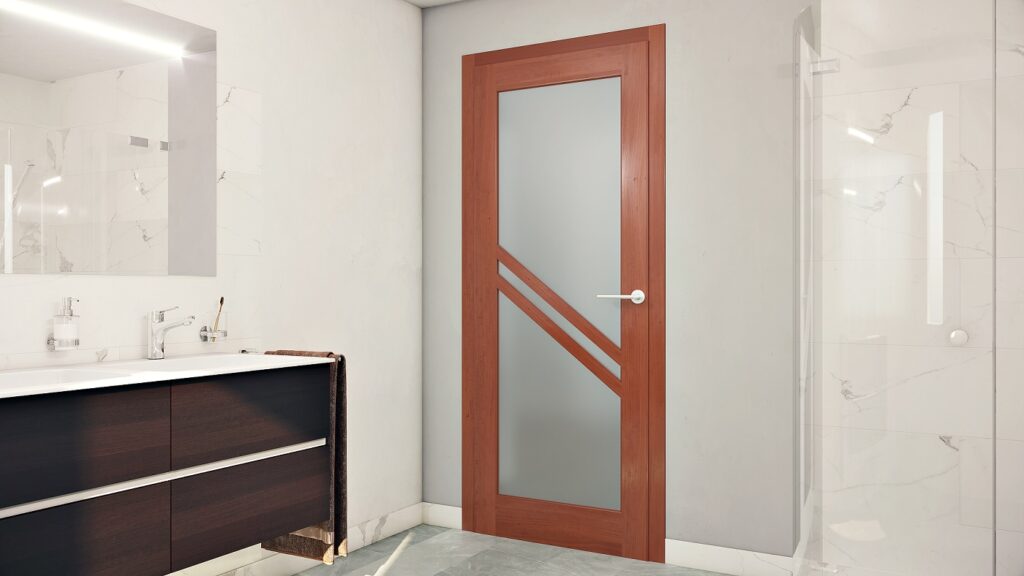 source: pinterest.com
Whatever be the type of door you select for your bathroom, make sure that it is waterproof and resistant to humidity.
PVC doors that resemble woof are in trend these days. You can also opt for PVC doors with digital prints.
If your bathroom space is small, you can go for a sliding door.
Mirror doors will give a modern touch to your bathroom.
Back-lit bathroom doors are another favorite these days that come with soothing lights and are ideal for nighttime.
Room Door Design Ideas For Kids
You could opt for a floral printed sliding door if your kids' room's walls are plain for a contrasting touch.
Another idea is to mount a magnetic whiteboard on one side of the door.
Remember to choose door knobs with no locks and stoppers on the top of the door for protecting your kids from any mishaps.
You could also add a goal post or a hoop to the door.
Room Door Design Ideas For Kitchen
Kitchen doors are typically made of MDF, stainless steel, tempered glass, solid wood, etc. Textured glass or frosted glass with wood is in rampant use these days.
If you add metal frames to glass doors, you can have a classy and contemporary look to your kitchen door.
If you are going for barn doors, remember that they close and open with the help of a rod at its top.
Room Door Design Ideas For Balcony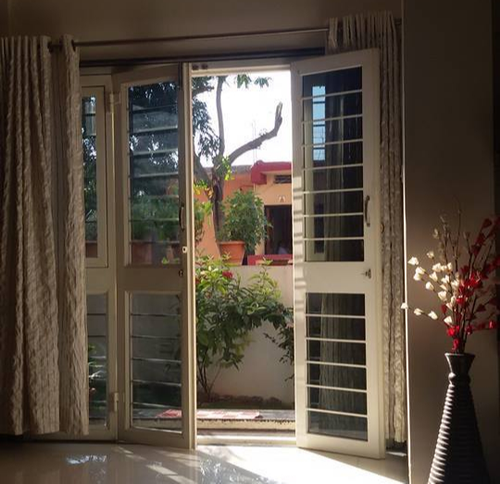 source: pinterest.com
Sliding doors with metal or wooden frames are best for balconies.
You could go for a frosted textured door if you want your privacy.
A sliding, folding, or casement door is best for balconies but choose them after considering the balcony's floor space.
The Bottom Line
Hope you found your favorite design for your rooms from the above article. Make sure you consider the material, design, and color of the door before committing to one.
FAQs
What type of door is best for a room?
Use solid core doors made of composite exterior or plywood with an interior full of wood fiber. These doors typically look like solid wood doors and maintain the expensive quality too. With good insulation and an effective sound barrier, solid core doors are the best choice for a room door.
How do I choose a door design?
To get the perfect door design for your room, you must consider its style and color along with that of the room's interiors. Whether it be double, plain, detailed work, or single depends entirely on the installation of the room's interior.
What is a glazed door?
Glazed doors are constructed with glass panes that are shaped into a particular pattern and size. They are hard yet delicate and usually used as indoor doors.