Peace and quiet are essential in the new hybrid workspaces, where comfort and human connection are needed. Spanish manufacturer Actiu has defined new solutions
We are living through a revolution of spaces. New ways of living, working, travelling and socialising have changed, intensified by the pandemic and the human need to socialise.
This yearning for hyper connection has contributed to making these spaces increasingly indispensable, combining physical and digital elements that allow for a unique and integrated experience. Dynamic and personalised experiences are generated from hybrid spaces.
In the new hybrid workspaces, peace and quiet are essential, as are comfort and connection between people. The latest WorkSpace trade fair – held recently in Paris – has allowed Spanish furniture manufacturer Actiu to define new solutions by designing, manufacturing, and combining innovative products. Everything, from architecture to interior design and furniture must attend people's needs and have people's wellbeing in mind.
The fact that offices require environments for individual work, team projects, and socialising is something that companies around the world have increasingly understood and accepted. Now is the time to focus on new islands of tranquility, in which to take refuge from the chaos and the daily hustle and bustle.
That is the mission of Actiu's new Qyos acoustic cabins. Designed for multipurpose, and casual spaces, they have been conceived as an oasis for relaxation, privacy, and personal refuge.
But the brand's novelties have not ended there; two new soft-seating proposals that exude personality, such as Owwi by Arnau Reyna and Globbe, designed by Stone Design showcase bold and complementary visions that flood the space with colour, creativity, movement, and comfort.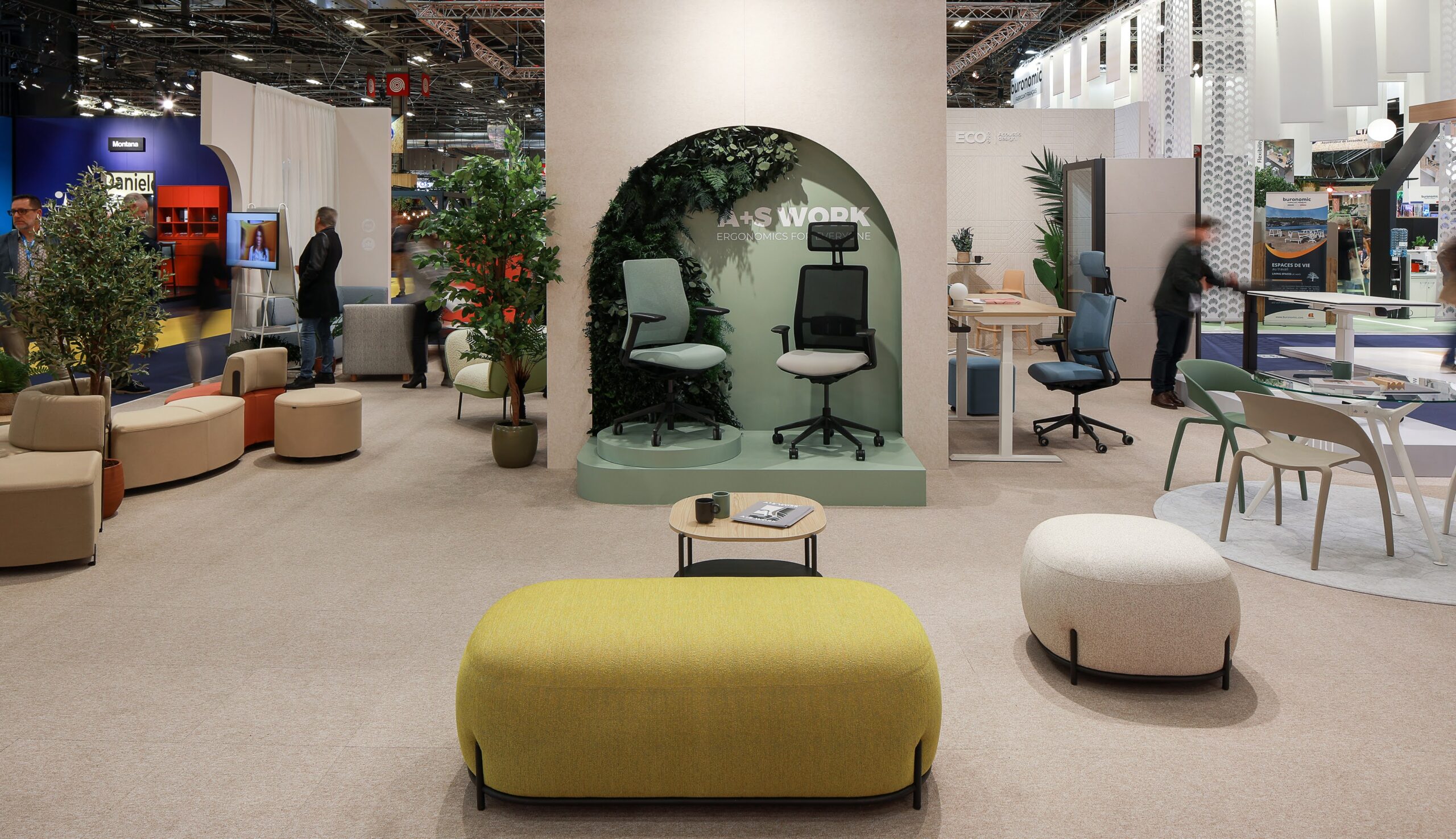 And all this while maintaining the brand's firm commitment to sustainability and wellbeing related to professional furniture, which has led them to combine programs such as A+S Work operative chairs, hoistable Talent tables, and multifunctional collections such as Longo.
The recent forward-thinking exhibition 'Scenes from the Near Future', included in the Valencia World Design Capital 2022 agenda, showed a new imaginative proposal by Actiu: 'Work From Anywhere Hub'. Designed by Eli Gutiérrez, this microarquitecture represents an evolution of more human, relaxed, and casual workspaces that go beyond the traditional office context. It is a flexible, multi-purpose, transportable, and fully-equipped installation, to be used as one desires.
In this new changing reality, the flexibility and ability of companies to adapt to changes will be crucial. And that applies as much to their projects and their work methodologies as it does to the wellbeing and comfort of their workers in corporate environments.
Can an office space regenerate people's health? The focus should be placed on designing spaces from which people leave in better health than when they entered. Where health is understood not only as the absence of medical issues but as the correct balance between mental, spiritual, physical, and emotional health. And hybrid spaces that are well thought out and well equipped can be the key to achieving all of this.
To find out more, visit actiu.com
All images courtesy of Actiu