Interior designers, like Nate Berkus, consider the kitchen the heart and headquarters of the home. Kitchens are not only just for the preparing and cooking of food, but they're also used to host guests, have family meetings, and other various household activities. And since most people are now living and working from home, having an inviting space in the house for gatherings and food preparation is key.
Kitchens in the modern era are so far removed from what we saw 10 years ago, and the design trends reflect this. The ideas that are currently dominating the space include gorgeous designs that are budget-friendly, countertop trends, and technological advancements such as smart appliances. Take a closer look at these trends so that you too can design the kitchen of your dreams in 2022.
Countertop Trends
source: hgtv.com
There's been a lifestyle switch for most people around the world, as working from home now becomes the norm. These types of switches have had a great impact on the materials, styles, and functionality of countertops in 2022. With many people needing to work from home, the kitchen has become somewhat of a makeshift home office. This has meant that people require different things from their countertops. According to a survey by Kitchen Bath & Design News, countertops have become the focal point of the modern-day kitchen, whereas perhaps 15 years ago the stove and the fridge were the most important functional tools in the room.
Quartz Counters 
source: hgtv.com
According to the results of the survey, Quartz is the leading material in countertop design in 2022. Engineered quartz in particular is the most in-demand countertop material among customers and designers. This has been hugely impacted by the remote work lifestyle change, as more hardwearing cooktops and counters are coming into fashion.
Many people like to sit at the island counter with their laptops and coffee to get their work done throughout the day. It's a great part of the house to be productive in, to socialize, and of course, to cook. Quartz countertops are an example of these hardwearing tops, and the benefits are endless. They are durable, extremely sanitary, and easily customizable as they come in a variety of different styles and colors.
Kitchen Renovation on a Budget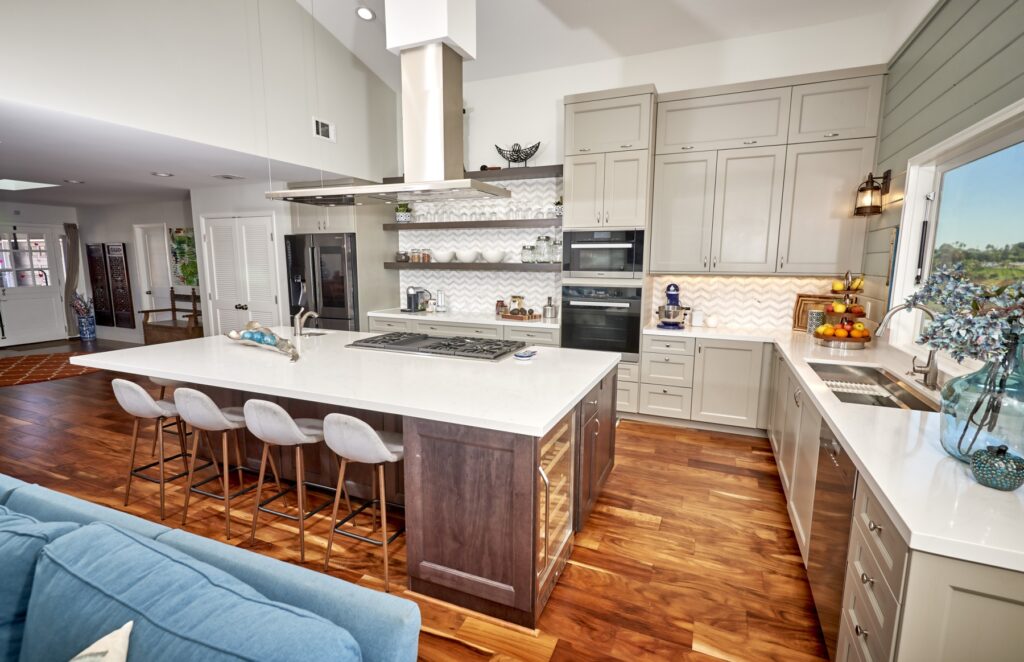 source: remcondesignbuild.com
The last few years have been extremely challenging for most of the world in a financial sense. Many people have had to cut corners to see out the worldwide economic drought. As such, a trend in 2022 is designing a beautiful home kitchen on a budget, and designers have been working tirelessly to find cost-effective materials that are still trendy and beautiful. The average cost of a kitchen remodel is around $13 000 – $38 000. These are exorbitant prices even in times when money hasn't been as tight as it is now.
DIY Your Backsplash
The first step to creating a dream kitchen on a budget is to make sure that you have your backsplash covered, and there are plenty of ways to do this on a budget. Instead of hiring an interior designer to do the backsplash for you, get creative with mosaics, paint, and tiles to create a backsplash that you and your friends and family appreciate. To keep the kitchen looking sophisticated make sure that you choose color palettes that match countertops and appliances.
Paint Your Cupboards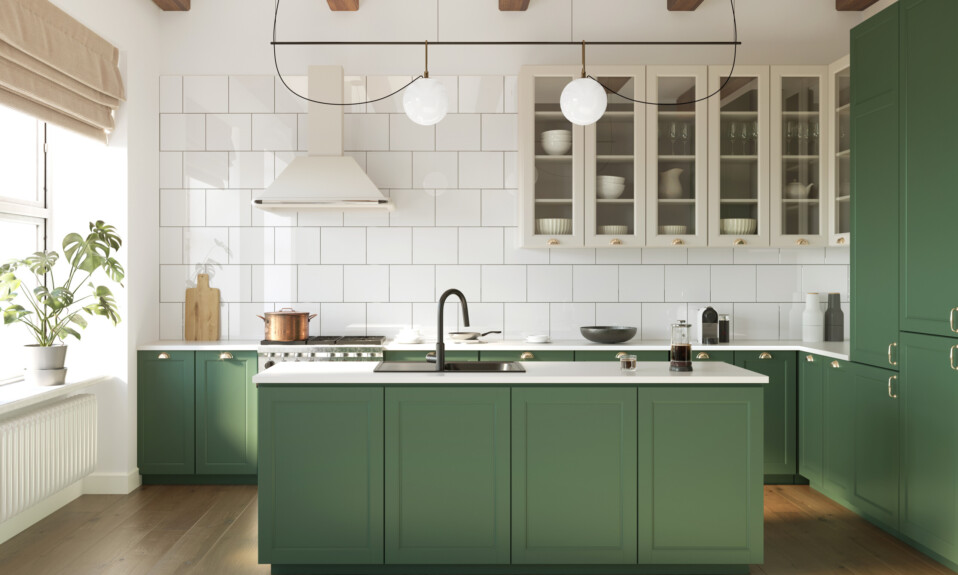 source: decoraid.com
If your cupboards need a makeover but you cannot afford a new set, consider painting the doors a different color. A small change can make a huge difference. Alternatively, if the carcasses are good but the doors need replacing, simply swap them out and keep the inside the same.
Go For Vinyl Flooring
Flooring is one of the costliest parts of kitchen renovation and picking out the right tile to complement the rest of the room is not an easy task. A budget-friendly trend postulated by kitchen designers in 2022 is the use of Vinyl as flooring. Vinyl is long lasting, it looks great, it's easy to clean, and is available in a huge range of colors, patterns, and styles. Plus, it doesn't require expensive applications.
Technology Has Infiltrated the Kitchen
source: hgtv.com
The pace of technological advancement over the last 5 years has been nothing short of impressive, and every part of life has been influenced by these advancements, including the kitchen. Thanks to AI technologies such as machine learning and image recognition applications, people no longer face the same struggles they did previously when cooking. AI technology in the kitchen can analyze the ingredients in your fridge and come up with fast and tasty recipes that you can then cook at ease.
Smart appliance technology also means that fridges can let you know when expiry dates of foods have been reached and certain fridges can also generate a shopping list using the image recognition technology mentioned above.
A Kitchen For Every Need
The modern kitchen is a room used for many different functional purposes, from cooking food to hosting events, to completing work from home, and much more. The needs that a kitchen must fulfill in the current era have heavily influenced the trends that are making waves in 2022