Open kitchen shelving is a huge trend that has taken the design world by storm in recent years. Interior designers have ditched those upper cabinets, replacing them with open shelves that add a dose of visual touch and charm to a space. Whether you are looking for a convenient storage option or want to display your fine pieces and let them become part of your kitchen decor, this versatile feature will work perfectly for you.
However, there's one thing to be careful with. If you don't style your open shelving properly, they could appear cluttered and disorganized. To solve this, we bring you some excellent tips to style your open shelving like a pro. You will create a nicely curated display that will spruce up the kitchen.
Selection
The open shelving should only be reserved for pieces that have an aesthetic appeal. Display your favorite coffee mug collection and have them within arm's reach. Or, add some colorful bowls for a bold visual touch. If you have chipped or damaged dishes, make sure to tuck them away in the cabinets. 
Accessorize
Feel free to express your personality and make your kitchen decor more cohesive with the rest of your home. Your open shelves aren't reserved for dishes only. Be sure to include decorative trays, candles, or your favorite cookbooks.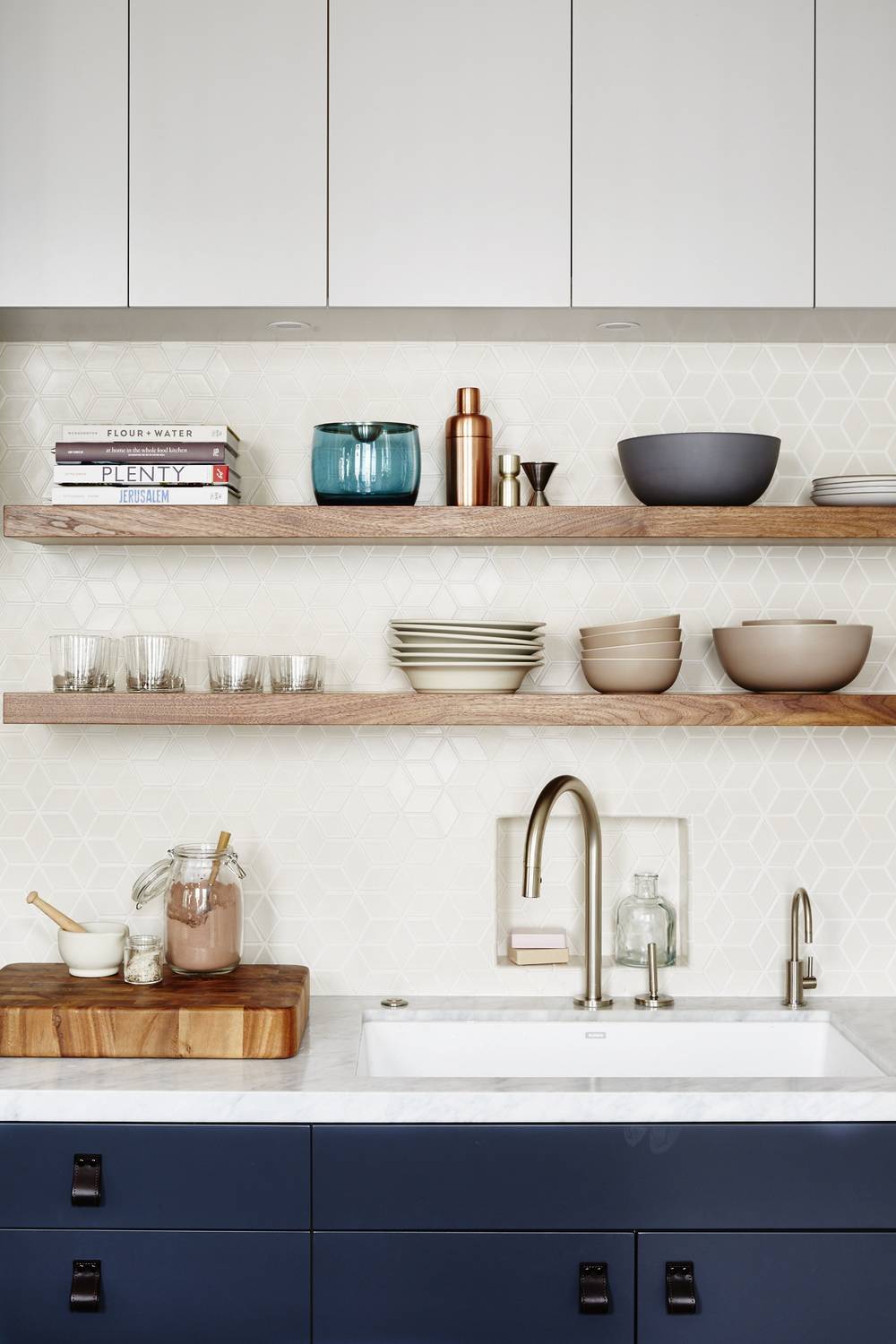 Add dimension
If you want your shelving to look more like a curated collection rather than a few objects randomly placed together, the key is to add a dose of dimension. Use items with varying heights and shapes to make your arrangement look more visually pleasing.
Layering is another secret trick that designers use to curate beautiful open shelving. Start with the anchor pieces, such as wooden serving boards or artwork. Lean them against the wall and continue to build up with other decorative objects while overlapping them. This key secret will contribute to the stylish and curated look you desire. 
Don't forget that odd numbers work the best, so group three or five objects for the best results. Make sure to keep the objects within the same style or color scheme to create a cohesive arrangement.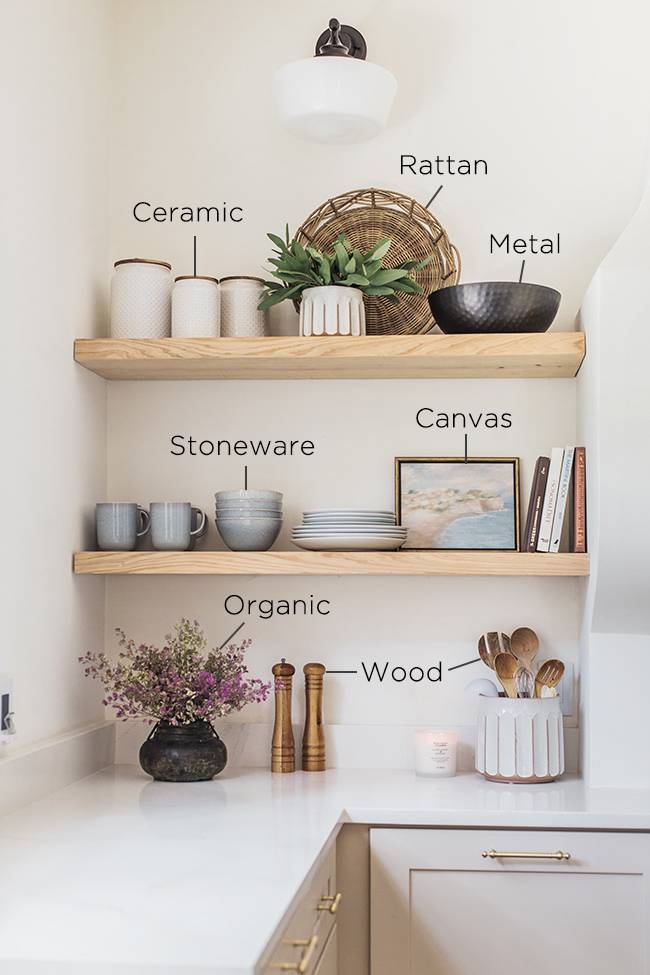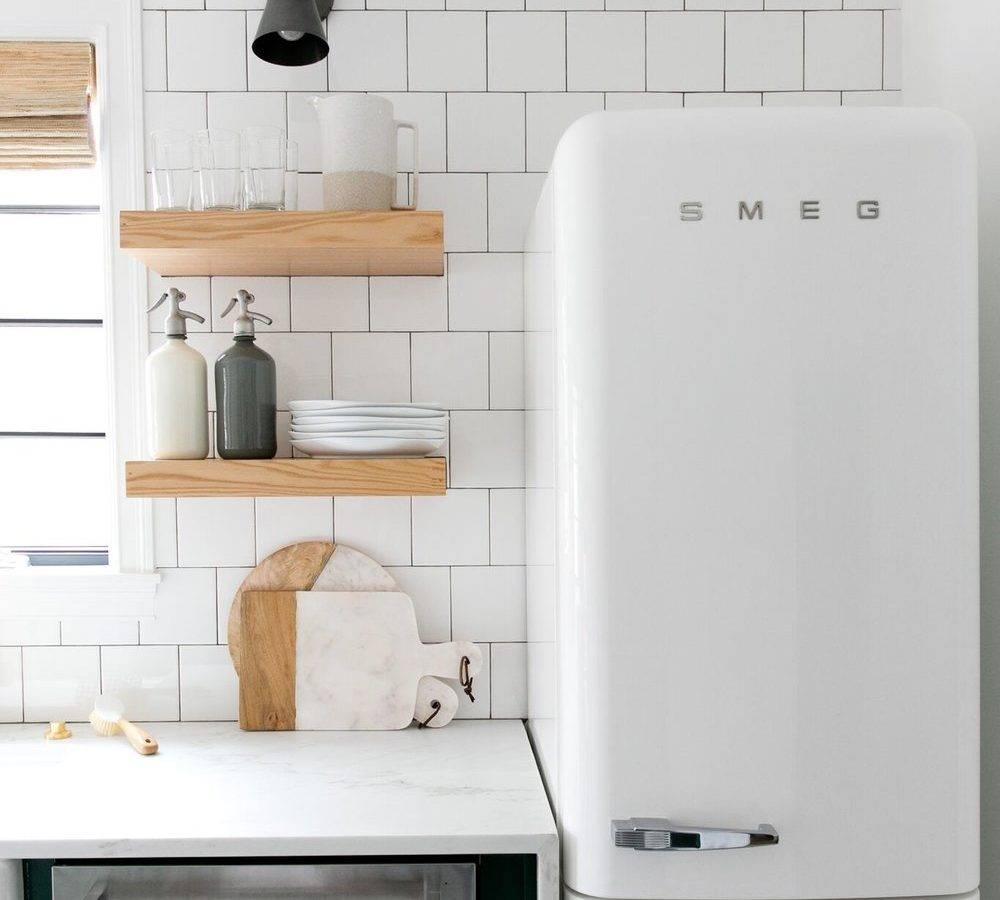 Give purpose
You don't have to style your shelves just for the sake of good looks. Think of how your shelving will support your everyday tasks. Coffee lovers can stock up the essentials and create a cozy coffee bar. Baking enthusiasts can create an open pantry with all ingredients stored in lovely glass jars for cohesiveness and functionality.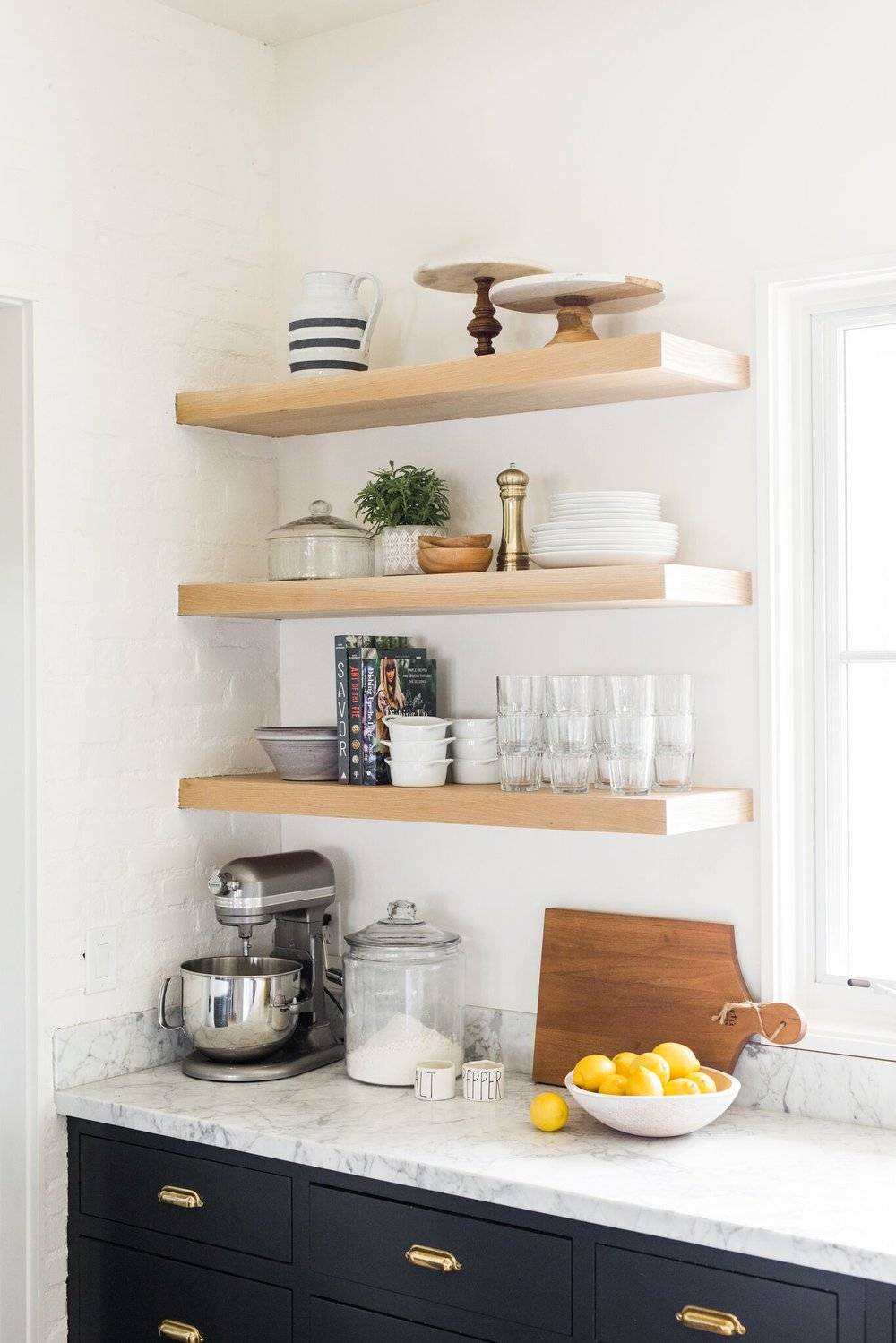 Use wooden shelving
If you prefer a cozy and rustic feel, wooden shelving will complement your style. This feature adds a touch of warmth and charm to your kitchen, bringing the modern farmhouse feel. Don't forget that the warm wood tone will gracefully complement white subway tiles.
Don't forget about that awkward corner in the kitchen. Use the available corner space to store the items you use less frequently.