When building a new home, designing the property's exterior might be an afterthought. But knowing that this is the first part of your house that your guests will see when visiting you, you'll have to pay attention to how your driveway can contribute to the exterior beauty of your home.
A driveway is not just a convenient space for off-street parking. It contributes to the general outlook of your home, so make sure you make it as presentable as possible after it is also a part of your home. Here are some tips to help you create the perfect driveway for your home.
Work Out the Shape and Size
source: pinterest.com
First, you'll need to figure out the shape and size of your driveway, making sure it also relates to any idea you have for your front garden. You need to be sure that your garage is wide enough to fit your vehicle and that of future guests, with room on the side to get in and out quickly. If you want a gate on your driveway, you need to create room for the gate to be opened and closed. And if your front yard is large, that will be an ideal space to turn vehicles around.
For the shape, you'll have to decide if you want a straight drive, a curved one, or an elegant sweeping driveway. Just make sure you create an easy route to and from the road. 
For size, it's good to notify the local planning office in your area to make sure you're fulfilling all legal requirements with your driveway design. 
Considering the gradient, you'll want your driveway to drain surface water within your property and avoid it being too steep and too smooth, as you might be unable to drive in or out in certain weather conditions.
Work With Professionals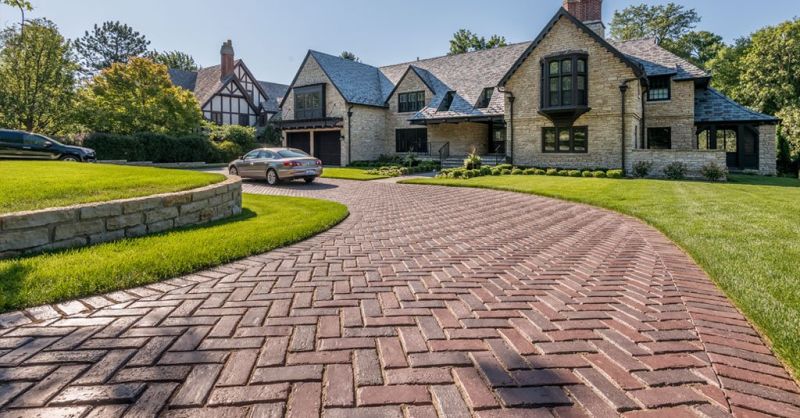 source: pinterest.com
When creating the perfect driveway, you will undoubtedly want the best product and finishing. Now, you might not be familiar with the quality and cost of the materials needed nor the cost of installation. So, you should contact a professional asphalt paving company like Enterprise Commercial Paving for the best results. This job shouldn't be done by just anyone; remember that aesthetics are important, and only a professional paving company can ensure that the patterns and colours of the material chosen match or complement your home. 
Choose The Best Material
Having the best surface material for your driveway will positively affect its practicality and how it looks in your yard. To choose the material, you have to think about how much you are willing to spend, as some materials are more expensive than others. The cheapest ones to use are flint gravel or limestone chippings, but there are many options out there. 
Though gravel driveways are popular, there are some drawbacks to having them. They deliver poor footing when wet, transfer moisture and dirt to shoes, and make wheelchair and pram access difficult. However, if you want a hard surface, then the cheapest option will be driveway concrete blocks, and the most expensive option will be porcelain setts or natural stone setts. 
Try Adding a Gate
source: forbes.com
Adding a gate to your driveway is beneficial in a lot of ways. It boosts the security level of your property, keeping your kids and pets safe and far from the road. There are many gate designs to choose from, so you'll find it easy to pick one that will perfectly complement your home. 
You can even choose to install an automated gate, as this will make your life easier. To keep your mind more at peace, you can invest in an outdoor security camera and remember to get the best lighting for your driveway.
Create A Drainage Plan
You must draw up a drainage plan to help you solve rainfall and flooding problems in your yard. The best way is to use drainage channels and an underground soak away crate or create a direct surface runoff that leads straight into the garden. Doing the latter is cheaper and easier, as it also helps your flowerbed get more water.
Add The Finishing Touch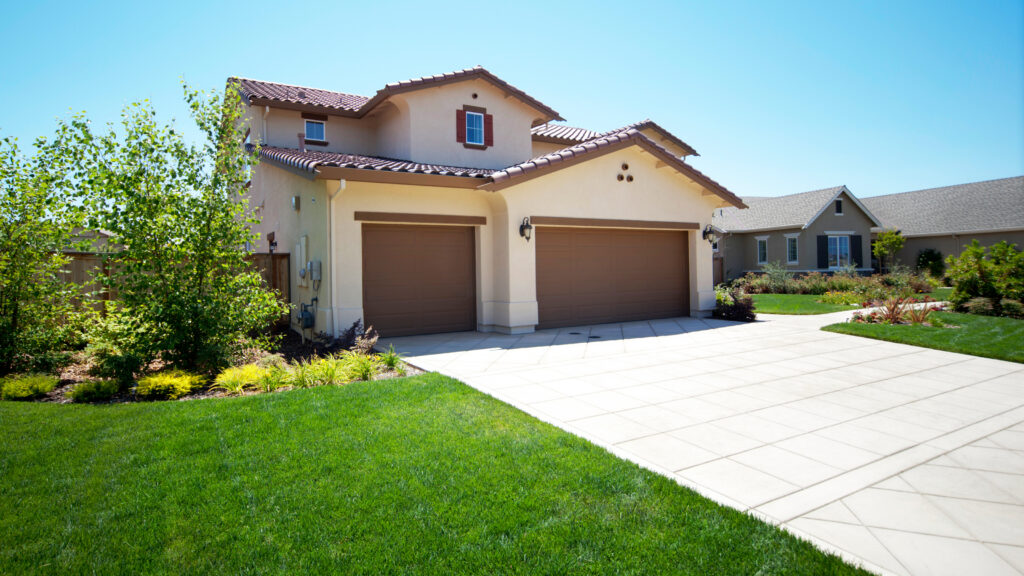 source: pinterest.com
Some people dedicate their driveways to just parking cars; others beautify them by storing pot plants and turning them into mini flower gardens. Adding garden edging to your driveway is a brilliant idea, as it'll boost the overall appeal of your yard.
When considering this, you'll need to decide if you want a high or low, loud or softer looking colour of flowers lining your driveway. However, you'll also need to consider the cost of planting flowers and what it takes to cut off the weeds and keep the area trim and tidy.
Conclusion
Having the perfect driveway in your home undoubtedly boosts your property's curb appeal, especially whenever you have guests coming over.  When choosing a design, you need to ensure the materials you choose are pocket-friendly and match the aesthetic of your home perfectly. With these suggestions, you can do just that.