Cabinets are the focal piece of most kitchens and baths and can be designed to be warm and subdued or have a starker contrast to the surroundings. Material choices lend to the overall durability of the cabinets and the material also largely contributes to the overall ambiance of the room.
What are the Materials in Making a Cabinet?
There are several options when choosing the material for your new kitchen cabinets and these choices fall into two main categories of solid wood or a core material covered with some type of laminate. Here there are several options to choose from in each category.
Solid Wood Cabinets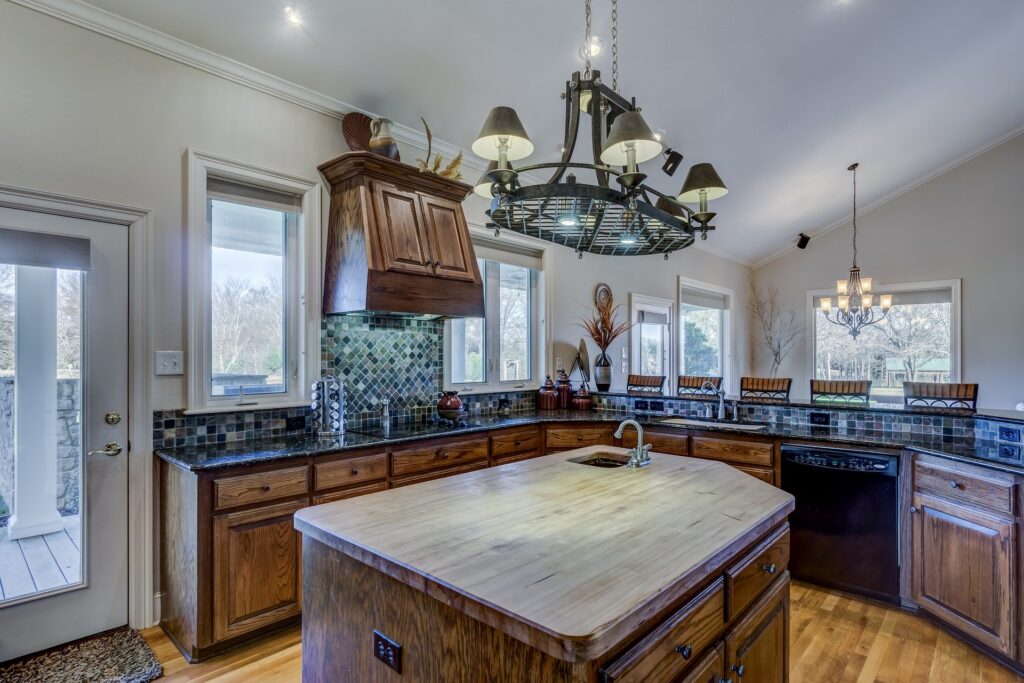 Many people like solid wood for its warmth, versatility in finishing options and the naturally timeless look. Hardwood is extremely durable and will stand up to years of hard use. Solid wood cabinets can be made from any type of wood with oak, pine, cedar, walnut and maple being popular choices. Here the doors, draws and cabinetry can all be made of the same type of wood or just the faces can be made from solid wood. Solid wood can be finished in a variety of styles from paint to natural or colored stains and polyurethane.
Cored
Cored cabinetry has some type of wood core covered with different types of laminate. However, here the core itself is also some type of laminate. The three main core cabinet material types are:
Plywood has long been one of the most popular and versatile materials. Plywood is itself a laminate made from numerous thin strips, or "ply," of wood glued in alternating directions to create a single strong and stable sheet. While plywood is less susceptible to shrinking and expansion, it is also the most expensive core material.
Similar to plywood, oriented strand board, called OSB, is formed by compressing small scraps of wood into layers with an adhesive. OSB has most of the same benefits as plywood but is typically less expensive.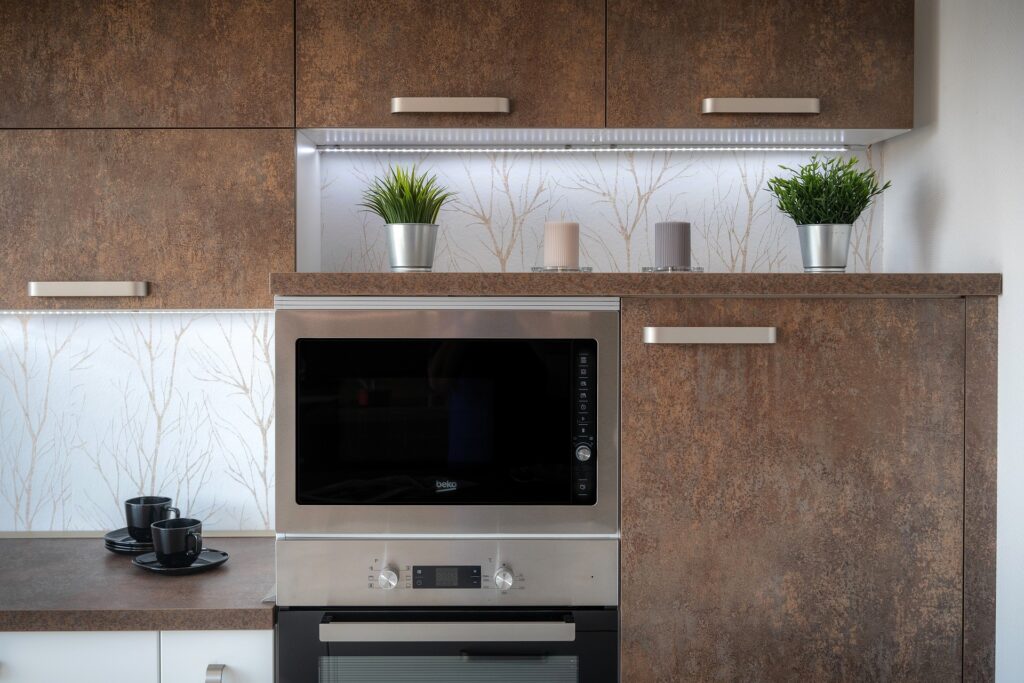 Medium-density fiberboard, or MDF, is engineered by mixing sawdust with glue and pressing it into sheets. MDF is usually much cheaper than plywood or OSB but is not as strong or durable.
If you want to learn more about their differences, click here.
Facing Materials
Cabinet facing is the material that covers the visible part of the cabinet and there are a wide variety of options that can be broken down into the two main categories of skins and veneers. A third category consists of acrylic coatings. Additionally, often old cabinets can also be given a face lift with the same type of cabinet refacing materials.
Skins
The most affordable, but least durable, cabinet facing material are plastic, formica or vinyl laminate skins that cover the facing of the cabinets. However, none of these options give the cabinet a very warm appearance.
Wood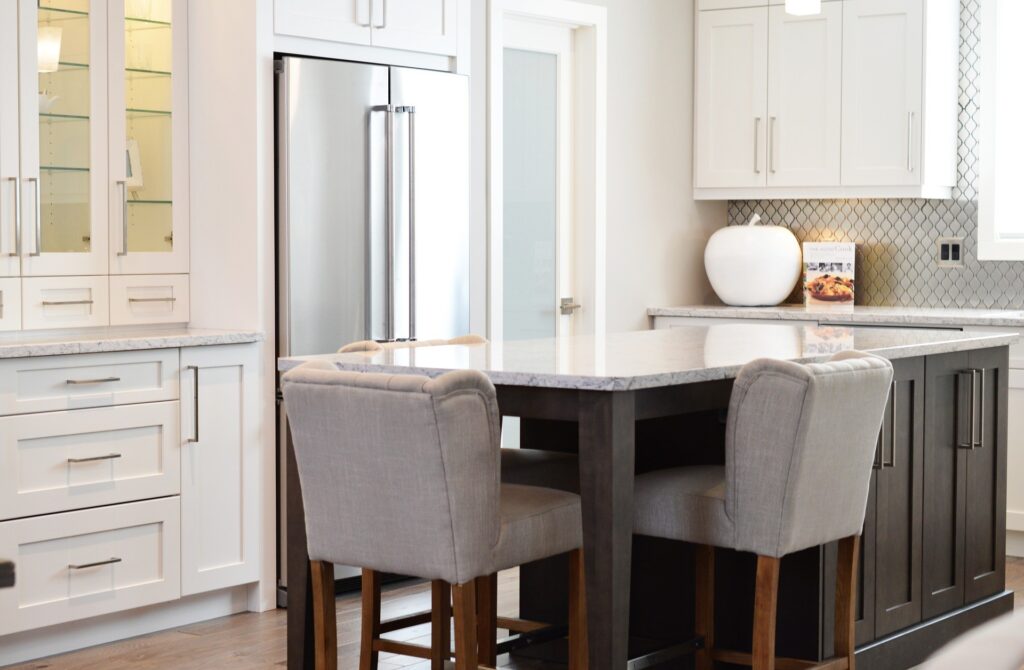 One way of keeping costs down and still providing a true natural look is to have the cabinet frame built from one of the less expensive core materials and face the cabinets with solid wood, such as a thin sheet of maple, oak or walnut.
Acrylic Coatings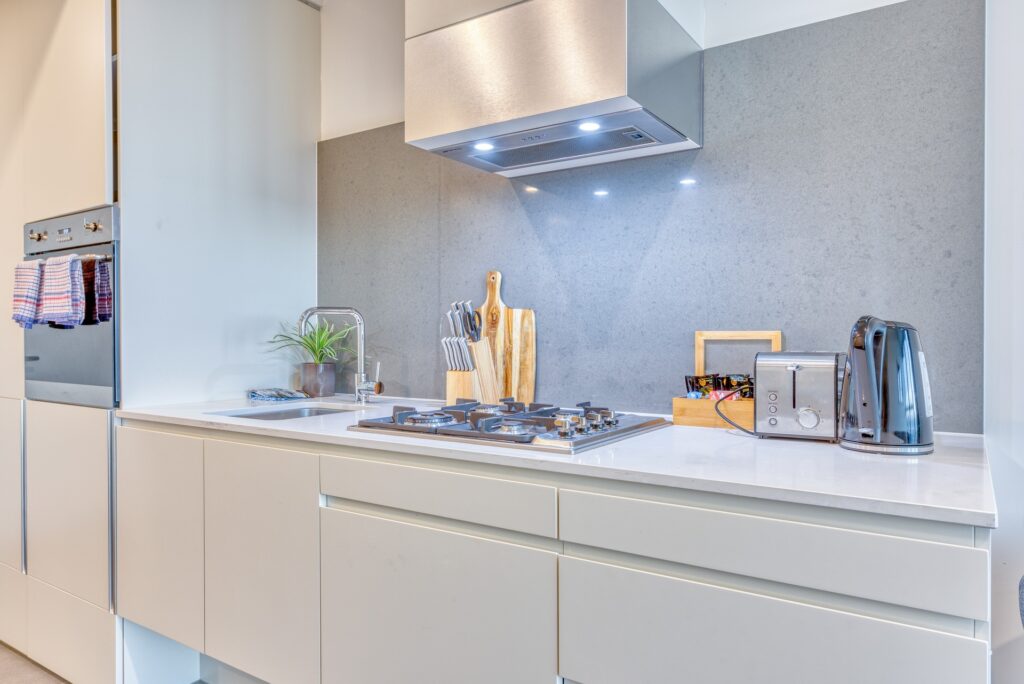 Acrylic coats are applied in liquid form and dry to a seamless finish. One example of an acrylic coating is Fenix, a synthetic product that uses a multilayer coating process employing next-generation acrylic resins that makes it highly resistant to abrasion, solvents and household reagents. The Fenix material surface is available in a variety of colors and has a non-porous external layer that allows the surface to withstand years of use and cleaning. This not only makes the material long lasting but maintains its hygienic properties in food prep applications.
Conclusion
As you can see, there are a wide variety of choices when selecting cabinet surface material. The best choice for your cabinets relies on several factors that include your personal style and taste. Before deciding on a specific type of cabinet material, visit a kitchen and bath showroom to see all your kitchen cabinet material options in person.