Grey Composite Decking Design Inspirations
When installing an outdoor deck, you must also consider the materials and price. The deck's outside design and color selection are equally essential. The color and layout of your deck contribute to the aesthetic appeal of your home. When selecting a color for composite decking boards, gray is one of the most popular options. Grey composite decking encompasses all shades of gray, from light to dark, including charcoal. Composite decking offers natural wood grain grooves and textures, as well as more color choices.
Grey composite decking may give your outdoor space a clean, contemporary appearance. Composite decking provides a variety of alternatives. From Smoke Grey and Space Grey composite decking to Stone Grey composite decking. Whatever your design needs are, you can choose a composite decking color to fit.
Concepts for Grey Composite Decking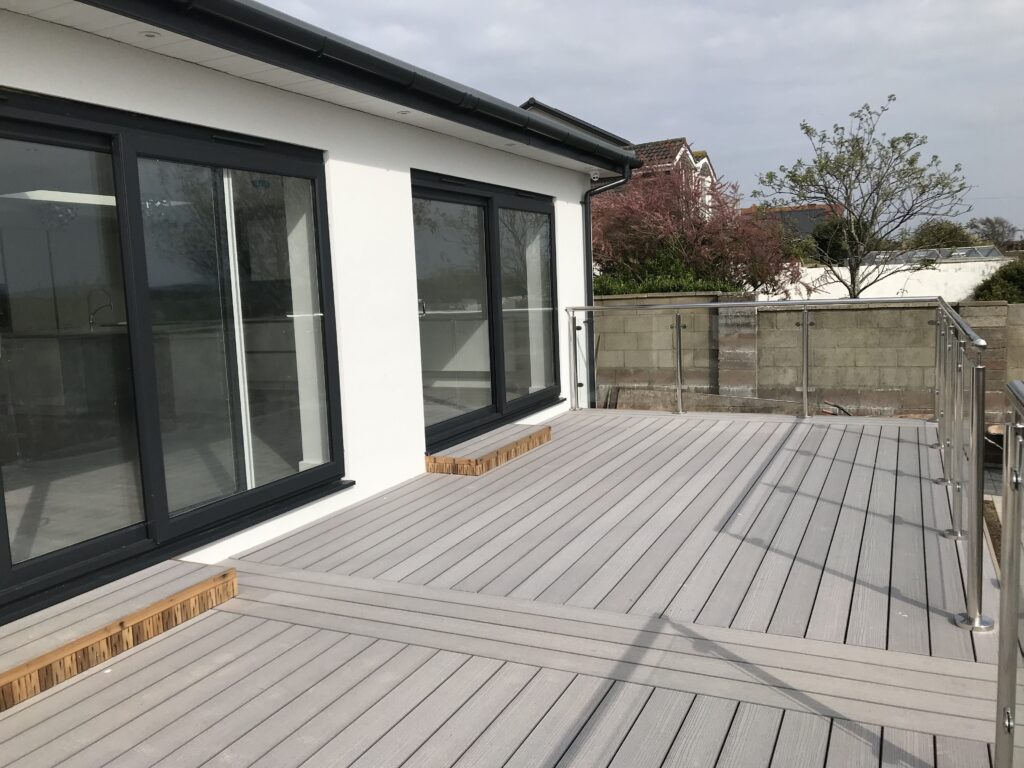 source: pinterest.com
Warm "grays" with grey and tan undertones can vary to cooler grays with blue overtones. As a matter of fact, there are innumerable composite decking color options to consider when creating an outdoor deck to match your taste. For homeowners, selecting the appropriate grey composite decking is of more importance. Therefore, we supply you with an abundance of ideas. With the aid of these grey composite decking ideas, you may get the ideal outdoor composite decking boards.
Choosing the appropriate shade of gray for your composite decking can help you create a backyard place that seems like an extension of your home. Learn how to combine colors, materials, lighting, and railings to create a unique aesthetic that reflects your personal taste. Check out the below grey composite decking design ideas whether you've been imagining your dream deck for a long time or if you're looking for inspiration to build the ideal deck.
Elegant dining room with grey and white
Under a dazzling white pergola, soft grey composite decking is installed diagonally to create an attractive dining area. Black tables and chairs with white edging give a stylish appearance and provide ample seating for visitors.
Monochrome grey decking with colorful accents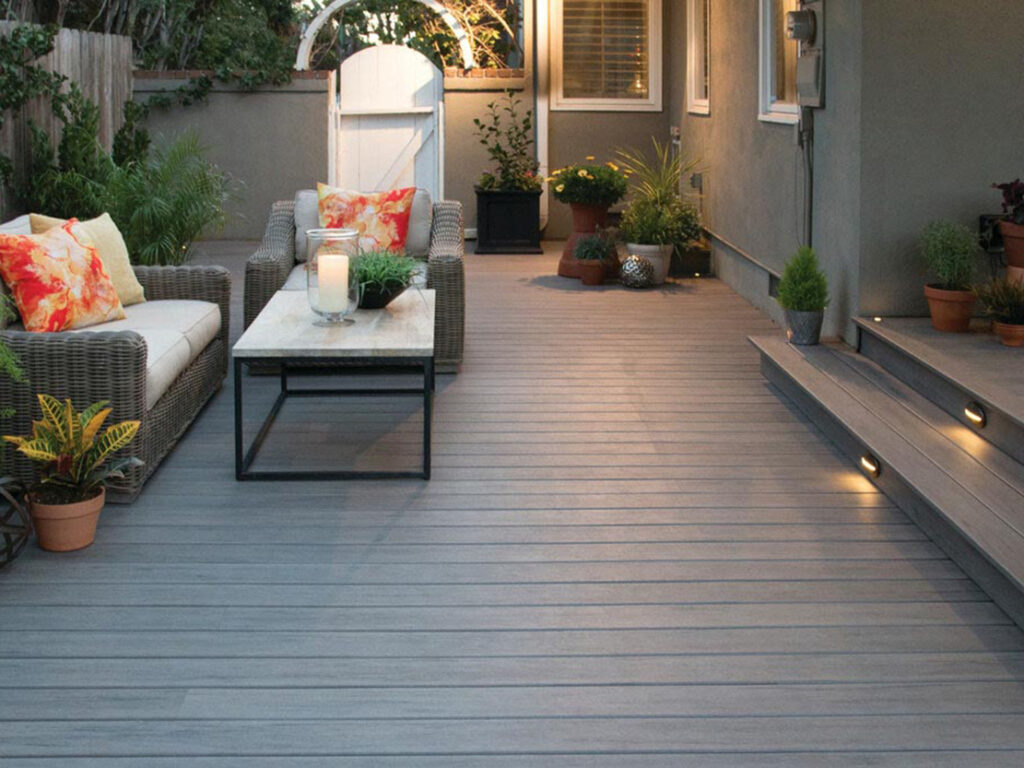 source: pinterest.com
The composite decking can be matched to the exact same color as the railings for a unified monochromatic appearance. In this instance, the decking and railings compliment the house's gray siding and shingles. Throw pillows in turquoise blue, yellow flowers, and yellow table settings give welcome splashes of brightness.
Integrated lighting and vivid hues
On this multilevel deck, white is employed as an accent color to accentuate the stairs leading up to the platform deck. Embedded LED lights on the deck illuminate the pathway at night. The stairwell lighting complements the recessed lighting in the ceiling of this covered deck.
A simple design to frame a lovely vista
When you have a magnificent view, you want decking that enhances it rather than detracts from it. A basic pattern of pebble grey composite decking matches glass railings with darker columns and trim. These architectural components combine to create a verdant landscape, offering the ideal setting for you to enjoy your deck and the surrounding countryside.
Traditional and comfortable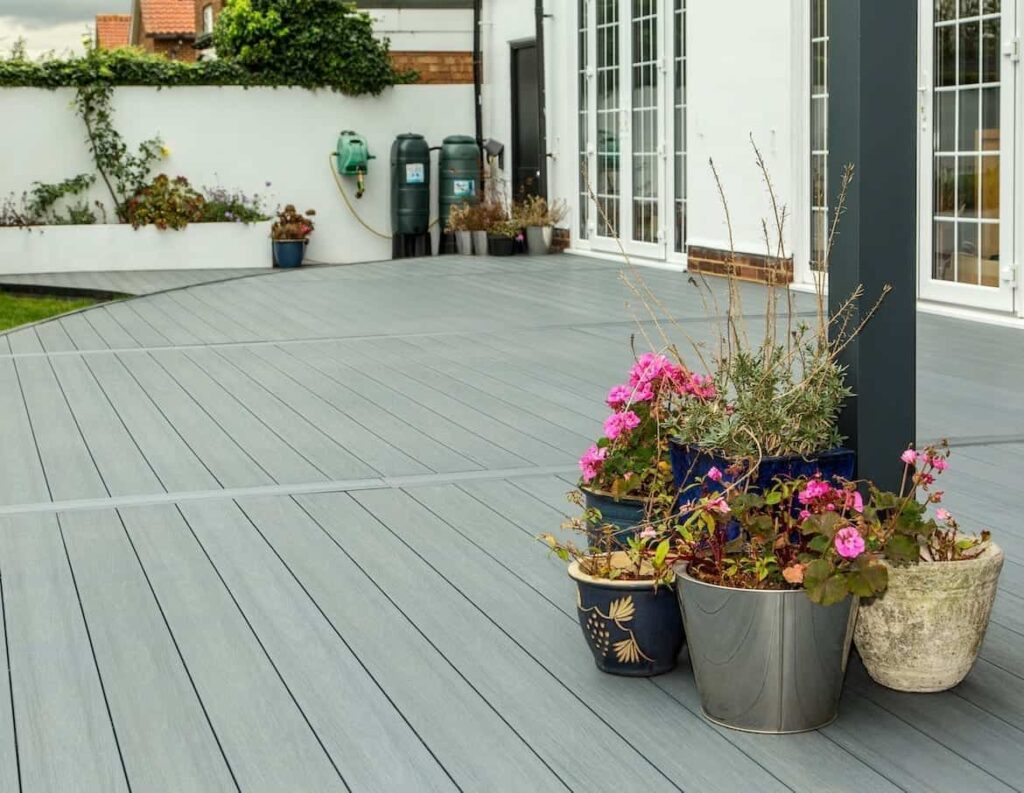 source: pinterest.com
Do not be deceived by the gray decking's soothing tones. It can produce a pleasant and cozy outdoor environment. This home's light grey decking shines out against its warm-toned brick front. Columns of a darker grey complete the look.
Grey and tan are the deck colors
Grey decking with a somewhat aged appearance might be the right backdrop for introducing cool-toned tan hues into your interior design. This grey composite decking accentuates the cooler tones of the rattan chair and accompanying wickerware. The grey and white striped cushion unifies the appearance of the composite decking. This deck has a contemporary, mixed-media appearance due to the glass railings framed in dark metal.
Grey decking looks wonderful with brown hues that are colder
The adaptability of grey composite decking is demonstrated once again. In this enclosed outdoor space, grey with soft brown undertones produces a rustic-meets-modern atmosphere. A brown stone fireplace with lighter brown overtones creates a harmonic union between two separate color families. Even if you combine competing neutrals such as grey and brown, they can complement one another if you select hues with cooler undertones.
Grey decking allows the surrounding environment to shine
source: pinterest.com
This screened porch's cream rails and framing provide a lovely contrast to the pale grey decking. The contrast between the dark Adirondack chairs and the multicolored accent cushions is simple yet stunning. A huge plant in a cream-colored pot and brass sconces enhance the natural leaves and gently draping Spanish moss.
Create a spacious outdoor dining and living area
This elevated deck's light grey composite decking can create an open, airy atmosphere. The contrast created by the dark grey metal rod railings complements the charcoal-colored patio furnishings. White cushions and colorful plants contribute to a light and airy atmosphere. Make rectangular planters and flower boxes out of the same grey composite decking and fill them with vibrant flowers for a finished look.
Grey decking for a beach-like appearance
Misty grey decking, when used to create an open-concept deck, can evoke the feeling of being in a picturesque coastal village. By employing a home's natural characteristics, such as built-in pillars, to establish boundaries, you may set up distinct places for dining, resting, and lying in wooden rocking rockers.
Submerged built-in seating expands the size of your deck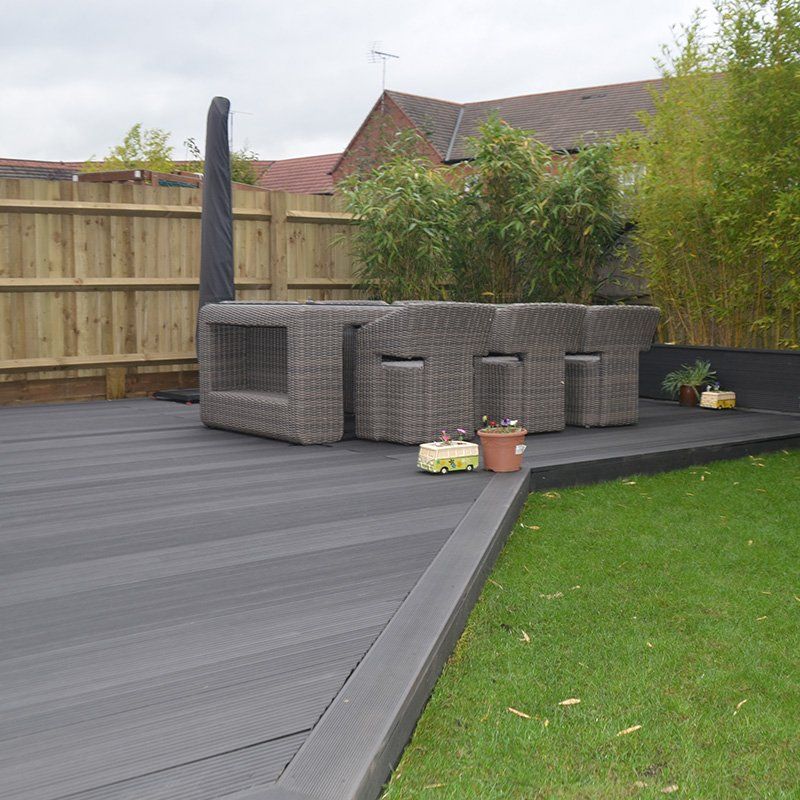 source: pinterest.com
Multi-tiered decks allow you to maximize deck area by including interesting elements such as sunken built-in seating. Add colorful, cozy throw pillows to steep stairs in order to create more sitting. A fire pit makes this the "it" spot for campfire talk on your deck.
Cabana-style indoor-outdoor decking
In this indoor-outdoor swimming deck, grey composite decking with a slightly aged appearance creates the effect of reclaimed driftwood without the care. On this bright cabana-style terrace, glass railings offer an unrivaled view of the crystal clear pool while separating the dining area.
Small room, big style
This tiny, gently elevated deck offers the sense of a larger area due to the light grey decking placed in a straightforward parallel pattern and encircled by clear glass railings. Charcoal grey statement chairs and a matching wicker table provide a comfy seating area, while giant floor lamps and flora give color, personality, and light to the space.