Adding a bit more color and character to your home is never a bad idea – and one of the easiest ways to do it is to hang some new wall art pieces.
But with so many different options available, how can you choose the best wall art for your home? We suggest looking for inspiration in the newest design trends of the year – and then adapting them to your own style. We've put together a list of the best wall art styles for 2022 – all of them easy to recreate at home without hiring a professional designer!
Abstract Art
In 2022 you'll be seeing abstract art not only in museums and galleries but in plenty of interior design schemes too. Works expressing the visual language of shape, color and line can make extremely powerful interior design statements. And if you prefer more classical wall art arrangements, you can always try combining "bold" with "timeless" – framed prints featuring abstract images, for example, are a surefire solution for any home. 
Tip: Decorating your lounge with abstract art doesn't have to mean paying big money for a Pollock reproduction. There are plenty of young artists selling their art online at more than affordable prices. You can also browse photobanks and look for abstract photos that focus on isolated fragments of reality, detaching the object from its natural context. If you're a photographer yourself, try macro shooting – it's widely considered one of the best techniques for abstract photography.
Source: CanvasDiscount.com
Personalized Prints
Custom photo prints are really having a moment – and in 2022 (and beyond) we're going to see more and more personal photos printed out to be used as wall art. Arguably nothing expresses our personality better than our own photos – and no mass-produced print can compete with photos taken at special moments in our lives.
Tip: To create an effective personalized wall art display, choose a respected provider that specializes in custom printing. We love Canvas Discount – an acclaimed brand that offers a range of print formats at discount prices.
Which Trends Will Be Right for Your Home?
New decor trends pop up every year – and while some prove timeless, others are quickly forgotten. So how do you make the right choice and decorate your home in style, without blindly following the latest design influencers? In the second part of this article, we'll give you some advice on how to incorporate hot trends into your home design.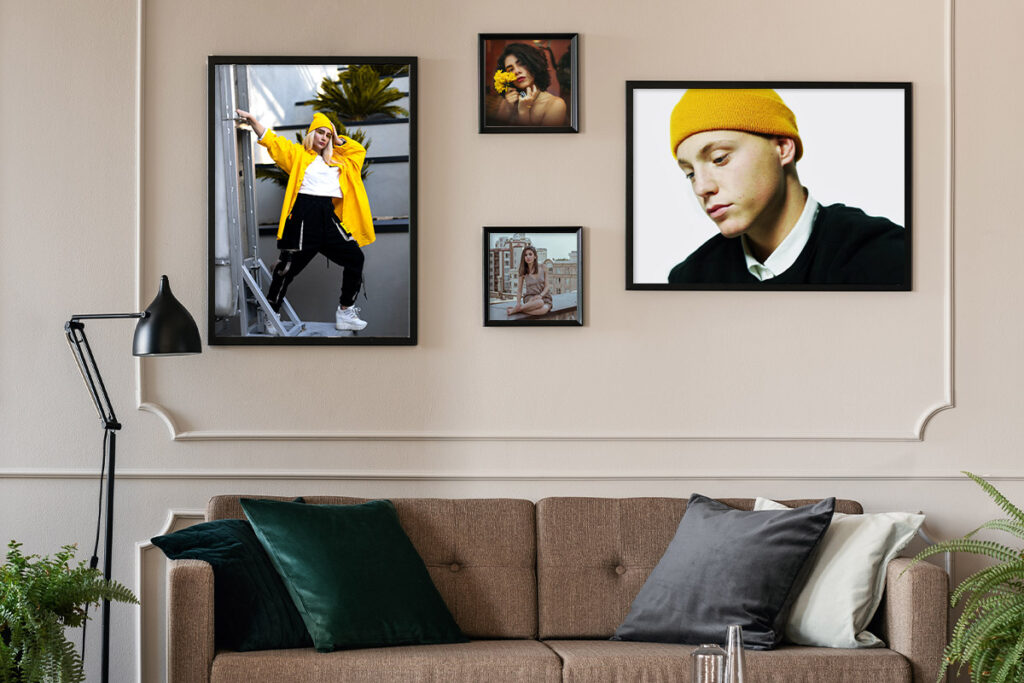 Source: CanvasDiscount.com
Select Meaningful Images
Let's get one thing straight – just because abstract art is in vogue right now, it doesn't mean that you need to cover your walls with it. (Though nothing's stopping you if you just really like abstract art!) The same rule applies to any other wall art trend – there's no sense in trying to recreate a fashionable look down to the slightest detail. The most important thing is to pick prints that you love.
That said, there's no need to ignore the current decor trends completely – after all, abstract art or personalized prints are fairly broad categories, so you can easily find or create images that are fashionable while still being meaningful to you. To give just one example, creating custom photo wall art doesn't have to mean taking the photos yourself. You can also choose photobank images which represent places or concepts with special significance to you.
Scale Your Space
It's important to consider the amount of space available before making the final decision on your future wall art. The rule is simple: go big if you have a whole wall to play with; keep to smaller pieces if you're working with limited wall space.
But note that you can also fill a large wall with a number of small and medium-sized prints displayed as a gallery wall. Or you can go really big and choose just one extra-large print that works as a standalone statement piece.
Display Your Wall Art Like A Pro
Source: CanvasDiscount.com
It's worth thinking carefully about all the details of your future wall art arrangement. Where are you going to hang the prints? Will there be any additional decor features? How should you set up the lighting for your statement wall? These are all vital questions that you'll need to get settled before opening the toolbox.
One simple but effective guideline: display prints at eye level. Of course, if you're creating a gallery wall, some of the features will inevitably end up higher or lower, which is fine in this context. But don't forget to leave a few inches of breathing space around each feature.
Final Words
Getting some new vibrant prints up on your walls can be a wonderful mood lifter. And if you choose bold and adventurous images for your wall art, ones that you feel a real connection with, they're sure to rock your interior design. It's safe to say that the biggest wall decor trend for 2022 and beyond is uniqueness – so dare to unleash your creativity and create amazing personalized wall art features that are genuinely one of a kind!