Living room design and decoration are integral parts of any interior decoration project. Homeowners always prefer the best-suited living room design that reflects the overall personality of the owners. It should not be neglected and especially living room ceiling designs must get attention in detail.
The ceiling is as important as other walls or sections in your living room space. Your fifth wall should be more attractive than the other 4 walls combined.
We say this because the ceiling in your living room gives you a great opportunity to express yourself however creatively your preferred interior design theme permits. If you love to play with colors and enjoy adding interesting details to your house, there are plenty of ideas to do that even on the ceiling space
If you want to make a statement using novel ceiling ideas select one from a variety of styles that can help your ceiling look a little more dramatic. Check out these ideas at The Architecture Designs.
Living Room Ceiling Designs
Design False Ceiling For a Customised Look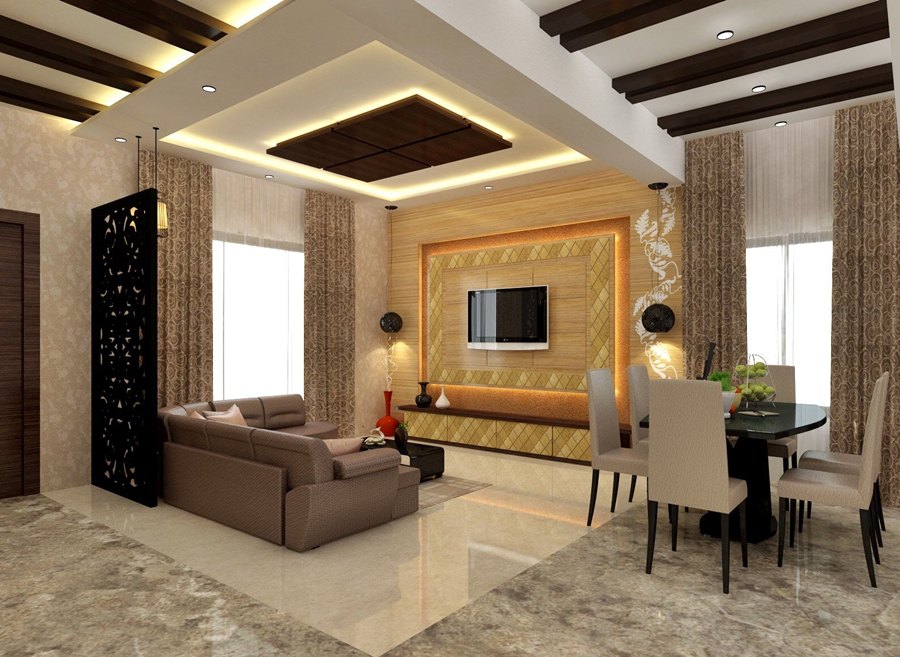 source: pinterest.com
False ceilings are popularly known as POP ceilings. They are highly customizable and attractive. It is an ongoing trend to set up false ceilings and install LED lighting in them to finish the overlook of the ceilings.
Gypsum boards can be cut and decorated in a variety of ways. You can add a fantastic color paint or attach a wallpaper to finish the look. Curate the look with these false ceiling decor ideas according to the interior style of your home.
Opt For Colorful Light Fittings On the Ceiling
Are you confused to install which lights will suit best for your living room ceiling, we suggest you opt for colorful lighting. If you choose pink lights, we approve of your idea as these colors add interest and charm to the living room.
Shades of pink or any decent color can go with the ceiling designs as they always complement other colors. Choosing an eye-catching or artistic piece makes the space more interesting. It also allows you to convey a subtle message without having to fully commit to a time-consuming design concept that can't be modified very easily.
Chandelier In The Living Room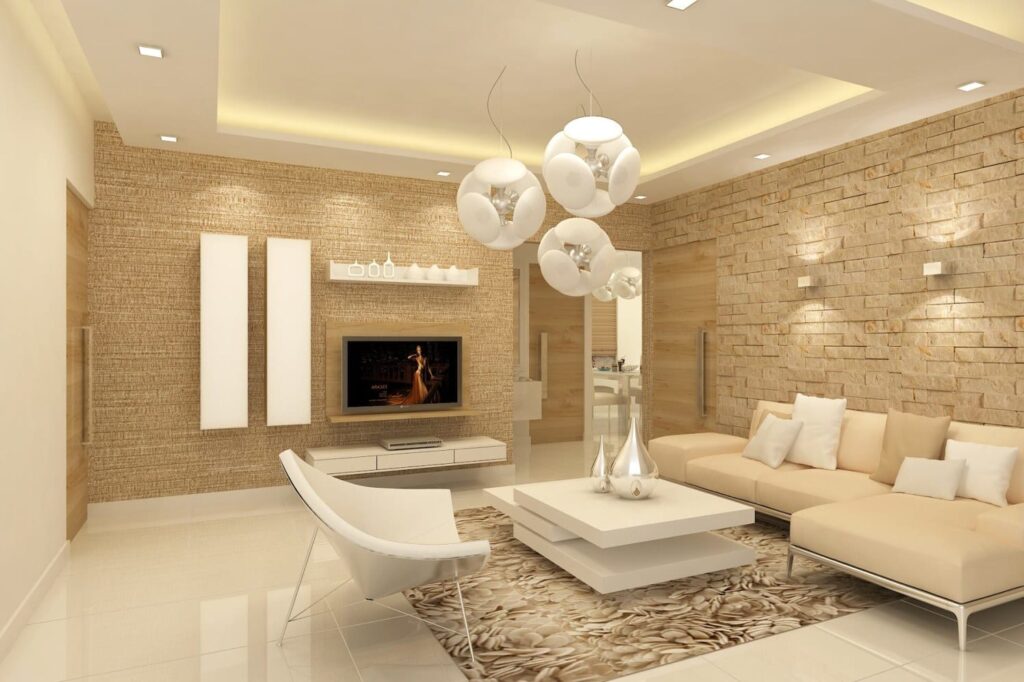 source: pinterest.com
Lighting can improve any house or location. Therefore you should choose it correctly. Generally speaking, living room lighting needs to be both bright enough to illuminate gloomy winter days and soft enough to foster a cozy atmosphere. However, the light you choose should enhance your style rather than detract from it.
If your ceiling height allows you, you can have a chandelier. It will look best in the living room. Installing a chandelier in your living space is a good investment as a part of home improvement. The sense of vastness it adds is fantastic. At the same time, flush mount lights that are set flush against your ceiling are a smart option if height is restricted and take up much less valuable headspace than a pendant.
Use Wood Smartly To Cover The Ceiling
The rustic decor style is a favorite among interior decorators in 2022. Create a classy look for the living room ceiling with the help of wood and connect with nature by applying rustic decor. Your home decor. A coffered ceiling design looks best with the use of wood.
Some of the most popular materials for ceiling decoration include teak, red oak, white birch, and cedar. They are highly cost-effective because they are both long-lasting and simple to maintain.
Add Wallpaper To The Ceiling
source: pinterest.com
The option to be eternally creative is offered by the ease of replacement and maintenance of wallpaper. The living room ceiling with wallpaper design will seamlessly fit into any theme you choose, regardless of the season.
Consider the color schemes and aesthetic of your living room, similar to how you would when matching the furnishings in any other area in the process of home improvement. 
You Can Add A Ceiling Stripe
A ceiling stripe is a wide stripe that runs through the ceiling and makes your living room look wider. A beamline at the center that stretches along your ceiling and down either side of your wall will extend the height and width of your ceiling.
Just keep in mind to strike the perfect balance between the thickness of the stripe and the appropriate paint color for your space. When you begin, gather supplies like dust papers, carpenters' tape, and step ladders, which are all available easily online.
Vault Your Ceiling 
source: pinterest.com
A vaulted ceiling will create an illusion of height. Your living room will further get a vintage look with the help of a vaulted ceiling. When the beams from the walls and roof bend up and come together in the middle, the ceiling has a peaked appearance. It may make your room appear light, fascinating visually, and simply stunning.
Try 3D Designs And Patterns On the Ceiling
It is not necessary that your living room ceiling should have a flat surface. Make it interesting using 3D patterns. You may select a wavy design for the ceiling that will create a shadow. This will add depth to your living room and you will find joy to see the playful shadows during the sunlight.
Color Your Ceiling With Playful Colors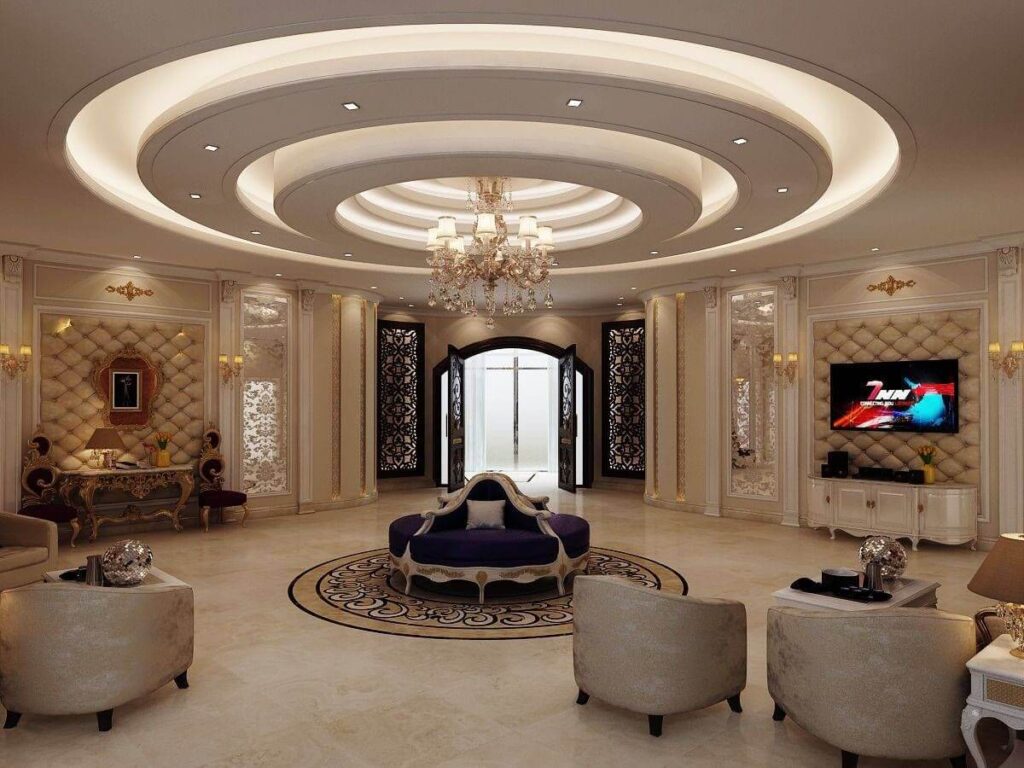 source: pinterest.com
Like every wall must have vibrant colors, your living room ceiling also deserves a beautiful color that will make you feel adventurous. The suitable paint can wonderfully integrate your walls and ceiling to provide a feeling of flawless cohesiveness. Choose a color that complements or matches your living room interior, and change the ceiling into the 5th wall of the living room!
Final Lookout
Furnishing the ceiling is often seen as an experimental choice in the home improvement process. However, ceiling ideas do not always have to be big, bright, and impressive, they can be just as simple as choosing a gorgeous wall sconce or upgrading traditional elements in the room.
Considering the ceiling in your design concept for your living room will help you think imaginatively about color, pattern, brightness, and material while adding a distinctive degree of visual interest to a surface that is typically overlooked. Use one of the design ideas and start decorating your living room like a pro!