Decorating a children's room can be easier said than done. While you want the room to be fun and colourful, it's also important that it's practical and there's enough storage room for clothes, toys and books. As well as that you want to design a room that your kid will grow into and wouldn't want to change for at least a few years. 
The key to designing the perfect bedroom for a child is keeping the furniture basics simple, allowing for plenty of storage and utilising all possible space. Children change their taste every hour, however, this shouldn't stop you from designing a room that's both fun and functional. 
Here are some of our top tips at The Architecture Designs for decorating a kid's room that your child will love. 
Consider functionality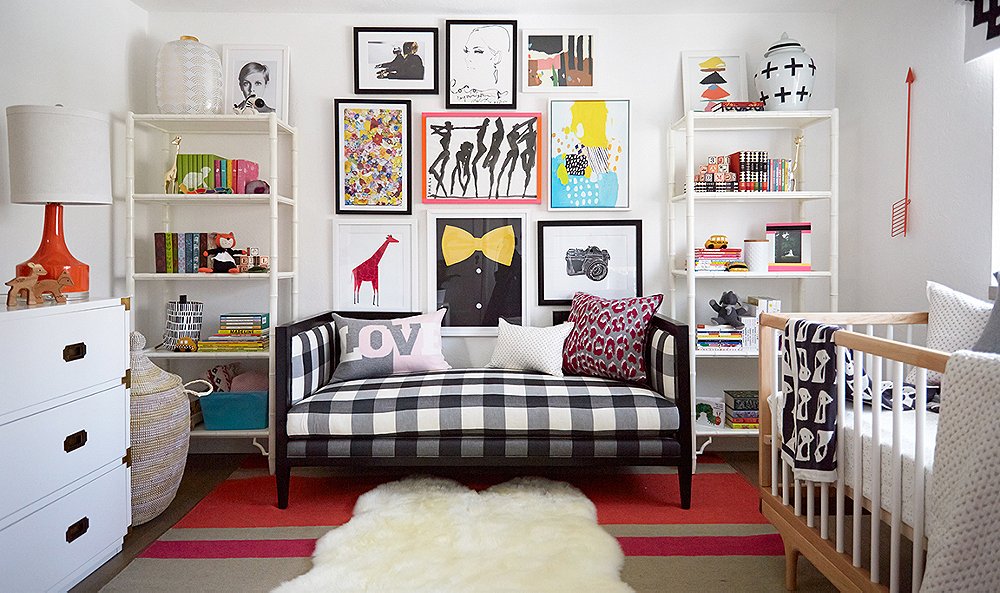 source: pinterest.com
It might be tempting to build the most intricate tree house bed with indoor swings and what not, but you have to remember that functionality is key. While it seems like a good idea to have a unique furniture design that will be fun for the child, the last thing you want is your toddler getting hurt by falling down the stairs in the morning or rolling off the bed in their sleep. 
You can design a child's room that's still fun by choosing furniture with an interesting design that's practical and kid-safe. On the topic of furniture, try up size from the get-go if you have the space. For instance choose a double bed instead of a single as your child will be able to use it all the way through their teenage years. 
Work with a Tonal Palette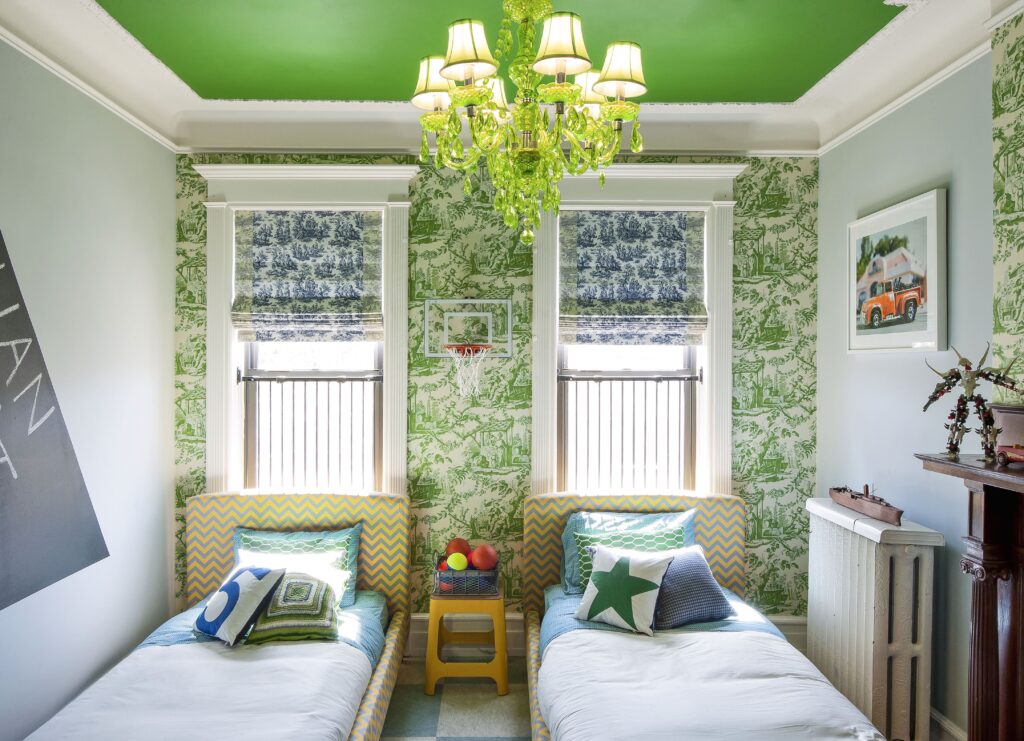 source: hearstapps.com
A lot of people like to go for bright bold colours when painting their child's room in order to make it look a bit more fun. However, if you want to design a room that your child will love even as they get older you can choose a tonal palette in the same colour family. This way you can create a calm and welcoming environment in the room while still having a couple accent colours. If you want to keep things on the fun side you can try an unconventional approach and keep the walls fairly neutral tones but paint the floor or ceiling a brighter colour to bring in some energy and depth in the room. 
Think About Storage
Like we already mentioned, practicality should be your priority when designing a kid's room. When planning for storage make sure that there's enough of it. Clothes, toys, school supplies… You'll have to consider where all of these will go in your kid's room so you don't end up with a mess on the floor. One of our favourite solutions is creating a built-in storage. 
Make Use of Every Corner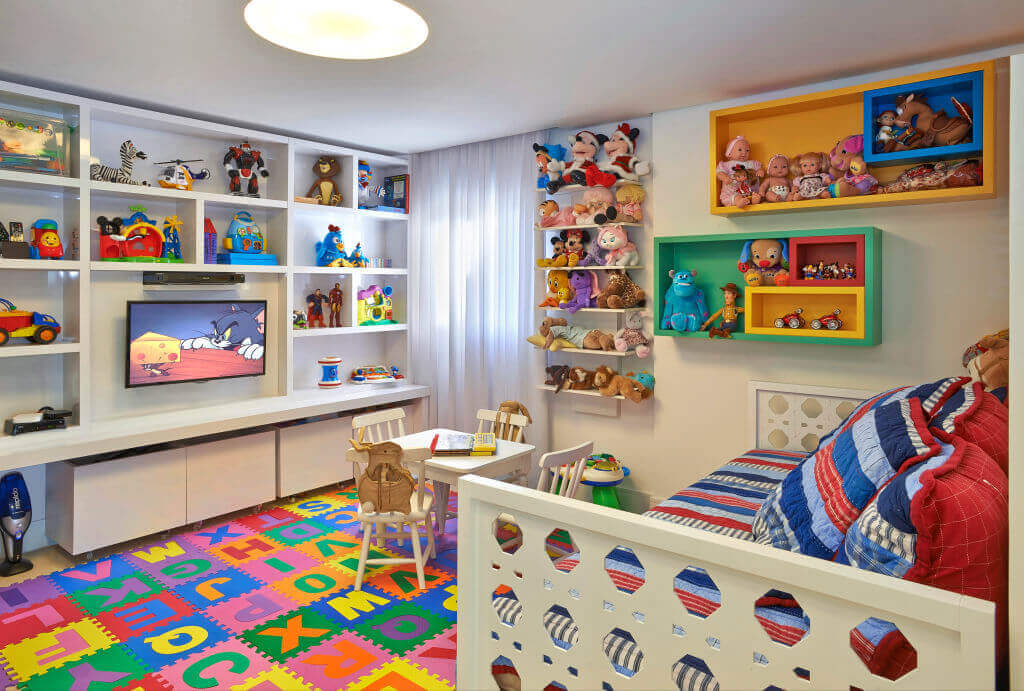 source: kreatecube.com
Depending on the size of your home, it's not uncommon having to transform the attic for a kid's room. This can leave you with an oddly shaped room layout, so you'll have to use every possible corner by finding a use for it. Perhaps you could turn it into a reading nook? Or a small built-in cupboard for toys? Or maybe a playing area? 
Don't Be Afraid of Muted Colours
Obviously, you want to make your kid's room look as bright and childish as possible, but that doesn't mean you should completely avoid muted, 'adult' colours. A deeper darker wall colour can create a room that looks sophisticated but is still visually interesting. Colours that are particularly good to use are deep forest greens, ochre or a deep navy. The darker wall colour can also allow you to experiment with lighter coloured furniture. 
Have a Fun Theme for The Decorations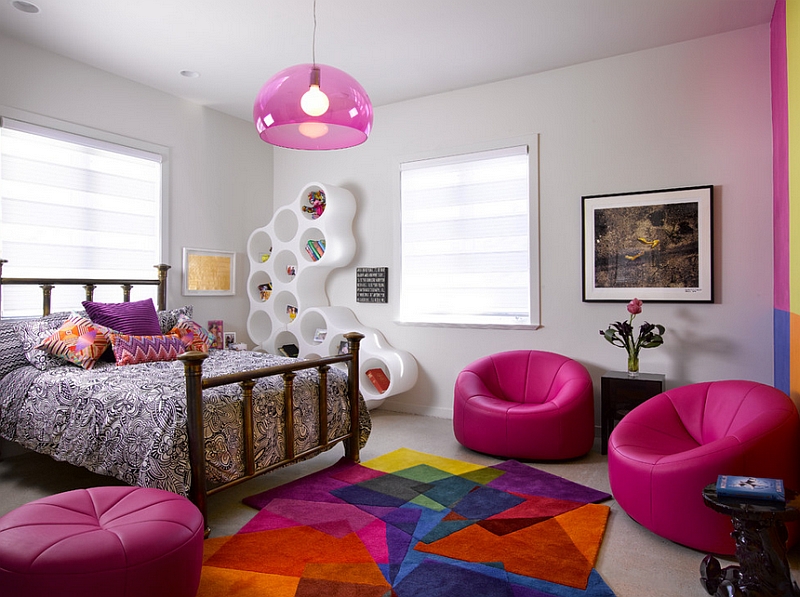 source: decoist.com
The great thing about decorating children's rooms is the fact you can have a fun theme that fits your child's interests. For example if your kid loves wildlife you can have different animals, flowers, or trees as decorative elements around the room such as wall murals, cushions, stuffed toys, etc. 
Incorporate Your Child's Ideas
We know children can be rather ambitious with their ideas and expectations, but you should still try to work around their visions (as long as they're within reason). After all, we all want to make our children feel happy with their room and have a space to dream, play and grow in. 
Create Separate Spaces in a Shared Room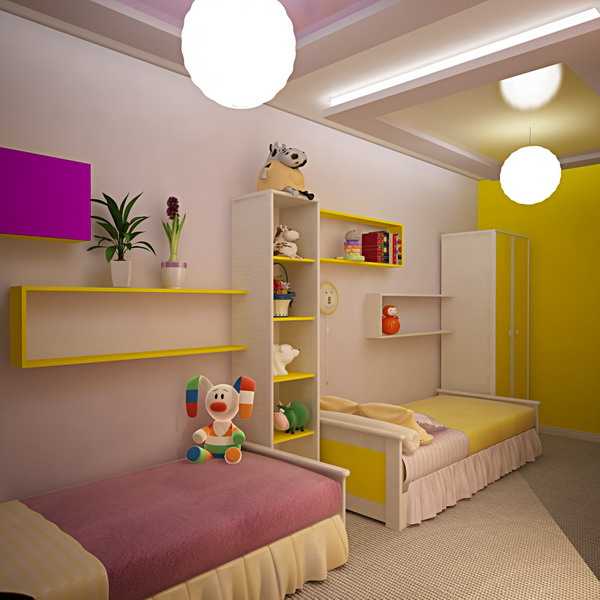 source: lushome.com
If you children have to share a room it can be tricky to create a space that everyone is happy with, especially if space is a limitation. Bunk beds are a great idea for a shared room because they can fit in smaller rooms and still allow some degree of privacy.