Sipping cool drinks by the pool is a favored pastime of a lot of people; however, many people pass up the chance to install a pool, particularly an above-ground pool, due to how it may not integrate well into the landscaping. Inground pools are often easier to integrate into a yard, but the cost of installing an inground pool is often a deterrent for many, as is the repair to your yard after the large equipment needed is gone.
One needn't give up the dream of a pool in their backyard just because an inground isn't a possibility. Above ground, pools can look just as sleek and add appeal to your landscaping as well. The following ideas supply quite a few impressive above-ground pool ideas to get both the poolside atmosphere and yard classiness you desire.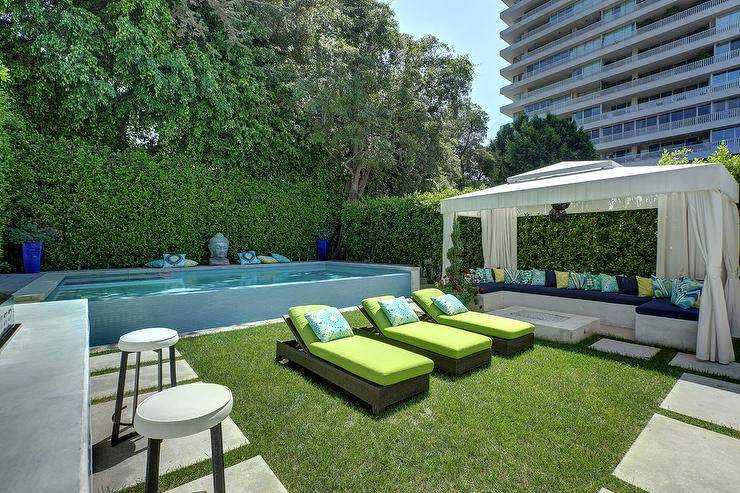 Take a look at these above-ground pool ideas that are going to make your pool area more beautiful, comfortable, and, most of all, fun. Whether you're looking to create a refined spot for the adults or a place for the kids to hang out, you'll get many concepts here on how to make it sensational.
Stock Tank Pools
If you want an inexpensive pool for your backyard, the way to go is a stock tank pool. These steel above-ground wonders became increasingly popular over the last couple of years thanks to hundreds of photos on Instagram. People quickly noticed how appealing these smaller pools look in people's backyards, and the trend totally caught on.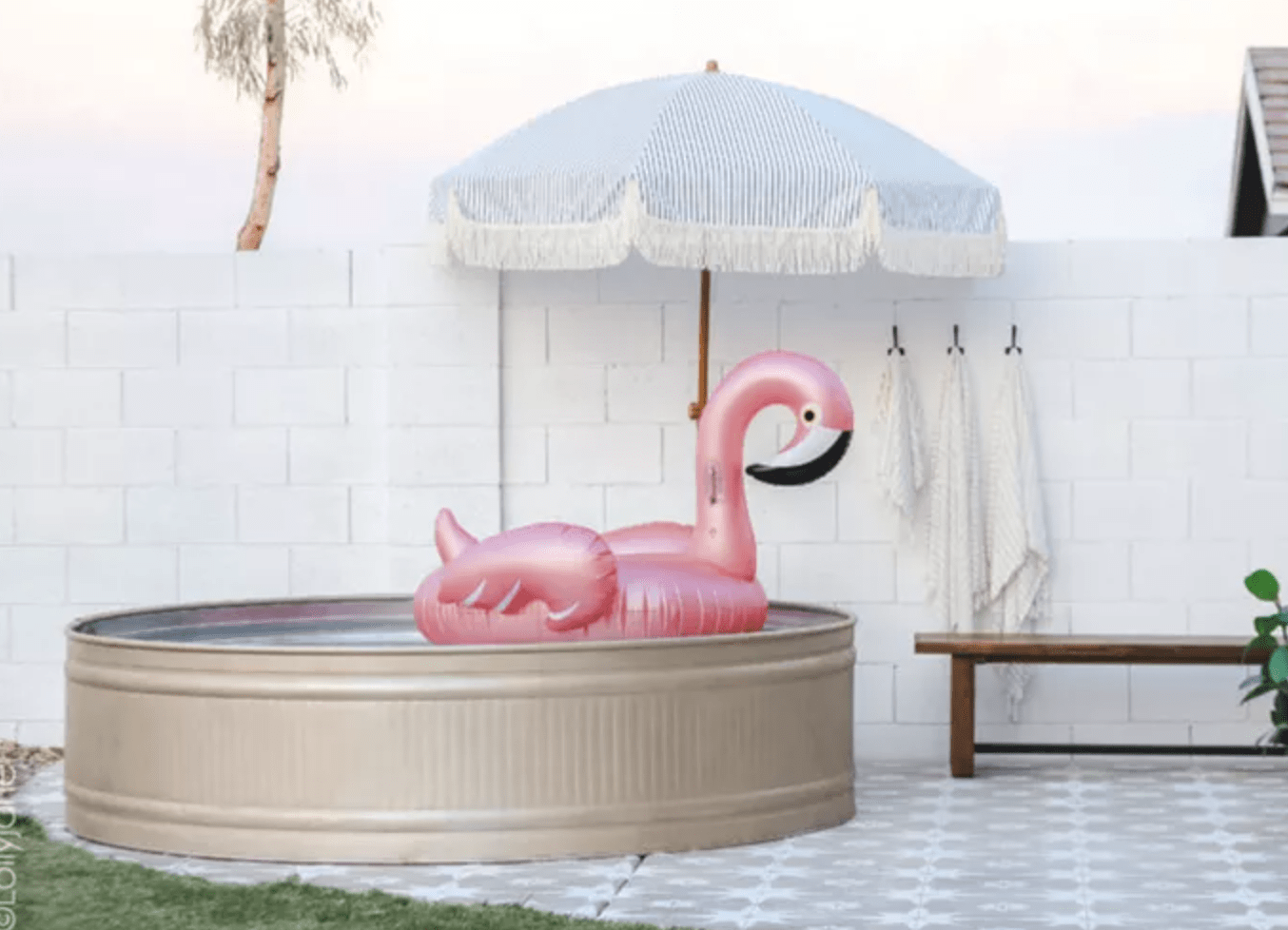 Add some privacy and color by adding a colorful mural by your above-ground pool. Metal has been put up with a wooden frame, and then a primer coat of paint was added. Then the simple mural was painted. Some modern pool loungers and potted cacti make the space complete.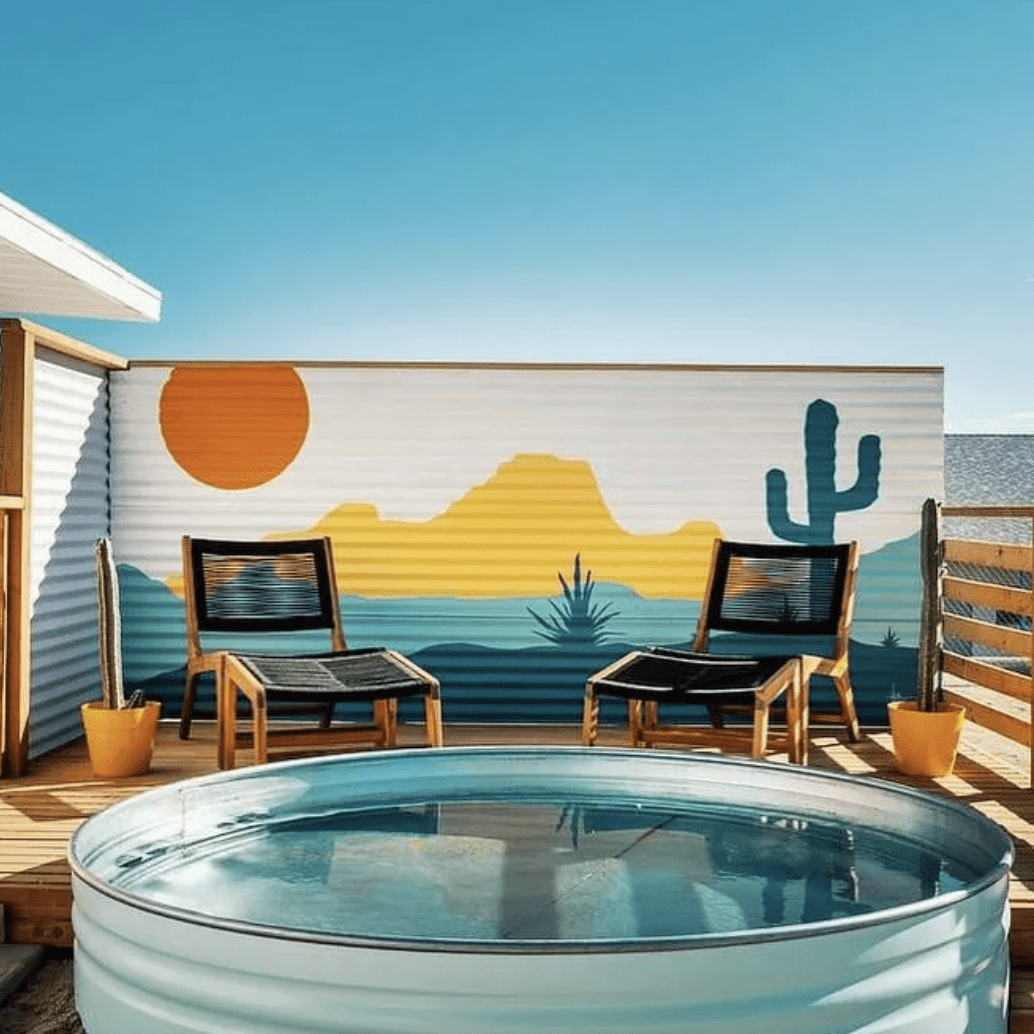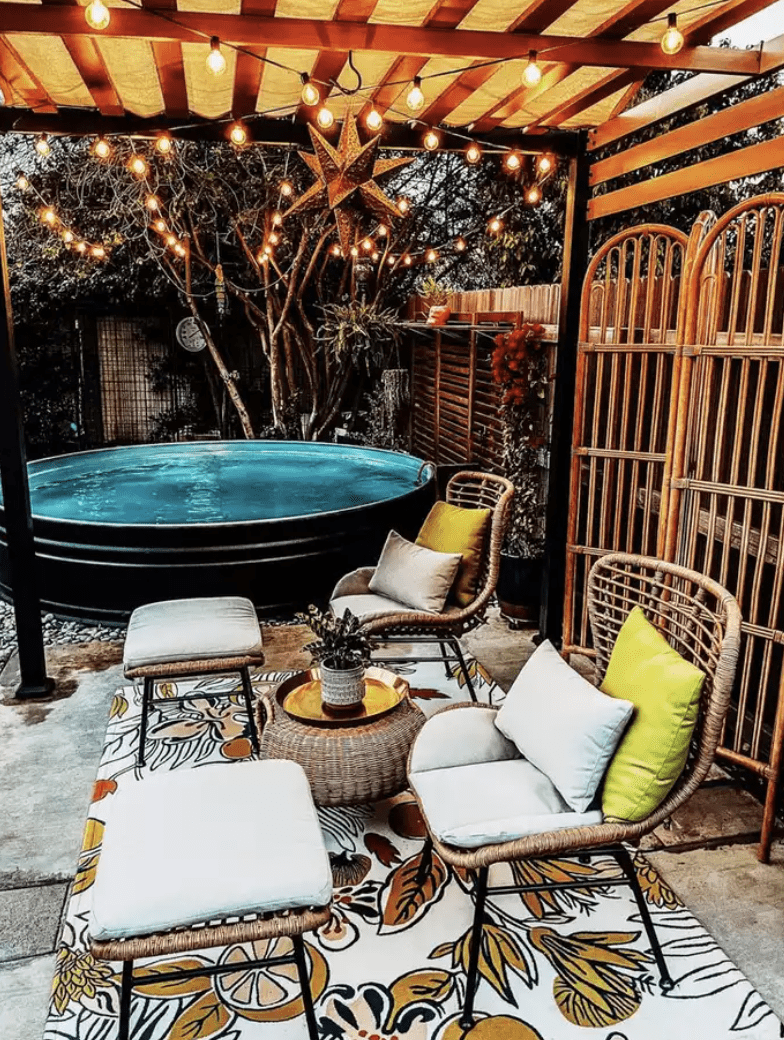 This reflective oasis starts with a stock tank with the sides covered to match the surroundings. A walkway takes you through the lush garden with plastic pink flamingos. A partial deck is built around the pool, providing you with some places to sit and unwind.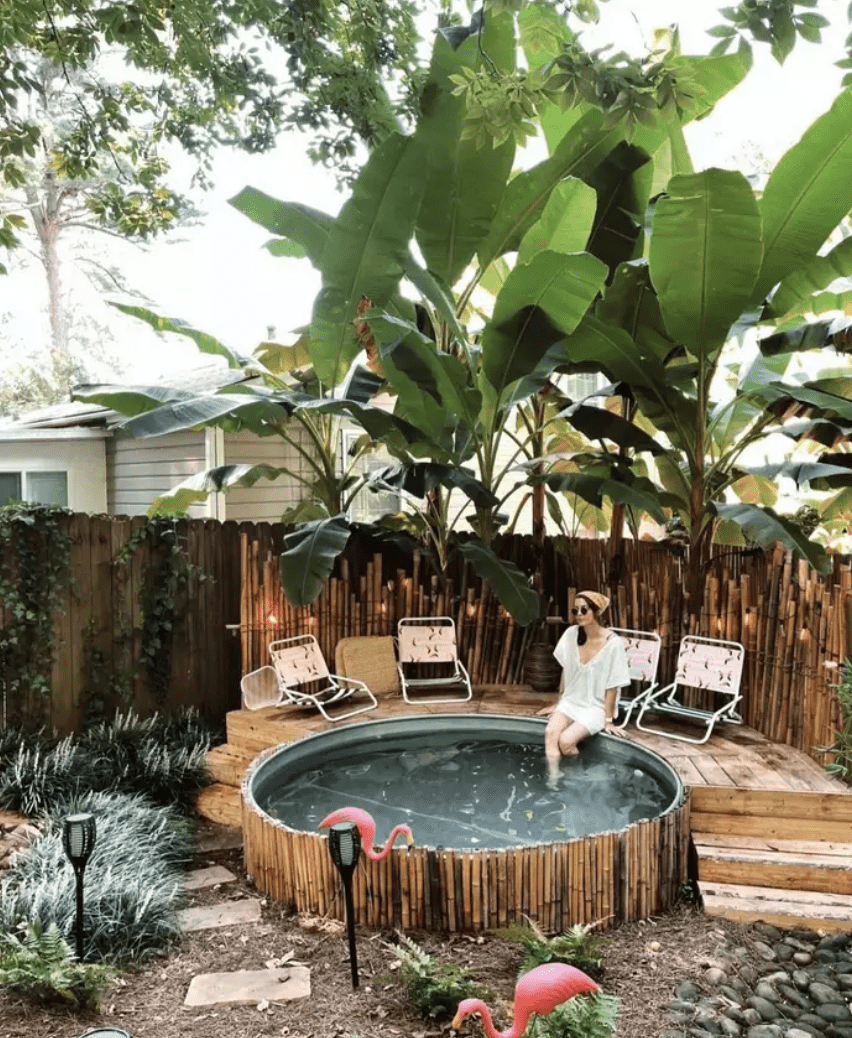 You'll have lots of fun in this backyard! A stock pool is encircled by some gravel and pavers plus a stone walkway to get to and from the house. The back porch has seating and a grill. Looks like it's ready for some fun.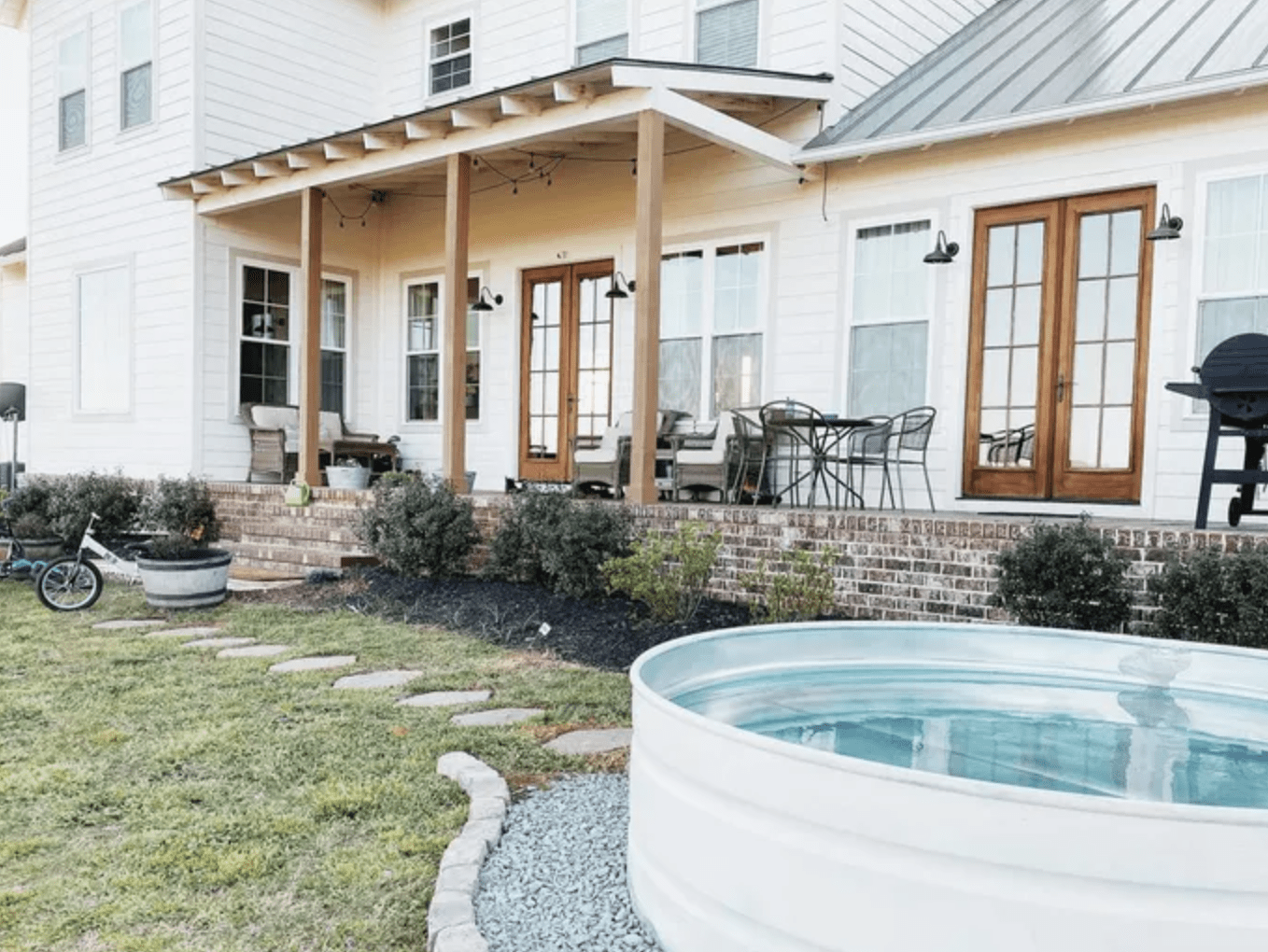 Related: Dream Pools To Lounge By This Summer
A stock tank pool is an effortless solution if you want a backyard pool without maintenance or cost. It needs almost no installation, it's easy to clean, and with a little TLC, it is aesthetically pleasing.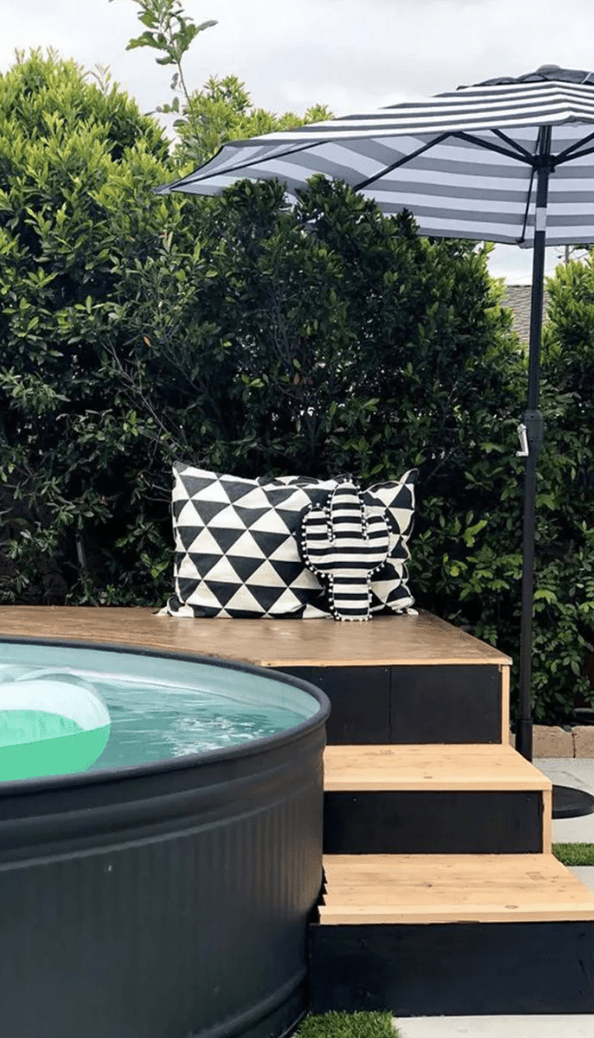 Photo Credit: houseofbutterfield via Instagram
Fake an Inground Pool
Contain an above-ground into your raised deck to deliver an inground feel without the installation cost. This can be done with many existing deck heights and pool styles and gives you plenty of space to sit back and enjoy.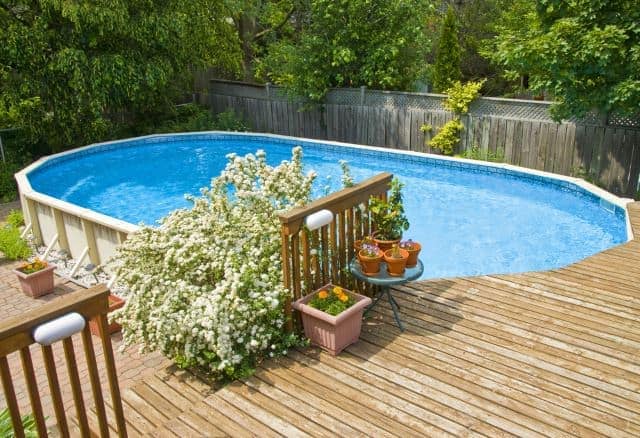 Even if your pool was an afterthought, you could still install it close to your deck to provide an inground feel. With the proper plants and greenery on both your deck and yard, creating the proper place for rest and relaxation is a reality.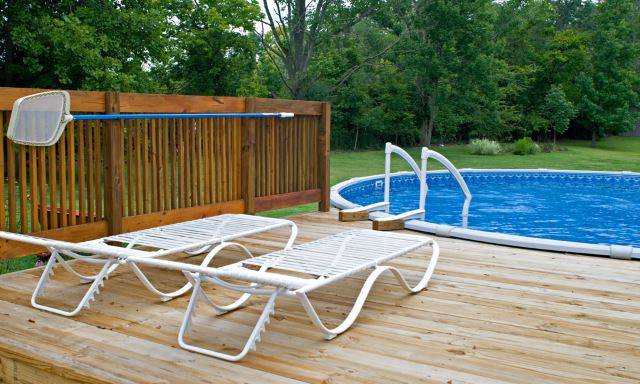 It's All About the Deck Details
Why not build a deck around your pool to provide a place to lounge and a more natural way to blend it into your surrounding hardscape? Poolside patios and lighting can complete the look for an excellent entertainment spot.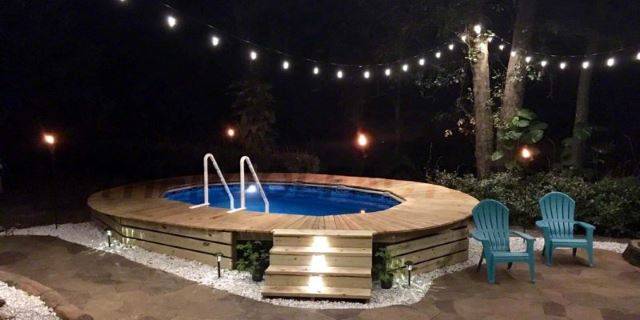 Make a Brick Walkway
No need to leave the space around your pool empty. Lavish brick walkways with room for lounging easily incorporate your pool into your yard design. Add in a few oversized planters and bright flowers to complete the look.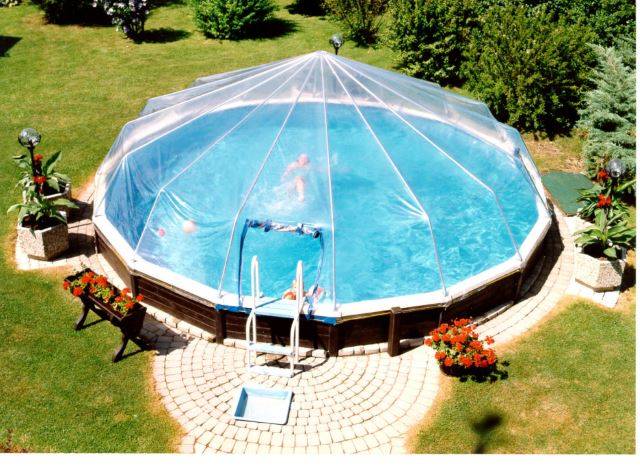 Relax and Enjoy
This above-ground pool is surrounded by relaxing places to sit, eat, and entertain. The long table is surrounded by floor cushions and blankets, making it comfortable even in colder weather.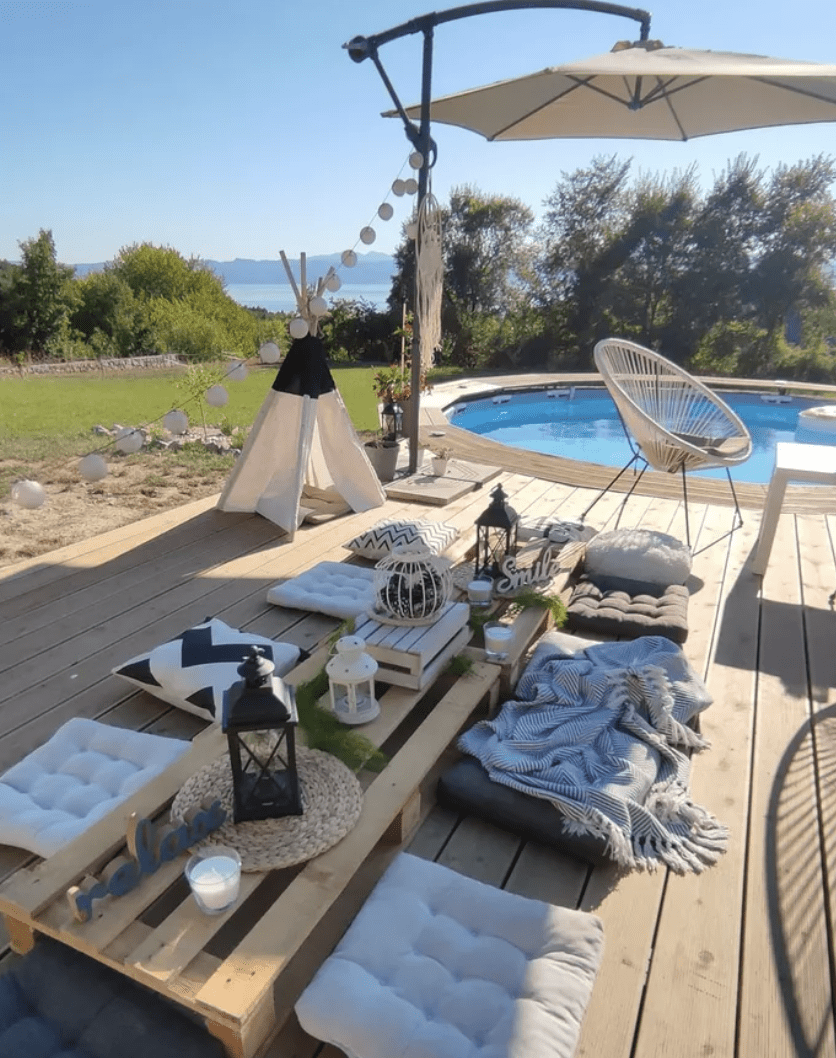 Go for a Stone Wall
For a high-end look, this above-ground pool features a stone facade that's illuminated by garden lights. A nearby deck features a pizza oven that's perfect for a pizza pool party during summer days.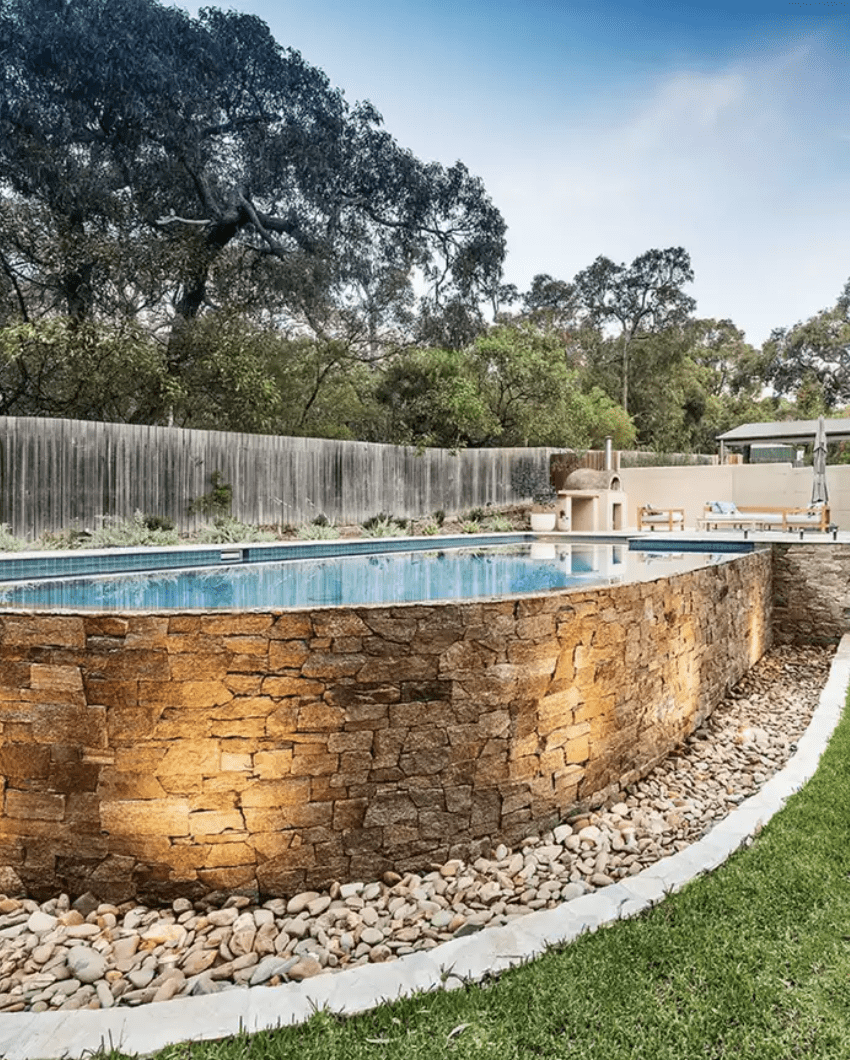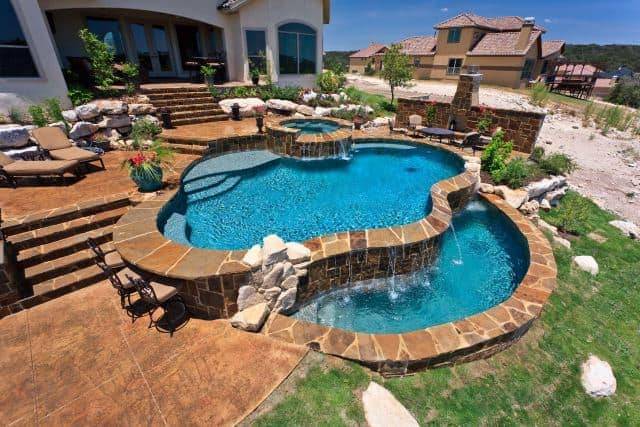 Use a Hill to Your Advantage
Taking advantage of a hillside for above-ground pool forms really is a clever technique if you are willing to put a little bit of foresight into your landscaping design.

Make the Most Out of a Deck
Decks are an extension of your living space, so why not make it a relaxing escape by incorporating a pool into the design? It's like having the country club in your backyard!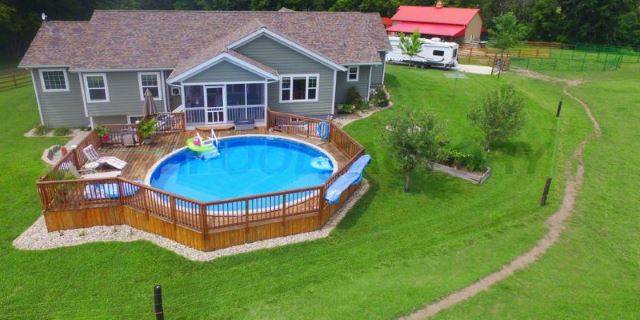 Get Inspired by Nature
Natural-looking pools are all the craze lately, but making your pool look like a natural pond comes with a hefty price tag. Natural stone, neutral colors, and elegantly placed fountains can do the trick for you; just be prepared if you are after a natural look and want to create dimension with stone you may need a large budget.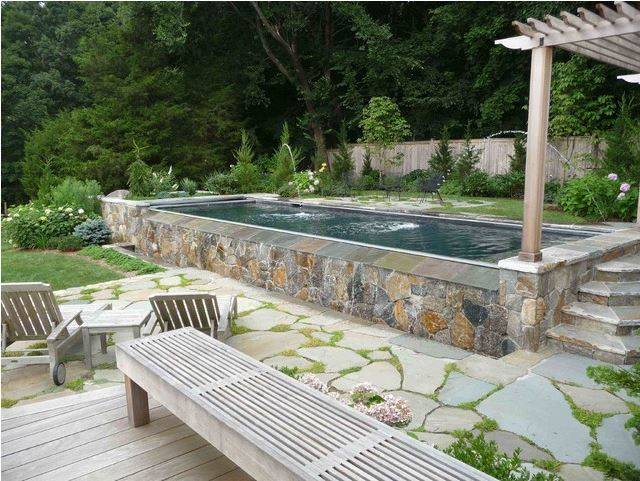 Lap Pools Are The New Above Ground Pool
Swimming is a popular and relatively low-impact way to stay in shape. Lap pools are easy to merge into your home gym but are often awkward looking due to their rectangular shape unless you decide to make it a part of your entertaining outdoor area, like this.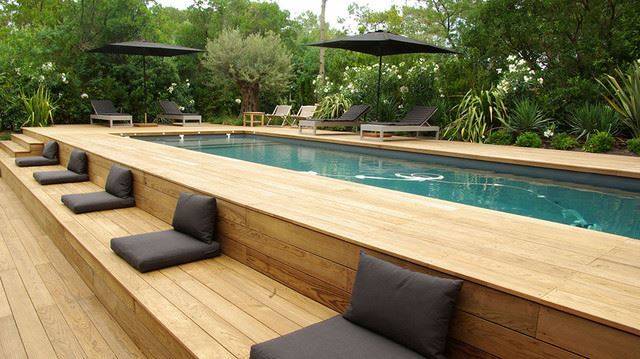 This modern lap pool features sleek tile and LED lighting. These elements are used as part of this modern take on a lap pool to help make it part of the general architectural design and add further attraction to the landscape.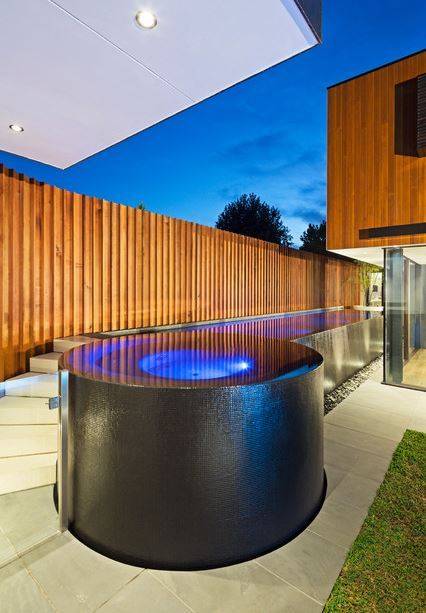 You don't have to have acreage to benefit from a pool of any size. This rooftop lap pool includes a simple waterfall design overlooking the city to provide a modern take on a rustic retreat.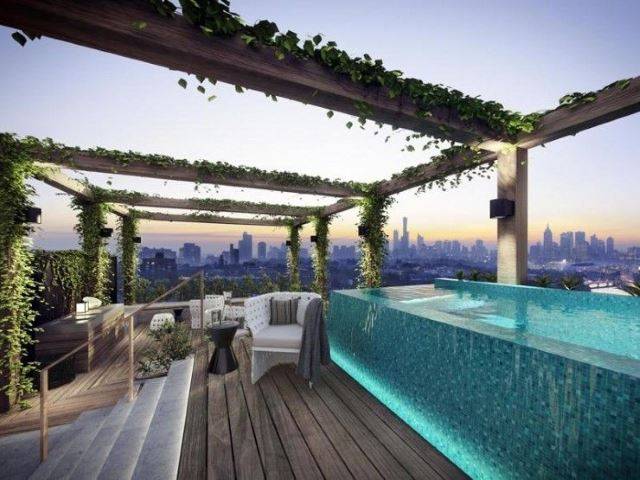 Take advantage of those more undersized backyard spaces by claiming them for both a cooling and pictorial experience. Material mixing and lighting provide a fun atmosphere to enjoy at any time of day.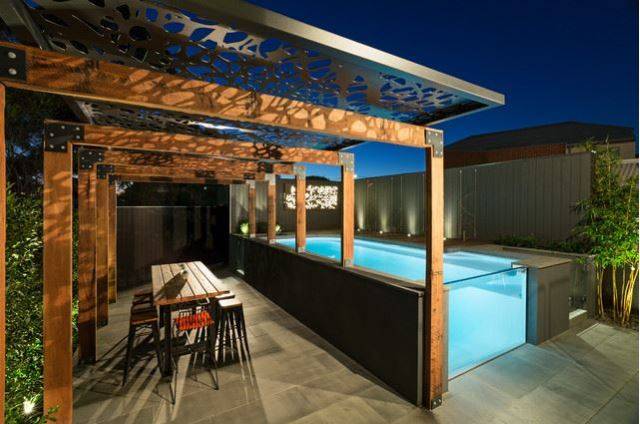 Nature Inspired Design
The stonework on this semi-above-ground pool is reminiscent of an Italian villa. This backyard getaway really has it all. The large potted plants encompassing the pool and the water feature help you get away without ever leaving your backyard.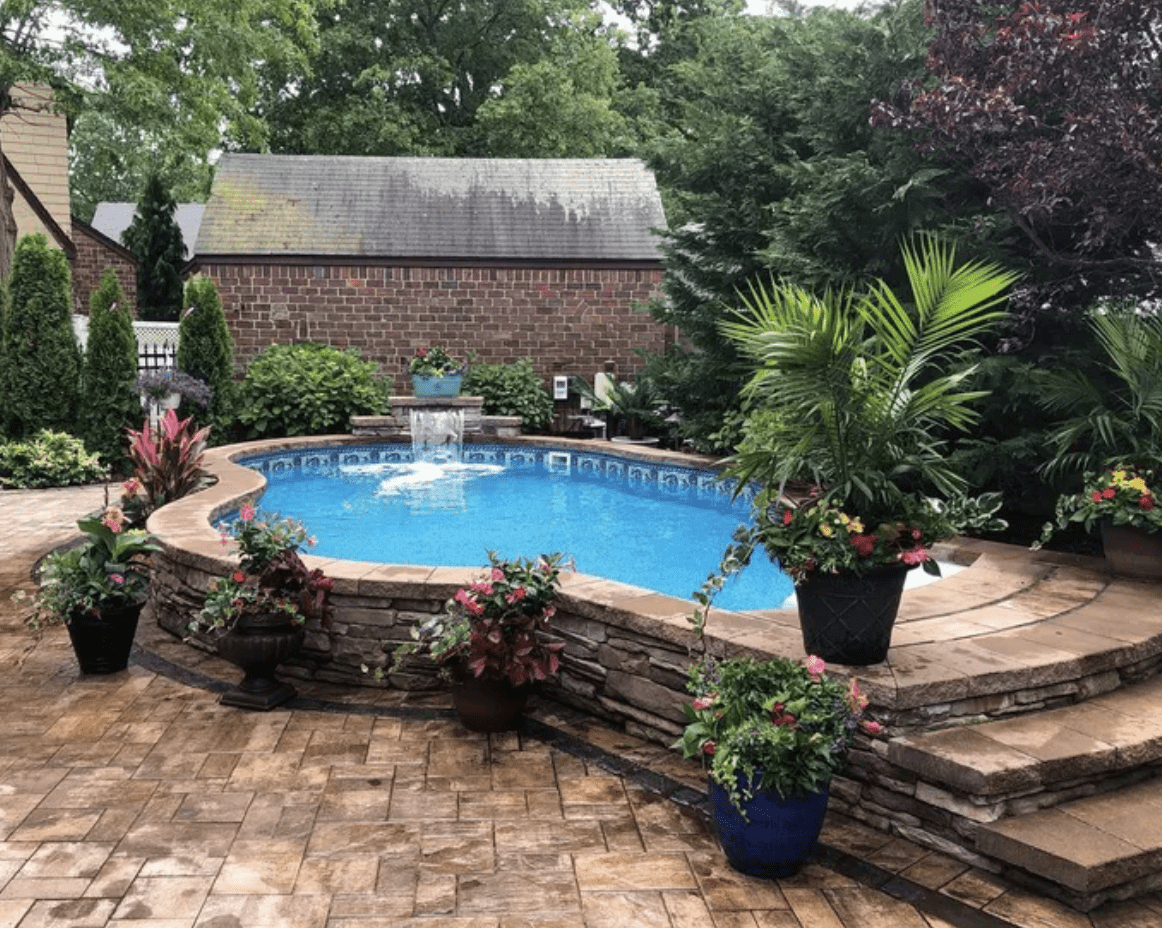 Yet another nature-inspired design, this pool form is incorporated into rock walls and landscaping for backyard enjoyment. Use the pool in a way that it becomes a part of the landscape design and serves more than one function.
Plunge Pools
An above-ground plunge pool is a small, deep swimming pool, typically filled with cold water and used to refresh or invigorate the body after a sauna is surrounded by lush greenery, vines, and a palm tree. Unique light fixtures give light to the pool and some nearby chairs. These types of pools can add to your backyard design if worked in a way that is appealing.
Blend living natural hues in with your pool design to complete a rustic look. These private pools look as if they rose from the surrounding landscape to provide relief from the summer heat.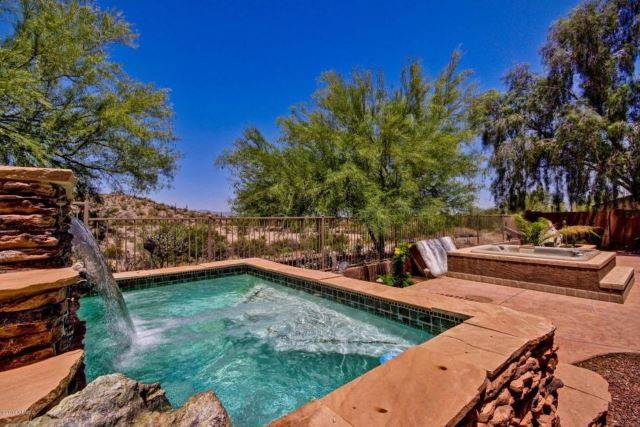 Simplicity with an Inflatable Pool
Who says an inflatable pool can't look good!? If you don't want to commit to an above-ground pool, you can still enjoy an inflatable whirlpool. This inflatable pool is decked out with a wood deck and a privacy wall. String lighting and other accessories really pull the space together.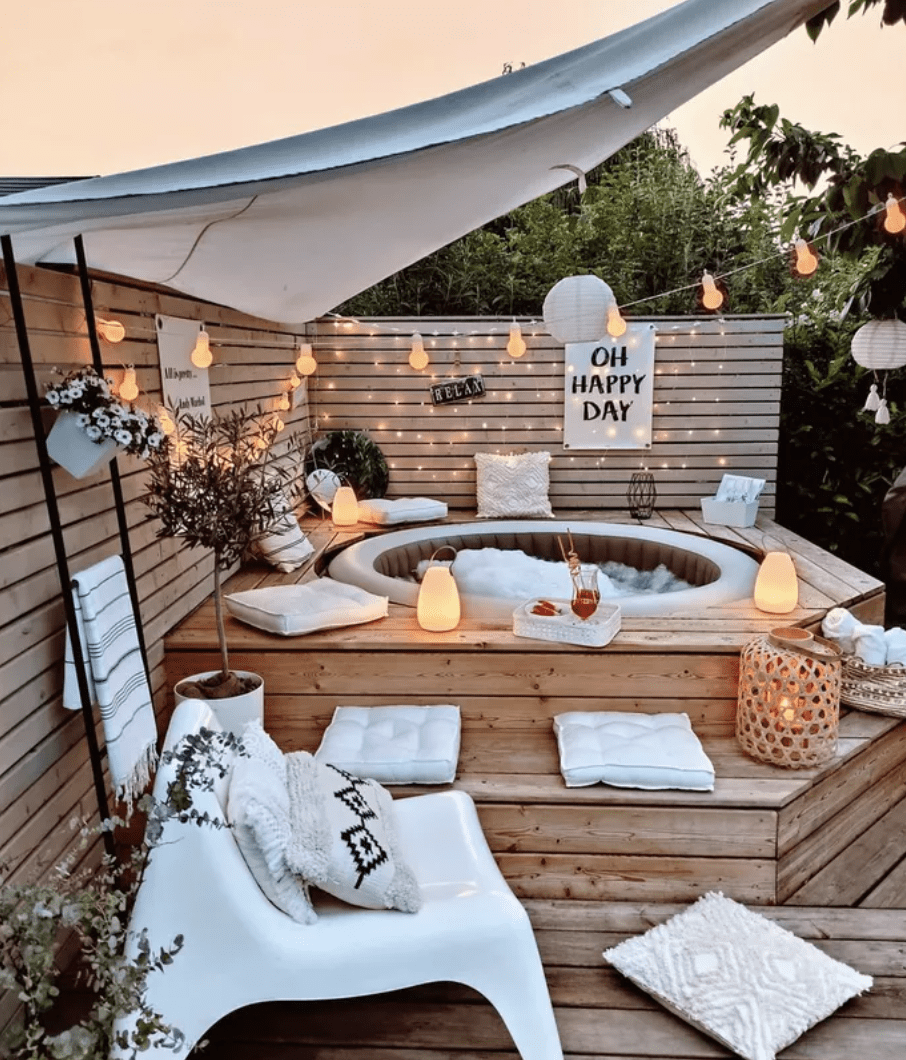 Don't Forget the Privacy Walls
If a lap pool seems like a good idea, why not make it a part of your yard boundary as an elongation of your privacy wall? This concrete design allows for a continuance of the property line while providing a private place to work out and relax.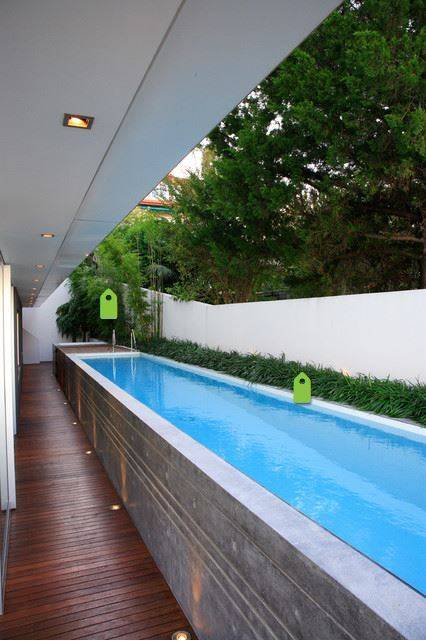 Go with a Large Free-Floating Deck
If you've always wanted a deck off your house, but have lacked the proper design for a doorway, consider creating a free-floating deck within your backyard to contain your pool.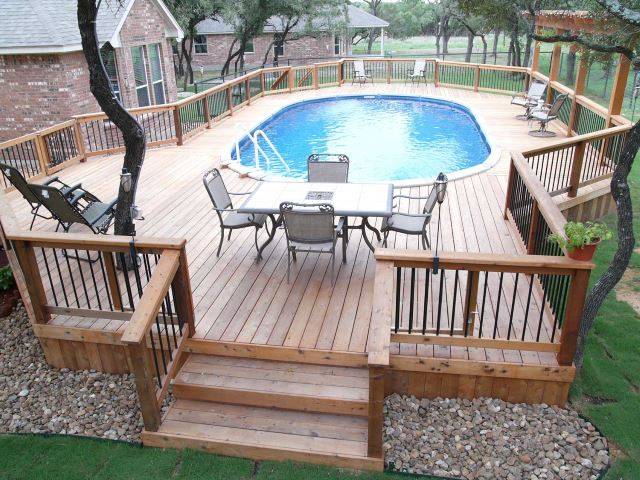 Create a Modern Space
This above-ground pool upgrade is going to take your breath away. The above-ground pool is encircled by a modern cedar deck. Pops of color have been added by incorporating bright blue lounger cushions, and it all has a comfortable yet modern feel to it.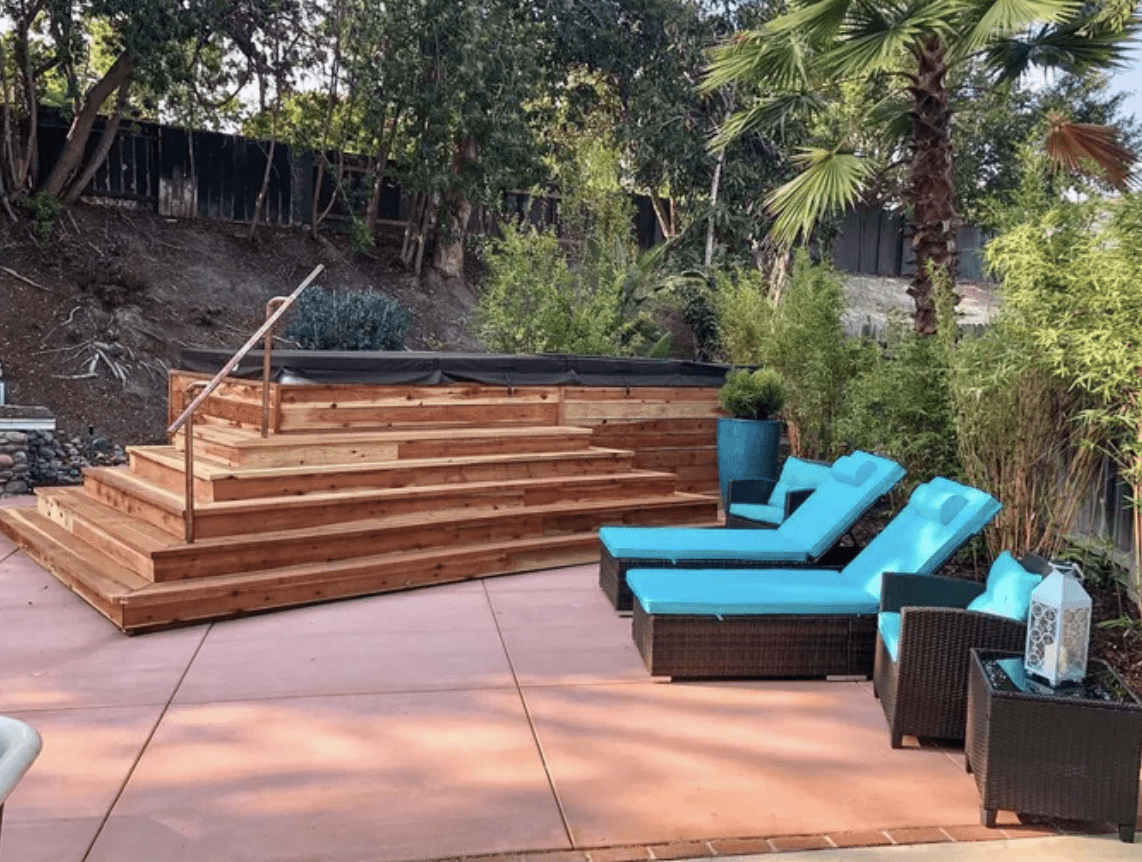 Simple Backyard Getaway
Particular climates just call for a cool body of water each summer. This simple pool has easily become part of the patio walkout with easy accessibility and inviting cool waters.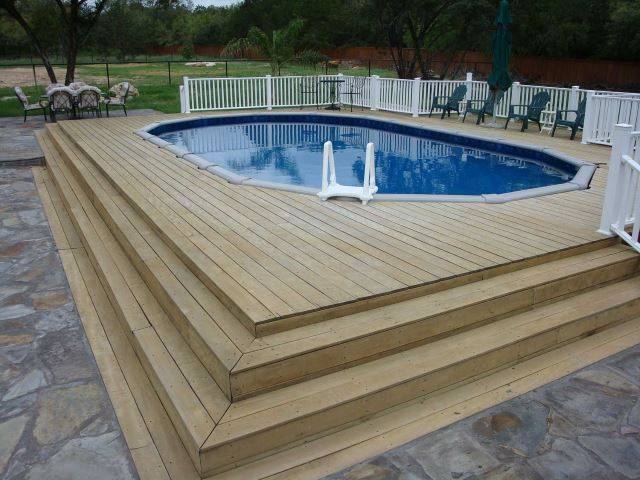 Nothing is worse than tracking dirt and grass into the pool, especially if you have to clean it all out. A deck only supplies so much protection, but stone walkways can protect both your pool and wet feet from picking up even more debris traveling to and from the water.
A Serene Retreat
An above-ground pool is great for swimming and unwinding and can also serve as a lovely garden feature. This above-ground pool by Brothers Three Pools features a large water feature, a stone front, plants, lighting, and large round stepping stones.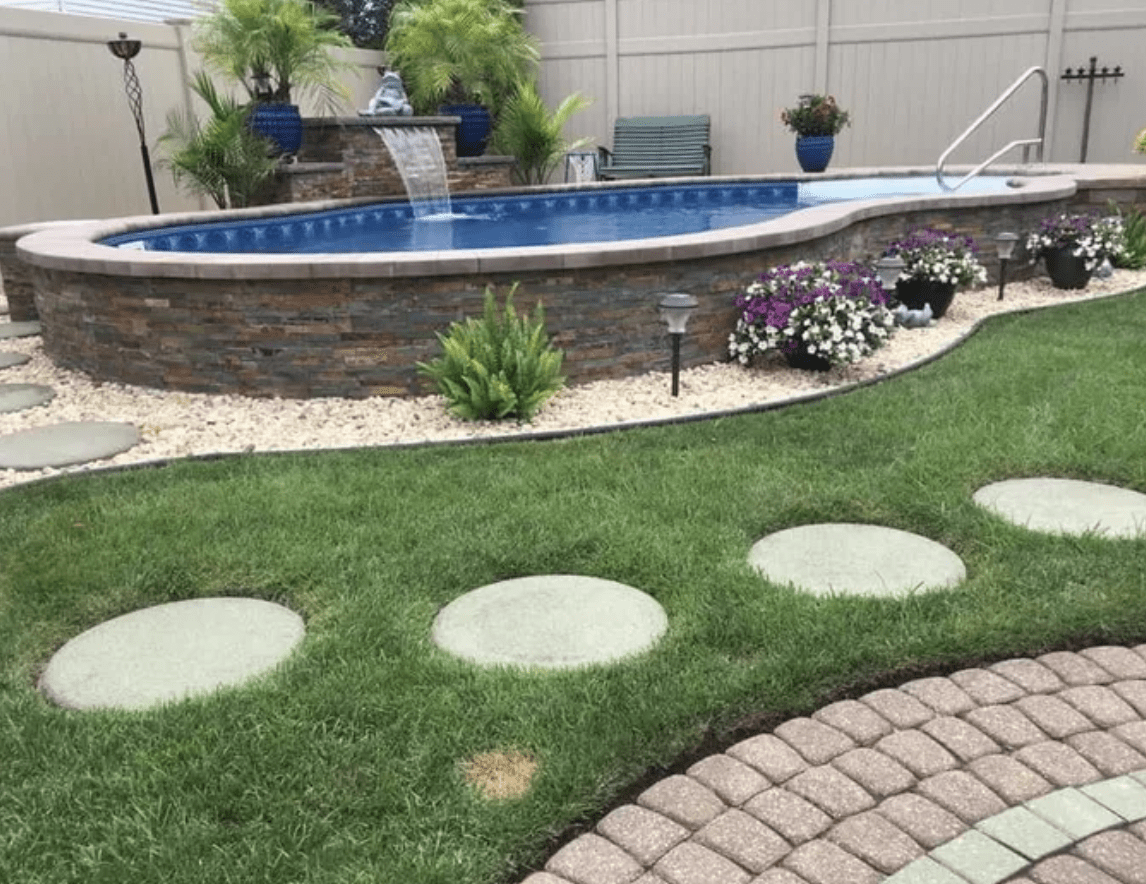 Mediterranean Vibe
Achieve the look of the Mediterranean in your backyard with the clean lines of white stucco, red-tiled roofs, and lifelike hues of rocky cliffs surrounding clear blue waters.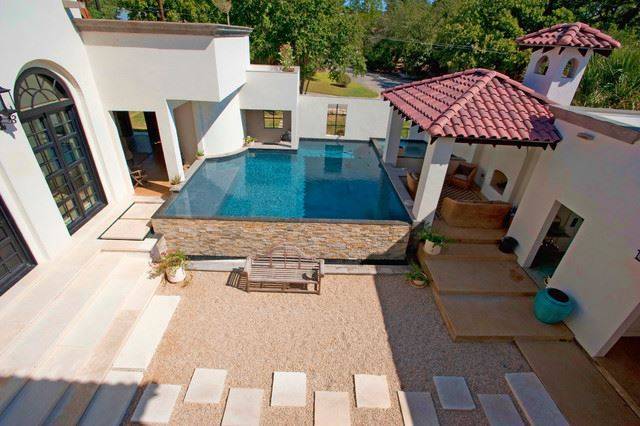 An Oasis in the Desert
Nothing is more invigorating than a body of cool, blue water in dry desert terrain. This distinct pool has the added appeal of a plexiglass retaining wall to emulate the house's architectural design in the background and deliver a better view of the surrounding desert colors.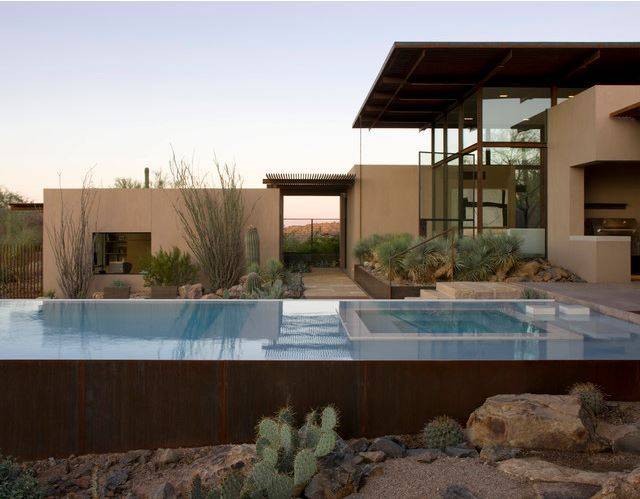 Encircled with Brick Pavers
This above-ground pool has been set in a corner of the yard and has a remarkable deck made out of pavers. A wooden walkway gives you a spot to enter and exit the pool. Mulch and a wide assortment of plants and flowers surround the pool. This makes for a very comfortable place to take a dip.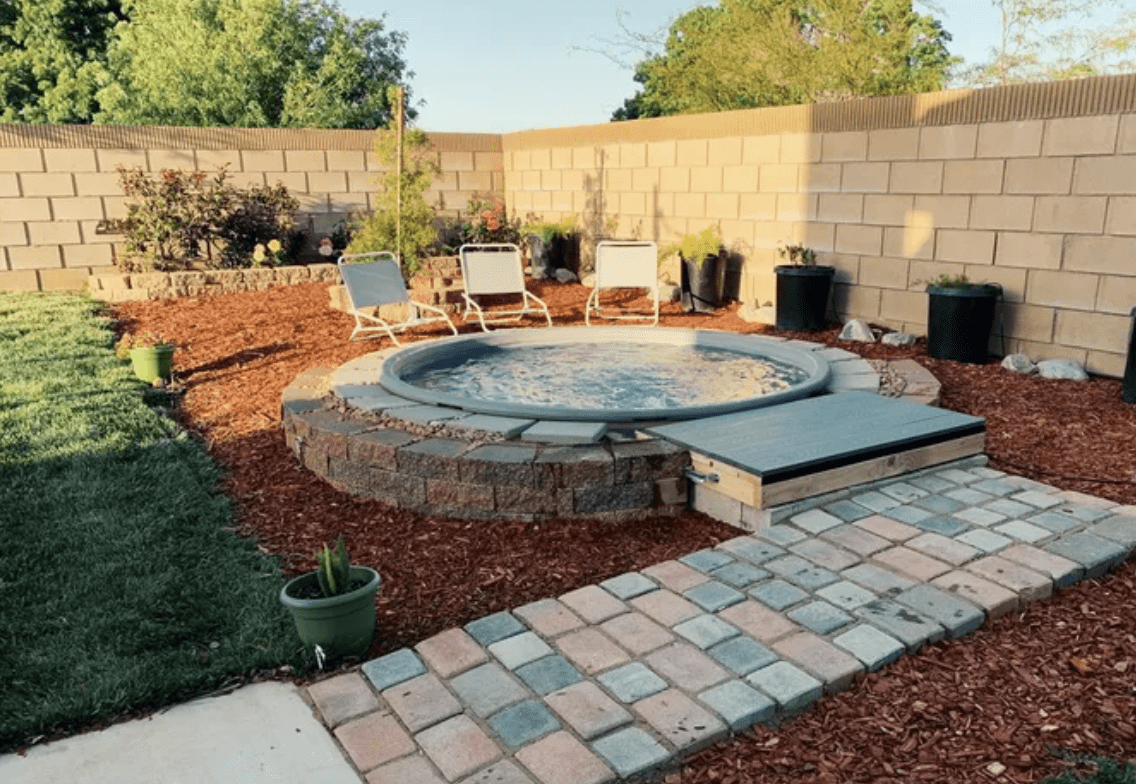 A View of the Ocean
Pools are a favored addition along the oceanfront to provide additional depth to the endlessness of the water-filled horizon and a salt-free, cooling experience. If you are near the ocean and you want to install an above-ground pool, this timeless beauty featured here is one that should be copied.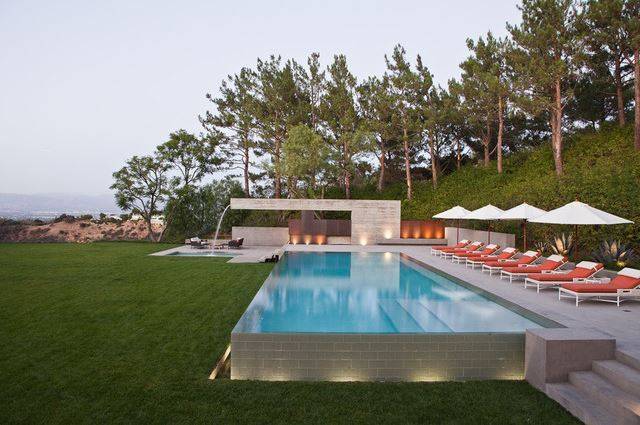 Add a Pool Skirt
Let your above-ground pool display your style with one of these impressive pool skirts. Made to fit a variety of pool sizes, these skirts will keep your space looking trendy and stylish.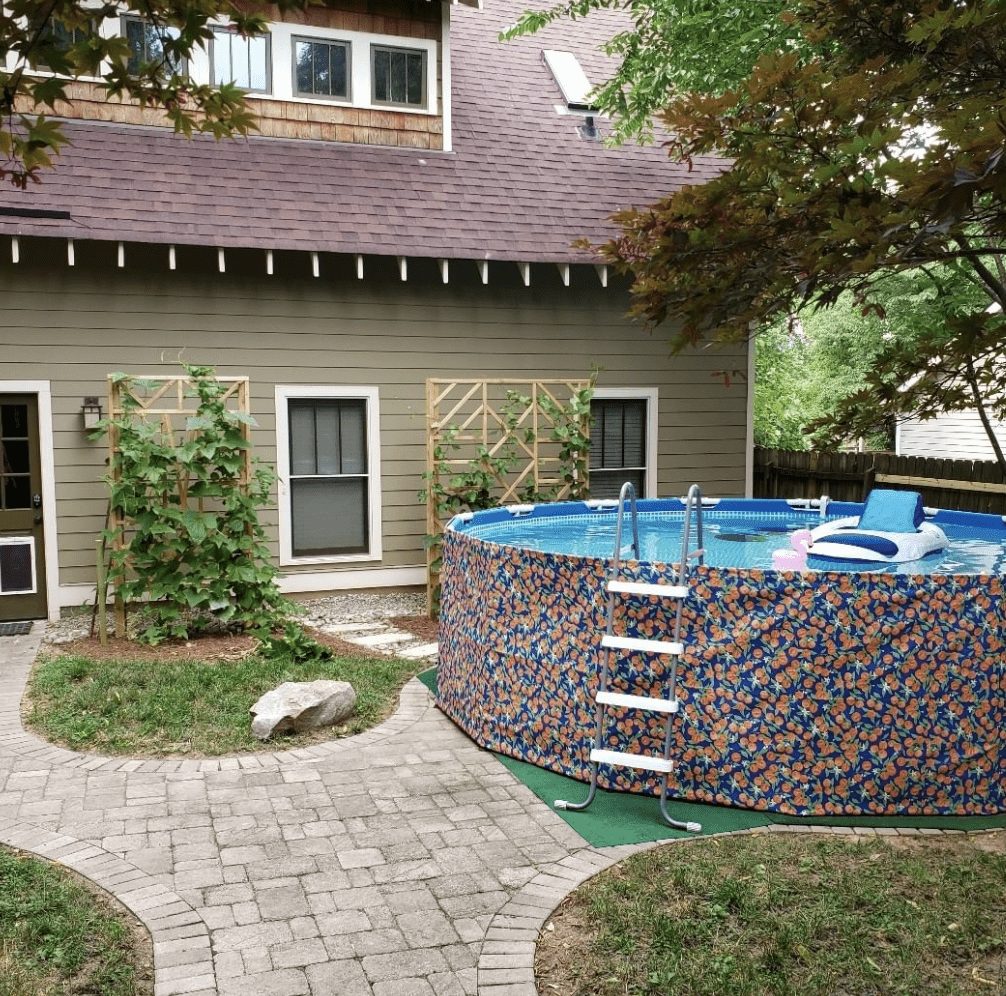 Modern Marble
A hillside is used to deliver an inground/above-ground pool and dwelling area with a scenic waterfall backdrop. This classic patio area makes a bold statement with daring designs and contrasting colors and materials.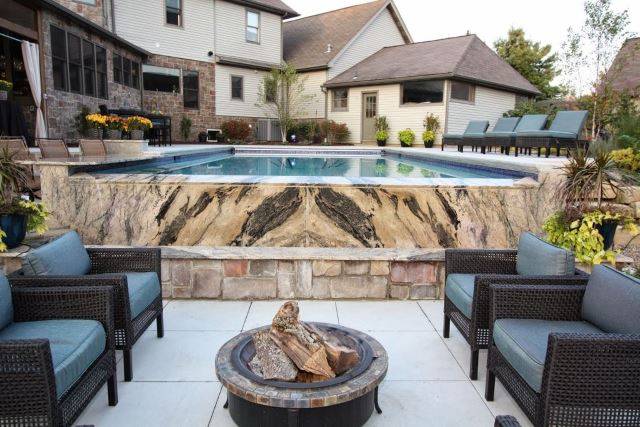 Add a Water Feature
The latest addition to this gorgeous pool was an affordable pool fountain that sits by the border and creates a soothing water flow over the pool. Also, consider the gorgeous additions of the brilliant white flowers, lounging space, and a covered deck.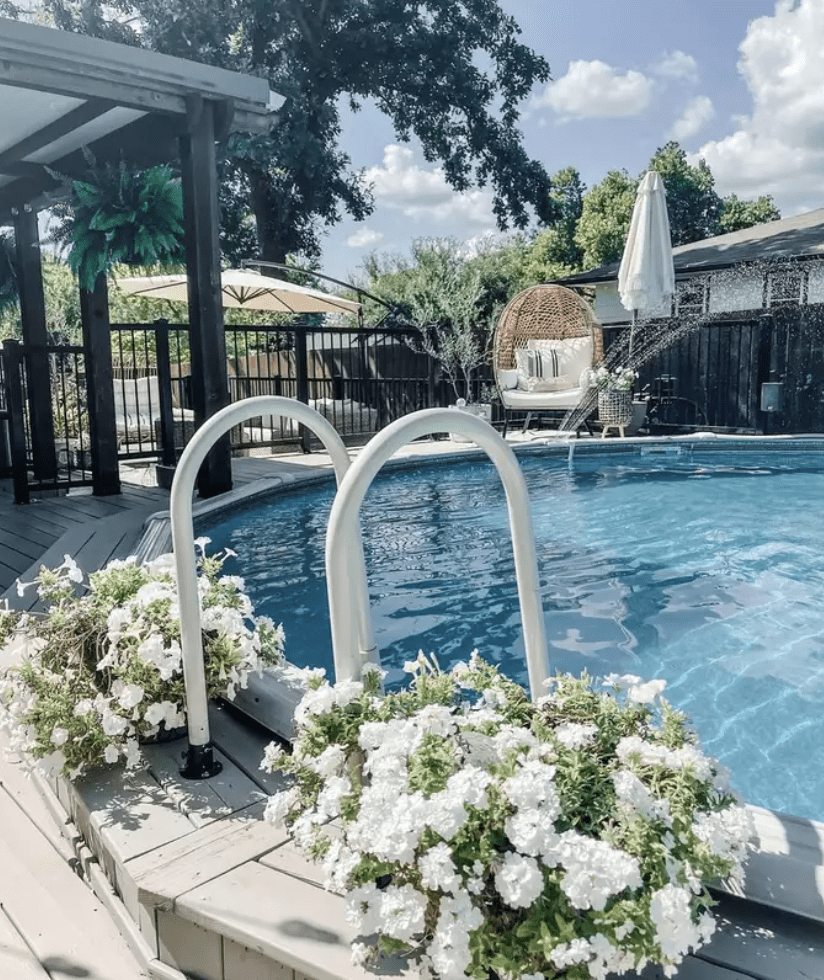 Small Pool Spaces
Just because you have a small outdoor area doesn't mean you can't take advantage of that space. Pools come in all shapes and sizes, and a lap pool is perfect for this long but narrow backyard.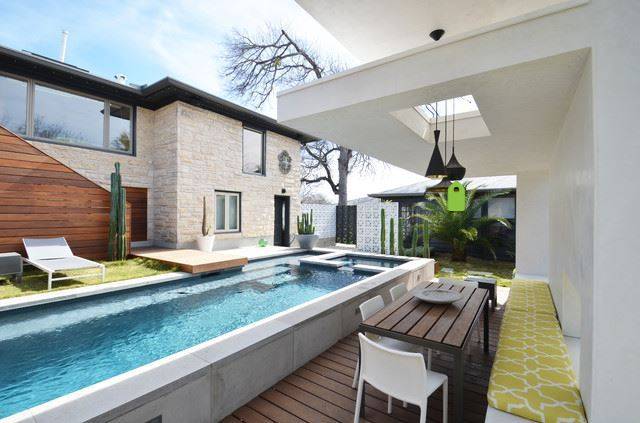 Little urban backyards can look larger than they are with good architectural choices. Tall columns mimic the length of the trees and pool siding to draw the eye upwards and finish the look of a serene private oasis.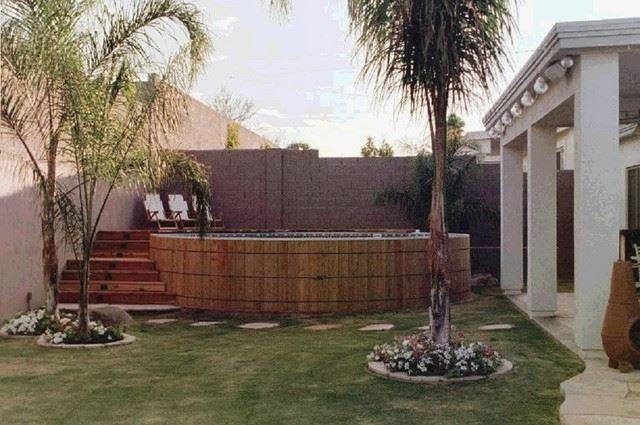 A Natural Soothing Backyard Retreat
The absence of color in architectural design is used for an exemplary reason, particularly if shadows such as these are cast against such a rich, current background. Pools can come in all shapes and sizes and often can deliver the pop of color needed to finish the look of an outdoor living space.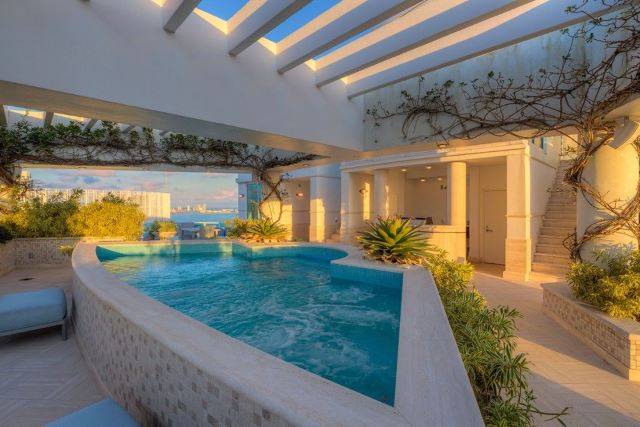 Surrounded by Nature
What a lovely setting for an above-ground pool. There are enormous trees and gorgeous flowers that surround the pool. Some landscaping is done with a path leading in and out of the pool.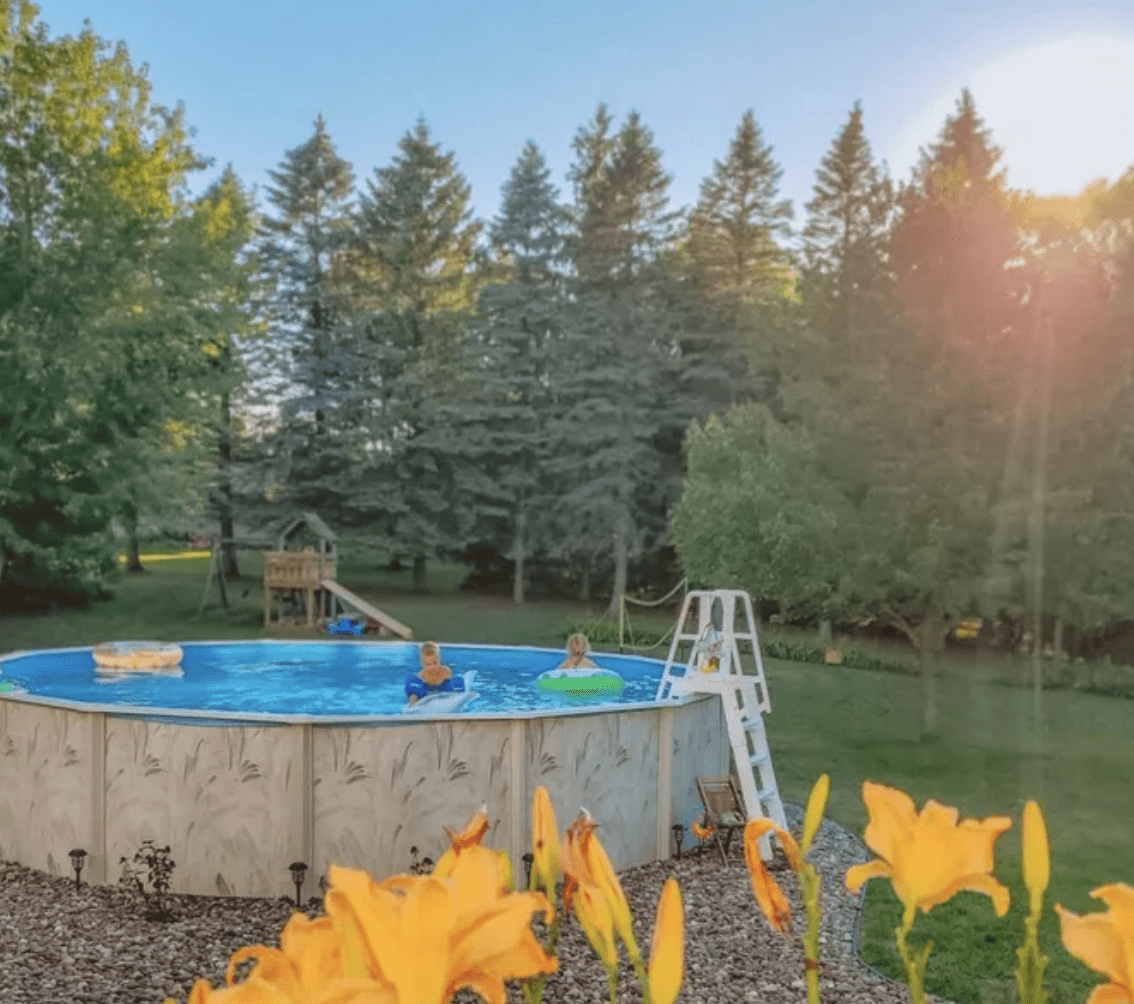 Rock Wall Pool
Another structure that looks as if it was part of the natural landscape, this pool is developed with the surrounding greenery in mind and includes both a wide rock patio wall, as well as deep planters for the continuance of greenery.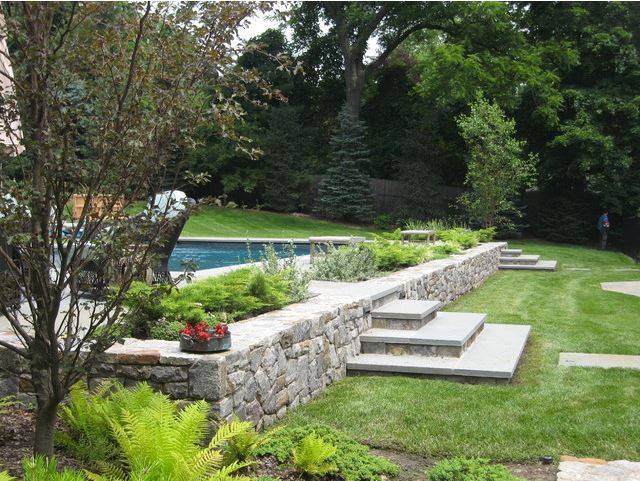 Hillside Experience
Yet another hillside experience, this pool is welcomed by a patio walkway that blends effortlessly into the surrounding landscape. Rock gardens allow for foliage to be incorporated into the overall design.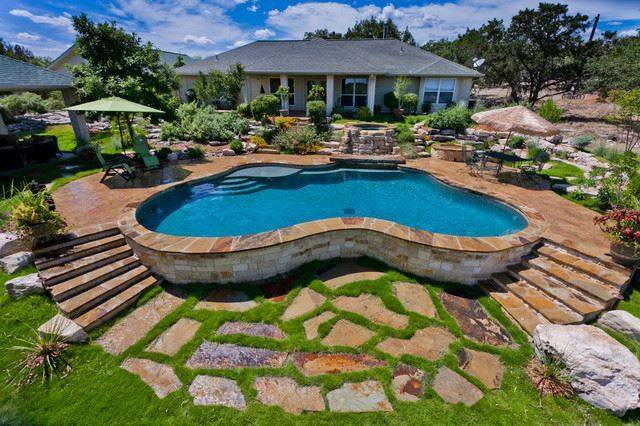 Sloping lawns really are an above-ground pool's best friend. You get the best of both worlds through comfortable access, fun pool siding materials, and the delight of cool waters.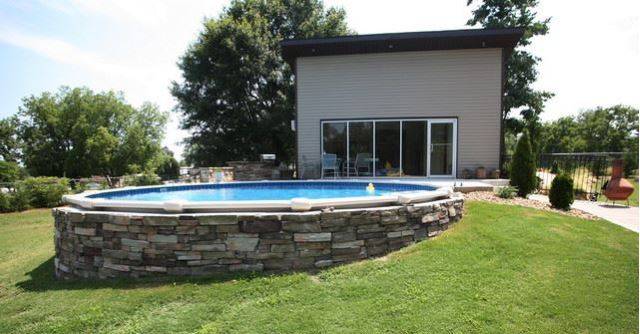 Night Swimming Serenity
The best part about your own backyard pool is that it's always open, so you can go for a nighttime swim whenever you want. This above-ground pool features an extensive deck with built-in benches, lounge chairs, and a gazebo with hanging string lights so you can go for a swim day or night.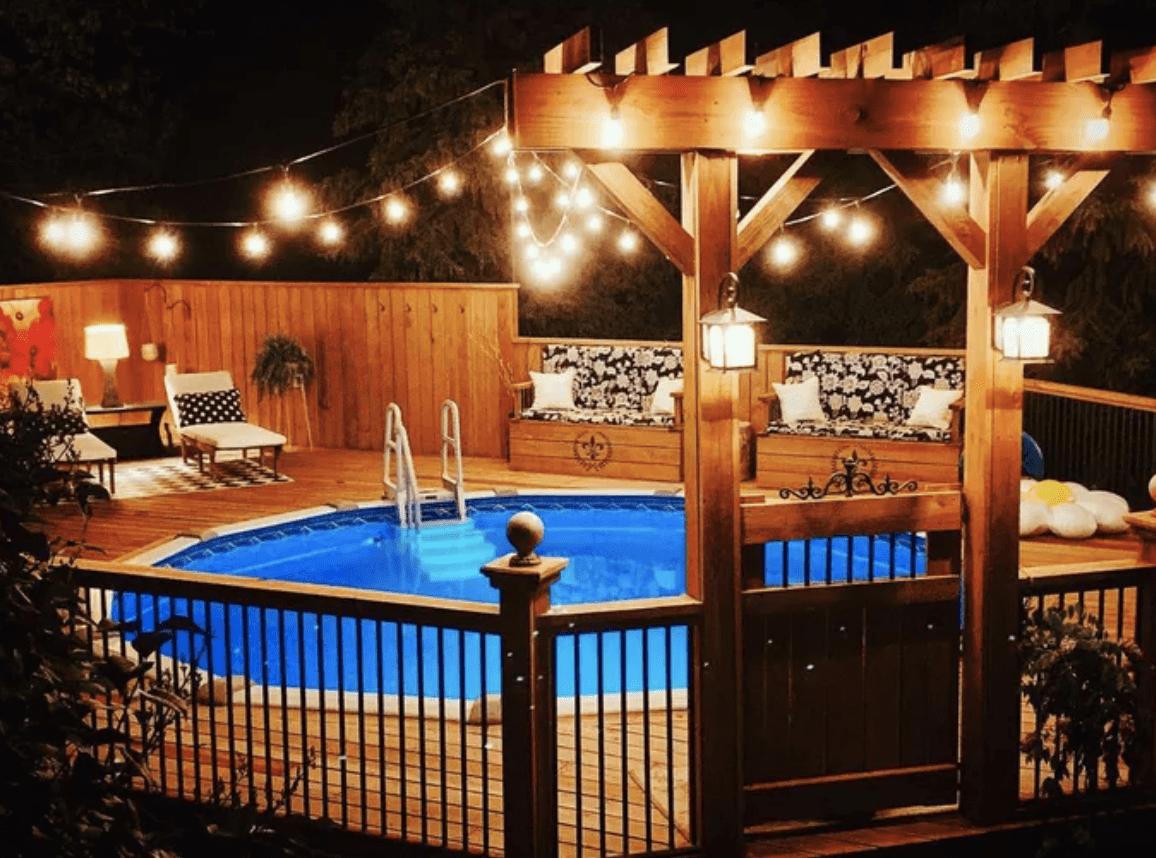 Create a dual-purpose design that serves as both a pool by day and a lit landscaping fountain by night. Tile is the ideal material to use for lighting goals due to how it reflects the light for a contemporary look.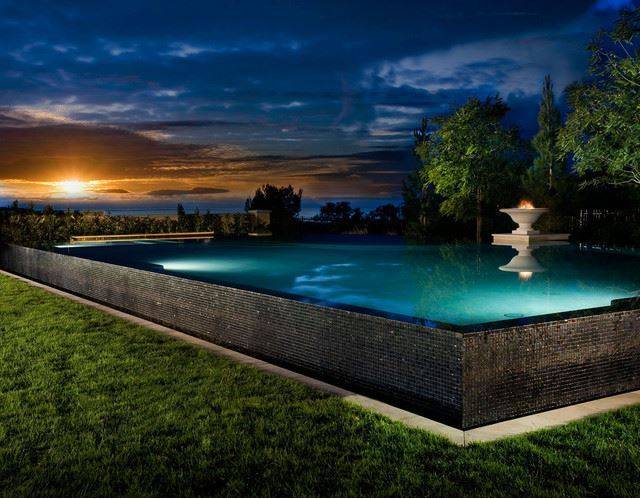 Right angles and clear glass create a day and night atmosphere to take full advantage of this lap pool. Open floorplans spread to home and yard living areas for year-round entertainment.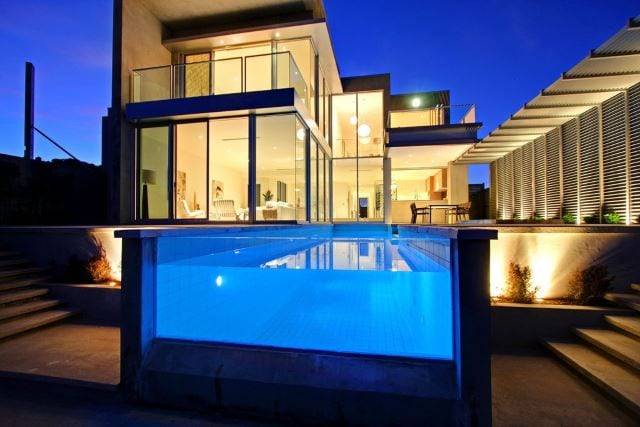 Blissful Lounging
When forming a deck for an above-ground pool, you don't have to fully enclose it. A partial deck can provide complete lounging privacy and leisurely pool access for swimming and maintenance.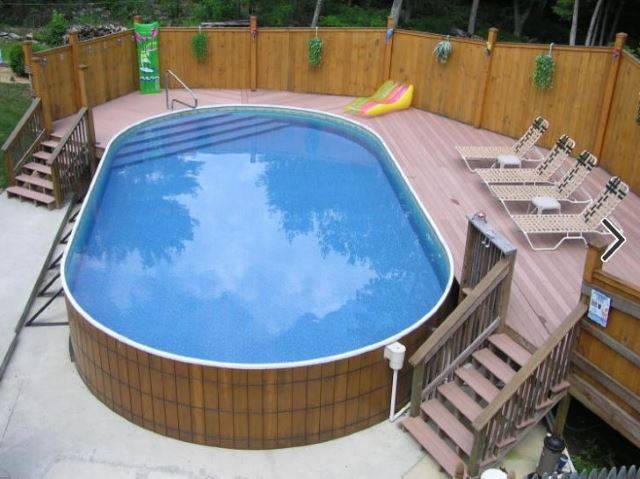 Red Bold Tile Work
Red tiles splash against the black and white of the surrounding architectural design. This modern design is a stark distinction from the forested backdrop for a visually appealing place to unwind.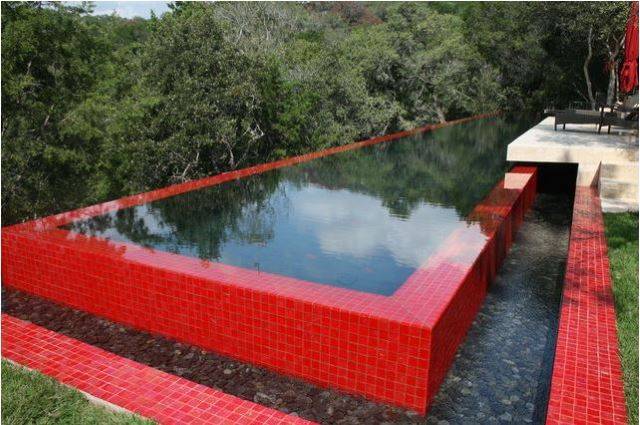 Take Advantage of Your House's Structure
This tri-level home takes full advantage of its diverse flooring heights. A spacious walkout deck has room for both outdoor and indoor lounging areas and a comfortable poolscape.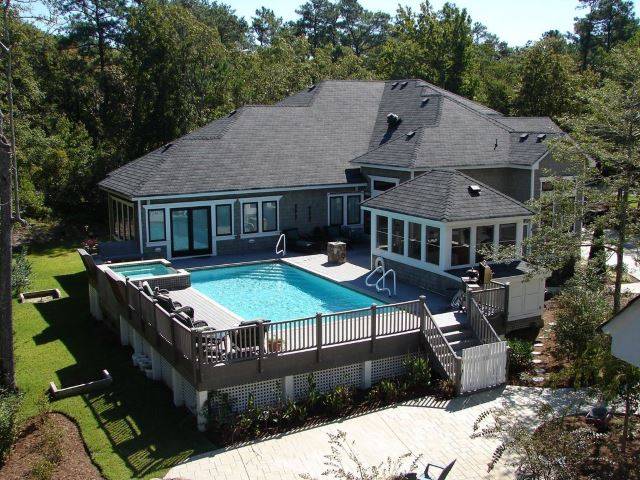 A Designer Deck
A standard above-ground is readily incorporated into this backyard and supplies a walkup deck from a shady veranda. In-ground designs are often challenging to integrate into hillsides, so designs like this are perfect for backyard pools.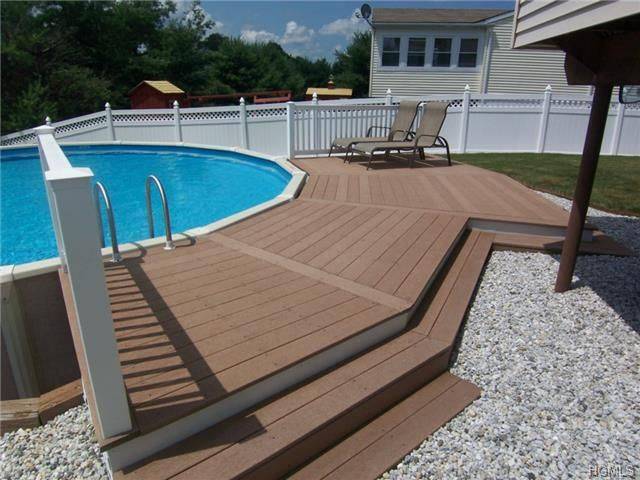 Don't Forget the Hot Tub!
Rectangular hot tub designs are perfect for small yards since they utilize less space against an angular wall. This particular design uses the yard wall as a way to double it as a disappearing waterfall.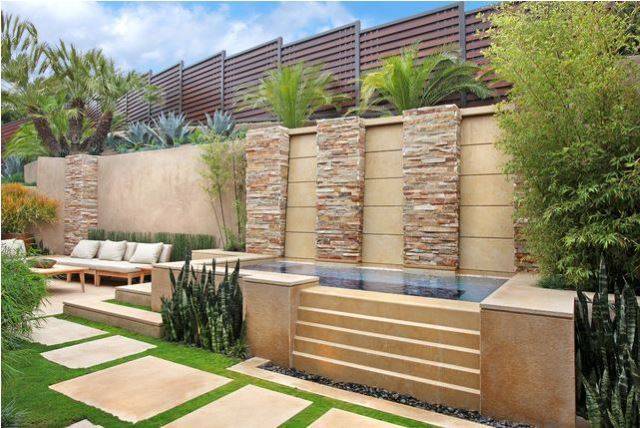 Frequently Asked QuestionsFAQ
What is the best thing to put around an above ground pool?
Above-ground pools are not surrounded by concrete as in-ground pools are, so add a walkway instead. No one wants to drag dirt and grass into a freshly cleaned pool. Put down simple stepping stones or build something more elaborate, such as a paver walkway, to keep your feet and your pool clean.
How many years does above ground pool last?
The market average life of an above-ground pool may be shorter than you think at about 7-15 years. However, buying from a quality brand and maintaining your pool properly will last many years longer than that.
Do I need to put a tarp under my above ground pool?
At the bare minimum, yes, you should put a tarp underneath your above-ground pool. Inflatable pools will also benefit from a tarp. Although a tarp will help protect your pool, there are far better choices, such as foam tiles or proper commercial under-pool pads.
What kind of rock do you put around an above-ground pool?
Either River Jacks, Brown Landscape Stone, or Pure Red Landscape Stone is a necessity for around an above-ground pool.
Can you leave an above ground pool up all year?
Although the easy answer is that "Yes, you can," whether you want to leave them up year-round depends on the pool you have. Dismantling some above-ground pools for the winter may be more hassle than it's worth.
Can you heat an above ground pool?
Above-ground pools are easily heated with a solar heater. Solar heaters for above-ground pools can achieve the same kind of heating power as other heater types without causing harm to the pool.
If an inground pool is an impossibility due to budget limitations, lack of space, or topographical problems, don't rule out the many other above-ground choices you may have. Use the benefits of hillsides, decking spaces, foliage, and pool siding materials to create aesthetically attractive additions to your landscape. 
For more design help in the backyard, take a look at these related articles: