Most of us start and end our days in the bathroom, so it is understandable that this important spot in our home should feel like a place of serenity and cleanliness — a spot where you can relax, recharge, and unwind. But if your bathroom is dim and dark, it certainly will not feel appealing. A dimly lit bathroom can be problem number one for a space that is uninviting, cold, and harsh.
Proper lighting can improve your bathroom space, especially if you want a bathroom that is spa-like, relaxing, and beautiful. In order to help you improve the lighting in your bathroom, we have rounded up some spectacular lighting ideas for the bathroom that we know you are going to love!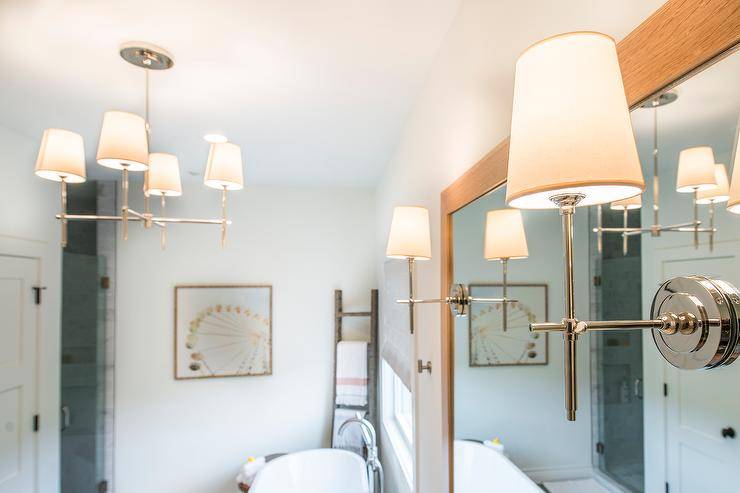 Things to Consider Before Choosing Your Bathroom Lighting
The procedure for choosing lighting for a bathroom can be overwhelming. The many areas in the bathroom that require different types of lighting. The vanity, tub area, and shower may require different fixtures based on your bathroom layout, but the room's overall design still needs to feel trendy and cohesive.
Here are some things to keep in mind before you begin pursuing the light section at your local home improvement store or shopping online.
Don't Wait to Think About Lighting
Consider your bathroom lighting early on in your renovation. It may be necessary to move around electrical, and you will want to do this before any cosmetic work is started.
Consider How Much Lighting is Needed
When selecting bathroom vanity light fixtures, consider how much light you will need. Bathrooms without natural light from a window are likely to need more brilliant vanity lights. In most cases, a vanity fixture alone can't provide enough overall light for an entire bathroom. They are best used in conjunction with recessed or another overhead lighting.
Stick to Similar Finishes 
While it's not required for all lighting to match exactly — for example, you can have a different style of sconces other than your overhead fixtures but it's best to keep them in the same finish family to maintain harmony in the bathroom's overall design.
Don't Forget the Tub Area
A sconce is an excellent solution for creating a special atmosphere for a tub area. It adds to an overhead fixture's soothing atmosphere that can be challenging to achieve.
Size Matters
Depending on the size and style of a bathroom, a pendant light or chandelier can make it feel grand and palatial. The proper fixture can make a statement and set the tone for the bathroom's design.
Related: How to choose the lighting scheme for your bathroom
Now that we have given you some food for thought, let's take a look at some fixtures and designs that are sure to inspire!
Under Cabinet and Mirror Lighting
For bathrooms that are short on natural light, you can light up the space in other ways without clogging the bathroom (no pun intended) down with tons of light fixtures. Under vanity lighting or under cabinet lighting is a great way to add light to an inconspicuous space.
You can also mount lighting directly on a mirror. This takes a little bit more finesse work, but a full wall-to-wall mirror with the lighting applied directly on it looks absolutely regal.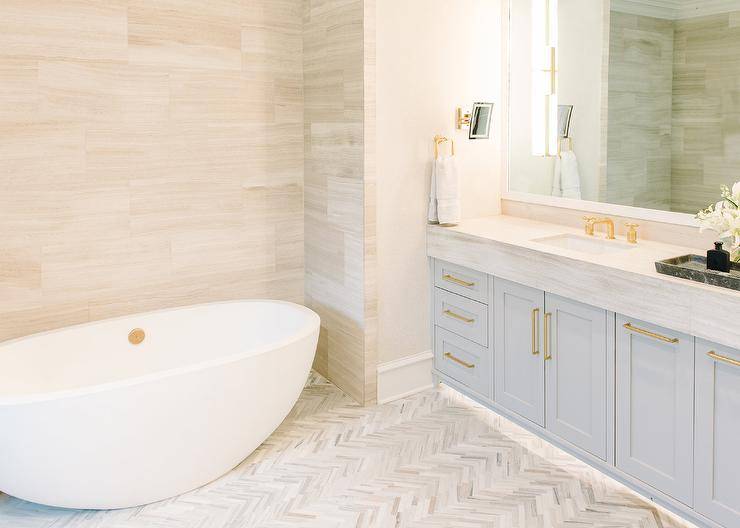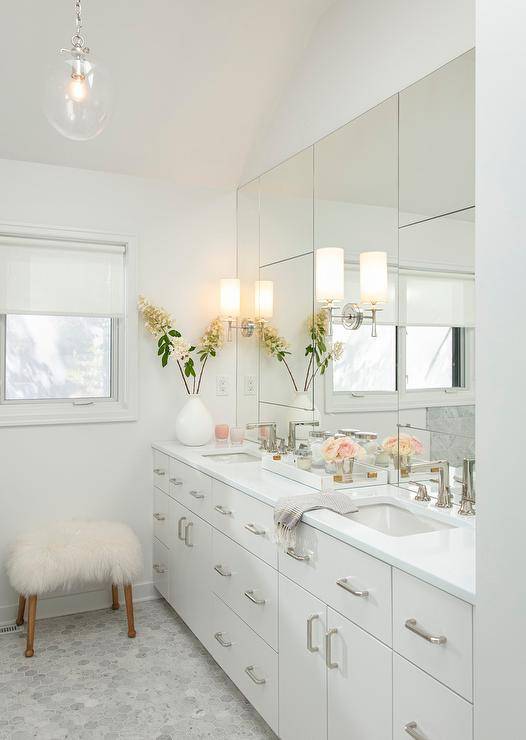 A back-lit mirror is also another way to add inconspicuous lighting. You can illuminate your vanity and its surroundings without taking up valuable real estate with a ton of fixtures.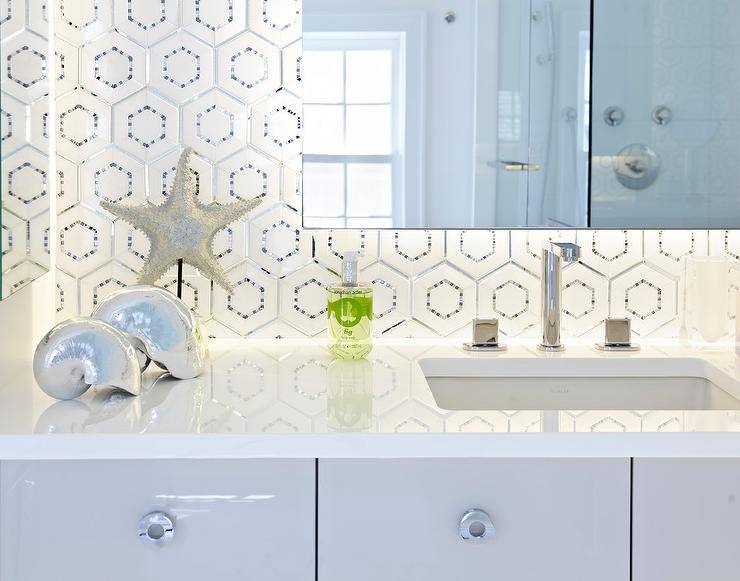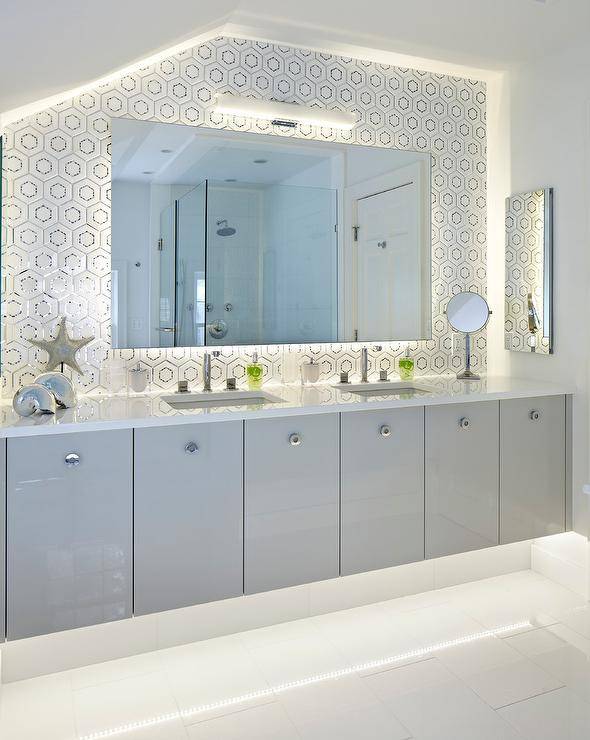 This bathroom has a ton of natural light thanks to two high windows but that doesn't mean you still can't play up the space with under cabinetry lighting and unique contemporary lighting fixtures.
This black modular chandelier creates a stunning focal point. The mixed finishes of the black chandelier and the brass wall sconces work because there is also black in the scones. The black finish is also picked up in the frame of the windows for all over cohesive contemporary vibe.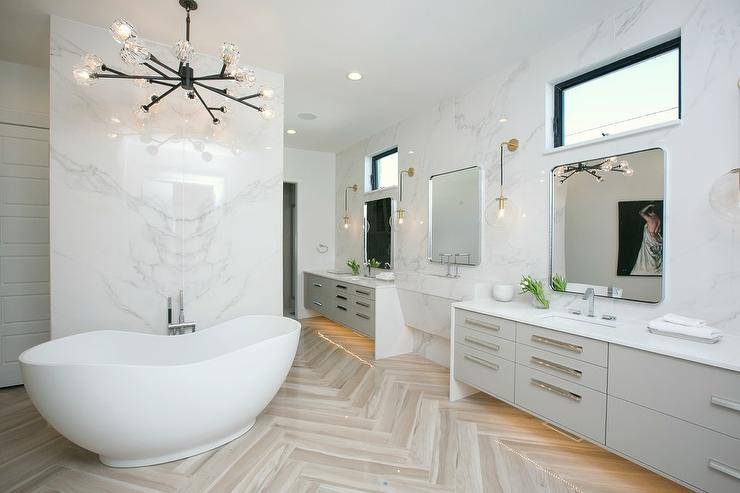 With a stunning floor like this, how could you not want it illuminated by under vanity lighting?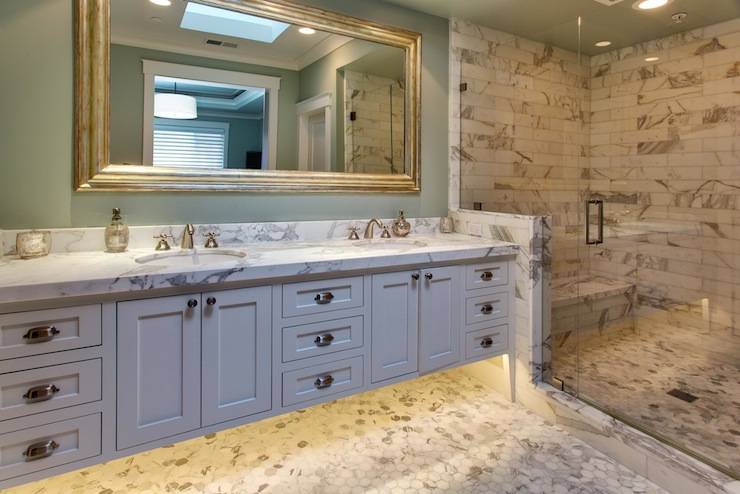 Wall Sconces for Days
Wall sconces are the most popular choice for lighting around the vanity, and you're pretty safe with a lighting choice around a vanity if you opt for a traditional wall sconce, but why play it safe? Lighting should be fun and exciting — it should be an extension of your creative style and tastes, so when choosing a wall sconce, don't miss the opportunity to really showcase some character and uniqueness.
Fun and Playful
Flower Power! The fun flower shape base to these gold wall sconces adds a playful yet chic vibe to this stunning powder room.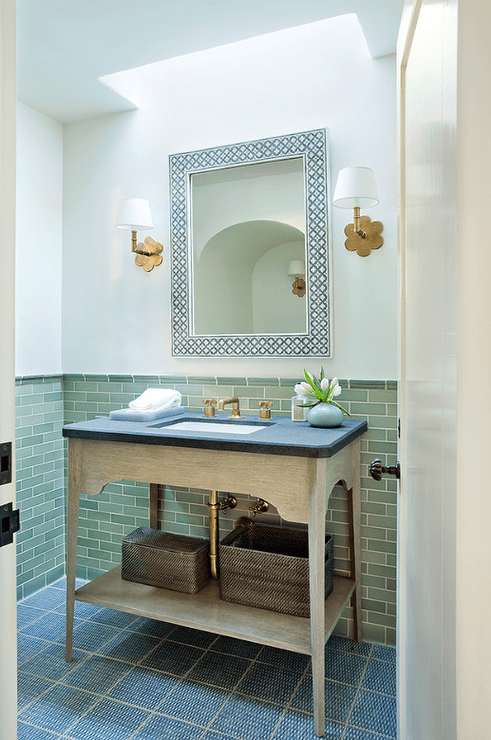 How fun are these bubble-balloon wall sconces!? This certainly adds a playful charm to this space but doesn't go overboard with that feel. This bathroom still has a unique sophistication about it that we just love!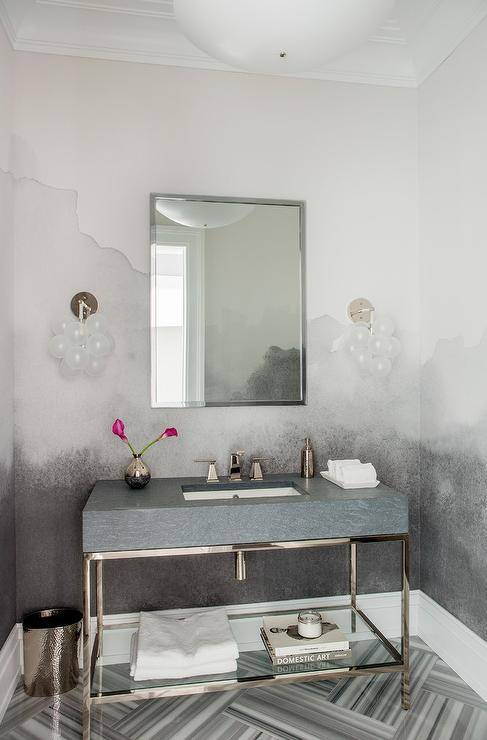 Modern and contemporary, these unusual wall sconces lend this bathroom a masculine and almost space-age vibe that fills this space with character and uniqueness.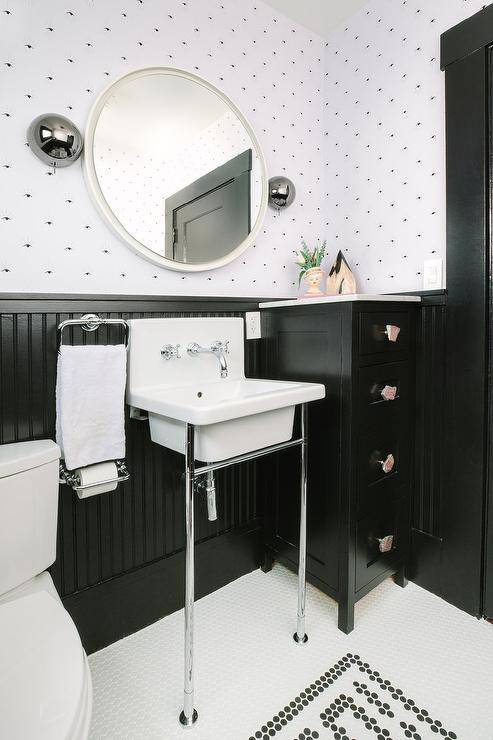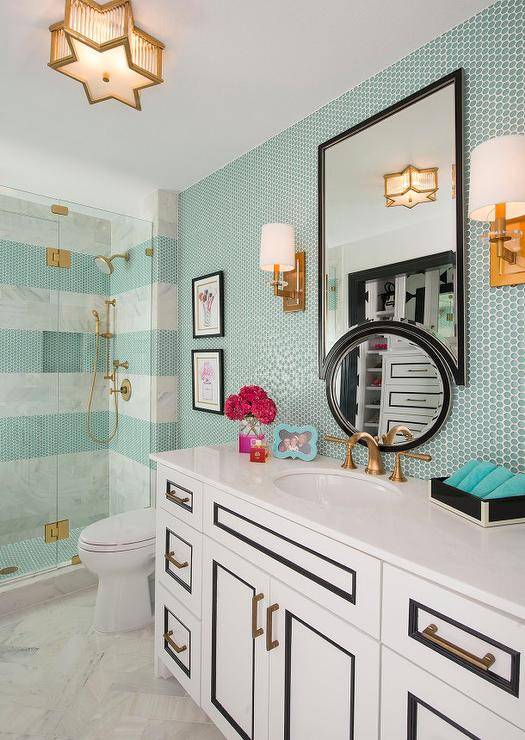 Forever Farmhouse
Farmhouse-Industrial with a slight vintage touch. This bathroom channels a day out in the country. The gooseneck industrial farmhouse wall sconces are just the perfect addition to this charming space.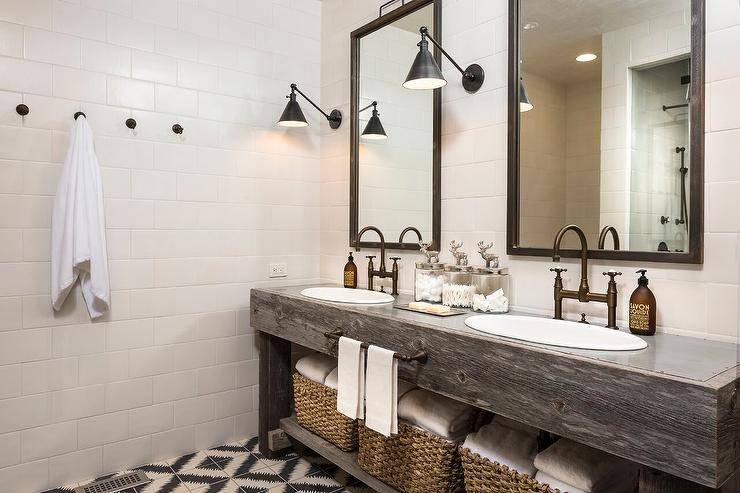 If black doesn't suit your taste, you can opt for a gooseneck wall sconce in gold. We love the look of just one wall sconce in a smaller bathroom space.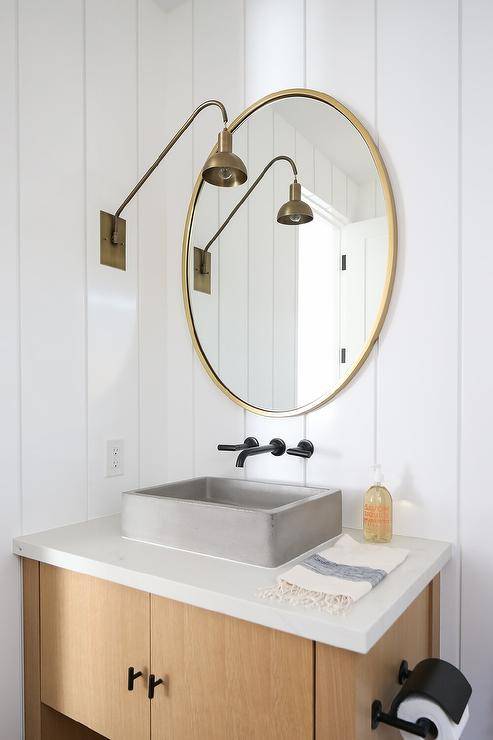 It wouldn't be a farmhouse bathroom without a beautiful set of barn light wall sconces. These beauty sets in a chrome finish pull this farmhouse cottage-style bathroom together.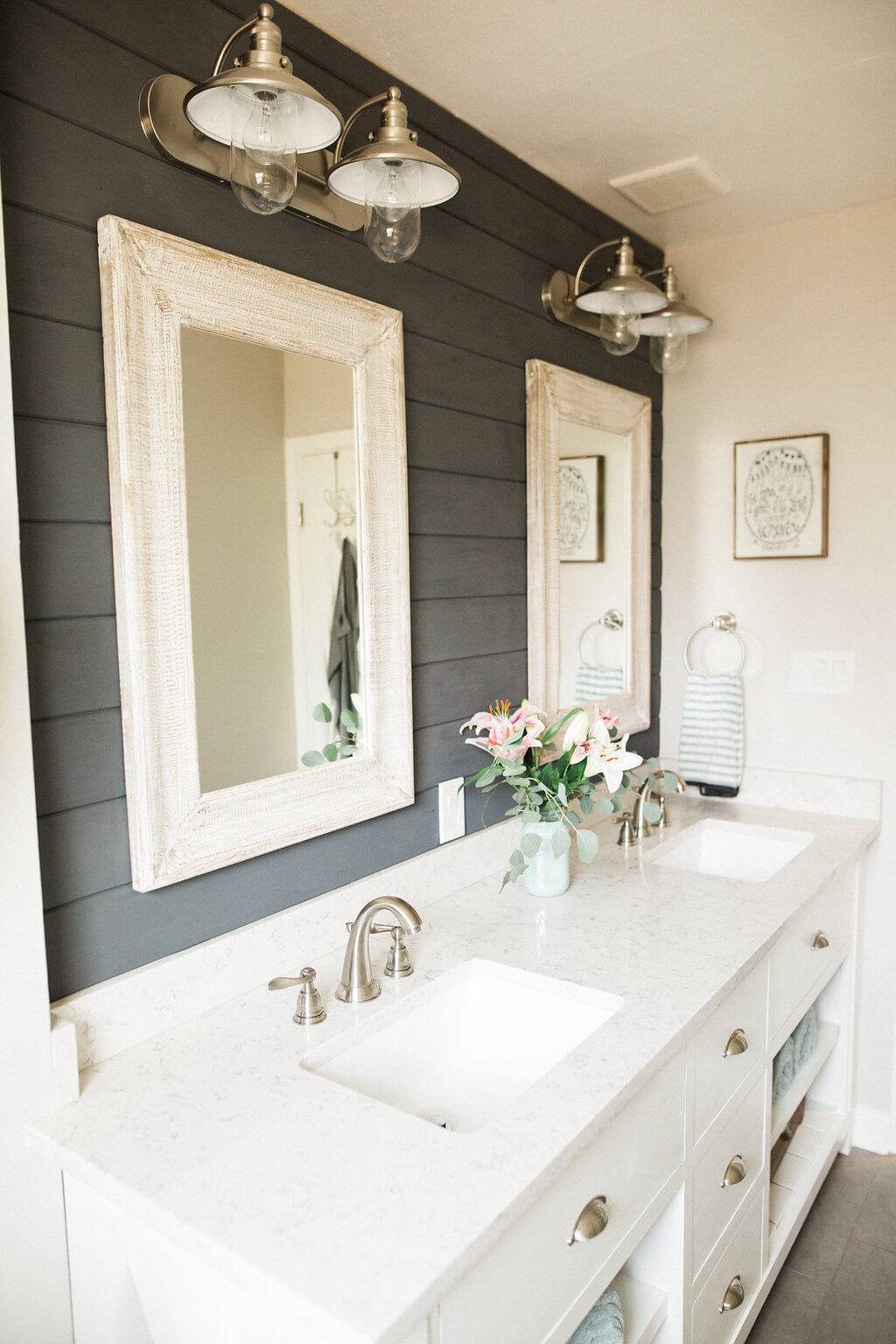 Photo Credit: Seabrooks Style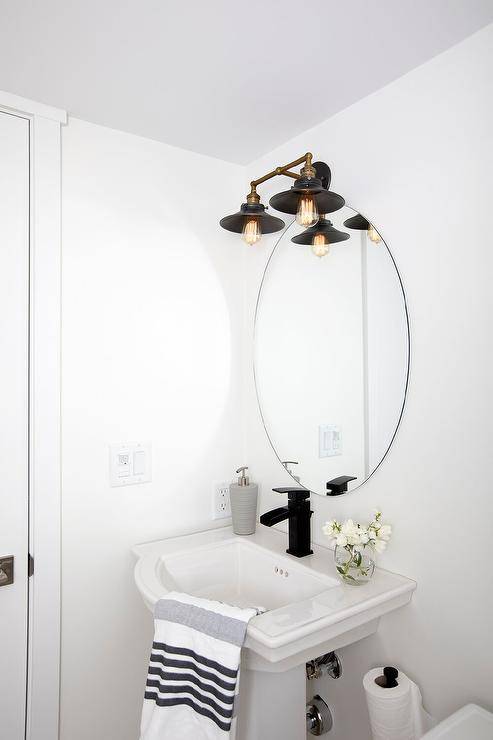 Traditional and Classic
Just because we told you to have fun with your wall sconces doesn't mean you can't stick with traditional and classic looks, though. Lighting like these will stand the test of time and not date you, so for those who want to play it safe, you can still achieve a luxurious and elegant look without worrying about trends.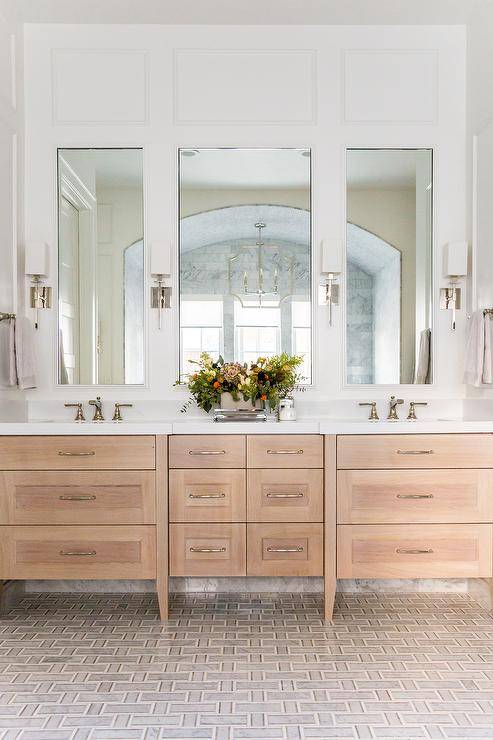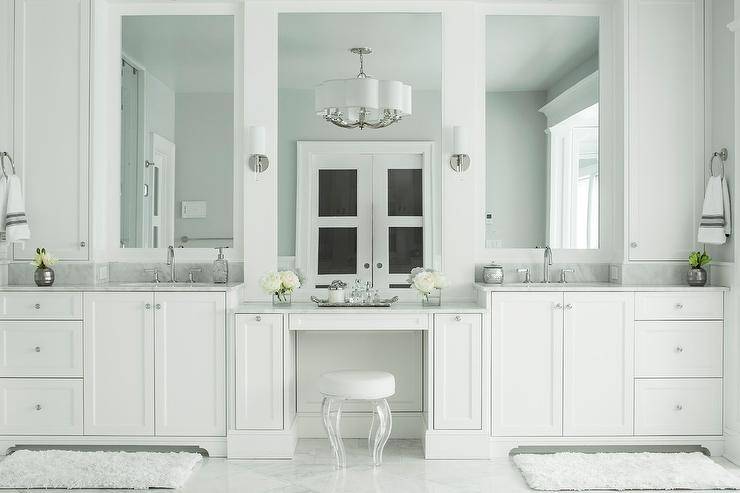 Go Big with a Breathtaking Chandelier
If you have a large bathroom and space will allow, fill the middle of your bathroom with an abundance of light from a stunning chandelier. To create a spa-like atmosphere at home, you can incorporate a chandelier into your bathroom design.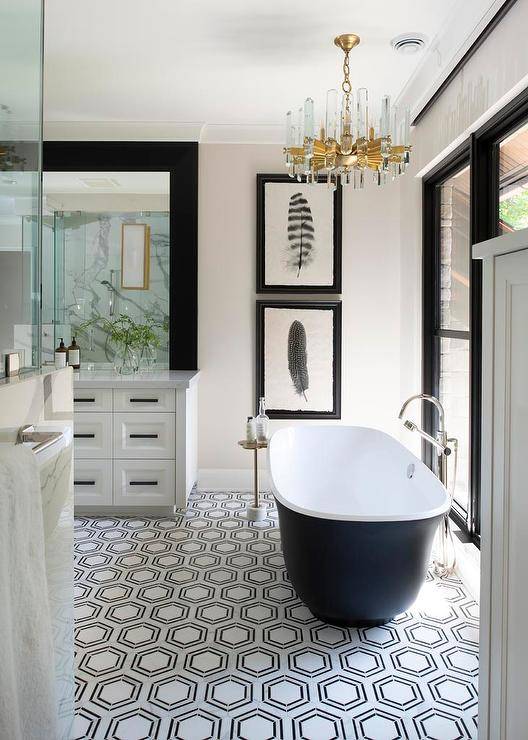 Nothing says rich and luxurious like gold and crystal; together, these two materials make the most stunning chandeliers.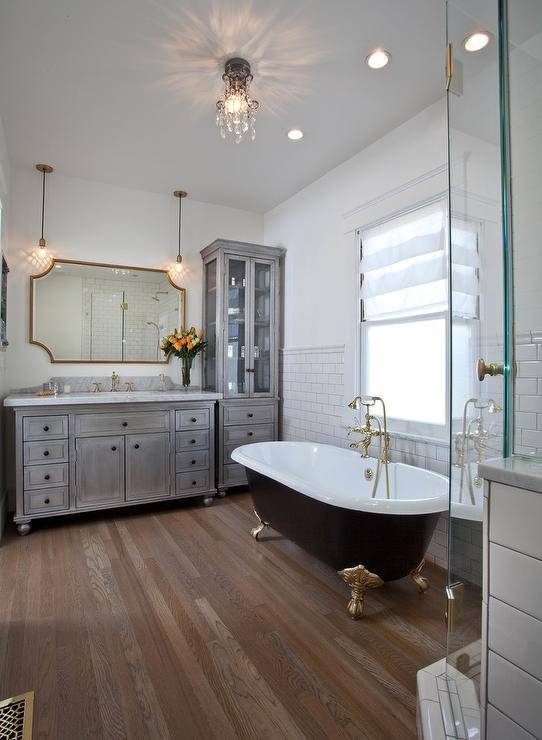 A white lamp shade drum chandelier is great for those bathrooms that want modern but still like a touch of the classic and traditional. These lights can swing either way, making them a perfect addition to most bathrooms.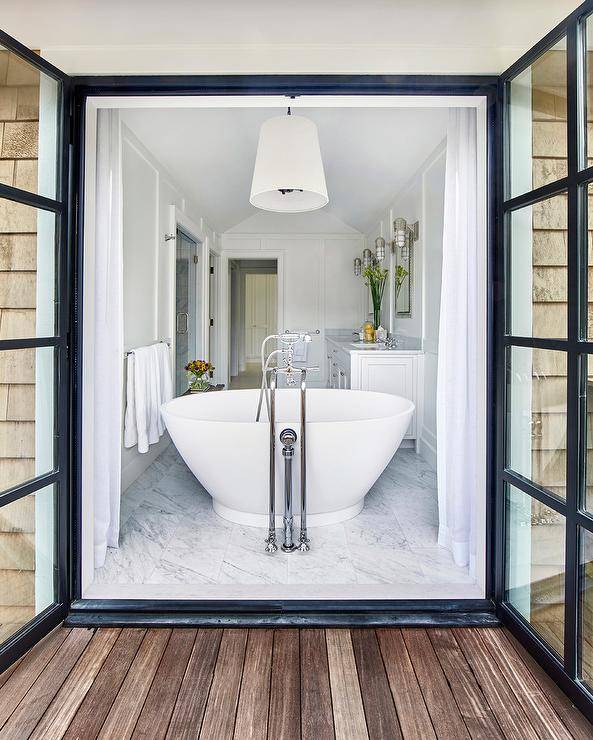 This stunning bathroom has a whole Mediterranean modern look, from the detailing on the mirror to the gorgeous chandelier. The French patio doors that open up and let in lots of natural light allow this designer to expand to the non-traditional style of bathroom lighting.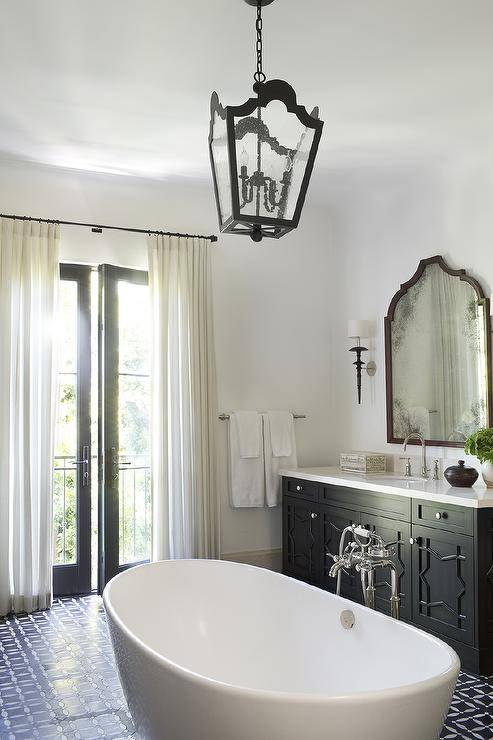 Related: 25 Sparkling Ways of Adding a Chandelier to Your Dream Bathroom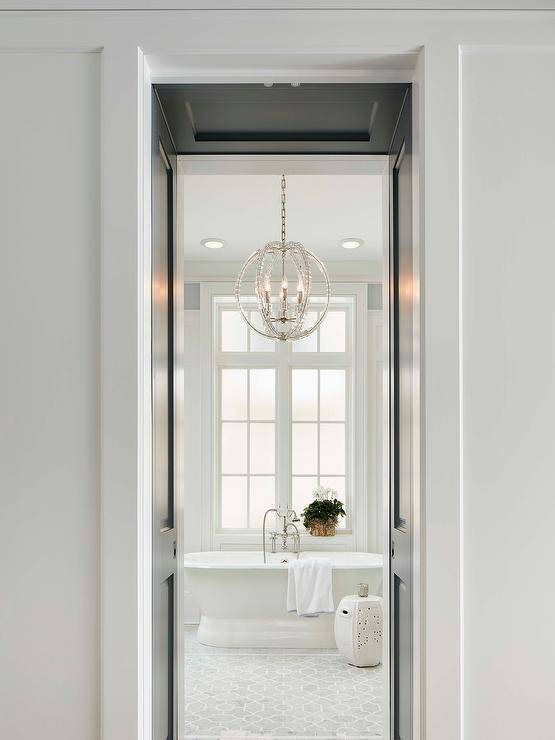 Modern luxury comes to mind for this space. A contemporary stylish chandelier that is quite literally dripping style and taste. This large palatial bathroom is the lap of luxury for sure.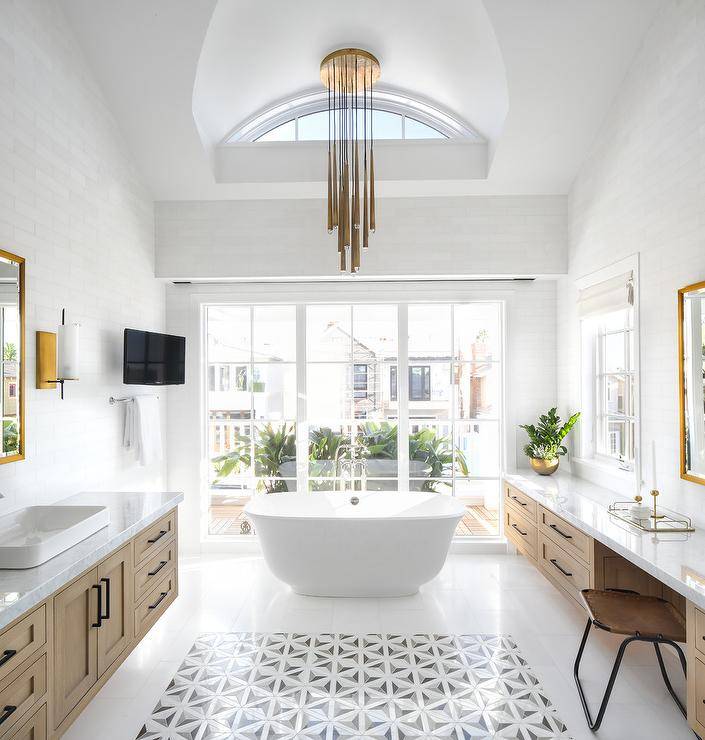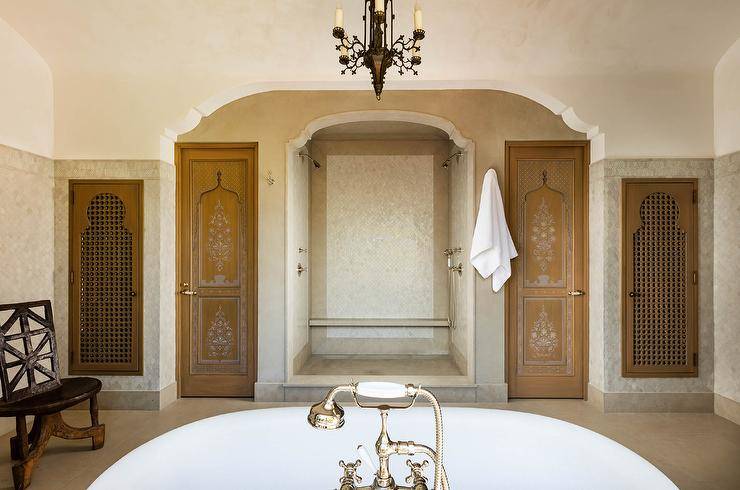 Deep Rich Color
Beautiful wall sconces and light fixtures need an equal amount of beautiful paint colors. Go bold, deep. and rich with your paint colors. Gold is an easy fixture finish to work with as it complements pretty much every deep rich color choice.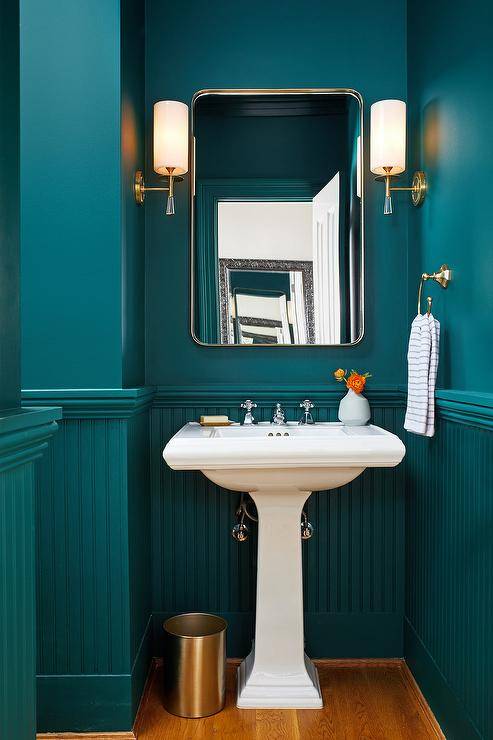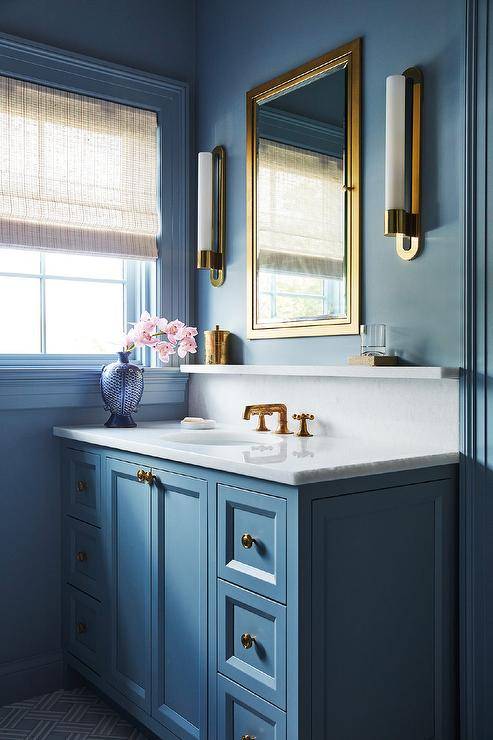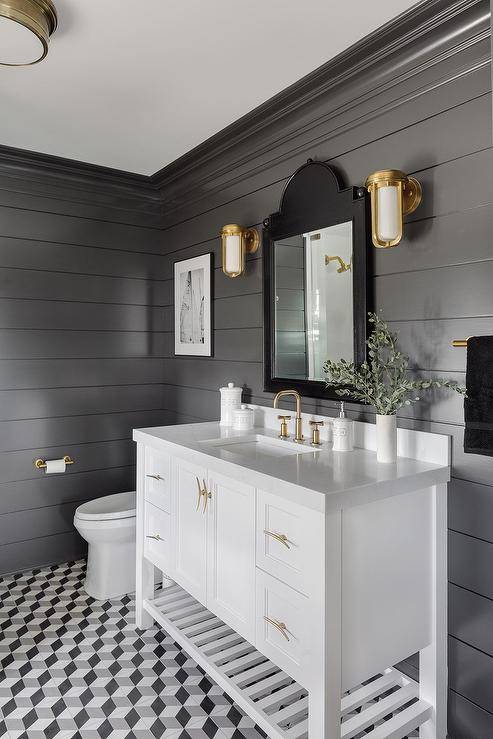 Farmhouse Country Chic
Farmhouse-inspired furnishings paired with chic-style lighting are certainly a stylish combination. These hanging rope pendants aren't a typical choice for vanity lighting as most designers opt for wall sconces, but we can't help but swoon over this creative and unique chance this designer took with this bathroom renovation.
The jute wrapped hanging pendants keep with the Farmhouse style but lend a chic nautical vibe without going too much.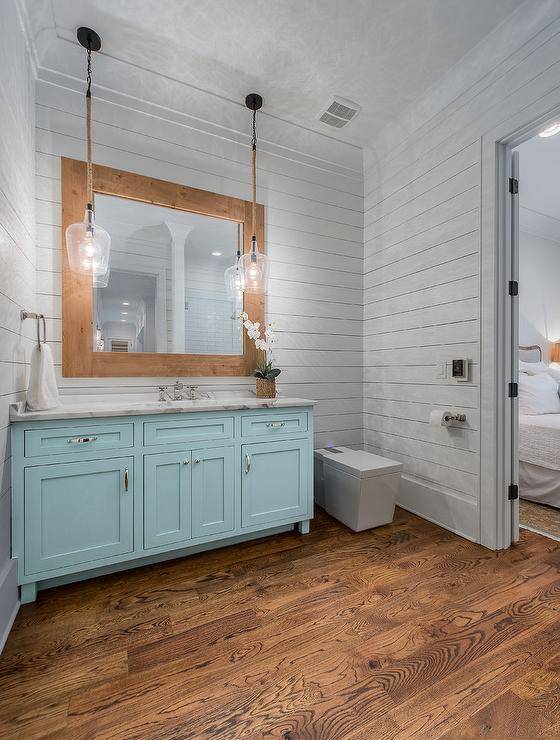 Another set of hanging pendants over a vanity. This time, these pendants have a light, airy feel, so the space is kept bright and simple.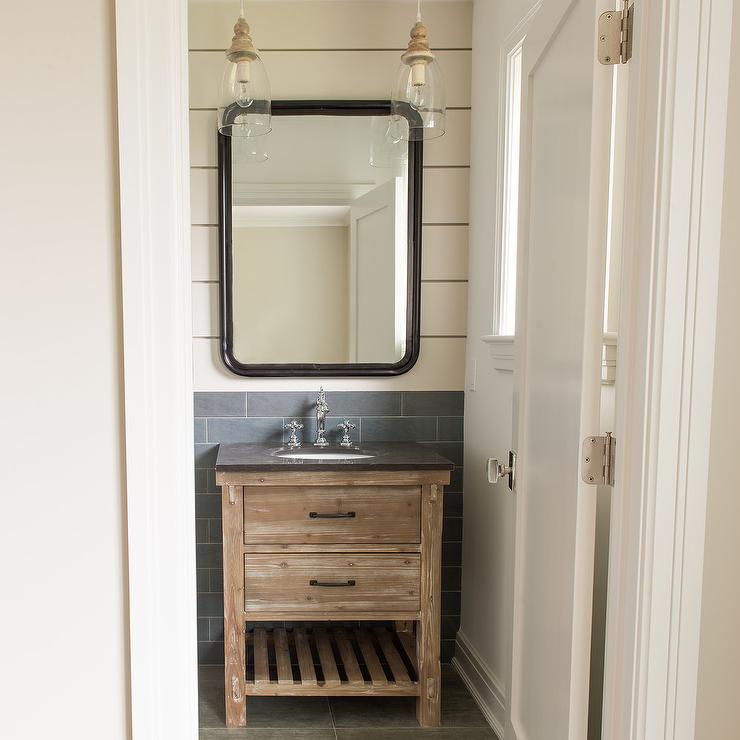 Modern Farmhouse
If you love farmhouse, but you're over the cutesy, cottage farmhouse look, you may want to lean more towards modern farmhouse or even farmhouse-industrial. This bathroom here encompasses a little from each of those style tastes.
The large concrete counter and sink give off an industrial feel, while the sconces and hanging pendant give way to a modern farmhouse look.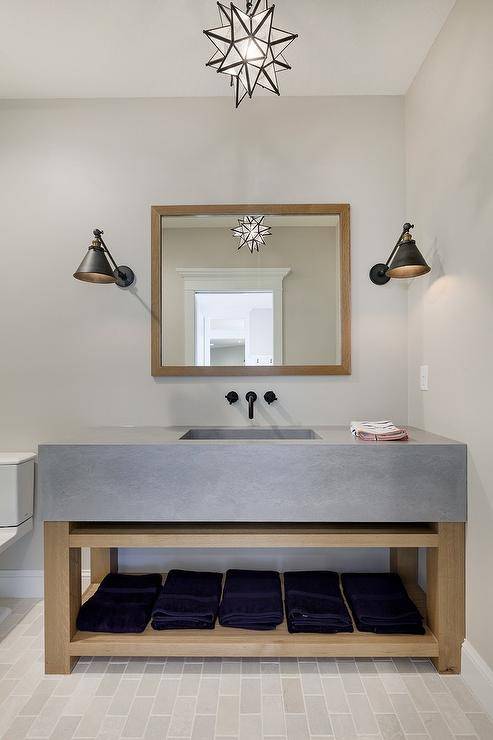 Just the Right Amount of Gold
One of our favorite finishes for light fixtures is gold. It's chic, trendy, and elegant but can be overdone. This bathroom is a perfect example of just the right amount of gold complemented nicely alongside some stunning blue tile.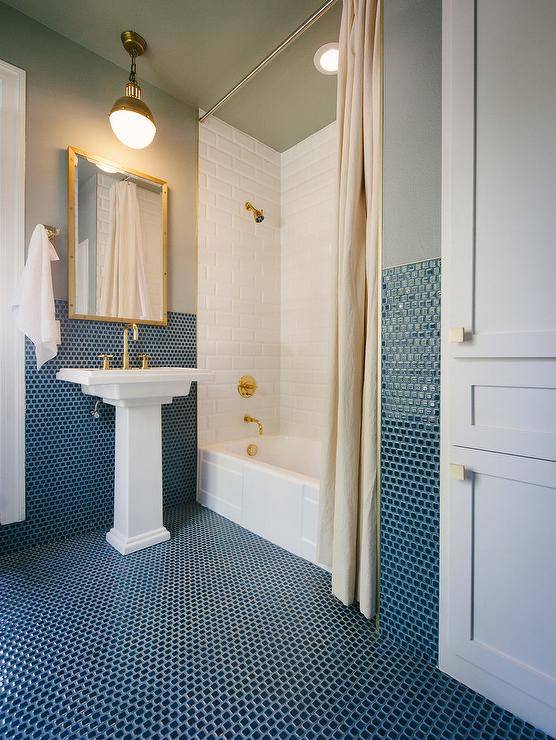 Over the Tub Lighting
If you're lucky enough to have a free-standing tub, don't waste an opportunity to incorporate a stunning visual display above with a light fixture that is charming, stunning, and full of character.
This lovely star-hanging pendant steals the show in this all-white and black modern bathroom. It's the only bit of gold, and it really creates some sweet eye candy.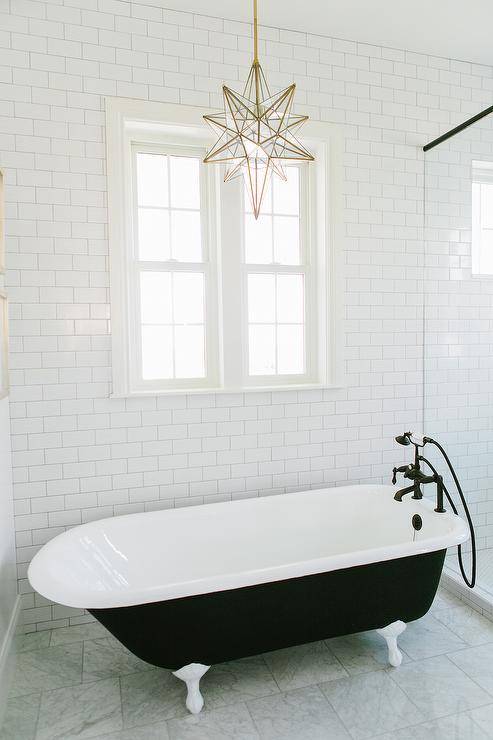 A classical and timeless piece — this chandelier floats gracefully over this stunning tub, and with the marble tile as a backdrop, you can't help but swoon over this rich and luxurious-looking space.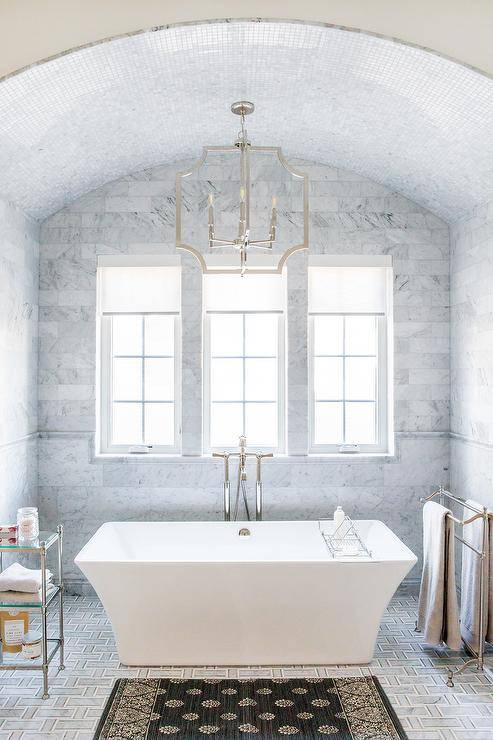 This flower-painted drum pendant is one of a kind and adds a unique bit of art to this all-white bathroom. It breaks up the white on white and lends just a small amount of color to add personality and style.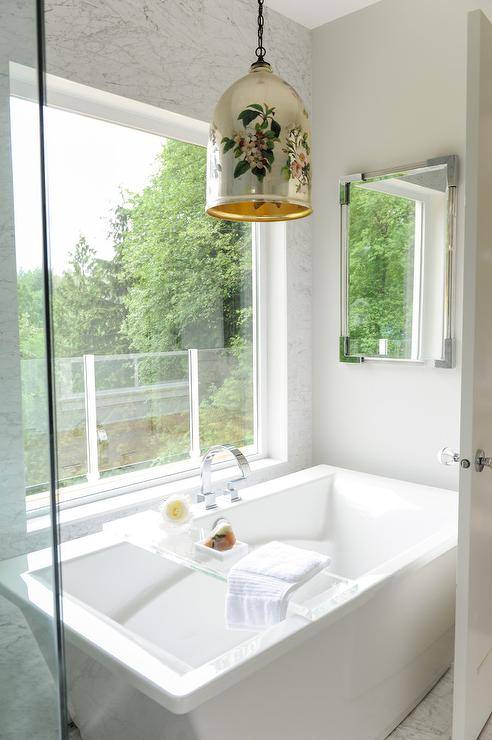 Lend your space a rich and elegant feel with a beaded crystal chandelier. It's lights like this that look magnificent in a modern space to add just that touch of old-world elegance.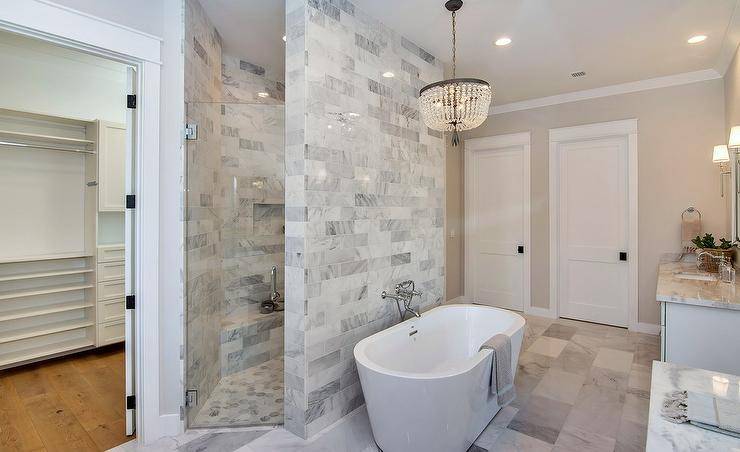 Don't Be Afraid to Have Too Many Lights
If your bathroom is small or in cases of sloped ceilings, you can add a substantial amount of light with the use of ceiling mount lights and wall sconces.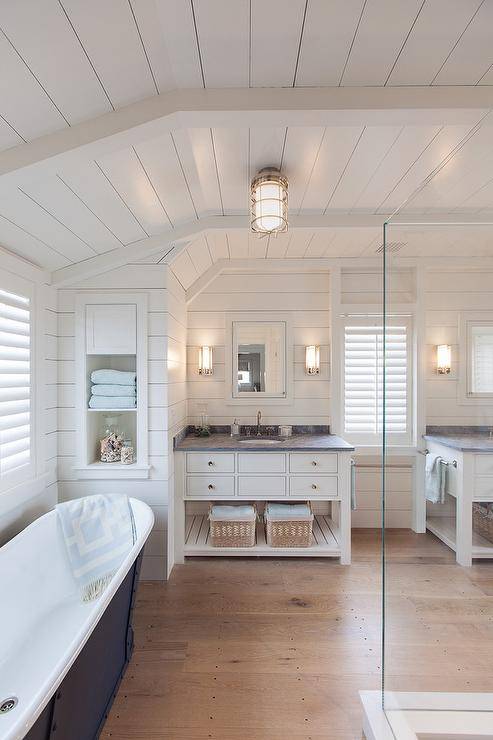 Simple and Sweet
Being overdone and bold is not always best for a space. Sometimes you just have to let the lighting be simple and blend in with the space. In this bathroom, the bold blue color of the vanity really shines, and the lights have more of a supporting role, and that's ok!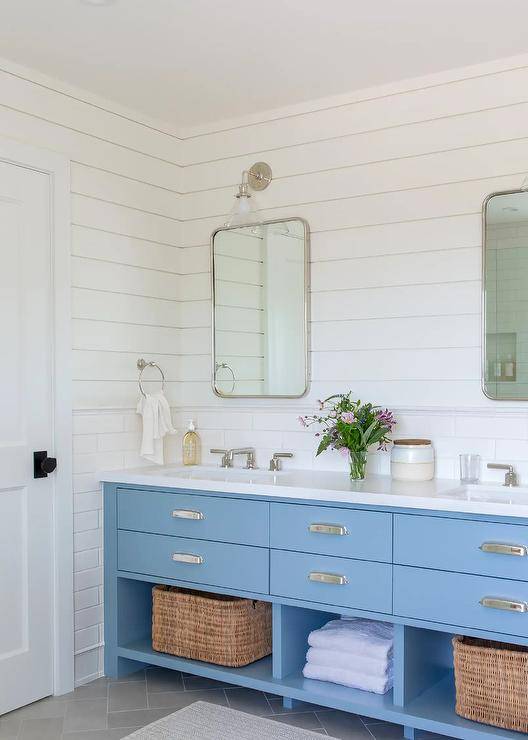 Black, Bold and Elegant
Sophistication and style come together in this modern elegant bathroom. The black marble countertop finds an equally stunning partner in the modern gooseneck wall sconces.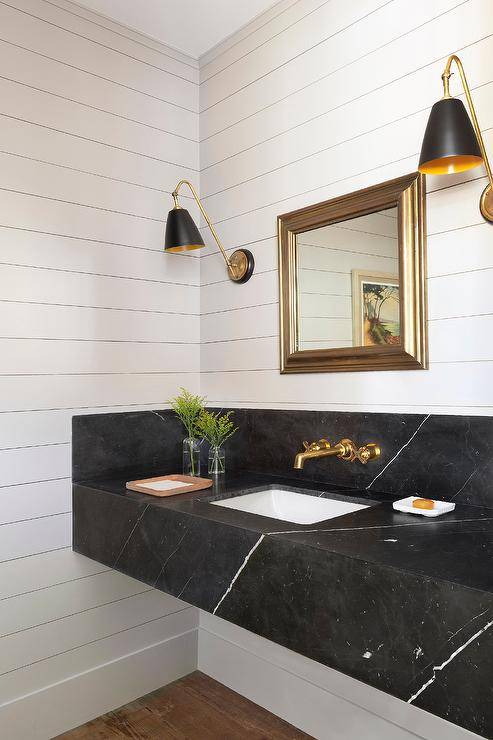 Long and Linear
You may want to consider something long and linear for a contemporary and modern vibe. This style of light is becoming increasingly popular. You can hang two on either side of a mirror vertically or hang one above the mirror horizontally.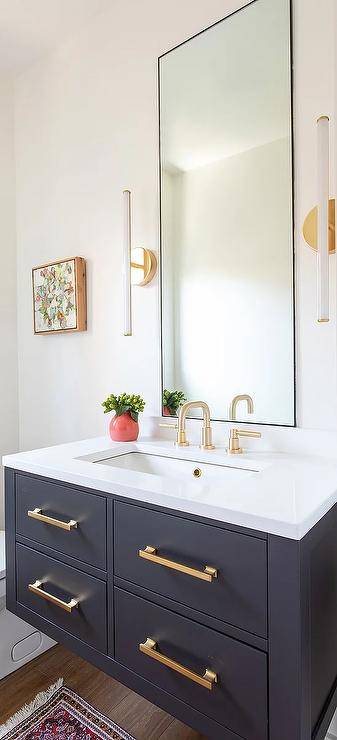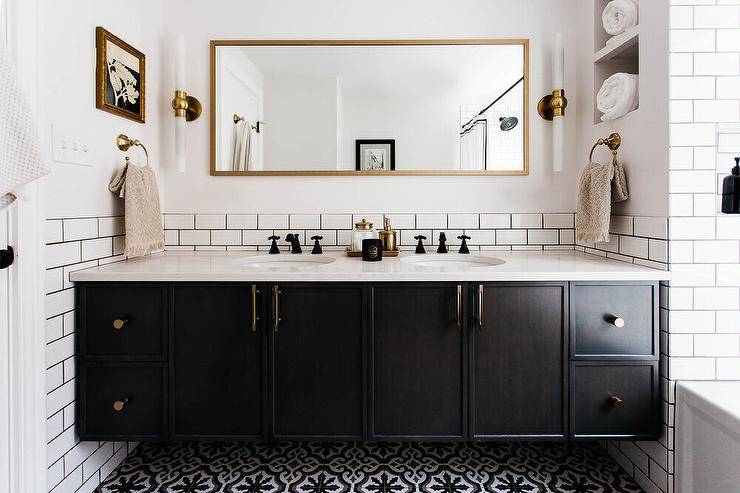 These long styles of lights also look great installed on top of a mirror.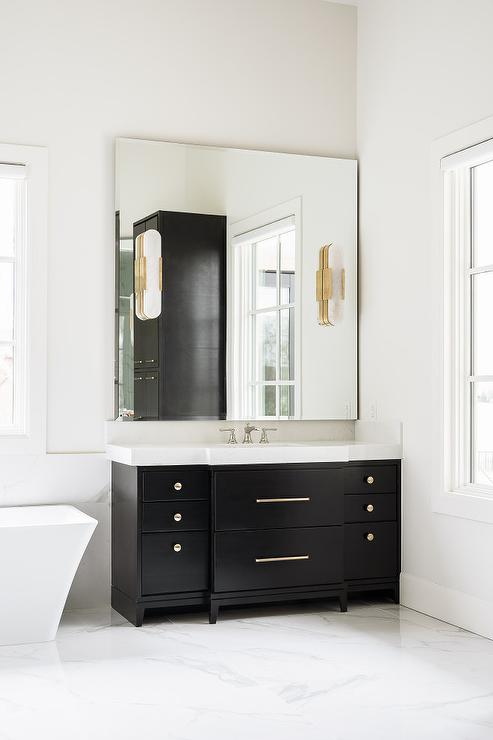 Hanging Pendants
Pretty, Pink, and Extraordinary
These unique hanging pendants are the perfect example of just how far you can go with creativity, from the glitter pink backdrop behind the mirror to the floral wallpaper and then circled right back to the exquisite design of these pendants. This bathroom has everything going on, and we love it!

Photo Credit: Tracy Lynn Studio
Crystals with Black
For a simple look that also has a bit of class and elegance, break up an all-white bathroom with a little black in your light fixtures. These hanging pendants here are perfect for this space, and the black is stunning but softened by the crystals.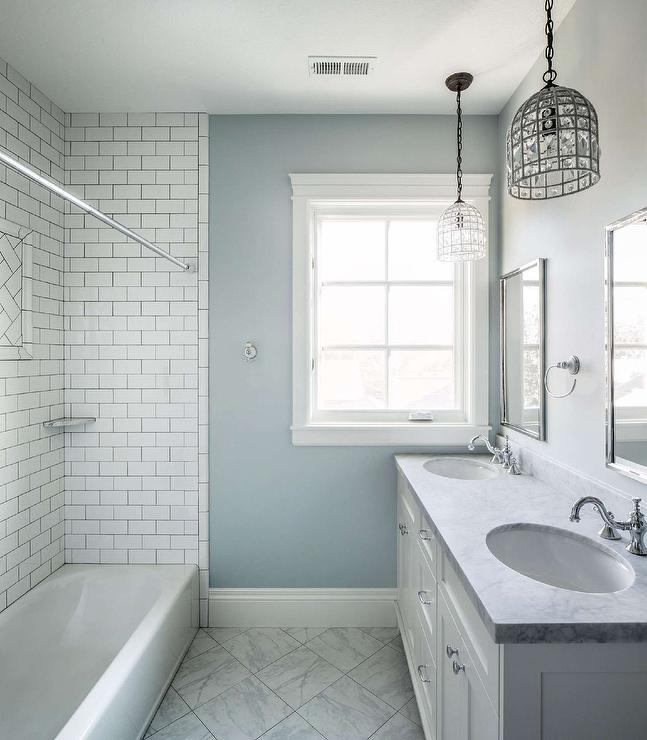 Mirror and Wall Sconces Pairings
These wall sconces were made for this mirror! They blend seamlessly and look almost as if they are an extension of the mirror.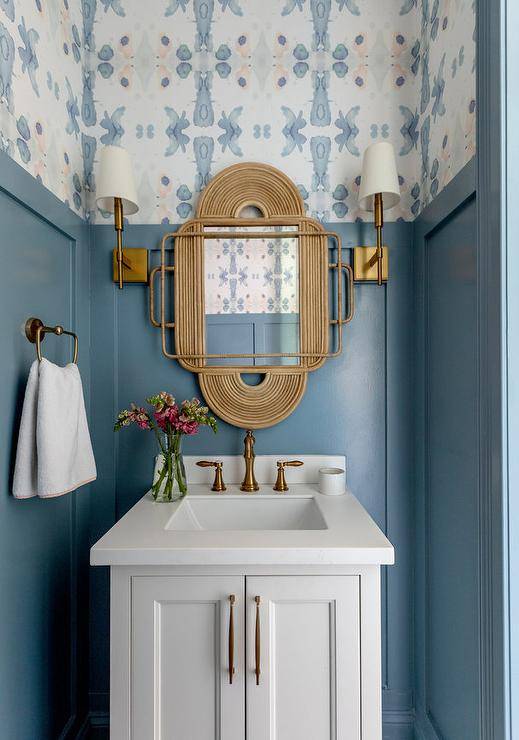 A show-stopping mirror deserves to be the center of attention in this bathroom. It's ok to let your lighting take second place to a pivotal element in your bathroom design. The gorgeous scallop design of this mirror mixed with the deep, gorgeous navy color allow this mirror to take center ring and have the wall sconces act as the second act, but that doesn't mean they're not important.
These simple chrome wall sconces add just the right bit of tradition to this stunning powder room.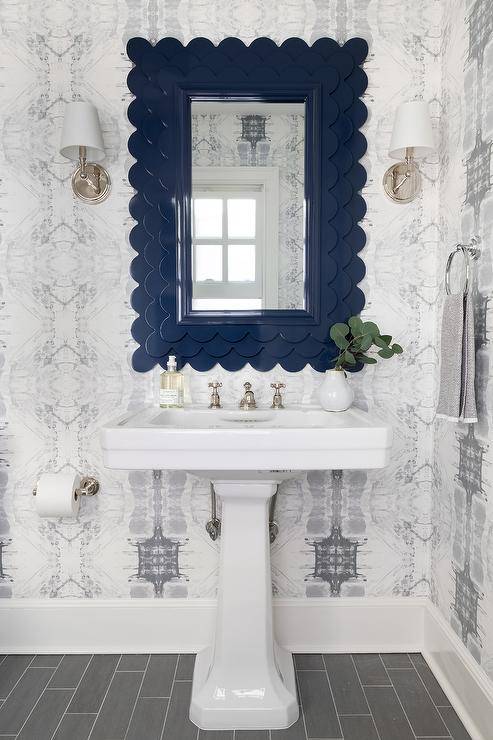 Lighting and Wallpaper
If you want to dress up a pair of plain wall sconces, try installing them on top of pretty patterned wallpaper. Wallpaper can make such an impact and statement in a bathroom and can help accentuate your lighting.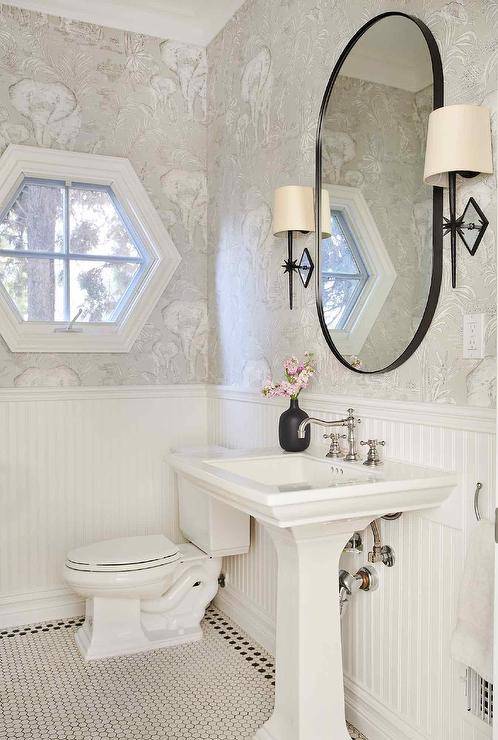 If you're going to with a wallpaper that is busy and bold, make sure your light choice is more subdued. Too much bold can overwhelm the space and distract from a serene like atmosphere.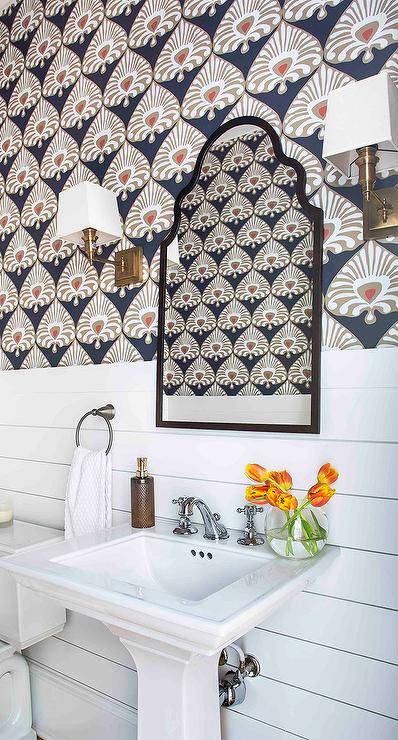 You don't have to mount your wall sconces on either side of the mirror or over the top. Try something a little different and unique by mounting your wall sconces on either side of the wall. This is great for bathroom spaces where your mirror is sandwiched in between two walls.
We are totally crushing on these ornate candle wall sconces. They add a unique antique look to this trendy and vintage-style bathroom.