The Dernier Cri in Office Interior Design – Inspirations in Acoustics
18 May 2023
Clerkenwell Design Week returns to EC1 next week from 23-25 May – OnOffice
22 May 2023
A curated outdoor lounging area can become the ultimate sport for entertainment or relaxation. Decorating with throw pillows is one of the best designers' tricks to make your outdoor entertainment space feel like an expansion of the main living area. Let's dive in and discover the latest tips for decorating with pillows!
Welcoming balcony
No matter how small or big a space is, you can always turn it into a relaxing sanctuary. With fluffy rugs and colorful outdoor pillows, even the tiniest balcony looks cozy and welcoming. The outdoor cushions follow the rug's color scheme for a cohesive yet cheerful design.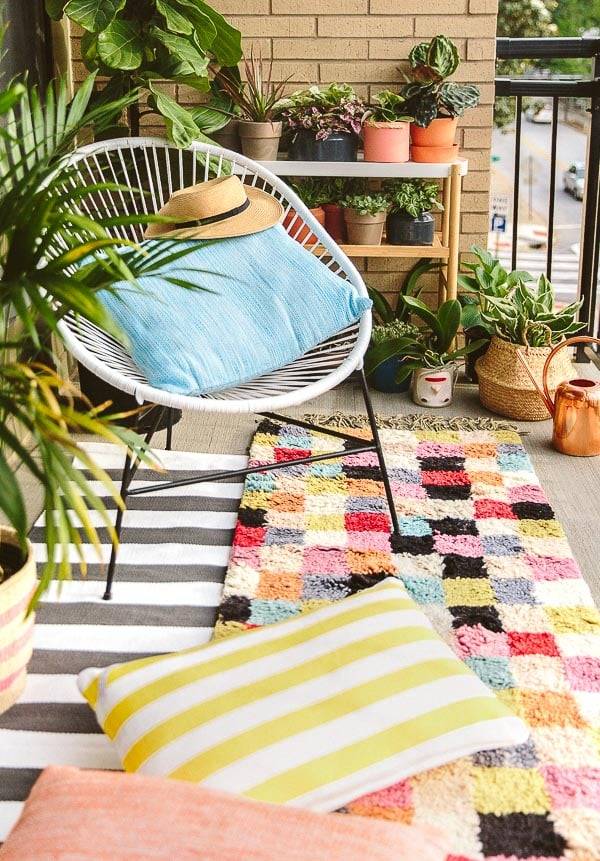 Boho sanctuary
Your front porch bench might not look like it has a lot of design potential now. But you can add a colorful outdoor pillow set to spruce it up. This mix-and-match set brings a boho pop of color. The different patterns all have the same color scheme for a tastefully intriguing look. Complement with a seagrass ottoman and a lantern to create a mini outdoor retreat.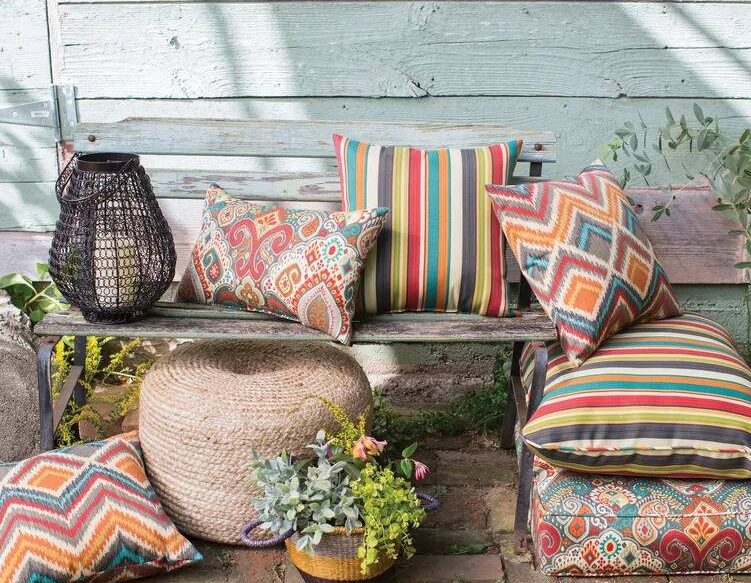 Cozy reading nook
A porch swing becomes a cozy reading nook when it's accessorized. A set of textured pillows and a throw blanket create a comfy spot for lounging and reading. A small side table is there to hold your book and a refreshing beverage, while the lanterns and potted plants anchor the setting.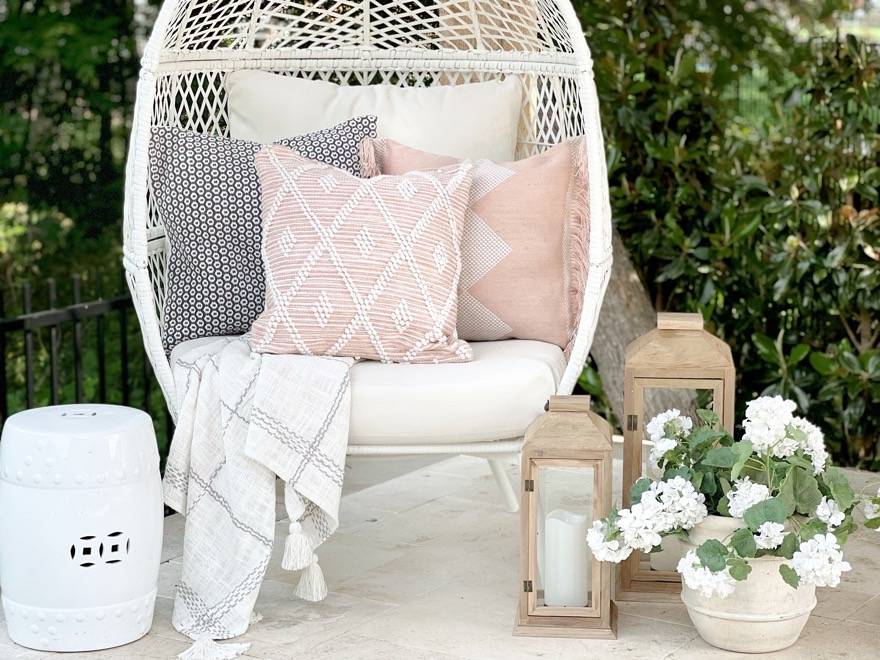 Colorful lounging area
This set of colorful outdoor pillows elevates a neutral rattan sofa, creating a summer-ready indoor-outdoor living space.
When shopping for cushions, you might have noticed that they have a higher price than indoor ones. The better quality justifies the price difference, as outdoor pillows are made of high-quality materials that can withstand weather elements.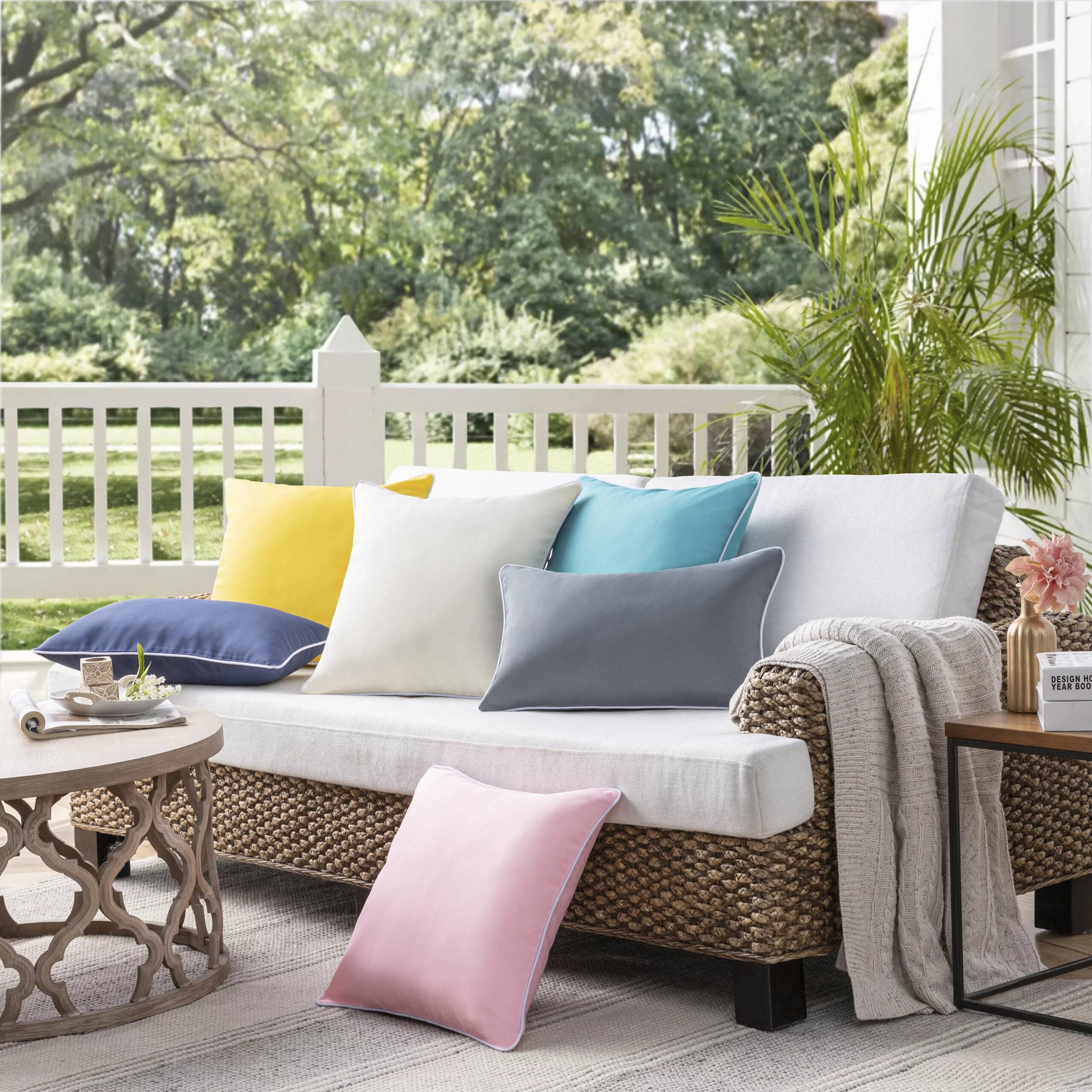 Cohesive outdoor living area
A cohesive color scheme will connect the different zones in your outdoor living area. This is very important if you love mismatched furniture but want to keep the look somewhat connected.
Use the same outdoor pillow set for the sun loungers and outdoor sofa to bring continuity. The navy and white combo brings a coastal look while flattering natural materials like wood and rattan.