Walk-in showers make life easier, and that's for sure! The sleek and modern design of a walk-in shower has become increasingly popular over the last decades, with newer builds opting for walk-in showers and free-standing tubs or, in some cases, no tubs. Whether you want a tub or shower or both, you can't deny that an elegant walk-in shower only elevates the design and feel of a bathroom.
We have just the roundup of gorgeous walk-in shower ideas that are sure to inspire you with your bathroom design project or even if you're just thinking about a walk-in shower. These designer walk-in showers will have you swooning.
Marble Masterpieces
A frameless glass surround with a stunning display of marble in this walk-in shower takes this bathroom to royal heights. The floor-to-ceiling marble gives this bathroom a rich and luxurious feel.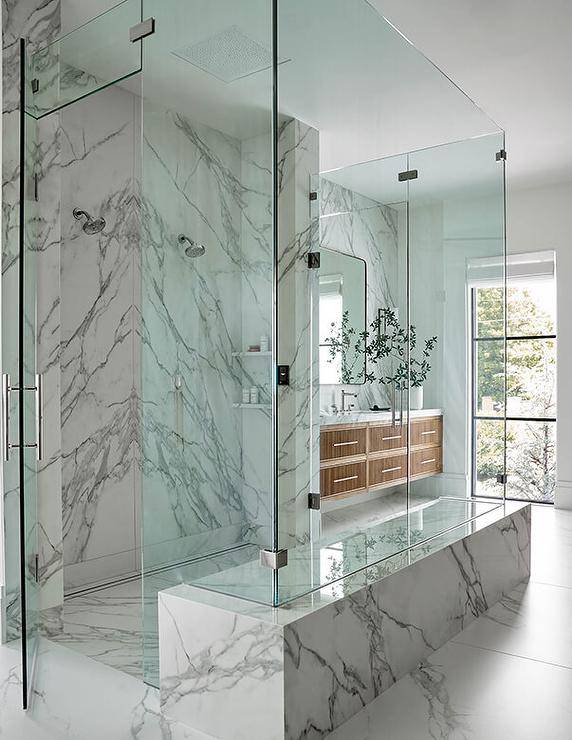 Marble looks great with gold and really adds a luxurious and rich touch to a walk-in shower.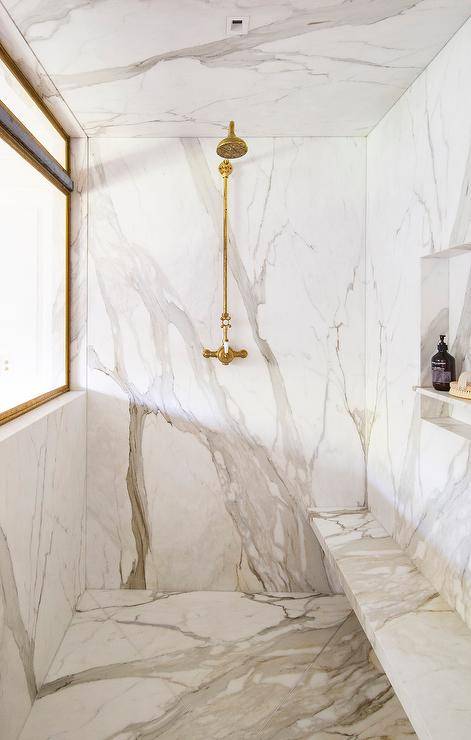 A must-have for a relaxing walk-in shower is a rainfall shower head. Mount this style of shower head to the middle of your shower ceiling for a relaxing and spa-like shower.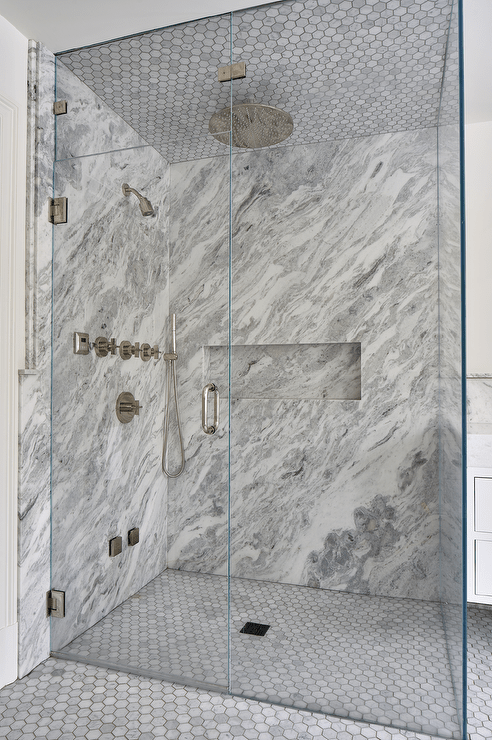 An elegant touch with marble is to make a built-in marble bench right in your walk-in shower. You can use two different types of marble to create a contrasting bold look.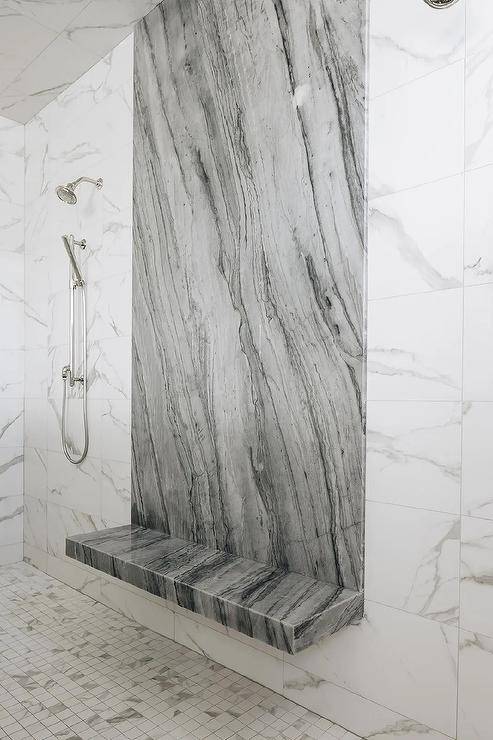 If you're going to go with marble for your walk-in shower, why not go all out and do a matching tub with the same marble? Your bathroom will become a place of ultimate luxury and peace.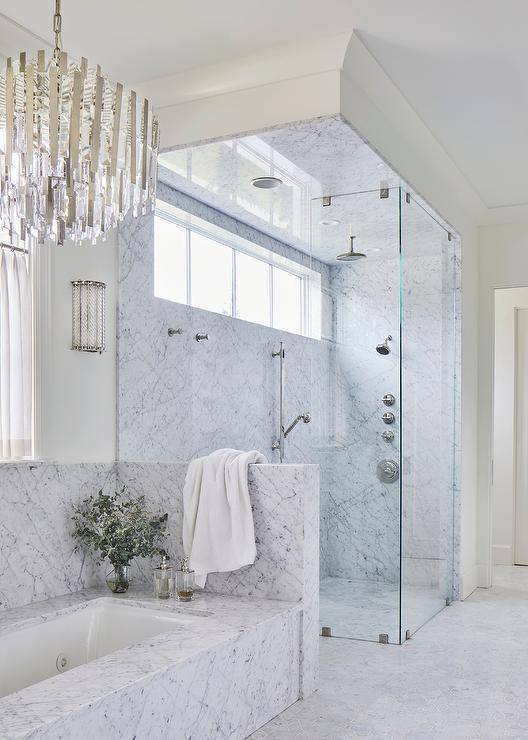 Green with Envy
The deep rich green subway tile in this walk-in shower has us swooning, and even though this walk-in shower is on the smaller side is totally grand in style and taste.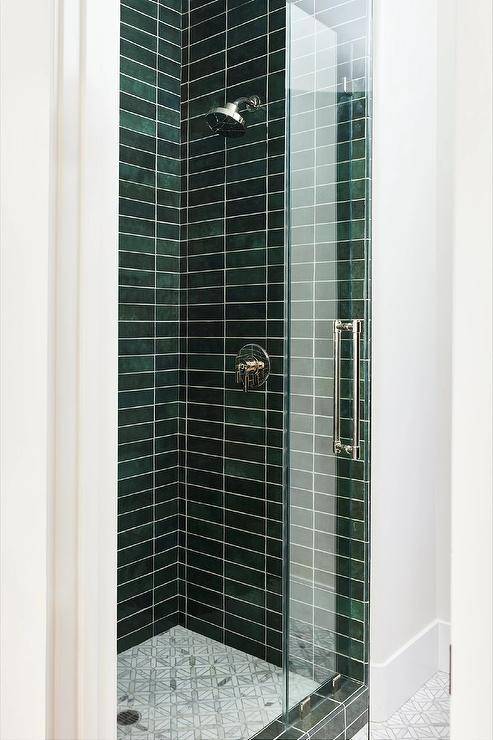 "Walk-In" to Contrast
The contrast for this gorgeous red marble shower bench in this walk-in shower provides a stunning impact piece that really catches the eye. With a walk-in shower, you can add shower benches — either built-in, stationary, or moveable.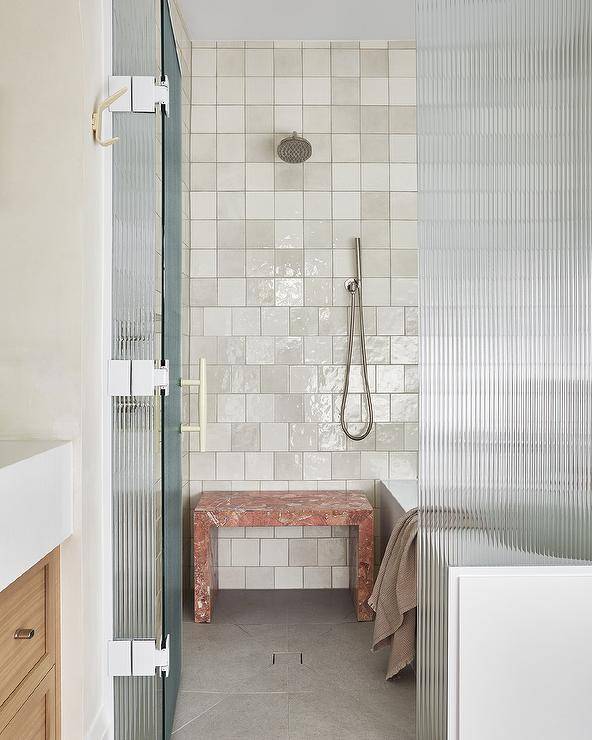 Seeing Double
Seeing double is a good thing when it comes to a walk-in shower; if you have room for it, a double or "his and her" shower heads are a nice touch to any bathroom.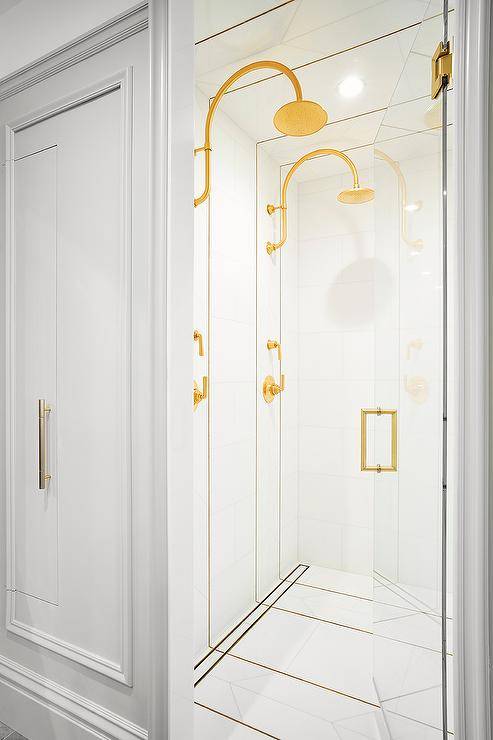 Double shower heads on opposite sides of the walk-in shower are pretty, too! Consider a free-standing tub inside your walk-in shower if you have room for it.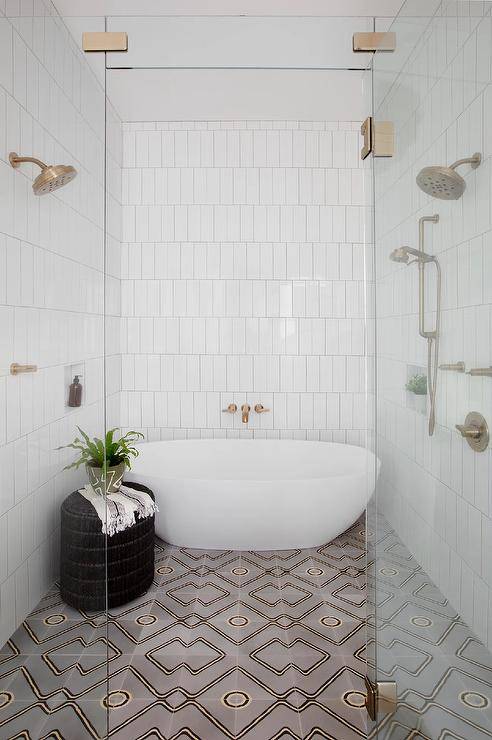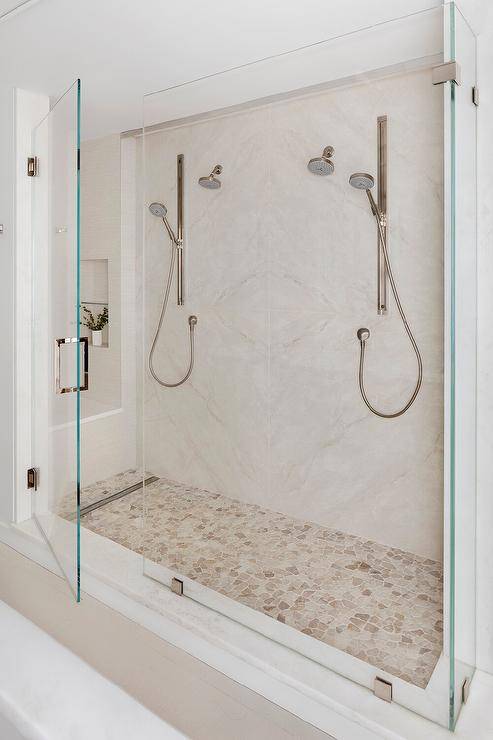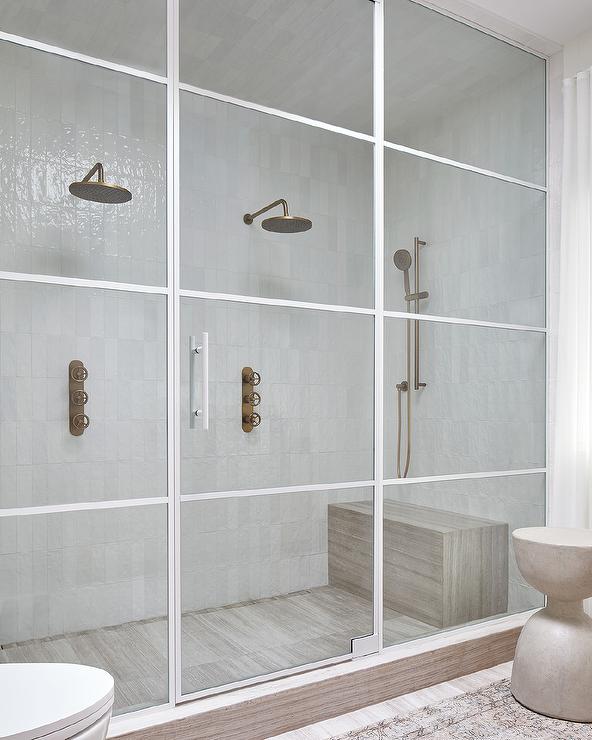 Daring and Bold
The contrast of black and white creates a visual impact that looks absolutely lovely in a bathroom, especially in a walk-in shower. While this may not be the typical style and look, it creates a unique and bold space.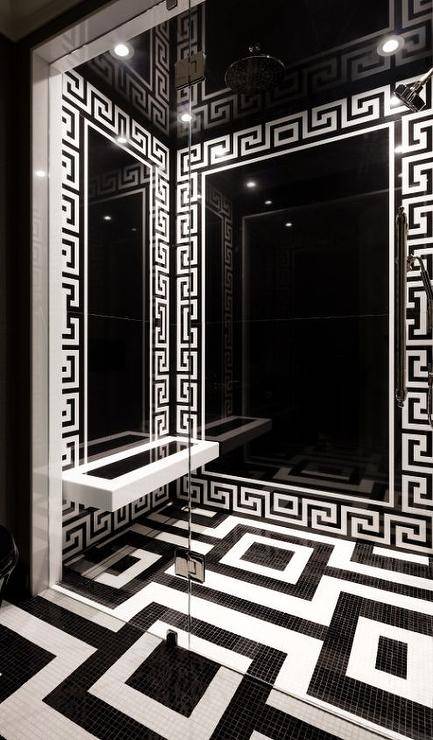 Simple and Minimalist
A minimalistic simple vibe is easily achieved in a walk-in shower by keeping the tile work straightforward and white. You don't need to go with overbearing tile designs and bold if you prefer something just classic and elegant.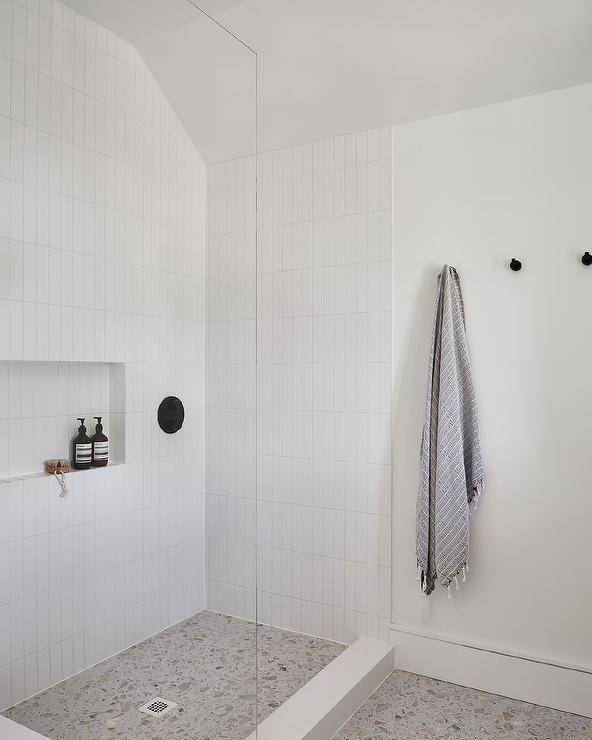 Slanted Designs
If you have a slope to your ceiling in the bathroom, no problem! A slanted ceiling is a great place to install a walk-in shower. Bring the tile work all the way up to the ceiling and beyond to elongate the space and make it feel less closed in.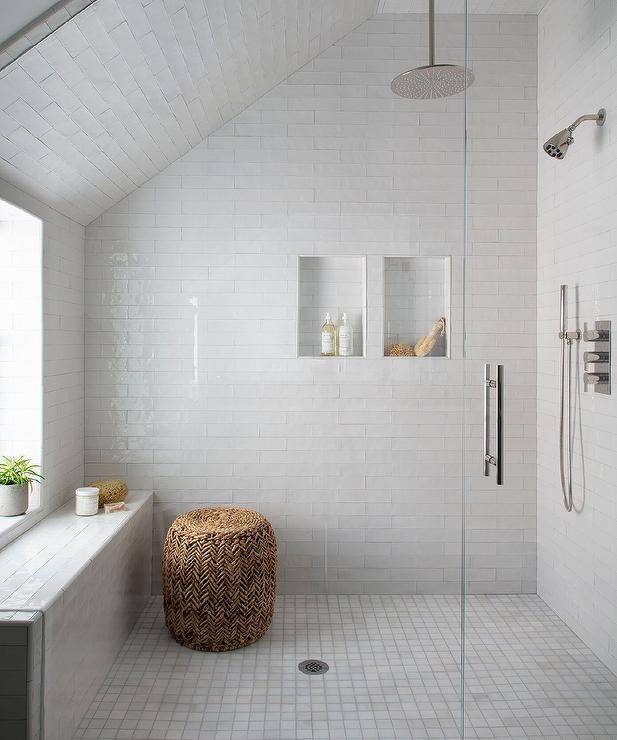 If it's in the budget, think about adding in a skylight. This will open up the space and allow the walk-in shower to feel even larger by allowing natural light to pour through.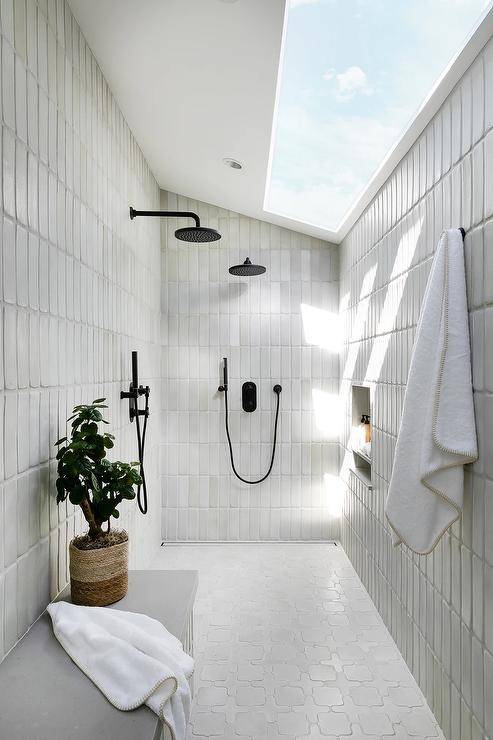 Open it Up to The Outside
This walk-in shower design includes two double frosted doors that open up to the outside. This would be a great idea if you have an outdoor pool and you wanted easy access to the bathroom from the outside.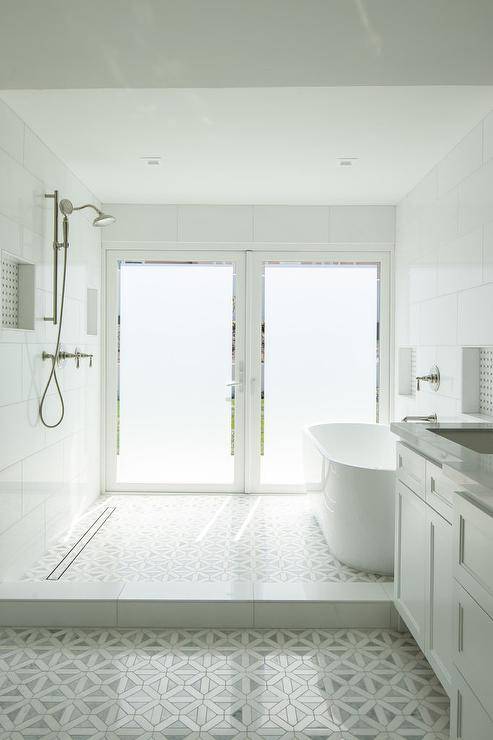 Stunning Tile Work
The whole point of an open walk-in shower is to be able to show it off, so if you want some visually appealing eye candy, get creative with tile work. Choose a tile for your shower that acts as art.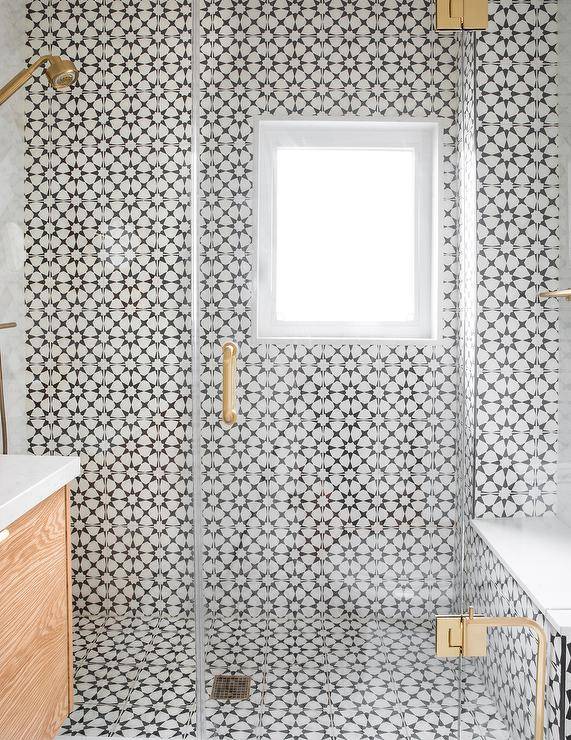 This designer used mosaic tile to create a piece of art right within the walk-in shower in this walk-in shower.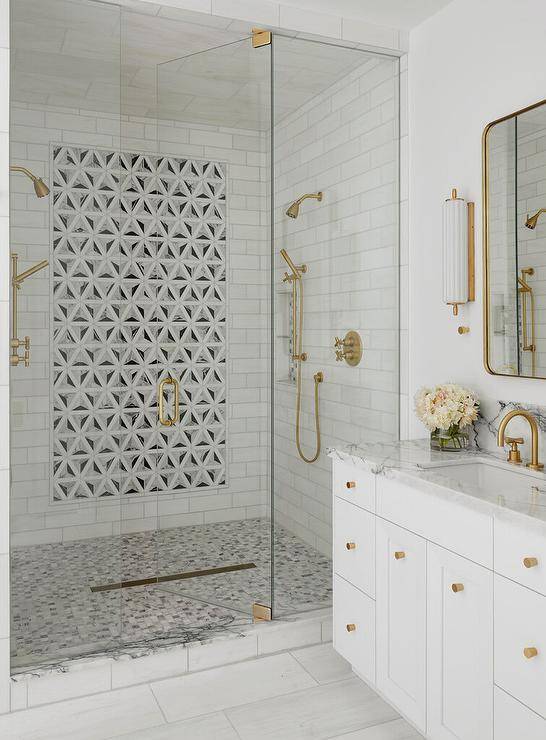 Contrasting tile can look stellar, too! Different patterns and colors, all used together, can create a unique and imaginative look.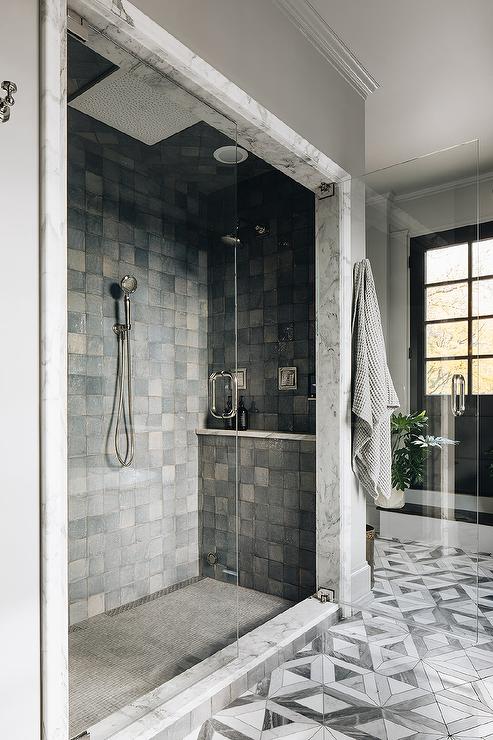 A striped tile work pattern that goes all around horizontally around the walk-in shower will widen the space and make you feel as if you have tons of room. This is great for smaller walk-in showers where you don't want to feel cramped.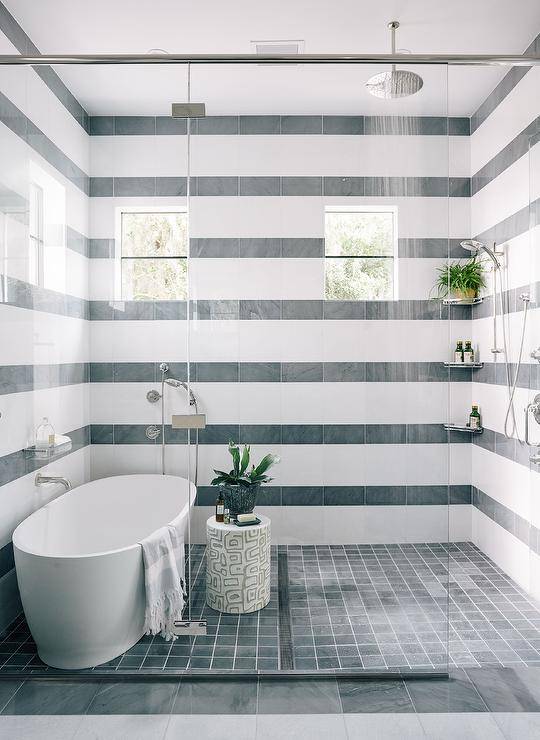 Related: Bathroom Shower Tile Ideas to Create a Clean and Relaxing Space
Tranquility with Blue
A common color of tile for a walk-in shower is blue. This is because the color blue evokes a feeling of peace and tranquility. Often times blue is the color commonly used at spas, so why not use it in your own bathroom at home?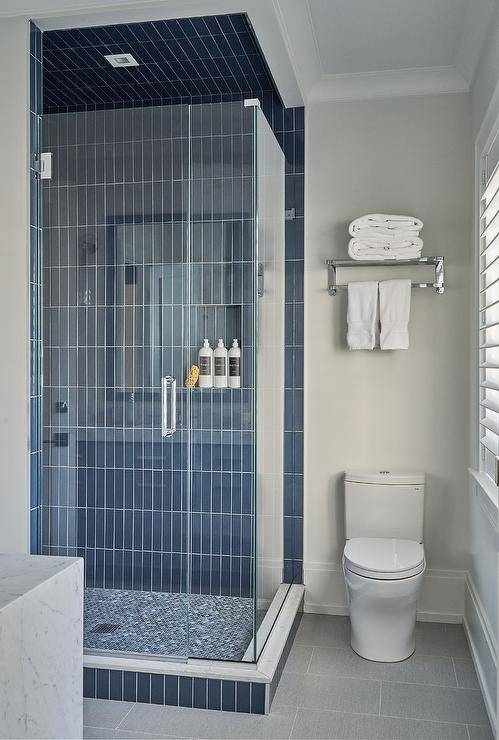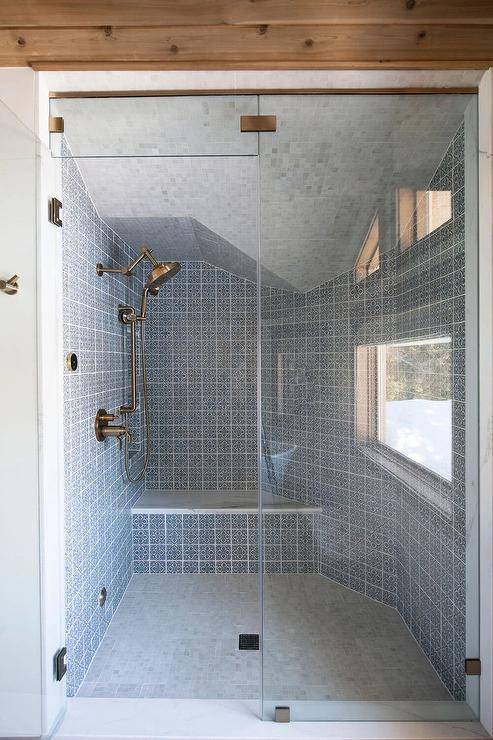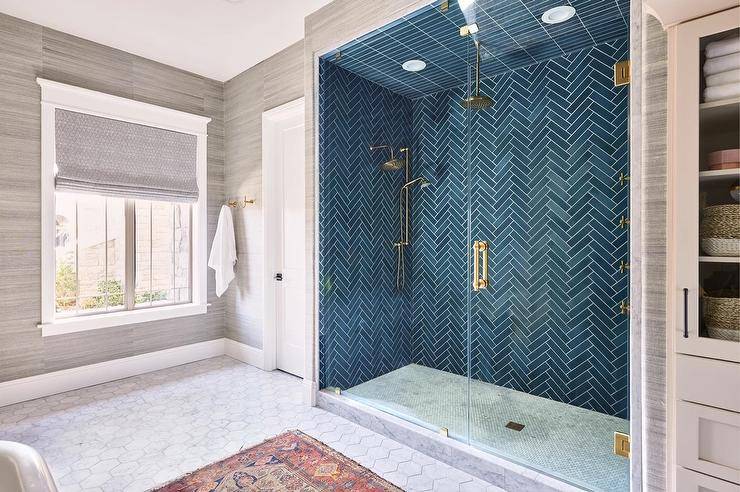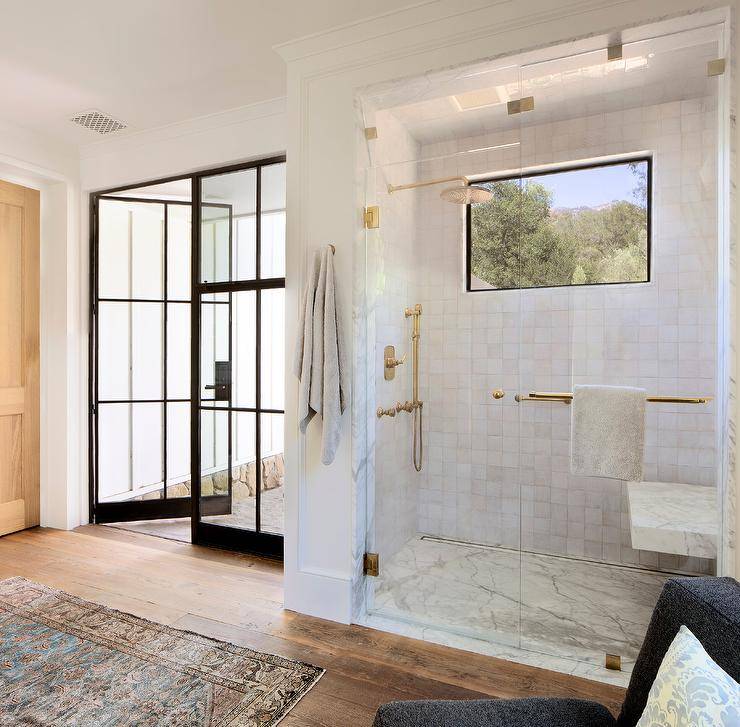 Tight Spaces
You don't need to have a lot of space to have a walk-in shower. Smaller walk-in showers are achievable and can make the bathroom appear larger by not taking up room with bulky tubs or shower surrounds.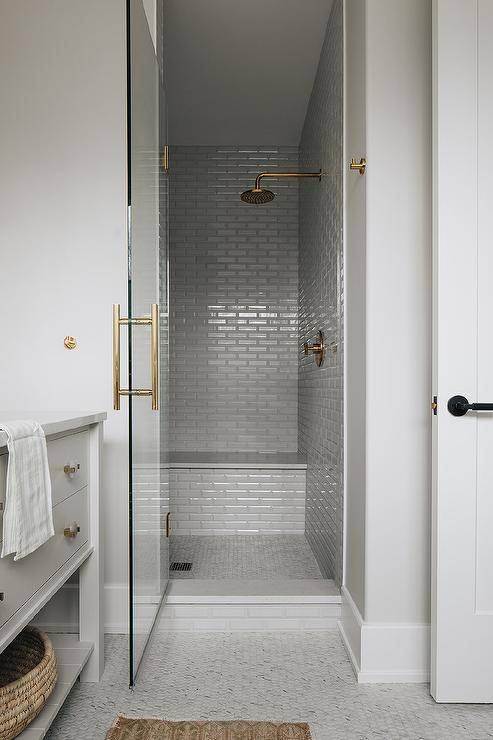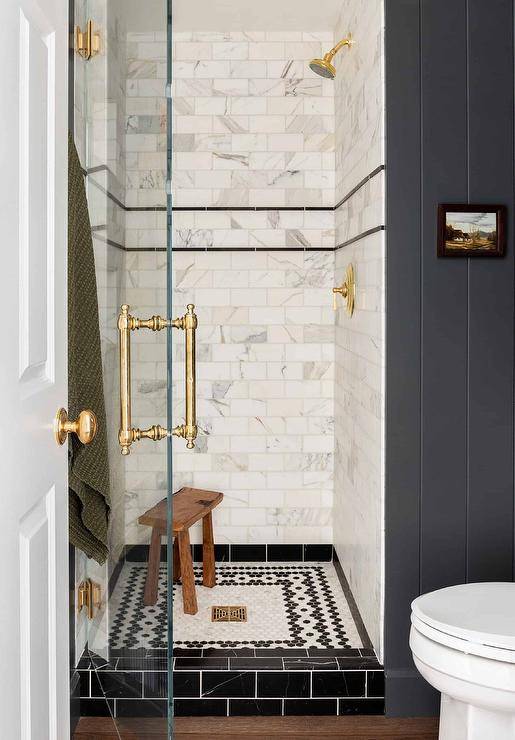 When working with a smaller space, carry the same tile throughout the floor of your walk-in shower and onto the bathroom floor. By keeping the tile cohesive, you will make the space appear larger.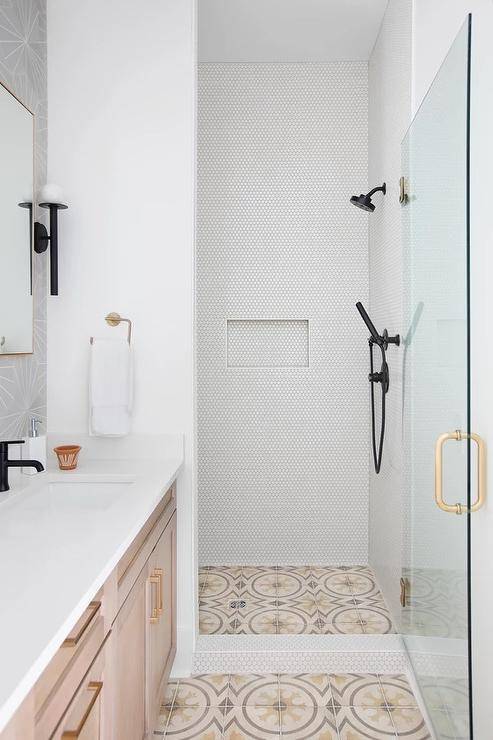 Beautiful Symmetry
When we look at this bathroom, it's hard to turn away. The symmetry is stunning and leaves this bathroom looking completely flawless. The floor tile is carried throughout the bathroom and right into the walk-in shower, which prevents harsh lines and angles, allowing the symmetry to flow completely.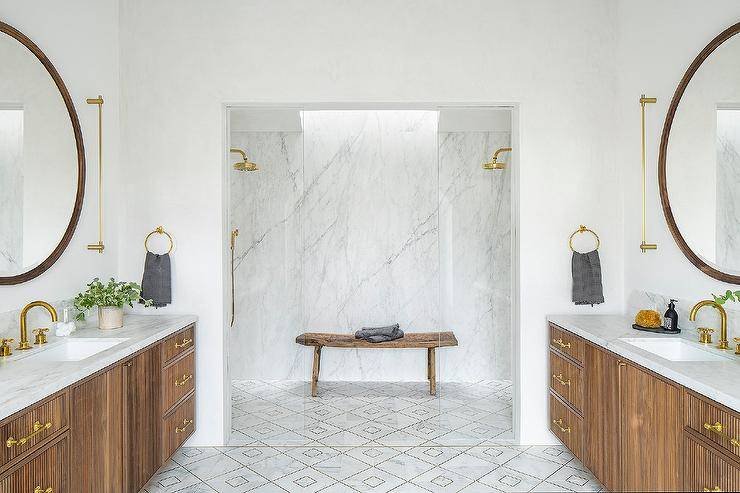 Contrasting Marble and Tile
Make a forceful statement with marble and tile that adds some depth and dimension to your walk-in shower. Stick with the same color or hue but go for two patterns that almost fight one another for the spotlight. This will give your walk-in shower a striking and innovative style.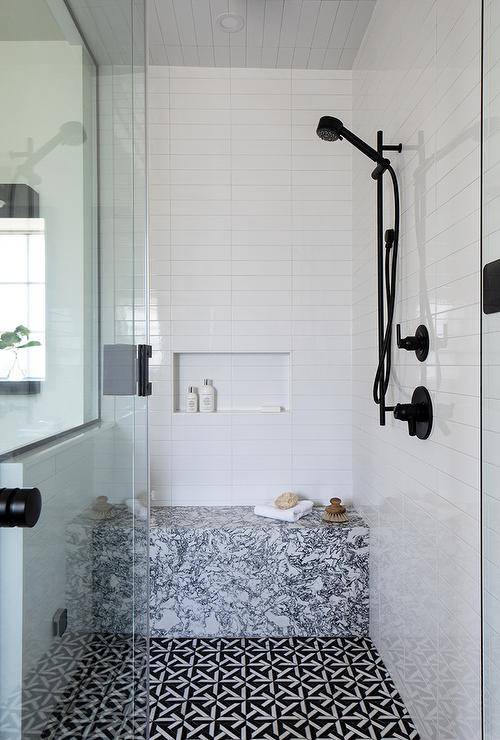 Ceiling Spotlight
An open-concept walk-in shower in this bathroom allows this gorgeous ceiling feature to take center stage. The frameless glass surround keeps the shower area contained but keeps it open and airy as well.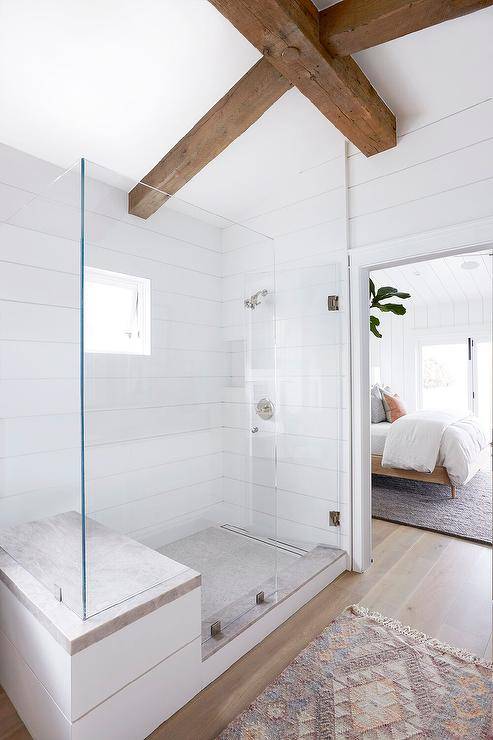 Floor to Ceiling Tile
Immerse your entire bathroom in decorative mosaic tile, not just your walk-in shower. With floor-to-ceiling tile that is daring and bold, your bathroom really comes alive and turns into a stunning display of art.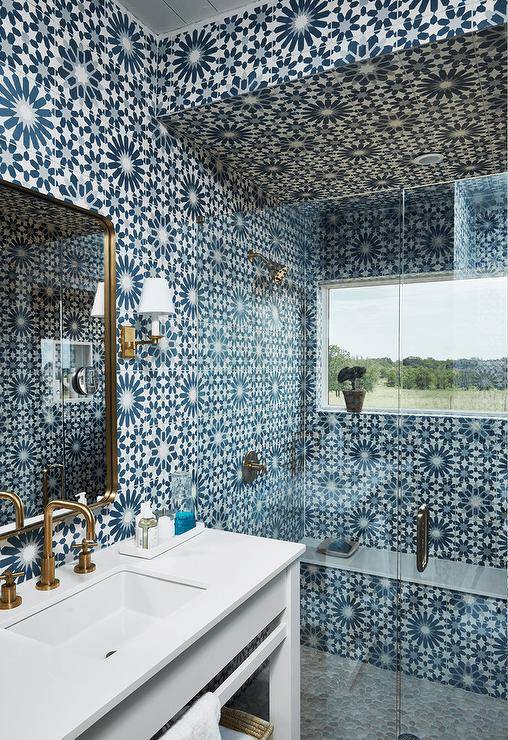 Walk-Ins Behind Tubs
It's becoming increasingly popular to place your walk-in shower in the middle of the bathroom and directly behind a freestanding tub making it the central focal point of the room. If your walk-in shower is encased in frameless glass, your room won't feel weighted down by the shower being directly in the middle.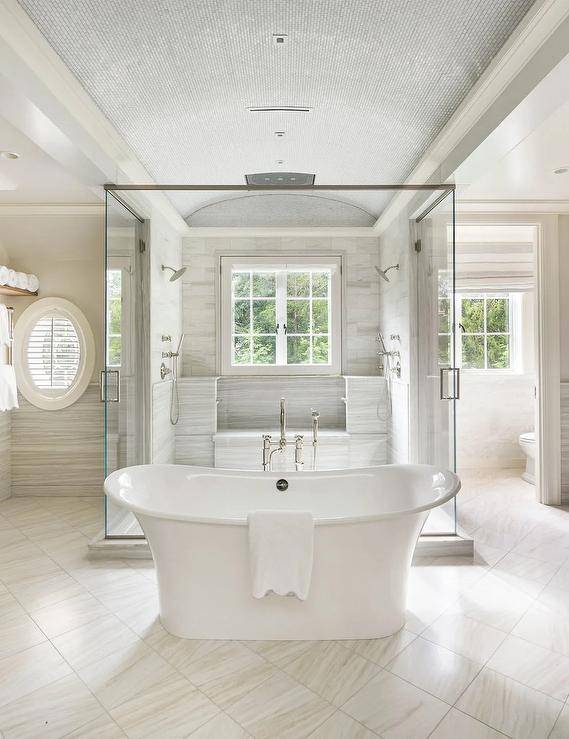 If you like a little privacy, we love this bathroom with the arch window in the walk-in shower.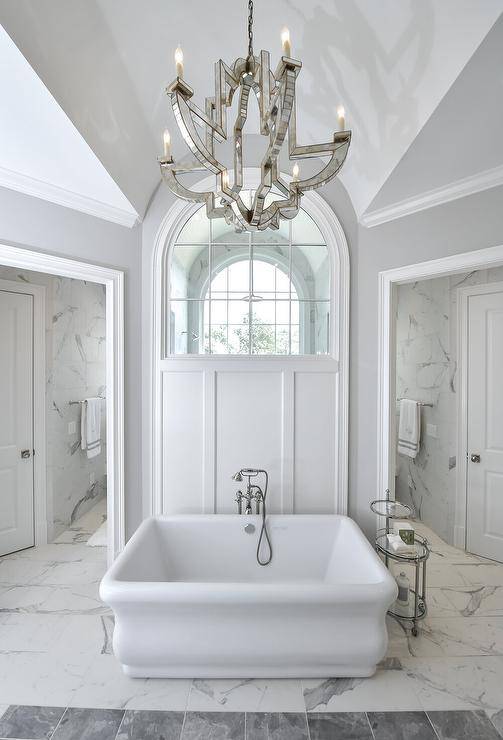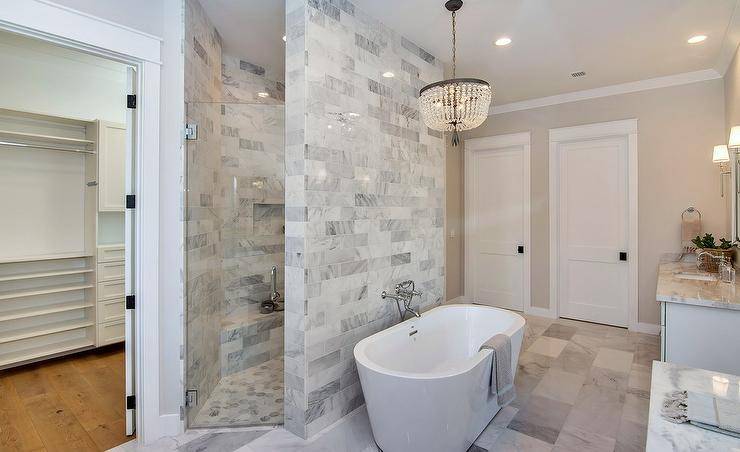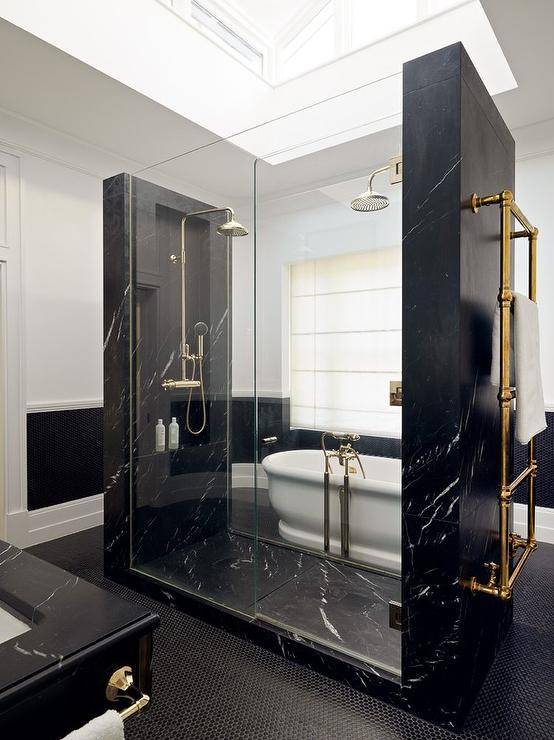 Modern Framed
Make a statement with the doors on your walk-in shower. These black framed beauties are sleek and modern, and the double door entrance into the shower offers a much-welcomed change to the typical sliding glass shower door.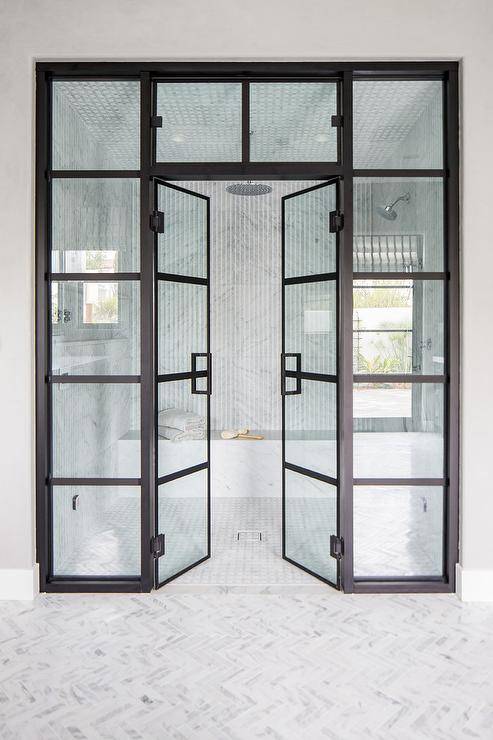 Frame it Out
If you have a wall surrounding your walk-in shower, don't miss an opportunity to jazz it up. Framing the wall around the shower with some pretty subway tile allows you to add color and style to your bathroom.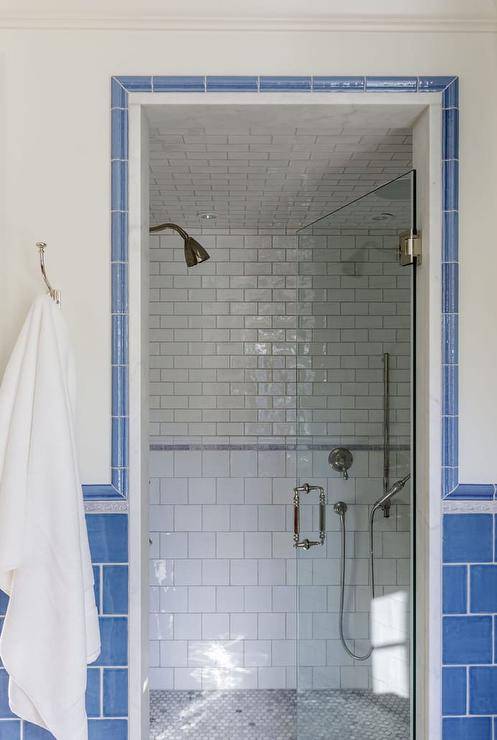 Tucked in the Corner
Corner showers are still going strong, and they are just getting better over time. Long gone are the typically molded shower corner kits. Tiled, elegant corner showers are a fresh facelift in the modern, updated bathroom.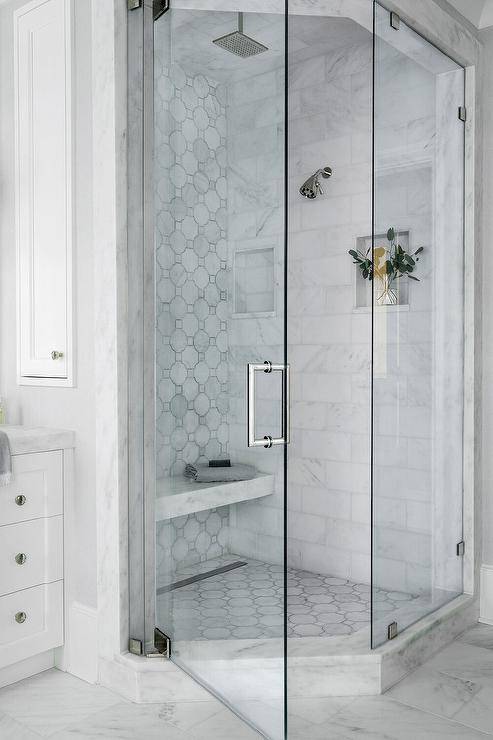 Switch Up the Tile Lay
If you went with horizontal tile on the shower wall, you could use the same tile for the floor just switch up the pattern in which you lay it to add some depth and design to your walk-in shower.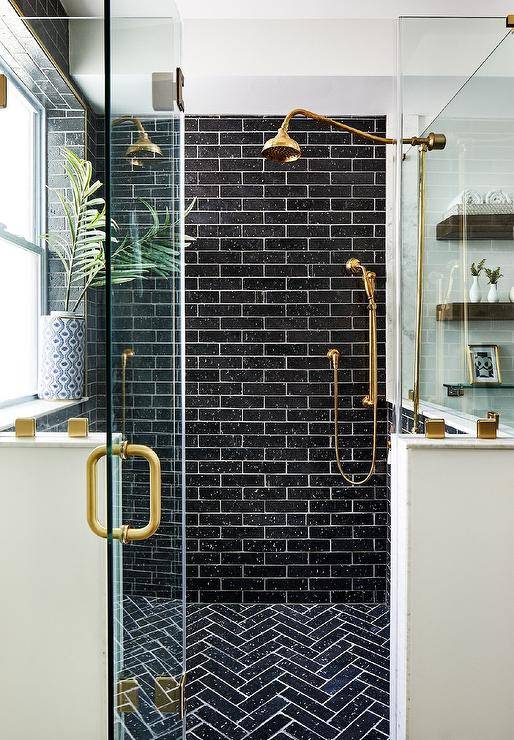 Related: 36 Stunning Tiled Shower Ideas To Transform Your Bathroom
Add a Corner Bench
Make useful space within your walk-in shower by installing a corner bench. These can be made of marble or tile and will give you a place to sit in the shower, prop up your legs for shaving or put things on — they are just all-around useful and pretty, too!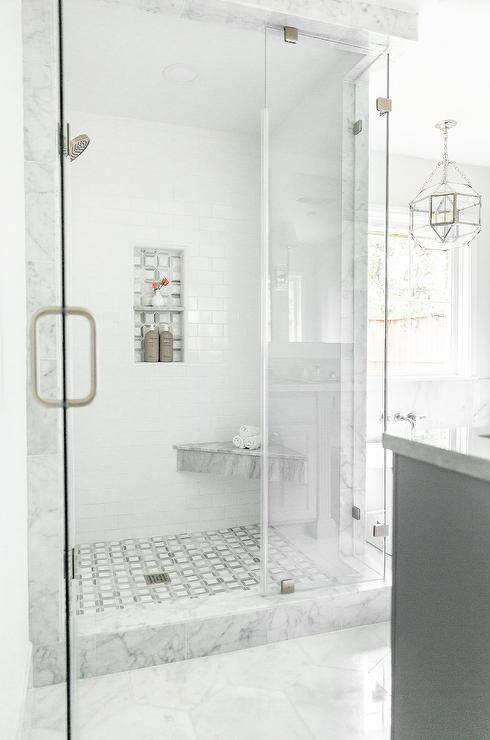 Stunning Architecture
If you have the means, unique architecture for a walk-in shower can elevate your bathroom from just pretty to magazine worthy. Play up curves and smooth lines with arches and other rounded architectural details.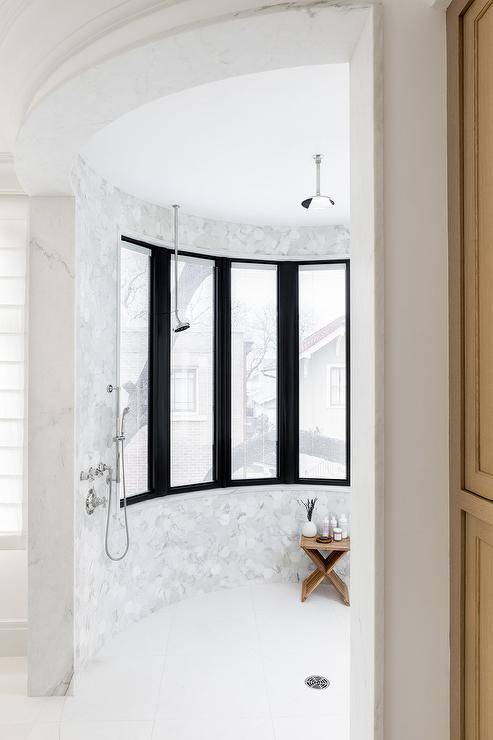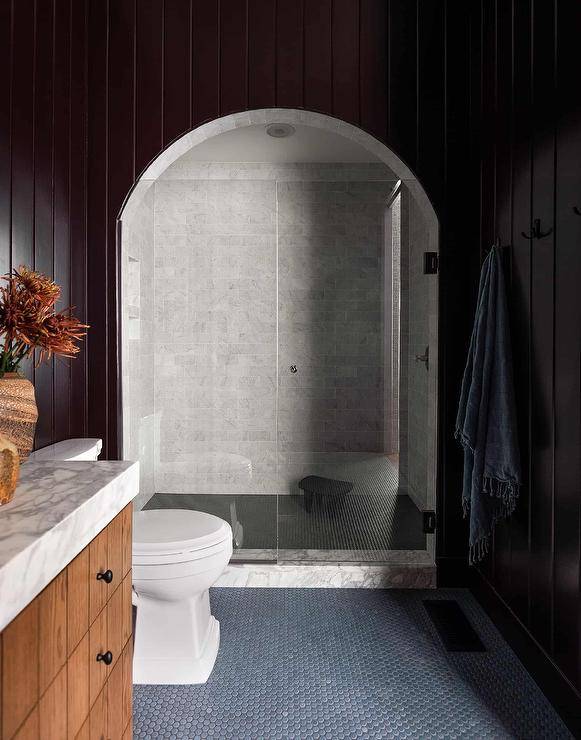 Put Your Tub Right in the Shower
If you have the room, put your tub right in your walk-in shower. This is a newer trend, and it's catching on quickly!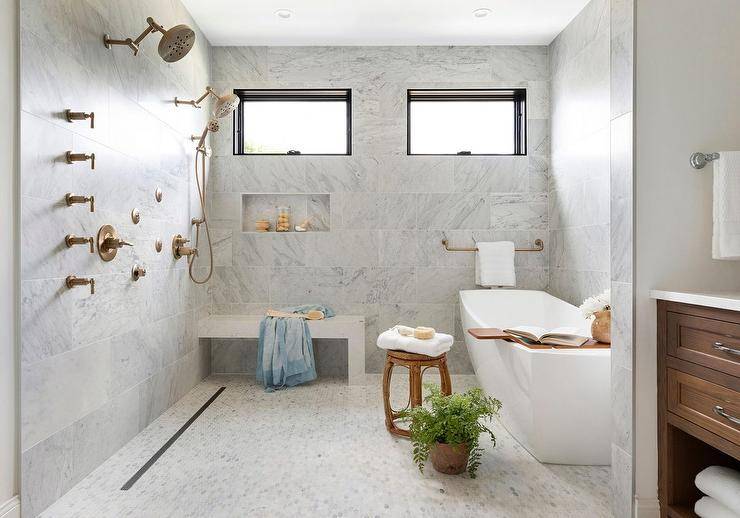 Frequently Asked QuestionsFAQ
What is the difference between a walk-in shower and a wet room?
The difference between a walk-in shower and a wet room is that in a genuine wet room, the area is entirely open plan, and the water flows away through a drain in the floor, whereas a walk-in shower typically features one or two glass screens and a low-level shower tray. Both choices provide leisurely access and make a beautiful statement in any bathroom or en-suite.
Are there different types of walk-in showers?
The three most common types of walk-in showers are recessed, which fit into an alcove and are ideal for replacing a bath. Corner which fits into any corner of the bathroom and can replace a standard shower enclosure such as a quadrant, and floating which creates a very sleek, modern look and allows for entry at either side.
Why is it called a walk-in shower?
Walk-in showers don't need a door and are free of curtains and a bathtub, so you can enter them without navigating any steps or barriers. These modern and stylish showers can be partially enclosed with half walls and panes of glass or totally open with no surrounding barriers, offering a unique bathing experience.
What is the difference between a walk-in shower and a normal shower?
The definitive difference between a walk-in shower and a normal shower is that a walk-in shower has no barriers to get in; you just walk right in, whereas a typical or normal shower is often inside a tub or has a bulky lip or edge to step over and into the shower.
Does a walk-in shower add value?
In most cases, removing a tub and installing a well-appointed walk-in shower does increase the value of a home. Removing your only tub to install a walk-in shower can make your home's value take a hit because most prospective homebuyers, especially families with small kids, want at least one bathtub so if you plan on installing a walk-in shower and you want the most value for your home, ensure that there is still at least one tub in the home.
What is a good size for a walk-in shower?
Of course, if you have lots of room, you can go as big as you want but the ADA suggests a minimum size of 36 inches by 36 inches for a walk-in shower, which features a bench attached to one wall for sitting. Even if you eschew the bench, 36 inches by 36 inches is a good minimum size for ease of showering.
Do walk-in showers need doors?
Generally, a true walk-in shower is constructed without a door. But there are no strict rules when it comes to the bathroom so this means that you're free to design your walk-in shower to best meet your personal tastes. Fortunately, as we have shown you here, this aesthetic provides numerous design possibilities.
If you want to do more renovating in the bathroom, maybe you will find these related articles helpful: