There are so many great things about a half bath — or sometimes referred to as a powder room. At first, it may seem an annoyance that these bathrooms are often smaller and tighter spaces, but when you think about it, with less square footage, you can quickly renovate these spaces without spending a ton of money.
This humble space gives homeowners the opportunity to take risks with their decor and get creative. The half bathroom — a room without the "bath" typically contains a sink and toilet and a few feet of room to dress up and decorate.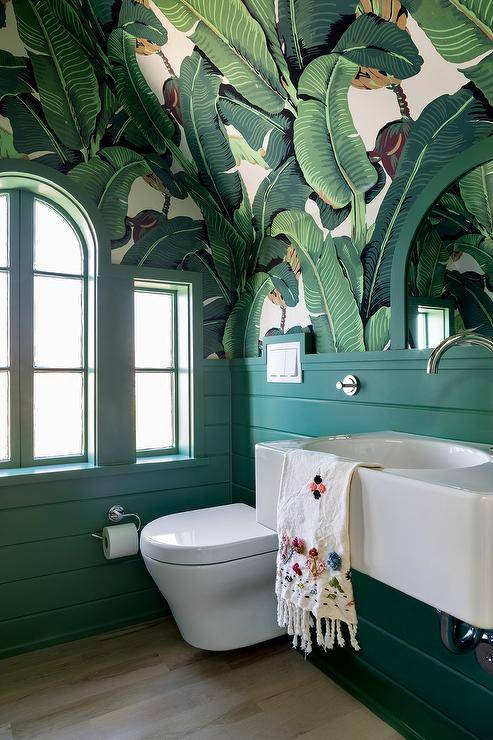 We have compiled 40 half bath spaces that we hope will inspire you to take the plunge and do something bold and beautiful with your half bath.
Statement-Making Wallpapers
The half bath is a place where you can take risks and experiment with bold decor ideas. Statement-making wallpaper is a great start. You don't have to do the whole bathroom, though. Try adding wallpaper on the wall just behind the mirror or just a small part of the wall.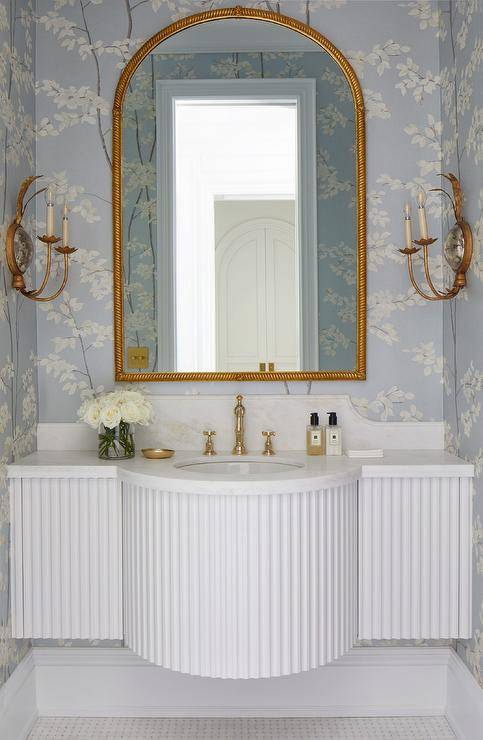 Daring and dark-colored wallpapers look great in the half bath or powder room.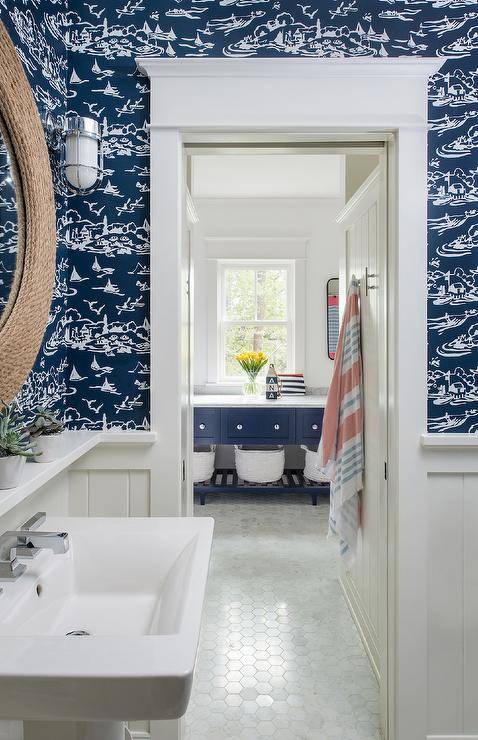 A popular look is to complete the bottom half of the wall with board and batten or shiplap and then carry the rest of the wall with a patterned wallpaper.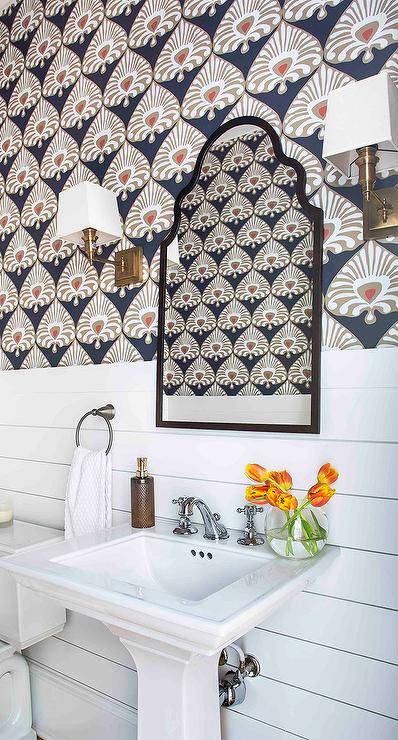 Pedestal Sinks
A half bath is an excellent spot for a pedestal sink. In most half baths, you are already short on room, so don't take up a lot of space with clunky vanities; instead, opt for a decorative pedestal sink.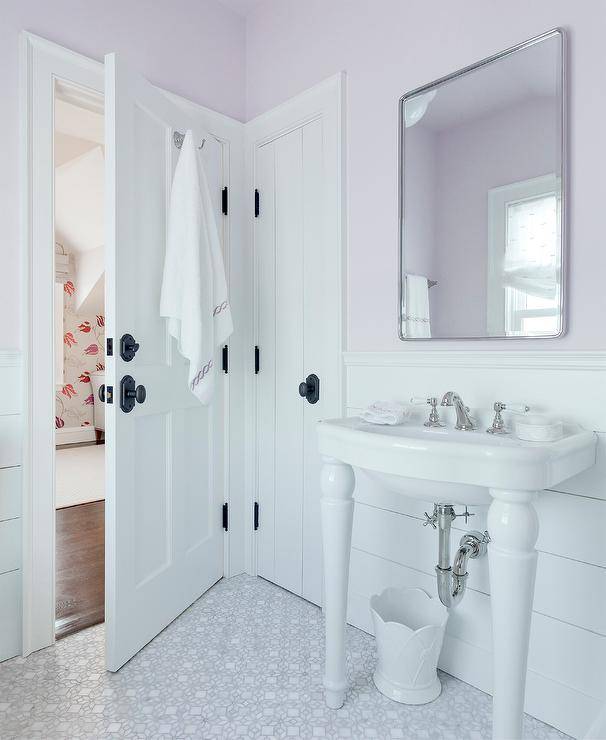 Given that half baths are used mostly for guests and main level use of the washroom, you don't need a lot of storage in a vanity. Use this is an opportunity to showcase a vintage style with a custom pedestal sink.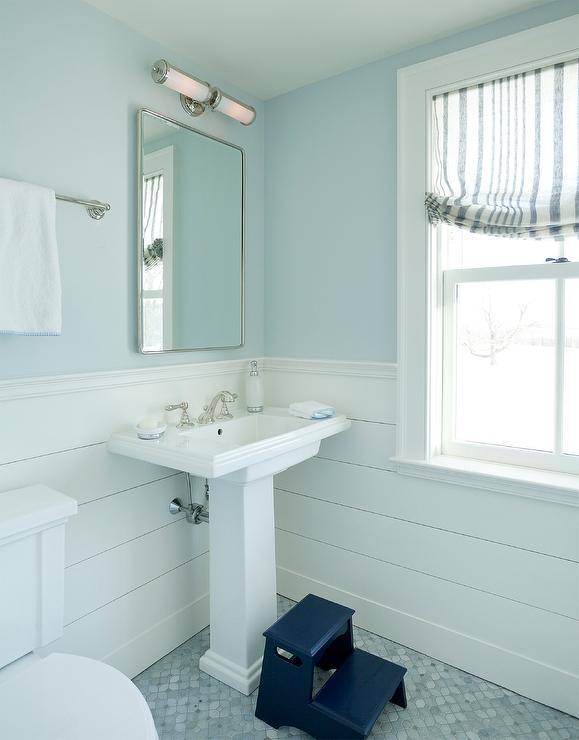 As an added bonus, pedestal sinks are easy to keep clean, too!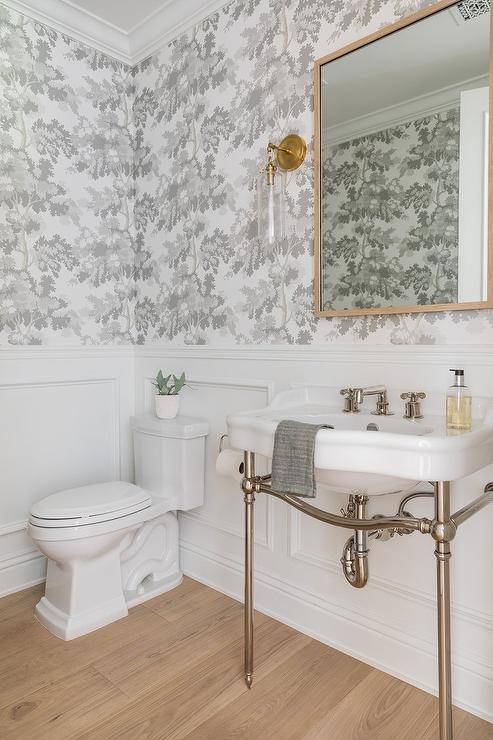 Bold Tile Work
Play around with bright and bold tile in the half bath. Since it's a smaller space, it won't cost you as much for tiles as a regular size bathroom. You can go for those more expensive, decorative pretty tiles without worrying about your wallet.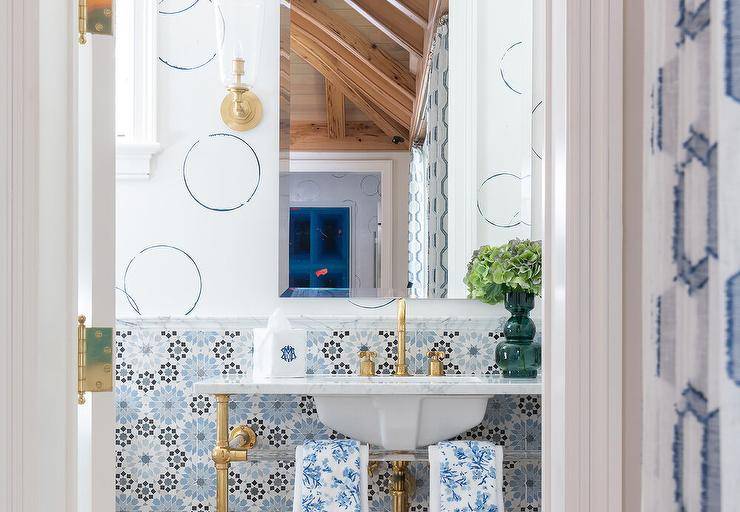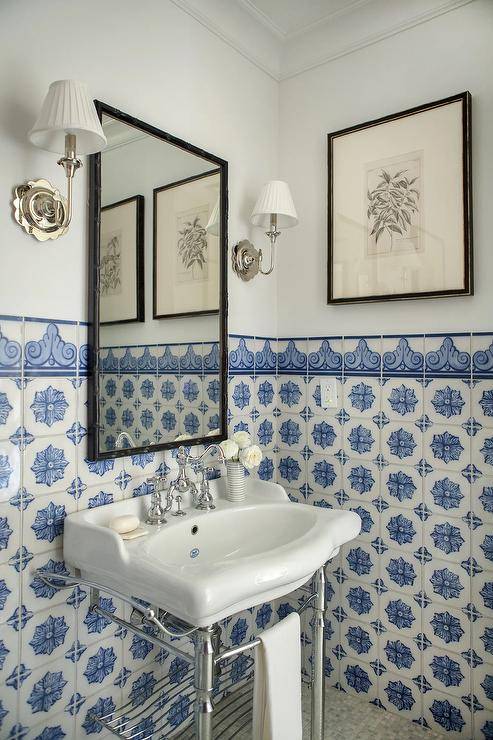 Tiling the bottom half of your wall is an excellent look in a powder room, but you could also go the opposite and do the top half behind your mirror.
If it's in the budget, you can choose two different types of tile and do the whole wall. You will notice that blue is a popular color for the bathroom. It's serene and calming, so you can't go wrong with a blue tile.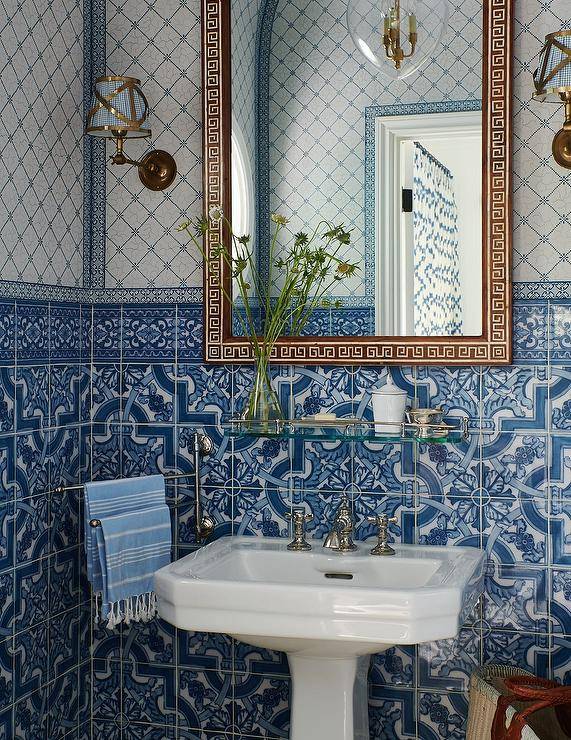 Related Article: 36 Stunning Tiled Shower Ideas To Transform Your Bathroom
All Of The Above
You get this stunning bathroom when you combine the elements listed above: statement-making wallpaper, pedestal sinks, and bold tile work.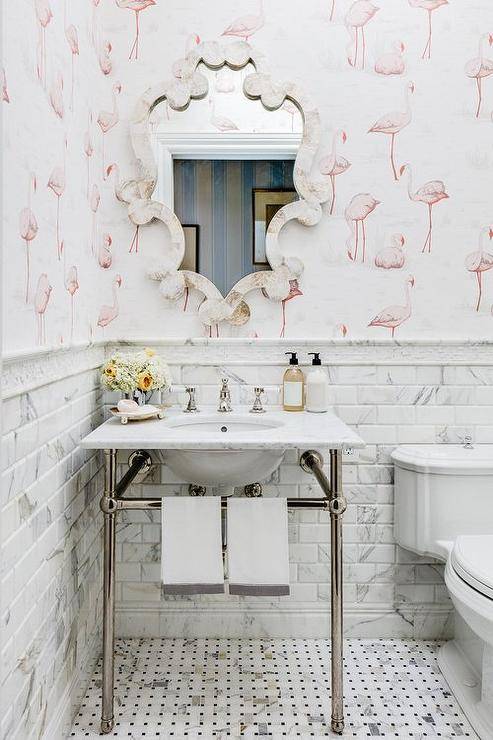 Wall Sconces
An important design element to put thoughtful care and consideration into is choosing lighting fixtures. A half bath is an excellent place for wall sconces. Since the half bath is not your primary bathroom and most people do not use it to get ready and do things like makeup and hair, you can worry more about the style of the lighting fixture and less about whether it provides sufficient light.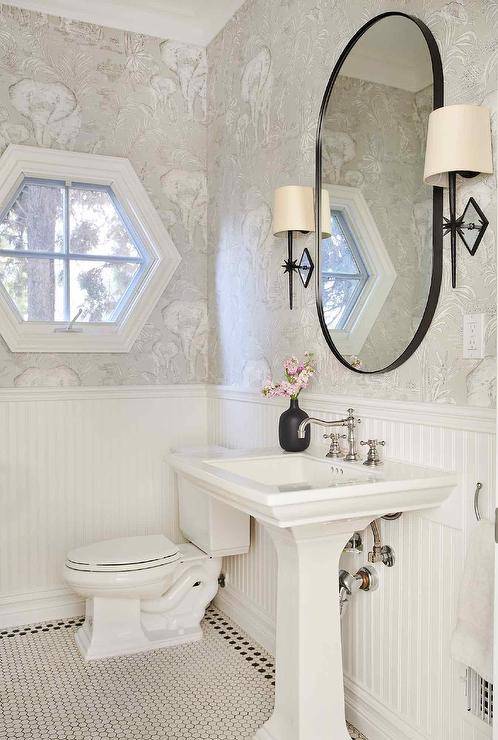 A set of matching wall sconces on either side of a mirror is a popular look for most half baths.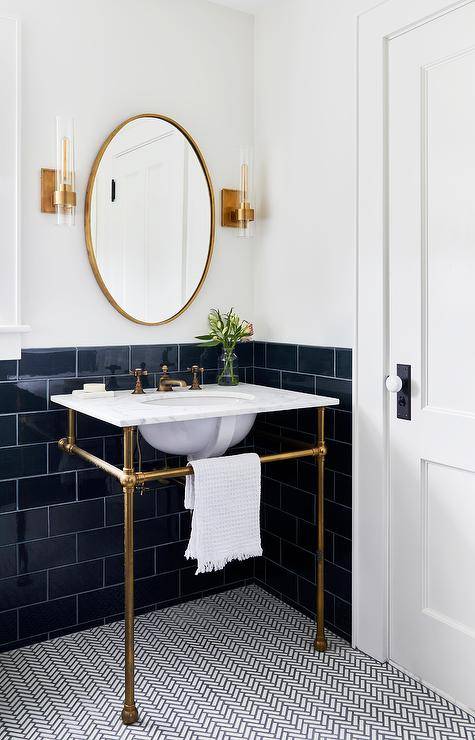 You can also hang a wall sconce above the mirror. You can't go wrong with a classic farmhouse light.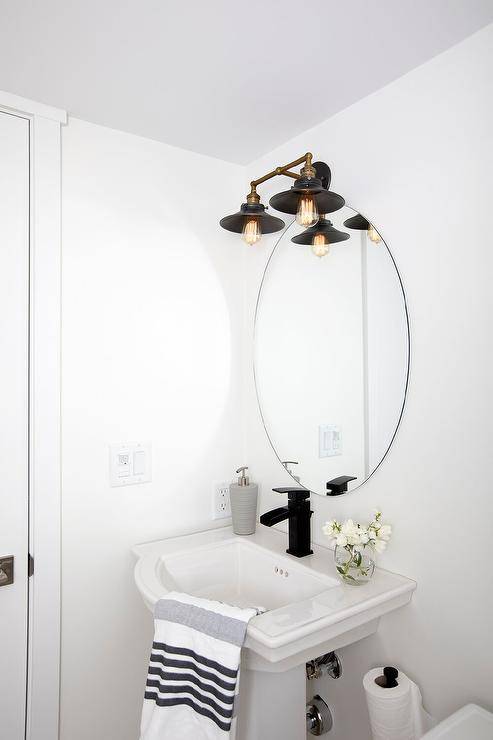 While not typically used in a bathroom setting, hanging pendants look fantastic and totally steal the spotlight in this particular half bath.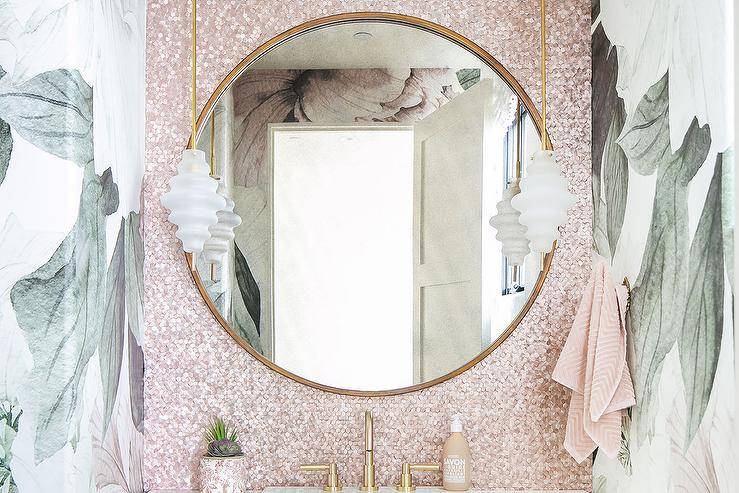 Color Framed Windows
Sometimes adding a fresh coat of paint can make all the difference in the world. If you want to add a little punch and pizazz to your half bath, consider painting your window frames to match your decor and design.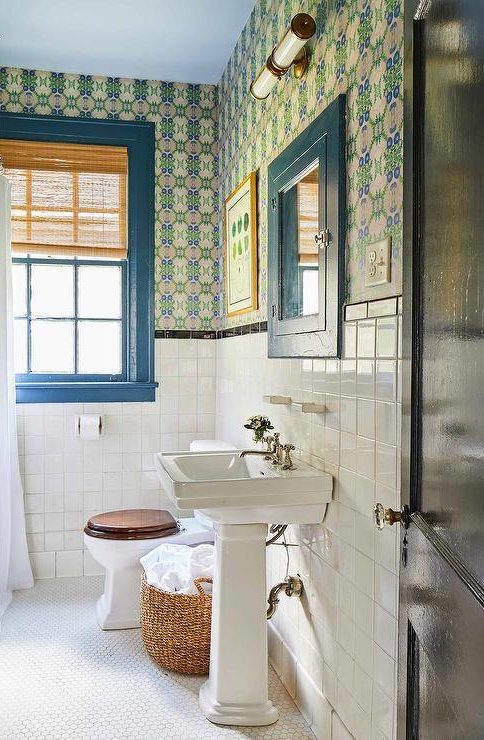 White and Neutral
White and neutral half baths are always a classic choice. Everything looks so fresh and clean. A bright and airy half bath is a look that will always be in style.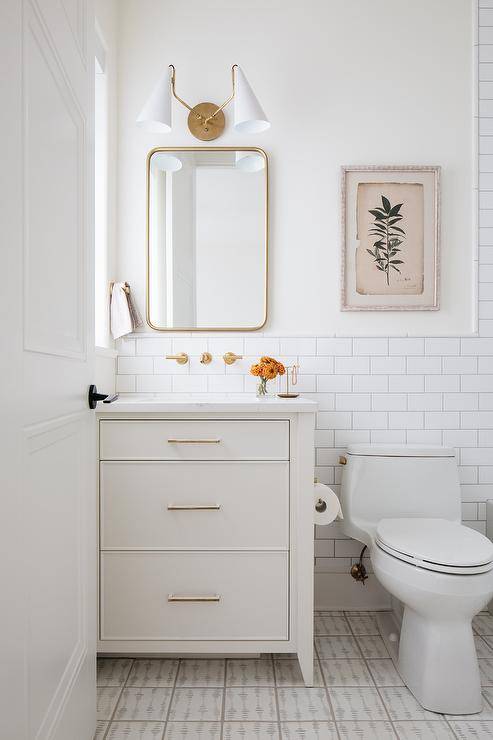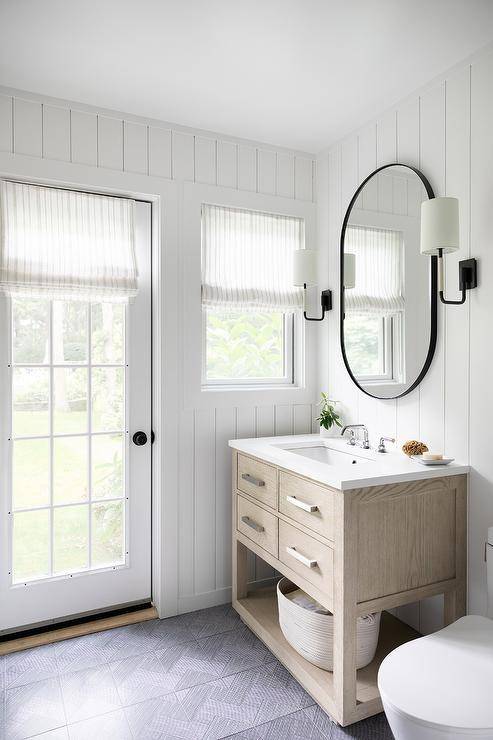 Bold and Black
One may think that black is not a wise choice for a small bathroom, but it can certainly be done. These half baths prove that you don't have to limit your half bathroom to just neutrals. They are bold and daring without going overboard.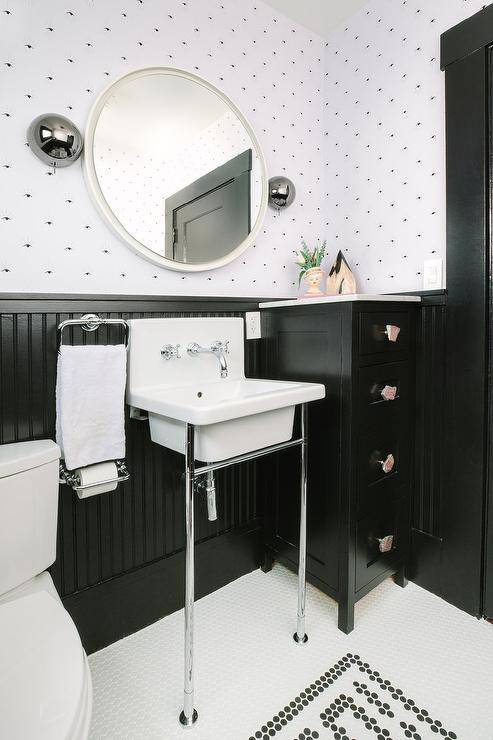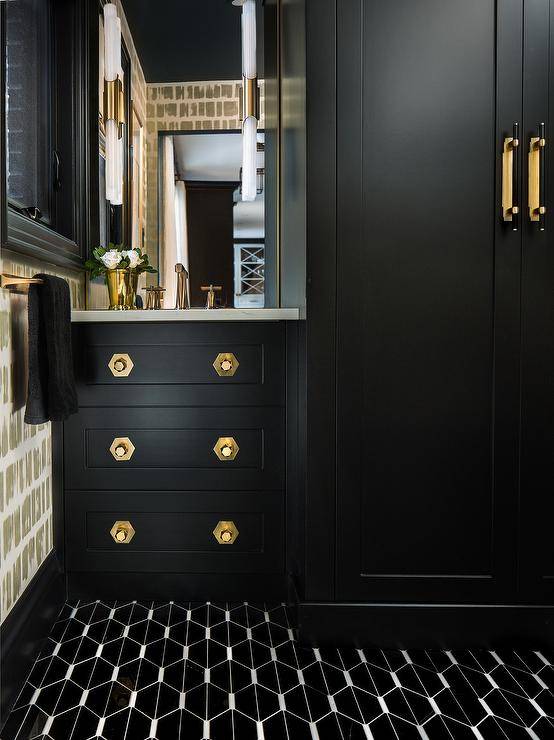 Open Bottom Vanities
Shake things up from the traditional two-door style bathroom vanity and go with an open-bottom vanity. This will give you more room for decor, and since you don't store a lot in a half bath, you won't miss the space anyway.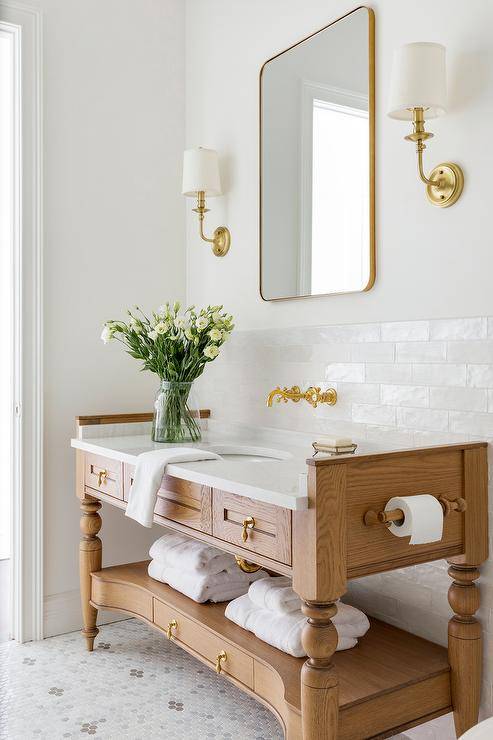 Bright and Daring Colors
Go big and bright in the half bath. Below are some bold color choices, and while these are not for everyone, you can't deny that these bright and cheery bathrooms would impress any guest.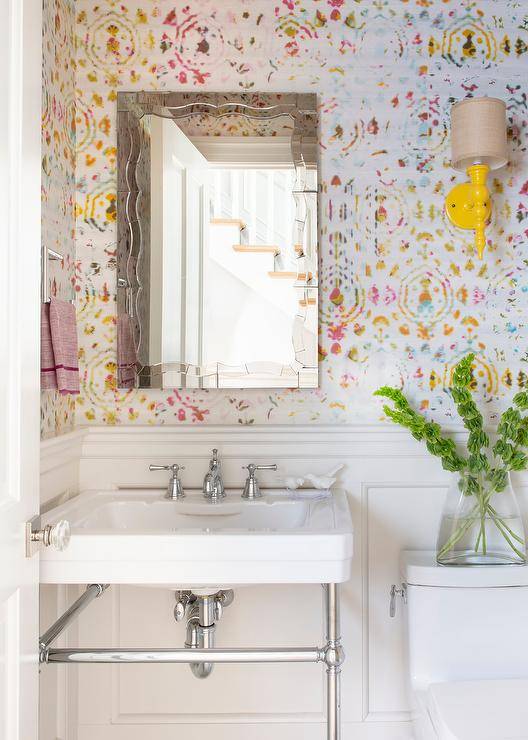 Pops of yellow, green, and pink are not typical colors for bathrooms, but when it comes to the half bath or powder room, it's fun to experiment and get creative.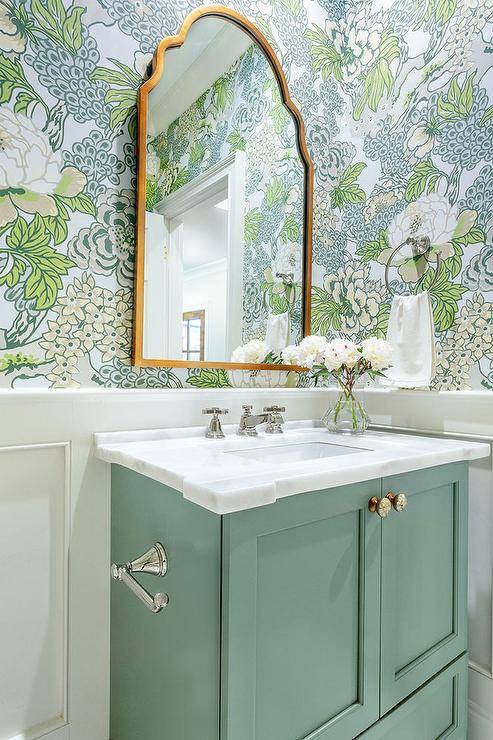 Balance out bright and bold colors with touches of white and pastels. They will blend nicely and allow you to have the color without overstimulating the space.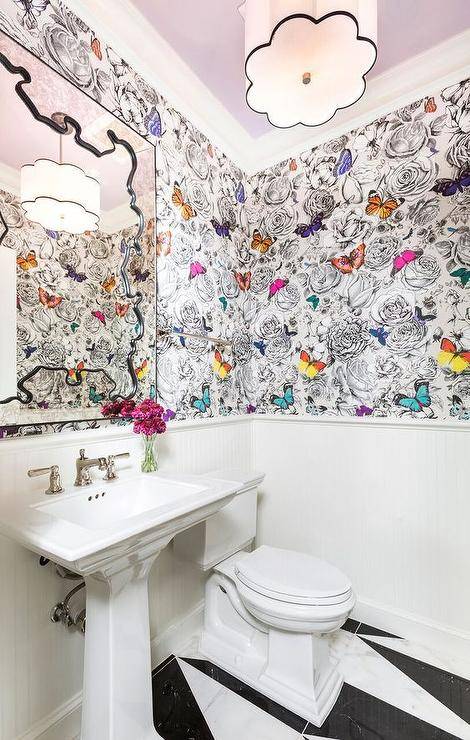 If you're afraid of how to achieve a nice look with bright colors, try just adding in some pieces of decor without adding in elements that are permanent fixtures. This will give you a small taste of color, and you can see how you feel about it without fully committing.
Stunning Mirror Choices
Go bold and different with your mirror choice in your half bathroom. Since a half bathroom is not usually where you spend time getting ready, it's an excellent opportunity to have a little fun with your mirror choice. Since practicality is not at the forefront, you can choose a mirror that is more about style and decor than about function.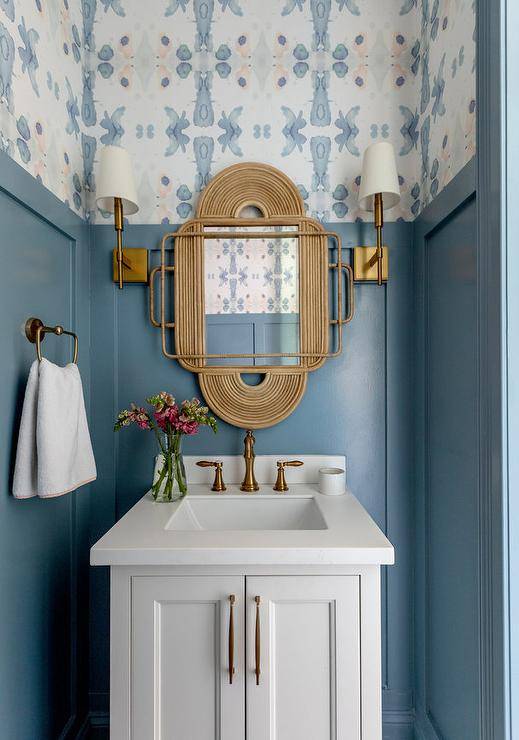 Ratan is a stunning choice for a mirror and blends flawlessly for those that are after a bohemian feel to their half bathroom.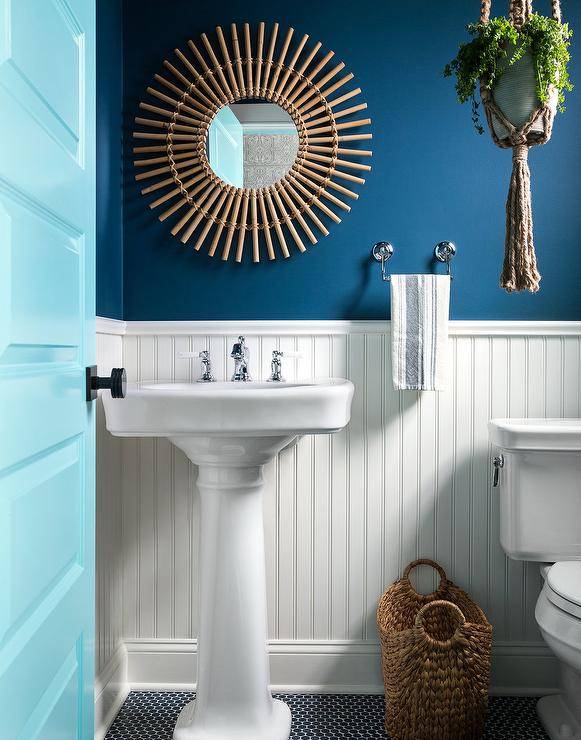 A stunning and exquisite mirror deserves equally attractive bright colors!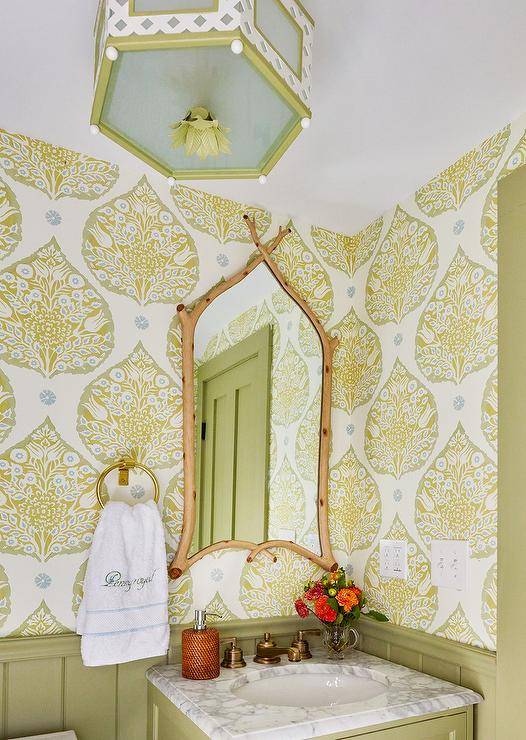 This mirror is a perfect match for this geometric wallpaper and blends, but also has a bit of pop thanks to its unique texture.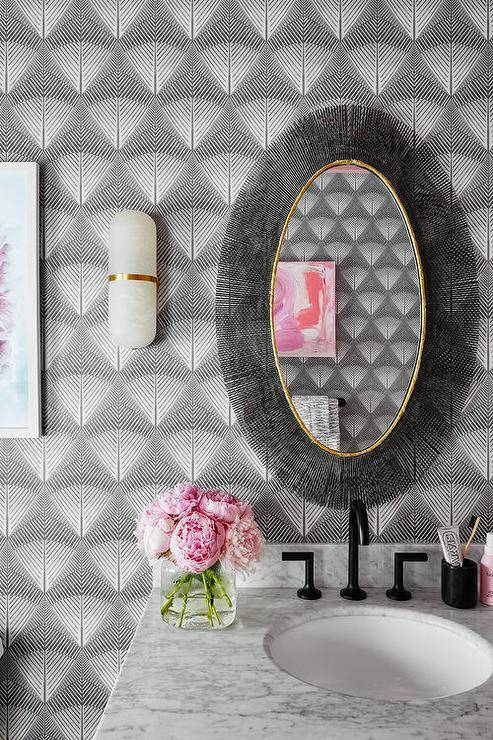 Use your mirror in your half bath to play with different textures and looks. A mirror is not a costly commitment and is something that can be changed at a later date if you get bored or overstimulated with the look.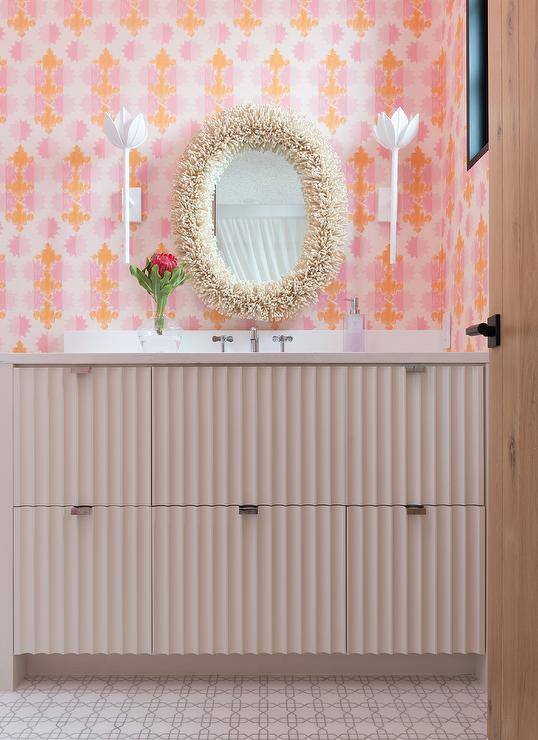 This scalloped frame mirror makes a bold statement thanks to its eye-catching design and daring blue shade.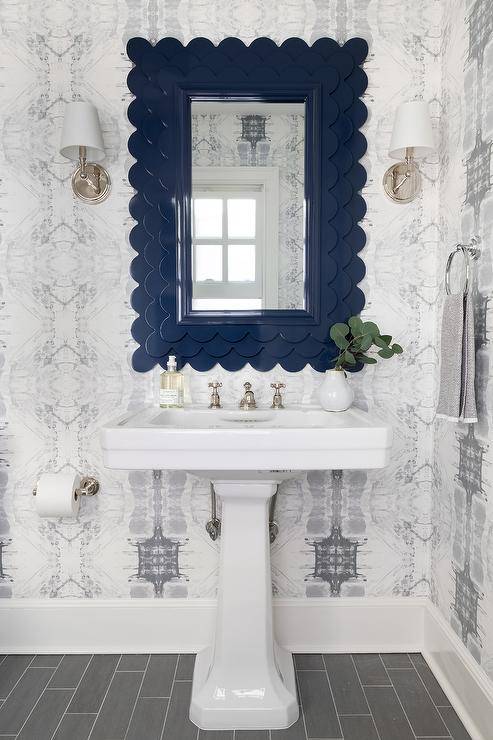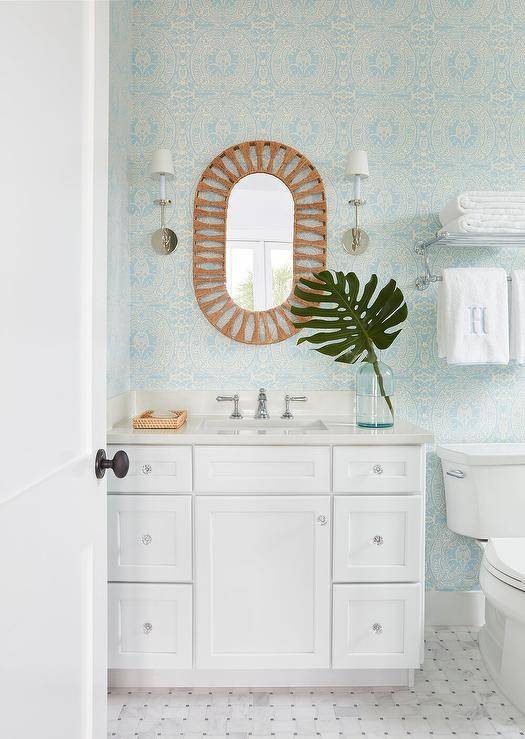 Related Article: How To Decorate With Mirrors
Wall Mounted Faucets
Modern and trendy designers are now gravitating toward wall-mounted faucets in the bathroom, particularly in half baths where counter space is often in short supply.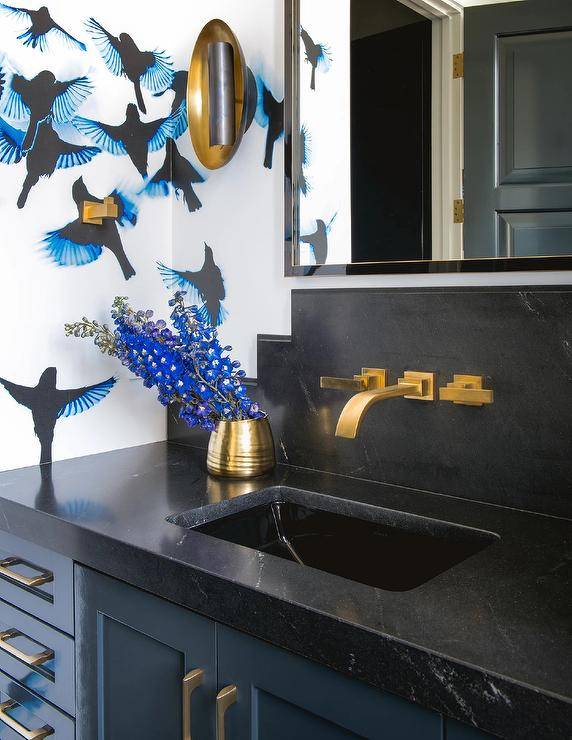 By mounting the faucets on the wall, homeowners can salvage their little counter space for decor or other items.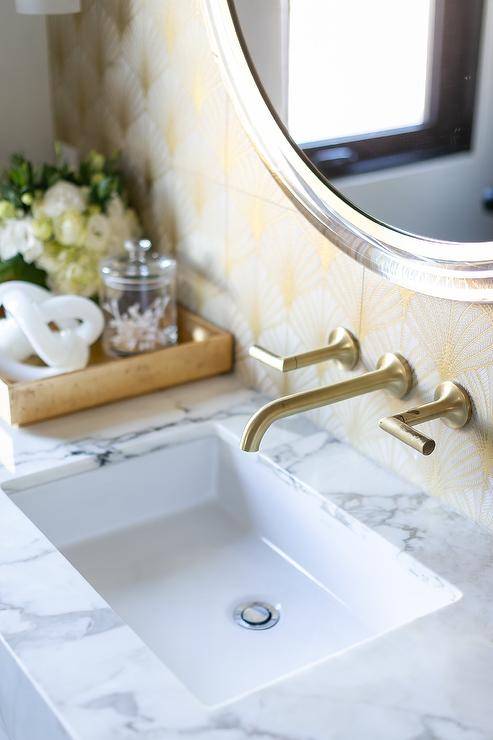 Wall-mounted faucets are also much easier to keep clean, so that's a nice bonus!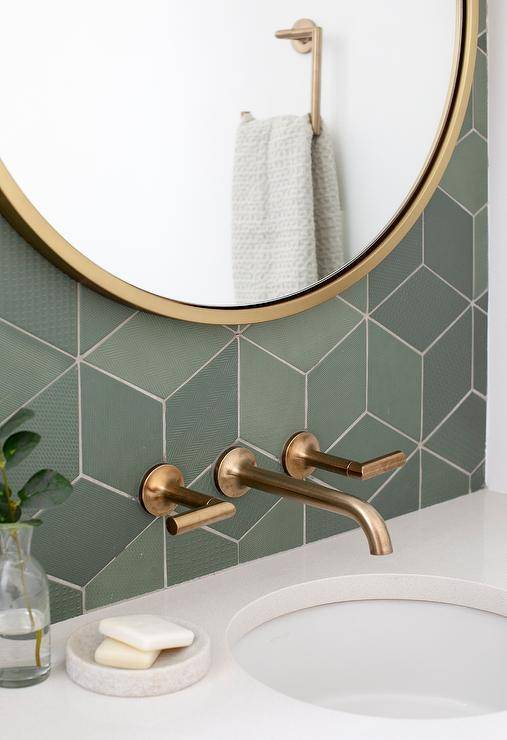 Wall-mounted faucets are available in so many different styles, colors, and fixtures. You are sure to find one that suits your taste and style.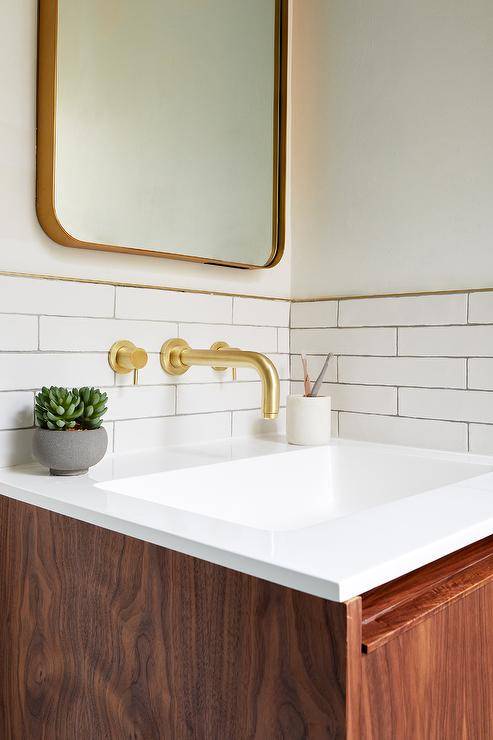 Wall Mount Sink
Like the wall-mounted faucet, you can also opt for a wall-mounted sink in the half bath. This is especially perfect for powder rooms and half baths that are really tiny. Save floor space by installing a wall-mounted sink.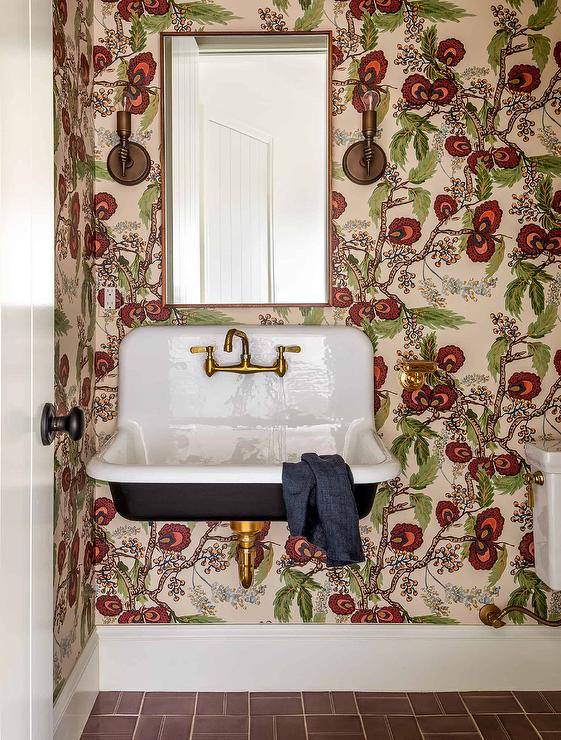 Often, wall-mounted sinks are smaller than traditional sinks in overall size and can be ordered in lots of different colors, or you can even paint them yourself.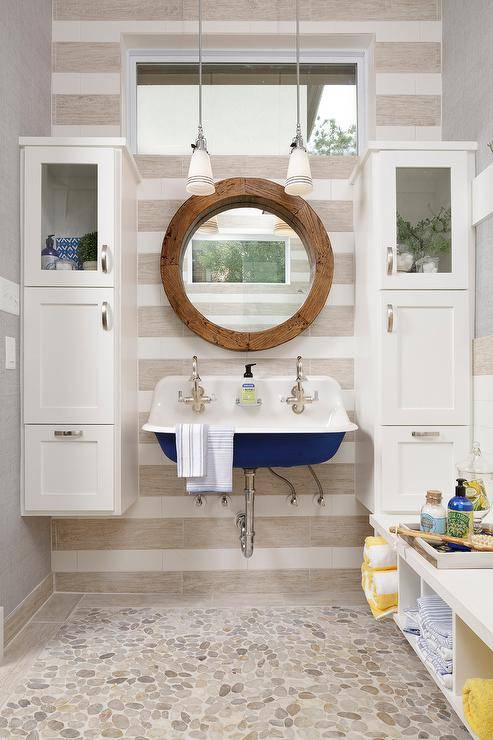 Concrete Sink
Say goodbye to traditional porcelain and do something really different — a concrete sink!
Since a half bath is not used for doing everyday tasks like brushing teeth and washing faces, a concrete sink is best reserved for spaces like these.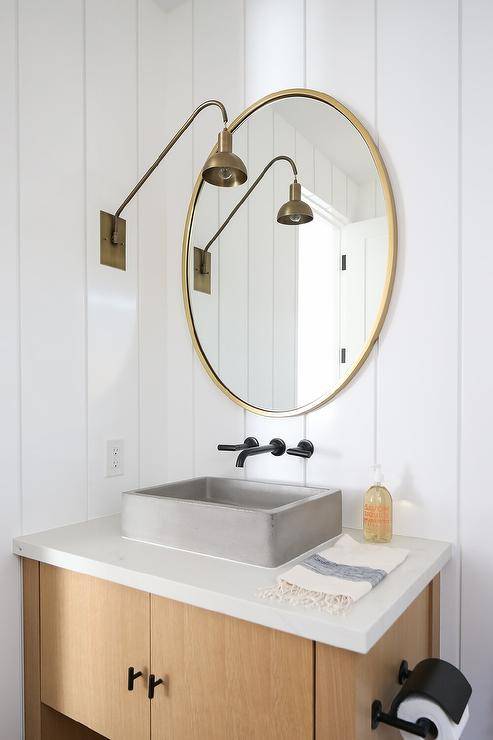 Startling Floor Tile
When we say startling, we mean that in a good way. This eye-catching patterned tile design for the floor is a bold but gorgeous statement. Perfect for a small half bath!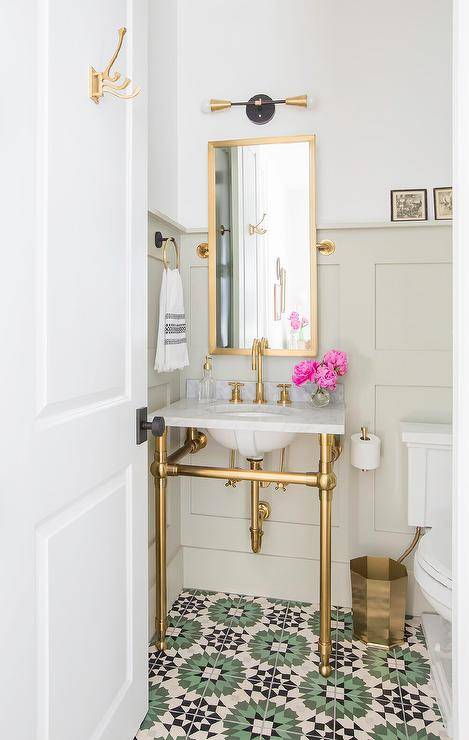 We love the gold in this bathroom! It takes the style and elevates it to a rich, luxurious powder room full of class and elegance.
Tips for Decorating a Very Small Half Bath
If your half bath is on the extra small side, here are some quick tips to keep in mind to make the most of decorating this space:
Keep colors light and neutral
Mirror a wall (The reflection of light will do the same good work a window does)
Backlight your mirror
Use floor-to-ceiling tile (This will elongate the space)
Opt for a pedestal sink or a tiny corner sink
Amplify your space with high gloss paint that reflects light
Use stylish open shelving
Install a wall-mounted faucet
Tips for Refreshing and Decorating a Half Bathroom
Keep the clutter to a minimum – a half bathroom doesn't need a ton of stuff, so don't overcrowd it.
Bring in fresh scents – when using fragrances in the bathroom, pay attention to what season you're in. Christmas, spring, fall, etc.
Keep up on switching out linens and towels – dirty used hand towels will give a dingy look to your bathroom, so make sure you are switching these out regularly.
Update your bath mat or rug – same as the towels; you don't want dingy, dirty carpets in the bathroom.
Add in some greenery – warm up your bathroom space with fresh greenery. It can be faux or real; it doesn't matter.
Introduce some art to the space – without art, a bathroom can feel cold and empty.
Frequently Asked QuestionsFAQ
What is the purpose of a half bathroom?
A half bathroom is a small bathroom that contains only a toilet and a sink. They are sometimes called guest bathrooms or powder rooms. There is no shower or tub in a half bathroom; in most homes, it is located on the first floor.
Having the half bath on the first floor permits guests to use the facilities without feeling as though they have invaded your home. The half bath or powder room is usually very small, conveniently discovered, and seldom contains a window.
What should be in a half bathroom?
A half bathroom sometimes referred to as a powder room, typically consists of a toilet, sink, and mirror. Having an under-sink cabinet or another storage area for extra toilet paper, hand towels, and soap is optimal, but these things can be stored elsewhere if the space is tight.
What items should you keep in a guest half bath?
If you're having guests who will be using the half bath, you want to ensure that it is well stocked with toilet paper, hand soap, and hand towels. Make sure that extra toilet paper is accessible and easily seen. A lack of toilet paper is embarrassing when someone is visiting your home.
How do you make a half bath feel cozy?
To cozy up a half bath, add a bath mat or rug. Make sure that there are plenty of hand towels and cute decorative soap bottles, and you can even add personalized bathroom signs. To make the space extra cozy, make sure it smells nice. You can use plug-in diffusers or essential oils.
How do you make a half bath look fancy?
Consider using gold fixtures if you're after a fancy vibe for your half bath or powder room. Working in gold faucets, mirrors, and wall sconces will immediately level up to a more luxurious look and style.
Where did the term "powder room" come from?
The term powder room originated around the 18th Century. The powder room was considered a closet-sized room where people applied extra powder to their wigs. The Victorian times kept the term "powder room" to discreetly excuse oneself.
You may be familiar with the euphemism "powdering your nose," — as some women still refer to the half bath as the powder room when they use this phrase.
If you need more bathroom inspiration, check out these related articles: