Simple and Sweet
Anything other than a simple, sweet concrete patio in this space would be too busy. This minimalistic style and design allow the stunning light blue doors to take center stage, and this straightforward patio complements it all.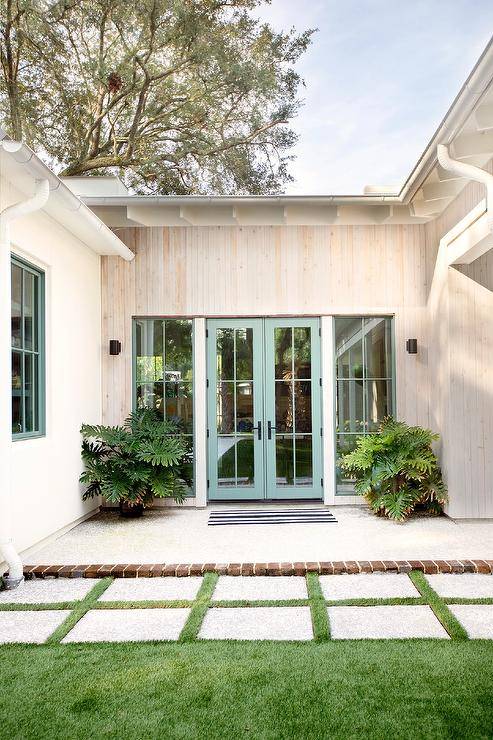 Easy Concrete Pavers
For an easy and effortless look, concrete pavers are available in a variety of shapes, sizes, and textures. They can be placed on top of a bed of packed sand. If you don't like the idea of weeds growing between spaces, pavers can be butted together for a smooth, unbroken surface. If you opt for the more customary method of leaving spaces between pavers, this means you'll buy fewer pavers; they can be filled with pea gravel, pebbles, or a tight, low-growing ground cover.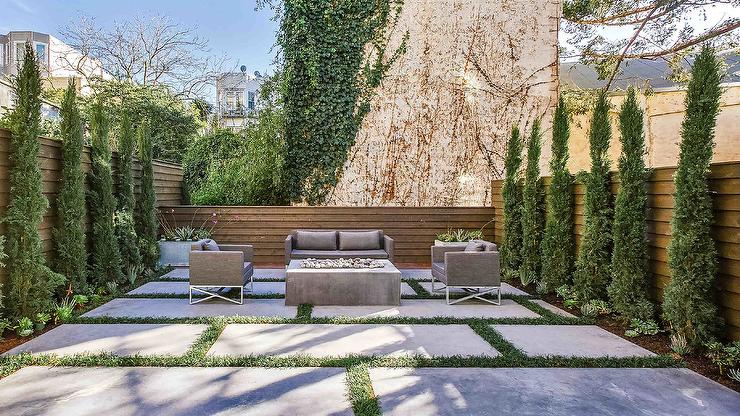 Concrete on the Beach
This concrete patio looks out onto the most stunning beach view and totally encompasses a modern Maimi nautical look. Perfect for any beachfront home.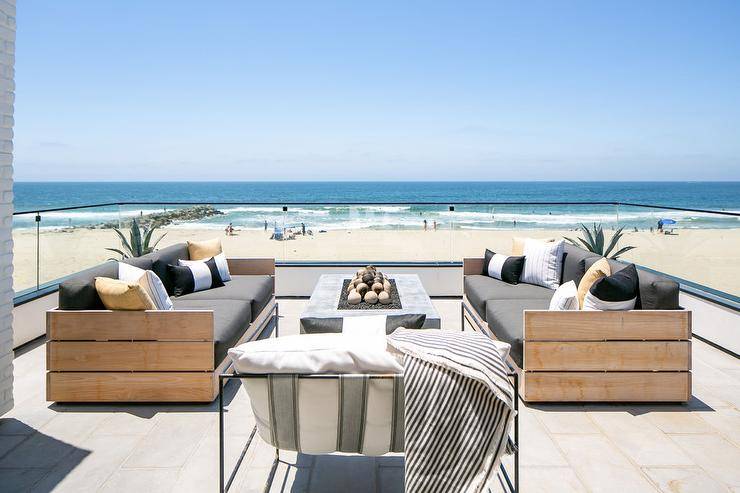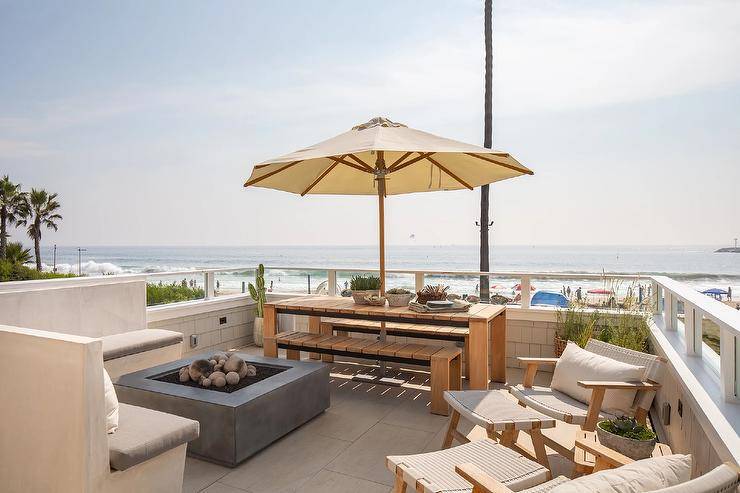 Sunk In Patio
Creating a sunk-in patio space allows for different heights and dimensions to a backyard oasis. This gives you room to play with space and create different areas in your yard for many different design elements and functions.
The bright pops of color on the patio furniture also break up the coldness of the cement and allow for some fun and personality.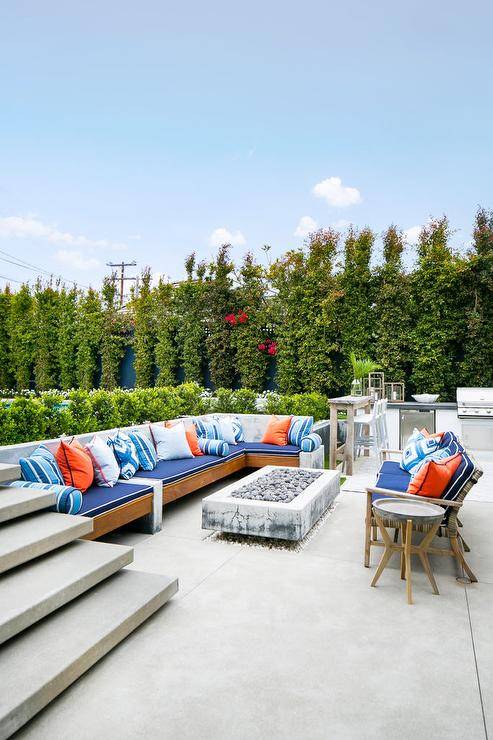 Rustic Backyard Charm
This country-style farmhouse patio features a teak outdoor sofa with navy blue cushions and a round concrete pedestal coffee table set on top of a rustic style concrete design. This space perfectly completes the full rustic backyard look.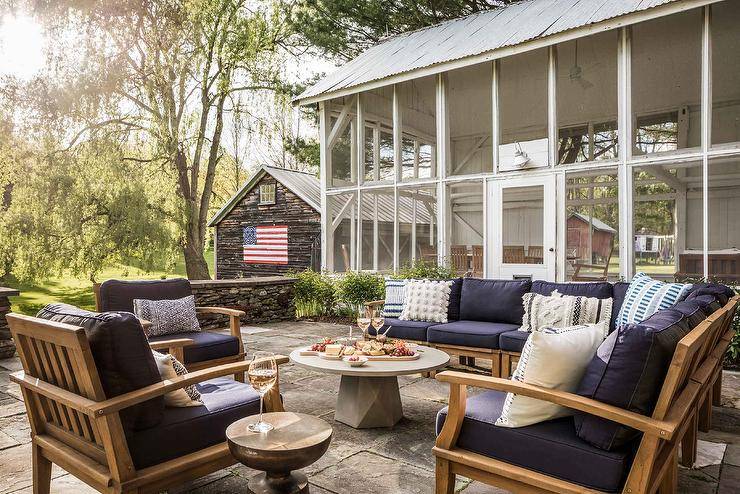 Concrete Furniture
Why stop at just a concrete patio? A built-in l-shaped concrete sofa fills this patio space and matches a concrete firepit.  The gray rope chairs surround a concrete and metal dining table making this patio space a concrete haven.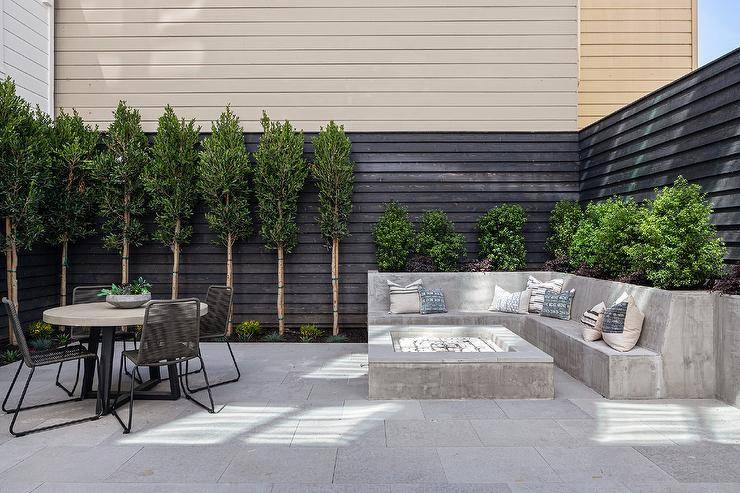 Open to the Home
Concrete pavers bring a modern finish to this patio design complementing the neutral finishings. In this bright and open space, one could really relax and get cozy. The fact that the concrete patio is just off a large opening in the home makes this space inviting and unique.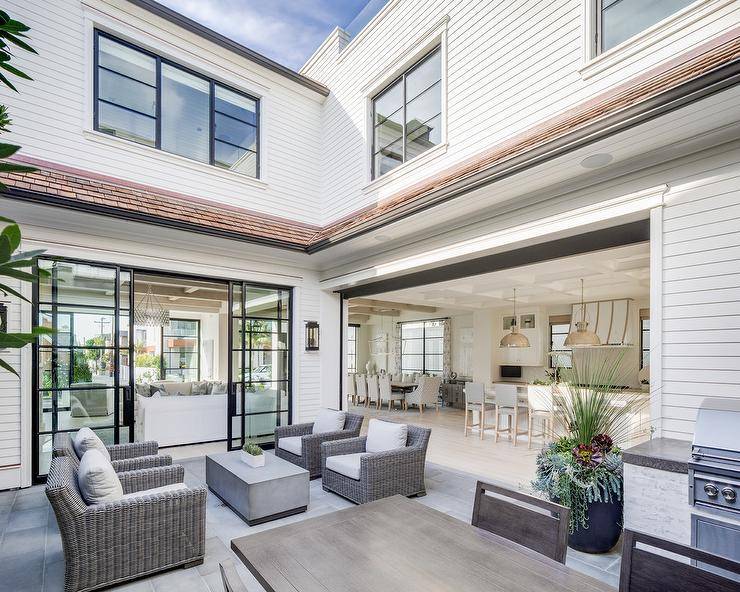 Outdoor Dining Space
A covered patio with cream pavers makes for a warm and inviting outdoor dining space. The interlocking pavers create a unique and eye-catching design that blends nicely with the flow of the patio.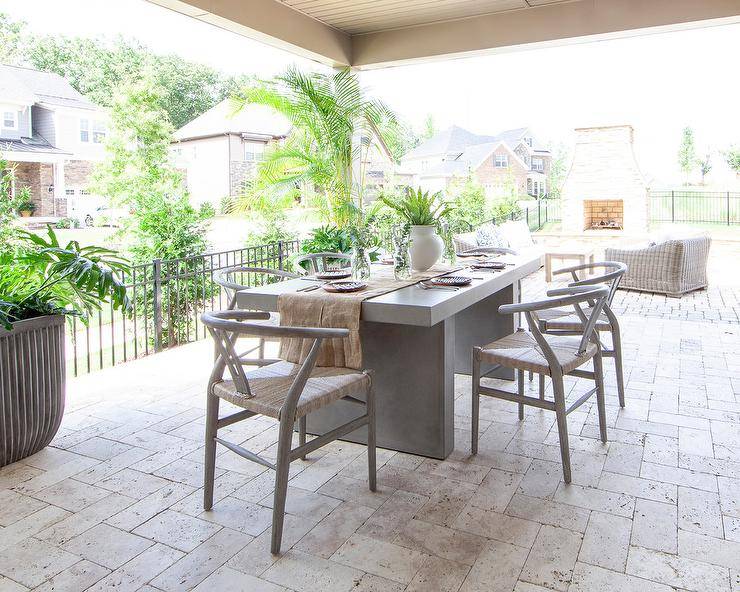 Modern Concrete Patio
These concrete pavers are framed by black river rocks for a modern and contrasting look giving this contemporary space a zen-like vibe. This dining space is perfect for entertaining and hosting outdoor gatherings. Anyone would be happy to relax in this space.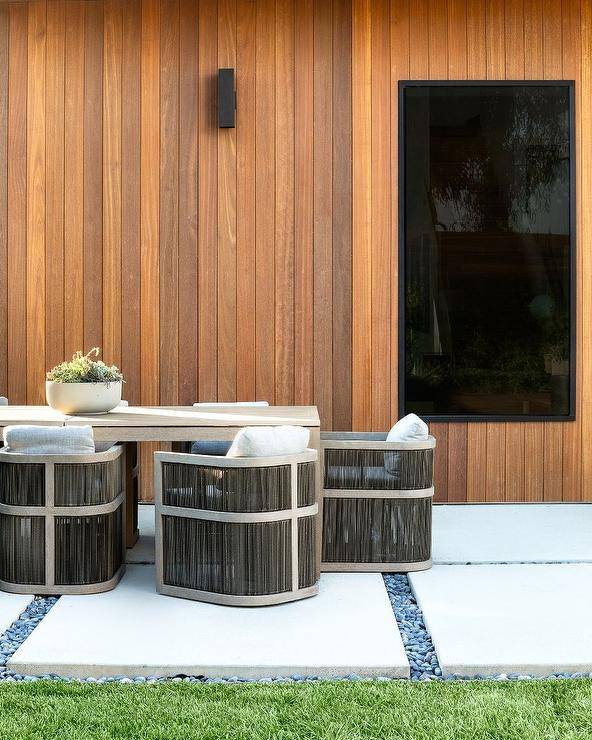 A Perfect Hang-out Space
A hidden tv is concealed in this outdoor patio with black cabinet doors. The patio is furnished with simplicity yet stylish appeal. A round concrete fire is surrounded by black and white outdoor chairs and a black and white accent table, making this space modern and a spot where you would want to spend your evenings.
Spacious and Exquisite
This spacious covered patio, complete with an outdoor kitchen and television, would make it hard to believe that you are even outside. It's white, bright, and airy, making it a place you could hang out all summer.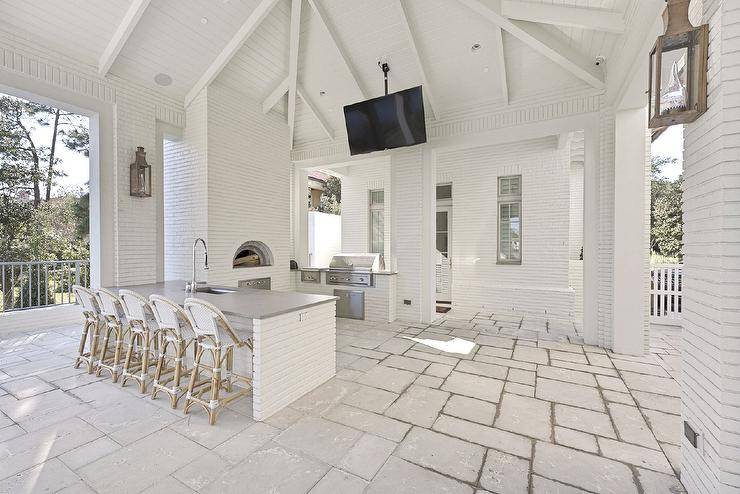 One with Nature
This relaxing space is certainly one with nature and exudes a spot in which one would feel comfortable. Surrounded by rich greenery, this country concrete patio is enough to put anyone at ease.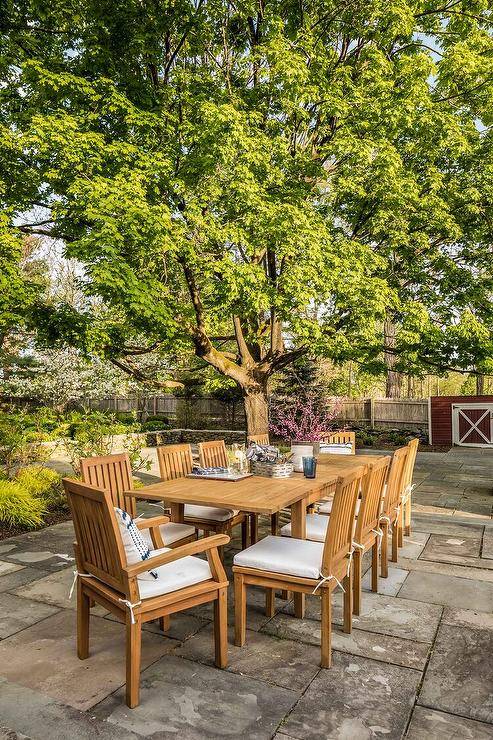 Slate pavers were chosen for this concrete patio, and they are sleek and elegant — a perfect complement to the modern director's chair, making this patio look like a Hollywood villa.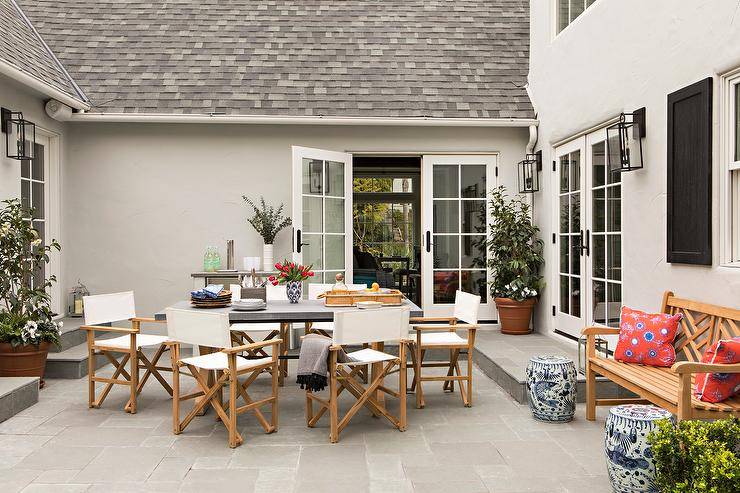 Toss Down a Rug
Concrete certainly has its advantages of being durable and creating a sophisticated setup for a patio. However, adding a bit more color or decoration to the standard gray material makes sense. Add a large outdoor rug to the dining area for some texture and style. The smooth concrete doesn't create any undesirable bumps or issues, and the rug adds a nice blast of color without adding paint or other more expensive options.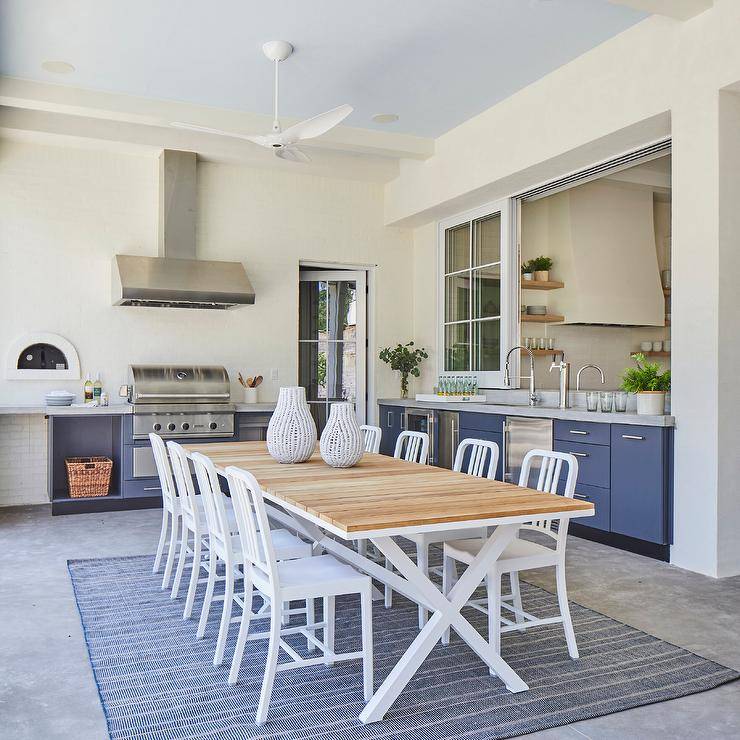 The outdoor living space on the same concrete is adjacent to this stunning dining area. A white slipcovered sofa accented with blue palm print pillows adds more color to warm up the cold concrete.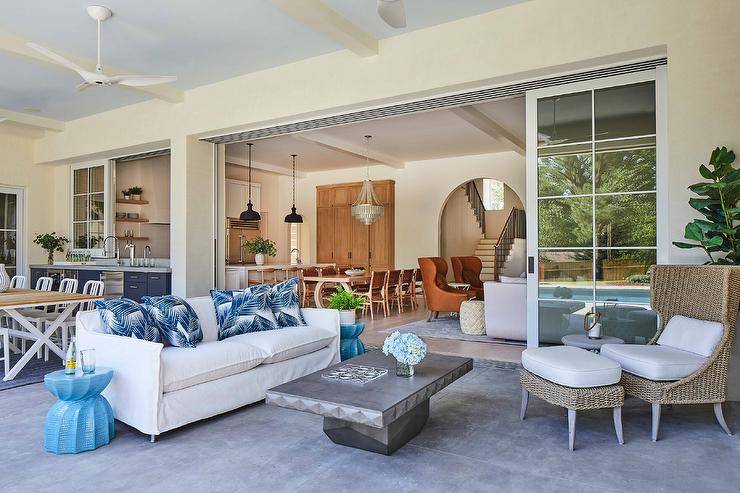 Four reasons to pick concrete for your patio:
To create an outdoor entertaining space
Concrete patios can serve as a gathering zone for lounging and entertaining, but they also allow homeowners to seamlessly integrate interior and exterior living spaces. They are the ideal decorative flooring surface for outdoor kitchens and living rooms, complete with cozy seating areas, fireplaces, and even televisions.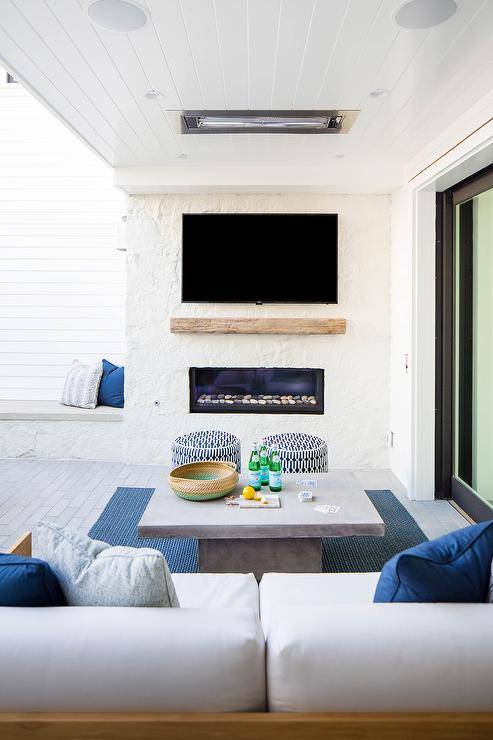 You can customize with color and pattern
You might not think it, but a concrete patio actually offers endless design options. Concrete patios can be color-coordinated to match a home's exterior or landscape when improved by stains and integral colors. They can also be stamped or engraved in patterns that imitate other popular paving materials, such as brick, flagstone, slate, and tile.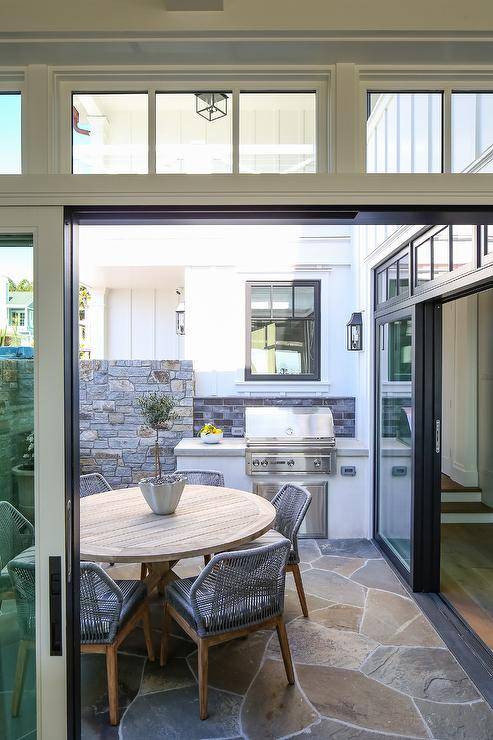 You can save money without surrendering style
As an investment, concrete patios typically cost less than patios made of brick or natural stone because they are less labor-intensive to install. The lower price tag combined with the wide array of patterns and colors available makes concrete an economical choice for most budgets. Plus, concrete is easily formed into any shape to accommodate backyard space restrictions.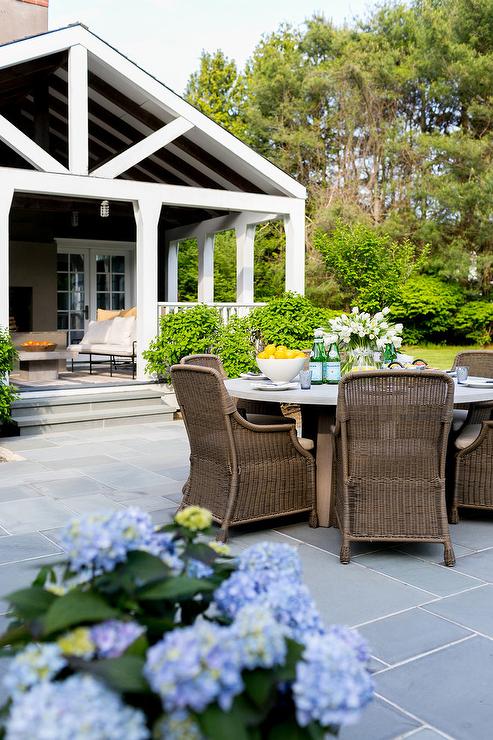 Concrete is a durable and low-maintenance surface
Elevating your backyard with a cosmetic concrete patio is also an investment that will supply many years of delight while enhancing the look of your backyard or landscape. Concrete is effortless to maintain and can withstand the harshest weather conditions. Unlike wood, concrete won't warp, rot or demand periodic staining.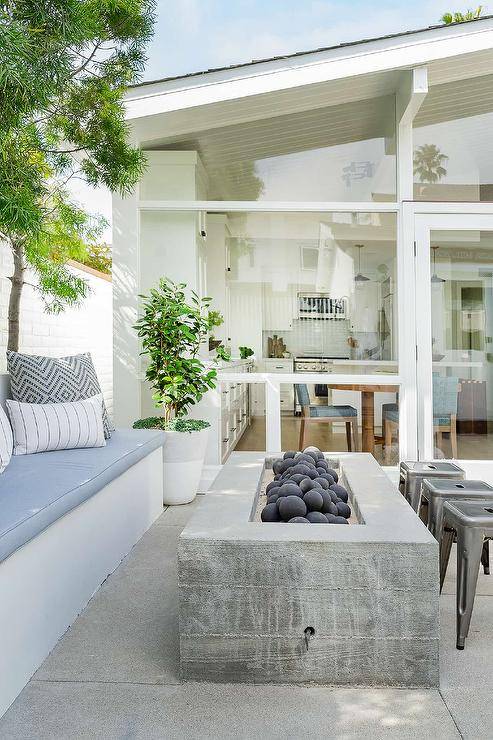 Pros & Cons of a Concrete Patio
Decades ago, most patios were actually made of hard materials like concrete, brick, or stone until wood decks became trendy. Presently, many homeowners who opted for wood decks now need to replace them because of rotting or warped wood or because they are just fed up with the annoyance of staining and sealing them every few years. Patios made of concrete or concrete pavers are making a major comeback as homeowners now recognize all the benefits they were overlooking when installing wood or wood-composite decking.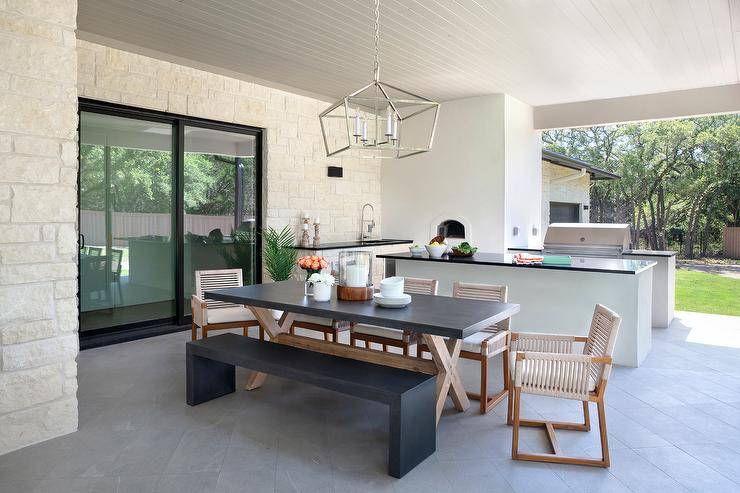 Here are some of the motivations as to why people are opting for concrete again:
Durability
Concrete is highly durable and can stand up to a broad range of weather conditions found across North America. In fact, numerous concrete contractors in chillier climates take particular measures to guarantee the durability of the concrete patios they install.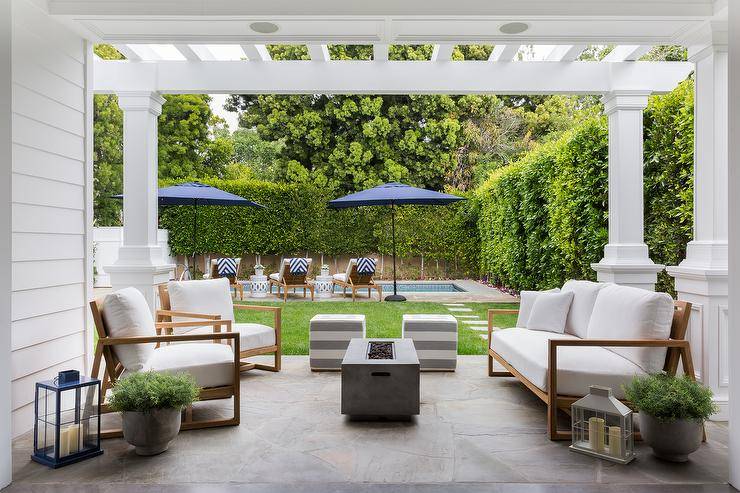 Durability and adaptability are the essential qualities that make a concrete patio so desirable, and elevating your outdoor space with a well-crafted concrete patio is more than just an investment but a lifetime's worth of luxury enjoyment. No matter the weather or terrain, a concrete patio is sure to give you years of dining, lounging, and backyard entertaining with minimal upkeep.
Versatility
In addition to durability, versatility is another reason why people are making the switch from wood. Thanks to the design versatility of concrete, your patio will never look like anyone else's on the block. With current advancements in coloring methods and stamping tools, patios made of poured-in-place concrete are more adaptable than ever before.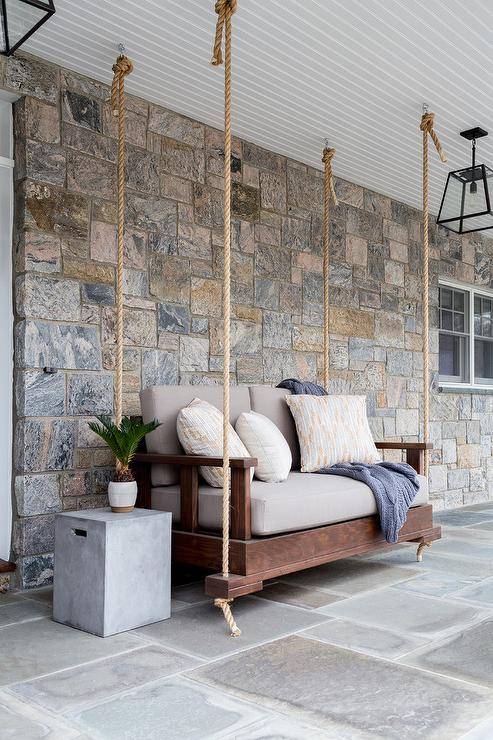 Concrete is efficiently formed into any shape, allowing you to accommodate backyard space limitations or include gorgeous curves. With the use of stains and other coloring techniques, you can also complete just about any hue possible. Whether you want to match the stone facade of your house or blend in with the natural landscape, the possibilities are endless.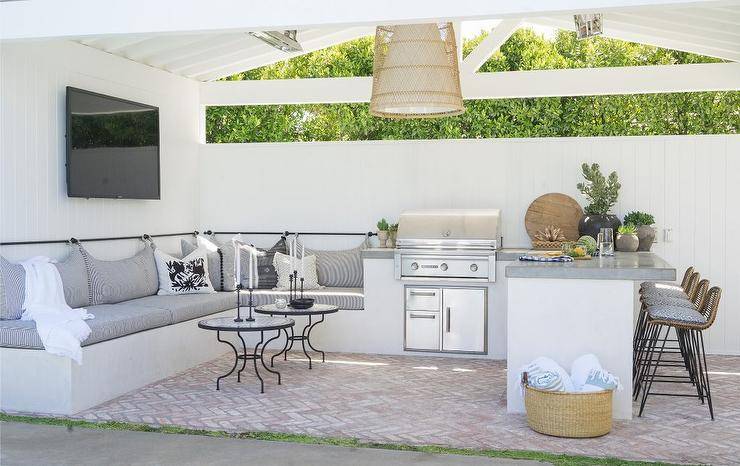 You can also choose from a vast array of pattern and design choices, including stamped patterns, stenciling, engraving, exposed aggregate, and more. While many concrete patios are created to complement the outdoor landscape, some designers choose a concrete patio style that complements the indoor living space to create a surface that integrates seamlessly with the interior decor. Concrete can also be made to resemble other favored patio materials, including brick, natural stone, and even wood.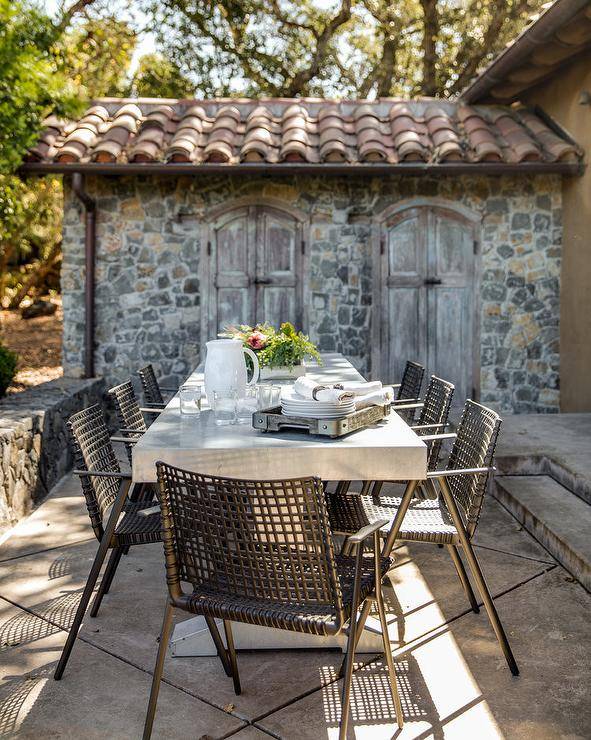 Easy Maintenance
Concrete is easier to maintain, hands down. When compared with wood, a concrete patio saves you the labor of staining and resealing year after year, and it's invulnerable to termite infestation, wood rot, and splintering.
Not all concrete is created equally, though. A solid slab of concrete will be the easiest to maintain as there are no grouts or spacing for weeds to get through. However, paver stones and slabs are still more easily maintained than wood.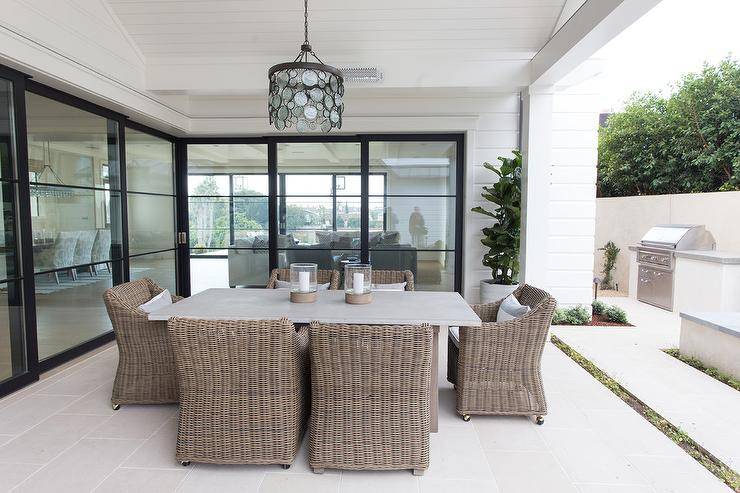 Environmentally Friendly
Installing a concrete patio instead of a wood deck or patio saves lumber and eliminates the need for routine maintenance with solvent-based wood stains and sealers, making concrete a more environmentally friendly choice.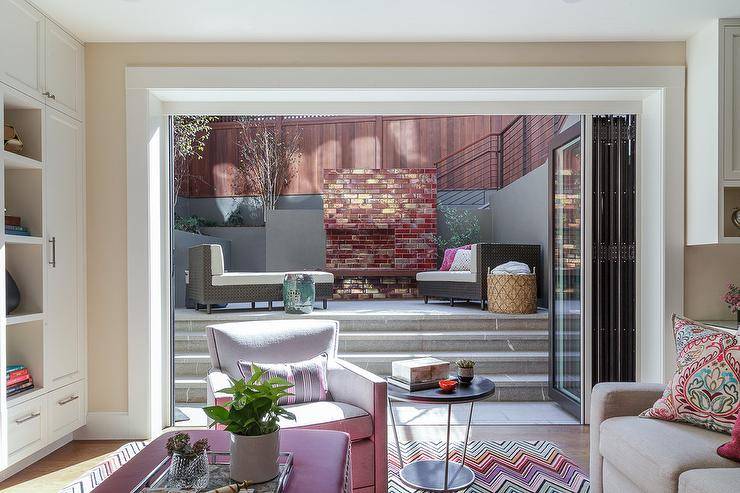 Better Value
Concrete can be engraved, stamped, textured, or stenciled to resemble more expensive stone or brick pavers, and usually at a fraction of the cost, particularly when you factor in the labor savings. The aesthetic charm and durability of decorative concrete will also increase the resale value of your home.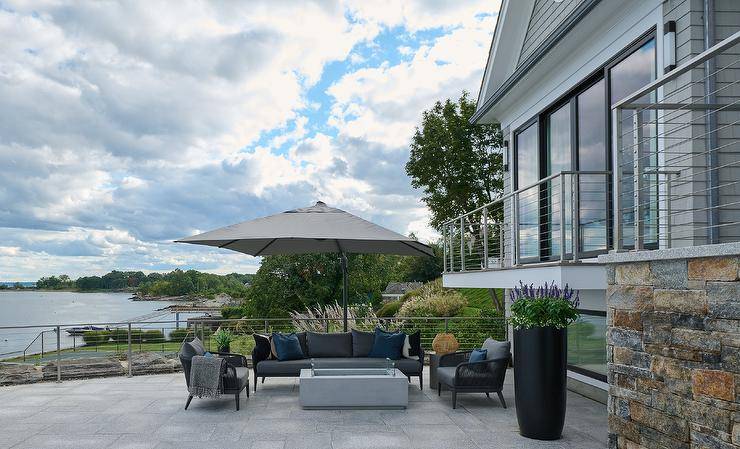 It's safe to say that, yes, concrete is a great patio material, but it can also be used to maximize your complete backyard space. You can use concrete to create destinations in the garden and combine them with welcoming pathways. Use focal points, seat walls, fountains, ponds, arbors, fireplaces, fire pits, and fragrant plantings to form interest at various locations and draw guests into the yard.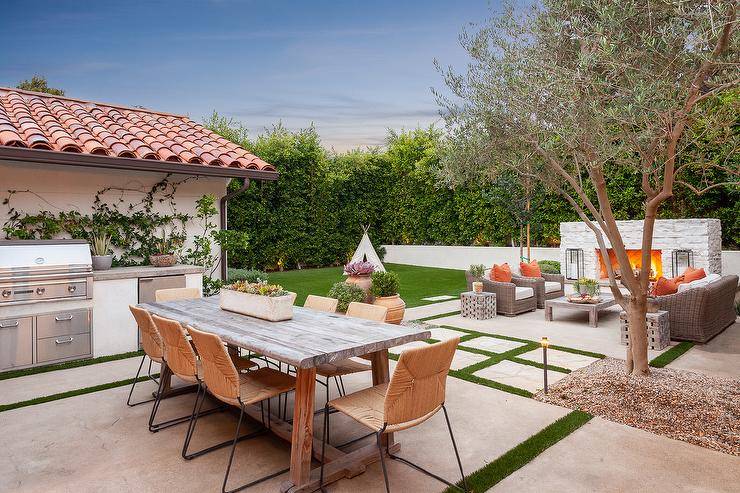 Small Concrete Patio Ideas
It's perfectly understood that not everyone has the freedom to create a backyard that looks like it's swiped from a magazine page. Pouring concrete can be a pleasing and inexpensive option if you only have a small area to create an outdoor living space.
One of the remarkable things about a concrete patio is that you can pour one just about anywhere in your yard, even if you have steep grades. Small concrete patios can be an incredible way to make use of otherwise empty or uncomfortable spaces. Take a look at these inspiration images to get an idea of how you can make a small patio work in a small yard: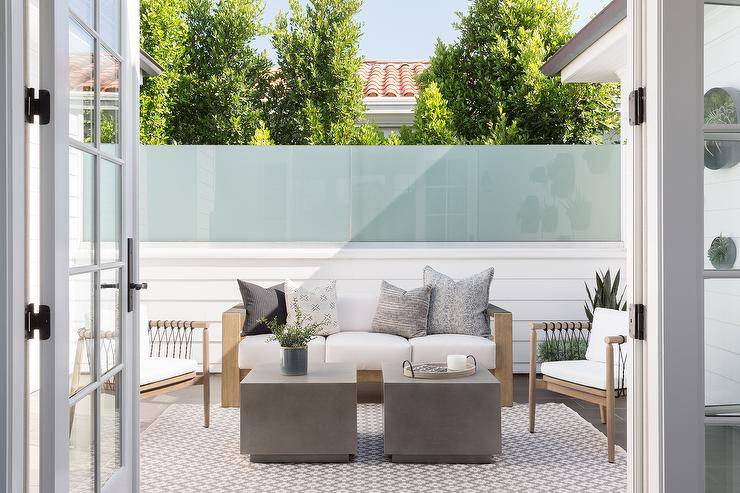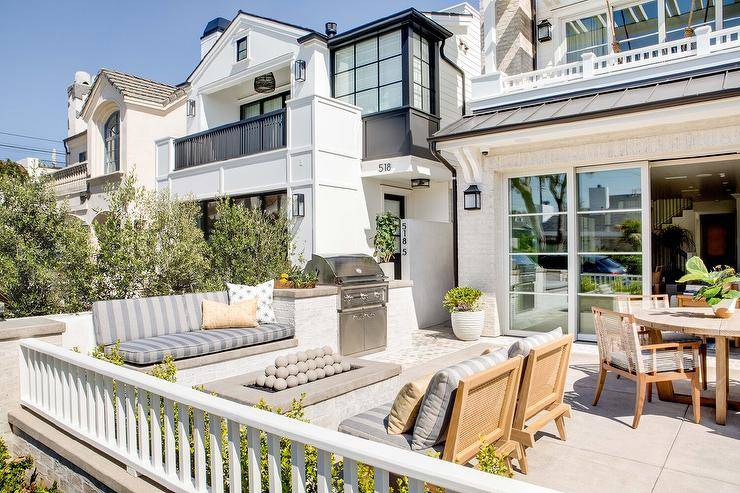 Related: Patio Design Ideas for When You're Working With a Small Space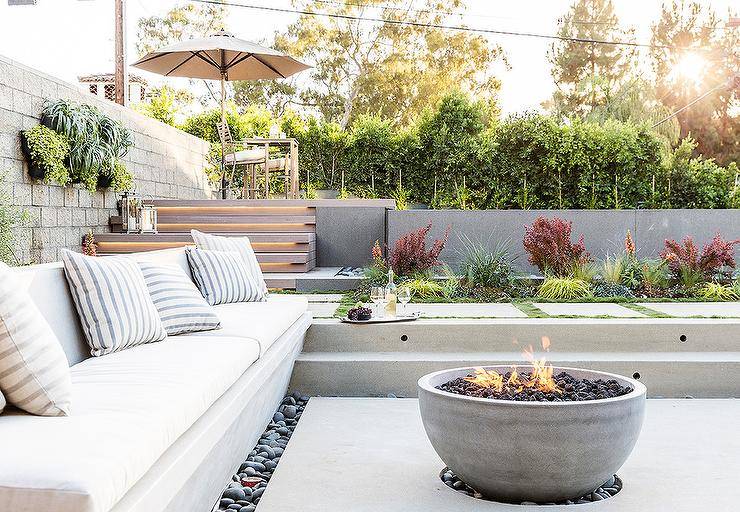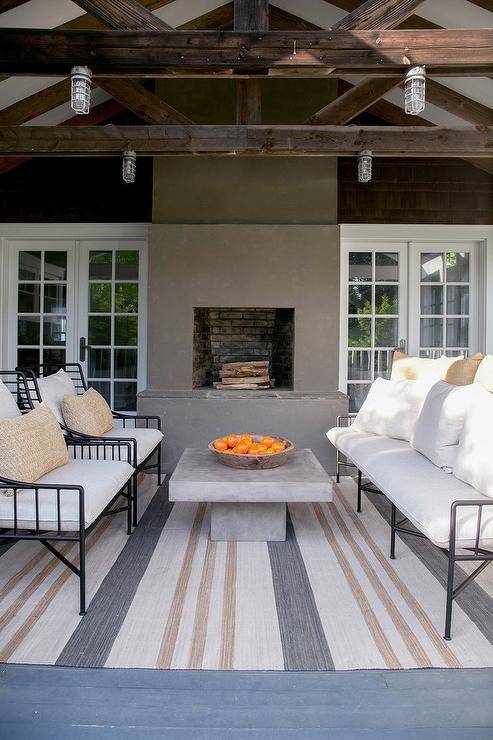 Concrete Around the Pool
 A backyard deck and pool are meant for barbeques, parties, and family hangouts. Plunging into a pool is a great way to cool off and keep the party going when the sun's beating down. By creating a backyard pool and concrete patio area, you and your visitors will be able to enjoy the perfect summer oasis.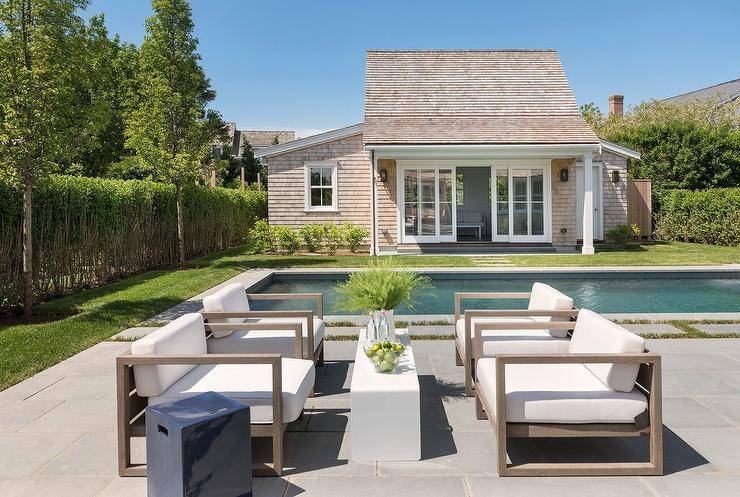 Covered Patio Ideas
If you want to get the most out of your concrete patio, adding some covering is a great idea. Providing some sanctuary from the sun and other elements creates a shady space to hang out under, and you can enjoy your patio year-round and in almost any weather condition.
Gazebos and covered porches will cover your outdoor living space and protect it from most elements. They can be costly to build, but they're ideal if you're trying to create an outdoor space with living room qualities.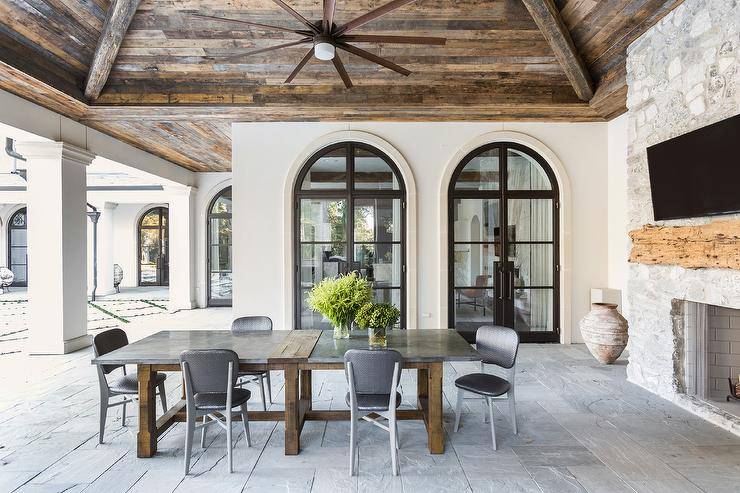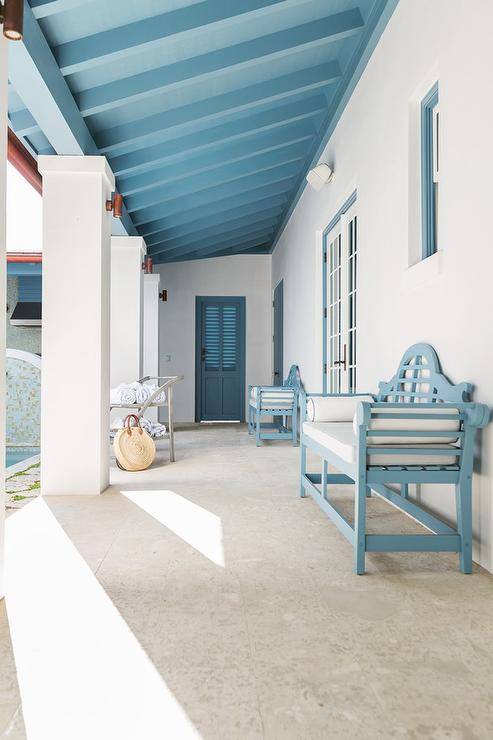 Frequently Asked QuestionsFAQ
Is a concrete patio a good idea?
Concrete is the most popular patio material. With many decorative finishes, concrete patios tempt homeowners who want an outdoor surface with unlimited design potential. When compared to wood decks, pavers and natural stone, a concrete patio is also more durable and requires less maintenance.
What concrete mix is best for a patio?
The best concrete mix for a patio is 3500 psi concrete poured 4-6 inches thick. Add additional support like fiber, rebar, or wire mesh if you need more strength. The aggregate stone should be less than 1 inch. With a concrete mix like this, your patio will be very strong and easy to work with.
Which concrete mix is used for a patio?
There's no such thing as a concrete mix that's just for patios. Concrete is a mixture of sand, aggregate stone, and cement. Varying these ratios produces different types and strength concrete. But it's still just concrete.
What is the cheapest option for a patio?
Poured or stamped concrete is one of the cheapest options for a patio. Concrete is one of the most popular patio materials and the cheapest material you can use to build a hard-surface patio. Concrete is made of aggregates and paste—concrete aggregates can be crushed stone, sand, gravel, or even shells; the paste is made up of water and cement.
How long does concrete patio last?
If properly maintained, concrete can last upwards of 30 years. Like a wood deck, it is ideal to power wash and keep your concrete patio clean.