Expectant parents always look forward to designing the nursery. It is a fun project that can be as uncomplicated or detailed as you want to make it. It's important to remember that a baby's room is as much for the parents as it is for the anxiously awaited newborn, so the ultimate goal of any nursery design is to create a space that is welcoming, tranquil, serene, and above all, safe.
Both from an aesthetic and a practical point of view, you want to take great care in designing a nursery that suits all your needs. You're going to be spending a lot of time in this room!
When it's all said and done, the nursery is just another room in your house and should flow with the rest of your aesthetics and style, so while you can decorate a nursery in any style that you want, you will want to keep this in mind. Also, it's important to remember that the nursery should be a comfortable place for grown-ups to spend time, too.
You will want to remember things like a comfortable chair for nursing and bonding, acceptable storage, and a changing table that takes some of the pain out of that merciless chore, but at the end of the day, a nursery should speak to you and put a smile on your face every time you walk through the door.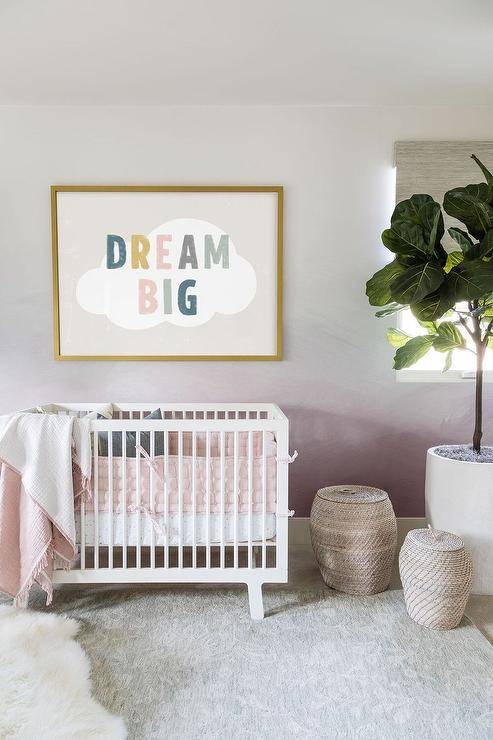 Check out these inspiring ideas that cover a multitude of different styles and decor tastes to help you create the nursery of your dreams that your newborn will indeed grow to love.
Neutral Nurseries
One of the biggest trends in the last few years is a neutral home decor palette; baby's rooms are certainly not excluded from this. Neutral paints and furnishings allow for a baby to grow within the nursery without having to make changes to decor and style constantly. By keeping wall color, curtains, and other accessories pale colors such as creams, beiges, and greys, you can easily change smaller design elements without doing massive renos or makeovers as your baby grows.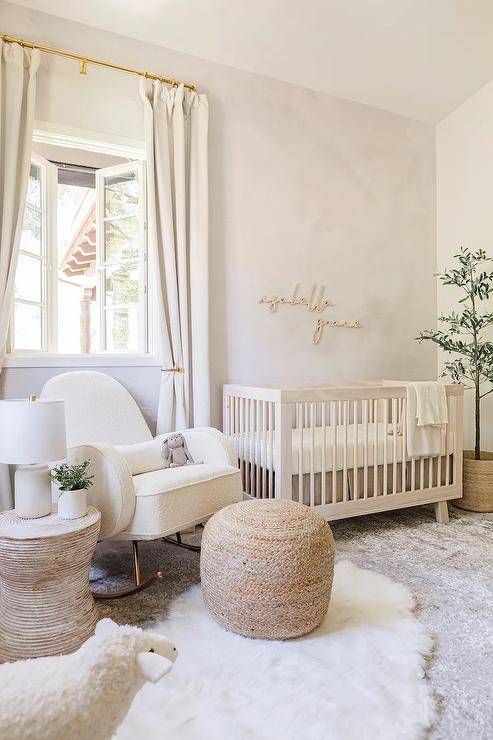 This nursery has a massive window that allows in lots of natural light and only further accentuates the light color of the walls, furnishings, and drapery. This is a bright space where any parent would love to spend their days feeding, singing, and reading to their newborn baby. This baby's room feels like an extension of a living room so its comfy, cozy and welcoming.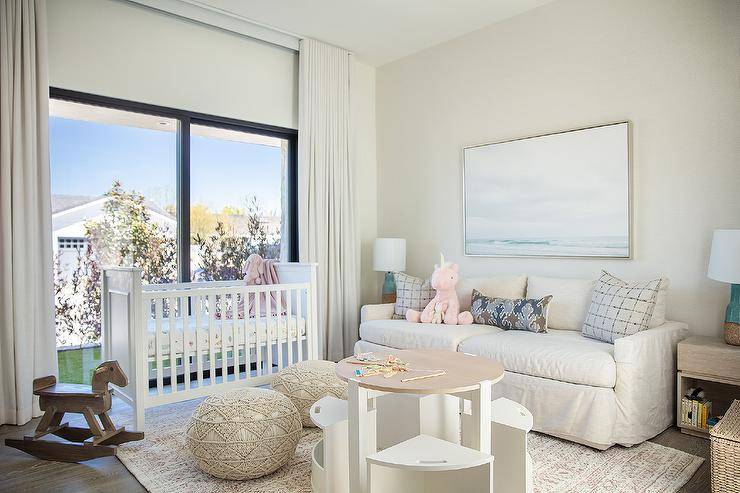 Another great design element of a neutral nursery is that they are perfect for parents who want to keep the gender of their new child a surprise. They say that doing this is one of the best surprises of your life, so if you intend to go this route, creating a neutral space will be perfect for whatever gender you bring home from the hospital!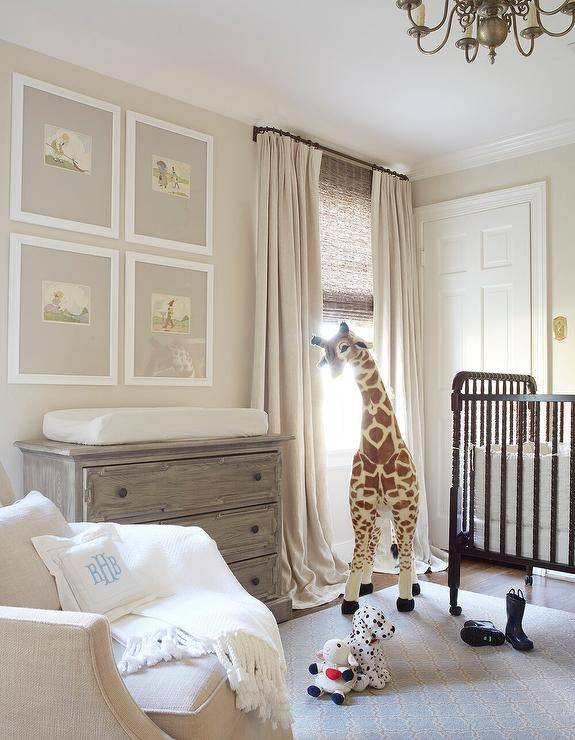 This bohemian-neutral nursery is simple and minimalistic. Not much is needed here to create a gorgeous and stunning space. This uncomplicated feather mobile is an attractive focal point without going overboard.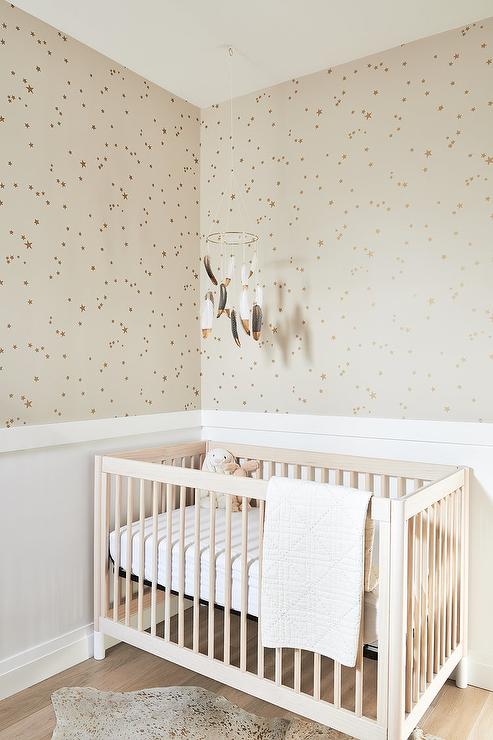 Modern and Simple
This space is clean and simple with a modern flare. The stunning fading watercolor wall design put a modern twist on a minimalist straightforward space. Even the mobile is simple and modern, making this nursery a perfect space for parents who just want simplicity.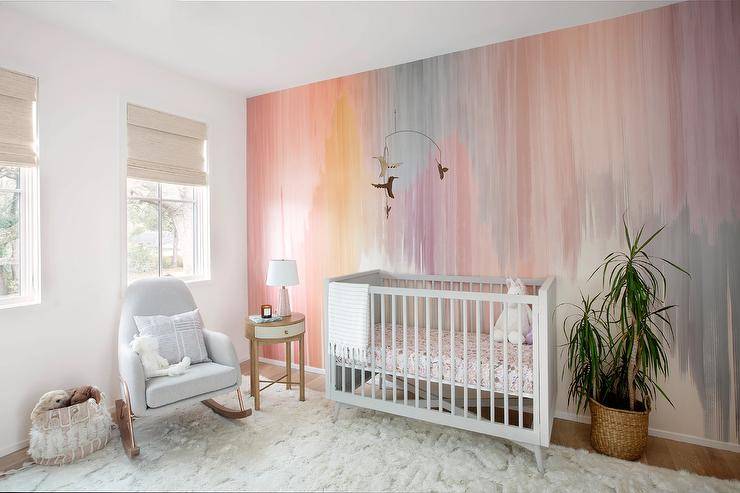 Bright and Bold Wallpapers
For those who want a little more fun and color, bright and bold wallpapers will make quite a statement in your child's nursery. Bold pops of color and bright elements create a fun and unique space that allows you to get creative and add your own personal style.
A lot of these wallpaper designs will transition quite nicely from baby room to childhood.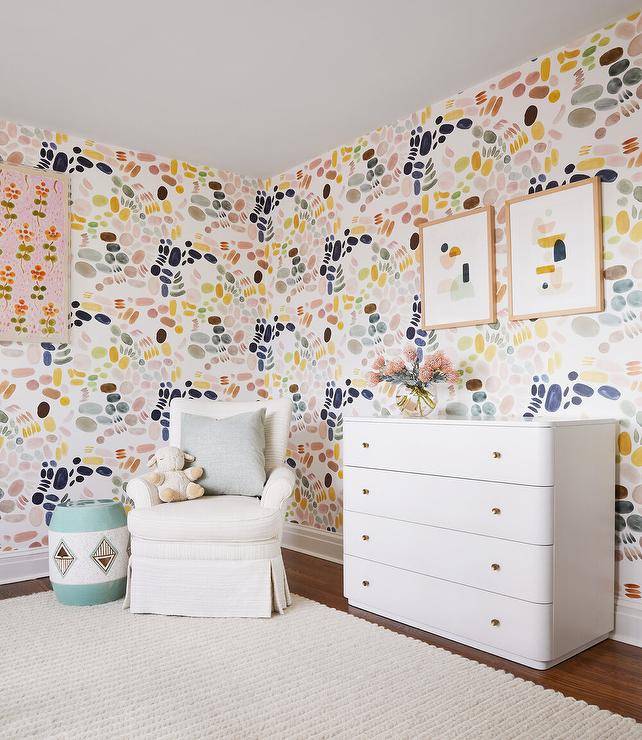 This wallpaper transitions quite nicely from nursery to little boy's room and is perfect for the plane enthusiast parent who wants to instill in their little one a love for aviation.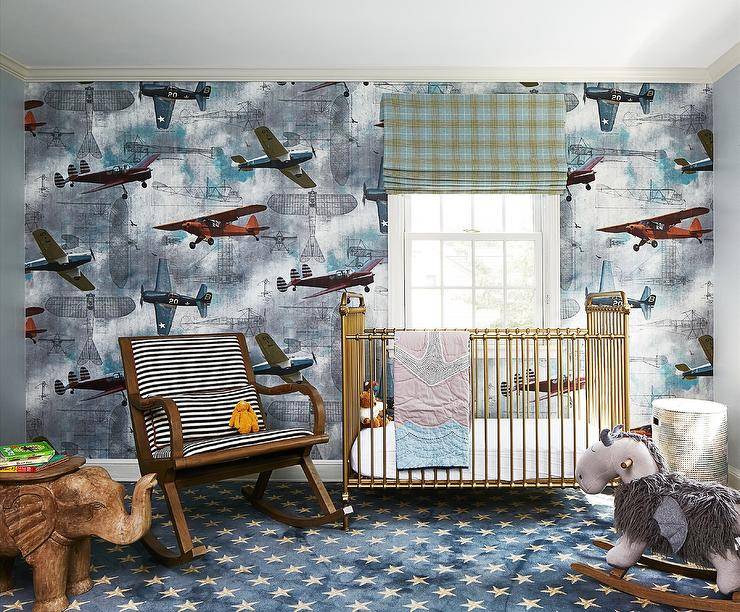 For the seasoned equestrian, create a space that your child will grow to love. A horse themed wallpaper creates a personal space that will pick up a vibe that is modern and edgy.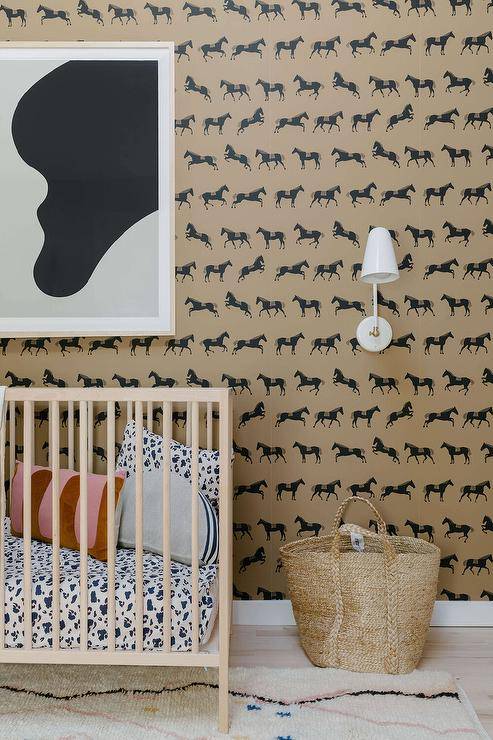 Bright yellow was typically not used in a nursery in days of old. Parents often chose a pale baby yellow in the past, but out with the old and in with the new, we say! This bright yellow floral wallpaper creates a space that is bright and cheerful. Add in a modern mirror and you have a space that is ready to welcome your baby home.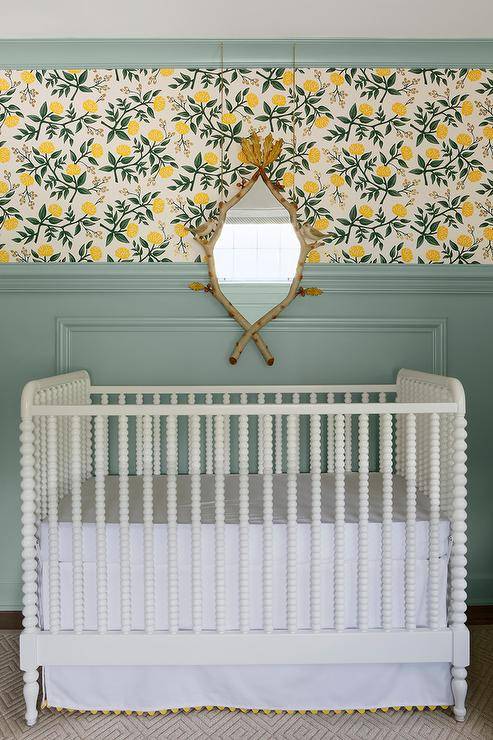 Add a Little Color
If you want to make your nursery a space that feels childlike and fun, the best way is to add a little color. You don't need to go overboard with massive splashes of color, either. Little pops here and there in smaller decor elements make it easy to make changes as your child grows.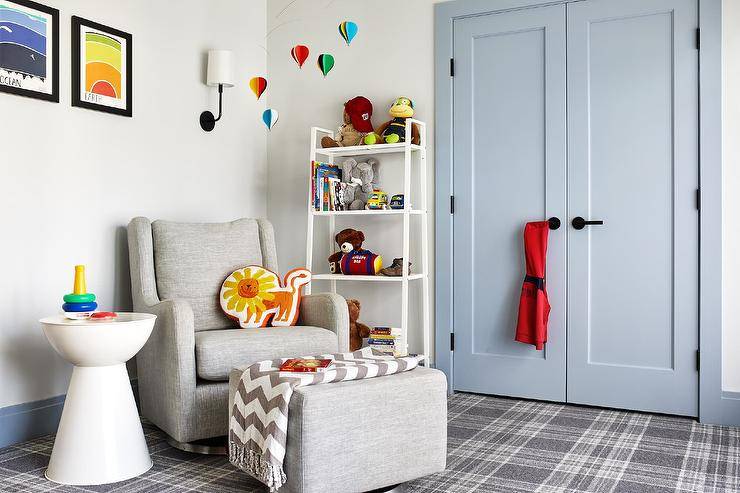 Contemporary Designs
For the more modern home design style, a contemporary nursery design may be more suited to your tastes. A nursery that is an extension of the rest of the home's design style will suit and blend in nicely. Gone are the days of having to decorate your nursery in a traditional baby-like fashion. Modern and mature-looking nurseries are trending and can be another extension of your personal taste.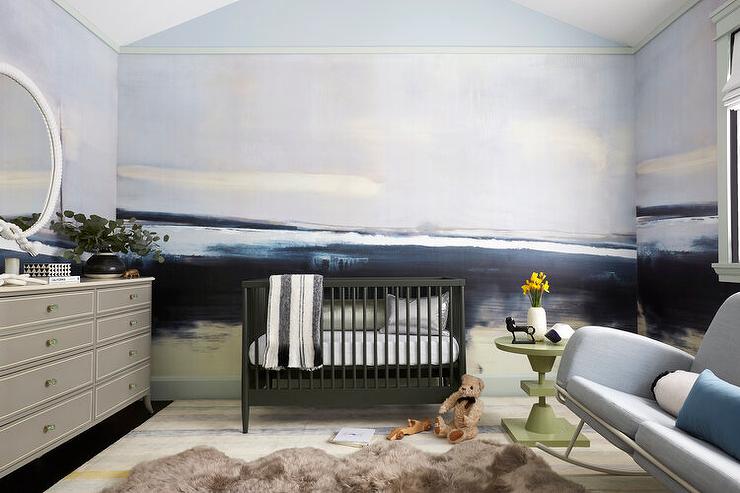 Modern and pretty, this gender-neutral nursery design leans toward a modular style. From the modern sleek furniture to the abstract art, this space is calming and serene while also having style and taste.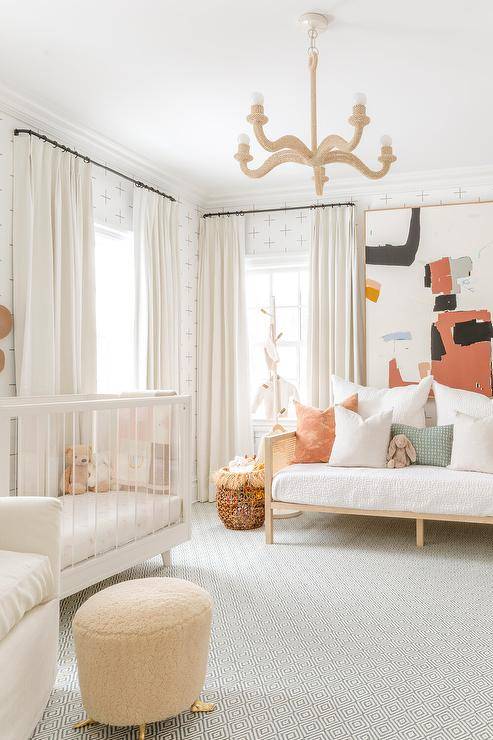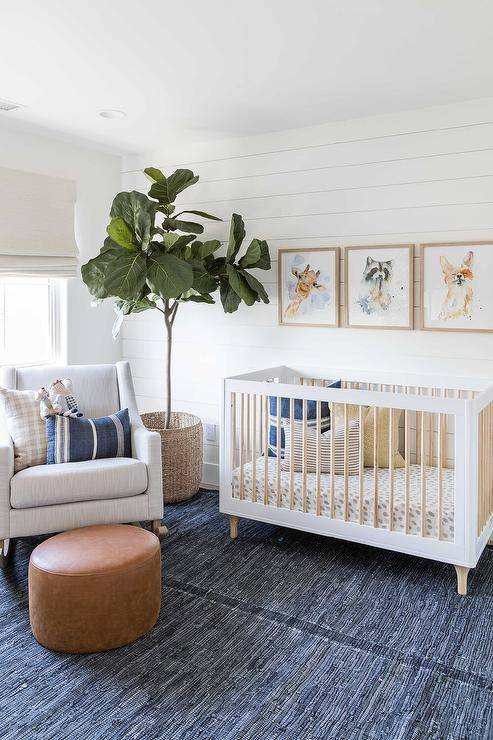 Calming Greys
Calming greys and whites can create a space that is both tranquil and peaceful, and these are all elements that are necessary for a baby's room. By keeping the decor light and airy, your space will offer a serene, relaxing environment for you and your newborn to bond.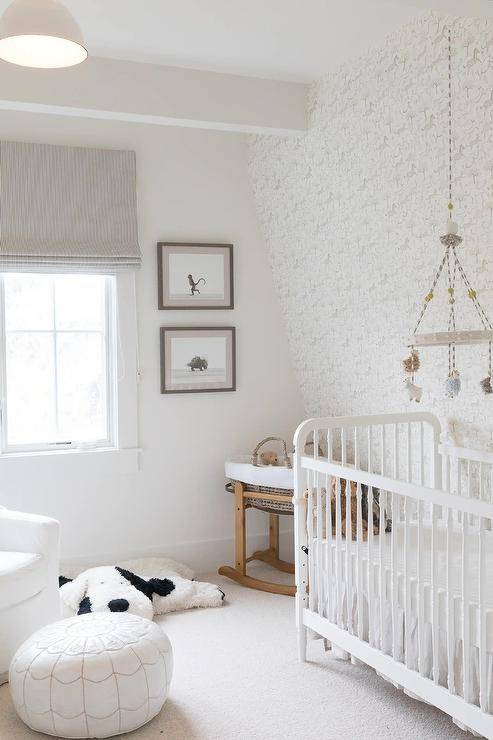 A striped grey wall is a modern, stylish look and keeps with the calm serenity of the space. This allows you to have a little modern farmhouse style to your nursery without losing the peacefulness of the room.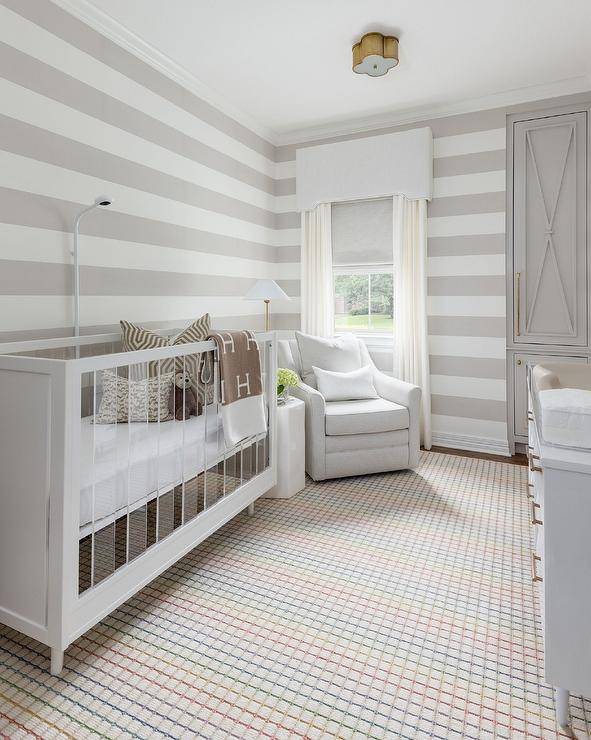 Moody Greys
You can try a darker grey if you want something a little more dark and moody. Sometimes calm and peace for certain people come in form of darker rooms with bold deep colors. This room has a modern contemporary feel but still allows for some fun with adorable baby furniture and accents.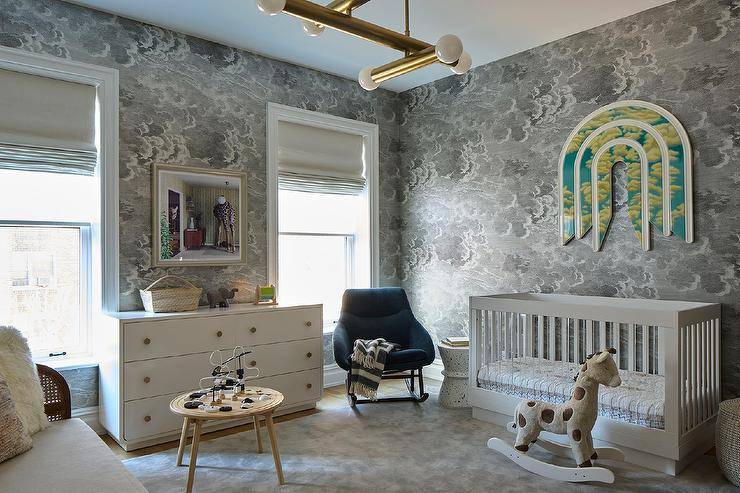 Pretty in Pink
Pink is always a classic choice for a little girl's nursery, and when it comes to a baby, the common shade of pink is a light blush or baby pink. This doesn't mean that you can't step outside of these bounds and create a pink space that speaks more to your preferred style. Remember, there are no hard or fast rules when it comes to creating a space in your home.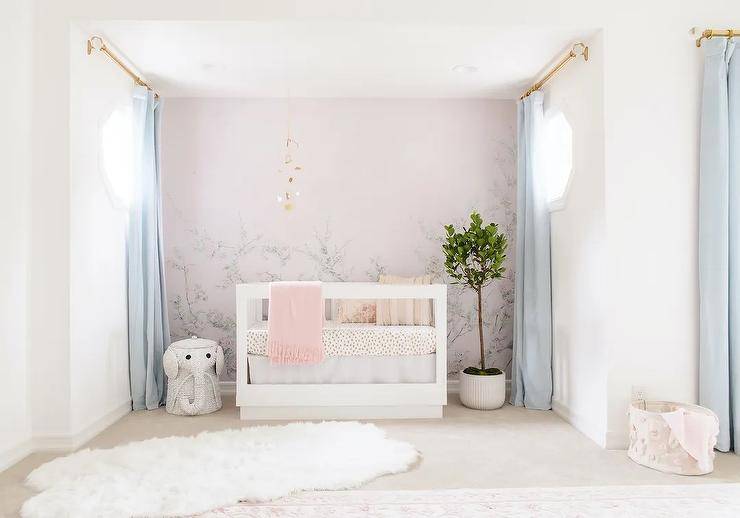 Creating a gallery wall adds some texture and dimension to a pink wall. Pops of stunning gold look great on a blush pink backdrop, and you can add in some personalization with a large gold monogram.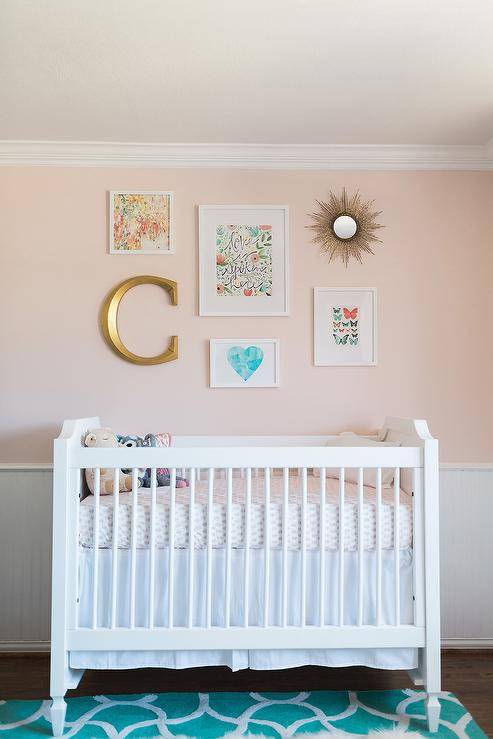 This pretty pink nursery adds a contrasting touch of black to create a bold space with lots of character and even a more elegant, refined look.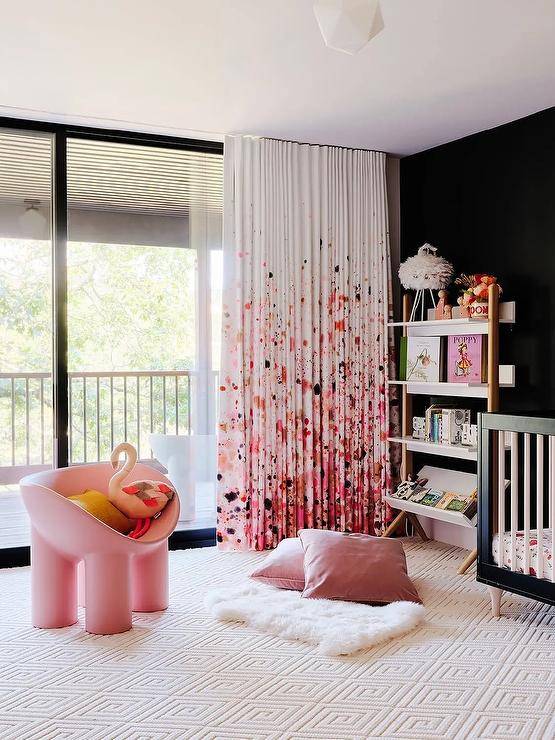 A sweet vintage pink nursery — this space is perfectly designed for those parents that don't want the traditional baby pink look. The vintage elements worked into this design create a more mature space, but it is still perfectly acceptable for babies.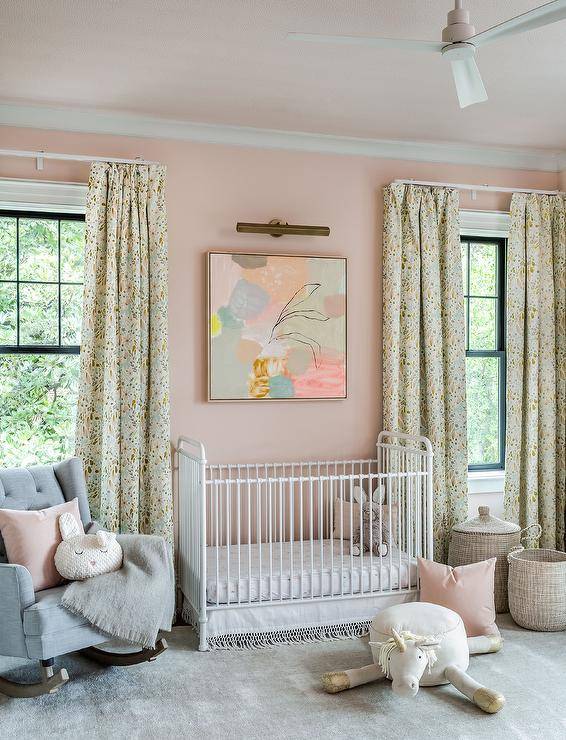 A sweet canopy is such a girly and elegant touch to any nursery and only further elevates your style. The walls also exude a fun camo design that is light and not too overbearing to keep with the girly design of this baby room.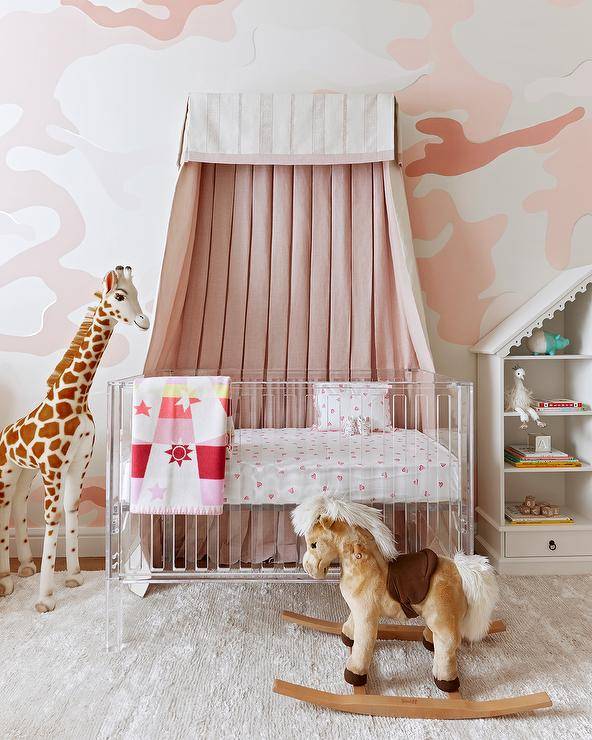 Pink, pink, and more pink! This nursery is exploding with a blush pink fanfare, and it's the flawless spot for any little baby girl. This pink upon pink look is designed perfectly and will suit any parent's dream for their baby. The sweet daybed provides a comfortable feeding spot or even a place for mom or dad to rest while baby sleeps.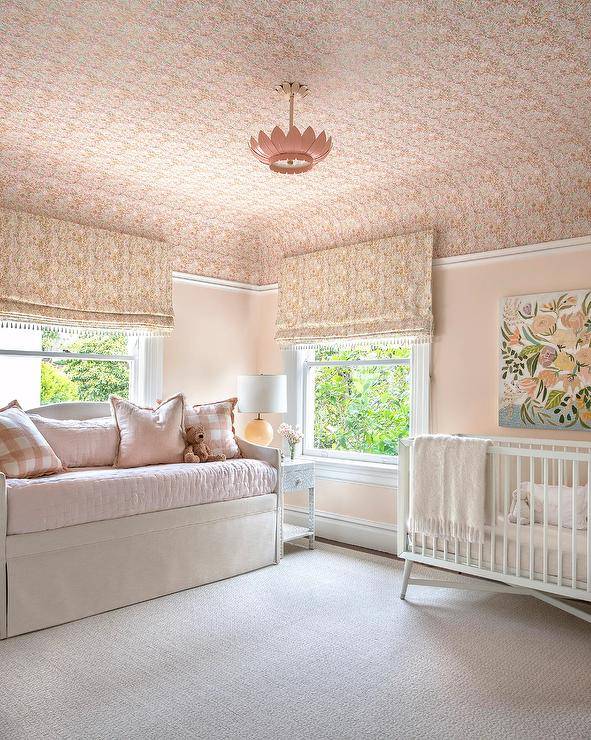 Sweet Baby Blues
Sweet and traditional, a nice baby blue with a simple and clean design aesthetic — this nursery is perfect for minimalistic and practical people who just want something sweet and simple. By now, you also may have noticed that a lot of these baby's rooms have an oversized stuffed giraffe. These seem to be a common design trend. A stuffie that acts as decor while your child is a newborn but something that they can grow into and play with when they are older.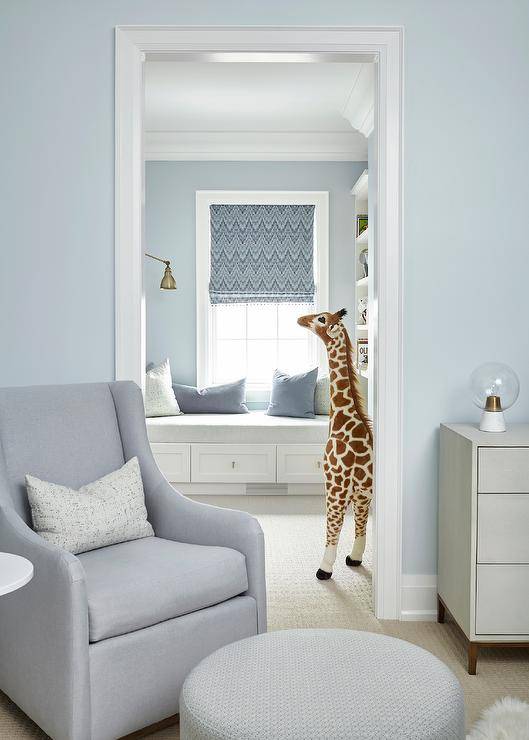 If you want to break up a bit of the blue, try adding in a nice pop of yellow! This will allow you to add some charm and cheeriness to the place you lay your baby down to sleep.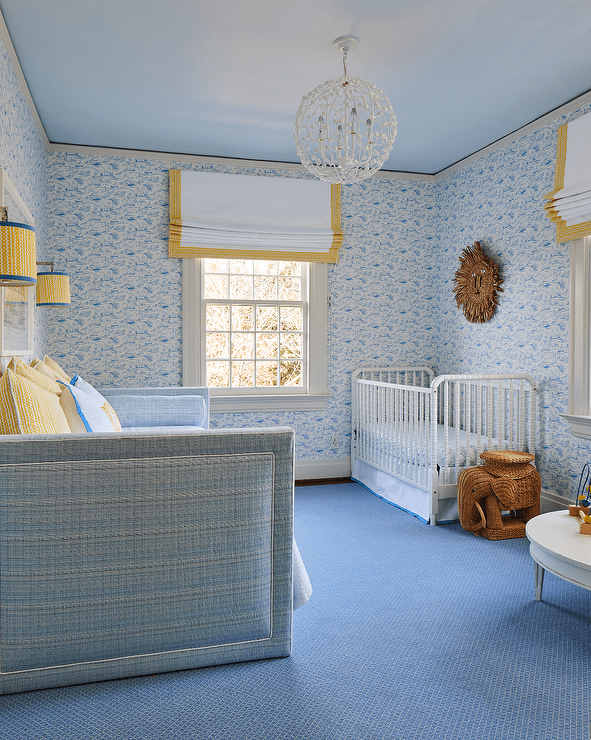 A Soft Purple
Typically we are told to stay away from purples, but when executed correctly, a mix of soft purple with an accent of a deeper purple can create a luxurious space for you and your newborn. The stunning crystal chandelier only furthers the elegance in this nursery and creates a space that will make anyone swoon.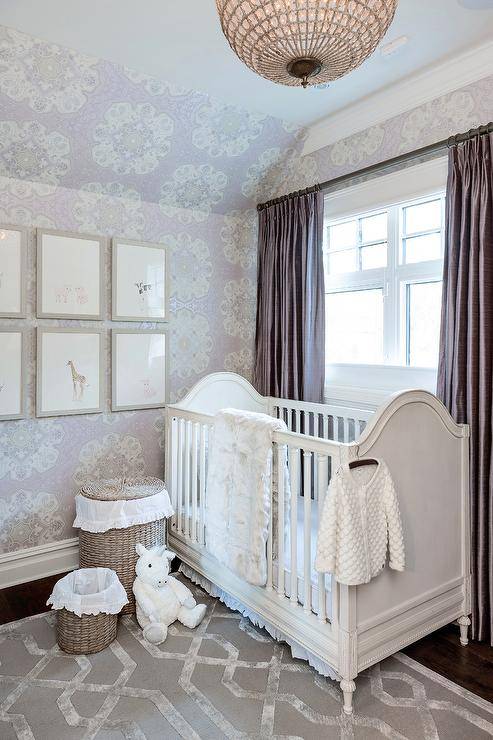 Minimalistic Nature
For nature and wildlife lovers, a clean and minimalistic space is designed here. The antler chandelier adds a unique touch without going overboard in this simple nursery design.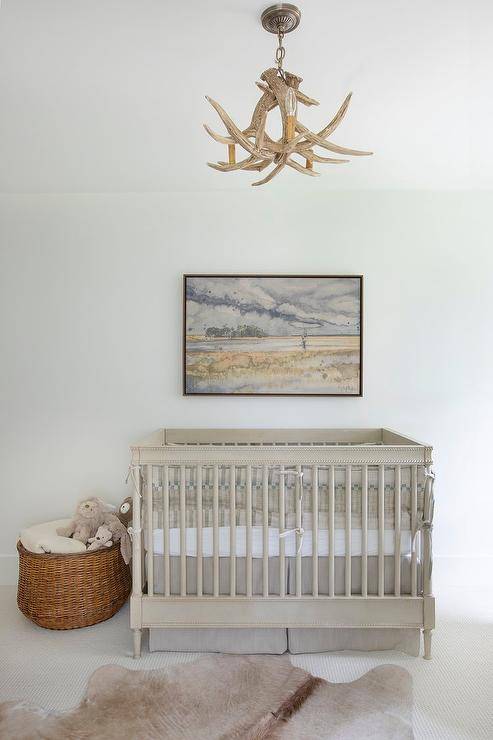 Add A Statement Chandelier
While we are on the topic of chandeliers, the lighting that you choose for your nursery should be well thought out and selected. Choose a piece that will create visual interest and add a stunning focal point to the middle of your nursery. Don't waste the opportunity to choose a piece that further elevates your design.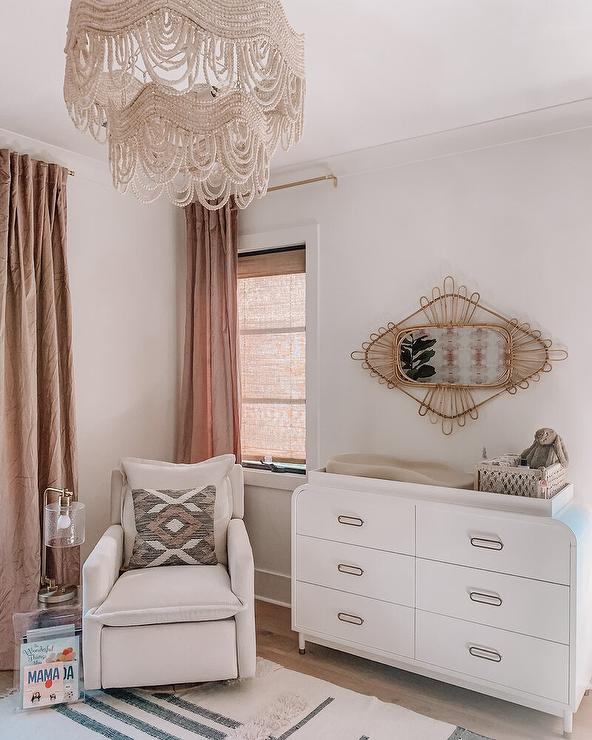 Mid Century Modern
If mid-century modern is the feel of design style throughout your house, carry that through into your baby's room. A mid-century modern nursery can exude a look that is elegant, cultivated, and full of taste. The deep rich browns look sophisticated when mixed in with bold and rich colors.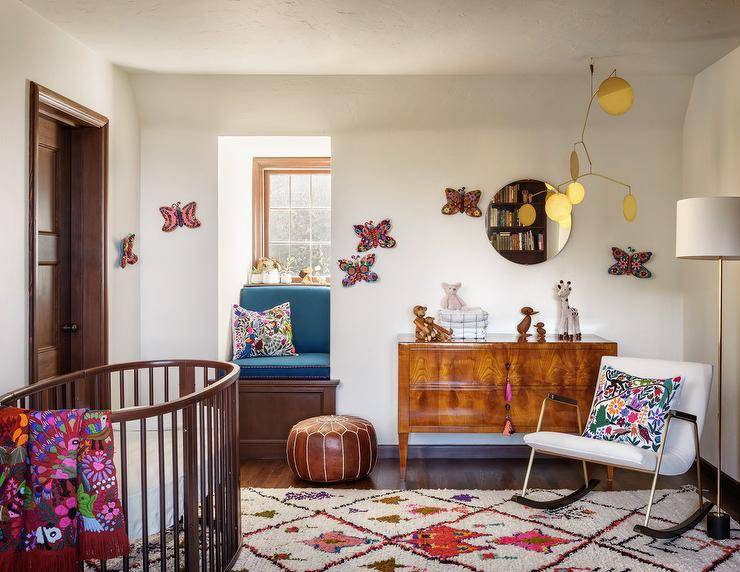 Eclectic Boho
Bold, bright pops of color and eclectic designs look great in a nursery. Don't shy away from color and fun elements for your baby. A delightful teepee will be decor for now but will provide a joyful spot to play when your baby grows.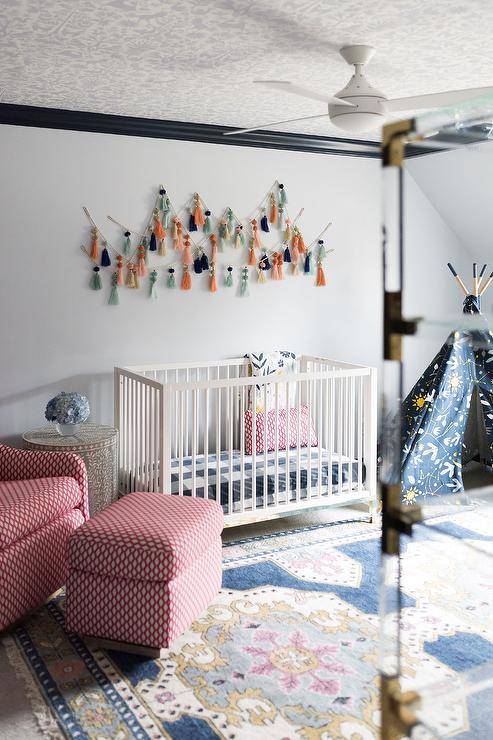 Exposed Brick
If you got it, flaunt it! We are swooning over this exposed brick in this attic nursery. It provides a gorgeous contrast to the light and airy wallpaper design. The rattan rocking chair picks up the color elements in the brick to complement the space so nicely.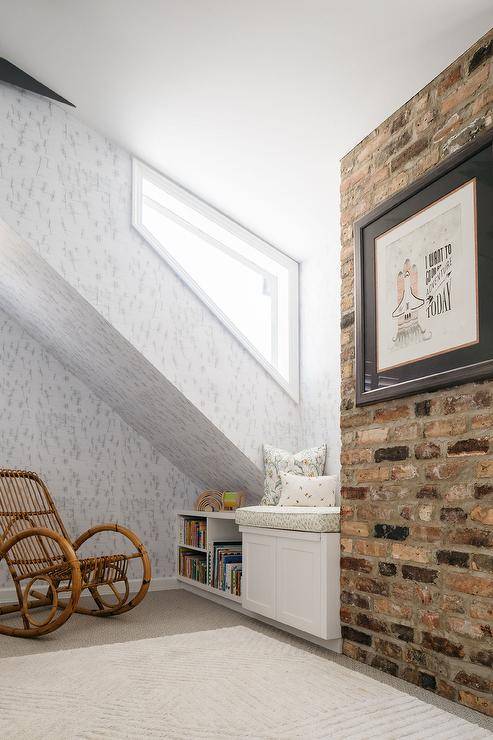 Deep and Dark Colors
Rich deep forest green is not the traditional color that comes to mind when you think about a baby room but in the right setting and designed correctly; you can create a space that is rich, luxurious, and earthy and will leave you with a modern nursery that is an extension of your already exquisite tastes.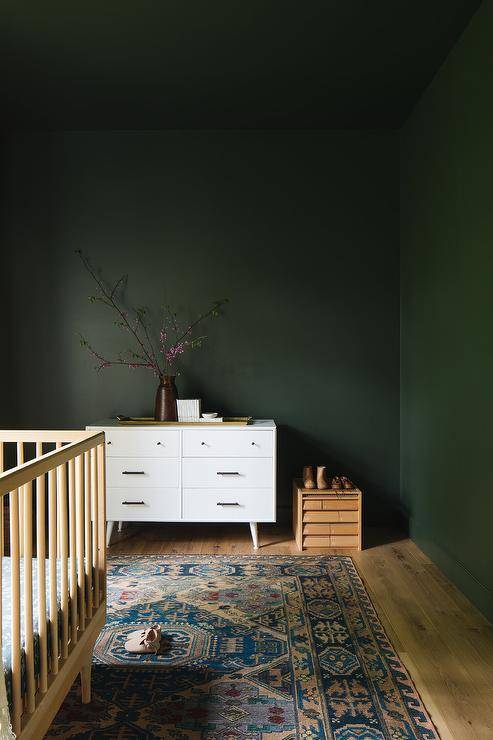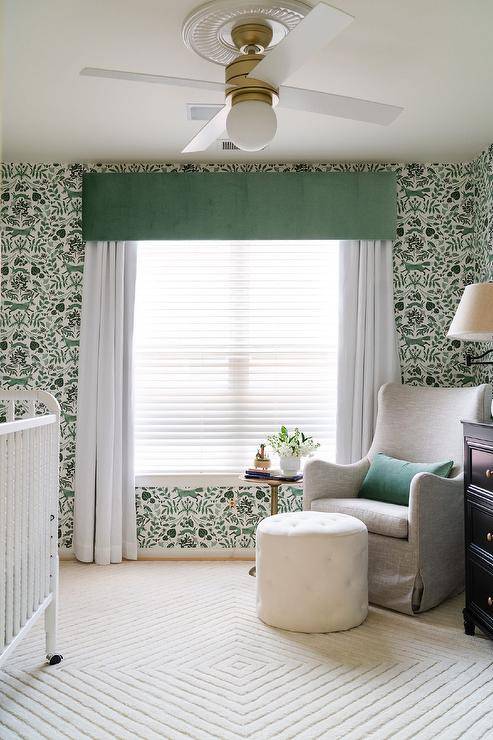 Chic and Classic
A chic look with classic undertones, this stunning nursery creates a unique space that is not only cozy it downright gorgeous. The vintage botanical wallpaper will help lead this little girl into a grown-up big girl bedroom. The other element to consider is that with nurseries like these if you are thinking resale value, these rooms are super easy to transition into a different style of space.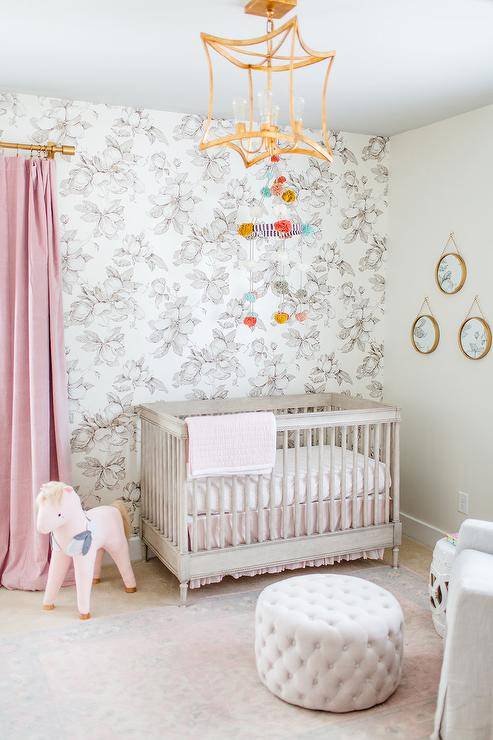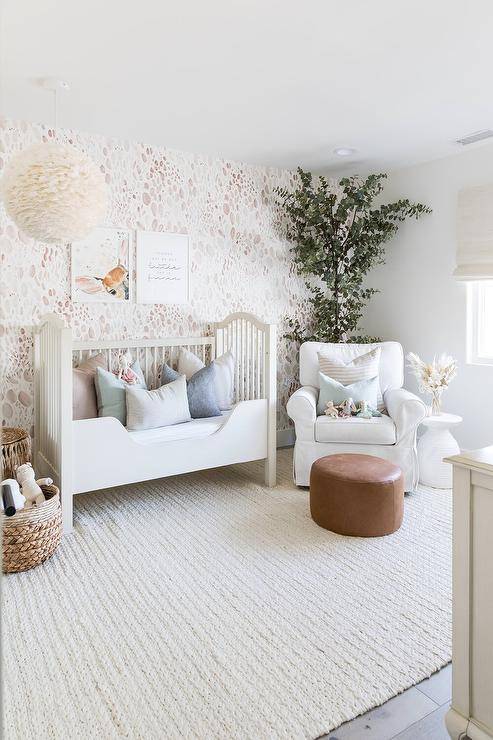 Twin Nursery Designs
If a baby is a blessing, then having two means double the blessings and the supplies and furniture. For a nursery for twins, you want to make sure that your space is well laid out and practical, but that doesn't mean you have to sacrifice style and taste. There are plenty of options for decor when it comes to twins.
This nursery keeps things simple with blue and red — a stunning mature primary color look. Simple white matching cribs keep this room easy on the eyes with clean and classic lines.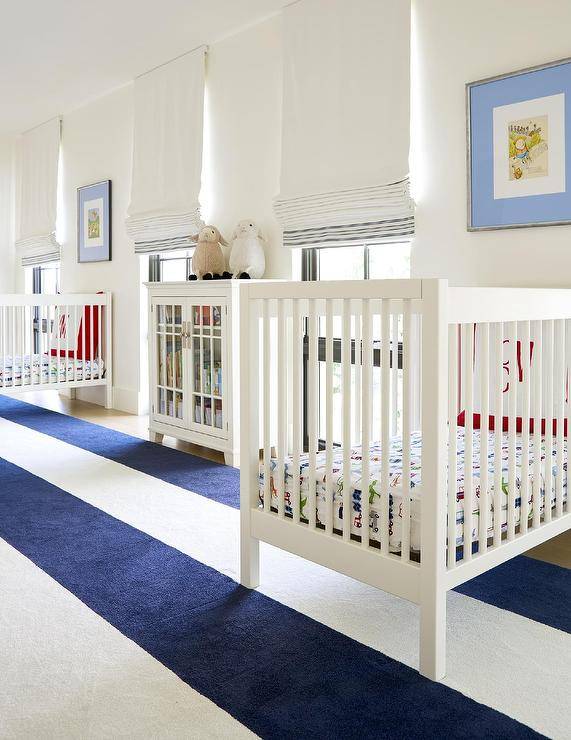 This contemporary and modern nursery design is perfect for the set of boy and girl twins. Each baby has its own designate crib with silhouette art, and the cribs are festively adorned with a cute banner. The bright and fun colors make this space perfect for both of them.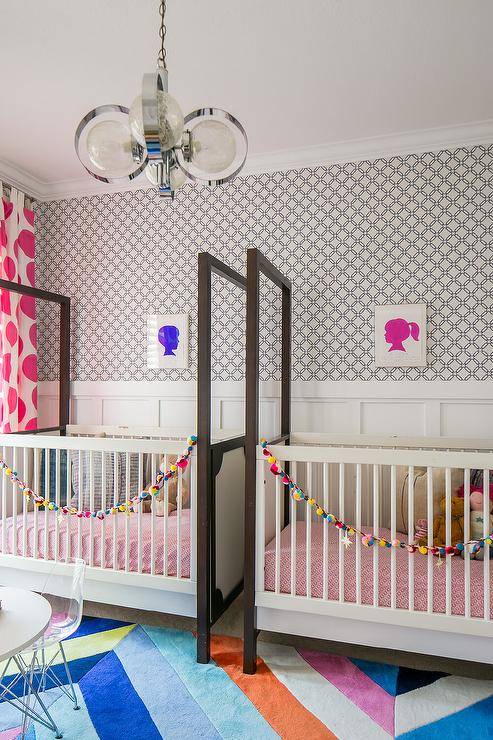 Small Design Elements to Include
It's important not to forget the little things, especially for decor. Sometimes the smaller elements of design make the biggest impact, and here are a few design elements to get you started on things you may wish to include in your nursery.
Animal Print Wall Art
Don't forget that just because it's a baby's room doesn't mean that they don't like wall art. Animal prints have been a baby room staple, but they have certainly taken on a more modern look. The traditional symmetrical hung animal art is still a classic choice but with a more modern flare.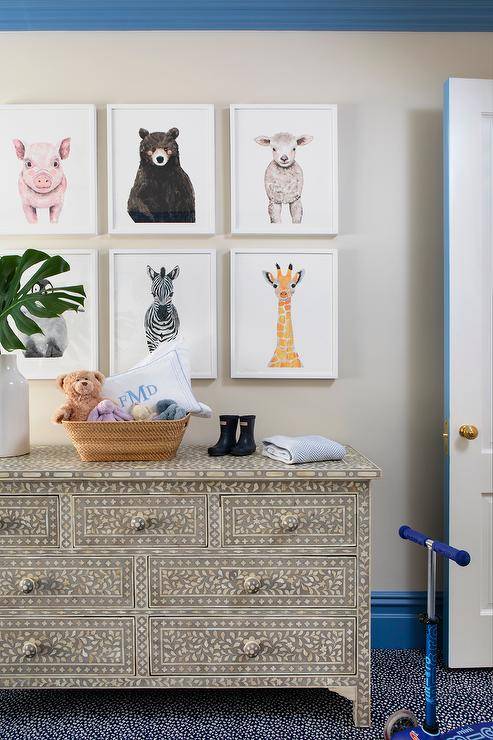 Inset Bookshelf
The one thing you do not want to leave out in your baby's room design is a spot to read to your child and rock them to sleep, and it's especially handy to have books right nearby. Consider working into your nursery design an inset bookshelf. This will free up space in the room from having a standard clunky bookshelf and give you more room to be with your newborn.
We really love how this one has a roll-up curtain that you can close if you don't want all your stuff on display.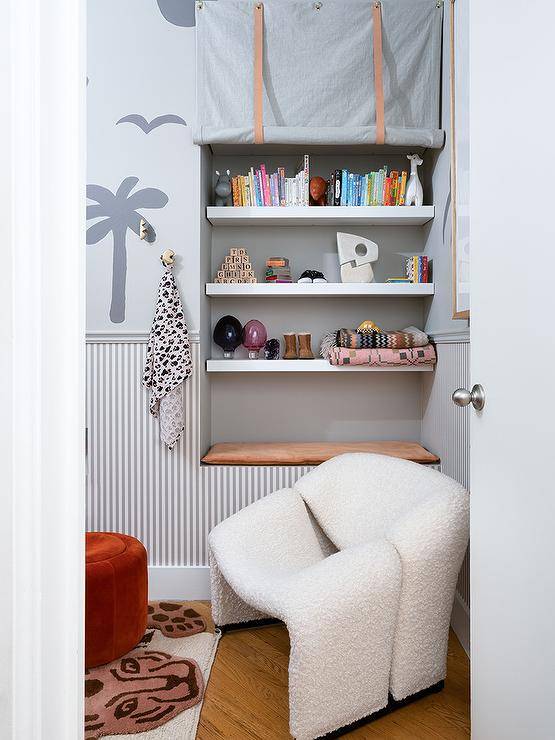 Pegboard
While a pegboard might not be the traditional nursery accessory that you think about — you may be thinking it's more suited to craft rooms and offices, it can most certainly be put to practical use in a baby's room. Babies need a lot of stuff so it's important to keep your nursery organized as well as pretty.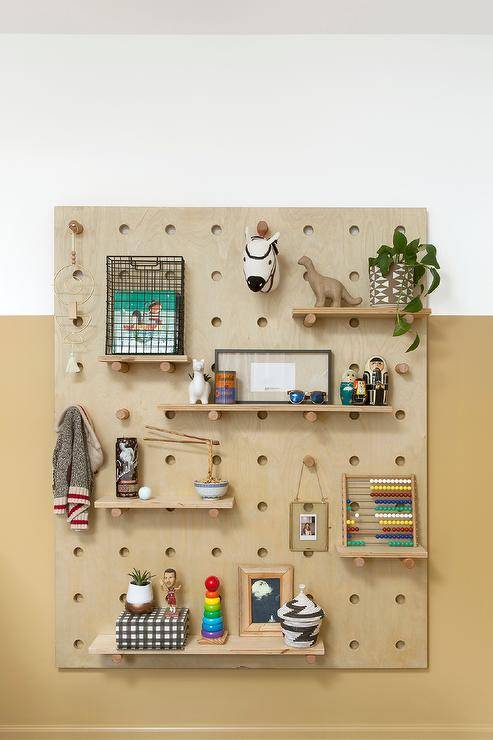 Here is a quick list of other baby essentials that you will want for your nursery:
A good quality crib – this is going to be the spot your baby sleeps every night so you want to make sure that it's not only pretty but, most important, that the quality is there.
Storage for diapers, sheets, etc – a good quality storage cabinet is desirable for a nursery. You want to make sure that you have sufficient storage space for all your needed items that you don't want out in the open.
Feeding chair – for late-night feedings, you will want a spot to sit with baby. A comfy rocker or glider is most common and comfortable.
Change table – a spot to change baby, so you don't have to leave the room is another crucial item that should not be forgotten
Comfy pillows for parents – when having to tend to baby at night, you may want some comfy pillows for yourself while feeding, etc.
Frequently Asked QuestionsFAQ
When should you start doing baby room?
Just in case the baby decides to arrive a little early and before you may be too uncomfortable, you want to try to have the nursery fully ready to go by the time you are 36 weeks pregnant.
What colors are best for baby rooms?
Since looking at this list of ideas, we have proven that there are no hard and fast rules regarding what color is best for your baby's room. However, you want to consider the vibe and feel you want for your nursery. If it's a calm and serene space you are after, it's best to stick with neutrals or light colors.
What colors are calming for babies?
When it comes to calming colors, the best are soft greys, pale pinks, earthy neutrals, and creamy whites. This will ensure that your nursery is a place of peace and tranquility.
Should I keep the room dark for baby's naps?
A dark, quiet environment can help encourage your baby to sleep. But you don't have to paint your nursery a dark color. A good set of black-out curtains will help with daytime sleeping.