You may be seeing more and more Terrazzo design trends showing up everywhere you look. Terrazzo originated in Italy and is a composite material poured in place or precast and used for floor and wall treatments. It consists of chips of marble, quartz, granite, glass, or other suitable materials, poured with a cementitious binder. Metal strips divide sections of different colors or materials in a pattern. Additional chips may be sprinkled atop the mix before it sets. After it is cured, it is ground, polished, smooth, or otherwise finished to produce a uniformly textured surface.
We can't deny that we love the look of Terrazzo. You can easily incorporate Terrazzo into your home, and we've brought some ideas to help get you started.
In the kitchen
If you want to incorporate Terrazzo into your kitchen, the most prominent place would be your countertops. While these countertops are beautiful and trendy, they are extremely heavy, and installation can be tricky. For this reason, it's not recommended that you attempt to install Terrazzo countertops on your own.
A countertop installer near you can help you get the job done for around $3,000, including $10 to $30 per square foot for labor.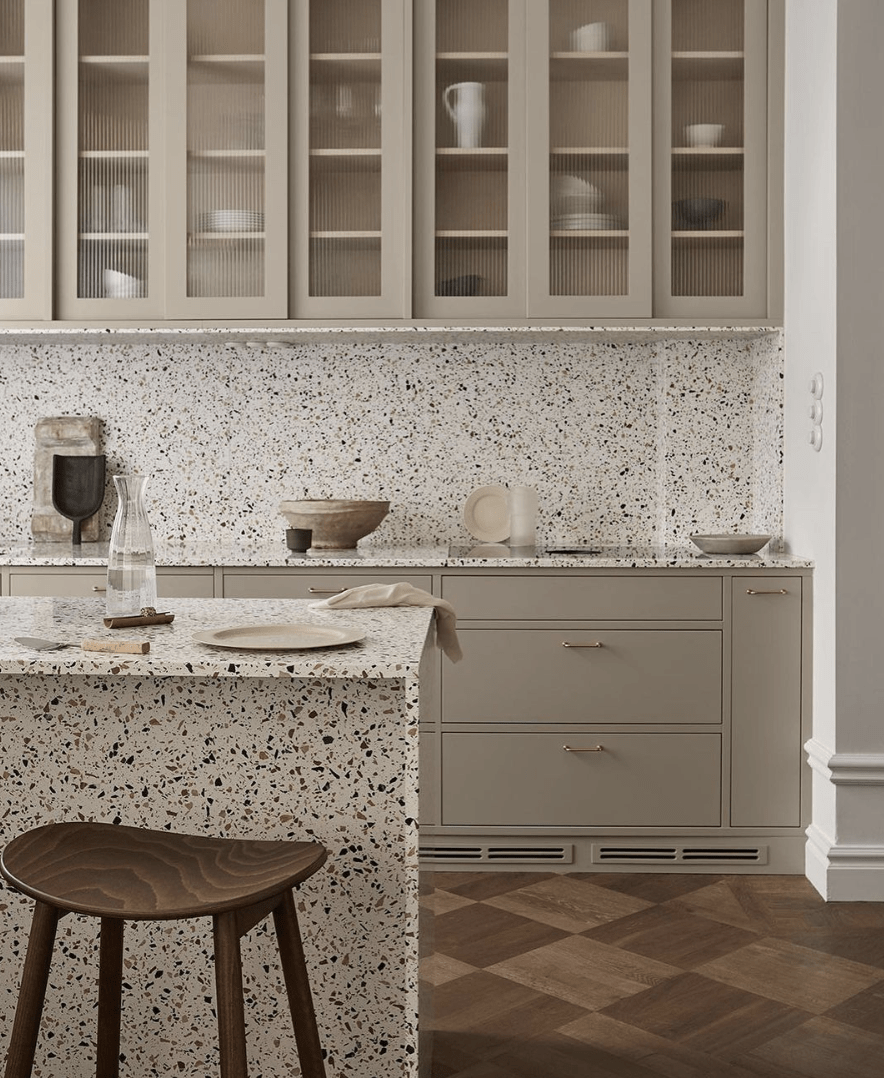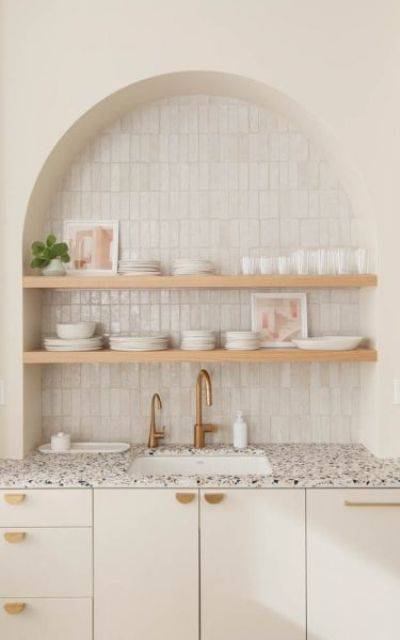 In the bathroom
The bathroom is probably the most common space in the home where you will see Terrazzo. It looks great as an accent wall or used to line your shower or bathtub.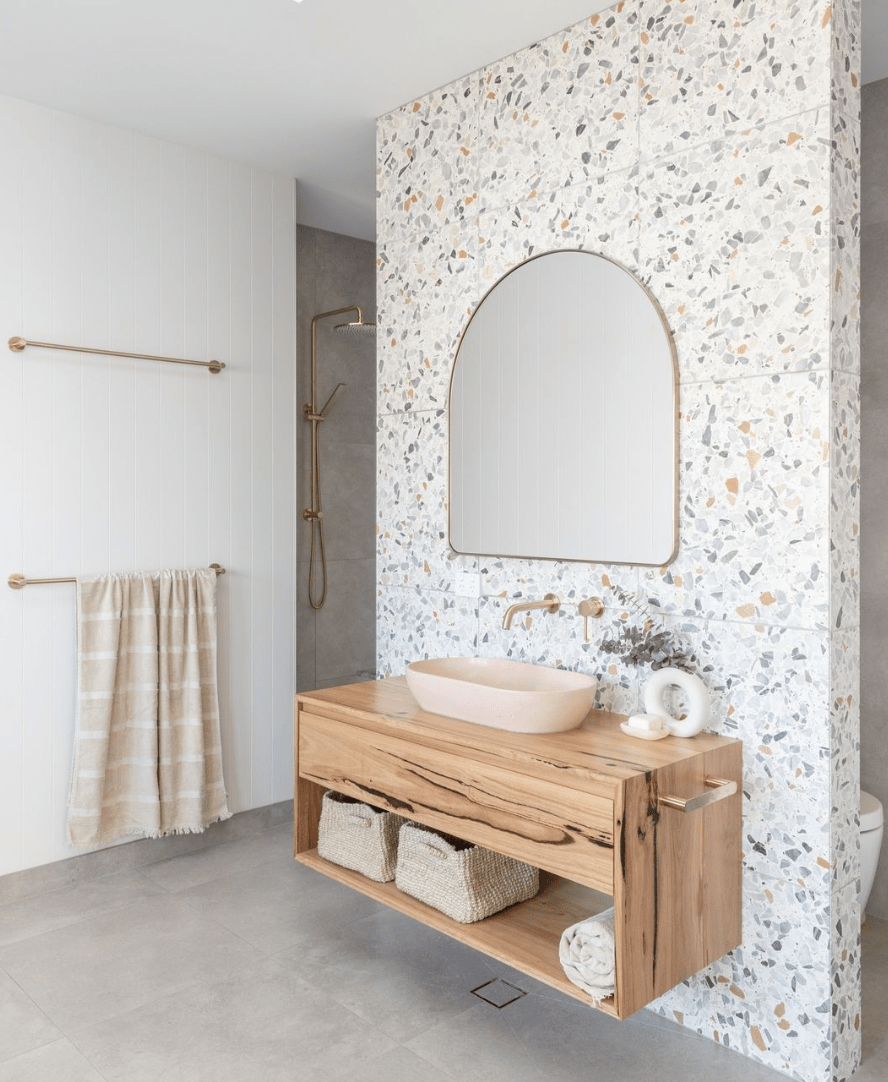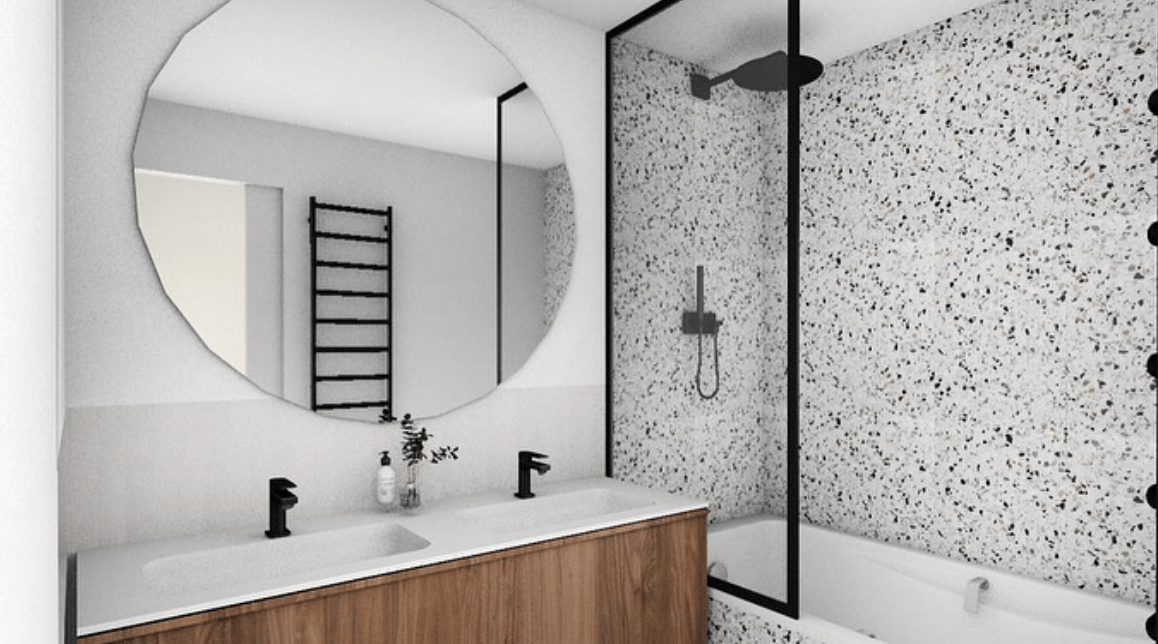 You can choose from a wide variety of colors of Terrazzo, from light and airy blends to something more dark and moody.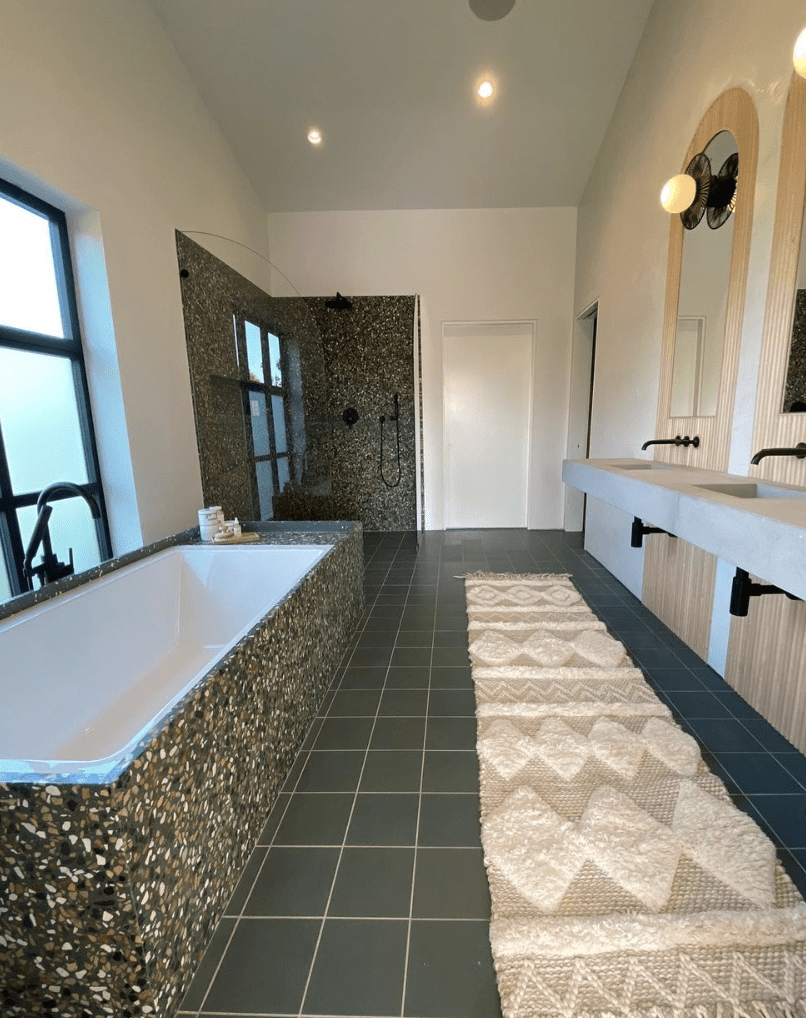 As well as using it on the wall, you can also opt for a Terrazzo floor in the bathroom. This trendy and appealing floor style is becoming increasingly popular, and more homeowners are going with Terrazzo floors, especially in the bathroom.
In the dining room
While this may not be the right look for everyone, if you want something bold and fun for your dining room, consider using Terrazzo patterned wallpaper. A trendy and bright display will fill your dining space with a modern-boho vibe.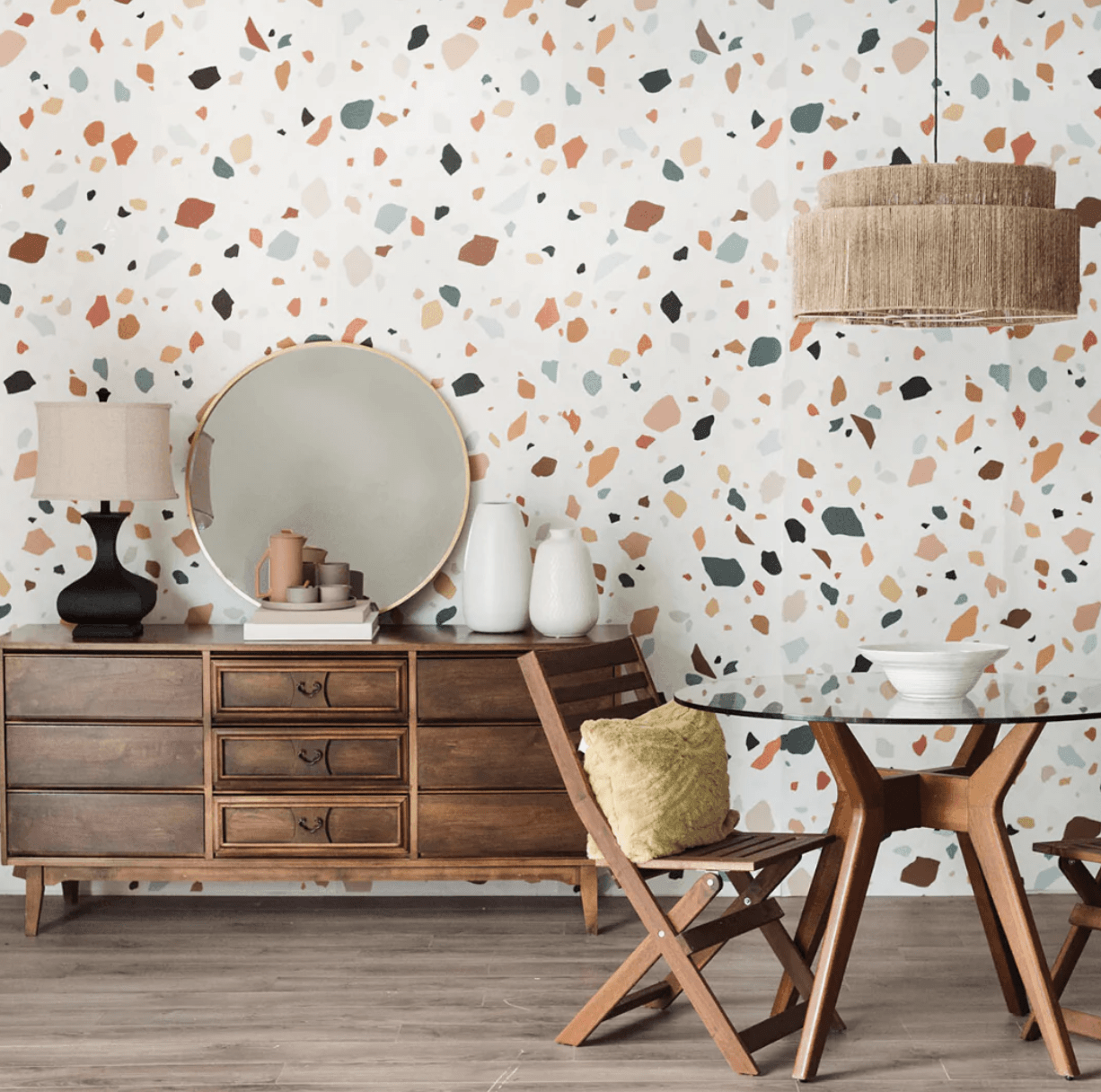 If having Terrazzo on the wall is not your thing, you can opt for something a little more toned down like this earthy tone Terrazzo dining table from Urban Mood. The black frame wicker chairs are the perfect complement, giving your dining space a natural vibe with a modern boho twist.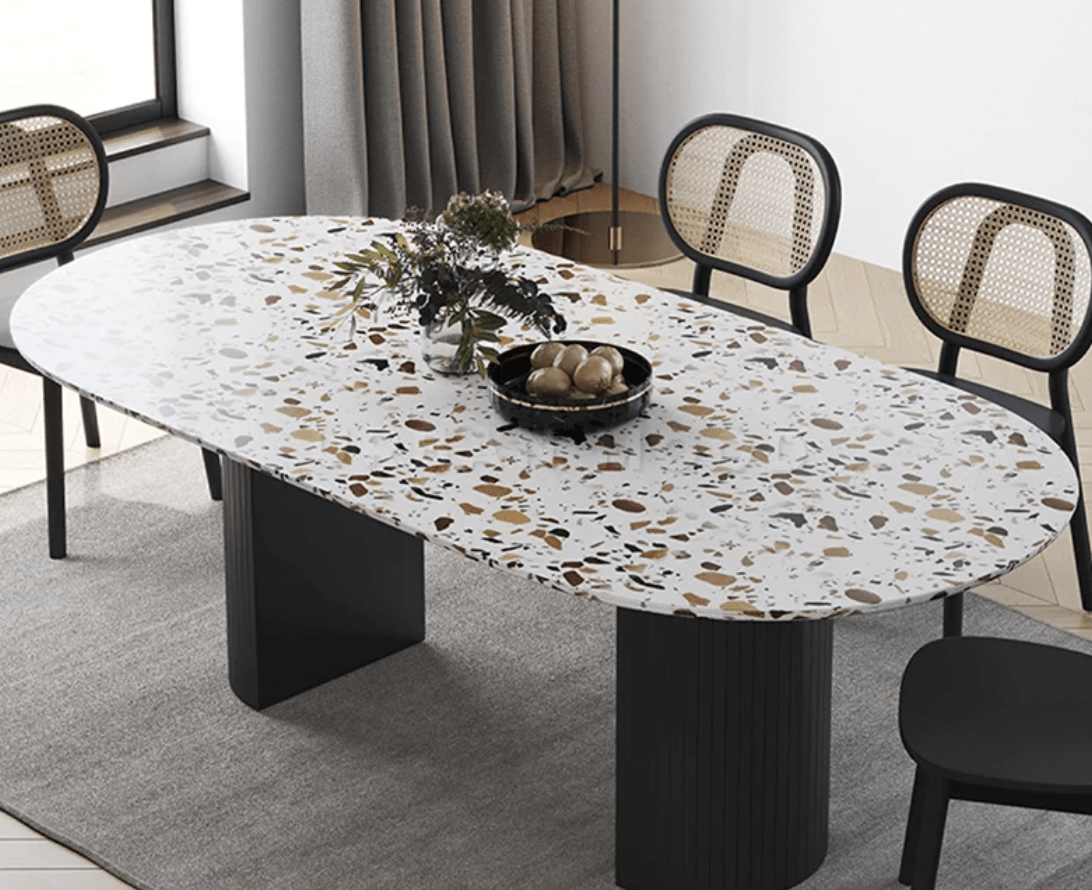 In the living room
Terrazzo is available in several different styles. You can get Terrazzo in larger flakes to create a stunning visual impact for more extensive spaces.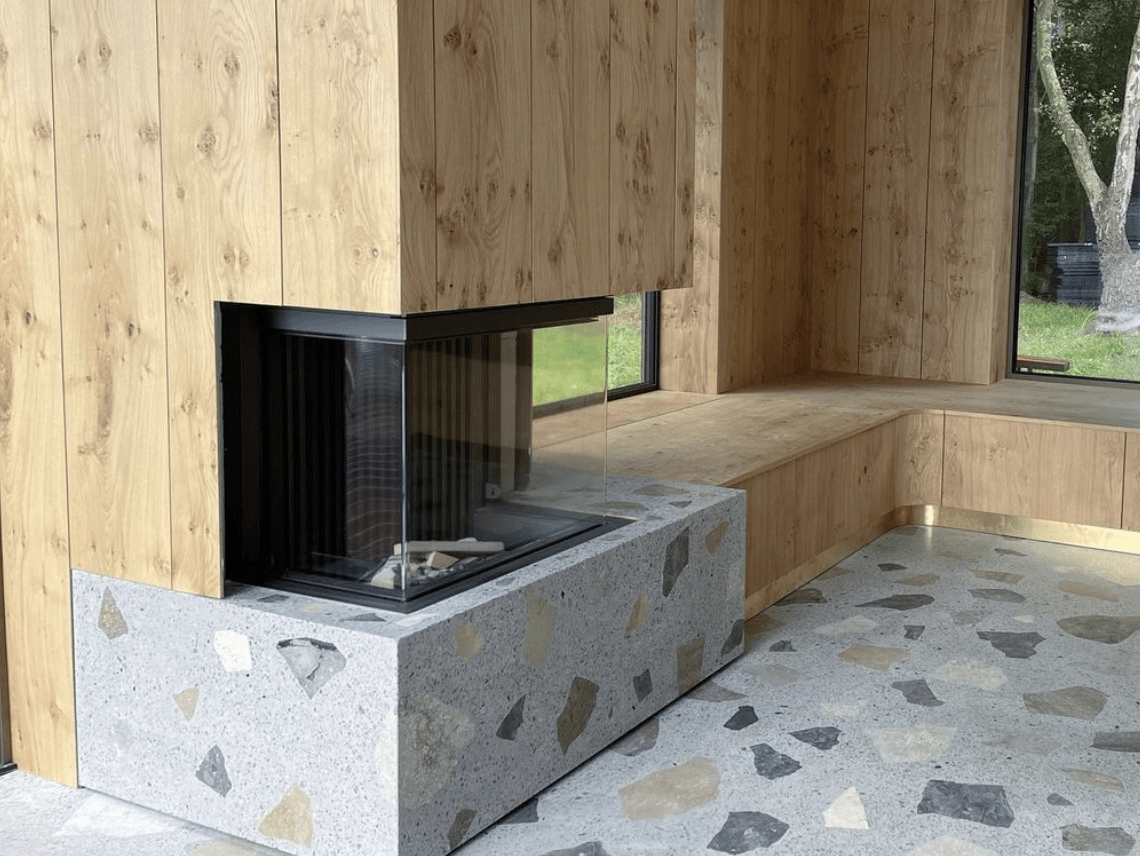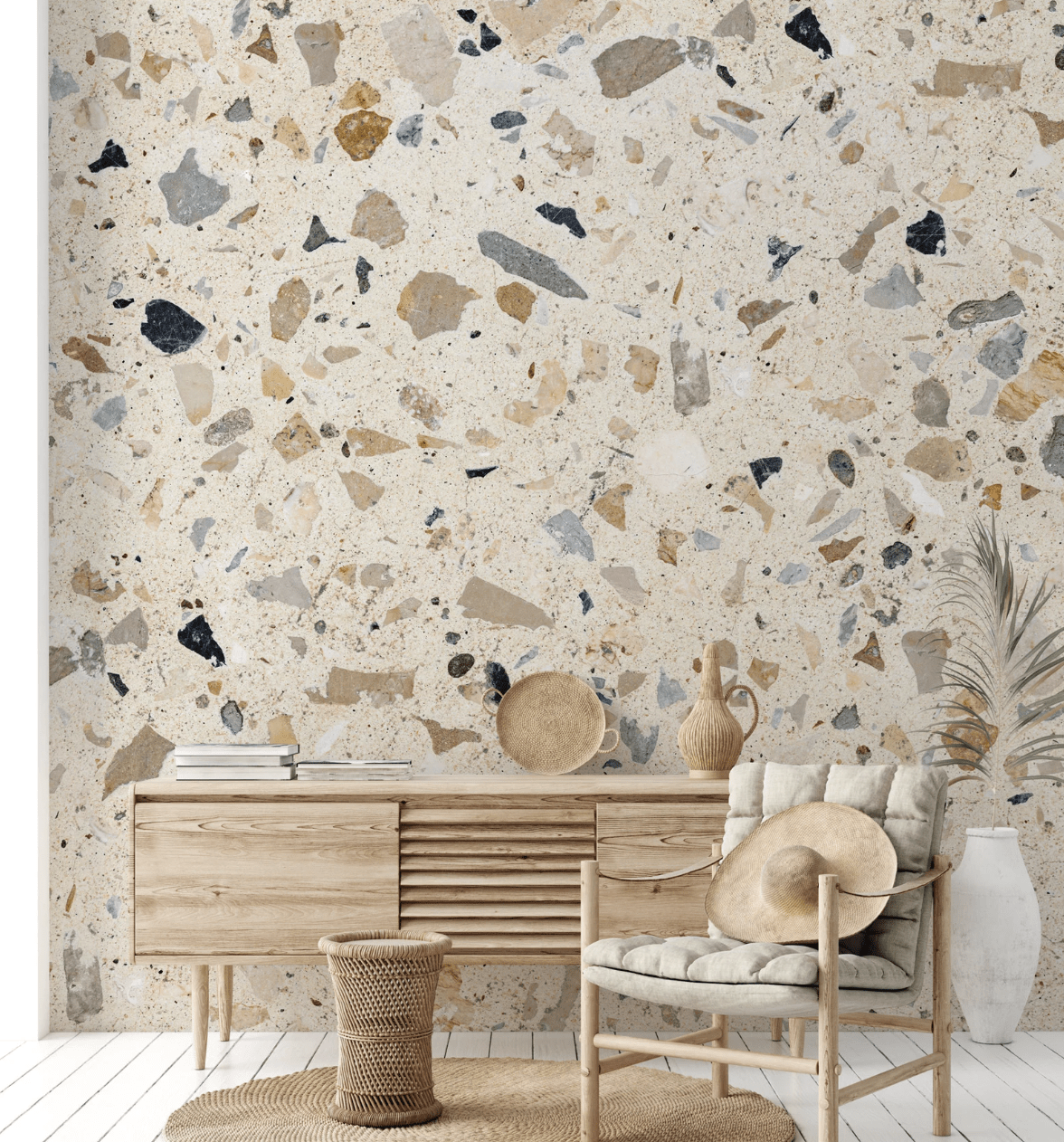 Why not add a little color with Terrazzo? It's not just available in natural shades. Choose a color palette for your space, and then match your Terrazzo to that!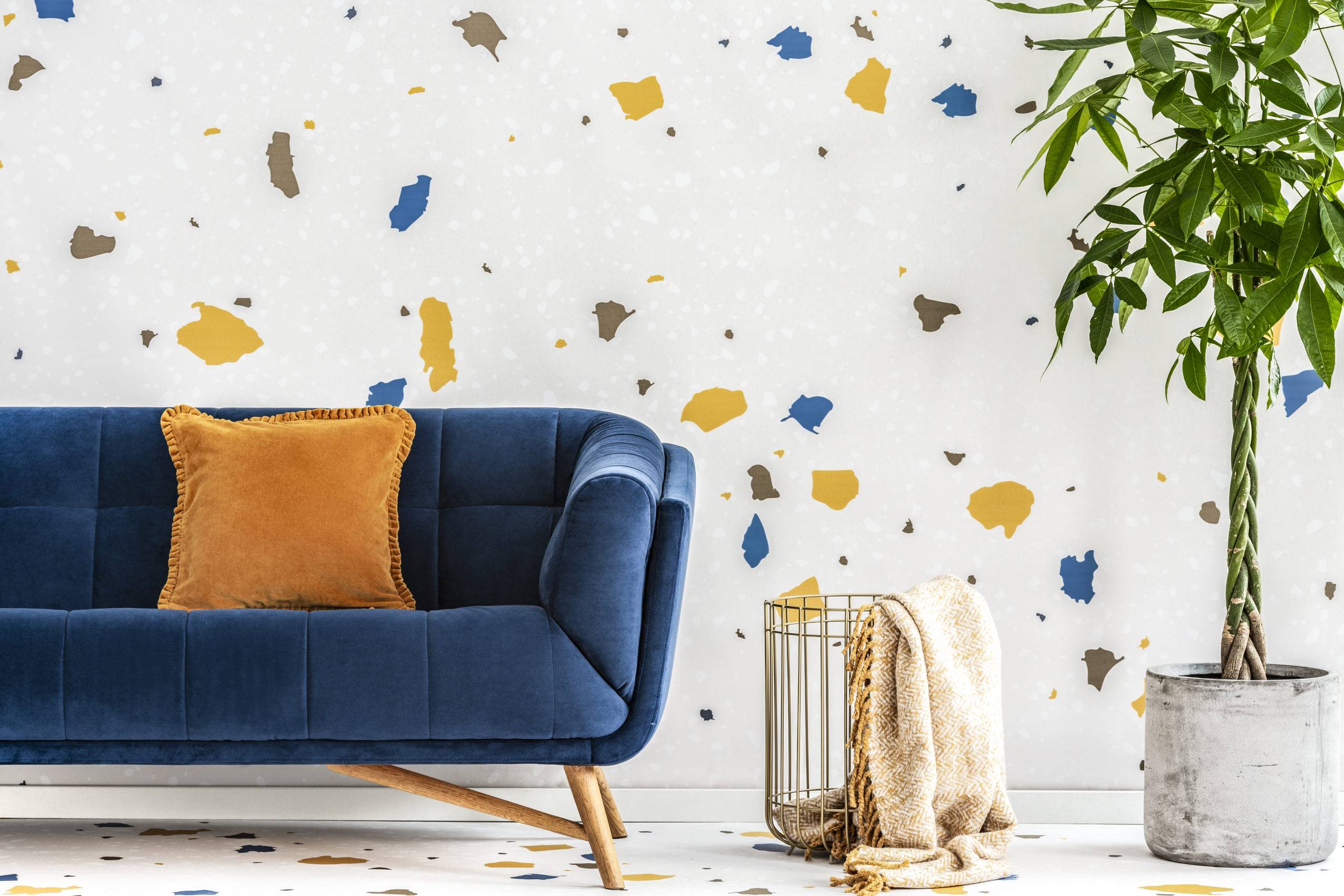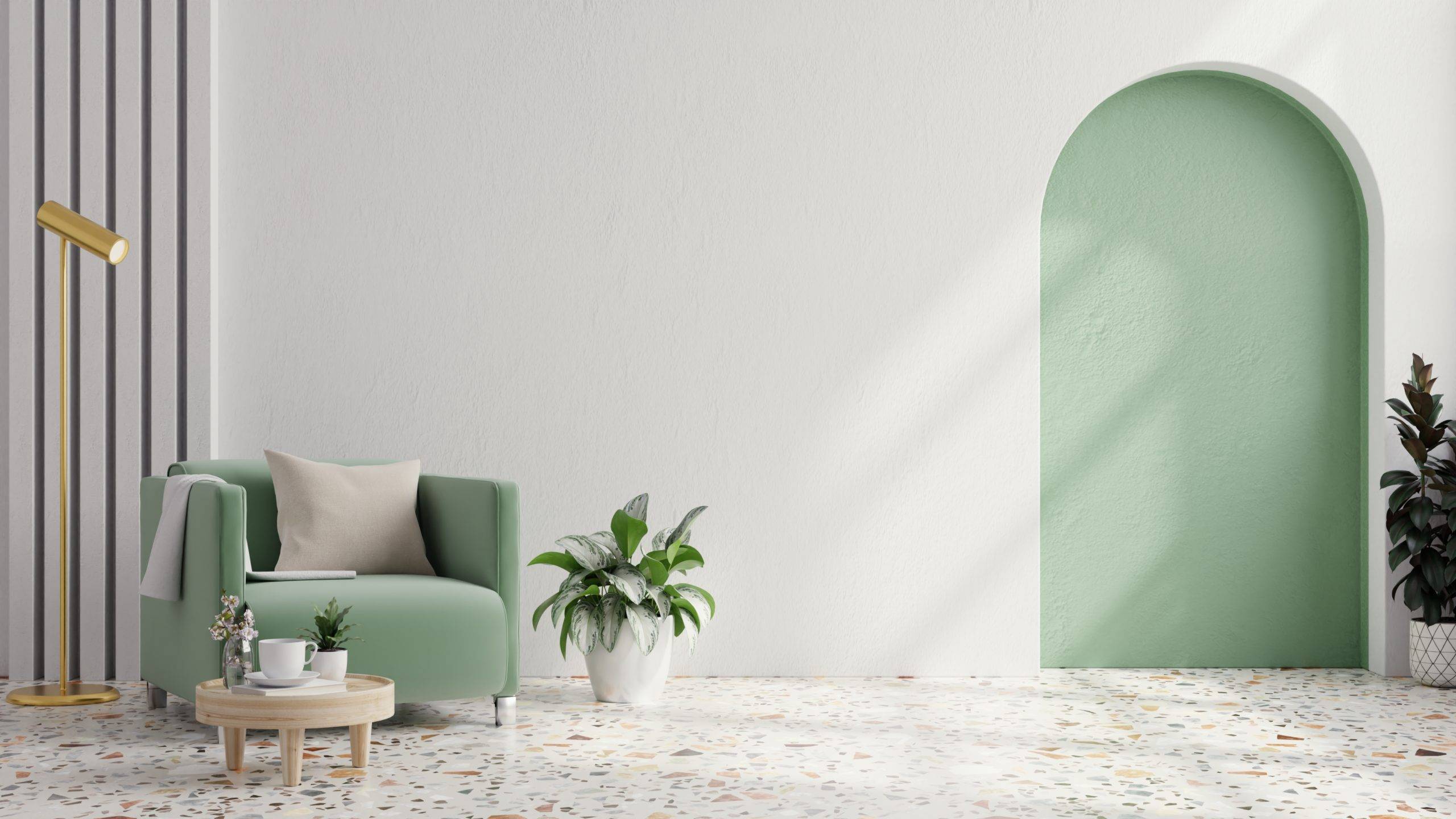 In the entryway
You can use Terrazzo in the entryway as well. A bold Terrazzo wallpaper will be a beautiful visually welcome in your entryway, allowing for bright pops of color and style.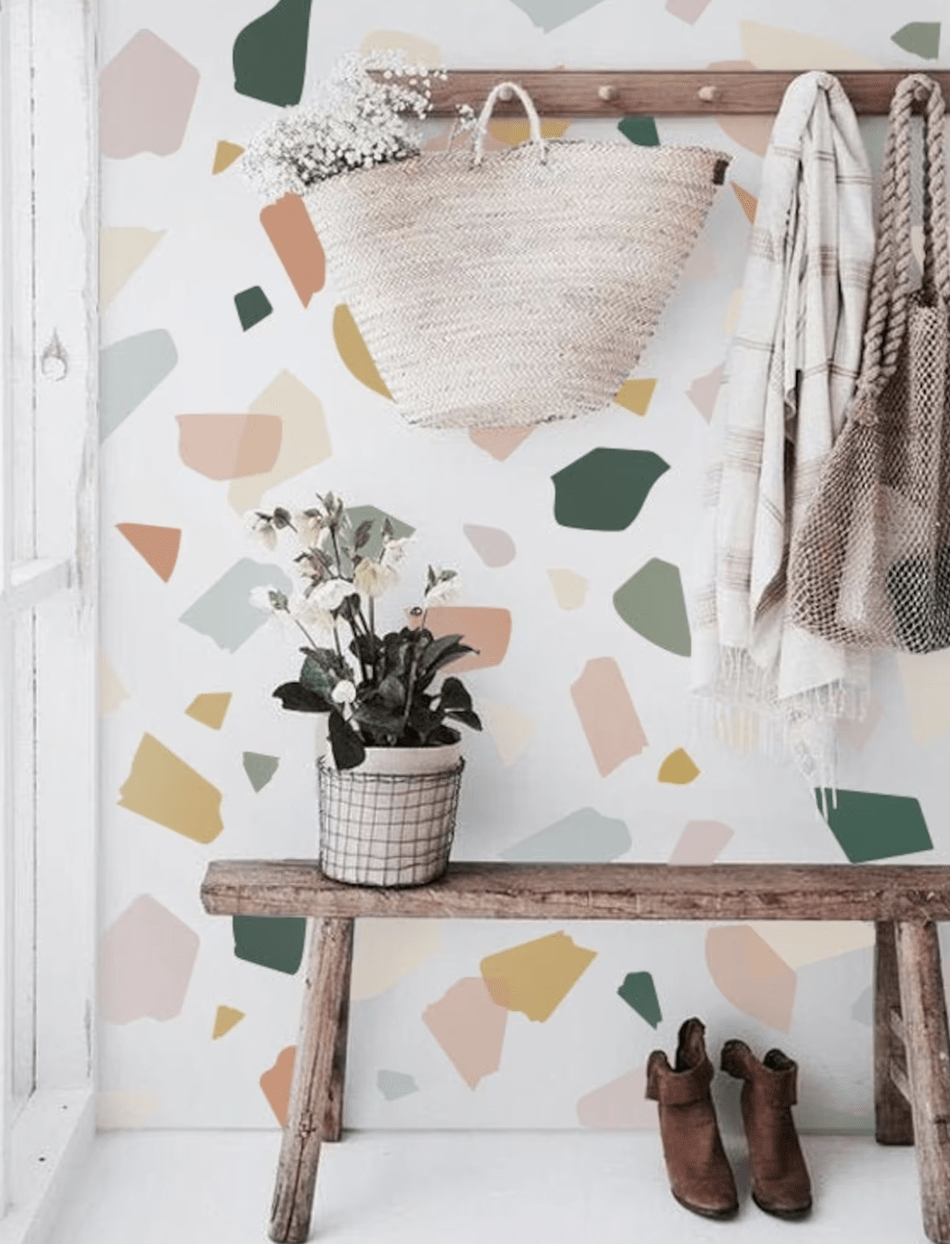 In the bedroom
Using Terrazzo in the bedroom is a great way to add color and a unique style to your walls. You can choose to wallpaper your whole wall, do an accent wall, or only half the wall.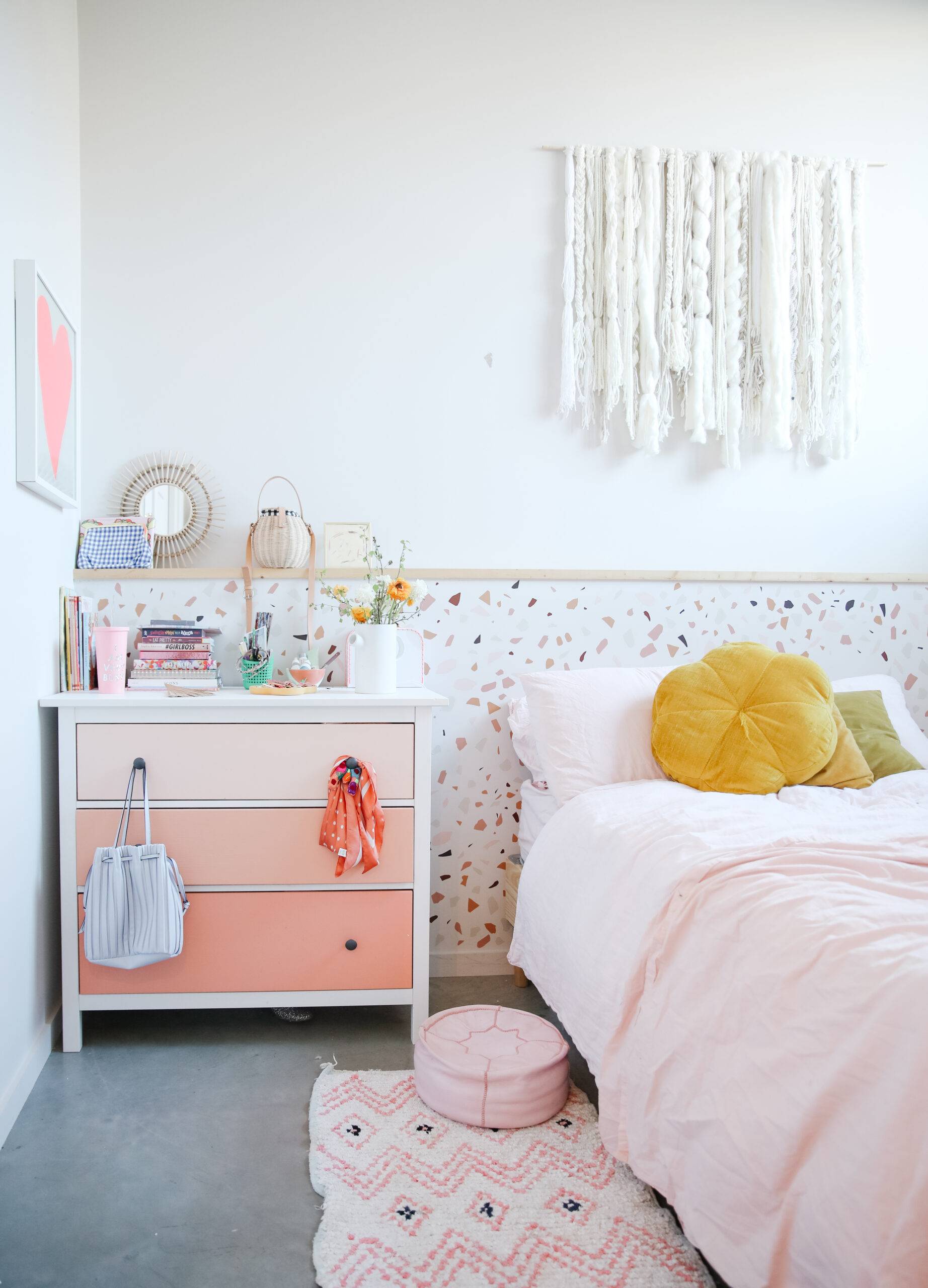 We love the look of a board and batten wall with a color from the Terrazo pattern and then carrying the wallpaper up the rest of the wall.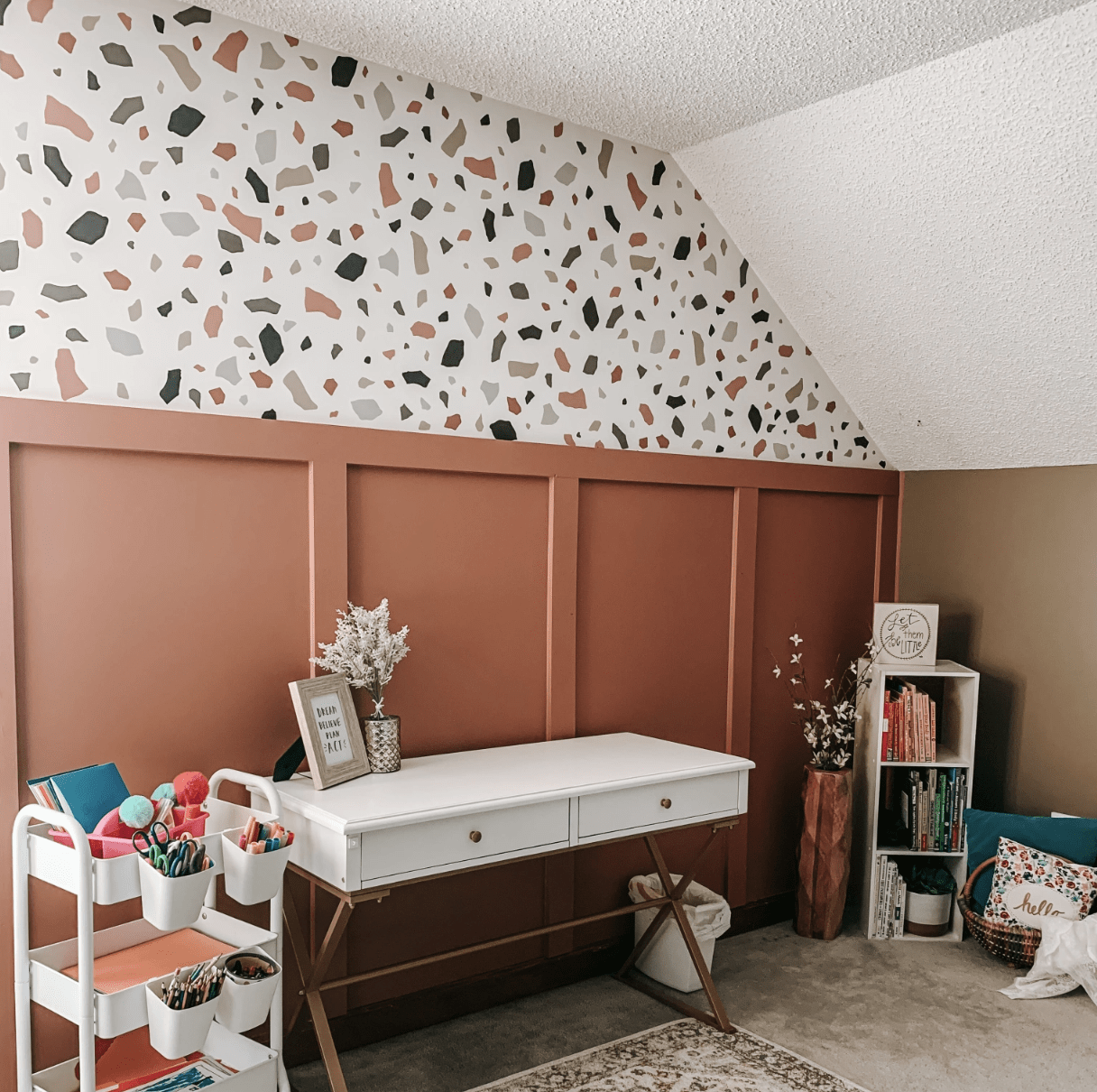 Some other ways to add Terrazzo to the bedroom without spending a ton of money would be to choose a Terrazzo pattern bedspread, decor pillows, or even a Terrazzo rug. You can also get small decor accessories in a Terrazo pattern if you don't want to commit fully to this look.
No matter how you choose to incorporate Terrazzo into your home decor, you can't go wrong with this modern and contemporary style!