If you want to make your garden a place of serene tranquility, there's no better way than to add a water feature. You don't have to go all out and build a massive concrete fountain, either. There are a ton of smaller water features for gardens that are plug-and-play and that you can install simply by nestling them among your flowering garden bed.
Today we have rounded up 11 of our favorite water features from Wayfair that you can add to your garden. You will enjoy hearing the water trickle as you relax in your backyard oasis — plus, they're so pretty to look at too!
Simrah Ceramic Solar Water Features Koi Fountain
This bright blue water feature featuring an adorable Koi fish is the perfect addition to brighten up your garden bed. It's small enough to nestle in amongst your flowers and bold enough to create stunning visual eye candy.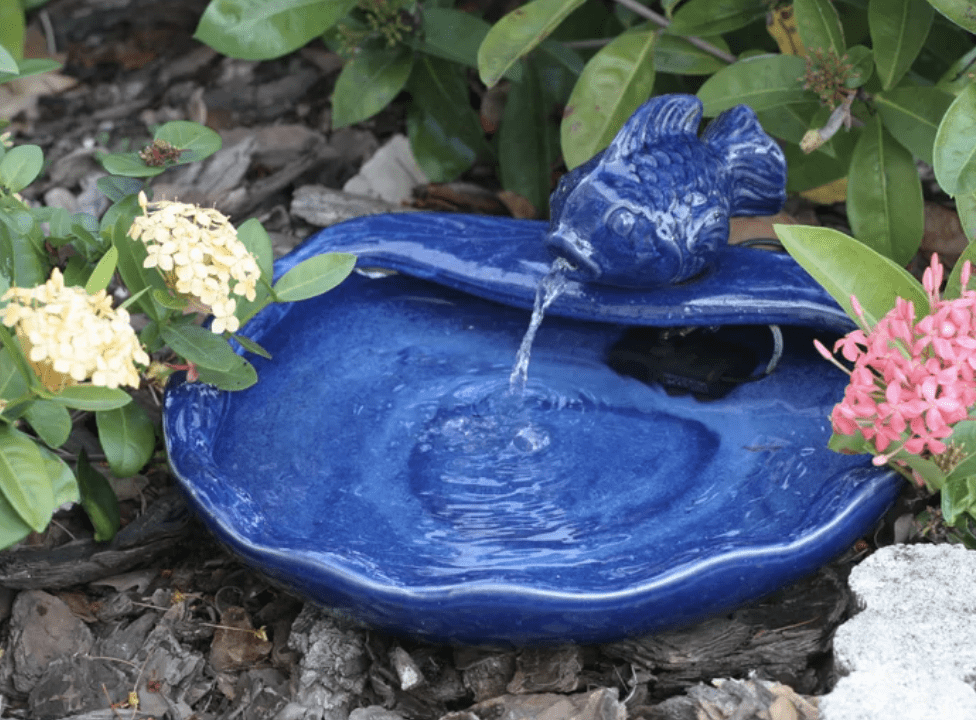 Cuvier Resin Stone Tiered Bowls Fountain with Light
Turn your backyard into a relaxing oasis with this stacked water fountain. The water cascades through four tiered bowls and stacked stone-look columns for a stylish and soothing addition to your porch, backyard, or lawn. The rustic look of this outdoor fountain will bring a touch of natural beauty to your space. Relax to the sounds of the peaceful water flow as it trickles down from the top bowl to the lower bowls below. This fountain also lights up so it will be perfect nighttime entertaining!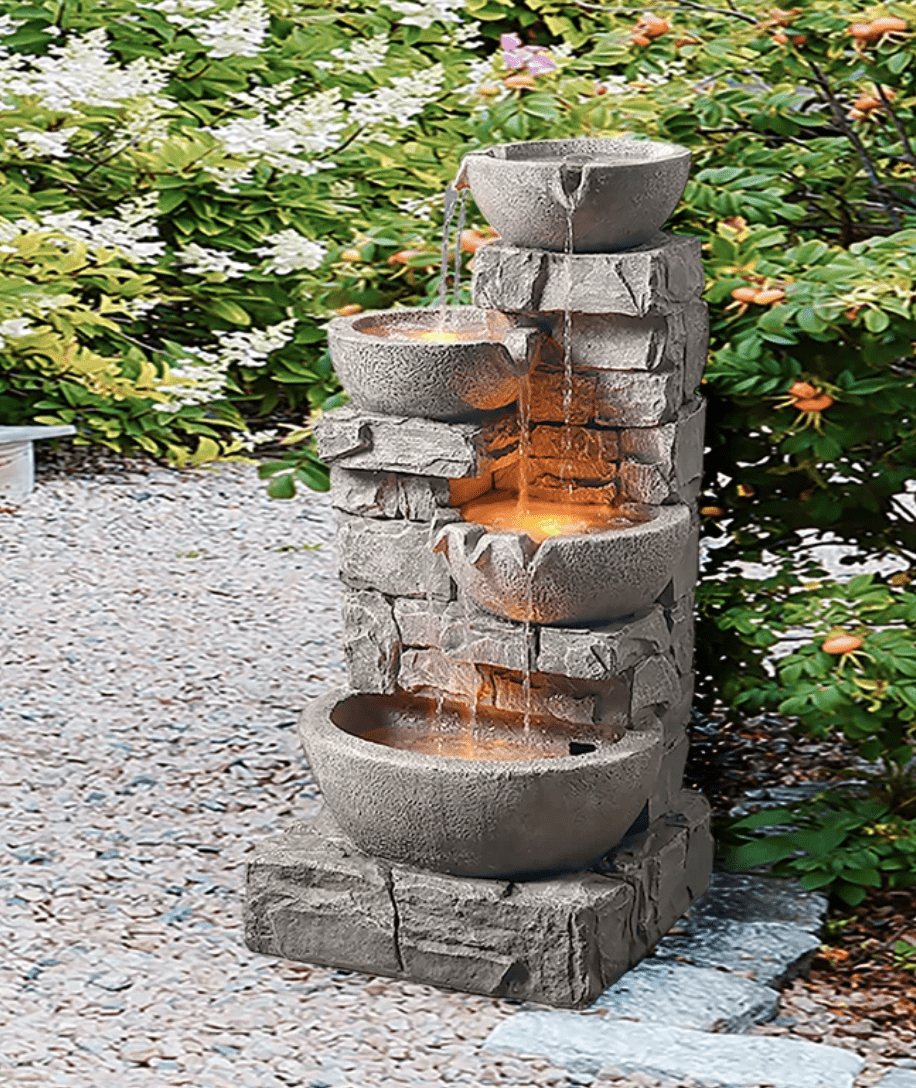 Fiberglass Fountain with Light
Relax and enjoy the sounds of nature with this water feature. You will feel like you're sitting next to a magnificent mountain stream in the great outdoors, all while relaxing in your own garden.  Take in the tranquil sounds of the water gently cascading over natural-looking stone.  Three LED lights in the fountain tiers accentuate the movement of the trickling water for a subtle yet beautiful effect.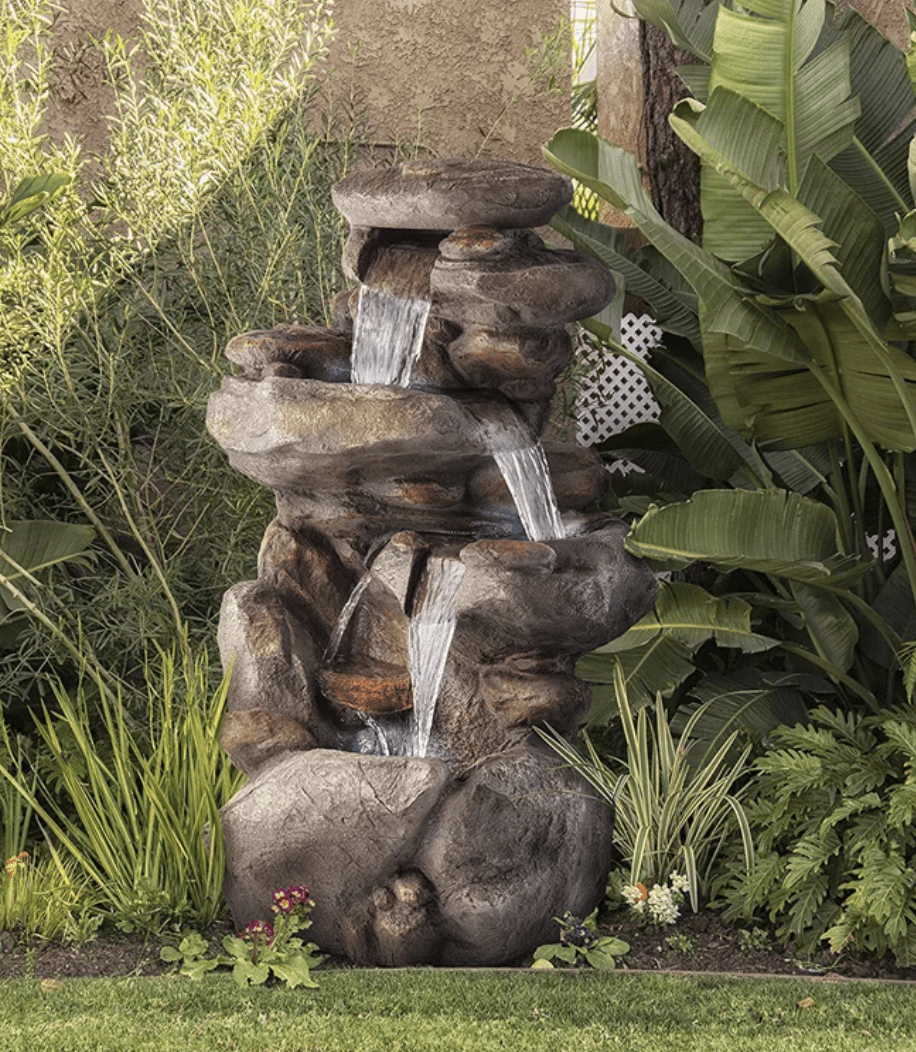 Photo Credit: Wayfair
Resin Fountain with Light
The beauty of resin fountains is that they are durable as a rock but lighter and more portable. A great addition to your backyard, you can easily move them around and you're not committing to one spot. You get the look of real stone or concrete but without all the heavy weight.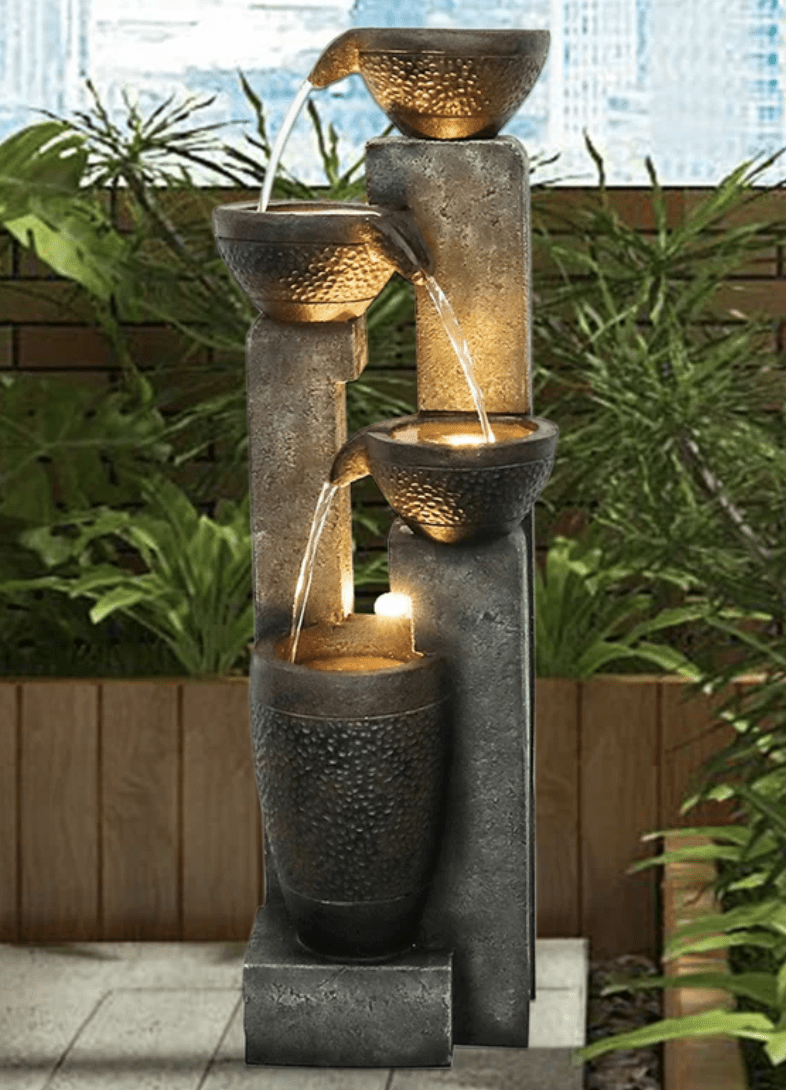 Riverton Acrylic 3-Tier Pump and Barrels Fountain
If you're after vintage farmhouse style, this is the fountain for you! Add a touch of nostalgia to your outdoor space with this water feature. Enjoy the trickling water pouring from the pump spout down through three levels of barrel buckets. The design adds an old-fashioned rustic element to your space.  It looks light, but the weighted base makes this fountain more secure than it looks.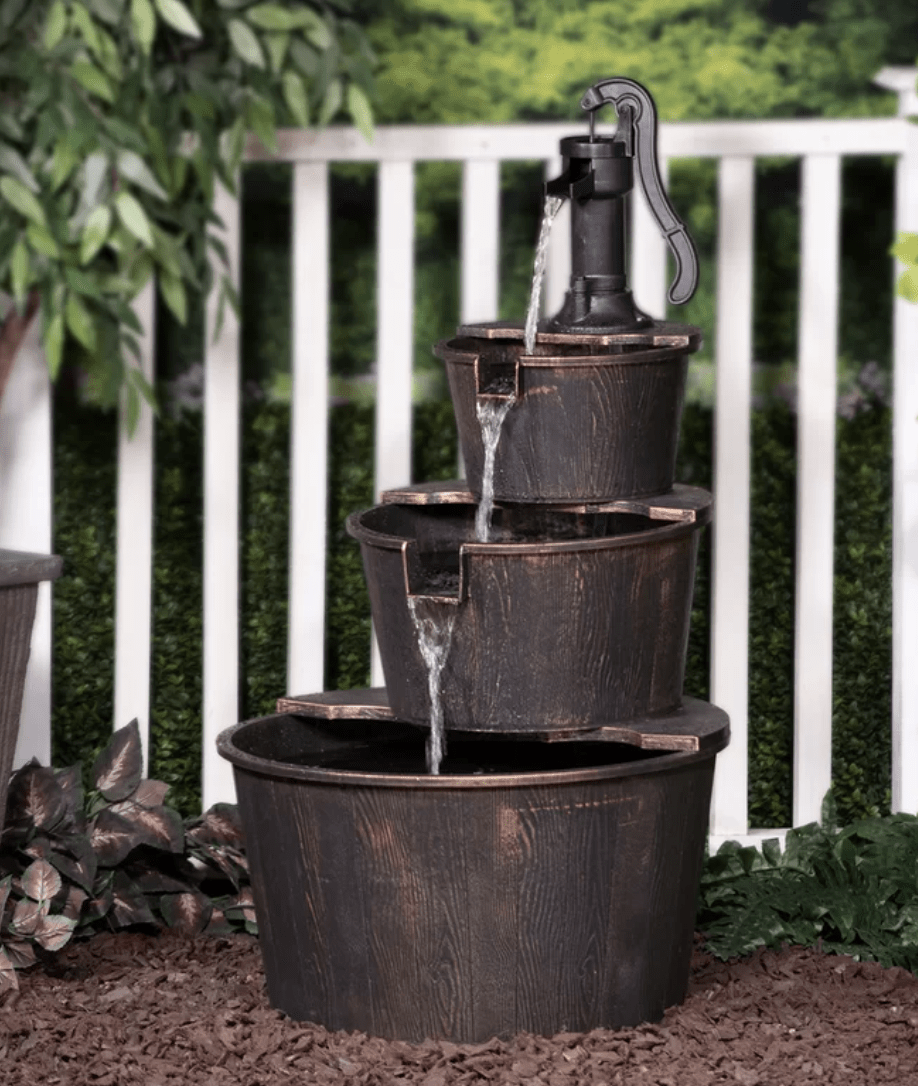 Wiggins Ceramic Highland Dunes Fountain
Add whimsical undersea charm to any outdoor patio, deck, or garden space with this ceramic fish outdoor water fountain. The little fountain features a ceramic construction with a glazed finish in aqua, blue, and brown. Water flows from the submersible electric pump and out of the fish's mouth into the basin, where it recirculates through the fountain.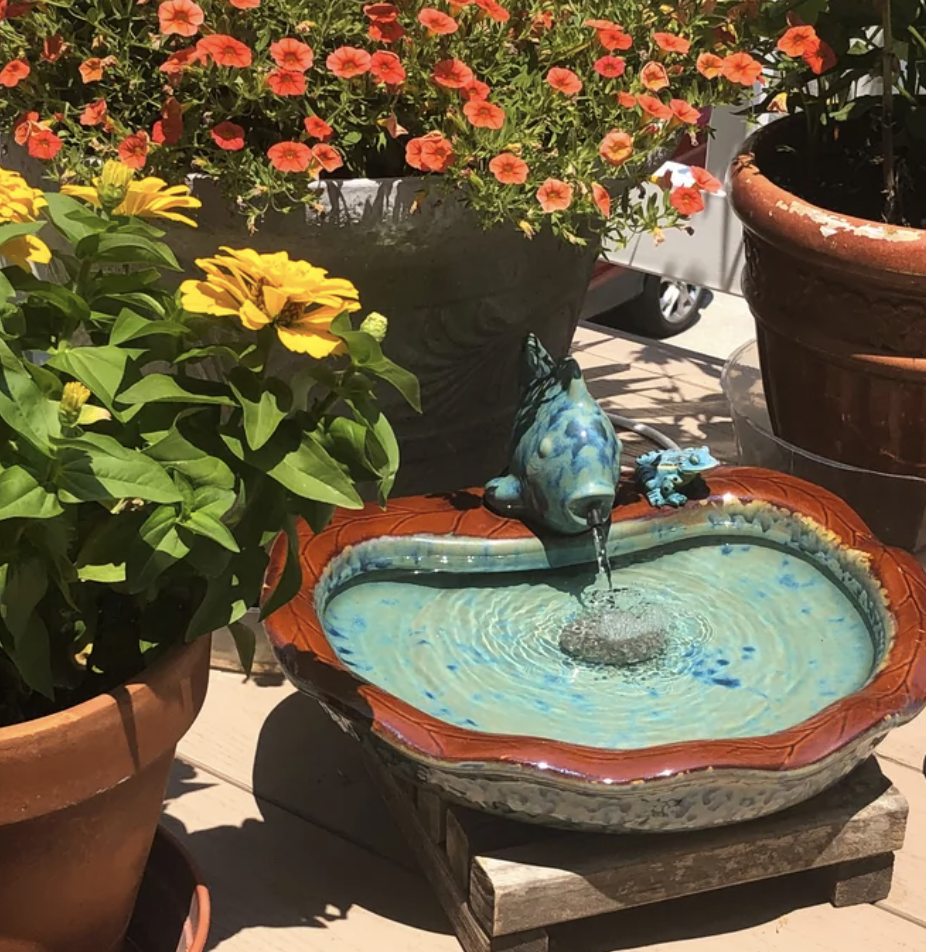 Anacostia Resin Fountain with Light
This outdoor waterfall fountain features a royal blue glazed pot with intricate details and an underlying wave pattern for a tranquil and soothing addition to your porch, backyard, or lawn. This fountain will bring a touch of natural beauty to your space. Relax to the peaceful water flow sounds as it trickles down from the top of the pot to the reservoir below.
This fountain is also available in two other colors if blue doesn't go with your backyard — teal and red.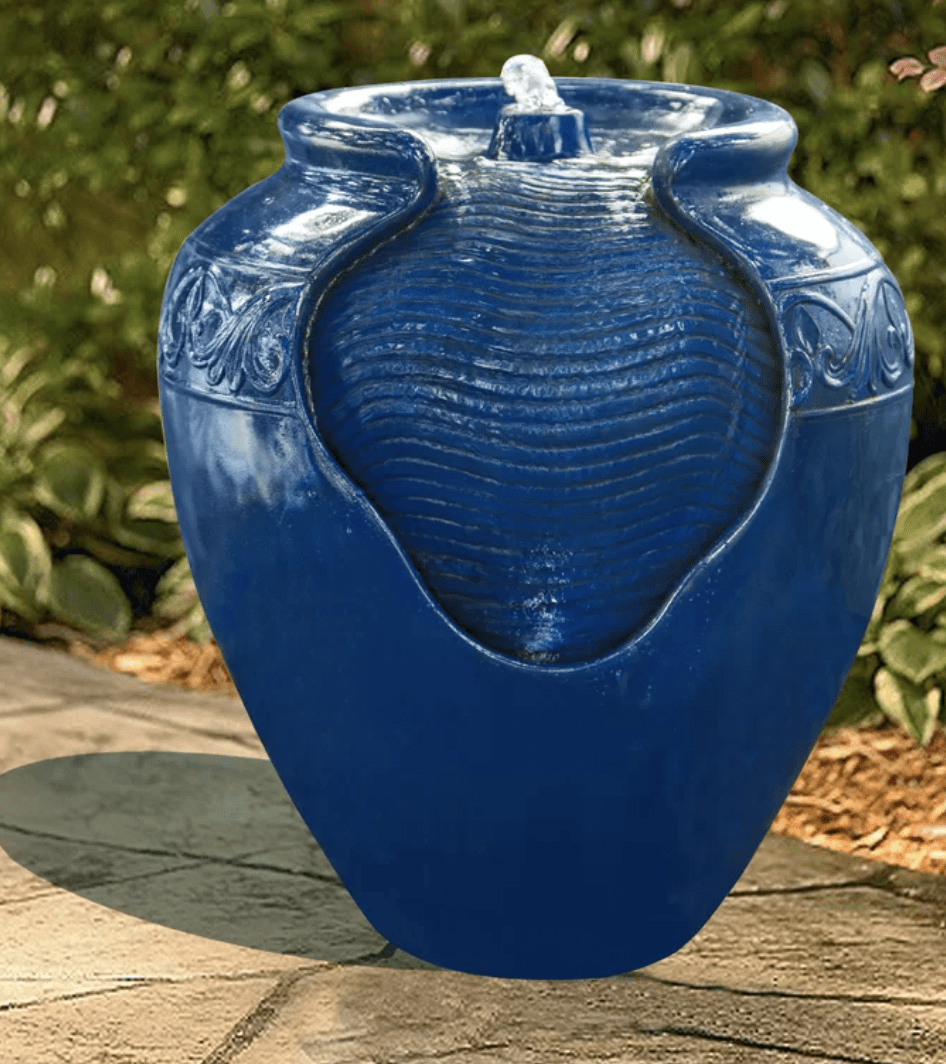 Ceramic Fountain
The water feature provides a bold, eclectic look nestled among your potted plants and greenery. Water gently splashes down from one patterned vase to another, creating the serene sound of a trickling stream in your own backyard. Think of a deep blue lagoon look in your coastal-themed oasis. Highly versatile, this fountain creates a stunning statement among your boho mixed pattern vases and greenery or next to your beach-inspired white Adirondack chairs.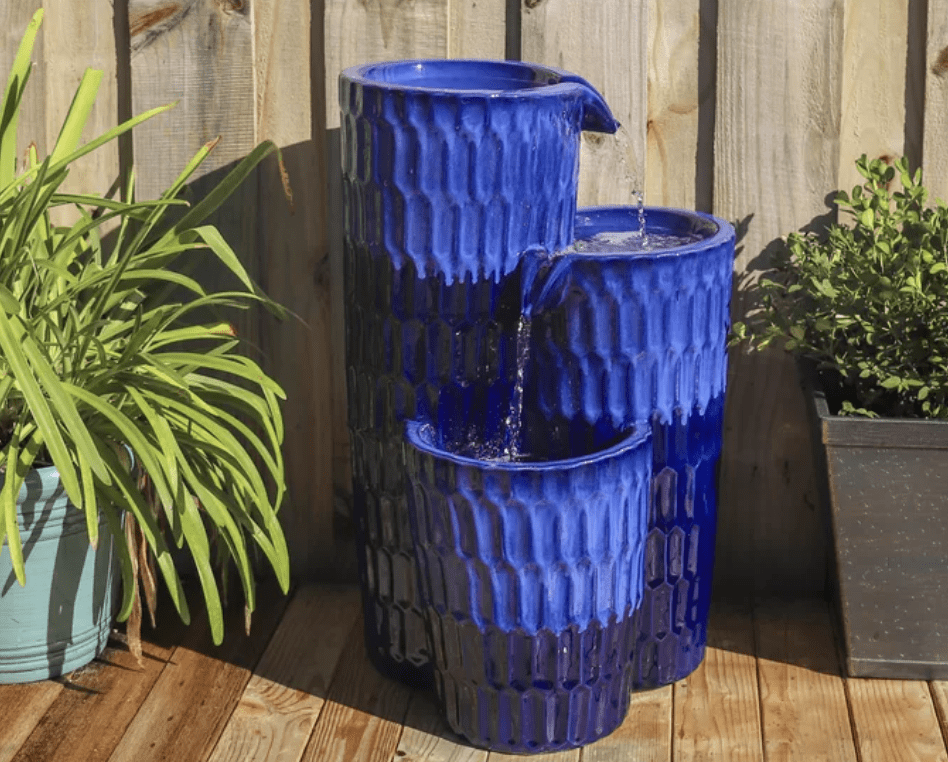 Resin Hollow Tree Fountain with Light
This birdhouse and tree stump outdoor polyresin fountain gives your garden or patio a rustic touch. The water trickles down the oversized leaves inside the tree stump. The fountain can be placed anywhere in a garden or patio space, making an outstanding addition to your home. The sound and sight of bubbling water are sure to help any garden feel more serene.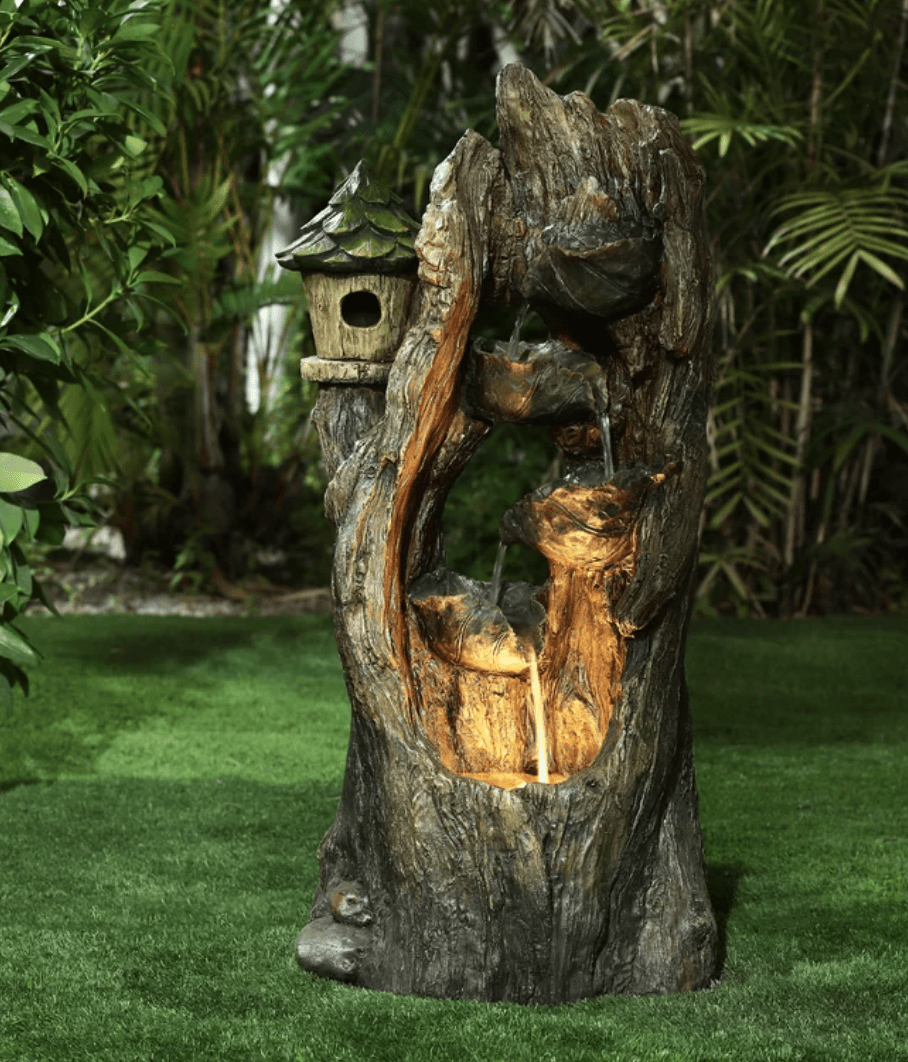 Strecker Polystone Rainforest Fountain with Light
This cascading rainforest waterfall floor fountain provides a calm and peaceful addition to your garden or patio. The lawn statue will bring a touch of natural beauty to your outdoor or indoor space. Imitating natural surfaces, the fountain is illuminated with the included warm white LED lights. Unwind to the sounds of the soft, natural water flow as it trickles down and mimics the naturalistic raindrops of a forest.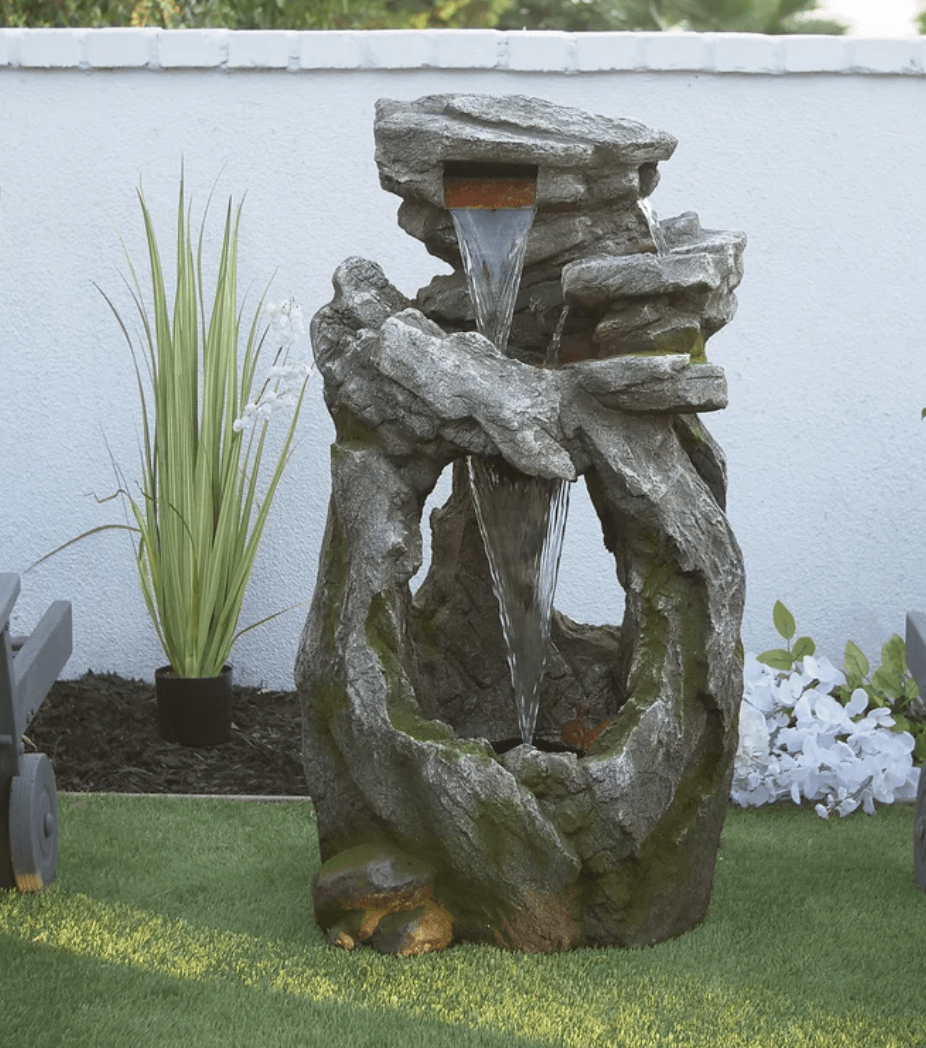 Georgetown Metal Tiered Waterfall Fountain
Modern variations of nature's wonders give your home a clean, contemporary look while creating a soothing ambiance. The combination of contemporary design mixed with natural elements provides a modern, sleek element. This decorative fountain is sure to bring feelings of peace, serenity, and class to your garden or patio.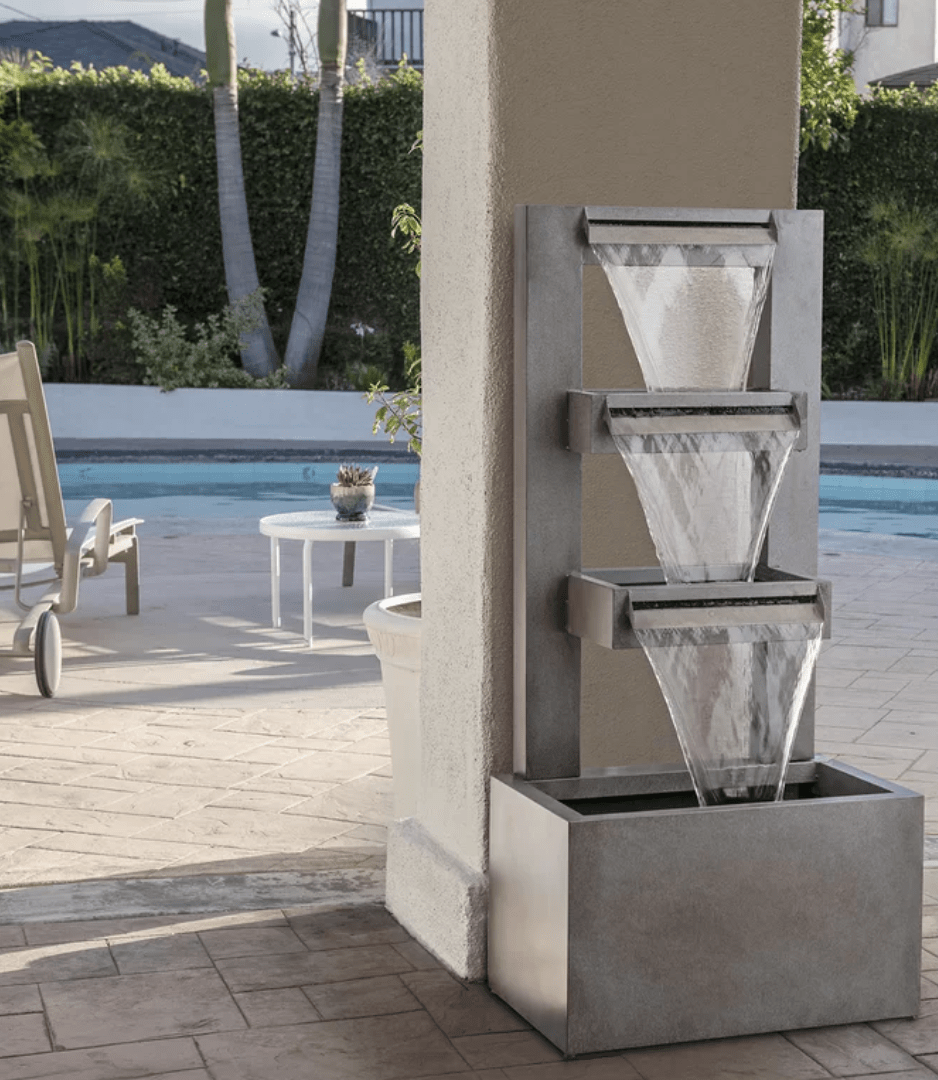 We know that photos can be an amazing source of design inspiration, so this article may contain affiliate links that will direct you to a particular decor item. Clicking on a link may result in a portion of proceeds being paid to www.decoist.com.